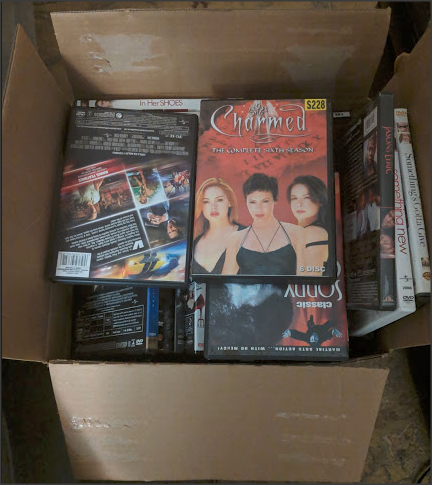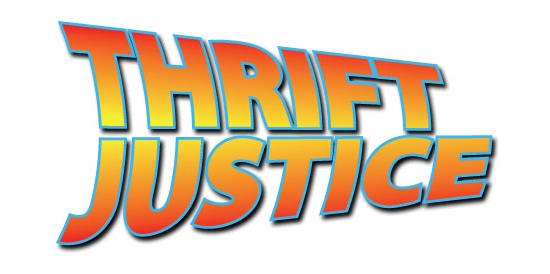 "The world is a trash fire…" (in the style of Billy Corgan)
Yeah, so this is another one of those weeks where I don't feel like writing about pop culture. Thanks a lot, Jussie Smollett (womp womp) and Robert Kraft (LMAO!). So, that means I have to reach into my bag of tricks and pull out something else to entertain your eyes and your mind this week. And since errbody seems to love Thrift Justice, Thrift Justice is what you shall have!
So, in recent years, my bread and butter has been to flip physical media – primarily DVDs and Blu Rays. Sure, everyone is all on a streaming kick, but they're the first ones to whine when Netflix threatens to take Friends off the service. Oh, you mean the complete series of Friends, which I routinely sell for $30? Basically, there's still a market out there for a lot of this stuff, and I've spent the time finding these people and studying their whims.
As I said on Twitter the other day, it's to the point where I could teach a class on selling physical media. First, nobody is meeting you at the library to pay you $3 for Road Trip. Sell that shit in a lot. Next, nobody is paying $1 per disc in said lot. You've got to sweeten the pot. 100 discs better not be > $50. Now, the rules can change if the stuff is 1) out of print or 2) Criterion. But that's not what most folks are selling. They're selling Band of Brothers, Entourage Season 1, Serenity, and the Matrix trilogy. You should be paying ME to take that shit from you not vice versa.
See, places like FYE messed with folks' heads, so pricing is all over the place. Let me also remind you, though, that most FYEs are on their way to Hell to meet their uncles Sam Goody and The Wiz. Common DVDs basically have a resale value of about 50 cents when sold in a lot.
Anyway, I spend a lot of time scouring Facebook Marketplace, letgo, and OfferUp (we'll get deeper into those in another post), looking for people off-loading their physical media. "Moving, and can't take it with us." Or the ones trying to be funny with, "Does anyone even use DVDs anymore? Then come get these!" I'll pretty much go as high as $40 as long as the selection is right, and the the quantity is there. I can pull some from the lot to sell separately (especially if there are any complete series of any television shows), which make up what I initially invested, and then flip the rest for pocket change. Let's be real here: I'm not paying my mortgage with this, but it's an easy way to get some "walking around money".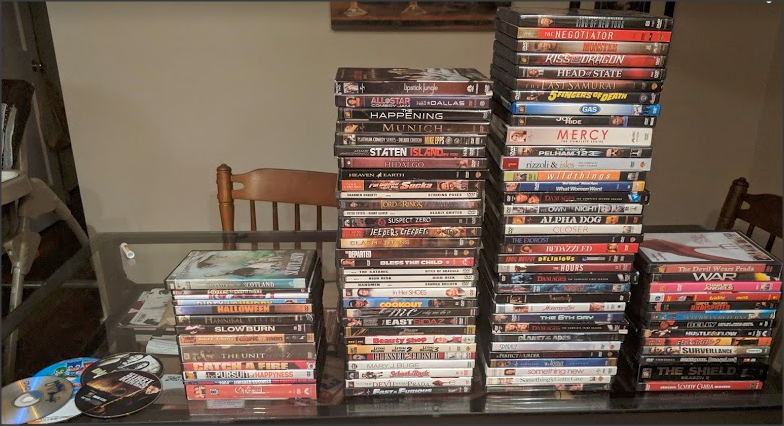 Take this lot, for example. I found this on letgo, and the listing said there were "About 300 movies". The pic wasn't great, and looked kinda like the aftermath of an earthquake, so I just figured maybe everything wasn't on film. The only thing I could see in the image was Charmed, and I thought "Well, that's a start – especially if they're all there." The clincher, though, was that the entire lot – however many were there – was only $5. SOLD! It could've been nothing but 300 copies of Hitch, and I knew I could get more than $5 for it. Might take a while, but I could do it.
So, after some back and forth (it took this chick hours to reply to messages), I set off for the meeting spot. Turns out it was located near my job. Oh, shit. We were going to the ghetto.
When she finally came out of her building carrying the box, I thought "There's no way this is 300 movies", but it was still only $5, so I kept that sentiment to myself. Once I got home, I counted everything, and there were 97 movies – less than 1/3 of what I expected. Or so I thought…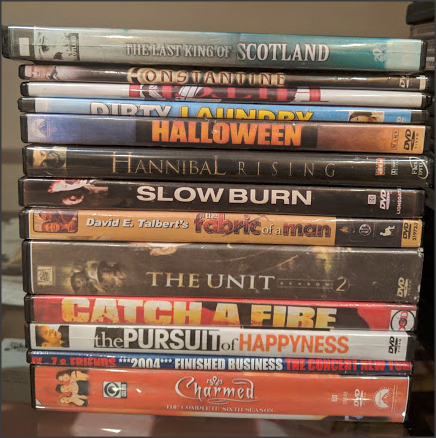 This stack of 13 was comprised of nothing but bootlegs. Sure, from a distance, the art looks OK, but trust me when I tell you it's not simply faded, but rather printed off a home printer. The discs are just plain, unmarked DVD-Rs. So, can't do anything with these. I won't even donate these, 'cause I don't need the local thrift store thinking I deal in shit, so into the trash these went. Seeing as how Charmed – the one that had led me to buy the lot in the first place – turned out to be fake, it wasn't looking good for the home team.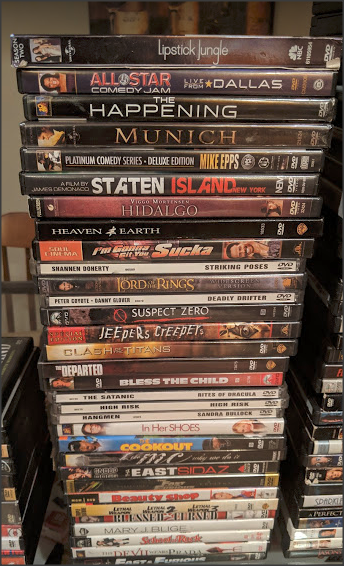 This stack is comprised of the movies that were instant flips for me, not because they held any real aftermarket value, but rather because I either already owned them or had no desire to own them.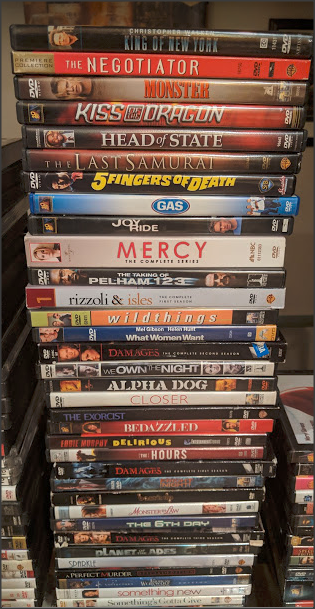 OK, don't judge me, but this was the Keep stack. Either I've never seen these before, or I have seen them, but never felt like buying them (looking at you, We Own The Night!). After taking this pic, some of these would make their way over to the Flip stack (Like Mercy. Who needs a one-season NBC medical drama when current network TV is LITTERED with medical dramas?!).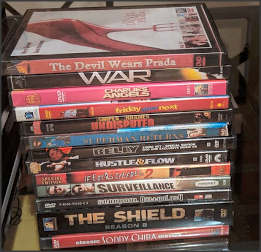 This is the Womp Womp stack. Why? Um, because THEY WERE ALL EMPTY CASES! And I was really looking forward to watching Hustle & Flow, mayne…
So, from a promised lot of 300, I ended up with 71 actual, commercial discs that could be kept or flipped. Then, this is where the science happens. You see, I bought a similar lot a few months back, for $40, where the highlights were the complete collector's edition of Seinfeld, as well as complete series of The Wire. I sold Seinfeld for $50, and The Wire for $35, so the rest of that box was just "pot sweeteners", waiting for a lot like this to come along.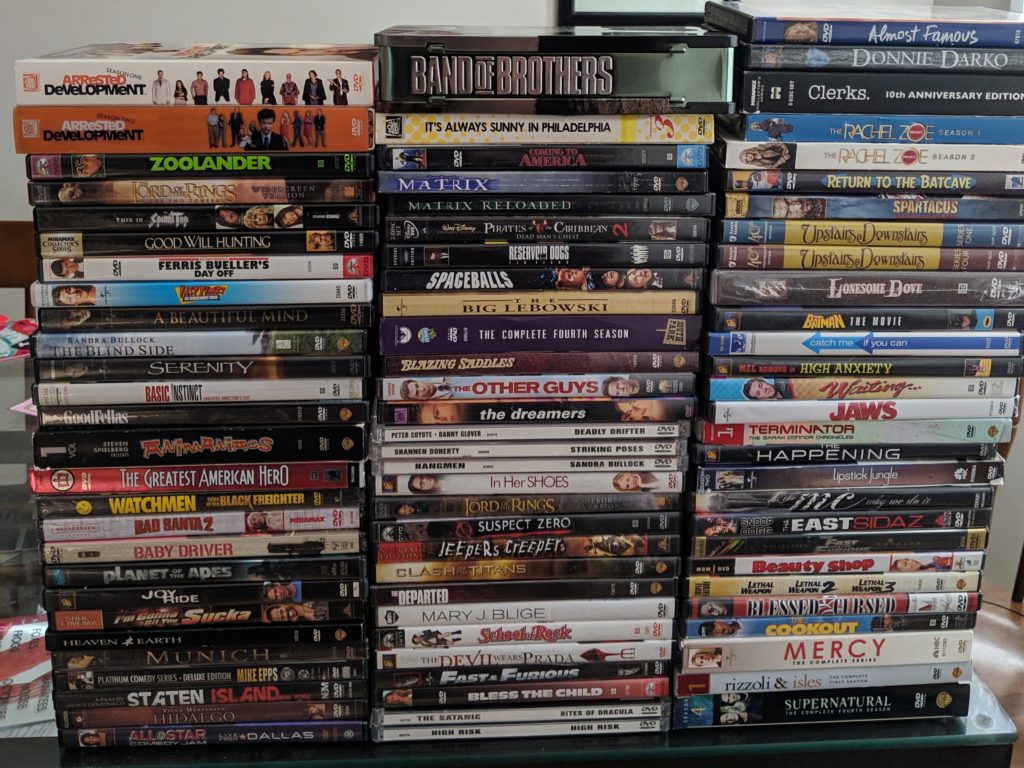 That created THIS lot, comprised of 84 commercial releases, ready to be flipped. You'll notice the "dogs" are conveniently lost within bigger movies, like Baby Driver and Jaws. The eyes are drawn to those bigger titles when these listings go live. I could've pushed my luck and asked for $40, but I really wanted to move them in about 12 hours. So, I put them up for $35 late Saturday afternoon, and sold them for $35 Sunday morning. To borrow from Storage Wars math, without having to account for the cost of the 2nd lot (which was more than taken care of by the Seinfeld/The Wire sales), I made 7 times my initial investment in the ghetto lot. Sure, it's only $35, but that's $30 more than I had when I got into this whole mess. Oh, and I totally didn't miss the irony that this lot includes Band of Brothers and The Matrix. You CAN sell these as long as you bury them in a lot, and price accordingly.
Before closing, there's something to be said for stereotypes. They can be dangerous, yadda yadda yadda, but I employ them from time to time because they tend to be rooted in some semblance of reality. I call this the "ghetto lot" because that's exactly from whence this lot came. And while there were a lot of things you'd come to expect (horror and movies starring rappers), there were also some surprises: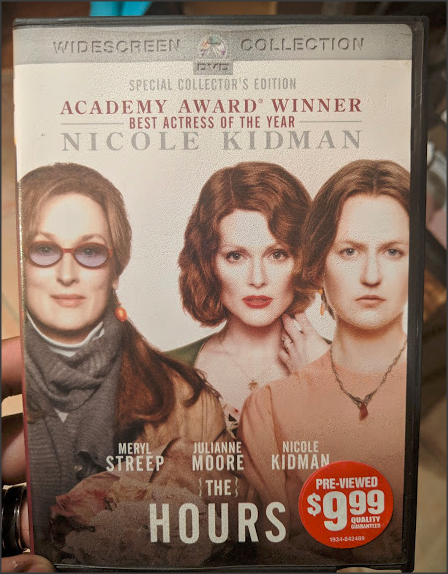 "Yo, son – what you know 'bout The Hours?"
"Yung, you mean the veritable tour de force, starring Streep, Moore, AND Kidman? That's my shit, yo!"
I really hope that conversation took place. We have a lot of fun around here.
Anyway, those are the inner workings of the physical media trade in 2019. You ain't gonna get rich, but it generates an income flow you can hide from your wife when every other red cent is diverted to bills and feeding your kids. I know some folks would look at this and think it's too much work for the payoff, but I kinda find it fun, and I'm clearly not doing it for the money. If anything, I do it to bolster my own DVD collection, and the surplus is used to generate money. So, I'm killing two birds with one stone. Pesky birds! I saw this as a surefire way to turn $5 into a minimum of $30, and the odds were better than a scratch-off ticket. Your mileage, however, may vary. So, if it's not your "bag", then that's awesome because it means you'll stay the Hell out of my way!