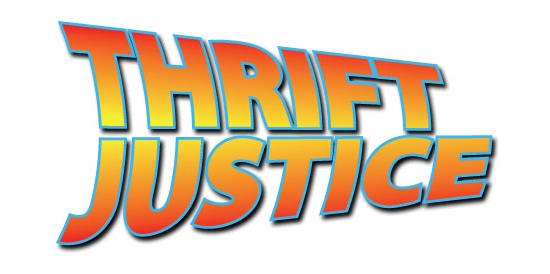 I miss writing, and by that I mean that I miss writing about more than just the week's pop culture news. If you look at the slider on the homepage, there used to be other columns here: Adventures West Coast, which was my graphic novel/trade paperback review column; Best of the West, which showcased the jewels of my various collections; Track Star, which was my music post that sadly never really found its identity. And, of course, my baby – Thrift Justice, where I showed you all the stuff I managed to find while scouring the local thrift stores.
As I was telling some friends recently, Google killed blogging. When Google Reader was taken out behind the shed, nothing came along to capably take its place. Yes, I said capably, just to ward off all of y'all who are about to go, "Well, Feedly…" A lot of folks quit, while others pivoted to other media, like video or podcasting. I, however, am still a fan of the written word. I feel a lot of videos could've been blogs, and that also goes for a lot of podcasts (especially the short ones). I'm too old and fat to move to video, so blogging is where I shall stay.
So, this is all a long-winded way of bringing us to why we're here today. I've been sitting on this idea for about 6 months, as I know it should probably be a video, but that's just not my bag, baby. Instead, I feel like this would be a great way to bring back Thrift Justice: We're going to liveblog an unboxing. This could be really interesting OR it could end up like that time Geraldo found Al Capone's vault. Either way, it's new content, so yay? But first, some backstory.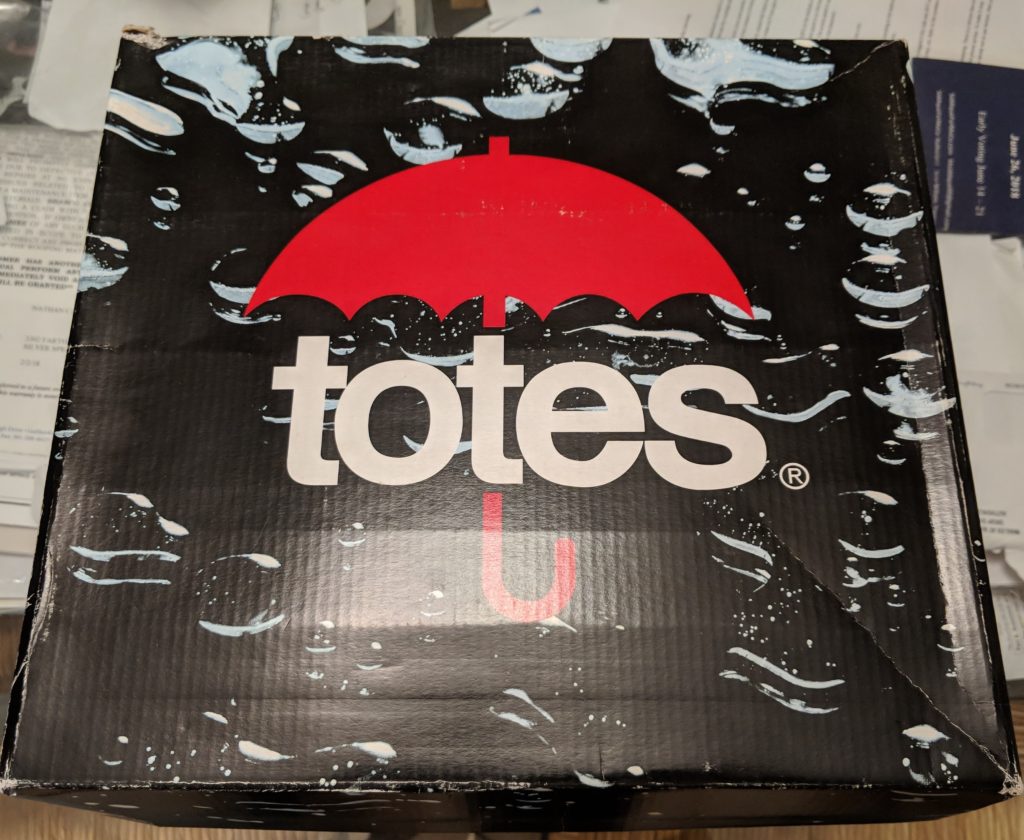 Back on the 4th of July, I was at a family cookout, when a cousin of mine told me she had something for me in her car. Apparently, I had let her borrow some toys when her nephews came to town, and she had run across them while she was cleaning her house. There are some very important things you should know here, though. First of all, those nephews are about 18 & 20 now, so if I'm doing my math right, this took place around 2004. Secondly, I'm not exactly the world's greatest sharer, as I've had a bad track record of visiting relatives breaking my shit. So, one of two things happened here: 1) I let them have some stuff about which I didn't give two shits OR 2) my mother gave them some stuff behind my back, which I clearly didn't care about if I haven't missed it in 15 years.
Anyway, for the life of me, I could not remember what these kids had of mine. As I followed my cousin to her car, she handed me a shoebox (think Timberland size) in a shopping bag. I've got a toddler, and the last thing I need is to be opening toys around her, so I figured I'd just get around to checking out the contents once we got home, and she went to bed. Instead, the box rode around in the back of my wife's car for months until she eventually had to put it into the shop for body work. So, there's no time like the present, right?
Here's how we're going to make this interesting, though. Thrift Justice is usually about the stuff I get from the thrift store, but this installment is going to be about stuff I'm sending to the thrift store. Everyone in the world is Marie Kondo-ing, by reducing the clutter in their lives by ridding themselves of the possessions that fail to bring them joy. Will anything in this mystery box bring me joy? Let's see what's inside, shall we?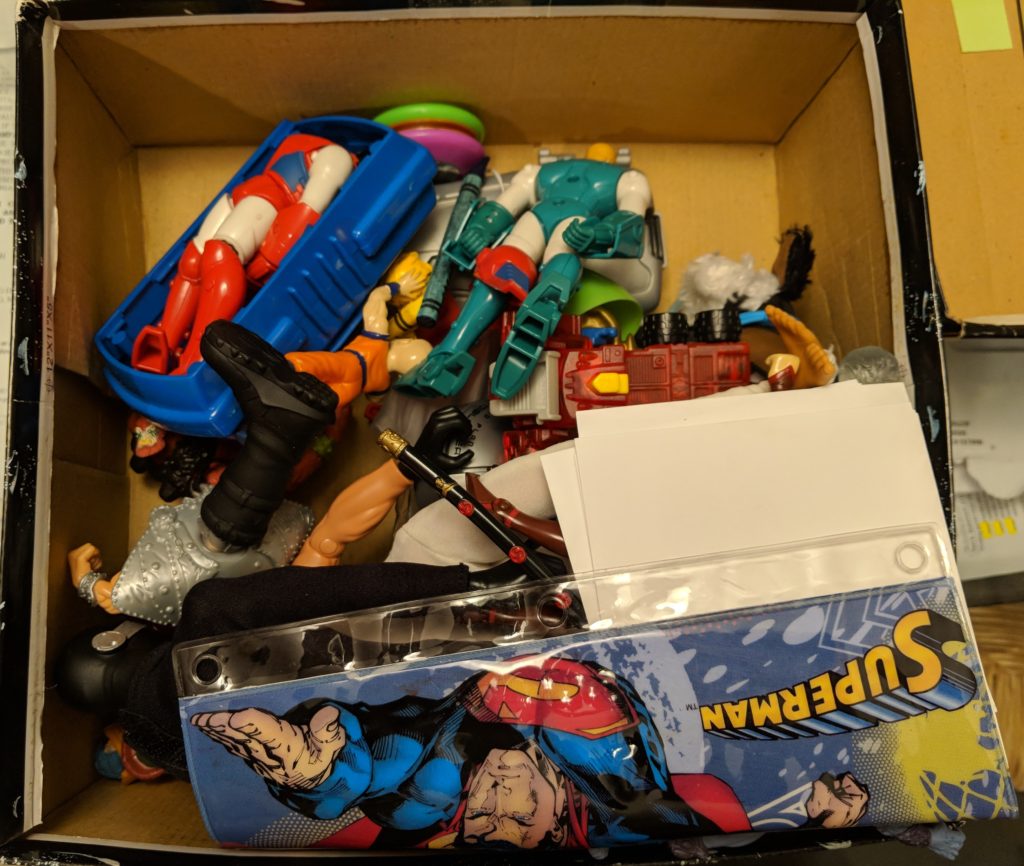 Somebody call Geraldo, 'cause I think I've got him beat. Man, what a box of garbage! Ugh, let's take a closer look, though. I mean, we've come this far.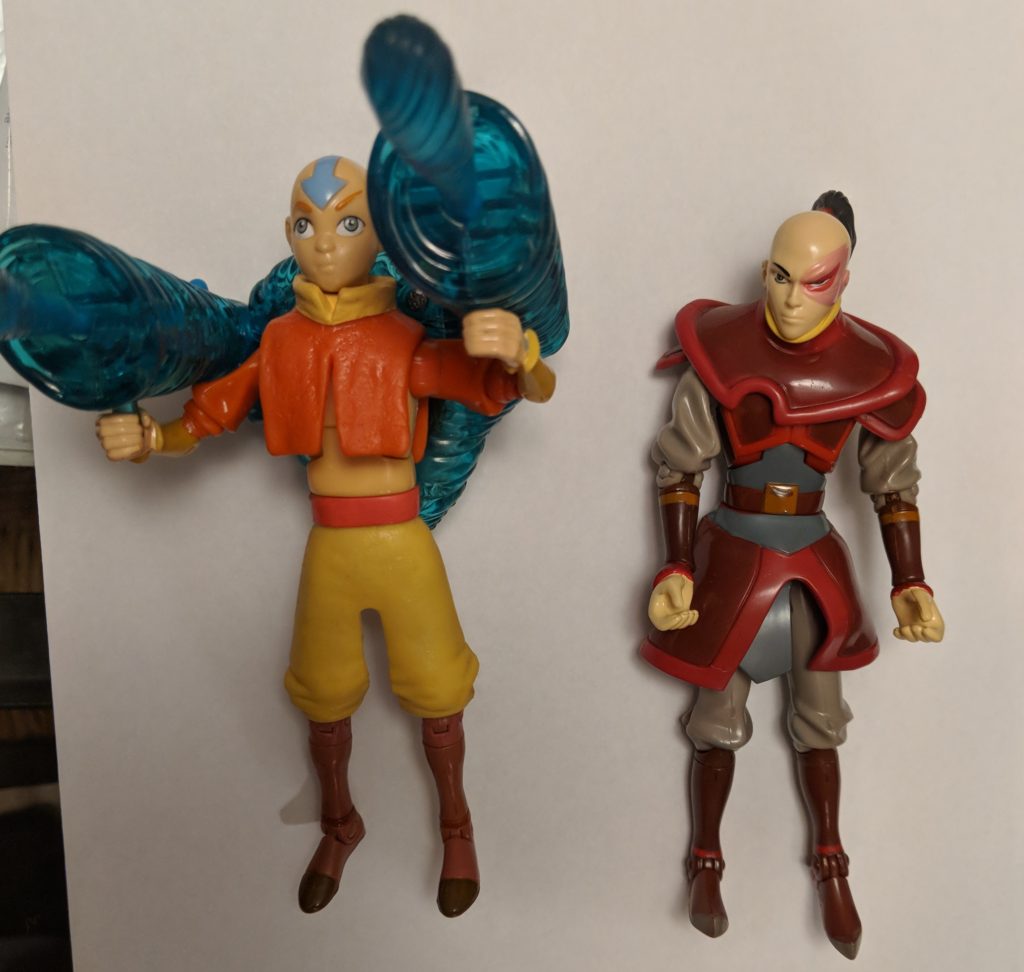 So, first up we've got Aang from Avatar: The Last Airbender, along with his…friend? Enemy? Anyway, let's call him Pinkeye McGillicuddy. I vaguely remember buying this set because I thought Aang's wind blaster pack was kinda cool. I've never seen one episode of Avatar, but I knew it was one of the hip things back then, so I guess I wanted to gain entry by getting the toys. Plus, when I first got it, Aang's pack lit up or made noise or some shit. The batteries are dead now, and I'm too lazy to change them.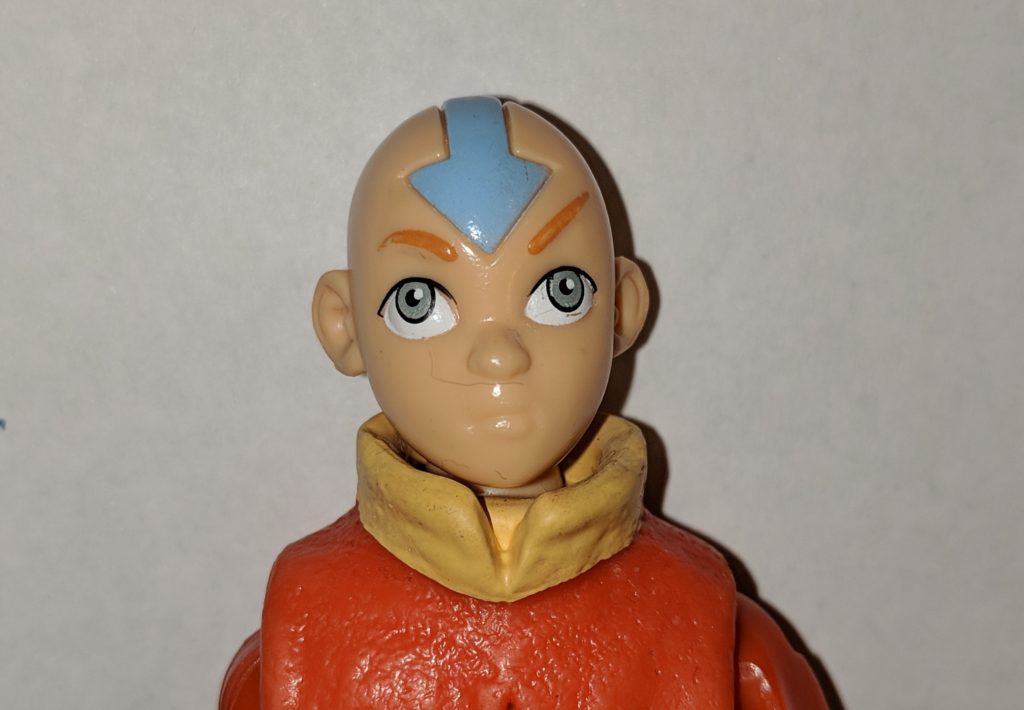 Look at Aang's eyes, though? It's like he's been radicalized. What the Hell was that show even about?! Isn't "air bending" just a polite way of saying "farting". I'm bending air as I write this.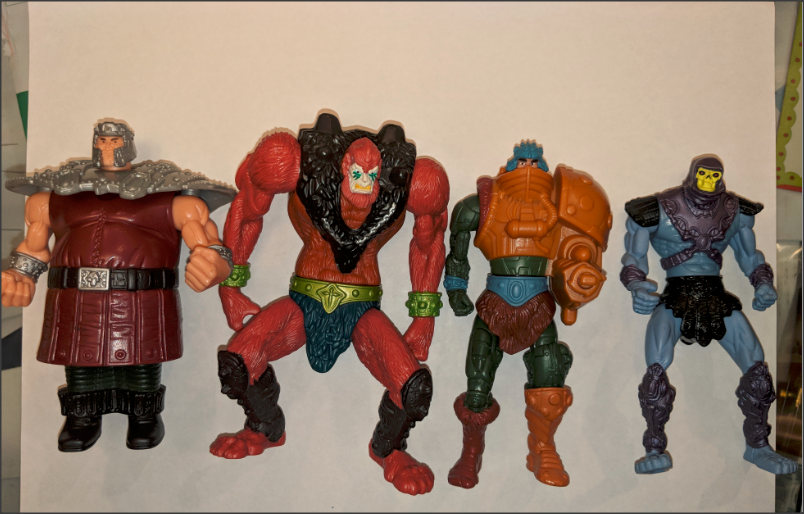 Next up, we've got these Masters of the Universe 200X Happy Meal toys from McDonalds. I remember these being pretty cool because they were decent action figures, in a 4-ish inch scale, with just a hint of an action feature. They were highly detailed, and we'd kill for something like this today. Sadly, though, nobody gave much of a shit about that show, as the Internet had yet to evolve into the geek hive of scum and villainy that it is today. Thrift stores are littered with these figures, and they're about to get 4 more.
What the Hell?! Is this alien being LYNCHED?! I don't even know what this is. It's the same texture of those spiders you throw at the wall in order to watch them crawl down, but I don't know what the goal is here. Do you swing him around by the loop? You can kinda yo-yo him, but that doesn't feel right, either. This is like 2 of the darkest periods of American history rolled into one pathetic gashapon toy.
Gather 'round, kids, as I tell you a tale from the turn of the century! You probably know (recently deceased) Stan Lee as That Old Man Who Keeps Popping Up In The Marvel Movies, but this wasn't always the case. Back around 1999, ol' Stan wasn't exactly on the best terms with Marvel. Sure, he was getting an annual salary for being the company mascot/cheerleader, but he wanted MORE. So, he decided to start Stan Lee Media, which would go on to inspire a quagmire of lawsuits that continue to this day. From this venture, nothing they threw at the wall stuck, but one of the highest profile creations was The Backstreet Project.
Starring boyband The Backstreet Boys, The Backstreet Project was a comic concept that envisioned the group as superheroes. Remember, this was 1999, and things were different. The Backstreet Boys were one of the biggest pop acts in the world, while comics were on the decline. In 2018, you'd ask "Why would anyone make a comic about the Backstreet Boys?!" but in 1999, it would have been more fitting to ask "Why would the Backstreet Boys slum it in the comic industry?" Since Stan Lee Media was poised to harness the true potential of this newfangled thing called The Internet, the focus was more on webisodes than print.
Anyway, Burger King somehow found itself as the official restaurant of the Backstreet Boys, as they were selling CDs and VHS tapes to go along with your diarrhea-inducing Whopper. And for the kids, they had Backstreet Project toys in the Burger King Kids Club Meals. I actually had the entire set at one point in time, as I thought the concept was pretty cool, plus I had a mad-on for any boyband. If you've been to this site before, none of this is news. Hell, a friend of mine was actually working at Burger King at the time, so I just asked him to grab the stuff for me from his job. I wasn't eating that shit! Because I was a huge BSB fan (until Brian had to go and get all political), there was no way I was letting those kids have my prized BSB toys, so these were probably my doubles.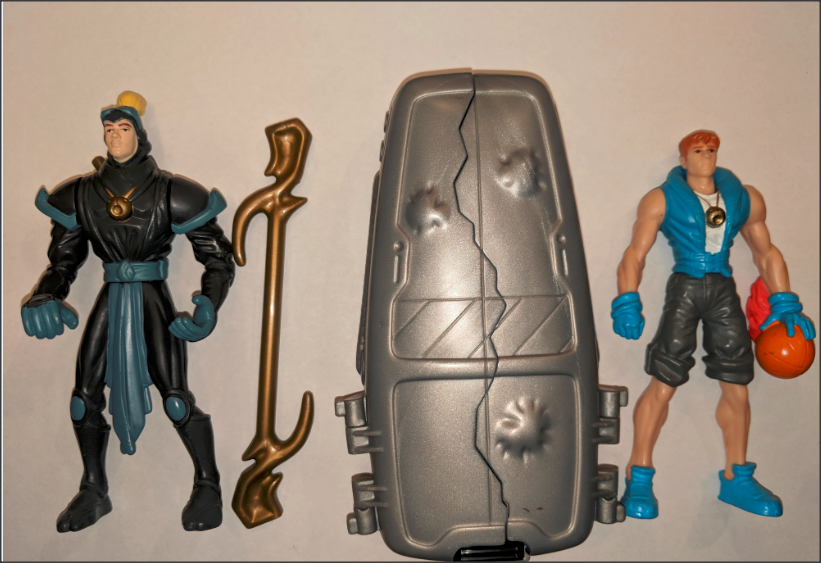 Here you have Brian (the one holding the basketball), as "Top Speed", while Nick is the one dressed like a ninja, named appropriately enough "Ninja Man". Jesus, Stan. Were you even trying? Anyway, the gray thing in the middle is some sort of stasis tank that Brian breaks out of. I have to remind myself that this was an era when these guys could've pissed in a Sprite bottle, and it would be distributed all across Europe, but in hindsight there's not a lot of care or attention invested in this concept.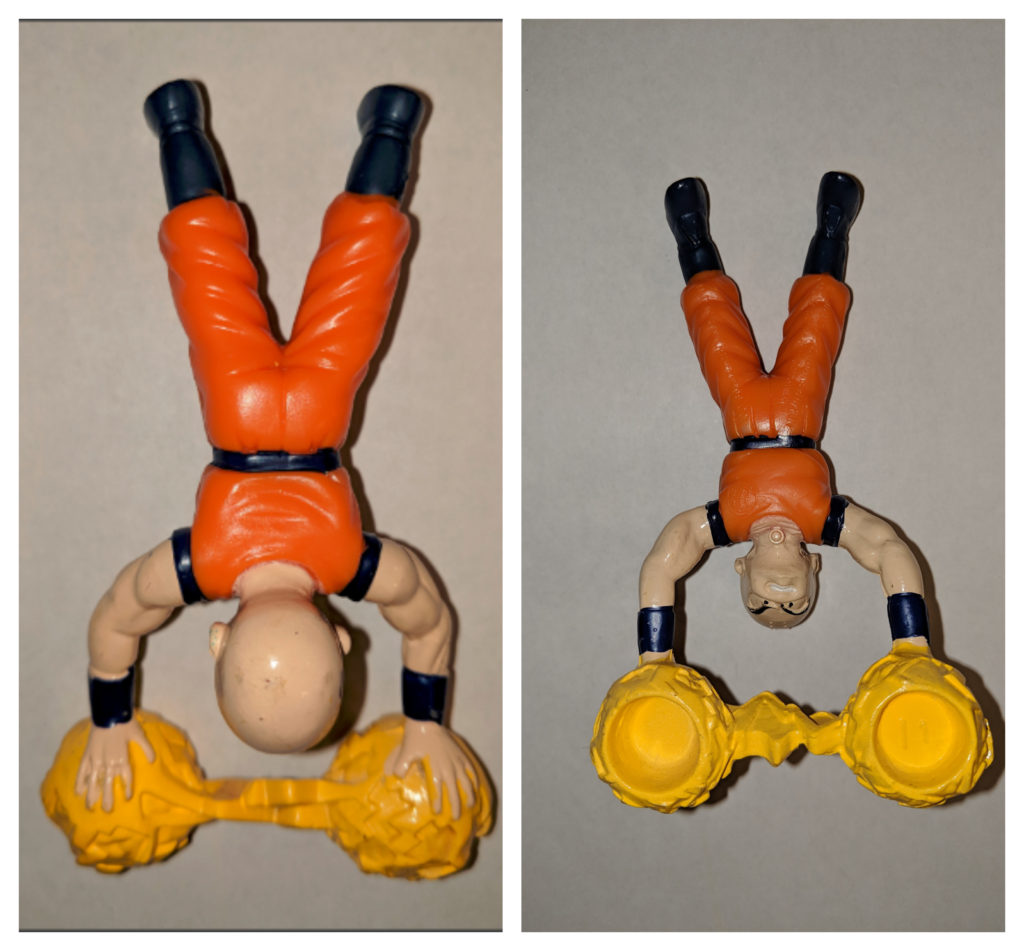 Another Burger King premium. Who was eating all this Burger King? It sure as Hell wasn't me. Anyway, this is some Dragon Ball thing. I don't know if it was Dragon Ball Z, Dragon Ball GT, or Dragon Ball GTFO. I know nothing of that franchise, but I know this little guy does some sort of balancing act. I just don't seem to have the base upon which he does the balancing.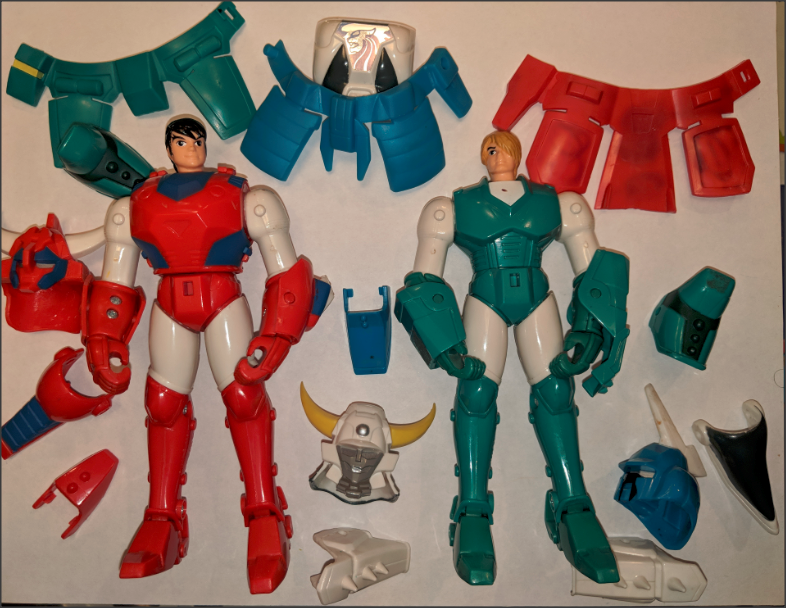 My Ronin Warriors! Man, I loved that show. That might've been my first anime, come to think of it. Anyway, I used to have the whole team because when KB Toys was in their death throes, Ronin Warriors were a mainstay in the 3 for $10 bin. Sadly, I donated mine some years back because I couldn't find them all and didn't feel the need to keep an incomplete team around. Well, I couldn't find them all because they were chilling at my cousin's house. As you can see, they lost a good portion of their shit, as well as a figure (where's the White one?). These are probably the best thing in the box, but I'm met with the fact that I don't want an incomplete team, so maybe these figures will be reunited with their brothers in the thrifting afterlife.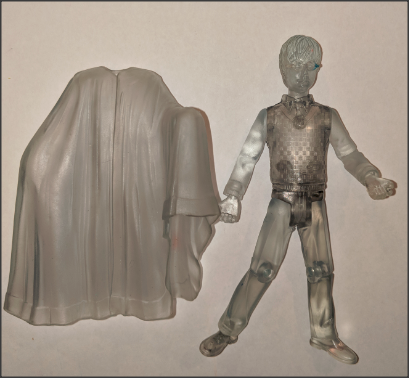 Ooh, this one tickles me to no end. If you know me, then you know I don't give a shit about Harry Potter. In my mind, JK Rowling just stole all of Roald Dahl's best ideas, and nobody's called her on this because they teach the wrong things in school these days. Anyway, my hatred aside, I'm a sucker for a good, translucent action figure. Whether it's the Spirit of Obi Wan Kenobi that I got from Lays Potato Chips, or this boy wizard I picked up from Toys "R" Us (a moment of silence, please), I love them all. The reason this is funny to me, though, is that those boys' mom is really pro-Black and pro-Jesus. If she knew her boys were playing with a plastic representation of the White Devil, slinging his witchcraft around from his cloak of invisibility, she would shit a brick. I'm actually gonna see her in about 2 weeks, so maybe I'll just drop that into conversation to see what happens.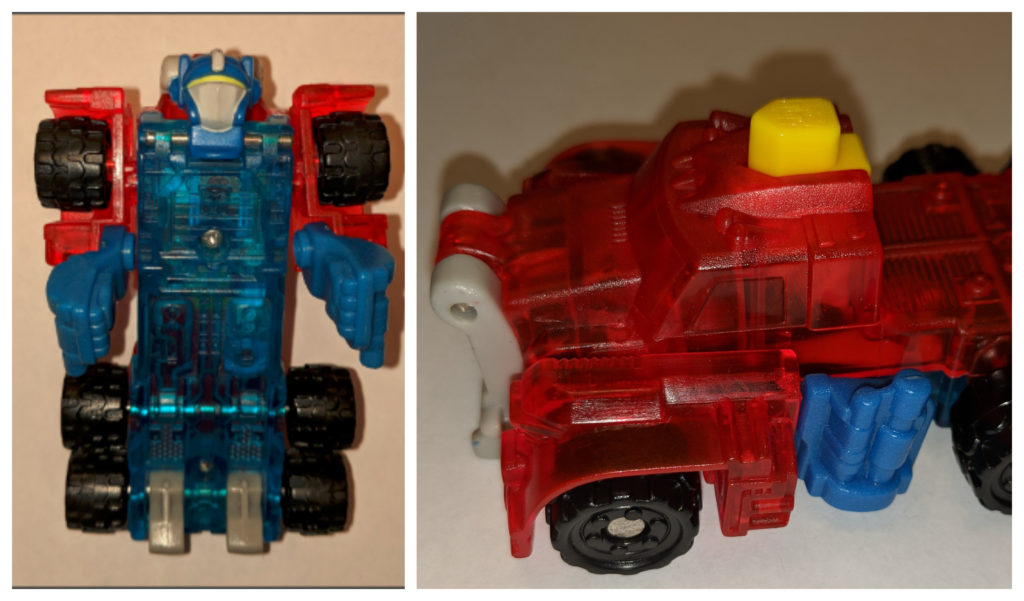 This is probably the worst Optimus Prime toy ever made. I tend to think of Happy Meal toys along the lines of rack toys, as they're all "toys for poor kids". But this Transformers Armada Happy Meal toy is so bad that even a poor kid would say, "Man, get that shit up out my face!" There have been many bad Transformers Happy Meal toys over the years, and this is merely one of them.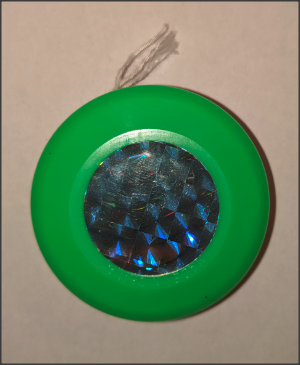 This isn't even a quality yo-yo. This is no Duncan, and is more like the kind of thing the dentist gives you at the end of your cleaning if you were a good boy.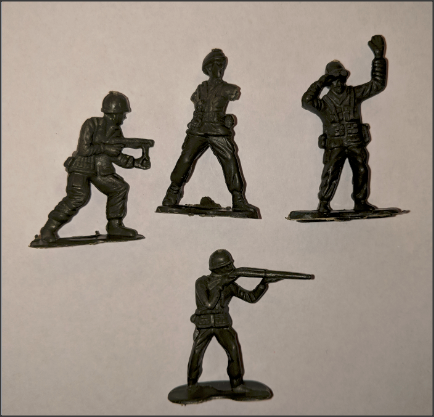 Good old little green army men. A true classic. Hey, wait a minute. What the Hell happened to the dude in the middle at the top?! He ain't got no arms! What did my cousins DO to him? I hope they at least said a prayer over him. It's what their mom would've wanted.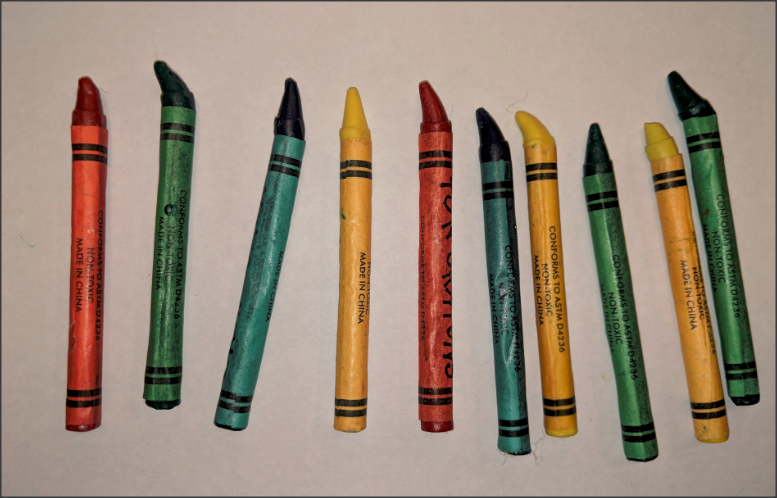 "How are your crayons hanging?"
"Low, and to the left"
How does this happen? I mean, I guess they got hot or something and then cooled down, but they're all curved like that. It's eerie. It's somewhat perverted. I have questions.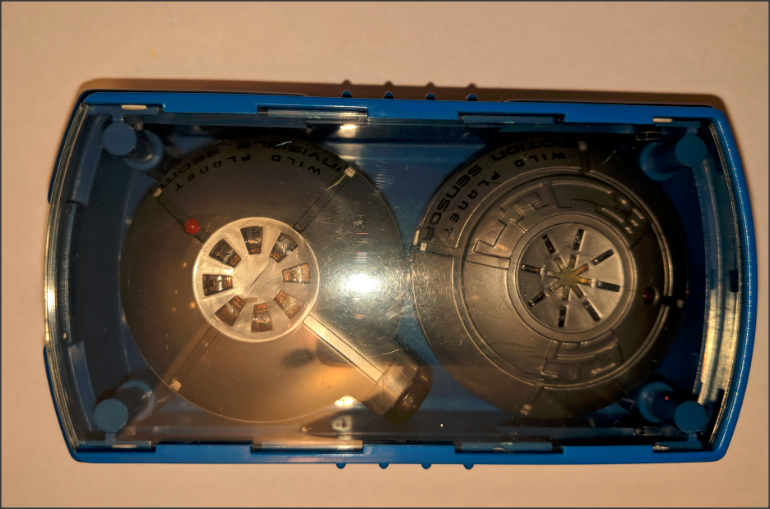 This is a Wild Planet motion alarm. Whenever there are commercials for things like this, it's always some little boy trying to protect his worthless shit from being touched by some bratty little sister. I don't think they really work like that. I've never actually used it, but my pal Tarek got it for me in college on an a cappella gig I wasn't able to attend. Looking back, though, I could think of quite a few uses for this thing for a growing man…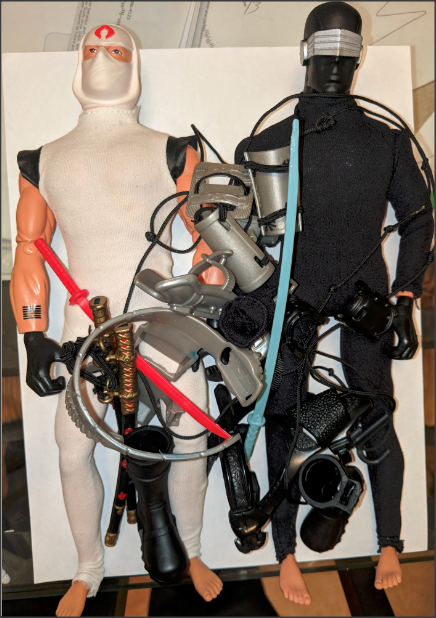 Ah, we come to the end, featuring a pair that will set off all your nostalgia boner alarms. Snake Eyes and Storm Shadow here were from a G.I. Joe two-pack that I think contained a DVD. I remember they were on clearance, and I think I only bought them for that DVD. I don't even collect this scale, 'cause these are just "dolls" at this point, but it must've been quite a good price, because here they are. They came with a shit ton of accessories, half of which you see strewn about here. There are also a lot missing. Like, where are Storm Shadow's ninja booties? I'm not even gonna try to put this stuff back on them. To the thrift store they go, and their next owner can worry about all that.
So, there ya have it. My journey back in toy time ends not with a bang, but with a whimper. You win, Kondo!!!! None of that brought me any joy. Still, it was nice to take a stroll down memory lane, thinking of all the terrible ways and reasons I've wasted good money. I hope you've gotten some kind of enjoyment out of this, and if you want more like it, then leave a comment below. Oh, and don't forget to subscribe! I don't know what I mean by that…I just hear the YouTubers saying it all the time.