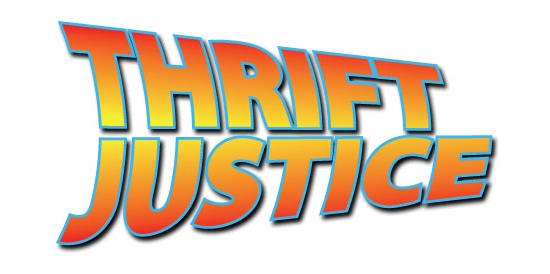 I swear, I'll eventually get back to pop culture ephemera and old toys, but I've spent so much time taking in physical media "strays" that I still have some stuff to say on the matter. I know folks love seeing crazy "Oh my gosh! Can you believe it?!" stuff, but I also know folks like to see complete busts, because it's 2019 and schadenfreude rules the day! Here's a situation that falls somewhere in the middle.
While I pick up a lot of stuff from thrift stores, during my Thrift Justice posting break, I adopted a new approach, where I scour yard sale apps for deals. I mean SCOUR! You know how folks spend a ton of time on Twitter or Instagram? That's me on Facebook Marketplace. My wife says that I have an addiction, but I don't think I'd ever perform oral sex on a stranger in a dark alley for any of this stuff. THAT's addiction! So, to her, I say "Whatever".
I already explained my strategy last time, so you should now be familiar with the stuff that I feel looks promising and what kind of stuff I'd pass on. Let's talk about a recent example, where I initially passed, eventually caved, and then learned a valuable lesson.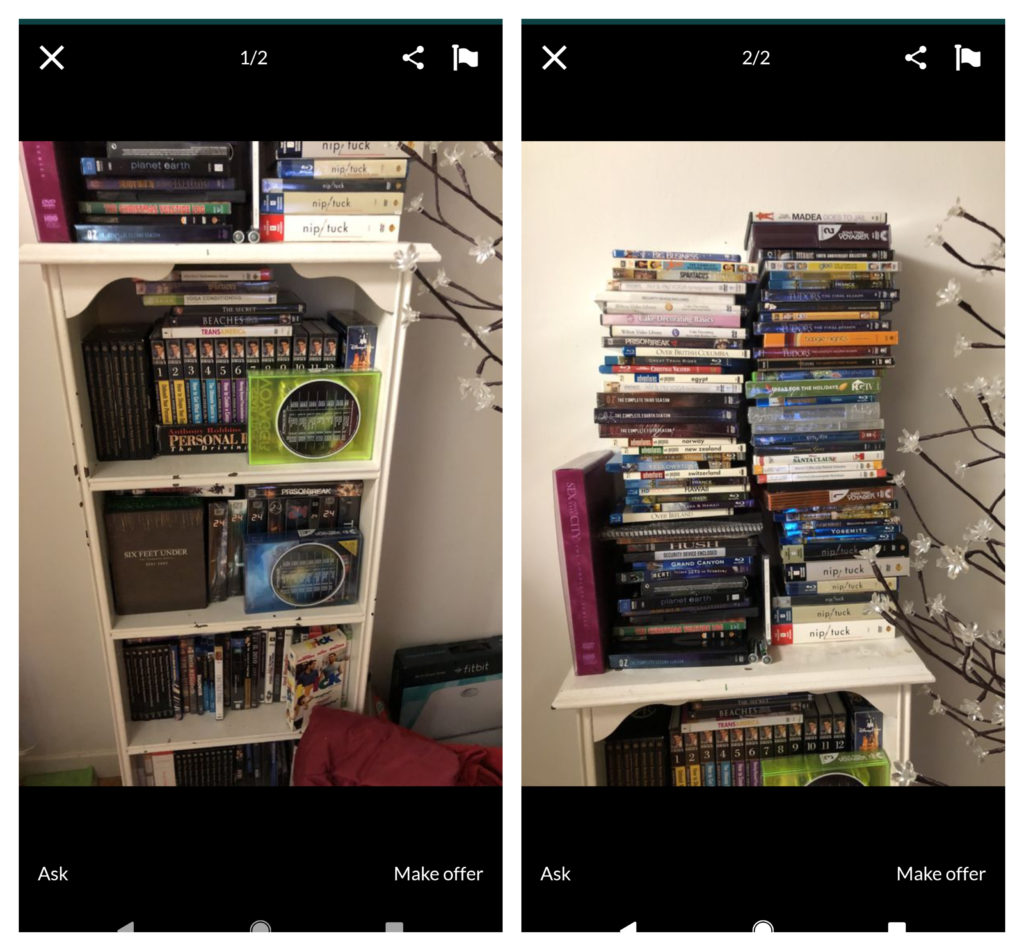 I saw these pics on OfferUp a few weeks ago, and there was some pretty interesting stuff there. Just at a glance, you see the complete Six Feet Under, the complete Sex and the City, the complete 24, most of Nip/Tuck, and some Star Trek: Voyager seasons sticking out here and there. Not a bad lot. The bad thing, however, is that this fool wanted $200 for everything. Yeah, unless your name is Samuel J. Goody, you have no right asking for that kind of money for this – especially when it's all used. Here's the thing, though: with all the stuff I listed, it was definitely WORTH $200, but here's where psychology comes into play: This is a great profit for a reseller, but it's a terrible price for a reseller to PAY.
If you've watched American Pickers, or any show like that, you know that you've got to be able to make some money on your acquisitions. There needs to be "meat on the bone". There's not a lot of meat on that bone at $200. A used complete series of most television shows is in the neighborhood of $30-40. You can get a bit more if it's out of print (For example, the season 1 & 2 set for California Dreams will still net you about $40 by itself. No such thing as a complete run, as they never released the final season. Not even in one of those on demand programs). Keep in mind, though, the series needs to have at least 5 seasons. Don't expect to make any money off Da Ali G Show or something like that (for example, Chappelle's Show is borderline worthless because everyone owned it at some point. They might as well have given it out at stoplights). So, just looking at the series I mentioned above, that's a good $150-200 right there, and those were just a fraction of what I saw.
I saw the listing, but it was too rich for my blood, so I passed on it. I knew he was never gonna sell it at $200, though, and that was proven by how it just sat for weeks. So, I wasn't surprised when one night I noticed he'd slashed the price to $50. Now we were in business! I messaged him, but we were also in the middle of a snowstorm and my car was in the shop. I wasn't gonna miss out on dis bitch, tho!
I manage to get over to my mother's house, and steal her car while she's still asleep (CRIME!). I drive down to the guy's apartment, which is in complete disarray. Ya see, he's actually moving to Richmond that day, which is the reason for his desperation price drop. He can't take the stuff with him, so he dropped it to fire sale prices. There are boxes everywhere, as he's waiting for the movers to come. Still, on the far wall, I see that familiar media case, with the Star Trek: Voyager sets on it. He's out of boxes by this point, and apparently expected me to bring my own. I did not, so he hands me some garbage bags. And I start bagging. He tells me that everything on this side of the apartment is up for grabs, 'cause it's not coming with him. I don't know if that means I've got to pay more or that he's throwing it in with the DVDs. We'll come back to that.

As I'm bagging, I'm kinda overwhelmed by everything he has. I mean, for one thing, there are about 25 travel DVDs and Blu Rays. I don't even know who would watch those things, and he clearly wasn't the type, as none of them had been opened. If you don't know what I'm talking about, they're the kind of video you'd play for ambiance if you ran a nail salon. Top 10 National Parks and Europe In A Day. Stuff like that. Out of the corner of my eye, I notice that 24 season 7 is on the floor, off to the side of the case. I didn't think much of it, as the rest of the series was in one of my trash bags, so I just grabbed it and threw it in.

He also had quite a few collections from motivational speaker Anthony Robbins, and I wasn't sure if they were included in the sale. I've had a strange fascination with Tony Robbins over the years (Does that stuff really work?), but I knew I probably couldn't sell it, 'cause that Guthy-Renker/BeachBody infomercial stuff is always covered by copyrights that can get your eBay account deleted. Anyway, I said "Screw it", and threw them in the bag, as well.
As I'm shoveling stuff into bags, I start to notice all the stuff I hadn't been able to see in the pics on the app. For one, dude really loves musicals. And the Royal Family. So, if I had to do a sidewalk assessment of the guy, I'm picking up "gay man who learned to love himself through the power of Tony Robbins". I start looking at other stuff over on the side, but nothing really catches my eye other than 2 things: a new Xbox One remote/keyboard, and a new pair of furniture covers to protect your couches from pets. You see, we were headed to Richmond that afternoon to go check out the dog that would eventually become ours. Oh, I haven't mentioned we have a dog now? Yeah, he shits in the house and terrorizes the children. I'm not a fan right now. Anyway, I knew I didn't want this potential dog messing up my furniture so I grabbed those covers. I had already thrown the Xbox remote into one of the bags, but I actually showed the covers to the guy, 'cause I wanted him to know I was taking them, and didn't want to get shot in some stranger's apartment over a pet cover dispute (You laugh, but a guy in TN was murdered by the guy offering him $200 for his Xbox One from Facebook Marketplace just a few weeks ago). At that point, he's like "OK, how about $10?" Oh, so he's gonna monetize everything he's got, huh? Should I tell him about the remote? I think NOT. So, I only have $5 left after the DVD purchase, and tell him I'll only take one since that's all I've got. Some folks might be like "Don't worry about it. Take both." He was not one of those folks. So, I shove the cover into one of the bags, give him the $5 bill, thank him, and leave.
As I'm driving home, I'm giddy about these 2 giant trash bags of physical media that were going to make me a mini fortune of "walking around money". Maybe I can finally show my face at the comic shop that's been holding merchandise for me since October. I'm kinda hoping they think I'm dead by this point. Then, as I'm driving, I'm starting to have my Usual Suspects moment. I'm piecing together all the Keyser Soze stuff in my head, reliving the past hour or so. And it starts to occur to me all of the stuff I don't remember seeing. Despite what I had seen on the app, I now couldn't remember actually putting Six Feet Under in one of the bags. Or even Sex and the City. As I kept driving, other stuff was now apparent that it wasn't actually there when I got there. No wonder he had dropped the price – THE MOTHERFUCKER HAD PULLED A BAIT & SWITCH AND REMOVED ALL THE VALUABLE STUFF! At this point, the lot was basically worth the $50 he was asking.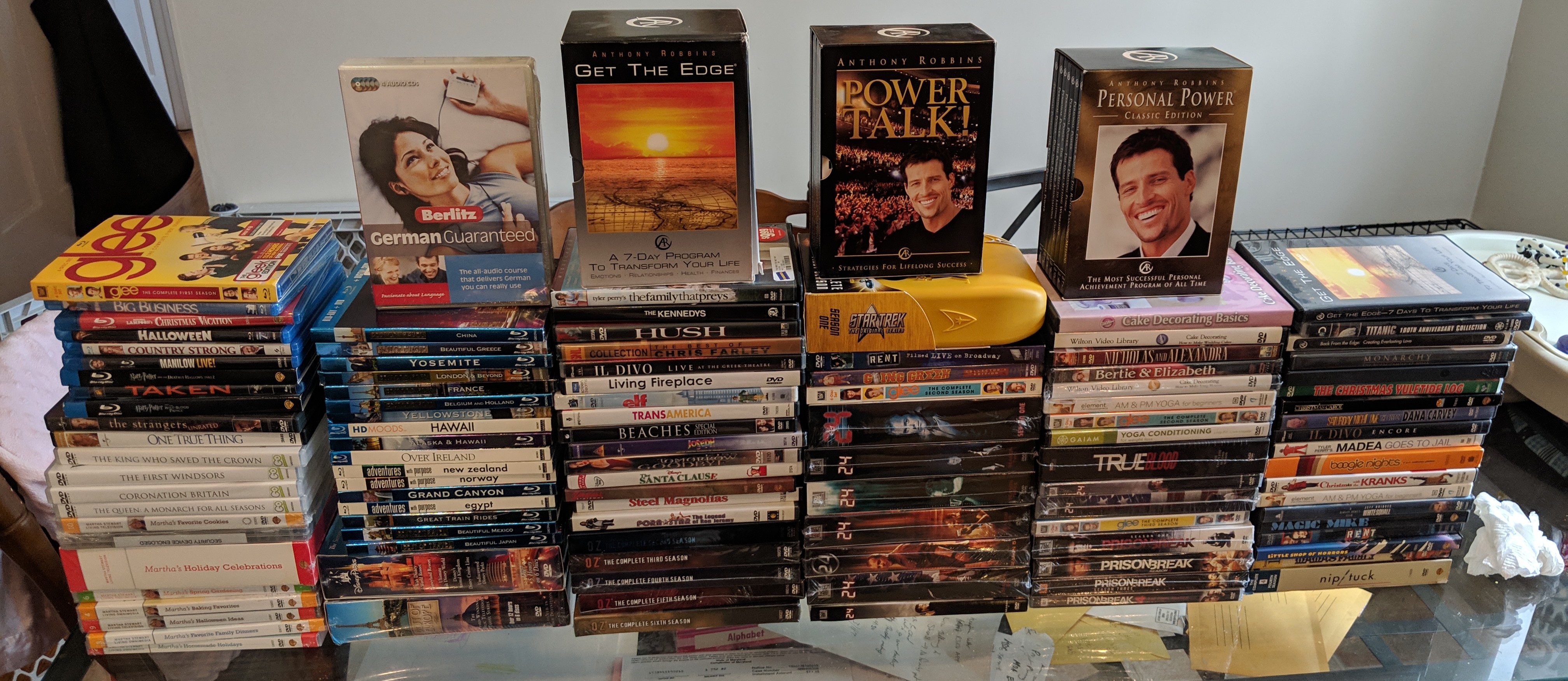 You'd think I'd rush home and immediately take inventory, but you would be wrong. I kinda stewed in it for a while. Life got in the way, we got this shit machine of a dog, and the bags sat in the back on my car for about 2 weeks. When I finally got around to seeing what it was I'd actually gotten, my theory became truth. There was no collection about a sad looking White family that runs a funeral home. There was no collection about Carrie Bradshaw and her antics in a pre-cell phone New York City. There was no collection about plastic surgeons with no moral compass. Don't get me wrong – there was still stuff there. I mean, he had all of Prison Break, and most of Oz and 24 – all still sealed. He had some new Martha Stewart collections, for the DIY folks out there, as well as some rare Wilton cake decorating tutorial DVDs. He had some musicals I could add to the personal collection. But the lot was no longer the goldmine it was teased as being.
This was a "teachable moment" to me, as it made me aware of some things I do in these transactions that probably need to change. For one, when I make a sale, I never count the money in front of the person. I think it comes down to not wanting to insult them, and then have that escalate into me being shot. I've never been stiffed, but I just try to be "Cool Dude" who's all "Oh, it's no problem. Thanks for meeting me!" Another thing I need to do is take my time and really assess what it is I'm buying in these transactions. I used to forget to do this when I first started reselling. I'd go to the thrift store, find something like an old G.I. Joe vehicle that was about 70% complete, and swear there was a buyer out there for it. Sure, maybe ONE, but I wasn't on his radar, and I'd end up sitting on junk. In that setting, I learned to take my time and really inspect the stuff I was buying, so I wouldn't end up with a ton of Beast Wars Transformers, with exposed ball joints indicating there were limbs missing. Here, I should have at least glanced before I started just shoveling into bags, and I should've had the balls to ask about the missing stuff had I noticed it while I was still in the apartment.
For a brief moment, I considered messaging the guy to ask "Hey, what the Hell?", but I didn't really think that was the best approach. Plus, Tony Robbins might have instructed him to stand his ground and curse me out, and I simply couldn't have that! He didn't mark the lot as sold on the app for weeks, so I wasn't being asked to leave a review for how the transaction went, which was actually a relief. I mean, I don't blame him for removing the more valuable stuff if he had another channel to sell where he'd make more money. No, I blame him for not updating the pics on OfferUp, making it seem like I, the buyer, would be receiving things I did not, in fact, receive. To borrow from the vernacular of the day, his ad was simply FAKE NEWS!
I've already flipped Prison Break for $35, and the Xbox remote for $25, so I've gotten my money back, but 24 was missing the final season, and one of the Voyager seasons was missing a disc, so it's gonna be an uphill battle unloading some of this stuff. Look before you leap, True Believer!
Notes From The Road
When I first started Thrift Justice, it was supposed to end with this little segment where I give a little tip or trick that I've learned while thrifting. Since this whole post was something of a cautionary tale, however, I figured it already took care of that. So, instead, I wanted to connect you to some others out there with thrifting experience.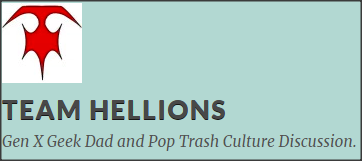 First up, there's my brother from another mother, Team Hellions. He's got quite the reselling cottage industry going, where he specializes in anything from VHS to old print ads. He's also one Hell of a writer, and he just celebrated his 10th blogging anniversary. Visit his site to see the massive magazine lot he probably just acquired, but stay for the in-depth coverage of his latest project: the pop culture of 1983!

Also, be sure to check in on The Surfing Pizza. When I discovered this site, it was incredible writing about nostalgia – ya know, "Here's something you probably remember." In recent years, however, the focus has changed into "Here's something that you probably remember, and here's how it affected me." That personal touch made all the difference, and the site has been firing on all cylinders ever since!
They've both got some thrifting stories to tell, so be sure to check them out!