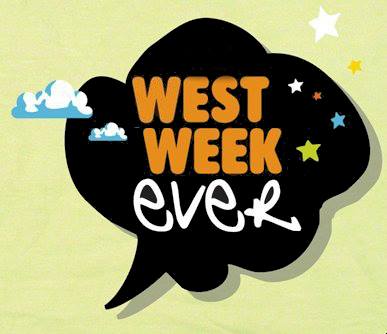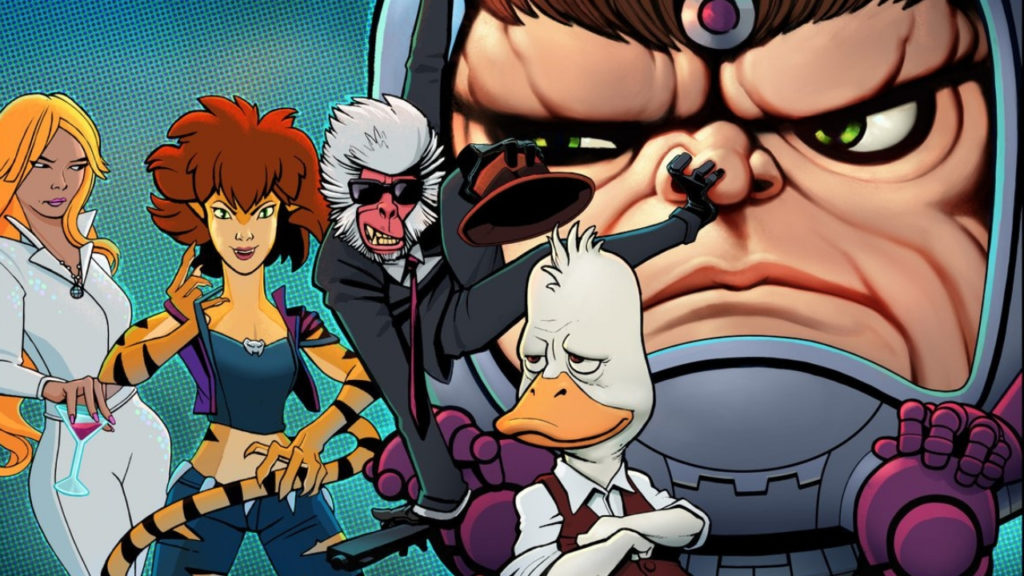 No real rants this week, but I guess we should talk about the Marvel/Hulu deal. Hulu announced 4 upcoming Marvel animated series, including Howard the Duck, M.O.D.O.K., Tigra & Dazzler, and Hit-Monkey. Now, for some reason, folks are excited by this announcement. I, however, do not understand why.
There's nothing amazing here. No marquee characters. Sure, it's been pointed out that this is Marvel's first crack at working with a former Fox character in Dazzler but, I mean, it's Dazzler. The biggest aspect is probably the folks behind the scenes: Kevin Smith will executive produce Howard the Duck, while Chelsea Handler will be the EP on Tigra & Dazzler, and Patton Oswalt will be EP on Hit Monkey. Still, so? I haven't really liked anything Smith has done in a very long time, while they're describing Tigra & Dazzler as "woke" which is a buzzword that's polarizing to some. Put them all together, and it just sounds like a UPN fall schedule circa 1996.
Anyway, all 4 shows will culminate in a crossover called Marvel's Offenders, which is a clear rub against the Netflix deal, where the initial four shows culminated in the poorly received Marvel's The Defenders. Hey, you can't like everything, nor can everything be tailored to you. That said, I won't be subscribing to Hulu for these.
Trailer Park

MA
I'm not a horror guy, and if you're a regular reader, you probably already know that. Still, something about this intrigues me. I figure Octavia Spencer is just getting revenge on the people who bullied her in high school by fucking with their kids, but maybe there's something deeper to it. Still, definitely intrigued.

Yesterday
A world without The Beatles? WHERE DO I SIGN UP?! Yeah, yeah, I know that just triggered some folks, but I maintain that they were a boyband who eventually got into some psychedelic shit. Anyway, this movie looks really good, and I will definitely be seeing it…on Netflix.

Aladdin
During Sunday's presentation of the Grammys, we got a "Special Look" at Disney's upcoming live action adaptation of Aladdin. A few months ago y'all complained that Will Smith wasn't blue in the Entertainment Weekly spread. Now, folks are complaining that he is blue. As I said on Twitter, there's just no pleasing you motherfuckers. Anyway, I'm sure it'll make a ton of money, but this isn't my kind of film. Honestly, I wouldn't watch this thing it it were free on the Disney Channel. This teaser does absolutely nothing for me.

Frozen II
I'm loath to admit this, but I'm beginning to realize Disney just doesn't make movies for me – a difficult position to be in when you have 2 small children. There was a day, about a year ago, when we "watched" Frozen about 7 times. At no point, however, did I make it through the entire thing, instead just seeing disjointed scenes. What I saw, though, did absolutely nothing for me. I don't wanna be one of those "Back in my day, we had The Lion King" folks, but I find it necessary to remind young'uns of that when they start spouting off about The Lion Guard. Anyway, since everyone loves making money, there's a sequel coming. Based on this teaser, Girl Jesus steels herself to go up against her archnemesis, The Wave. I guess? I dunno. I just hope there's a song called "Still Letting It Go".
Things You Might Have Missed This Week
Echo Kellum is no longer a series regular on Arrow after this week's episode, where his character Curtis Holt/Mr. Terrific moved to Washington, DC. Meanwhile, there are rumors that Carlos Valdes will be leaving his role as Cisco over on The Flash by the end of the season.
After 17 years, Carson Daly will be stepping down from his late night NBC series, Last Call, at the end of the season. He says that "It's time", and that he wanted to give the spot up to a younger voice. Look, I know how Hollywood works Nobody leaves a paying gig, where they're pretty much left alone, on their own accord. That's the kind of job you do until they pull the rug out from under ya, which I believe is exactly what NBC did. Still he had a good run, and he met his wife on the show, so it was a fruitful enterprise for him.
Even though it was always reported as returning "Summer 2019", it was revealed this week that Agents of S.H.I.E.L.D.'s 6th season will premiere sometime in May, and will be set one year after the events of the season 5 finale.
Fox renewed Bob's Burgers and Family Guy for next season, surprising no one. Oh, and The Simpsons was renewed for 2 more seasons, despite the fact that there are reports that Disney could make more money off the franchise by cancelling it, as the original syndication deal was made early in the show's run and could be renegotiated at a higher rate.
Considering the new president of Nickelodeon is the creator of All That, it's no surprise that he's going back to the well in his attempt to get the channel back to its roots. Brian Robbins announced he is developing a reboot of the tween sketch show, with breakout former star, and SNL veteran, Kenan Thompson as an executive producer.
Marvel announced the upcoming Savage Avengers comic series, which will see Conan the Barbarian join the Marvel Universe. This is a confusing thing to me, from a business standpoint, because what happens when Marvel loses the Conan license, yet certain events will have been propped up from his time in the MU. I mean, ROM: SpaceKnight anyone?
In the wake of recent sexual misconduct allegations against director Bryan Singer, his adaptation of Red Sonja has been shelved by Millennium Films AFTER they had sworn their support of him and the project.
It was announced that McFarlane Toys has acquired the license to make collectible toys based on DC Entertainment properties. Personally, I feel like they squandered too much goodwill 20 years ago with their "staction figures", but folks seem to love their recent Fortnite toys, so maybe that's an indicator of what we can expect?
It was announced today that the next iteration of Power Rangers, Power Rangers: Beast Morphers, will premiere on March 2nd, at 8 AM (the franchise's new timeslot). 8 AM is where you'd need to air Power Rangers to get kids to care about it live. I mean, by that noon timeslot, they were already at soccer or whatever.
I'm no longer wasting the time to document the many returns of Toys "R" Us, so NEXT!
As I get older, it's harder for me to tell these pop starlets apart. Between Halsey and Charli XCX, I remember that Halsey is the Double Bi one (bisexual and biracial), while Charli XCX is "The Other One". That's not really a knock on her, but rather the fact that I feel they have similar "gimmicks". Anyway, I caught the video for Charli XCX & Troye Sivan's new song, "1999", which was pretty impressive. If I wanted to nitpick, I could point out how most of this stuff actually took place around 1997, but I'll give her points for effort and attention to detail. Also, I feel like Sivan, an openly gay man, impersonating Eminem, one of pop culture's most notorious homophobes, is about 1,000 thinkpieces waiting to happen.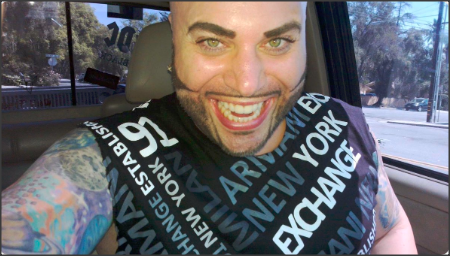 So I first learned about Instagram user HardRockNick, AKA Nicholas Rock Johannsen, last weekend while surfing Twitter. Someone had come across his profile, and basically commented that they had found The One in him. Of course, they were being facetious, but it led me, and scores of others, to check out his account just to see what they were talking about. And it did NOT disappoint!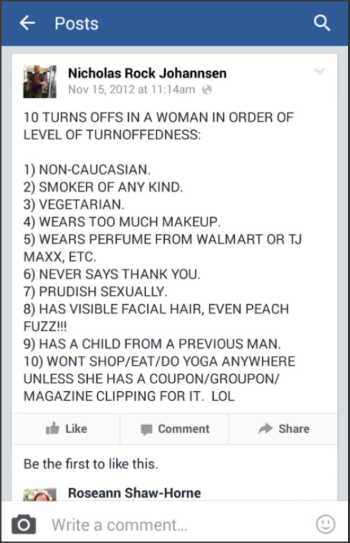 I don't even know where to begin with this guy. He's allegedly a multimillionaire casino owner. His likes include banging porn stars, Trump, and Pure-White women ("not mixed with Mexican or Israeli and shit"). I watched as his followers went from about 500 to 10,000 over the course of the day. Of course, there's the whole sentiment of "Stop Making Stupid People Famous", but I was getting tired of hearing about the Andy, the Blowjob Guy from the Fyre Festival documentary, so I welcomed a new butt of jokes.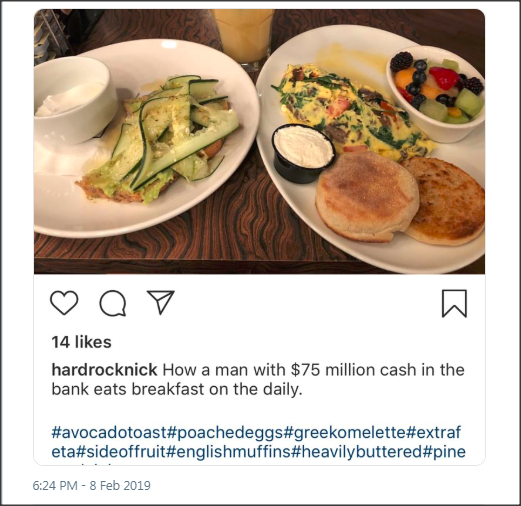 Everything about him is sad-funny. Whether it's him trying to impress us by the fact that he found a "great little burger place in my neighborhood", which is actually a Shake Shack, or him showing off the breakfast made for him by his "personal chef", when the picture is clearly taken at an IHOP. Was he real? Was this performance art? That's what we all wanted to know.
Any time you encounter someone just so obnoxious, the first question that comes to mind is "Who hurt you?" Well, after some sleuthing, a story began to take shape. HardRockNick at one time was also known as Aly Ashley Jash, who ran a pet grooming business with his wife, stage actress (and former fiancee to Jeff Goldblum) Catherine Wreford. As the business began to go downhill, Wreford allegedly had an affair with an insurance salesman. Jash, however, would have the last laugh, as he broke into Wreford's house and took a shit in her kitchen sink (this event can be confirmed by court documents found online). The story, however, doesn't have as jokey of an ending. Jash went on to become whatever it is you can call him now, while Wreford was recently diagnosed with terminal brain cancer.
Then, we got the WHOLE truth. I'm not even gonna spoil it here. Click that link and go to town. However, if you're like Lindsay – who was disgusted just looking at the guy – then you can hop off here. All I know is the internet had a nice little time following this guy's story, even if it paled in comparison to that week when Pokemon Go brought us all together. In my mind, however, HardRockNick, AKA Aly Ashley Jash, had the West Week Ever.