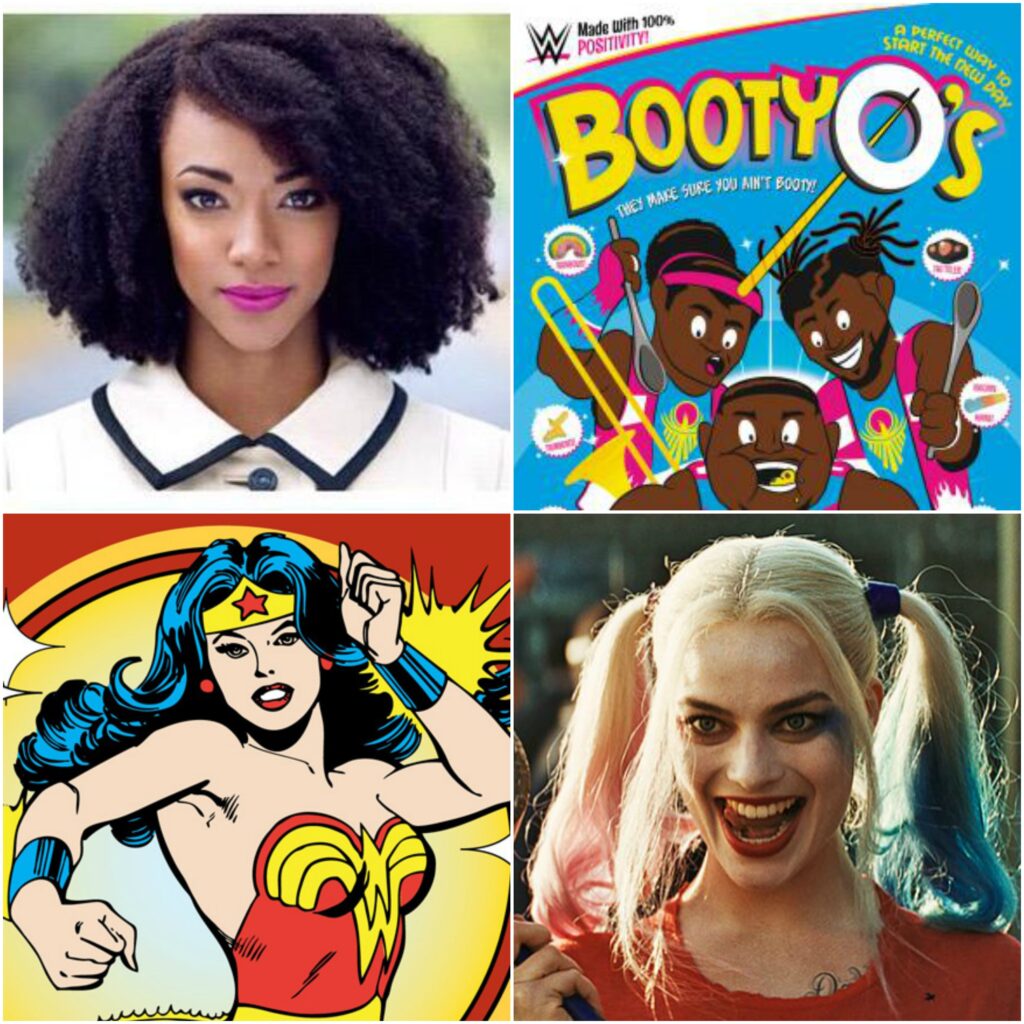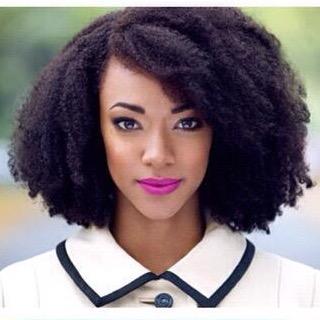 The biggest news of the week is probably the fact that Star Trek Discovery is finally getting somewhere, as they cast the lead role of the series. Sonequa Martin-Green, most recently of The Walking Dead, has been cast as Lt Commander Shaznay Jenkins. I totally made up that name, but she will be playing a lieutenant commander, as they felt there have been enough Trek properties that focused on captains. Surprisingly enough, she's still keeping her job on The Walking Dead. Now, I wonder if that's actually true, or if they just don't want us thinking too hard about the fact that her character is probably gonna be zombie chow soon. In all honesty, though, it makes sense for her to keep that job, as the Trek gig is supposed to be a one-season story. If there even is a second season, it's unlikely it would follow the same cast, as that was never the original intention (keep in mind, intentions may have changed now that Bryan Fuller is no longer attached to the show). Still, it's basically January (which was the original launch month), and they've got to put this thing together by May, special effects and all? I totally wouldn't be surprised if it gets postponed again. I mean, they already missed the 50th anniversary, so they might as well just say "Fuck it" and take their time. Anyway, I wonder how Black they're gonna take her character. Like, will she be Girl Sisko, or will she be more subdued? I mean, Sisko was In-Tense unless he was playing baseball.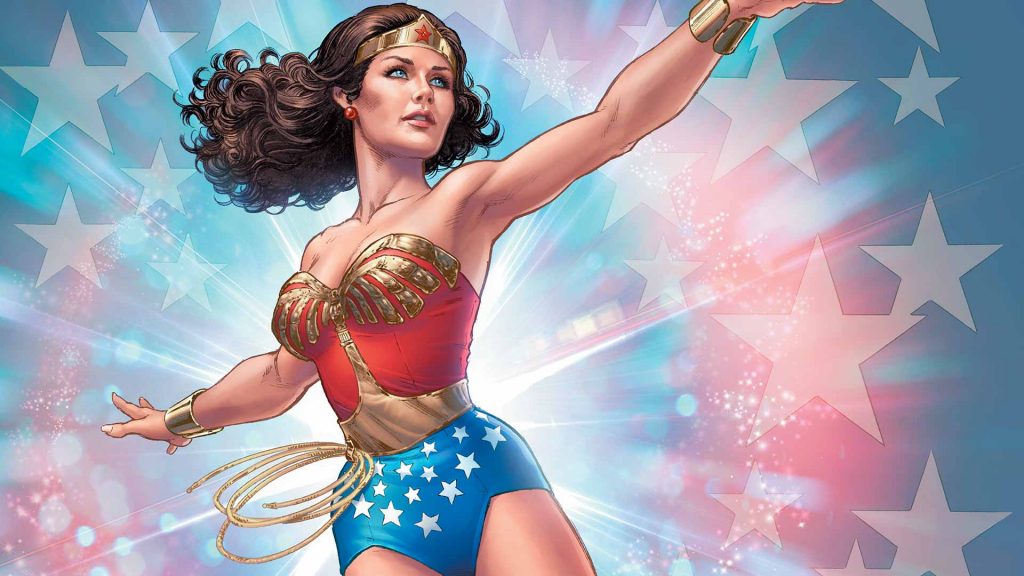 In WTF? news this week, Wonder Woman was removed as a United Nations Honorary Ambassador for the Empowerment of Women and Girls – just TWO MONTHS after receiving the honor in the first place. It seems that some folks were upset that a fictional character got the honor when there are real women out there fighting the good fight. Also, they felt that she wasn't "culturally encompassing" (Too White) and "overtly sexualized" (Too Damn Hot).  Apparently, the UN received a petition with more than 44,000 signatures asking for her removal, from inside and outside the organization. This is a tough one. On the one hand, she is a fictional character, so it probably is a slap in the face to some women out there. But on the other hand, this is what you wanna waste your petition power on? Plus, it should be pointed out that honorary ambassadors tend to be fictional characters, as goodwill ambassador is the role reserved for the living. Former honorary ambassadors include Tinkerbell (honorary ambassador of green) and Winnie the Pooh (honorary ambassador of friendship). The character was chosen due to her roots in feminism, but many felt that she didn't embody the image that the UN should be putting forth to the world.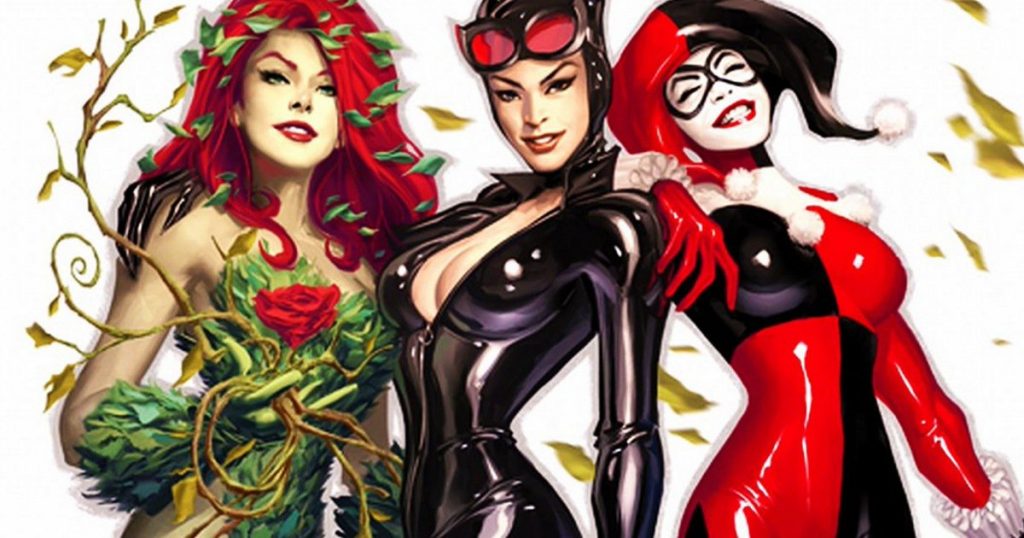 In other DC Comics news, there are reports that Margot Robbie is donning the Harley Quinn costume again for a Gotham City Sirens movie, directed by Suicide Squad's David Ayer. I actually really liked Robbie's Harley, so I don't mind this one bit. I was also a big fan of the Gotham City Sirens comic, which was a buddy team-up between Catwoman, Harley, and Poison Ivy. They weren't quite villains, but weren't heroes either. They were almost like a super Golden Girls, lending support to one another. Sadly, though, they're saying that Megan Fox is lobbying for the role of Poison Ivy, and that's not a good fit in my opinion. But this is a DC movie, where they're not known for their smart decisions, so Fox will probably get the part.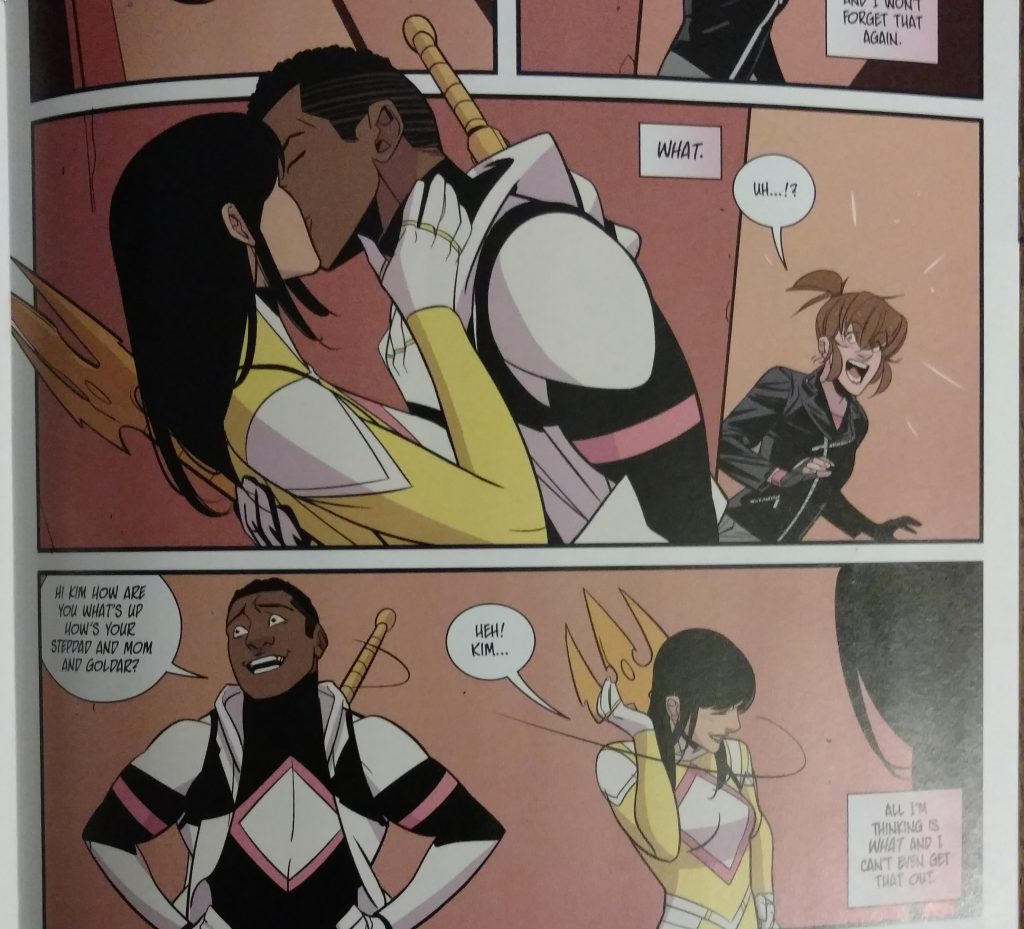 I've written about how good Boom!'s Power Rangers comics are, and the Kimberly-centric Power Rangers: Pink is no exception. The comic focuses on Kimberly after she leaves the team to go train for the Pan Global Games, with Kat taking her place on the team. Well, when the French village where her parents live is attacked, and the residents are turned into fish monsters, she's called back into action. The Power Rangers are off-world, so they can't help her, but Zordon utilizes the Sword of Light from "The Power Transfer" to infuse Kimberly with his own power. As the threat gets more intense, she realizes she needs a team of her own, and she goes and seeks out fellow former Rangers Trini and Zack. They end up with these cool, redesigned almost black ops versions of their MMPR suits. As the story goes on, they recruit 2 French teens to round out the team. At the end of this week's issue, however, they threw us all for a loop when it was revealed that Trini and Zack are now a couple. Now, I've never been a fan of "shipping", but I guess I always assumed Trini and Billy had an unspoken love, since they were the two smart ones on the team. I can't even remember Zack interacting with Trini on the show, but somehow this comic makes it seem plausible. I'm really enjoying how these books are playing with continuity, managing to make stories that still "matter" even if they aren't part of the canon that we've come to know.
Things You Might Have Missed This Week
NBC announced that their Taken prequel series will premiere February 27th. I'd watch a Taken prequel film, with a digitally de-aged Liam Neeson, but I have no interest in a TV show. There are NO stakes, considering we know he lives to be featured in THREE movies!
Taran Killam will assume the role of King George III for Hamilton on Broadway. I think this is PERFECT casting! It'll be like his Jebediah Atkinson character on comedic steroids.
Tarek and Christina El Moussa of HGTV's Flip or Flop announced their separation, following a crazy incident last May where Tarek flipped out and ran into the woods with a gun. Christina is reportedly now dating one of their contractors. And they still expect the show to continue!
Patrick Wilson was cast as Ocean Master in the upcoming Aquaman film. I'd ask "Who?", but I know who he is. I'm just not impressed.
While we still await the first broadcast cancellation of the Fall TV season, Netflix cancelled Marco Polo, and WGN America cancelled Salem. I don't even know why WGN tried to get into original programming. Manhattan failed, Salem failed, and Underground's days are probably numbered, as I've never met anyone who's watched it.
R.L. Stine will be writing Marvel's Man-Thing. Aw shit, son! They gonna get Goosebumps on their Man-Thing?! Better get some cream for that!
TBS renewed recent West Week Ever recipient Search Party, as well as Wyatt Cenac's People of Earth for second seasons.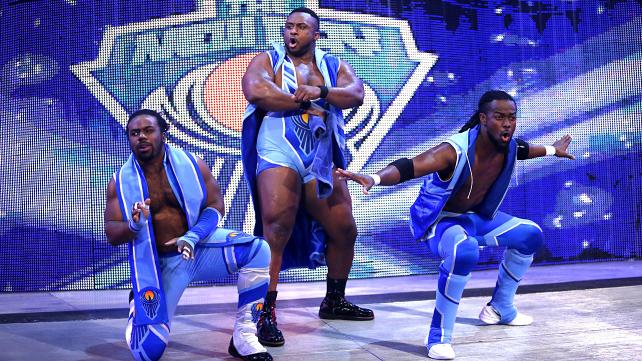 It ain't easy being Black in professional wrestling. It's even harder to be THREE Black guys in professional wrestling. Yet, somehow, New Day has risen above it all, and this week they were heralded as the longest-reigning tag team champions in WWE history. The previous record was 478 days, set by Demolition members Ax and Smash, but that was also a different time. In a lot of ways, that's what's so conflicting for me. I mean, what does it really mean to hold a belt over a year in the rigged world of "sports entertainment". Back when Demolition did it, we still kinda pretended the stuff was real, in an era of gimmicks and ring names. Now, the title is held by Kofi Kingston, Big E Langston and Xavier Woods – all names that would've been held by "jobbers" 30 years ago (for y'all not into wrestling, a jobber is the no-name guy who'd get into the ring with someone like Hulk Hogan in order to make Hogan look better. Now they're referred to as "enhancement talent". Sounds like the ability to make your penis grow at will or something, but I digress…). So, now that the curtain has been pulled back, and we know how the sausage is made, what does it truly mean for New Day to be the champions?
Some might say that this is a triumph for Blacks in wrestling and, in many ways, it is. I mean, Vinnie Mac doesn't cotton to minorities too often, so the fact that he hasn't stripped them of the title either means that there's nobody in the locker room with the heat to do it, OR he actually believes in them. I'd like to think that he's caught up with the times and that it's the latter. Still, when the #BlackExcellence hashtag started circulating earlier this week in regards to New Day, it was proven that many fans aren't as "progressive" as McMahon. The slurs and insults began to fly! But is anyone surprised? I mean, it's still 2016, where everything is horrible.
I've seen New Day, and I can believe the hype. It's really hard to hate those guys, as they just bring a certain energy to wrestling that wasn't there before. I can't explain the Booty O's and the unicorn horns or any of that, as I'm a casual wrestling fan these days, but whatever they're doing is working. I will say this, though: I find the whole "record" thing funny because how is it a streak if you're not constantly defending your title? For example, I saw them at my first live wrestling experience a few months back, and they lost. But their title wasn't on the line that night. How convenient. It doesn't mean much if you can just pick and choose when the title is on the line. At least, that's not how I would run MY wrestling promotion. I'd have hardcore rules on all the titles, so you could get a chair to the head while standing at a public urinal, and it would all be legal. But I can't give away ALL of my million dollar ideas!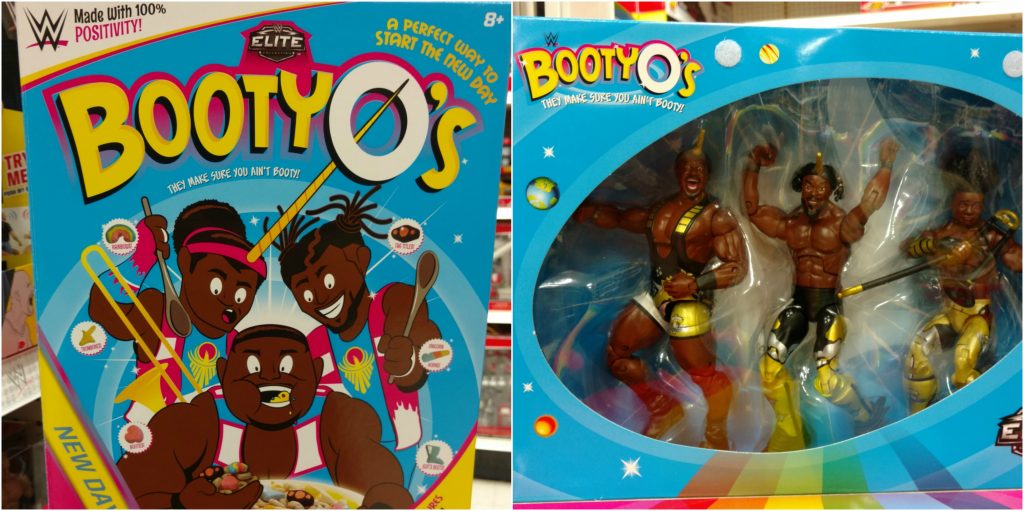 On top of breaking the streak, this week also saw the release of a beautiful 3-pack of WWE Elite figures of New Day from Mattel. Designed to look like a cereal box of Booty O's, the whole package is amazing. The figure sculpts are great, and it's a package so gorgeous that you won't want to open it.
Yes, everything was coming up Milhouse for New Day this week, and that's why they had the West Week Ever.