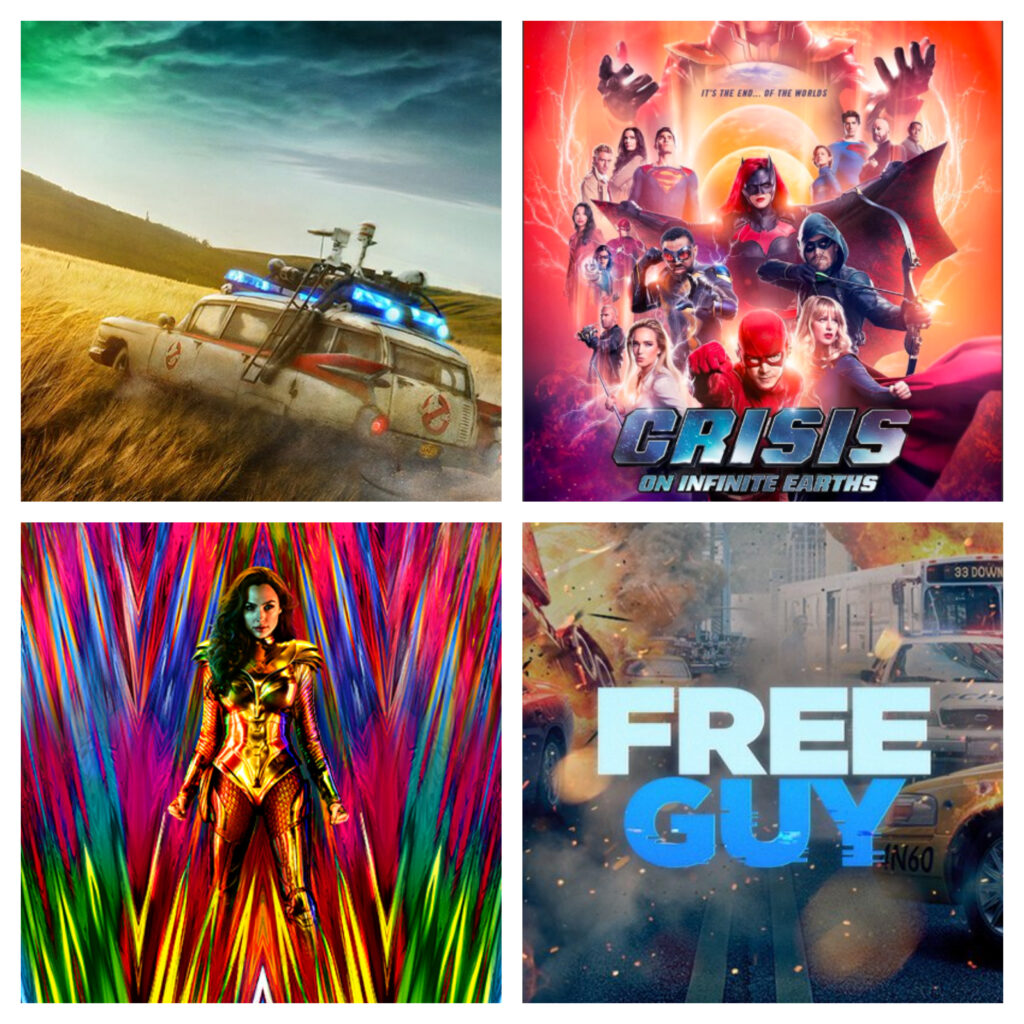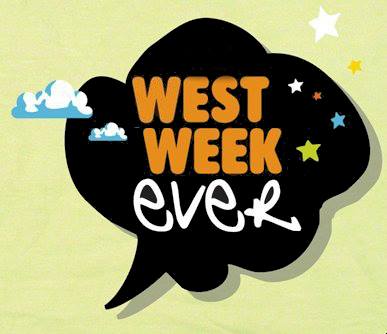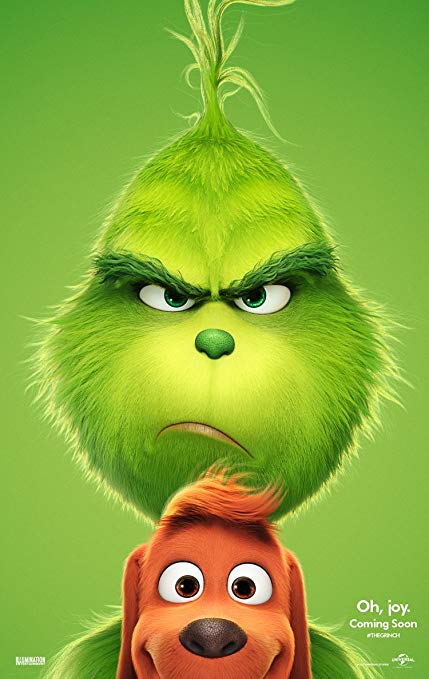 In a rare family moment, we all sat down to watch The Grinch last weekend. My wife had actually taken our oldest to see it in the theater last year, but the kid fell asleep during the second half. In all, it's a cute little movie, if not a bit short. I don't really make a tradition of watching holiday stuff every year, so I haven't seen How The Grinch Stole Christmas in forever. I do know that most of this Cindy Lou Who stuff was new, 'cause you've gotta do something to fill 85 minutes. I didn't realize Cumberbatch was The Grinch until my wife looked it up, and then it was obvious. He was using that same "normalized" American accent that Hugh Laurie used as Dr. House. And I loved Kenan Thompson as Brinklebaum. I do have questions, though. If The Grinch isn't a Who, then WHAT is he? And why is he green? Is this explained in some other part of the Dr Seuss Shared Universe? I didn't grow up on those books, so someone enlighten me. Anyway, other than It's A Wonderful Life, we don't really have Christmas viewing traditions, but I could easily watch this again in the future.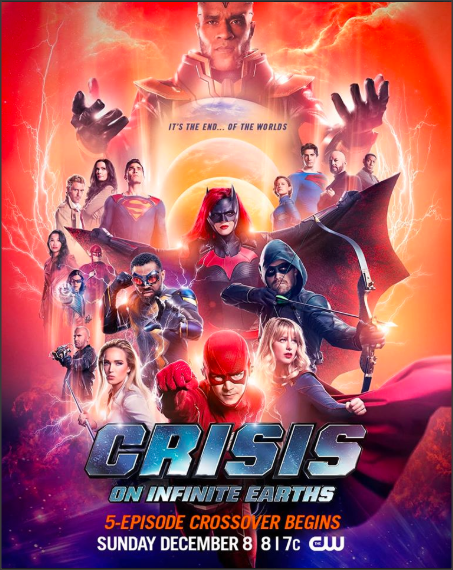 So, this week saw the start of the highly anticipated 5-part Crisis on Infinite Earths crossover on The CW. The first 3 parts aired over Sunday through Tuesday night, with the final 2 parts slated to air in about 4 weeks. Clearly a love letter to fans of DC Comics, the event pulled characters and actors from all over, including Burt Ward (Batman '66), Robert Wuhl (Batman '89), Tom Welling (Smallville) and more. Those cameos were woven into the ongoing stories of the individual Arrowverse series, much to the crossover's detriment in my opinion. I really wanted to like it. I mean, I truly did. That said, it really felt like a cheap fan film –  probably because the costumes of ancillary characters look like bad cosplay (looking at you, Vibe). Here are my random, SPOILERY thoughts, in no particular order:
I can't imagine this was accessible to newcomers. I'm the most casual of Arrowverse fans these days, and I probably only understood about 30% of the non-Crisis stuff going on.
Speaking of not being able to follow things, Tom Kavanaugh is on, like, his 4th character in this franchise, right? Is he some producer's uncle or something?
There was WAY too much Supergirl drama going on in Part One to really be able to focus on the fact that the world was ending.
I haven't seen Supergirl since season 1, but that Braniac dude is obnoxious as Hell. I know they represent "the audience", but why do these shows always have that grating fanboyish character who has to explain everything to the "noobs"?
I'm sorry, but I didn't watch 12 seasons of Two and a Half Men to accept Jon Cryer as Lex Luthor. He's just hammy in the role, and not in that "good" way. I just can't take him seriously.
I've never watched Batwoman, and after Ruby Rose's performance, I don't see myself starting any time soon.
Ya know, for all the fanfare about Batman: The Animated Series voice actor Kevin Conroy starring as Batman, he didn't really SOUND like Batman.
All the deaths were corny, from Oliver to Bruce to Flash '90. They were without emotion, and made soap opera deaths look Oscar worthy.
Man, I thought I disliked Erica Durance as Lois Lane in Smallville, but I REALLY don't like the Arrowverse Lois.
I always liked Brandon Routh as Superman, and felt he just got shafted with a bad movie. It was great to see him back in the suit here, but, as Clark, it looked like he was wearing his father's ill-fitting suit.
Seeing Hoechlin next to Routh really drove home just how much of a Great Value Superman the Arrowverse has.
I love they pretty much had to come up with a "He gave up his powers" excuse to justify Welling's midlife, lumberjack body.
More happened in the Batwoman ep than the Supergirl ep, and that's still not saying much. Meanwhile, did you know that when this aired in the UK, they had to skip the Batwoman episode because no broadcaster in the UK has the rights to the show? Womp womp.
Who did the Gotham producers piss off that Lucifer got a cameo but no one from their show did?
So that it doesn't seem like I'm completely shitting on the whole enterprise, it is cool how they pretty much wove a tapestry of everything that came before and after Arrow into the Multiverse. I know we're not supposed to talk about it anymore, but it's basically HyperTime. "Everything counts".
The best acting, and actual genuine emotion, came courtesy of Jefferson "Black Lightning" Pierce. Never thought I'd type that sentence!
Speaking of Black Lightning, we got the Black Guy Head Nod between him and Diggle. Let that sink in for a minute, though. We do it because we've been through the same shit, and are acknowledging that with each other when we meet. But, in this case, it means in MULTIPLE universes, we STILL go through the SAME shit to make the nod even necessary. Slavery, Inequality, The Struggle. Except the Earth with Black Superman. That's heavy.
Did these episodes really need a Kevin Smith-hosted aftershow to break down what we just saw? I get that DC/WB wanted us to think this was EPIC but the product they delivered fell short of that.
That was NOT an ending that's gonna keep me on my toes for the next 4 weeks. Everyone swore this would have some amazing cliffhanger, but they were wrong.
At the end of the day, it's a cool experiment, but I was mostly bored. It couldn't hold my attention most of the time, and had I watched it nightly, instead of in one fell swoop in one night, I probably would've dropped it after Part One. It's got 2 more episodes to stick the landing, but I'm not holding my breath.
Trailer Park


Wonder Woman 1984
Remember last week, when I said that the Black Widow trailer really didn't move the needle for me? Well, along came this trailer, which basically said "Hold my tranquilizer". I love "Blue Monday" and the 80s aesthetic. Gadot is great in the role, and I love Kristen Wiig, but I didn't walk away from this, just needing to see this movie. And Steve is just…back? Was he frozen in ice for 40 years? I was kinda hoping they would be brave, and take a page from the Wonder Woman TV series, saying that this is actually Steve Jr, played by the same guy (like Lyle Waggoner in the series). Instead this seems to be Steve Sr? I dunno. I know we'll get at least 2 more trailers, so I hope they're better than what we got here.

Like A Boss
This seems like it should be funnier than it is. I'd like to think they saved the best stuff for the movie, but that's not how these trailers work. I know she's polarizing, but I watched this and couldn't help but think "Melissa McCarthy could've saved this movie." Keep Haddish, because I know she's the new hotness in Holywood, but replace either Rose Byrne or Salma Hayek with McCarthy, and this would probably be a good movie. As it stands, it doesn't look like much.

Free Guy
Fun trailer, and who doesn't love Ryan Reynolds? That said, I'm not enough of a modern gamer to truly appreciate what's going on here. Back in my day, a Non Playable Character was a damn turtle, or a dog that laughed at you. I never immersed myself into the GTAs and CoDs enough to really "get" what's going on here. Plus, Reynolds has joined the ranks of actors, such as Bruce Willis and Vince Vaughn, where he's cultivated a character that he now plays in every comedic role. You could say he's been doing it since Two Guys, A Girl, and a Pizza Place, but it's been refined over the past 20 years to where he doesn't really have to try anymore. He struck gold by cranking it up to 11 for Deadpool, and now he can easily coast on a 7 if he has to. Yeah, I'll catch this one when it hits FX.


Nora from Queens (Comedy Central)
Speaking of polarizing, apparently some folks don't like Awkwafina. I'm not one of those people, however, so this looks good to me. I know we're losing an Asian-American sitcom when Fresh Off the Boat ends this season, and while this won't "take its place", it's still another option in the marketplace.

Stargirl (DC Universe/The CW)
Yay, another Arrowverse show. I think I'm beginning to feel about the Arrowverse the way those Snyder Cut fanatics feel about the MCU. Enough already! Still, this actually looks kinda cool, but I look at Luke Wilson and think "How'd you end up on The CW?" Then I remember it's not exactly true. You see, this show was developed for the DC Universe streaming service, but since that service seems to be on its last legs, an interesting deal was struck: episodes will debut on DC Universe, and then air on The CW the following night. This trailer, however, doesn't seem to want the stink of DC Universe on this show, so they just cleverly forgot the whole "The CW is actually airing reruns" aspect. Anyway, as far as demographics go, this should fall right into The CW's sweet spot, as it will appeal to Arrowverse fans AND teen girls.
Things You Might Have Missed This Week
Apparently the sequel to SHAZAM! is slated to be released on 4/1/22. Ya know, if this isn't some long-range April Fool's joke.
Speaking of release dates, it was announced that the 4th Matrix movie and John Wick 4 will be released on the same day: May 21st, 2021.
Batista and the nWo have been announced as members of the 2020 class of the WWE Hall of Fame. I had a great conversation on Twitter about whether or not Batista is really a Hall of Famer.
William Shatner, 88, filed for divorce from his fourth wife after 18 years of marriage. How bad is your marriage when you file for divorce at 88?! It's a wash by that point. You going back out on the prowl? You really don't want her eulogizing you? What is it?
In the Year of our Lord 2019, Nick Cannon is still poking the bear with Eminem. It's funny that Nick's still trying to defend the honor of a woman who doesn't even want his ass anymore.
At last night's Game Awards, the XBox Series X was teased for a Fall 2020 release. With a name like that, I can only assume it has more boobs, and maybe a little bush.
Though the writing was on the wall with the announcement of Jeph Loeb's departure, it was announced this week that Marvel Television will be folded into Marvel Studios, with Marvel Chief Creative Officer Kevin Feige taking over.
ABC is doing another Live In Front of a Studio Audience special next Wednesday, this time tackling episodes of All in the Family and Good Times. The All in the Family cast is the same as last time (Woody Harrelson, Marisa Tomei, etc), while the Good Times cast is new, including Viola Davis and Andre Braugher.

I'll bet you were looking for it in Trailer Park, but it's actually got the coveted spot this week. You see, growing up, I was hardcore into Ghostbusters. You wouldn't know it now, because that part of my brain has been occupied by Power Rangers trivia the past 26 years and, in the age of the Internet, TRUE GB fanatics arose, making my fandom look like nothing.
The thing is, however, I wasn't ever really into the things that modern day fans feel were "Peak Ghostbusters". For example, I don't really revere that first movie, and I kinda prefer the sequel, if only because local Fox affiliate, Channel 5 (shout out WTTG!) used to air Ghostbusters II about every 8 weeks when I was growing up. I've just seen it more than the original recipe, so it came to mean more.
No, my fandom was based primarily in the toys and the cartoon, The Real Ghostbusters. In fact, it was that very cartoon that sort of stoked my love of continuity when it actually acknowledged that Janine's look had changed over the seasons, and provided an in-story reason for that besides chalking it up to "The animators were getting bored". My love was reignited in '97, when Extreme Ghostbusters hit syndication. I watched every episode while getting ready for *high school* every morning, and I squeeed during the series finale 2-parter, when the original team came back to meet the new team.
As for the toys, I had the proton pack, the trap, the firehouse, Ecto-1 – all of which I still have to this day. I never really lost my love of the franchise, but I kinda didn't really feel "worthy" around folks who can quote the movies word for word (and keep in mind, the movies aren't *my* Ghostbusters). When it comes to live action, I'm still waiting for something to come along that piques my interest. There was Ghostbusters 2016, with the female team, which should've been right up my alley, as I love the cast AND the director. Still, I've owned it for years, but have never taken the time to watch it, since public sentiment towards it is so negative. We saw a lot of the worst sides of the fandom then, and I think it's what made me shut down the containment unit for good.
Then this trailer popped up, and brought it all rushing back. What, exactly, was I watching? This wasn't the theatrical Ghostbusters I'd grown up on, but that wasn't a bad thing. I HATE movie speculation, but I immediately found myself on a Facebook thread with some friends trying to decipher what we'd seen. How was Egon old enough to have grandkids? Does this movie retcon Ghosbusters II? Is Paul Rudd no longer playing Dana Barrett's grown kid, Oscar, which is a role that had been rumored for years? Are we sure it's even Egon we're talking about here? I mean, sure, his actor is no longer with us, but moving to a farmhouse with the Ecto-1 sounds really "Ray" to me.  And is the world in Ghostbusters basically like the Marvel Universe, in that everything happens in NYC, and doesn't really affect the rest of the world? I mean, 30 years ago, there was PROOF OF GHOSTS, and now it's just forgotten about in Middle America?
Anyway, it's safe to say that I'm interested and on board. I'll acknowledge that it didn't do it for everyone, as a lot of folks complained "They got Stranger Things in my Ghostbusters!" Sure, I get that there's a kid element to this film, with Finn Wolfhard, but we don't yet know that they save the day. For now, we just know they go for a joyride, and play with a thrower that they totally don't understand. I'd find it kinda hard to believe if they end up taking out the ghosts with no real guidance or training (even the Extreme Ghostbusters had training), but I feel like there's a lot they can't show us yet, so I'll trust in the process.
Move over, "Is Die Hard a Christmas Movie?", 'cause there's a new question on the block: Was Ghostbusters a Comedy? Bigger fans than myself have pointed out that it was apparently never intended to be a comedy, but rather a horror movie with comedic elements. Meanwhile, there's the camp that swears it's one of the greatest comedies of the decade. I haven't really taken a side on that one because, as I said, I prefer the sequel, and it was clearly a comedy. I think its clear comedic approach is why folks don't think it's a worthwhile successor to the original. I guess it needed to be a bit more nebulous in its intentions.
In any case, I've got a fever, and the only cure for it is new Ghostbusters. I'm cautiously optimistic, and longtime readers know it's a lot easier for me to shit on something that be optimistic, so I'm trying here. That's why the Ghostbusters: Afterlife trailer had the West Week Ever.