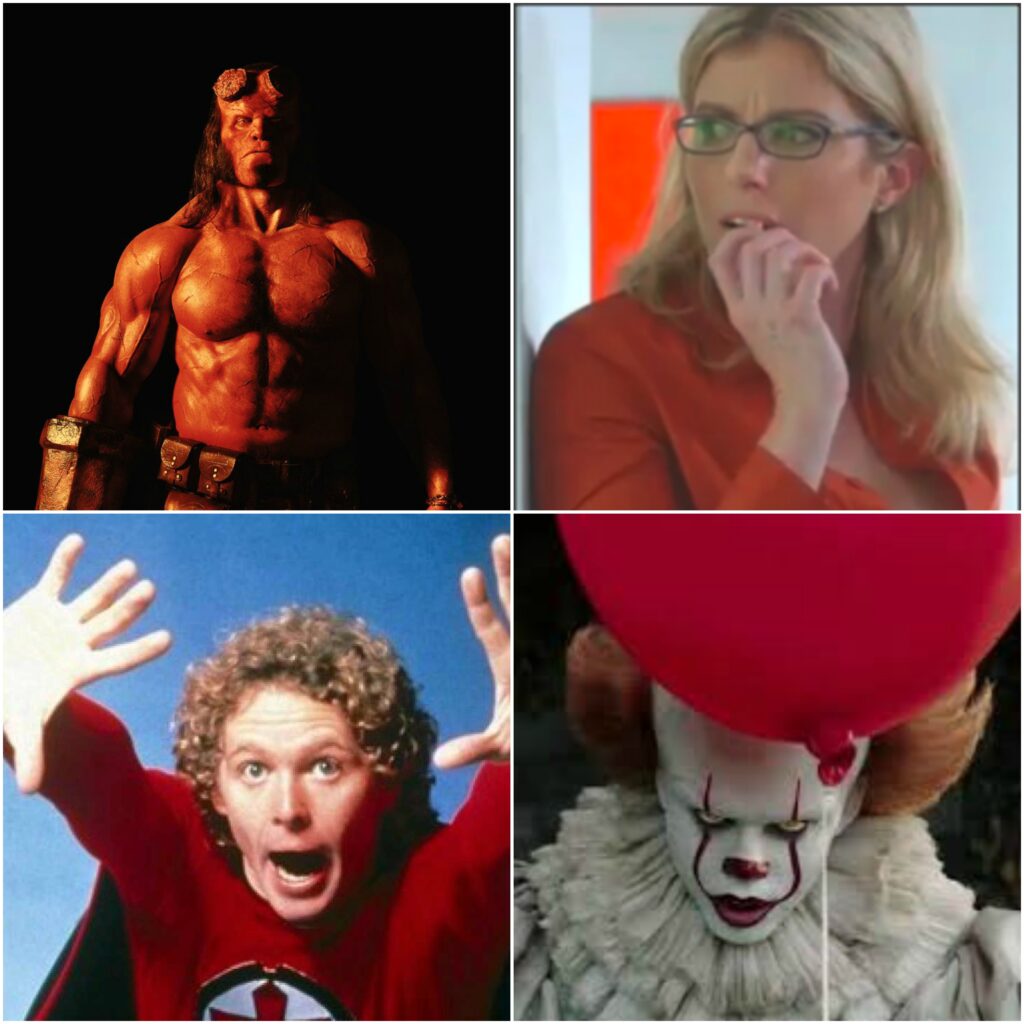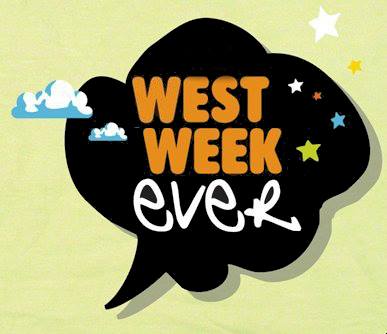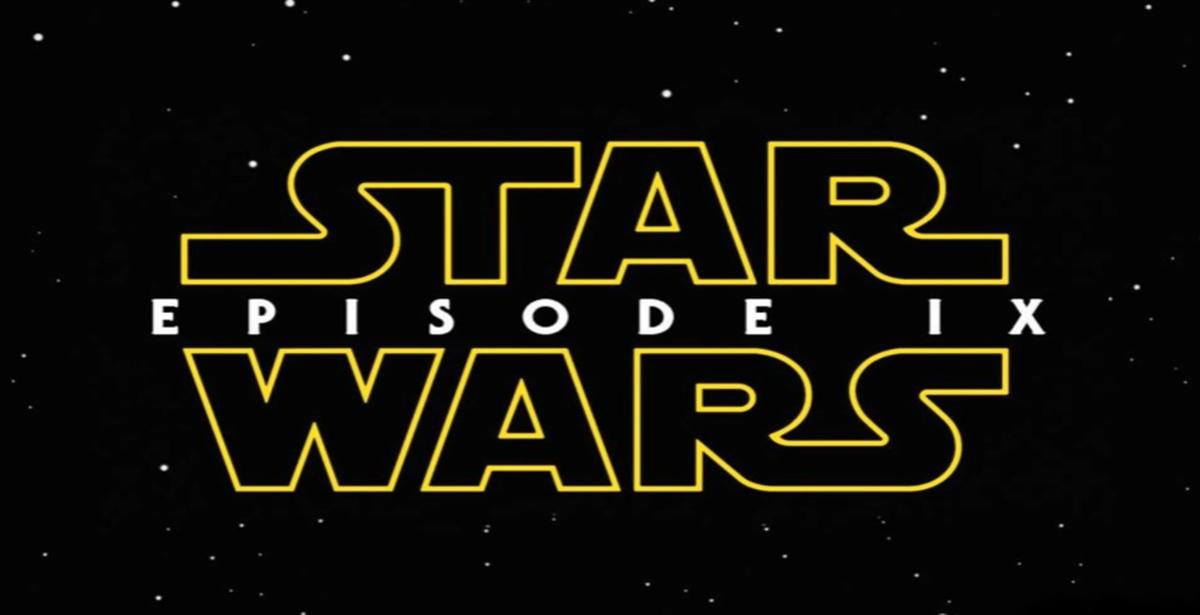 In movie news, it was announced that J.J. Abrams would be returning to write and direct Star Wars: Episode IX. This comes on the heels of Colin Trevorrow's dismissal from the project. If you remember, Abrams was the creative voice behind Star Wars: The Force Awakens, and many fans seem happy about this decision. I've seen some folks say that it's now the cool thing to say you didn't like The Force Awakens, but I remember hearing those complaints when the movie first came out. I mean, a lot of people felt he just remade A New Hope, so will this be a remake of The Empire Strikes Back? I'm not the biggest Star Wars fan, so I don't know what I'm talking about. If the fans are happy (and geeks are rarely happy), then that's enough for me. To accommodate this change in direction, however, the film's release has been moved from May 2019 to December 2019.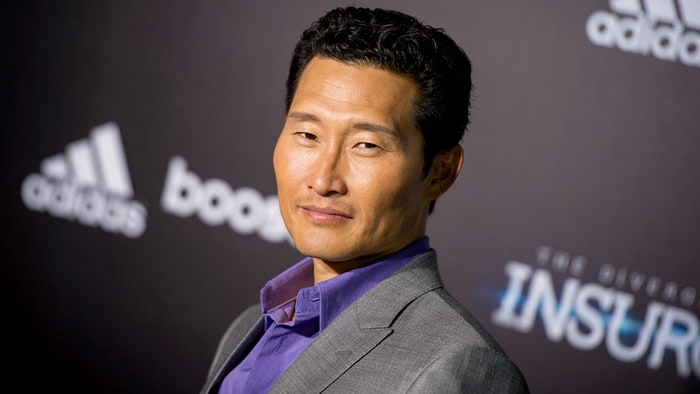 In other movie news, there's been an interesting development with the new Hellboy movie. Ya see, Hawaii Five-0's Daniel Dae Kim has been cast as Ben Daimio, which is the role that was vacated by Ed Skrein. This is good, as it's an Asian-American character who will now be portrayed by an Asian actor. Done deal, right? Well, now we have to get into the weeds a bit and point out that Daimio is of Japanese descent, while Kim is Korean American. Does it matter? Some might say no. I mean, in Selma, African American Martin Luther King Jr was portrayed by British-Nigerian actor David Oyelowo. That said, if Daimio's Japanese heritage is important to his character, and you just cast another non-Japanese actor, then it somewhat contributes to the idea that Asians are interchangeable, which doesn't help matters in their pursuit of fair representation in media. My friend Jenn articles this much better than I can. At the end of the day, does it matter? To someone out there, I'm sure it does.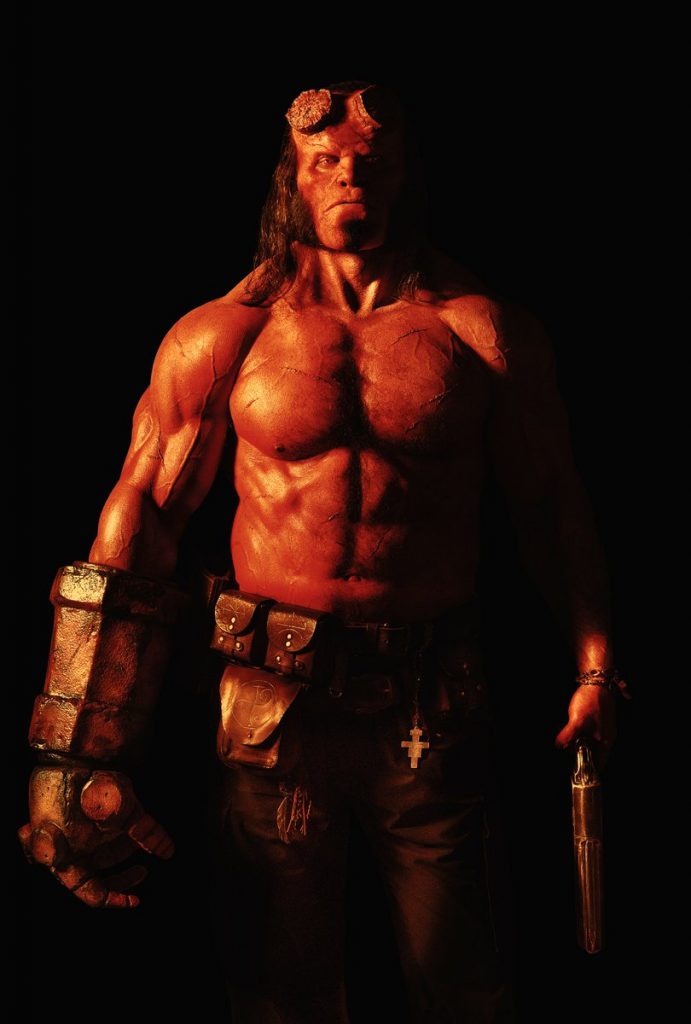 Oh, and we got a pic of what David Harbour will look like as Hellboy. Not bad!

In TV news, it was announced that ABC will be rebooting 80s cult classic The Greatest American Hero, but with a twist: this time, the show will star an Indian American woman named Meera. She's described as a 30 year old woman from Cleveland, who enjoys tequila and karaoke. Um, OK. Now, I see what they're doing here. They want to challenge the notion of what it means to be "American" in this day and age. I see you, ABC. I guess that's somewhat timely, but people tend to forget that the original show wasn't exactly a ratings smash. In fact, it barely eked out 3 seasons. It's probably most notable for its theme song, "Believe It Or Not". And this also isn't the first time they've tried this idea with a woman, as there's a pilot for The Greatest American Heroine, where a woman is chosen to take over for William Katt's character. The pilot never aired, but was reedited into an episode that was added to the syndication package of the show. I don't see this working in 2018, but ABC apparently has a lot of faith in it, as it's a "put pilot", which basically means it's guaranteed to make it to air or it's gonna cost ABC a lot of money to pass on it. It's ABC, though. Just looking at The Mayor coming up this Fall, they clearly don't have the strongest comedy development department right now.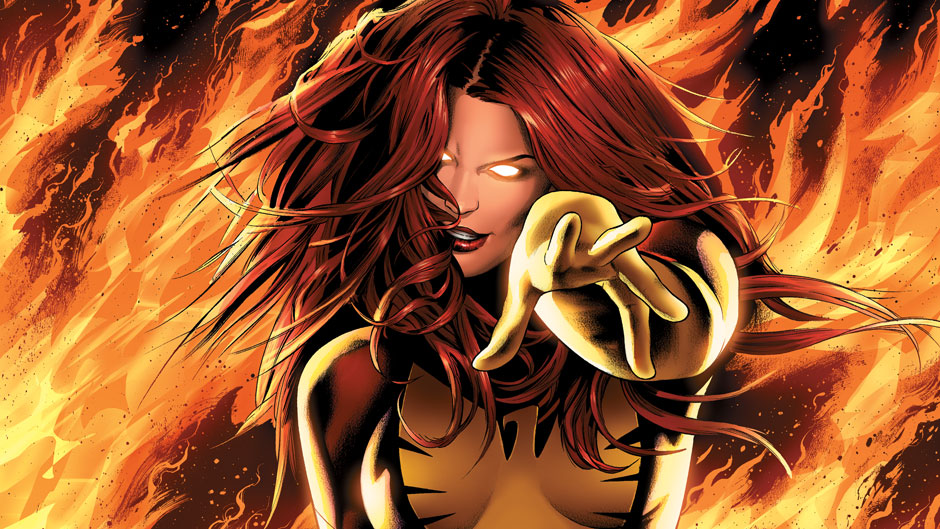 In comics news, it took 13 years, but Marvel's finally bringing back Jean Grey. The ORIGINAL Jean Grey. Killed at the end of Grant Morrison's run of New X-Men, she hasn't been seen since around 2004, though we all knew this would happen one day. We've had a bunch of fake outs, with the character of Hope and the debut of teen Jean Grey from an alternate reality timeline, but this is the real deal. And I'm not quite sure how I feel about it. On the one hand, it's comics and nobody stays dead. On the other, they left her dead a lot longer than they had to. I'd actually started to think she was gone for good. Silly me! I really do wish death meant more in comics. I'm smart enough to know the character will be back, so I'd prefer they not write like I'm a moron. I'd be willing to accept a concession, like we got recently with Tony Stark. He's not "dead", but in some sort of a stasis coma. When they need him again, he'll pop out of it, right as rain. I'm fine with that. Put more characters into comas! Have them get lost in the timestream, and make them find their way home. But stop "killing" them when you, and everyone else, know it will just be temporary. Anyway, to check out Jean's grand return, pick up Phoenix Resurrection: The Return of Jean Grey – part of the upcoming Marvel Legacy initiative.

In other comics news, there was a whole kerfuffle regarding the G.I. Joe franchise. You see, IDW Publishing currently has the G.I. Joe license, and they're publishing a Joe comic written by freelancer Aubrey Sitterson. Well, on the anniversary of that day we're supposed to never forget, 9/11, Sitterson tweeted this: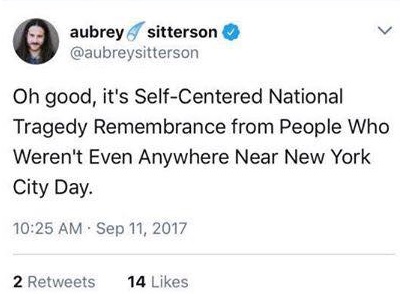 After getting some blowback, he doubled down with this:

Nice try, Aubrey, but 9/11 affected more than just NYC. Y'all just happen to be the ones who get most of the attention. I'm not one of the guys who gets all choked up in patriotism, though, so if that's how he feels, whatever.
Well, the Joe fandom didn't take too kindly to that. And apparently this was just the latest in a long string of what they considered antagonistic behavior from the writer. So, fansites, such as YoJoe.com and GeneralsJoes.com, decided that they were no longer going to cover G.I. Joe comics until something was done with Sitterson. At first it seemed like IDW was standing behind the writer, but they eventually released the following statement: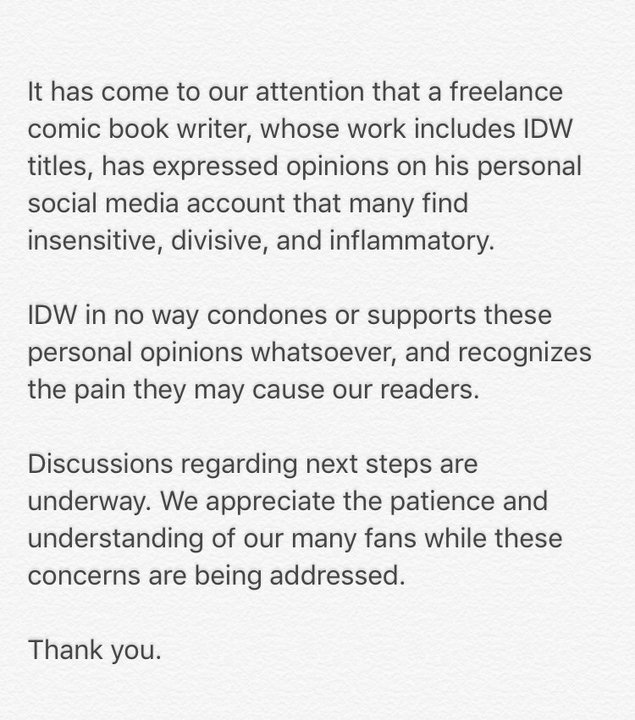 I'm on the fence on this one. I mean, you vote with your dollars and if you're unhappy with something, then don't buy it. That said, I have never been more glad that I no longer identify as a G.I. Joe "fan". A lot of these guys come just come across as bullies. Sitterson was on his arrogant high horse, but a lot of the response is coming from veterans who are throwing around terms like "Commie" and "Libtard" just because their feelings were hurt by a funnybook writer. Sitterson comes from the wrestling world, so he's reveling in the role of the "heel", or the bad guy. This is all a gimmick to him, and the more riled they get, the happier it makes him. It means it's working. That said, I don't think he realizes that some of these dudes have a few screws loose. They don't understand the game, and they don't care. I really wouldn't be surprised if he's getting death threats right now over his opinion.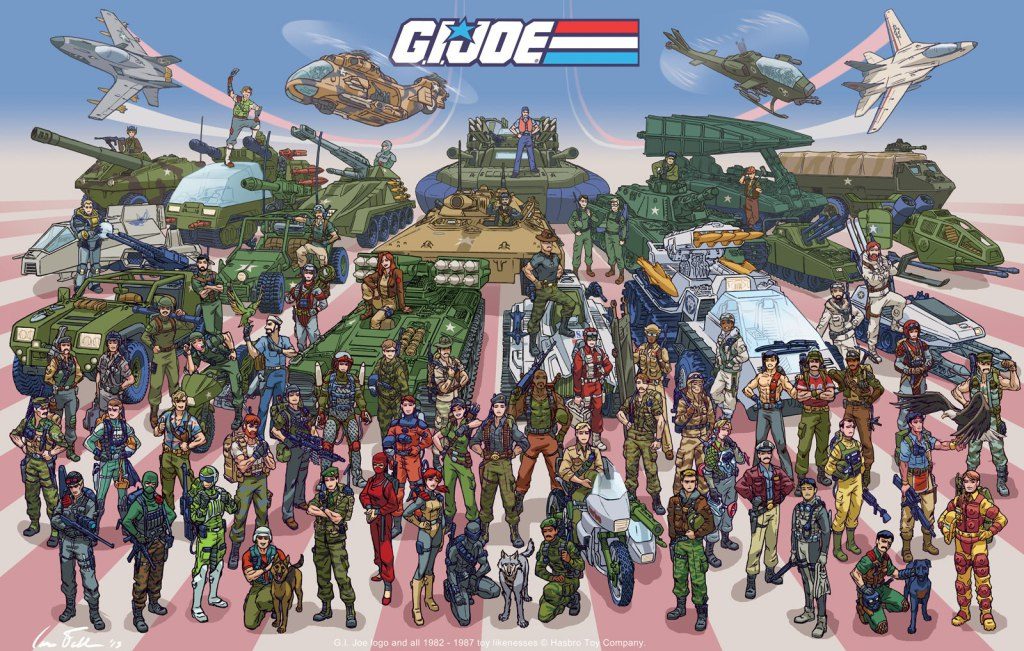 At the end of the day, G.I. Joe is a dying franchise. You could even say it's dead, but there's a small group of +40 year old men who are keeping hope alive. I've often said that the franchise needs to take a TMNT-like break, and give folks a chance to actually miss it. Plus, it's time to give today's kids their own Joe. Sure, folks are going to argue that kids don't play with toys anymore but, just like comics, the core audience is going to die, and you're going to need to replace them somehow. The A Real America Hero era has had a good run, but it's time for the sun to set on it. No more Duke, no more Snake Eyes. Reboot the fuck out of it! Call of Duty is popular. Make G.I. Joe like that. There are ways to make it viable but the current approaches aren't working. It's like porn – there's ENOUGH porn in the world. There's really no need to make more. The same with Larry Hama-based Joe stories. There've been enough over the past +30 years. It's time to move on. Sure, this will just piss off the same demographic that's currently upset with Sitterson, but they're gonna be dead soon anyway. But who am I to say that? Just another libtard with a website, I suppose…
Things You Might Have Missed This Week
I guess he's over her humps AND her lady lumps, as Josh Duhamel and Fergie have separated after 8 years of marriage.
Watch out, conservatives, as Trevor Noah's contract with The Daily Show has been renewed through 2022. Meanwhile, HBO has renewed Last Week Tonight with John Oliver through 2020.
Matt Bomer's The Last Tycoon has been cancelled by Amazon after one season.
TBS has renewed Wrecked, The Guest Book, and People of Earth
John Wick: Chapter 3 will be released May 17th, 2019
Nick Blood will be reprising his role of Lance Hunter on Agents of S.H.I.E.L.D. this season. I figure they'll make some excuse for where Bobbi is, so she can pop up once The Orville gets cancelled.
Shaun Sipos will portray DC space hero Adam Strange on Syfy's Krypton
Keke Palmer moves from Scream Queens to MTV's Scream, as she'll headline season 3 along with Power Rangers' RJ Cyler.
ESPN anchor Jemele Hill called the President a White Supremacist on her Twitter account, and the White House insinuated that she should be fired. Ya know, that thing the First Amendment specifically forbids them from doing…
Melissa McCarthy is now an Emmy winner, for Outstanding Guest Actress in a Comedy Role, for her work on Saturday Night Live last season.
The Black Lives Matter movement will be covered by Arrow this season, as well as an upcoming AMC drama, based on the book They Can't Kill Us All, and adapted by a writer from Into the Badlands. Considering how bad Badlands' writing is, I've got more faith in the Arrow storyline…
It was revealed that Roald Dahl originally meant for the character of Charlie in Charlie and the Chocolate Factory to be Black, until his agent basically asked "Why?" and said that it wouldn't be the right move.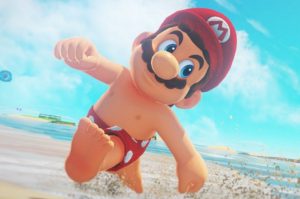 After nearly 40 years, it was revealed that Mario has nipples, and the internet lost its mind!
We got our first taste of the main theme for Star Trek: Discovery, and I don't hate it. It's no Enterprise theme, but I like the callbacks to the Original Series theme.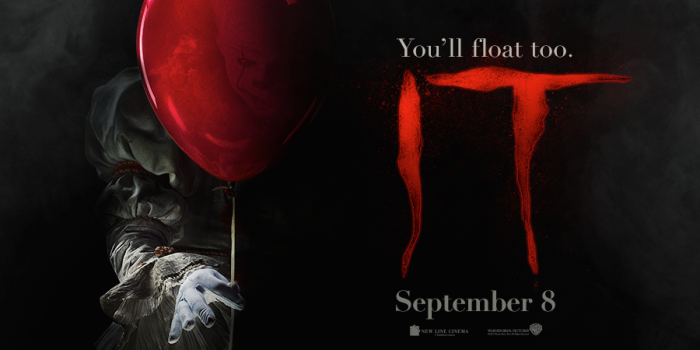 I'm not sure who had the best week this week. I mean, there's the movie IT, which broke a whole bunch of records, and has made about $180 million. I don't really care about horror, though, and will probably never see the movie. Still, this was a big deal for the horror community.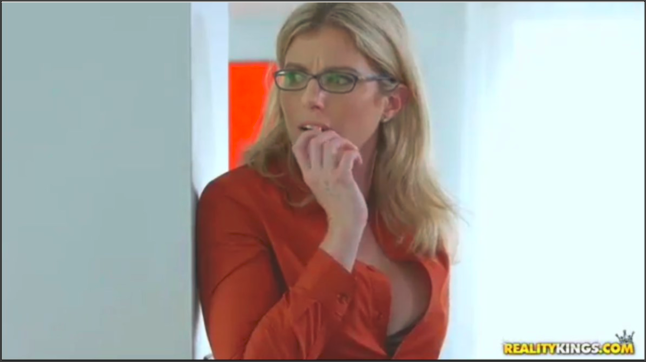 There's adult film star Cory Chase who became something of a household name when Senator Ted Cruz's personal Twitter account Liked a tweet containing her scene from Moms Bang Teens 20. Cruz has, since, said that it was done by an aide, while his spokesperson tried to insinuate it was a hack. Anyway, Chase was without power due to Hurricane Irma, so she didn't even realize why she was getting all of this newfound attention. This was a major boon for both Chase and the Reality Kings website.
Horror or Porn? I really can't decide. So, I'm gonna leave it up to you guys. Tell me: who had the West Week Ever?