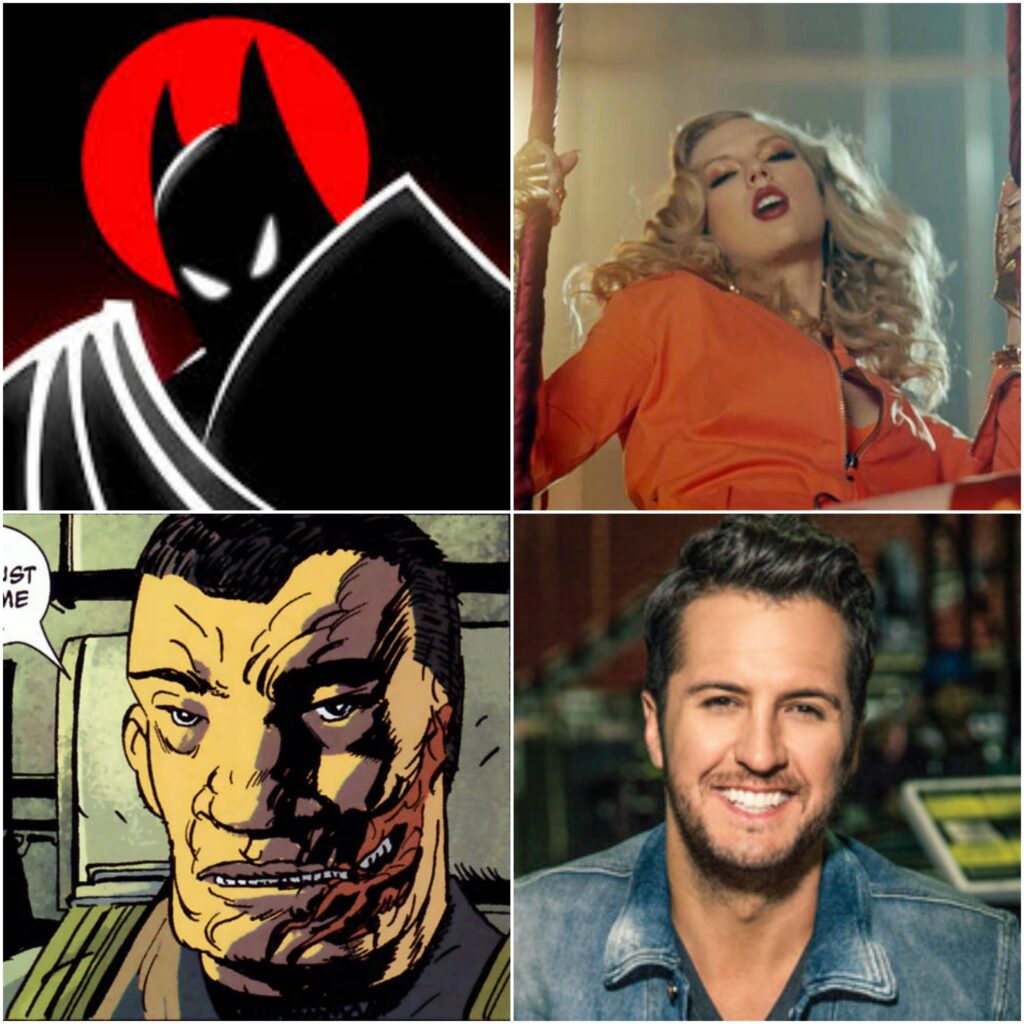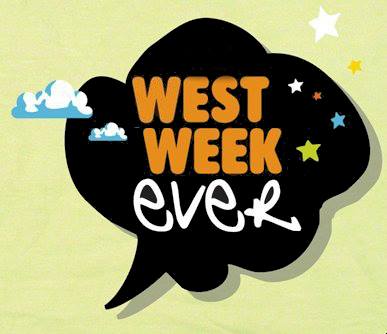 So, we're back after a holiday weekend and an extended break for the site. Long story short, I broke the site while updating some plugins, so it wasn't really in a good place for a new post to go up last week. Everything seems to be better now, though, so let's take her for a spin!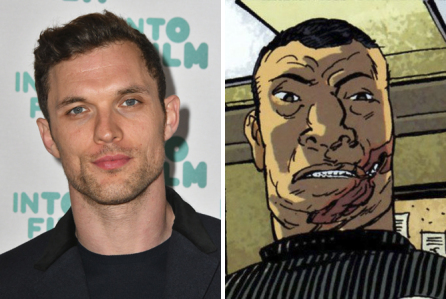 Well, since we last met, there has been some kerfuffle about race-based casting in Hollywood. Last time, I mentioned how British actor/rapper Ed Skrein had been cast as the Japanese Ben Daimio in Hellboy: Rise of the Blood Queen. After about a week of folks commenting on the whitewashing of the character, Skrein did something nobody really expected: he bowed out of the role. He released the following statement: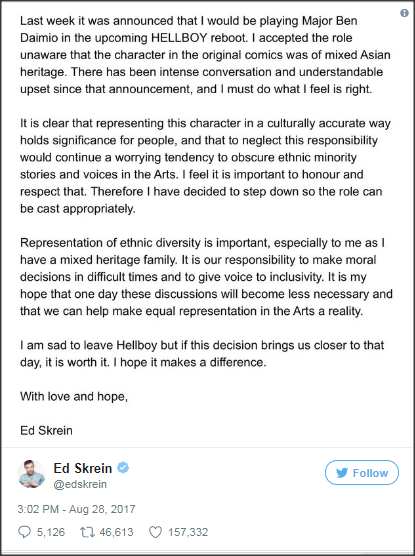 CLASS ACT. Seriously. He didn't have to do this, but he realized it would be best for the character, the movie, and his image to decline the role. Now we'll have to see if Lionsgate just goes and casts another White guy.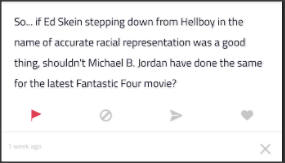 When I was tweeting about this development, I got the above question on Sarahah. I answered on Twitter, saying that they're not the same thing. The only reason folks wanted a White Johnny Storm was because *he'd always been White*. However, there's nothing inherently White about Johnny Storm. He's a cocky, showboating ladies man, who's not too responsible but is always there for his friends and family. Oh, and he sets himself on fire. That's pretty much all you need to be true to who Johnny Storm is. Notice how I didn't mention race anywhere. It doesn't matter in that case. When you have a character where their race is inherent to who they are, then it's imperative that you cast that race for the role.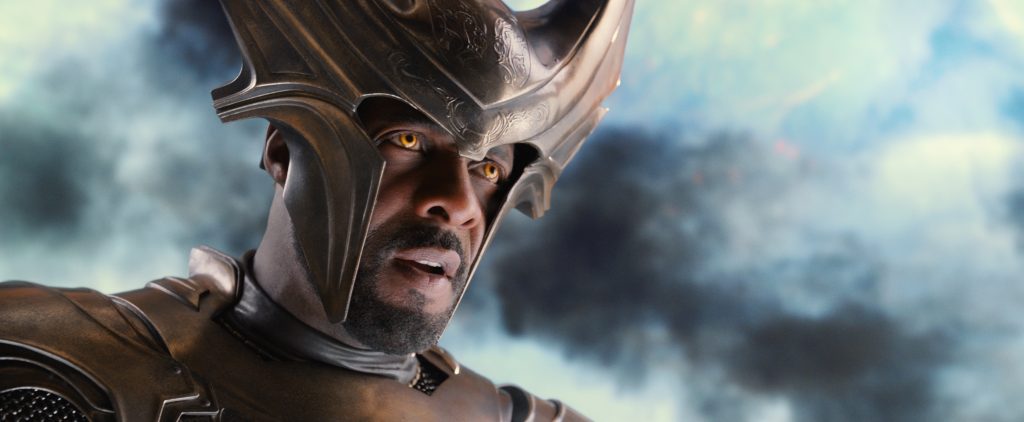 As a counterpoint, folks ask "Well, then should Marvel have cast Idris Elba and Tessa Thompson in the Thor movies?" Honestly? No. There's colorblind casting that makes sense and then there's colorblind casting with ulterior motives. Representation is good onscreen, but when you're dealing with Norse mythology, it's kind of hard to really justify Elba and Thompson as Heimdall and Valkyrie, respectively. You can make the argument that there aren't enough diverse characters in superhero films, so exceptions are made from time to time. There's no shortage of roles for White actors, but there are fewer opportunities for minorities unless we make the films ourselves. Still, if I can acknowledge that Skrein's casting was the wrong call, I also have to do the same for the Thor franchise.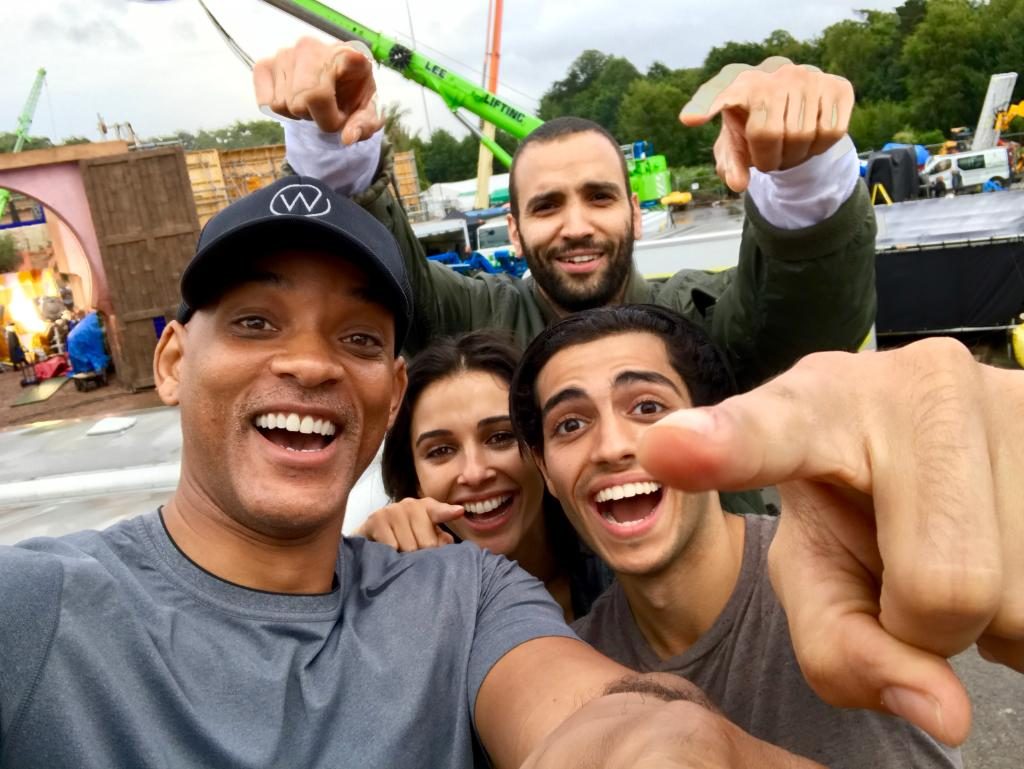 In another interesting bit of casting, Disney's live action Aladdin has created an original character, Prince Anders, just to cast Billy Magnussen in the role. Now, on paper, Aladdin is a diversity dream, but it's almost like someone in Hollywood was like, "We can't put this movie out without a White guy featured in it." Right now, the cast stands with newcomer Mena Massoud as Aladdin, Power Rangers' Naomi Scott as Jasmine, Marwan Kenzari as Jafar, and Will Smith as the Genie. While details are scarce, it seems Anders might compete with Aladdin for Jasmine's affection.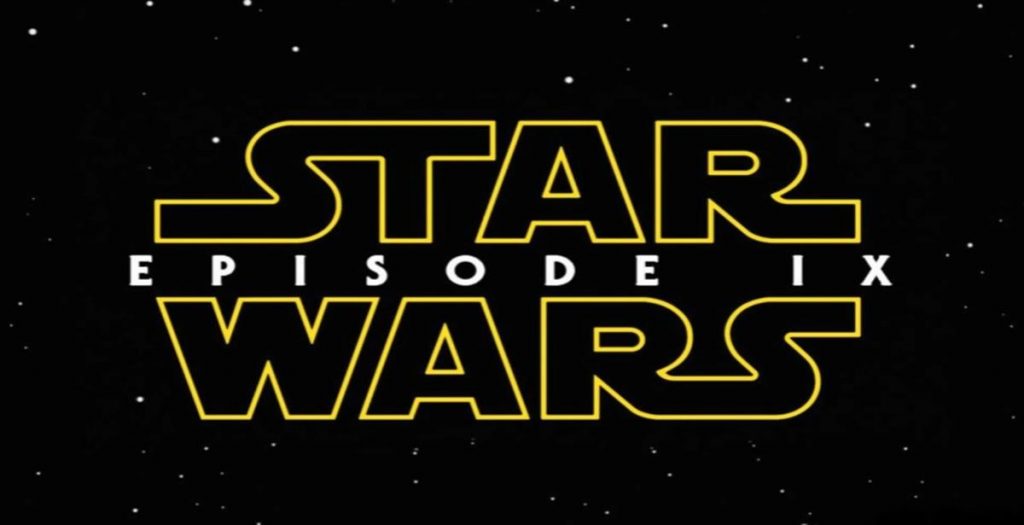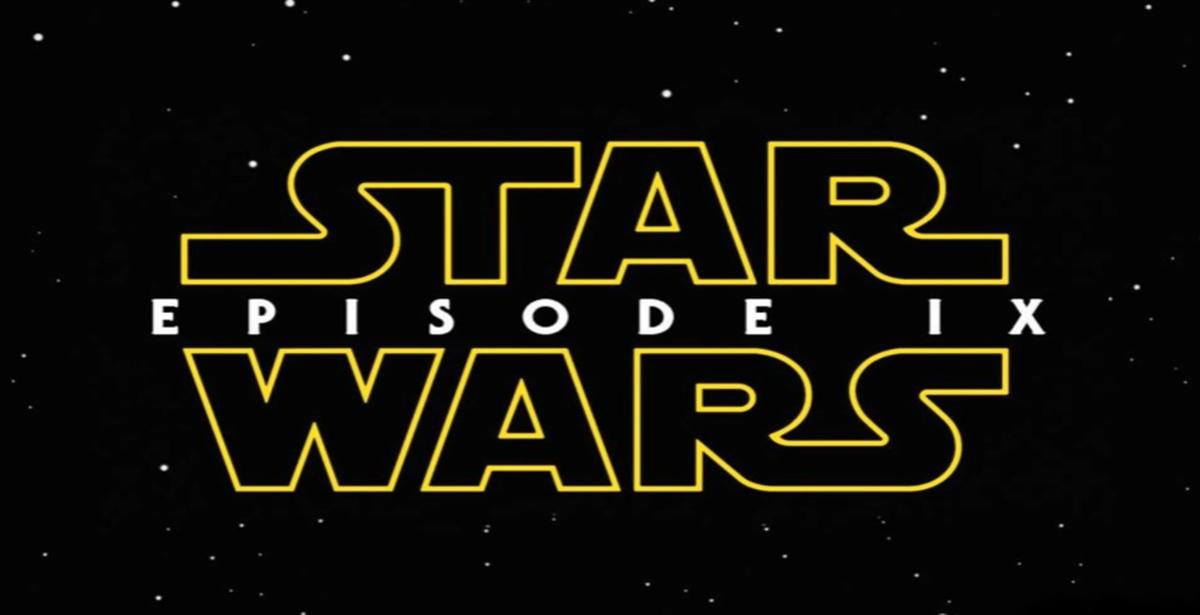 In other movie news, Jurassic World director Colin Trevorrow is out as the director of Star Wars: Episode IX. This highly publicized dismissal comes just months after Phil Lord and Chris Miller were fired from the Han Solo film. Plus, don't forget that Fant4astic Four director Josh Trank was fired from a planned Star Wars spinoff before production even began on it. There's a joke on Twitter that there are now more Directors Fired from Star Wars than there are Directors of Star Wars. Now the race is on to find a replacement, who will probably come as a shock to fans. After all, did you ever think Ron Howard would direct a Star Wars film? I just hope they don't give it to someone like Joss Whedon. I mean, the Rey character is the kind of archetype he gravitates towards, but he's just really not as good as his reputation would lead you to believe. Plus, since the recent hit job published by his ex-wife, I think Whedon will be keeping a low profile for the foreseeable future.

In TV news, DC has filled out the cast for the Titans series coming to its upcoming streaming service. Australian actor Brenton Thwaites will portray team leader Nightwing, while Alan Ritchson and Minka Kelly have been cast as Hawk & Dove. If you remember, Ritchson played Aquaman on Smallville, so this is his second time at bat as a DC superhero. Looking at that photo above, it seems like Kelly would've made a better Starfire, but what do I know? Right now, they're saying that Hawk & Dove will only be recurring characters for the first season, with an option to become series regulars for the second season. If they take off, there are even preliminary plans to spin them off into their own series down the road. This all just seems so…unsubstantial. I mean, we barely know anything about this DC streaming service, and this series certainly isn't enough to make me want to subscribe to another service. The fact that Young Justice (a show that I never watched) will be on the service does nothing for me. While some folks might think an original series is a major coup for Warner Bros as they launch the service, I still think of Titans as the show that TNT passed on. TNT. It's not like they have an embarrassment of riches right now on their schedule to justify turning away a quality show. So, that makes me think it's just not up to par.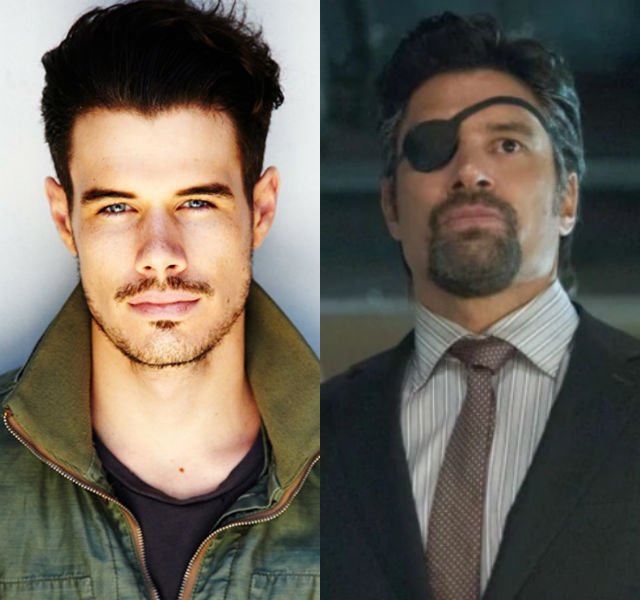 Speaking of Titans, Arrow has cast Liam Hall as Slade Wilson's son, Joe. In the comics, Joseph is also known as the Titan Jericho. It seems Arrow's going a different way with him, however, as Joe Wilson will be a mercenary much like his father. This season of Arrow, also, will reportedly begin with a time jump. I guess they don't want to have to film all those folks getting off that island.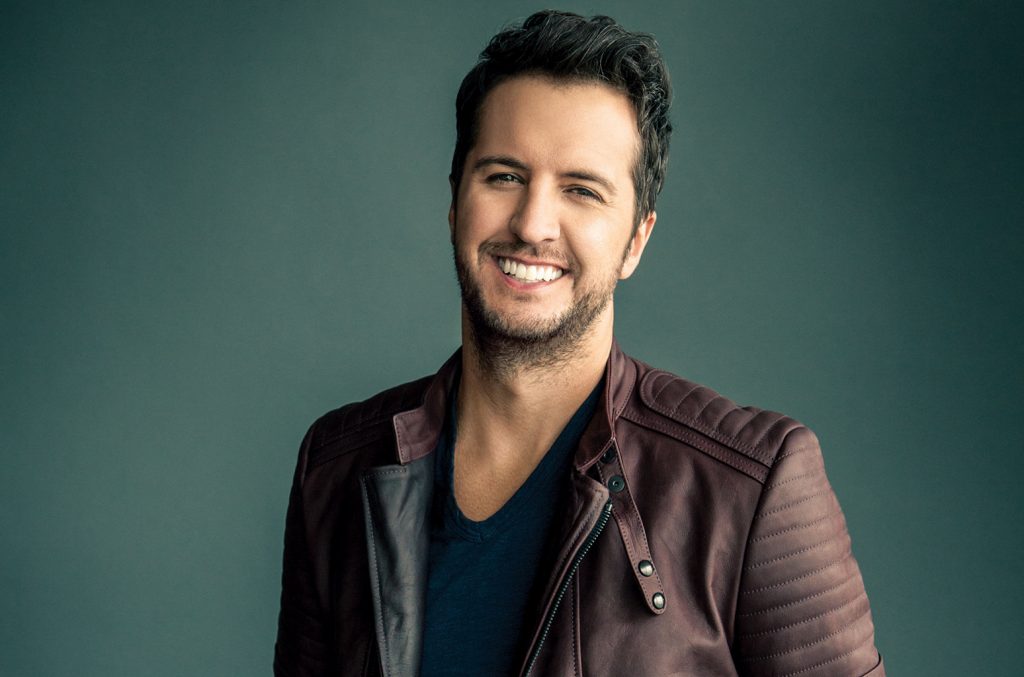 In other TV news, ABC has reached out to country star Luke Bryan to join Katy Perry as a judge on their reboot of American Idol. The problem, however, is that their money is running low. Reportedly they started out with a talent budget of $40 million. Perry is getting $25 million, while Ryan Seacrest is getting $10 million to host. So, with cash dwindling, ABC has decided to lean on its corporate owner, Disney, to offer perks to potential talent. These perks include production deals, as well as licensing and merchandising deals for Disney properties. So, you might be standing in line for the Luke Bryan Rollercoaster (which is also the name of one of his biggest hits) the next time you're at a Disney park.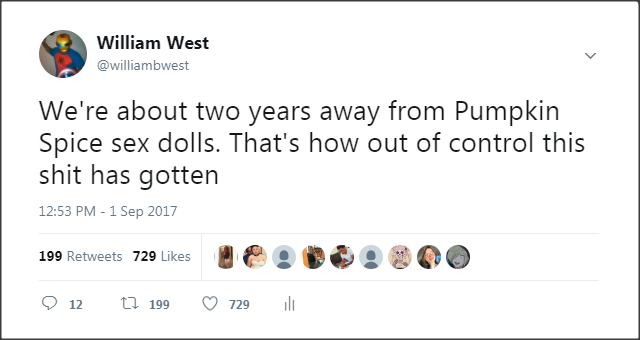 On Twitter this week, I had my most popular tweet of all time. I'm still pissed at the new ratio, where you only get a fraction of the retweets that you get Likes. Somehow, I got over 700 Likes on this tweet, but only 200 retweets (someone actually UN-retweeted it, or they were a bot that was deleted, so I'm back down to 199). Still, look at these stats: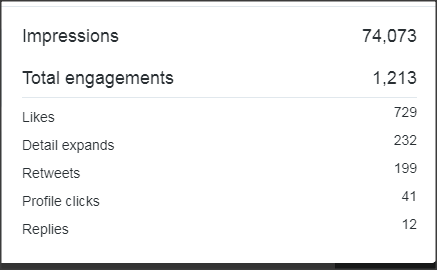 Yeah, I know a lot of y'all have had more popular tweets, but this is new for me, so don't take this away from me!
Song of the Week
Last time, I gave you the lyric video, but it seems that Taylor wasted no time in releasing the official video for "Look What You Made Me Do", as it debuted 2 nights later during the MTV Video Music Awards. A lot of folks think she's stealing from Beyoncé in parts of this video, but I don't really know what to make of it. She seems to want us to think she's changed. After all, the Old Taylor is "dead". This sort of personality change gimmick rarely turns out well, though, so it'll be interesting to see if her upcoming album Reputation is more of what we're used to, or more of whatever this is. This could be her Chris Gaines album or it could be her "I'm A Slave 4 U", which pretty much cemented the sexpot Britney image. My problem is that I think I'm incapable of seeing Taylor Swift as sexy. She's more like your best friend's little sister who matures over the summer, catching you by surprise, but you still remember when she used to wear those sneakers that light up with every step.
Things You Might Have Missed This Week
Two to beam up to the altar, as former Star Trek: Deep Space Nine actress Terry Farrell is engaged to son of Spock, Adam Nimoy
SyFy went on the offensive, cancelling Blood Drive, Dark Matter, and Killjoys (after it runs another 2 seasons). I've never seen any of these shows, and had only heard of 2 of them prior to this announcement. Way to promote things other than Sharknado, SyFy!
Speaking of cancellations, Amazon has cancelled Christina Ricci's Z: The Beginning of Everything, reversing its prior decision to produce a second season.
And the cancellations kept coming, as TNT cancelled their sexy young Shakespeare drama, Will, after one season.
Though I could never get into Veep, I know it has its fans – who are probably upset that it was announced it will end after season 7.
CBS announced that the US edition of Big Brother would have a celebrity edition that will air during Winter 2018. Way to catch up to 2001 England, CBS!
The BBC announced that the Doctor Who spinoff Class has been cancelled after one season.
There are reports that Drew Goddard will write and direct an X-Force movie starring Cable and Deadpool that will never actually be made…
Kacy Catanzaro, the first woman to qualify for the American Ninja Warrior finals, has signed with the WWE.
Alf Clausen, composer for The Simpsons for the past 27 years, was dismissed due to rumored financial concerns, but producers later promised he will "continue to have an ongoing role with the show".
An all-female Lord of the Flies film was announced, and the folks on social media were NOT having it.
Toys "R" Us is reportedly looking into possibly filing for bankruptcy as it struggles to compete with big box and online retailers
ABC announced the next Bachelor, and fans are outraged because they don't even remember him from his last appearance in the franchise in 2012. He's so insignificant that I'm not even gonna Google his name to write it here.
Jamie Foxx and Katie Holmes have seemingly gone public with their relationship, as they were spotted holding hands while walking on the beach. They've been rumored to be a couple for years, but there are reports that Tom Cruise put a stipulation in their divorce that Katie couldn't go public with a relationship for five years following the split.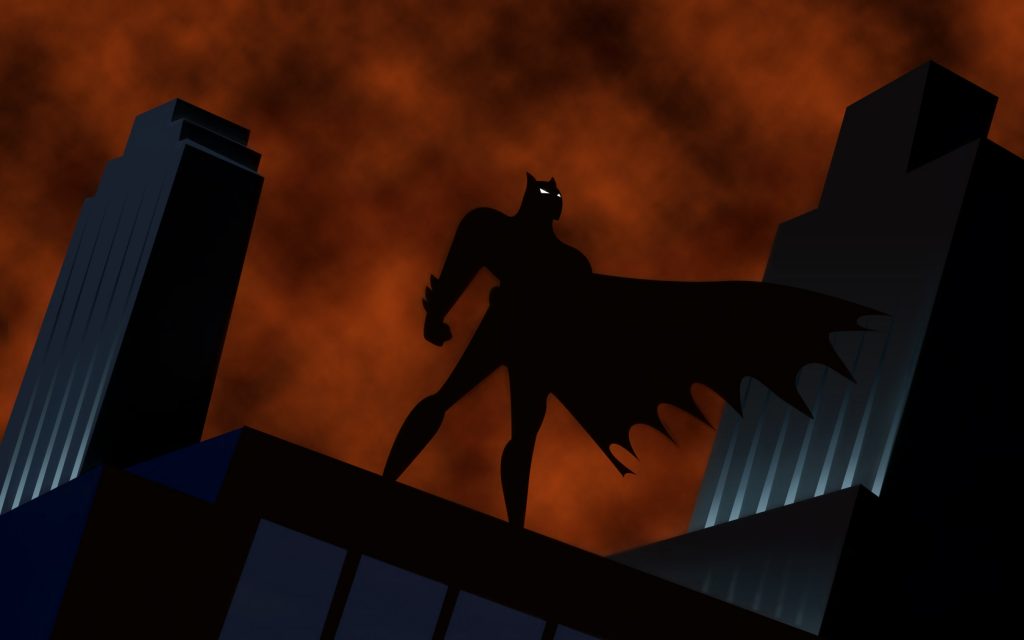 Had I written a post last week, I probably would've given the West Week Ever to Ed Skrein. That said, I didn't, so I couldn't. This week, however, is a different story. While nothing truly amazing happened this week, we did celebrate the anniversary of a property near and dear to my heart, Batman: The Animated Series.
Premiering September 5th, 1992, Batman: The Animated Series came along and was like nothing else on television at the time. It had the action for kids, but it had writing that appealed to adults. It even aired in primetime for a stint – something that was only done for "adult" animated shows like The Simpsons up to that point.
The show is also responsible for producing the greatest Batman in history: Kevin Conroy. He may not look like a superhero, and you probably wouldn't even recognize him on the street, but you'd never mistake that voice. That commanding presence is something that men from Keaton to Bale have struggled with for the past nearly 30 years. When you hear Conroy speak, you KNOW that's Batman.
Plus, piggybacking on the Tim Burton movies, it helped to change public opinion of Batman, which had come to see him as "silly" due to the Adam West portrayal in the 60s. Finally, folks were seeing not only what Batman was capable of, but what the comics characters were capable of in other media if handled by the right people.
I wish I could tell you my all-time favorite episode of the series, but it's hard because there are so many good ones. There's "Almost Got 'Im", where Batman's rogues play a late night poker game, sharing tales of how they almost defeated their common foe. There's "Beware the Gray Ghost", where Batman gets to meet his childhood idol, actor Simon Trent, who portrayed the hero The Gray Ghost (voiced by 60s Batman Adam West). Or there's the "Robin's Reckoning" 2-parter, where we get Robin's origin story as he tracks down the man who killed his family.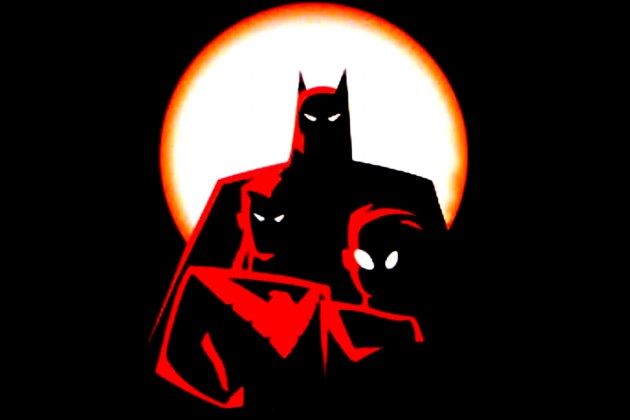 While this is a controversial opinion, as many fans had left the show by then, but I'd even argue that the show got better when it was revived as The New Batman Adventures. Sure, some folks couldn't get over the new character designs, but there are so many incredible episodes from that iteration, as well. "Over the Edge", where we find out what would happen if Gordon found out, in the worst possible way, that Bruce Wayne was Batman. "Old Wounds", where we find out why, exactly, Dick Grayson quit being Robin. Or "Love is a Croc", which is a VERY twisted and mature half hour of television.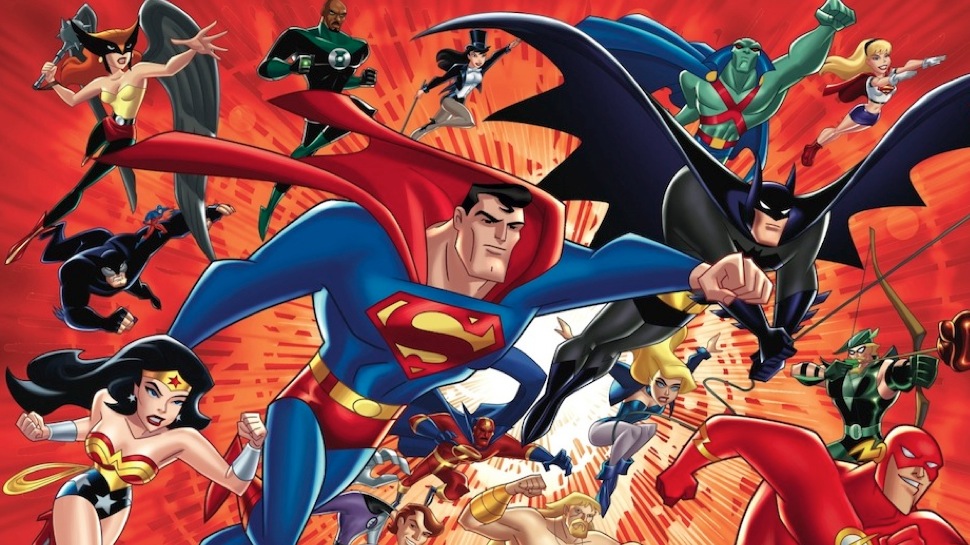 All told, we got over 100 episodes of the show, which merely served as the cornerstone of an even larger DC Animated Universe. Over the next few years, we would get Superman: The Animated Series, which would, then lead to Justice League, and then Justice League Unlimited. Plus, there are the ancillary shows, like Batman Beyond and Static Shock. A 14-year entertainment franchise was birthed from this one little show.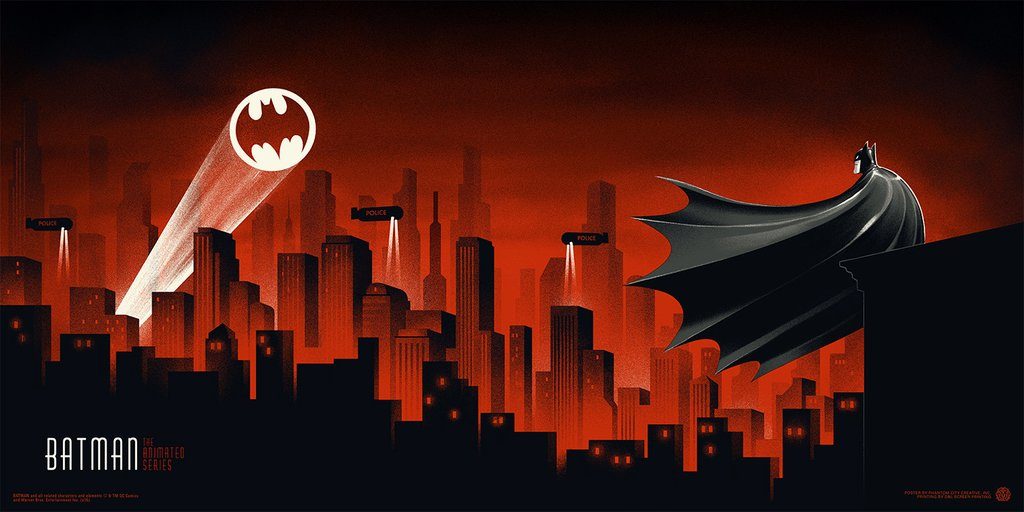 I guess by this point you can tell that I really love this show, and it makes me feel old as Hell to know that it was 25 years ago that I was watching it on Fox Kids. All of this is to say that, in commemoration of its 25th anniversary, Batman: The Animated Series had the West Week Ever.