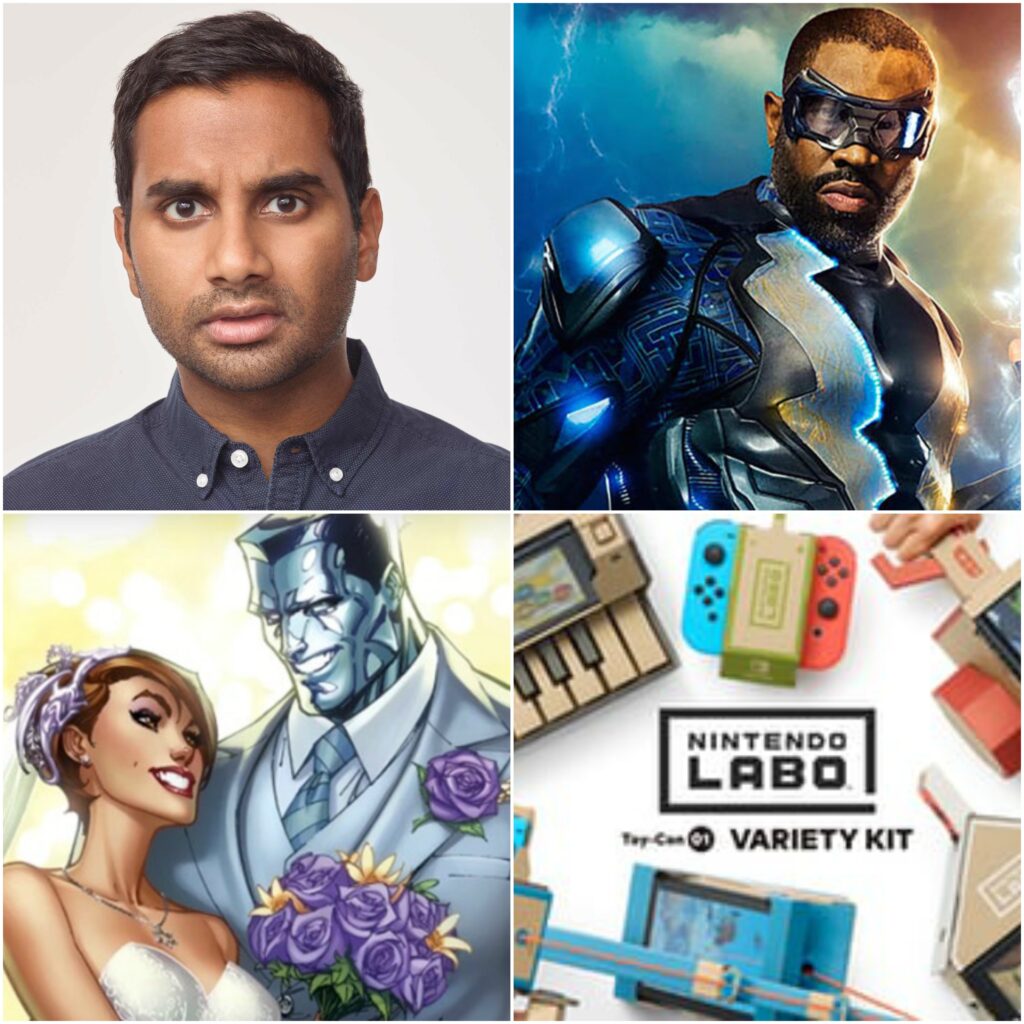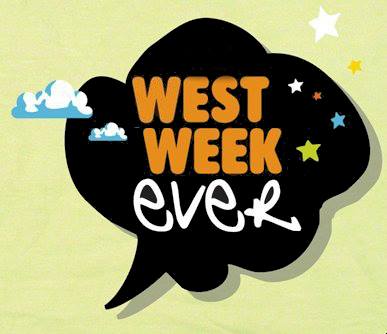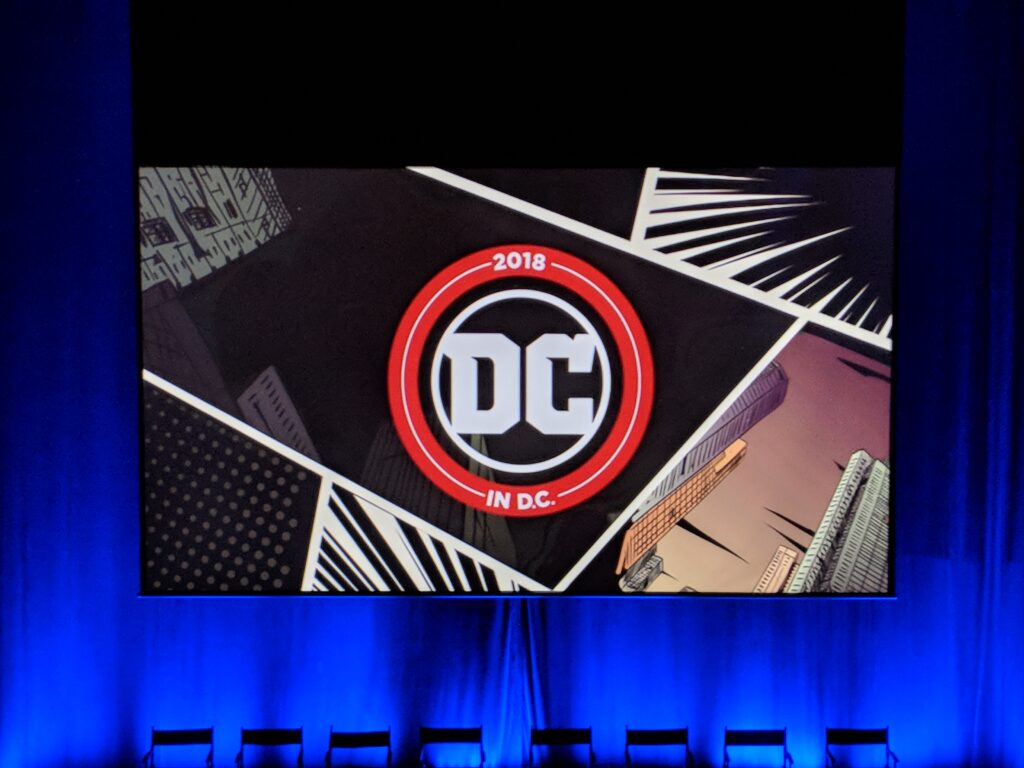 If you haven't been following the site this week, I've been recapping DC Comics' "DC in D.C." event that was held here last weekend. I started things off by reviewing the world premiere screening of the new animated feature, Batman: Gotham By Gaslight. Then, I recounted my struggle to not only gain access to the event, but to also understand the purpose of it. Finally, I detailed the panels that I was able to attend, and discussed how they helped me to figure out the true reason DC came to D.C. when they did. If you've already read them, thanks for playing along at home. If you haven't, then what are you waiting for? This post will be here when you're done!
HarassmentWatch(TM)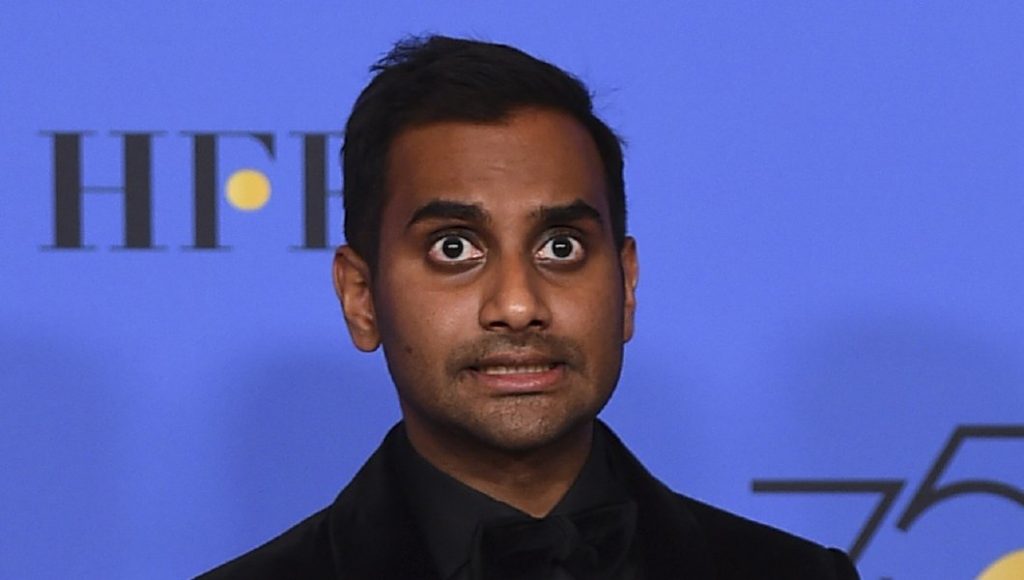 Aziz Ansari – OK, let's get this one out of the way first so that you can hate me and go on about your day. It's cool – I already got your click, and I'm prepared to possibly be on the wrong side of history on this one. Last weekend, feminist blog Babe.net published an account from "Grace", a young woman who went on a date with Ansari late last year and believes that he sexually assaulted her. After their date, they went back to his place, where he repeatedly tried to have sex with her. He'd put his fingers in her mouth, he'd perform oral sex on her, and then expect her to reciprocate. She said that he wasn't picking up on her nonverbal cues that she wasn't interested in taking things to that level. While she knew that the situation had been uncomfortable, it wasn't until she shared the story with her friends that they convinced her it was assault. When she saw him win his Golden Globe award for Master of None, it all came flooding back to her and she had to tell the tale.
OK, got all that? That's the abridged version, so if you wanna know all the sordid details (and they are sordid), go find the original article. Here's my take: It sounds like it was a horrible date, and Aziz is a lame with no game. My immediate takeaway from the account is that Aziz must actually be like Tom Haverford – the character he played on Parks & Recreation – because that was totally some shit that Tom would've pulled having learned it from his friend Jean-Ralphio.
These were complete Pickup Artist techniques. Shit, I wouldn't be surprised if he even "negged" her: saying something like, "Why'd you wear those stripes when you know they aren't flattering on you?" in an effort to decrease her sense of value, thereby elevating his own. Tom Haverford was TOTALLY a PUA, and now I guess Aziz is, too. How do I know all this? Because about a decade ago I was fascinated by that whole scene. I read about 2/3 of The Mystery Method until I just couldn't stomach it anymore. I was an avid viewer of the VH1 reality show The Pickup Artist. And one thing I can say about that "movement" is that it's like Sex Panther: "60% of the time it works every time". The PUA thing is a complete numbers game, almost like a sexual Ponzi scheme. You're gonna strike out a lot, but eventually you won't. Like most "self help" gospels, most people think it's just a bunch of bullshit, but I know people for whom it worked. The problem with it, though, is that you pretty much have to hit rock bottom for that to happen. You have to hate your life so much, and want to change so badly, that you just blindly adhere to every tenant of the movement. If you're willing to do that, you will see change. You'll also kinda realize you're a soulless asshole. But you're not supposed to care about that because you're so knee deep in minge now that you've got no time for self pity or introspection. Anyway, that's enough about me and my questionable taste in literature.
Back to Aziz, the Babe article is a complete hit job, as it was clearly meant to serve as character assassination. The reporting is unprofessional, and it focuses on trivial details in a sensationalized attempt to set the scene.
After arriving at his apartment in Manhattan on Monday evening, they exchanged small talk and drank wine. "It was white," she said. "I didn't get to choose and I prefer red, but it was white wine."
Who the Hell cares? This isn't Fifty Shades of Grey. None of that is relevant considering the seriousness of the allegations. Reading the entire account, Aziz is not without fault here. He should've just "read the room" and put her in an Uber way earlier in the night. He issued a statement following the article, that read:
"In September of last year, I met a woman at a party. We exchanged numbers. We texted back and forth and eventually went on a date. We went out to dinner, and afterwards we ended up engaging in sexual activity, which by all indications was completely consensual.

"The next day, I got a text from her saying that although 'it may have seemed okay,' upon further reflection, she felt uncomfortable. It was true that everything did seem okay to me, so when I heard that it was not the case for her, I was surprised and concerned. I took her words to heart and responded privately after taking the time to process what she had said.

"I continue to support the movement that is happening in our culture. It is necessary and long overdue." – Aziz Ansari
OK, there are two things to take away from: 1) he confirms that he may have misunderstood the situation and 2) he apologized to her privately after it happened. You go to the press when there are denials. You go to the press when you demand justice. You don't go to the press when it seems like both parties have talked it out and put it behind them. Why did she go to Babe, and would we even know all this had he not won the Golden Globe?
Another thing is people seem not to realize that we only got one side of the story here. While Aziz confirmed that the evening occurred, we don't know his perception of the events, or if they played out as Grace described them. You know why? Because he knows it doesn't matter. Sexual assault allegations favor the man about as much as the American legal system does in custody disputes. There's a lot of talk going on about "Affirmative consent", in that you shouldn't engage in sexual activity unless it's clear that both parties are willing participants. One thing about affirmative consent, though, is that it could be affirmative at the time, and at some later point become a "What did I just do?" This doesn't sound like "assault". This just sounds like a horrible date. I think his perspective is valid here because we honestly don't know how he was processing things. I know this skews really close to "victim blaming", but there's not enough discussion about personal agency in this situation. I'm seeing a lot of "Well, she's young" or "He used his celebrity to intimidate her". All of that could be true. However, she performed oral sex on him twice that night. I can see how one might think there was no conflict in the air following that second blowjob.
I need to circle back to the reporting, though. Babe wanted their 15 minutes and they got it. There's a reason these allegations need to be reported by reputable media outlets because they do actual journalism. This was a site with an axe to grind, and they found their golden ticket. This wasn't a grand revelation of assault: this was humiliation on the public stage. When these allegations first started coming out about celebrities, I was really struck by the Louis CK stuff. While I was never a big fan, he was the first guy who lost EVERYTHING from the scandal, and in record time. I was telling friends that I felt he probably needed to be on suicide watch because there was no coming back from that. That's how I almost feel here. There was nothing to be gained from this, and I fear for the well-being of both parties. Grace wasn't ready for the public's response once Babe cast her to the wolves when they were done using her. Meanwhile, I don't really know where Aziz goes after this. I mean, can even go to the corner store to get milk without being ridiculed? Grace is not pressing charges, she got an apology, and she educated him on what to never do again in the future. But Babe came along and just demolished Aziz's image and reputation. There's no way he comes off looking good from this, and a lot of it is for good reason. But at the end of the day, it was a poorly written, sensationalized account that helped Babe to build a reputation on his back. And when journalist Ashleigh Banfield came to his defense, saying much of what I've said, how did Katie Way, the writer of the article, respond? By sending Banfield a hateful email, attacking her age and her appearance. Yay, feminism? Babe's account of the evening is damning regardless of which side you take. If it truly was assault, Grace's encounter is completely undermined by Babe's style of reporting. If it wasn't assault, then they may have destroyed the career of a guy who simply doesn't have charisma or a clue. Not everything needs to be decided in the court of public opinion.
There's a lot to unpack from this situation, and it's not as cut and dried as "Why didn't she just leave?", though I do feel it's a legitimate question to ask because you might get an answer like, "Well, he had a gun." I just don't believe the "cat & mouse" game of dating is as black & white as folks want to make it. I have a friend from college who's now a professional dating coach, and she wrote a post about the situation. She brings up an excellent point that we're taught to respect boundaries, but we're also taught that some women like to be pushed against a wall and kissed spontaneously. You can't always have both, and it's not always easy to "read the room". What works on one woman may not work on the next. His whole shtick was employed because it had worked on some woman in the past. Everybody's got an opinion on this one, and I'm not convinced any of them is the "right" way to look at the situation, especially since we weren't there and there's a lot we don't know.
Joel Kramer – actress Eliza Dushku revealed that Kramer sexually assaulted her in a hotel room when she was 12, while he was serving as the stunt coordinator on True Lies. She didn't tell her parents, as Kramer had endeared himself to them, but she did confide in another adult friend. When this friend confronted Kramer about the allegations, Dushku was "coincidentally" injured in a stunt gone wrong that had been coordinated by Kramer. This was sexual assault of a minor, which is pretty heavy, but the story got lost in the Aziz tsunami. Kramer is denying the allegations, while Dushku's costars on the film, such as Arnold Schwarzenegger and Jamie Lee Curtis, said that they were unaware that it was going on at the time. Kramer has since been dropped as a client by Worldwide Production Agency.
Larry Nassar – This is one I kinda missed reporting in 2017 when he was sentenced, but former USA Gymnastics national team physician Larry Nassar is accused of sexually abusing over 140 women. In December, he was sentenced to 60 years in prison for possession of child pornography, and was pled guilty to 10 charges of sexual assault. This week, gymnast Simone Biles came forward that she had also been abused by Nassar. Meanwhile, gymnast McKayla Maroney was sought after to testify against Nassar for his abuse against her, but USA Gymnastics had her sign a nondisclosure agreement after she received a $1.25 million settlement a few years back. If she violated the NDA, she would be hit with a $100,000 fine. Well, model/Twitter activist Chrissy Teigen publicly offered to pay Maroney's fine if she would testify. Public outcry resulted from the revelation of the NDA, prompting USA Gymnastics to release her from it.
Seal – Billboard reported that the singer is under investigation for sexual battery inflicted on his neighbor, actress Tracey Birdsall when she came over to retrieve a salad spinner she had loaned him. He reportedly grabbed her, and attempted to kiss and grope her. This is just a week after he released a video attacking Oprah for being part of the #MeToo movement when he felt she was complicit in much of the abuse.
Paul Haggis Update – fellow former Scientologist Leah Remini believes that the sexual assault allegations against Haggis are the work of the Church itself.
Meanwhile, Alec Baldwin came out and said that the public's treatment of Woody Allen is "unfair". If you're not familiar, not only did the 82 year old director marry his adopted daughter, Soon-Yi, back in the early 90s, but he's also accused of sexually abusing Dylan Farrow, the adopted daughter of his former partner Mia Farrow. This was in response to the many actors who have recently publicly distanced themselves from Allen. Just this week, actor Timothee Chalamet said that he was donating his salary from his role in Allen's most recent film, A Rainy Day in New York, to charities that fight sexual abuse and harassment. Baldwin said that these allegations need to be handled carefully, for the sake of both the accused and the victims.
Man, that was a long, heavy section to get through, wasn't it? Let's get to the pop culture stuff.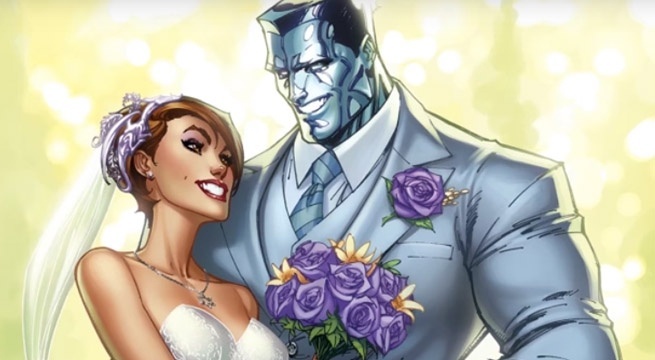 In comics news, it was announced that X-Men Gold #30 will feature the wedding of Kitty Pryde and Colossus. I've gotta tell ya that I didn't even know they were back together. They're not exactly one of those enduring relationships, as one minute they're on and the next they're off. It appears this is the big "Wedding of the Century" that Marvel had been teasing late last year. In my mind, this hardly qualifies, but whatever. As I said on Twitter when it was announced, Marvel always has such a hard-on for weddings, which is tone deaf to its audience of single, unmarrieds who make up a good percentage of their readership. Ain't nobody getting excited about these weddings. All this little stunt is going to accomplish is make it hard for the regular consumers of this book to actually get a copy because of all the speculators and lookie loos (full disclosure: I haven't read the series yet, but I have purchased every issue with the intention to read them, so this does affect me). I mean, my friend Brandon swears that Gold is a great book, but it's also his introduction to the X-Men franchise, so I'm not sure how it stacks up against the classic stories. That said, if the book is as good as I've heard, I hope this development serves the story instead of just serving as a gimmick to spike sales.

Nintendo announced Nintendo LABO, and I'm not quite sure I know what it is. Like most geek things these days, though, the internet is split over it. It appears to consist of a series of DIY cardboard design kits that work in conjunction with your Nintendo Switch. I mean, it certainly looks unique, but I'm still left asking "Why?" I mean, that's a cool cardboard piano you've got there. Ya know what would be even cooler, though? A real piano. Anyway, I'm getting up there in age, so it's not for me to understand. I'm sure Nintendo will make a bajillion dollars off of it.
Things You Might Have Missed This Week
On the heels of last week's controversy, Mark Wahlberg announced that he would donate his All The Money In The World reshoot fee of $1.5 million to Time's Up, in Michelle Williams' name.
Hawaiians thought they were about to be killed by a missile until everyone was like, "Psych,  you pineapple heads! False alarm!" We have to confront these things with humor 'cause to really acknowledge them is just too damn depressing…
The Jumanji re…mix(?) has surpassed Justice League, earning $700 million in the worldwide box office
Fox renewed freshman drama 9-1-1 for a second season after airing three episodes.
Tracee Ellis Ross considering decreasing her presence on Black-ish unless the pay discrepancy between her and Anthony Anderson is addressed. Sources involved say that Anderson is paid more because of increased involvement with the show, as well as the fact that he is an executive producer.
Speaking of the "-ish" franchise, Freeform has renewed the spinoff grown-ish for a second season.
And while we're talking about Freeform, Marvel's Cloak & Dagger will premiere on the network on June 7th
A LOT of cancellations were announced by streaming outlets this week. Netflix cancelled Maria Bamford's Lady Dynamite after two seasons. Meanwhile, Amazon cancelled Tig Notaro's One Mississippi, the Kathryn Hahn/Kevin Bacon series I Love Dick, and the action-comedy Jean-Claude Van Johnson. It's not all bad news, though, as Amazon renewed The Tick for a second season.
Surprising no one, ABC has cancelled The Mayor. It's kinda sad, as it had a lot of heart, but it felt more like a movie premise than a TV show – the kind of movie you buy bootleg from the dude at the barbershop.
The Shannara Chronicles has been cancelled after debuting on MTV and then moving to Spike TV for its second season.
Speaking of Spike TV, the network shut down this week preparing to be rebranded as the Paramount Network, and its Twitter feed had a faux, yet hilarious, meltdown.
Spinning out of the John Wick film franchise, The Continental was announced at Starz, as a TV series focusing on the assassin-harboring hotel from the films. Ian McShane is in talks to appear.
In relationship news, former Bachelor Nick Viall is reportedly dating actress January Jones. Meanwhile, vroom vroom driver Danica Patrick is officially dating sportsball player Aaron Rodgers.
The series co-creators for Modern Family have announced that they're preparing for next season to be its last. There are talks, however, of a potential spin-off…
I completely missed John Francis Daley's transition from actor to director (I'll never forget him as the rookie who didn't get a chance to speak in Waiting…). Anyway, he and Jonathan Goldstein have been chosen to direct the DCEU Flashpoint film for Warner Bros.
In the world of wrestling, Goldberg will be inducted into the WWE Hall of Fame Class of 2018. I was never a WCW guy, and I missed everything he did for WWE, so I have no frame of reference for this. For you smarks out there, is this deserved?
Meanwhile, Women's Division wrestler Paige is reportedly done with WWE after their doctors refused to clear her return to the ring following a career-ending injury she sustained at the end of December.
There's a rumor now that Tom Holland will appear in the Venom movie as Peter Parker but not as Spider-Man. Um, OK…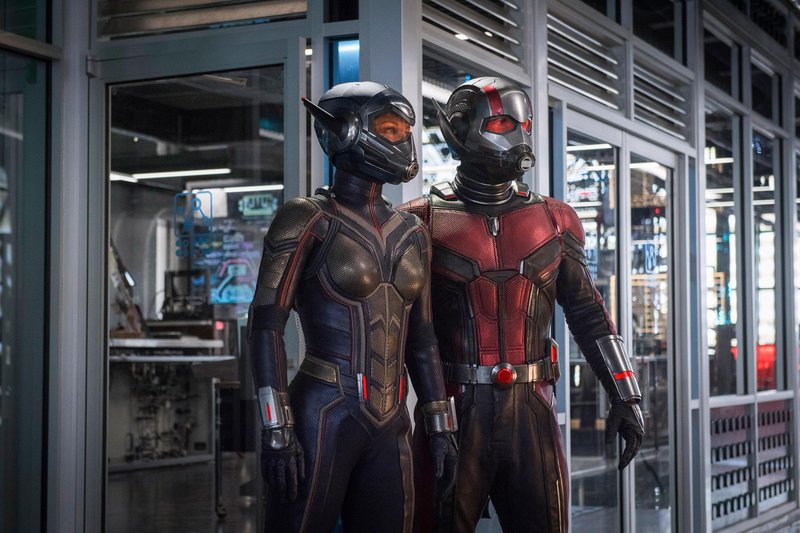 We got a new pic from Ant-Man and The Wasp, showing Paul Rudd and Evangeline Lilly in full costume. I totally forgot that movie was coming out this year. I mean, I knew it was coming, but it just always felt like it was far off in the future.
Kanye West and Kim Kardashian had their 3rd child this week, this time through a surrogate. I still say that the world coincidentally went to Hell when their second kid was born. I mean, it was like everything folks feared about the Large Hadron Collider come true. Lord only knows what kind of death and destruction will follow this kid. Anyway, Mazel!
Sam Rockwell joined the exclusive "I Just Said 'Fuck' On Live TV" Club while hosting last week's Saturday Night Live 
The President's doctor, Ronny Jackson, reported that he is in good health and weighs 239 lbs. I call bullshit because "Ronny Jackson" is NOT the name of a reputable doctor. It is, however, the name of the captain of an '80s breakdance crew.
Meanwhile, adult film star Stormy Daniels was allegedly paid $130,000 to cover up the fact that she had sex with Trump just after his son Barron was born. Yup, nothing to see here…
Sarah Huckabee Sanders used the official White House Press Secretary Twitter account to complain that her kid ordered an expensive Square Enix Batman figure by simply yelling at Alexa. This also reveals that the WH Press Secretary has an always-on mic in her house, in case there are any curious Russians out there…
Wally West will do a brief stint on Legends of Tomorrow for the second half of the season. Ya know, 'cause they need another Black guy now.
The recently announced Dick Tracy comic from Archie is already dead due to a licensing dispute.
In a surprising collaboration, country group Zac Brown Band is going on tour with pop group OneRepublic. I wish the tour was called the "Too Late for Chicken Fried" Tour
Some butthurt dude made an edit of Star Wars: The Last Jedi where all of the women were removed. Clocking in at about 45 minutes, the edit basically gives you no choice but to ship Finn and Poe.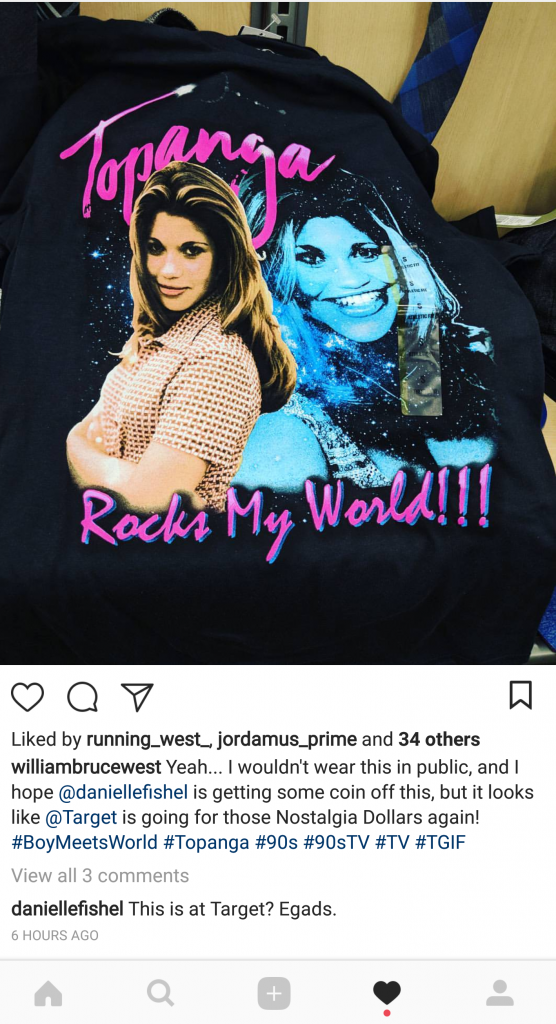 Finally, I was strolling through Target last Friday when I stumbled upon this shirt featuring Topanga from Boy Meets World. Naturally, I had to Instagram it. Little did I realize that by tagging actress Danielle Fishel that she would actually reply! 1997 Will can't stop smiling!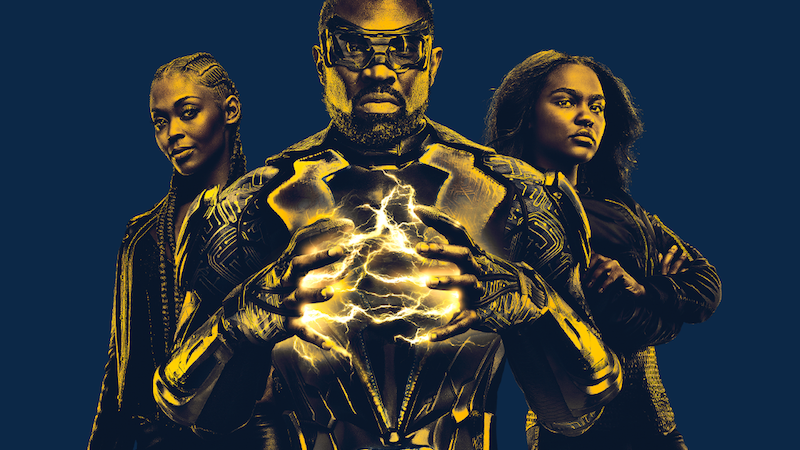 I had no interest in Black Lightning. First of all, I was beginning to tire of the live action superhero shows. It seems like whenever Greg Berlanti launches a new DCTV series, the quality of the older shows tends to take a dip. Secondly, it was originally developed for Fox, so I immediately thought, "Well, here's another Fox show that'll be cancelled after one, low-rated season". When Fox passed on it, and The CW swooped down on it, my curiosity was piqued. After all, there was no way the show could operate in the Arrowverse while airing on Fox. But now that it was "coming home", the possibilities were endless. Then they announced the show would not be part of the Arrowverse. Womp womp. I kinda stopped caring again. I had nothing against the character, per se. Unlike Black Panther, who's a character I kinda dislike for a few reasons, I didn't have much familiarity with Black Lightning. I hadn't read many books with him featured, and the only thing I could remember was when President Luthor appointed him the Secretary of Education (probably the only good thing to come from that administration). So, in a lot of ways I would be going in blind, and I just didn't have it in me to learn a new hero.
Fast forward to last weekend at DC in D.C., where the cast and producers were present to explain their take on the character. Executive producer/showrunner Salim Akil explained that the show is about an African-American man in America. However, even if you take the "African-American" off, you'll still see a MAN who just wants the best for his family and his community. And that's where the story comes from. Black Lightning is just a dude who wants to do right by those around him. Akil said that's the kind of man that he aspires to be. I found that kind of interesting. Could Black Lightning be that inspiring of a character?
I missed the premiere last weekend at the event, but the reviews started trickling out and they were resoundingly positive. Some were calling it the "greatest superhero show on television". That's some pretty high praise right there. I missed the actual Tuesday night premiere 'cause of "Daddy Duties", but everyone on Twitter seemed to love what they had just seen. So, of course I had to check the show out.
Let me just say that I've never been more happy to have been wrong. I thoroughly enjoyed that hour, and I can certainly see how Black Lightning is the hero that we need right now. Jefferson Pierce is a high school principal in the town of Freeland, who's trying to change the world from inside the classroom. He used to patrol the city as the vigilante Black Lightning, but it tore his marriage apart. Now he does what he can at the root of the system, trying to educate and mold kids before they can be recruited by Freeland's gangs. It's been 9 years since he last suited up as Black Lightning, and he was pretty sure those days were behind him – until his daughters end up in a situation from which only Black Lightning can save them. It could've felt really hokey, but it felt so real. The series is grounded in reality by dealing with topics like racial profiling and police brutality.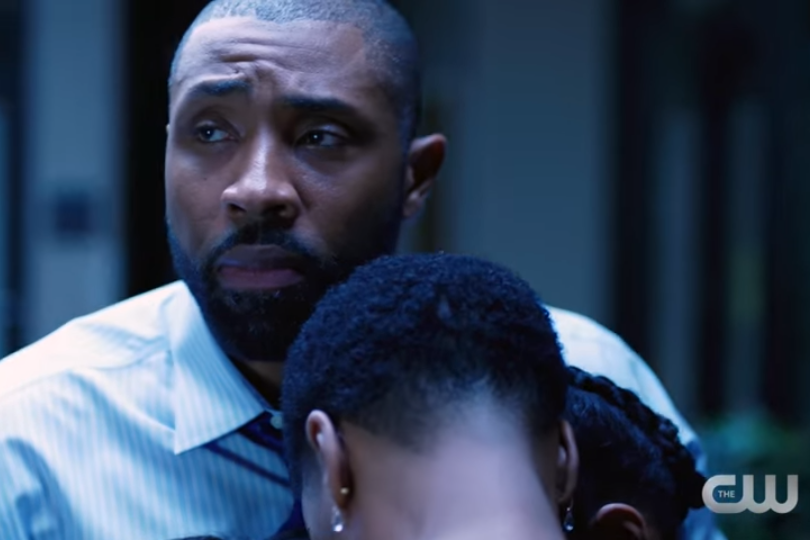 Star Cress Williams is great as the character, and you can really feel the conflict that's raging inside of him. His non Black Lightning life has been good to him: he's been principal for the past 7 years, he and his ex-wife are on the verge of a reconciliation, and he's established a sort of truce with the local gangs to stay away from his school. With all of the good things going on, he begins to realize he's been living in a bubble and things in the overall world weren't going as well for people. "Just when I thought I was out…"
I think the show really resonated with me, as I saw some parallels. We're both Black men. We both work in education. We are both fathers to two daughters (oh yeah, I'm having another girl. Way to bury the lede, Will). He's in great shape, and I would like to be. Anyway, I was starting to see what Akil was talking about during the panel. Jefferson Pierce is someone to strive to emulate. He's the perfect Black superhero role model. Sure, Black Panther is a king, and sits on the world's stockpile of Vibranium, but ain't none of y'all gonna wake up and find out you have royal blood. Black Lightning, though, is an attainable goal. He's a street level hero making a difference. Meanwhile, in his alter ego he's attractive, he's fit, he's got amazing suits – thanks to his own "Alfred", Gambi – he's educated and imparting that wisdom to the next generation. He's a family man and he's a pillar of his community. He's a Black Batman for the middle class. As much Black Pride as folks are feeling about Black Panther, this should generate just as much hype because it's more relatable. To me, at least.
I'm still processing how good that pilot was, and I hope the show continues on this path. With the Berlanti track record, I'm sure it'll take a creative dip when Berlanti goes off to work on Hitman or whatever (Yes, at DC in D.C., Geoff Johns said there were discussions about a Hitman series). By that point, they'll figure out how to pull Black Lightning into the richer Arrowverse during the annual crossover, but I don't want the show to lose its authenticity. It's an important show – a necessary show – and I think that's more important than getting to see Cisco geek out over Black Lightning's powers. In any case, I wholeheartedly believe that Black Lightning had the West Week Ever.