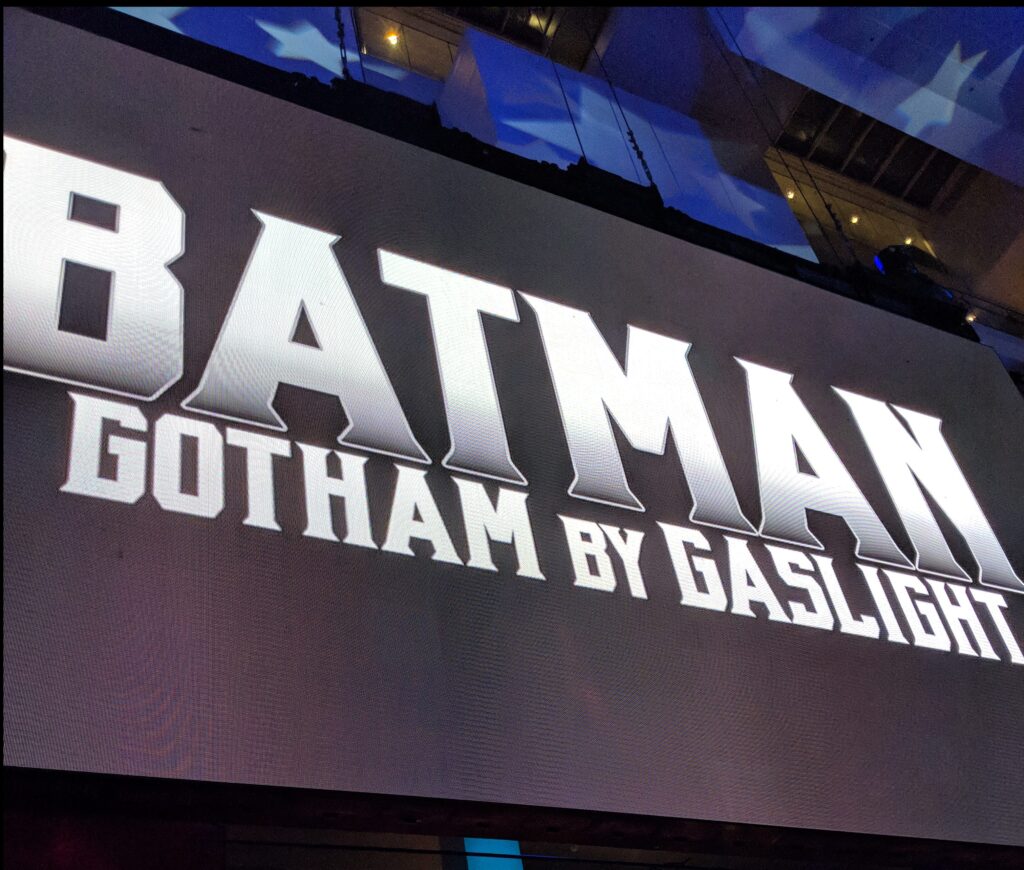 So, this week we're going to be talking about the DC Comics local "pop-up event" DC in DC 2018, and those festivities kicked off last Friday with the world premiere screening of the latest animated offering from Warner Bros Home Entertainment, Batman: Gotham By Gaslight. Screened at the Newseum, in Washington, DC, the film adapts the 1989 classic Batman tale by Brian Augustyn and Hellboy creator Mike Mignola.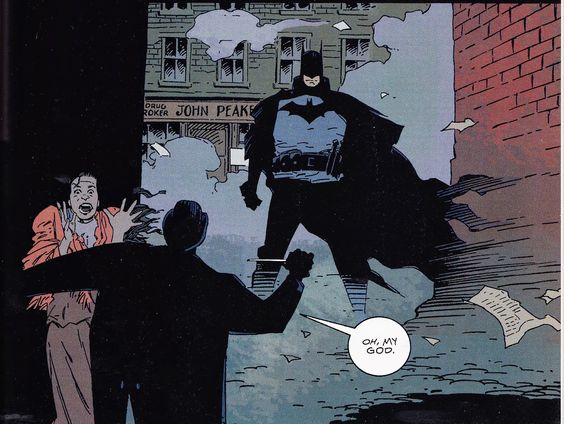 When it comes to alternate Earths and universes, nobody does it better than DC Comics. In fact, they popularized the squarebound "prestige format" of books with their Elseworlds imprint, which focused on non-canon, imaginary tales set on different Earths. The very first of these was Gotham By Gaslight, and offered fans something they'd never seen in its story of a Victorian era Batman chasing down Jack the Ripper. It's a visually striking tale that showed fans what characters were capable of when taken out of their "natural" element. Still, despite its popularity, I never would've pegged Warner Bros to adapt it into an animated feature – especially not as the third R-rated feature in the DC Universe Animated Original Movies franchise.
I have an interesting history with the DC Comics Warner Bros Home Entertainment releases. When they first started, I was pretty underwhelmed. The series was kicked off with Superman: Doomsday, which clocked in at a scant 77 minutes, which made it seem more like Superman took a nap rather than *died*. Still, as the movies kept coming out, they got increasingly better at using the abridged runtime efficiently. I religiously bought them whenever they were released, even before I'd had time to see the one that had come out previously. From Justice League: New Frontier to Batman: Year One, I was an avid collector of those movies. I eventually looked at my unwatched DVD pile, though, and decided to take a bit of a break. I'd later come back when they started to weave New 52 continuity into the films following Justice League: The Flashpoint Paradox. While I've been a casual viewer of the newer stuff, I still seem to find myself present for the big events. I went to a limited theatrical screening of Batman: The Killing Joke, and I found myself in the Newseum for this screening. All of this is to say that I love the DCAO output, but I've become more restrained with my fandom in recent years. When In saw that the premiere screening was happening locally, though, I knew I had to see it.
I haven't read Gotham By Gaslight in over 20 years, so you could say that I went into the film with fresh eyes. Hell, let's be honest here: as iconic as it is, I couldn't remember the ins and outs of the story, other than "Batman fights Jack the Ripper". I used to be quite the student of the Jack the Ripper phenomenon, even taking a tour of that vicinity when I was in London. At a certain point in my life, the idea of my favorite hero tracking down my favorite villain fired on all cylinders. Still, life happens, time passes, and we forget things. So, I sat down in the Newseum and hoped what I saw onscreen would refresh my memory. It did not, but we'll get to that later.
When the film started I noticed that the animation was serviceable, yet it didn't "wow" me. It's not on the level of Batman: Mystery of the Batwoman, which was a decidedly low point for Warner Bros Animation, but it didn't seem as strong as what we've gotten in recent WBHE releases. I think part of the issue is that it was meant to emulate a certain style instead of the regular "house" style that the New 52 animation releases have stuck to. After all, the original story was drawn by Mignola, and the animation was trying to capture that. During the Q&A after the film, DC Animated Universe (DCAU) architect/producer Bruce Timm said that they'd approached Mignola to take a pass on the animation designs, but that he had taken a pass, wanting to see what someone with fresh eyes would bring to the production. So, instead, they opted for a style that was something of a Mignola callback. Those "fresh eyes", however, were somewhat lackluster, and there's a sense of laziness to the character designs. Other than Wayne, every other male is just a stocky White guy with a thick mustache. In that same Q&A, Timm alluded to a tight production timeline, saying "Thank God for facial hair."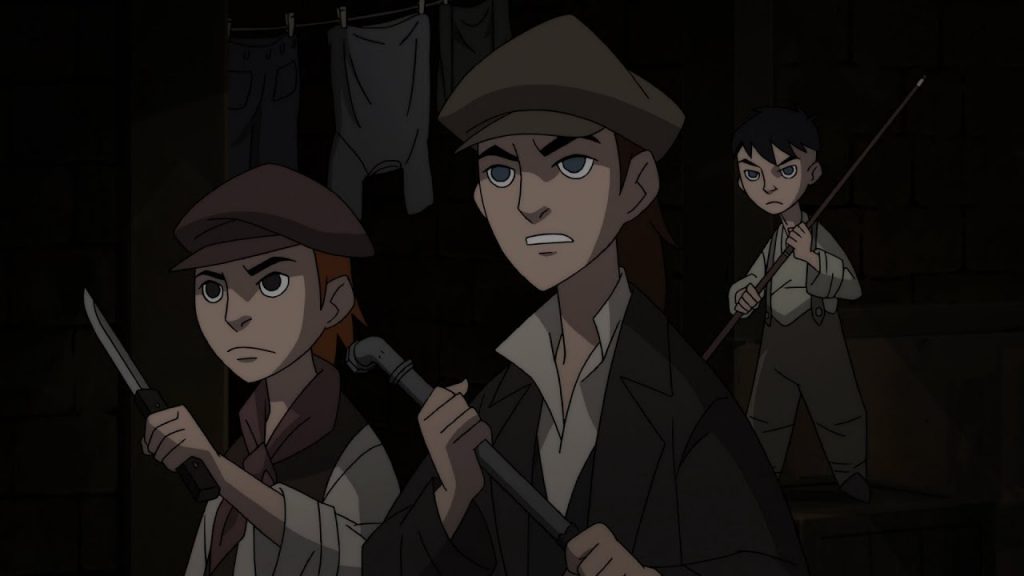 At the beginning of the film, a dancing showgirl, immediately recognizable as Poison Ivy, ends her shift with a gentleman from the audience. As she's about to take him someplace they can be alone, she finds out she got more than she bargained for, becoming the Ripper's latest victim. As Gotham braces for this new crime wave, their native son, Bruce Wayne, has just returned from Europe and is getting reacclimated to his hometown. His return happens to occur at the same time a masked vigilante makes his debut, and sets his sights on the one who's been killing the women of Gotham. This sets off a game of cat and mouse between Batman and the Ripper, while incorporating familiar characters in new roles, such as Robins Dick, Tim, and Jason as street urchins, as well as Dr. Leslie Thompkins as the nun in charge of the local charity. Harvey Dent and Selina Kyle are also prominently featured in the story.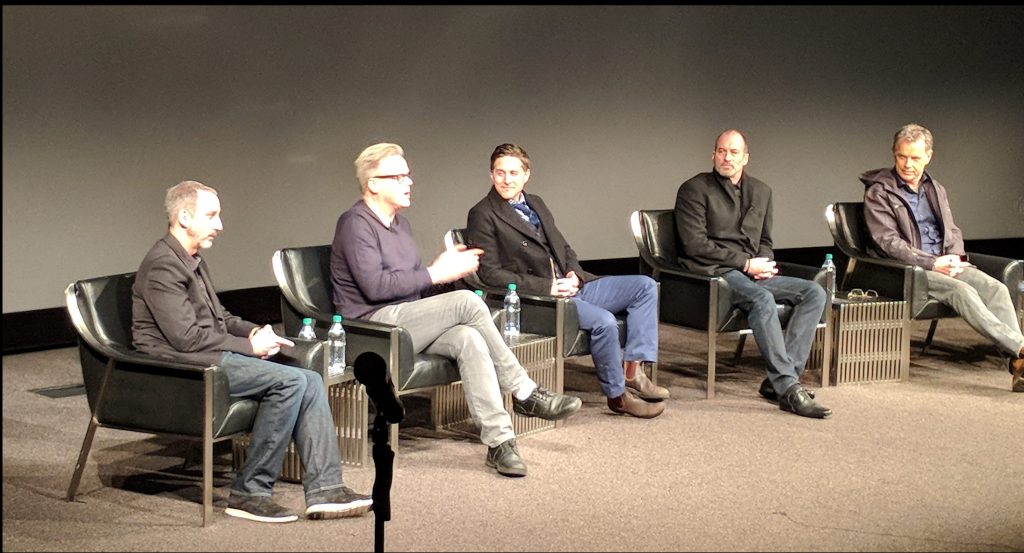 It's the voice cast that really brings this movie to life. Bruce Greenwood reprises his roles as Bruce Wayne & Batman, having played them in the Young Justice TV series. A lot of my generation tends to look at Greenwood as the Great Value Kevin Conroy, which isn't really fair to him. He does a great job aping Conroy's style, while also bringing his own touch to both Wayne and Batman. This is a younger Wayne, who's not quite comfortable in his role as Batman yet. According to the folks at the Q&A, Bruce is pretending to be Batman throughout the movie, and doesn't truly become him until the end. Meanwhile, Dexter's Jennifer Carpenter is excellent as Selina Kyle, while Buffy The Vampire Slayer's Anthony Head brings gravitas to the role of Alfred Pennyworth. The cast is rounded out by animation superstars Tara Strong, John DiMaggio, Yuri Lowenthal, and Grey Griffin. At times, you forget you're watching an animated feature, as they really pull you into the story.
Remember how I said that the movie didn't refresh my memory of the comic? Well, that's because the film is very different from the book.  I didn't realize just how different until the movie ended, and I hopped on Wikipedia while the folks were lining up for the Q&A session. I'm talking different characters, different villains, different ending. Don't pass this by just because you think you know what's going to happen because you don't. Personally, none of the changes bothered me, but that's because I had forgotten most of the original story. That didn't mean I wasn't along for all the twists and turns, as I thoroughly enjoyed where the story went.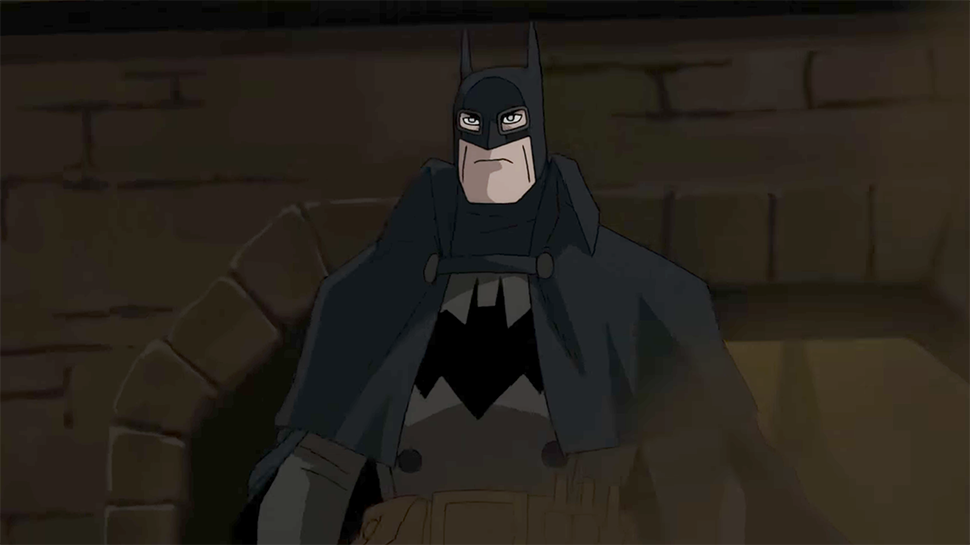 So, at the end of the day, Batman: Gotham By Gaslight is an entertaining and thrilling adaptation, using the classic story as its springboard. If you're looking for that original story here, then you might be disappointed. If you go in with an open mind, however, and take the story for what it is, you're in for a real treat. Due to the lack of intense detail in the animation, seeing it on the big screen might've done a disservice to the final product. That said, I think a reasonably sized screen, during a home viewing, will deliver a tighter, sleeker presentation. I know this was a special presentation for the DC in DC 2018 event, but I think this production will be more at home on DVD/Blu Ray.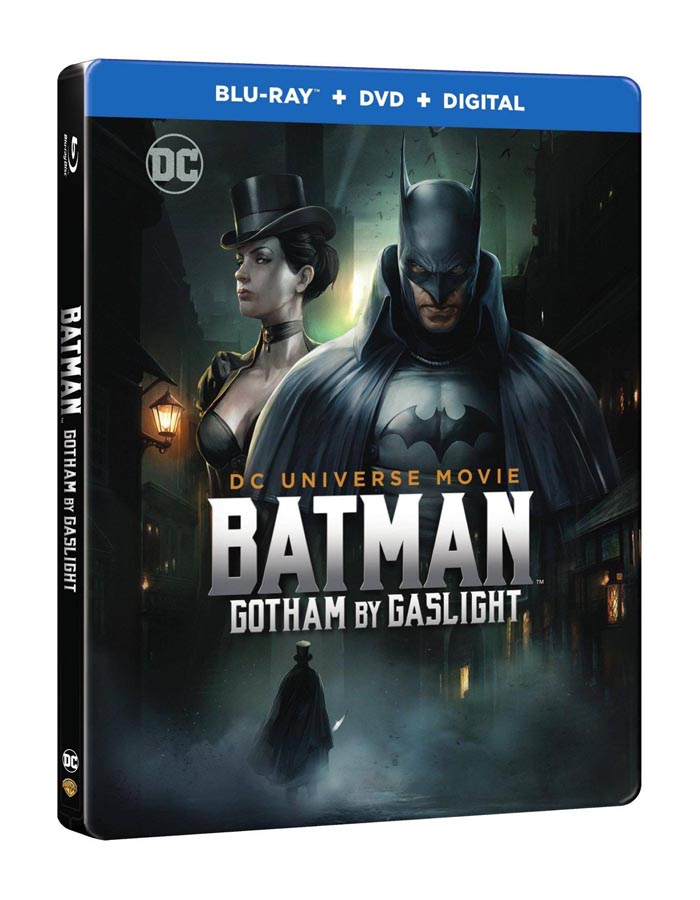 Batman: Gotham By Gaslight will be available digitally on January 23rd, followed by DVD/Blu Ray on February 6th.