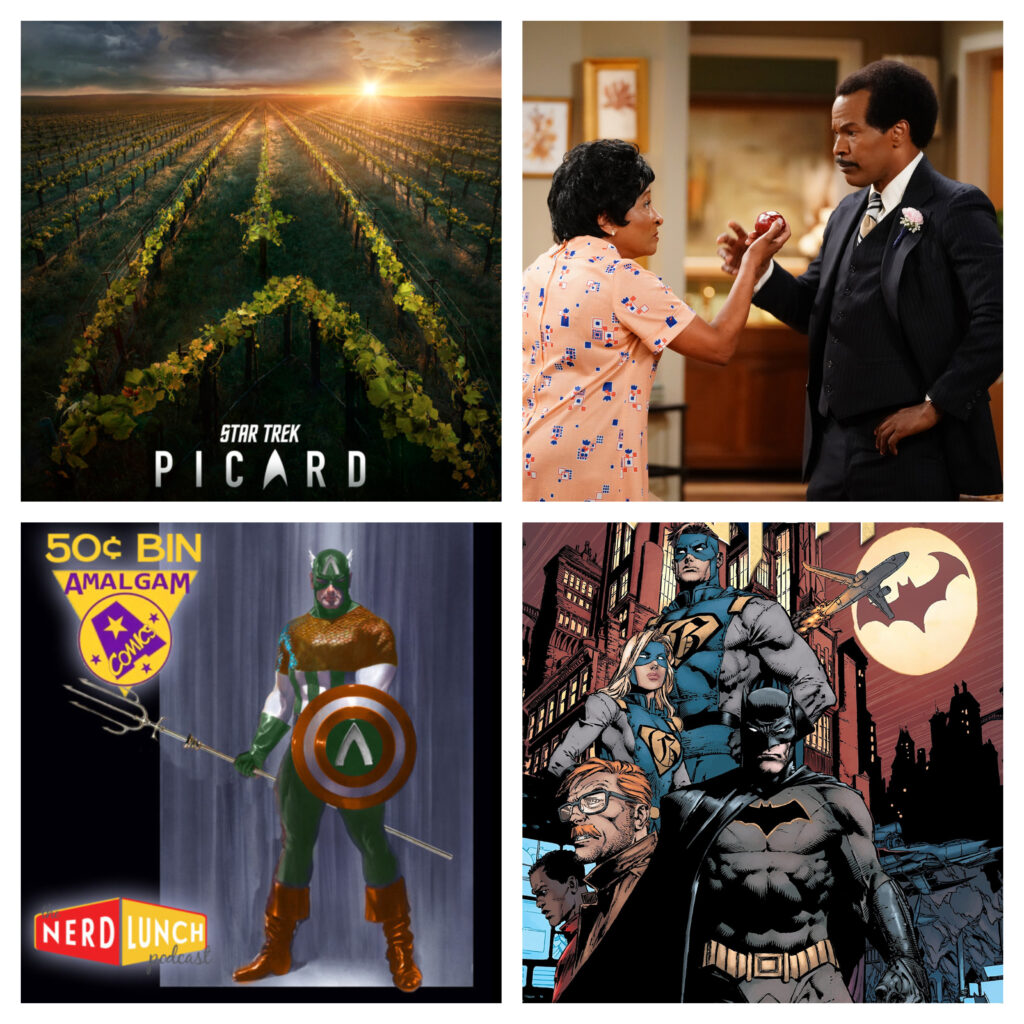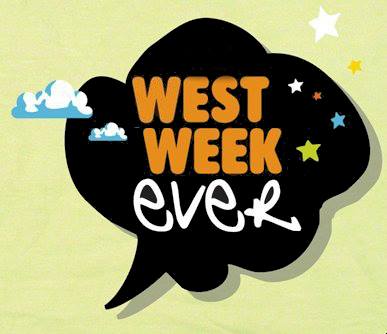 Welcome to a special PRIME TIME edition of the post! I didn't want to skip this week, and I had a ton to do today (I don't get paid to blog!), so we're doing this a little later than usual.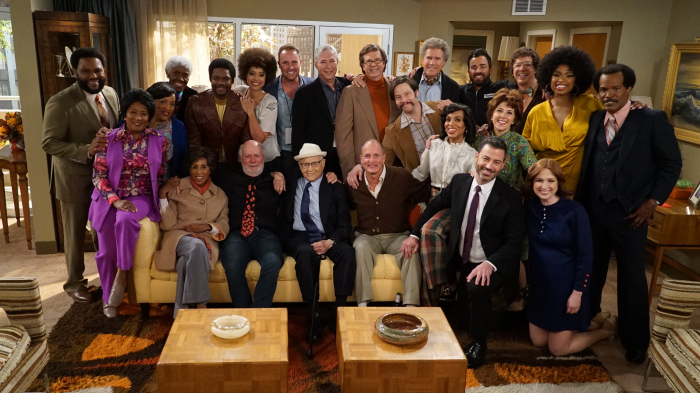 Did any of y'all watch the Norman Lear/Jimmy Kimmel Live In Front of a Studio Audience special this week? In case you missed it, an all-star cast (and some lesser stars) were assembled to recreate episodes of classic TV series All In the Family and The Jeffersons. Since the All In The Family episode was the first appearance of George Jefferson, it served as something of a crossover into the next installment, with Jamie Foxx in the role of George.
.@IAMJHUD brought the house down! #TheJeffersons #LiveInFrontOfAStudioAudience pic.twitter.com/6Bxz8cJYjQ

— ABC (@ABCNetwork) May 23, 2019
I'm still on the fence as to what I thought about it. Some folks were surprisingly good, like Kerry Washington and Will Ferrell as Helen and Tom Willis. Meanwhile, some were grossly miscast (Ellie Kemper as Gloria Bunker? Stephen Tobolowsky as Mr. Bentley?!). Meanwhile, some of the actor brought out new sides to the characters. For instance, Jamie Foxx couldn't seem to nail down the seriousness of George, and instead played up the funny aspects of the character. Meanwhile, Woody Harrelson's Archie was a little darker than Carroll O'Connor. Like, I could almost believe that he hit Edith a time or two, and I never got that vibe from the original series. Did Woody need to tone it down a bit? Was he miscast? Or did I completely miss something about Archie that was always right in front of me? Anyway, we can all agree that J.Hud appearance was FIRE!
In the end, it was a neat little experiment but, as I said on Twitter, I don't want ABC to learn the wrong lesson here. The ratings for it were great, but I don't want this to be a regular thing to the point where it's 2035, and we're waiting to see Tom Holland star in a reenactment of the ALF series finale. 'Cause I know I'll watch it, but I'll hate myself the whole time.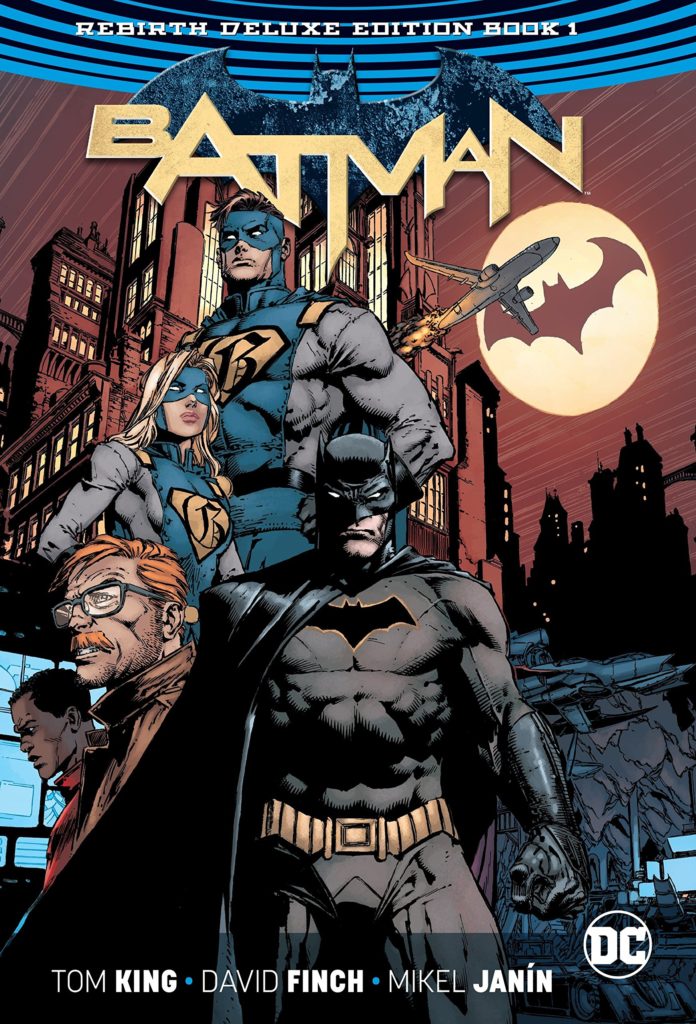 In comics news, word on the street is that current Batman writer, Tom King, will be off the book by issue #85 – contrary to the fact that he had frequently mentioned that he was telling a 100-issue story. A lot of folks believe it could be due to this interview he gave The Hollywood Reporter, where he mentioned wanting to do something to leave his mark on the character. Yeah, other folks don't like it when you write on their toys, Tom.
I like King. He's a good writer who's always been nice to me. I haven't read his critically acclaimed stuff, like The Vision or Mister Miracle, rather I actually discovered him through his Middle East-set Vertigo comic, The Sheriff of Babylon. I used to find him at cons and say "I may not understand what's going on half the time, but damn do I enjoy your book." It got to the point where he started to recognize me. So, that said, it's been interesting watching his career trajectory.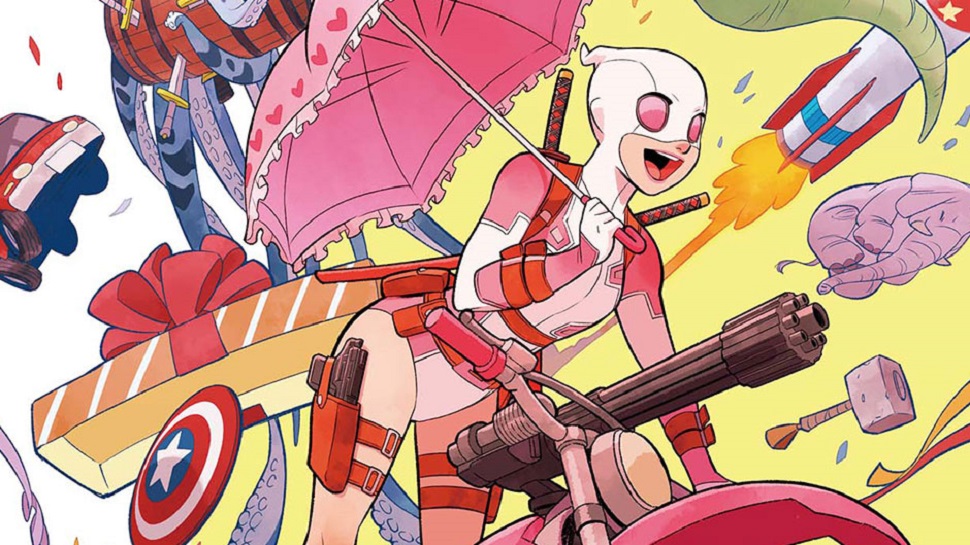 He's a lot like Gwenpool, who is a character I love, with a lot of potential, who got a big push too soon. It wasn't handled well. Marvel was determined to shove her down our throats. Like, have you seen a new character get a Marvel Legends figure that quickly? King got a lot of acclaim for Mister Miracle, but then seems to have lost all that goodwill with Heroes in Crisis. But to lose Batman from it?
It might not just be that, though, as I know some folks didn't appreciate his bait & switch with the whole marriage to Catwoman, but did anyone really think that wedding was gonna take place? I have to admit that I haven't read a single Rebirth-era Batman comic, so King's run is foreign to me. I heard good stuff in the beginning, but not as much good stuff after the wedding point.
I feel DC put too much pressure on King, especially when the gamble that was the hiring of Brian Michael Bendis away from Marvel didn't work out as well as they'd expected. It was unfair, and now King's paying the price. The only other person who could get Batman right now is probably Bendis. So, congrats to anyone happy about that. That's gotta be the worst thing about working in comics. You're just plugging along, plotting your book, and then the publisher nabs some big name in a major coup, and that name is gunning for your book. They smile at the summits, but it's been their dream to write your book. Anyway, DC hasn't released an official statement yet, so here's hoping for the best for all involved.
UPDATE
Here's one of the perks of a later post. So, it was announced this evening that King and Clay Mann would be moving over to a spin-off title called Batman/Catwoman. Meanwhile, the Batman title will move back to a monthly schedule, so that it can more closely align with DC continuity. This is basically them saying, "Here's some bullshit title for you to finish your little story while we clean up the mess you made." So, since BM/CW is a 12-issue series, and King's Batman run ends at #85, he'll basically be getting his 100 issues, but they can easily say anything he does in it "doesn't count" since they've committed the main Batman book to being all about continuity. Kinda sucks, but that's the business, I suppose.
Trailer Park

Terminator: Dark Fate
One of the biggest issues Terminator fans seem to have is the matter of continuity. Basically, there's always the question of When Does This Take Place? Seeing as how this is considered a direct sequel to Terminator 2: Judgment Day, that question is pretty moot for the other sequels in the franchise now. And, seeing as how I've never been a "Terminator person", this won't be an issue to me, as I've only ever seen Judgment Day. Never saw Rise of the Machines, Salvation,nor Genisys. Hell, I've never even seen the original. So I think I'm in a pretty good place. I'll see this, but probably not in a theater. The trailer, though it ends on a cool airborne scene, feels pretty flat to me. Am I alone there?

Star Trek: Picard
I'm gonna upset some people here, but I've got to be true to myself. This looks like a commercial for erectile dysfunction meds. It has all the hallmarks of one: older White man, taking part in some hobby out in nature, somewhat soothing voiceover. ED drugs always have to show active White men. It's like "Look, Trevor! You can still go sailing!" They don't do that for us. The most active Black folks get in medicine ads is we might be playing basketball. Otherwise, we're sitting somewhere, with a hat on, maybe playing checkers. But I digress…
This is NOT a very good teaser, but CBS knows that they can pretty much give us anything with Picard in it, and folks will get excited. This doesn't feel…organic. It definitely feels like a fake ad that was created within the world of a television show. It's just odd to see something of a news teaser in a society that I thought had long moved past such things. I know they have reporters, as Jake Sisko was one, but we've never really SEEN what a reporter does in the world of Star Trek. Anyway, I'm still not sure this is gonna get me to pay for CBS All Access, especially hearing the behind the scenes issues the show has been having.
Links I Loved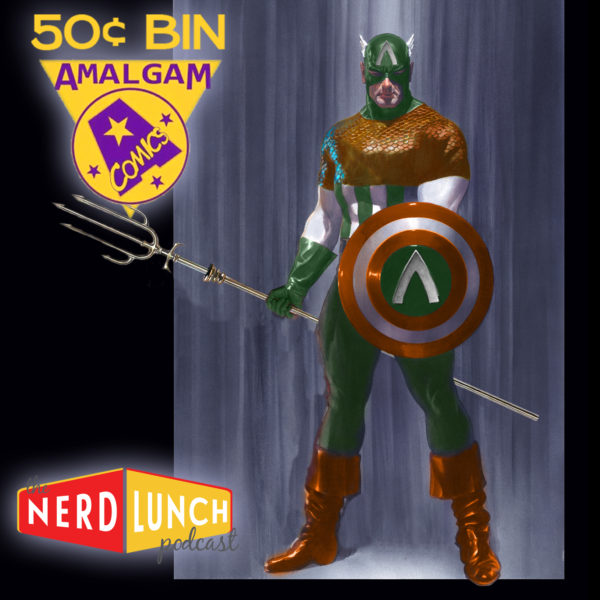 Things You Might Have Missed This Week
Adam Levine has decided to stop pretending to give a shit about discovering new pop stars, and will be leaving The Voice.
The Sonic the Hedgehog movie has been moved to 2020 so they can continue to "fix" it. Ugh, the "Bad Guys" won on this one…
It was Ecto Cooler Mania all over again, when folks learned that the 80s New Coke formula would be revived as a tie-in with the Netflix series Stranger Things. Coca-Cola lovingly gave fans the opportunity to pay $20 for a pack of the stuff that nearly drove them out of business 35 years ago. Ain't nostalgia funny?
WWE, always with their finger on the pulse of what fans want, had Brock Lesnar – part-time, half-hearted wrestler – win Money in the Bank. Needless to say, the fans were livid, but they're always mad about something.
Game of Thrones ended this week. The less said about that the better. Ya know, until 2027, when folks start lauding the finale as some kind of masterpiece, sorta like they're doing with The Phantom Menace right now.
Despite seemingly getting that axe before last week's Upfronts, there are rumblings that ABC's Whiskey Cavalier may get a stay of execution.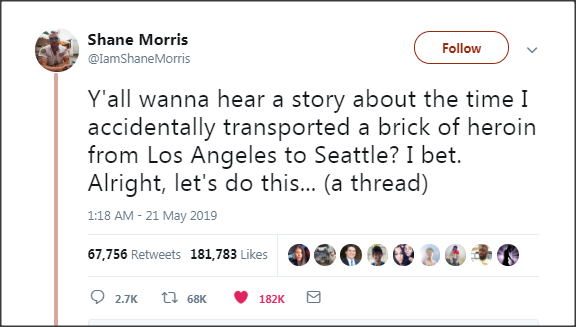 So, if you were on Twitter this week, you sure read the EPIC thread by web designer Shane Morris. You see, he recounted the tale of the time he found a brick of heroin in a used van he'd purchased, and then proceeded to "move weight", as the kids say, through a friend. Oh, and to make matters worse, he then told of how he ripped off the son of the original van owner – ya know, the guy whose heroin he'd sold – who also just happened to be a member of one of the worst gangs in the world. And he lived to tell about it.
I don't want to paraphrase anything. You should just go read the thread for yourself.
Shit is CRAZY, right?! So, that's why Shane Morris had –
Wait. We're getting a live update as I type this. Apparently Shane has responded to the story with this: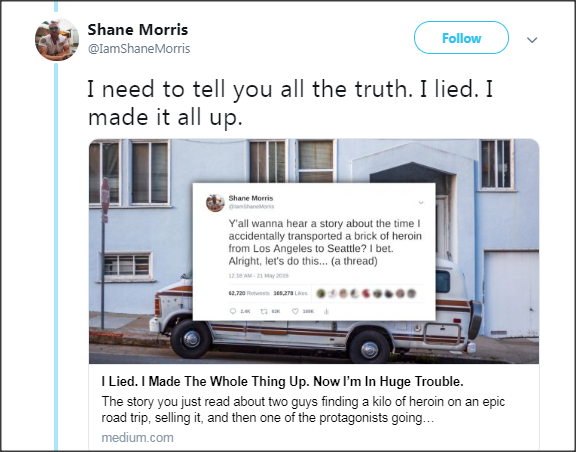 WHAT?! YOU DON'T SAY!
Here's the thing: after publishing that story, one of two things was gonna happen: 1) he was telling the truth, and he was gonna be murdered OR 2) he was lying, and he was gonna be murdered. He mentioned, by name, a gang that I don't talk about in conversation. It's THAT bad. They don't just kill you. They kill everyone close to you. And he did this shit to sound like a big man on Twitter? Whew!
If you don't feel like clicking the link, he basically said he did it in an attempt to see if he could top his own story about the time he ate 8 grams of mushrooms. When he saw how that had blown up, he just wanted to see if he could outdo his own story. Basically, he's just a boring, 30-something, married software developer who wanted to have some Big Dick Energy for a bit. And I've GOT to know how his wife feels about the whole thing, now that they're fearing for their lives and all.
I really hate to go there, but there is a hint of White Privilege at play when you think you can spin a yarn like this, citing one of the worst organizations around, and think there'll be no repercussions. I'm not saying he thought he'd get away with it because he's White, but I AM saying his "aloofness", by virtue of his Whiteness, is why it never even occurred to him that some folks are not to be trifled with. At first I wondered if I was alone in that thinking, until in his confession, he states that his weed man even says to him, "Bro, that is the fucking whitest shit I have ever heard in my entire life." Vindicated!
Morris went from being cock of the walk, with a movie deal in place for his story, to hiding on a friend's couch, all in the span of 72 hours. That internet: she'll make ya and then she'll break ya!
I will say that I have never felt more seen than by this statement: "You might not understand this yet, but there's a point you reach in your early 30s, after you get married, when you stop showering for 3–4 days sometimes, and you're watching yoga videos, and you're like, 'Holy shit. What the hell happened to me? I feel like the least cool person on the planet.'"
I feel ya, Shane, but I've never woken up from that to the realization that I should start a gang war. So, you're on your own now, buddy. Let this be a cautionary tale for you kids out there: don't court trouble to impress strangers!
So, Live In Front Of A Studio Audience had the West Week Ever.