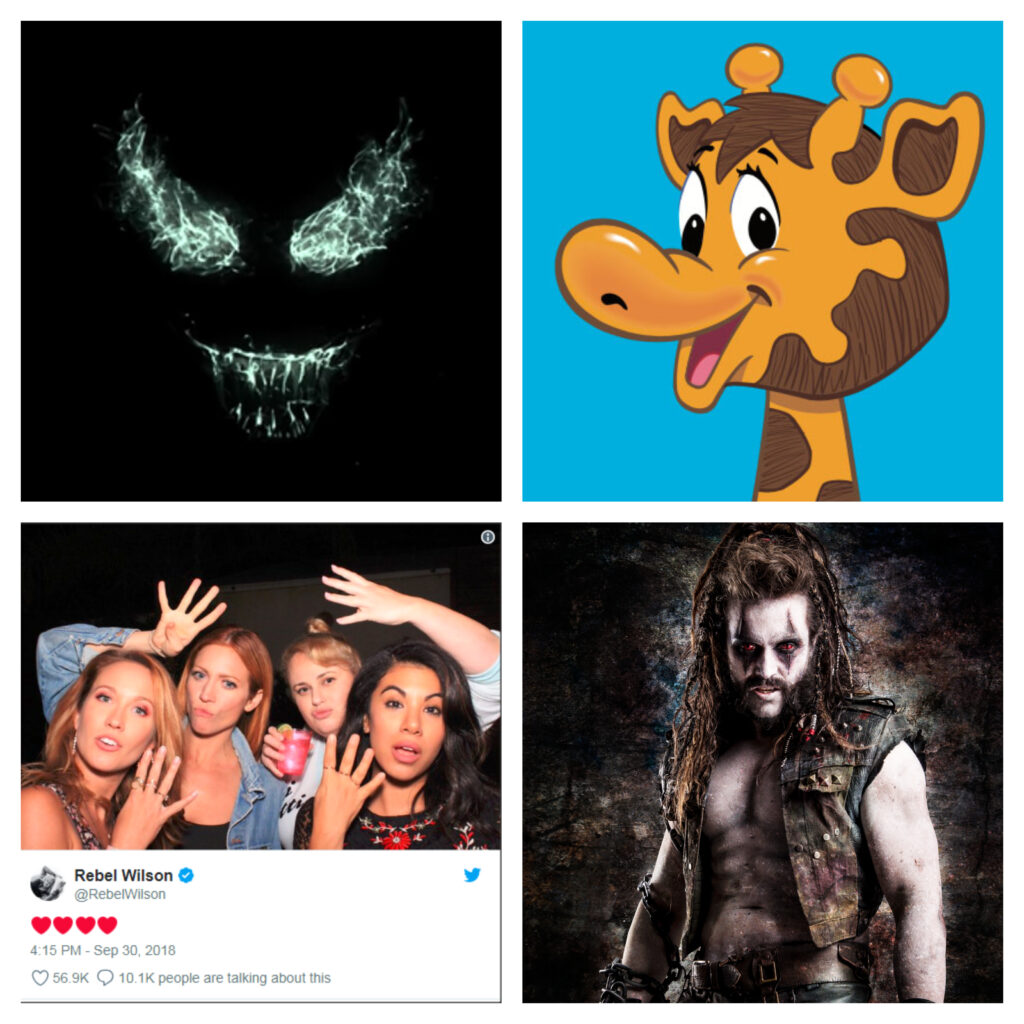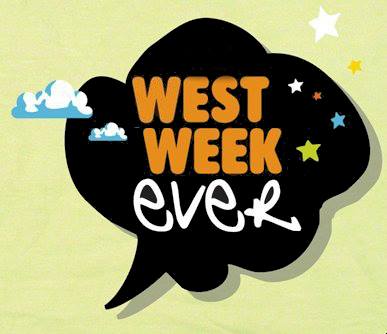 HarassmentWatch(TM)
Brad Kern Update – the former NCIS: New Orleans showrunner was fired by CBS Studios after a THIRD misconduct investigation. He had already stepped down after the 2nd, but he remained on the payroll as a consulting producer. He reportedly had a history of belittling women, and making insensitive racial remarks.
Vincent Favale – What the Hell is going on over at CBS?! Man, they are draining the fucking swamp! Favale, the senior vice president of talent at the network has been placed on administrative leave after reports of sexual and homophobic remarks – many of which were reported by staff of The Late Show with Stephen Colbert. Favale reportedly once said that he "got four erections" while watching Jennifer Hudson rehearse for a Late Show appearance. Sounds like a real great guy…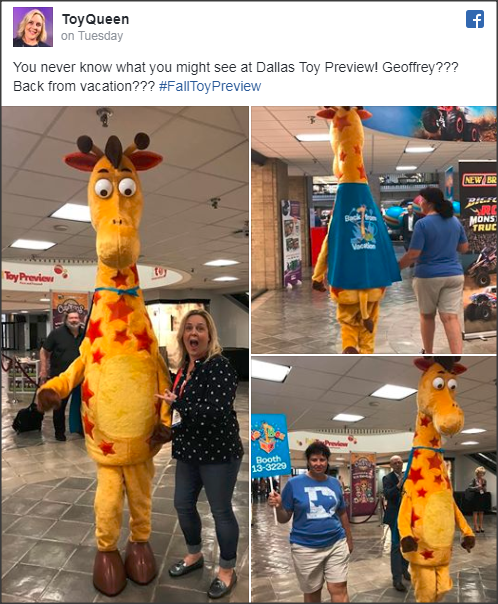 *Takes long drag off cigarette* "Geoffrey? Now, that ain't a name I've heard in about a month." So, this week, Toys "R" Us called off the auction meant to sell off their IP and trademarks, as they reported they felt there was more value in relaunching the brand. Paperwork reveals that they registered the name "Geoffrey's Toy Box", but for what nobody is sure yet. Meanwhile, the Dallas Toy Fair is going on, and there have been sightings of Geoffrey walking the aisles, wearing a cape that says "Back from vacation". All of a sudden, every news outlet lit up with "Toys 'R' Us is Coming Back!" Hold on there, cowboy.
Toys "R" Us rushed into bankruptcy, leaving long-time employees without severance, and owing toy manufacturers millions for unpaid product. That giraffe can't just mosey back in like nothing happened. While the man on the street might be happy about TRU returning, there are a lot of folks who are going to feel some kind of way about that. And if it turned out that they only filed bankruptcy to divest themselves of debt, overhead, and responsibility, that's going to cause even more problems. Had they been a public company, I'm pretty sure the SEC would be stepping in right about now, but they were private, so I don't really know what happens next. All I do know is that they need to read the room and understand it's too soon. The body ain't even cold yet. I mean, I'm half expecting the next marketing image to be Geoffrey rolling back the stone from his tomb. That's how this feels right now. They really need to give it a bit more time before rushing into this – if only so I don't have to hear all the armchair quarterbacks talk about "They better lower their prices! That's what drove them out of business in the first place!" Not exactly, Poindexter, but you keep on thinking that…

I was hesitant to post this 'cause y'all are never on the same page as me musically, but I'd be remiss if I didn't share the stuff I think is good. Now, I know some of you see "country" and just think "NEXT!", but I will die on the hill that modern country isn't what you think it is. There are tons of artists who get airplay on country stations, yet if I played the song for you without telling you that, you'd never know it. Today, I can't really do that 'cause I think everyone knows Tim McGraw is a country artist. Still, yesterday evening, he released his latest song, "Neon Church", that I've been streaming for the past 24 hours.
While I love the wordplay, likening a bar to a church, I'm really here for the melody and what's going on in the background. The first time I heard it, I was like "That's 'Purple Rain'!" In an interview this morning, McGraw said that while recording, he and his band were listening to a lot of Prince and Journey, and it shows here. I played it for Lindsay, and she didn't like it – I somehow managed to marry the only White woman who hates Journey. Anyway, listen near the bridge and the at the end – that guitarist is doing his best "cruise ship 'Purple Rain'". It's something of a vocal stretch for McGraw, as it's at the top of his range, but I'm still really digging what's going on here.
Trailer Park

Spider-Man: Into The Spider-Verse
So, we got a new trailer for this one. Again, I am one of the BIGGEST Miles Morales fans, and this movie does nothing for me. I'm not digging the animation style, which I'm finding to be just as jarring as the MTV Spider-Man animated series based on the Raimi movies. Plus, I'm not sure Jake Johnson is how I imagined Peter Parker would sound. And Miles' dad isn't a cop. I get they had to take certain liberties or whatever, but I'm not feeling it. Maybe it's not meant for me, which is sad, 'cause I pretty much glom onto any and all Miles merchandise and comic appearances.
Plus, I just don't know if this is a theatrical project. I mean, I look at this, and think it would be a cool animated special that airs on ABC during primetime on a Wednesday in June or something, but to actually go pay to see it in a theater? I don't think so. It feels like a nice special one-off event, like that Toy Story That Time Forgot special or something. Maybe even a special event on Disney XD. But this ain't an "I'm headed to Fandango to order tickets" kind of thing.

Daredevil Season 3
So glad they quickly got this out there, 'cause the teaser I showed you last week left me scratching my head. Apparently this is adapting the "Born Again" storyline, but I read that thing over 10 years ago, and don't remember it, so don't take my word for it. It looks good – SO good, that I might just skip that other Netflix shows I haven't seen and skip right to it.

Runaways Season 2
I've never watched an episode of this show, and that's because A) I don't have Hulu and B) it looks hokey as Hell. From the special effects to the way the kids all look like "teen outcasts" straight from central casting, it just doesn't look good to me. I was a big fan of the comic series when it launched, but I watch these trailers, and I'm still waiting for the other shoe to drop. If you've read the comic, you probably know what I'm talking about. It's like, if you think they're on the run NOW, you just wait! There's a twist coming, and I might jump onboard if/when I hear they've pulled that trigger. Until then, I'm content being in the dark on this one, Cloak & Dagger, and all the teen-centric Marvel stuff.

Harley Quinn
So, they announced that Kaley Cuoco would be voicing Harley, and I was like, "Huh?" I mean, were Tara Strong or Arleen Sorkin busy? But I guess they wanted a "name" behind this, since it's one of DC Universe's more high profile upcoming launches. After seeing this trailer, Cuoco does a decent job. And I really love Poison Ivy doing her best Daria. I like that DC seems able and willing to poke fun at them themselves here. I'm curious to see how this plays out since it's marketed as an "adult animated series". Let's just hope the show is good, and not another Stripperella.
Things You Might Have Missed This Week
Fox announced the release of Untitled Deadpool Movie slated for December 21st, which will reportedly be a PG-13 cut of Deadpool 2. Keep in mind that this is also the weekend that Aquaman and Bumblebee hit theaters. I was kinda hoping it would be a new movie made up of deleted scenes and cut subplots, kinda like Wake Up, Ron Burgandy. Anyone ever seen that? It's HORRIBLE but, as an Anchorman completist, I had to see it.
Speaking of Fox, they made a lot of schedule moves, as Untitled Deadpool Movie takes the release date of James Cameron's Alita: Battle Angel, which, itself, is moving to Dark Phoenix's previously announced date of February 14th, 2019. Dark Phoenix, meanwhile, is moving to June 7th. Also, Channing Tatum's X-Men spinoff, Gambit (ya know, that movie that's never gonna happen?), has been pushed to March 13th, 2020.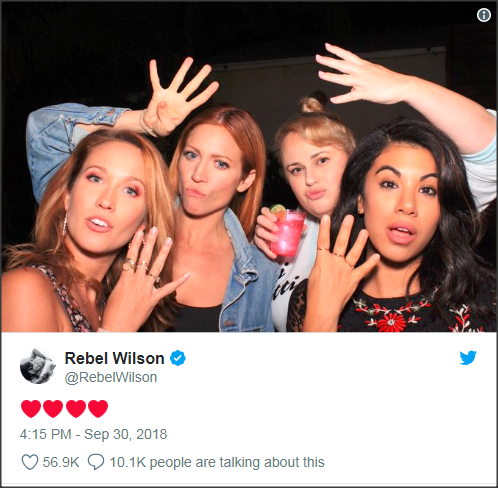 So, those pitches are teasing a Pitch Perfect 4, and I've got to beg them to stop. The only thing they could even possibly do is have it based on NBC bringing back The Sing Off, and having the Bellas compete on it. Anything else would be absurd. No, the 3rd one was just not worth it, so I say we let it die as a trilogy.
Before the first episode has even aired, Titans has been renewed for season 2 on the DC Universe streaming service. Ya know, why not? It's not like they're sitting on anything else amazing to throw on that thing.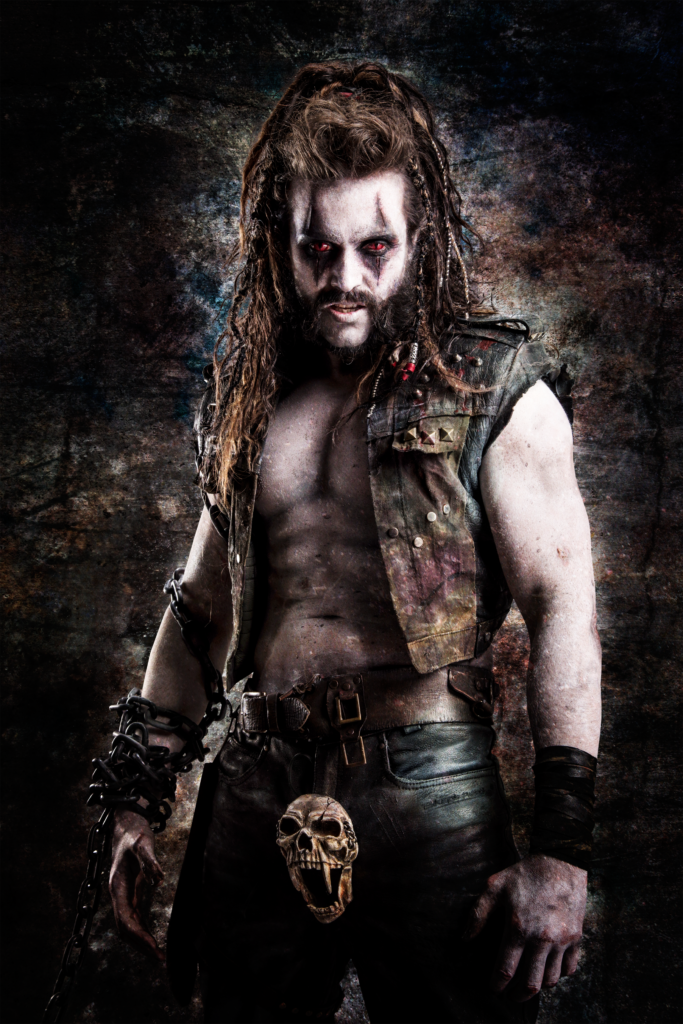 Speaking of bad DC live action ideas, Lobo is going to debut on Syfy's Krypton next season. This looks like a Spirit Halloween ad! Ugh, fucking Lobo. He's just the absolute WORST. Even though he debuted in the 80s, he's the 90s at its 90iest, and I hate everything about him. I've always said that you can tell a lot about a person if they're a Lobo fan. They're usually Special Ed. Probably ate paste in school. They either grow up to own a landscaping business or become a Best Buy stereo installer. Fucking Lobo…
Realizing he's getting too old for this shit, Damon Wayans has announced that he's leaving Lethal Weapon at the end of season 3's initial 13-episode commitment. Man, how mad do you think Fox is at the Lethal Weapon office right now? They already had to replace Clayne Crawford with Sean William Scott just to keep the show going, and now THIS?! Somebody's GOT to be saying "We don't need this shit! We could've renewed Lucifer!" As I said on Twitter, they should replace Wayans with Bill Bellamy, then kill off Scott, and replace him with Peter Facinelli. Then, I'll get my backdoor Fastlane revival I've been wanting since 2003!
Kanye did some dumb shit on SNL, and water is wet.
Looks like Robert Kirkman is going to have to be content living off his The Walking Dead empire, as Cinemax has cancelled his series Outcast after 2 seasons.
Everyone wants in on the fantasy genre, as Netflix is adapting the C.S. Lewis Chronicles of Narnia for series and movies, while Amazon is developing a series based on Robert Jordan's The Wheel of Time novels.
Remember Mischa Barton? Ya know, the It Girl from The O.C. who went nowhere? Well, she's going to be joining the cast of The Hills: New Beginnings on MTV.
Chelsea Peretti announced that she won't be returning to Brooklyn Nine-Nine as a series regular when the show debuts on NBC this season.
Amy Schumer was detained yesterday in DC during the #KavaNope protests, but she blocked me on Twitter ages ago, so she's dead to me. YOU'RE DEAD TO ME, AMY!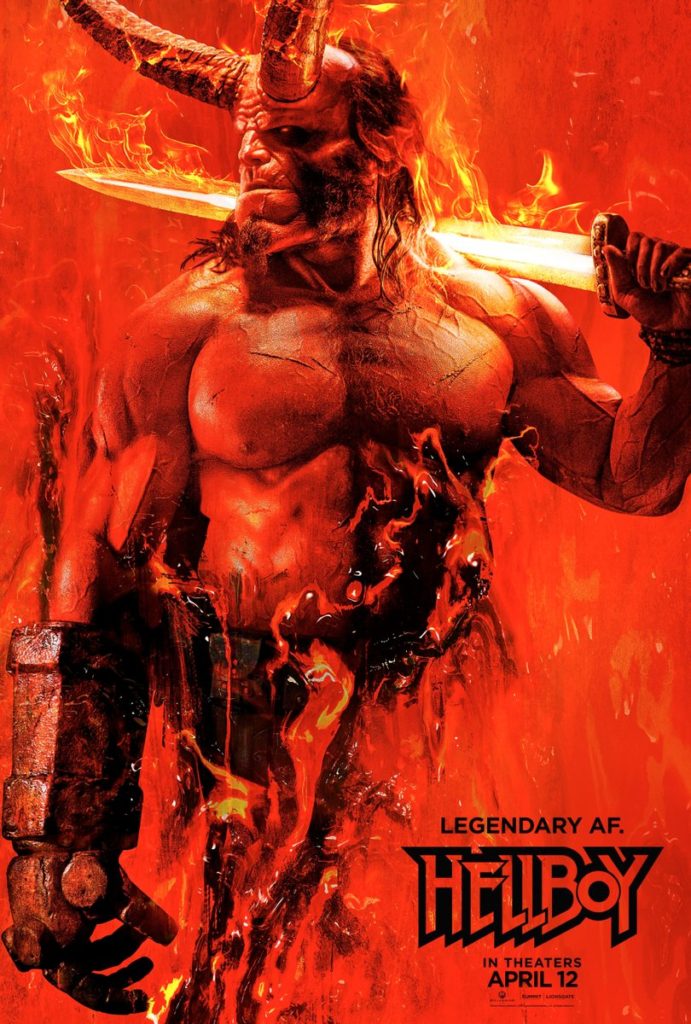 We got this poster for the upcoming Hellboy reboot, starring David "You Wouldn't Even Know My Name Were It Not For Stranger Things" Harbour.
Elon Musk took one step closer to becoming The World's First Supervillain, as he was forced to resign as Tesla chariman, and was fined $20 million by the SEC, due to a tweet where he implied he had secured funding to take Tesla private.
Last night marked the finale episode of the hour-long version of Conan on TBS, as he bid farewell to his house band, Jimmy Vivino and the Basic Cable Band (formerly the Max Weinberg 7). The future show will switch to a half hour format, with no musical guests, but with more special events, like shows from foreign countries.
Brian Robbins was announced as the new head of Nickelodeon, which is significant since he and his former Head of the Class costar, Dan Schneider, got their behind the scenes careers started by creating All That for the network back in 1994. It'll be interesting to see if he throws any work to Schneider, whose Schneider's Bakery production house was sent packing by Nickelodeon earlier this year after allegations surrounding Schneider arose.
Talk about an "unfortunate Situation"! Jersey Shore star, Mike "The Situation" Sorrentino, was sentenced to 8 months in prison for tax evasion.
Jon Favreau will write and produce Star Wars series The Mandalorian, which appears to follow another Fett, after the events of Empire, but before the rise of the First Order. The series will stream on Disney Play.
I know you've gotten this far, and you're like "Wait, didn't he have Venom in the header pic? He hasn't even mention…wait. He WOULDN'T!"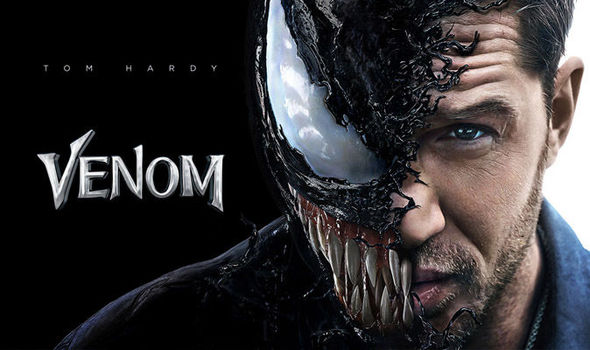 OK, bear with me here. I know the critics gave this film a shellacking, and I can understand why. In the age of the Marvel Cinematic Universe and, to some extent, the DCEU, Venom isn't what we've come to expect from a comic book movie in 2018. And I'm not so sure that's a bad thing. I swore that I wouldn't spend money to see Venom, and I kept that promise, as Special Forces wanted to see it, and it was his turn to pay. That said, I didn't hate it. In fact, I really enjoyed it. Now, I am known for liking shit, so don't equate "Will liked it" with "It's a good movie". I don't know if I'm "Film Twitter" enough to say it's good or bad, but I definitely enjoyed it.
OK, so the movie starts out with investigative reporter Eddie Brock on top of the world. He's got his own cable news show, where he roots out corruption, he's engaged to corporate attorney Michelle Williams, and he's about to get a chance to interview Elon Musk analog, Carlton Drake. Actually, that's not how the movie starts. It actually starts with a space shuttle crashing upon reentry – a shuttle that happens to carry organic samples. All of the astronauts die except one, named "Jameson", where I guess they're alluding to J. Jonah Jameson's astronaut son, John Jameson, who later becomes the Man-Wolf in the comics. Anyway, while transporting Jameson to the nearest hospital, it appears he's got a symbiote in him that jumps from him to his EMT, wrecking the ambulance. Oh, and that shuttle? It was owned by Carlton Drake.
Brock's boss wants him to interview Drake, but he doesn't want to do it because he doesn't trust Drake. His doubts are reinforced when he hacks into his fiancee's computer (her firm happens to be representing Drake's company, The LIFE Foundation), and discovers a wrongful death suit filed against the computer. When he gets his shot at interviewing Drake, instead of sticking to the script, he decides to ask about the wrongful death suit. Well, this doesn't go well, as Drake kicks Brock out of his building, ends his career, and gets Williams fired from her firm, where she, then, gives Brock his ring back. In one fell swoop, Brock's life is ruined.
Fast forward six months, and Brock is a drunk, "slumming it" in what has to be a $4500/month apartment (seriously, the thing is huge, and they're in San Francisco!). He's got no job prospects and no future, until a horribly miscast Jenny Slate shows up as Dora Skirth, a scientist at the LIFE Foundation who has doubts about the organization's goals. See, Drake thinks humans have ruined Earth, and the only possible solution is to equip them with the means to survive – whether here or on another planet. He sees the symbiote samples as a means of doing that, and he has ordered trials to begin on humans. LIFE picks up vagrants and has them sign away their rights as they test the symbiotes to see if they'll bond with humans. Well, this is too much for Dr. Skirth, who seeks out Brock to help her expose the company.
Dr. Skirth sneaks Brock in, who goes exploring while she tries to distract a security guard. While exploring, Brock finds his neighborhood homeless friend in one of the cells. When he breaks her out, she attacks him 'cause she's got a symbiote in her, which she passes to Brock, unbeknownst to him. As he's fleeing from security, he notices he can do things he shouldn't be able to do, like shatter trees and quickly scale great heights. This is when he starts to realize something's not right, as he starts to hear a voice in his head that wasn't there before.
So, now he's riding for two, as Venom's in his head, but pops out when necessary – like when Drake's hired security show up to take back the symbiote, and there's a well-choreographed fight scene in the apartment, leading to a great car chase scene. The action is actually pretty impressive in the film. There's one scene of Venom versus the SWAT team that plays out like a boss battle in a video game. They're throwing flash grenades and shooting at shadows, while Venom bounces around the rafters.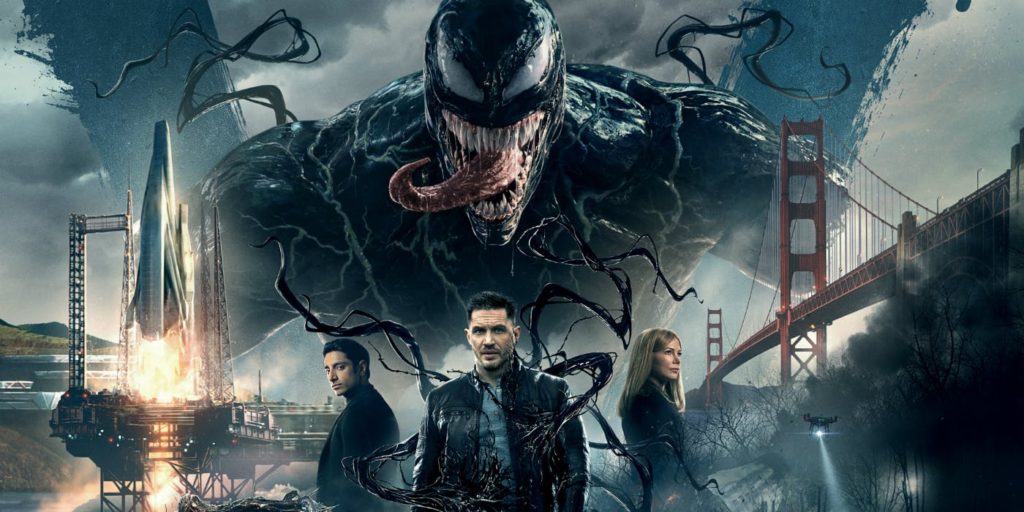 I'll stop spoiling stuff here, as you might actually want to see the movie one day. I'll say there were a couple of things that bothered me. For one thing, Michelle Williams. I mean, the entire time, I'm watching the film, thinking, "You're better than this, Michelle! You've been nominated for an Oscar FOUR TIMES, yet here you are, doing your worst Great Value Pepper Potts!" Also, there are continuity issues. There's a scene where Drake is speaking to a field trip at his HQ, and a little girl tries to ask him a question. The rest of the class tries to stop her for interrupting, but Drake says something inspiring like, "No, speak. That's what people do. They try to dissuade you from asking questions, but that's how we learn." He, then, gives her the pin off his lapel, but HE DOESN'T ACTUALLY LET HER ASK A QUESTION! he basically grandstanded, only to shoot her down. I mean, she was happy with the lapel pin, but nobody seems to notice she didn't ask her question. Lost in editing maybe? Also, I didn't really like Riz Ahmed as Drake. I thought it was another casting misfire. I would've gone for someone with more gravitas, like maybe Dev Patel, if they were going for a "type". I also didn't appreciate that it was clearly an R-rated film, edited down to PG-13, and Hardy has said that 40 minutes got cut, including his favorite scene.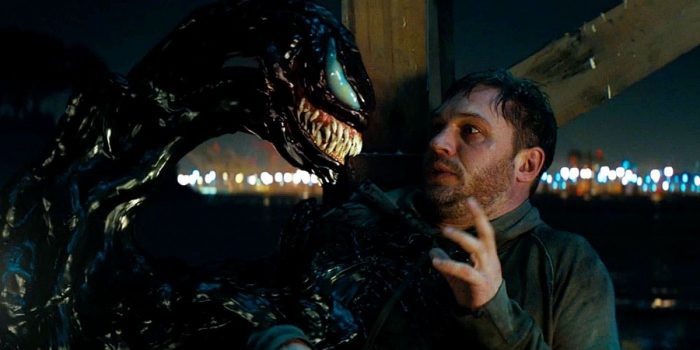 Things I did like: Tom Hardy was great as Guy Who Ends Up As Venom's Host. I can't honestly say he was a great Eddie Brock, as I don't have a ton of familiarity with that character. When he was ruling comics in the 90s, I still pretty much a strictly DC guy, so I haven't read most of those iconic Venom stories. I know Brock was Peter Parker's rival, so you're not really supposed to be rooting for him, but you kinda have to here. That's why I can understand why they wanted Spider-Man as far away from this film as possible. Still, I liked Hardy for what he was, and I loved his interplay with Venom in his head. I also LOVED Venom, as he was funnier than I expected him to be. The CGI wasn't as troublesome as I was expecting, and I was even fine with no spider symbol on his chest.
As much as I enjoy the MCU movies, I'm getting a little tired of them. As a fanboy, they're work. It's not enough to just sit back and enjoy the movie, but Marvel really drives home the interconnectedness of it all. So, the first time you watch, you're on guard for any Easter egg that might fly by. Like "Hey, he just mentioned Damage Control!", etc. I get it, Marvel – you're good at tying your shit together. But I don't ALWAYS need that. Venom was a nice change of pace. It was still "In Association With Marvel". I still got my Stan Lee cameo. It did everything it needed to do. And the mid credits scene has me hoping we get a sequel, 'cause there's a lot of potential with what they teased.
Yes, this was a pretty slow week unless your name was Brett Kavanaugh, so there wasn't a ton of competition here. So, I'm gonna shock y'all and say that Venom had the West Week Ever.