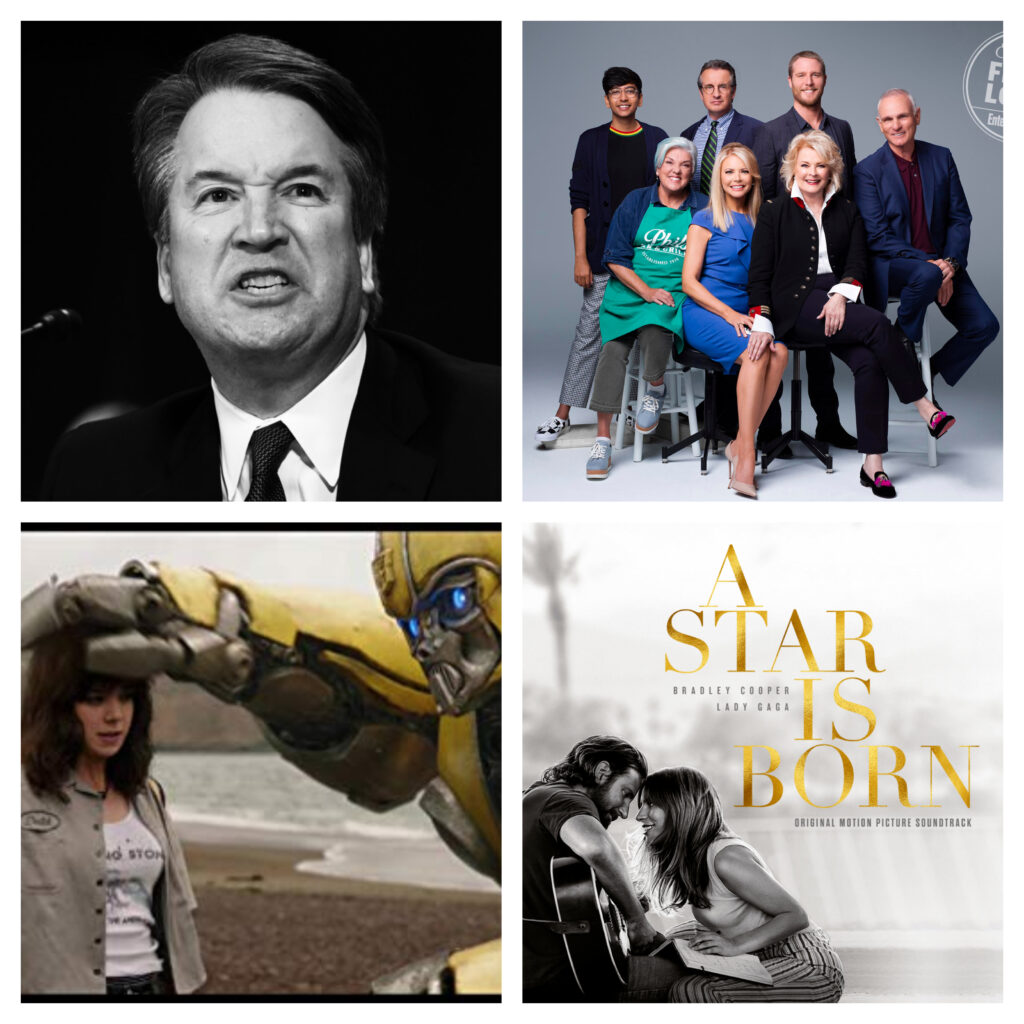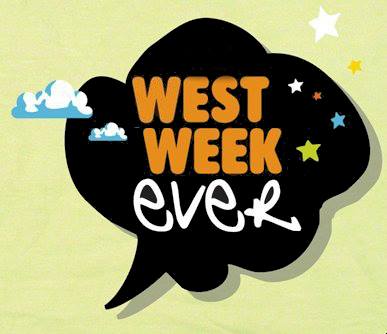 HarassmentWatch (TM)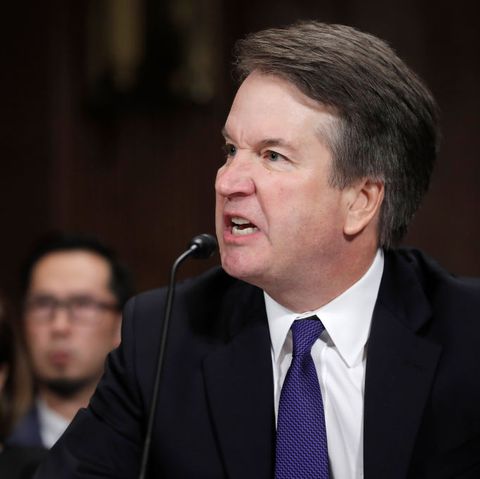 Brett Kavanaugh – PASS. Next!
Drake – So, 14 year old Stranger Things star Millie Bobby Brown recently said that Drake texts her and gives her advice about boys. Now, this is already after he was coming off a week where he was reportedly seen out on a date with a teenager. Ol' Aubrey better watch himself, because even the King of Pop himself couldn't shake the pedophile allegations. It's probably an innocent thing, but he might wanna tell her to stop bringing shit like that up in interviews.
Nelly – There are reports that Nelly settled with a woman who alleges he forced her to perform oral and vaginal sex on his tour bus, When he was done, he reportedly threw her off the bus and threw a $100 bill at her. Now, reports are saying they reached a settlement, which would normally imply guilt. The thing here, though, is that "settlement" doesn't seem to be the correct word. Apparently, the victim refused to cooperate with prosecutors, and both sides dropped their suits against one another (Nelly had countersued). They agreed to cover their own legal costs, but Nelly's lawyer reports no money changed hands, which the victim's attorney is disputing. At the end of the day, I guess she didn't wanna go and take a ride wit' him.
Bill Cosby Update – Surprising EVERYONE, Bill Cosby received a sentence of 3-10 years in prison for puttin' the pill in the bubbly when the girls wanna drink. There are reports that someone threw a hot dog at him in lockup on his first day, plus he almost fell down some stairs. On the one hand, it's like "He was an evil man and this is what he has coming to him". But on the other, it's like "Who wins from an 83 year old man being put in jail?" I think he deserves to be there, but I'm not gonna laugh at his misfortune while in there. Hopefully, he's not only a cautionary tale, but also the first of many more to follow.
Trailer Park
We've got a lot of trailery goodness this week, so let's dive right in.
Creed II
Honestly, the first trailer did more for me. The whole rap in the background, the final tease of Drago Jr. That was great. I felt there was too much here, and not even the juicy bits. Just a bunch of Adonis being a deadbeat dad because he's obsessed with his father's legacy. Hands down, the best scene here is the staredown between Drago and Rocky. Man, the Russians clearly have the better Human Growth Hormone, 'cause Rocky looks like shit compared to Ivan. I'll see it. Not sure if I'll see it in the theater, but I'll see it.
Bumblebee
So much 80s goodness in here. I was never a huge Transformers fan, so whatever Michael Bay did to them didn't scar me as much as it did a lot of y'all. That said, I've always been a big fan of Bumblebee. Long story short, Bumblebee was the last birthday present I got from my dad before he passed away. So, even though a lot of y'all hate that he's become the Urkel of the TF franchise, I will always stan for the 'Bee. I will definitely be seeing this one.
Dark Phoenix
Ooh, we're going all "Dark Knight", and removing the name of the title characters' franchise from the name of the movie. Whatever. A friend of mine texted me and asked "Did you see the Dark Phoenix trailer?" I replied, "No, but I saw a piece of shit with some X-Men characters in it." This trailer is on Lexapro. There are no highs or lows. It just coasts right through the middle, offering nothing exciting. It's a shame that everyone is all "Bring on the MCU X-Men!", because it seems like that rubbed off on the filmmakers. Well, if nothing else, at least we know we'll have a cool Quicksilver sequence to look forward to. If this is the 90s, I'm hoping it's set to something by either C&C Music Factory of La Bouche.
ABC's TGIF
Comedy has changed a lot and, while there's a lot of nostalgia for the TGIF brand, I'm not sure Fresh Off the Boat and Speechless are gonna be the torchbearers for the 21st century incarnation of the comedy block. Anyway, here's a cute video of some former TGIF stars imparting their wisdom to the newbies.

Star Trek: Short Treks – "Runaway"
Considering that there seems to be new Star Trek news every day, one of the projects that got lost in the news cycle was the Short Treks series, which are four anthology episodes that…well, I don't know a whole lot more than that. Here's the trailer for the first one, though, set in the Discovery era, starring Ensign Sylvia Tilly. Again, I'd check all this shit out if it didn't require me to subscribe to CBS All Access. So, I'll catch it once it ends up on YouTube or something.
Daredevil Season 3 (Netflix)
Well, that was certainly Kingpin and Matt Murdock. That's all I've got. I'm seriously behind on those shows.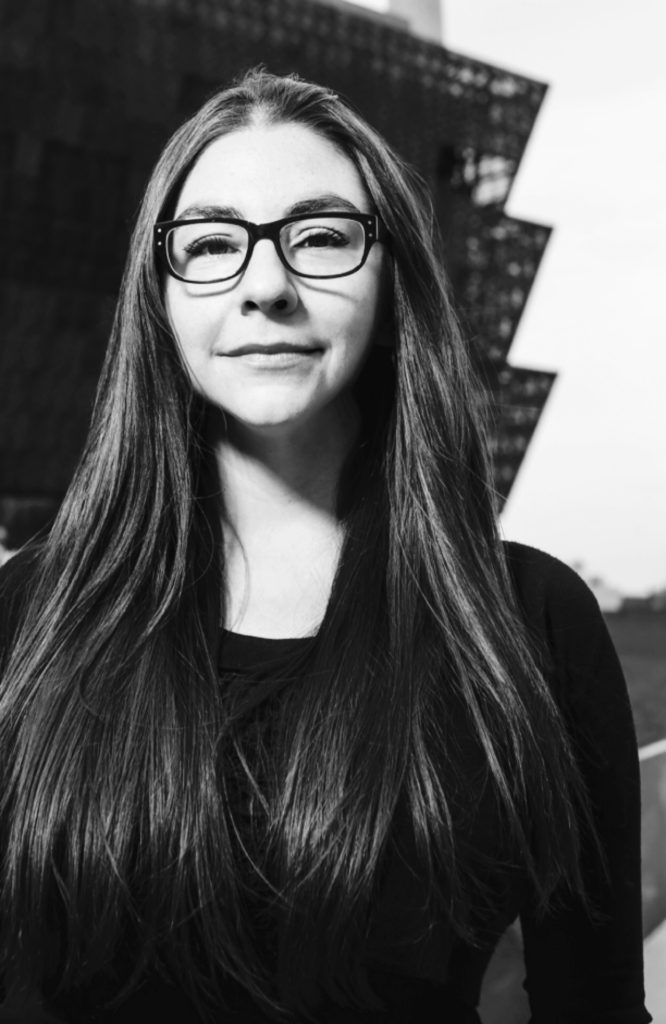 So, here's an interesting, "shoe is on the other foot" moment. The curator for the hip hop collection at the Smithsonian's National Museum of African American History, Timothy Anne Burnside, is a White woman (full disclosure: she's a friend of a friend). I've known about this since before the museum even opened. Still, I guess the news was on CP Time, 'cause the Black community didn't seem to notice until over the weekend, and it was a SHITSTORM. All over social media, they couldn't understand how a White woman was the curator of something so dear to our culture. Why wasn't the job offered to a Black person? There was a lot of back and forth, and the Smithsonian even issued a statement about the whole thing. This debate comes up a lot, like "Should minority characters only be written by a person who's from the same minority group?" From what I've heard, Timothy knows her shit, and I don't think the Smithsonian would choose just anybody to handle this project (fuller disclosure: my mother worked for the National Museum of Natural History for 28 years). Still, the museum is in an uncomfortable situation, where they have to decide whether they're going to side with Timothy, or with the critics. For the culture. If they do try to replace her, this has got "discrimination suit" written ALL over it.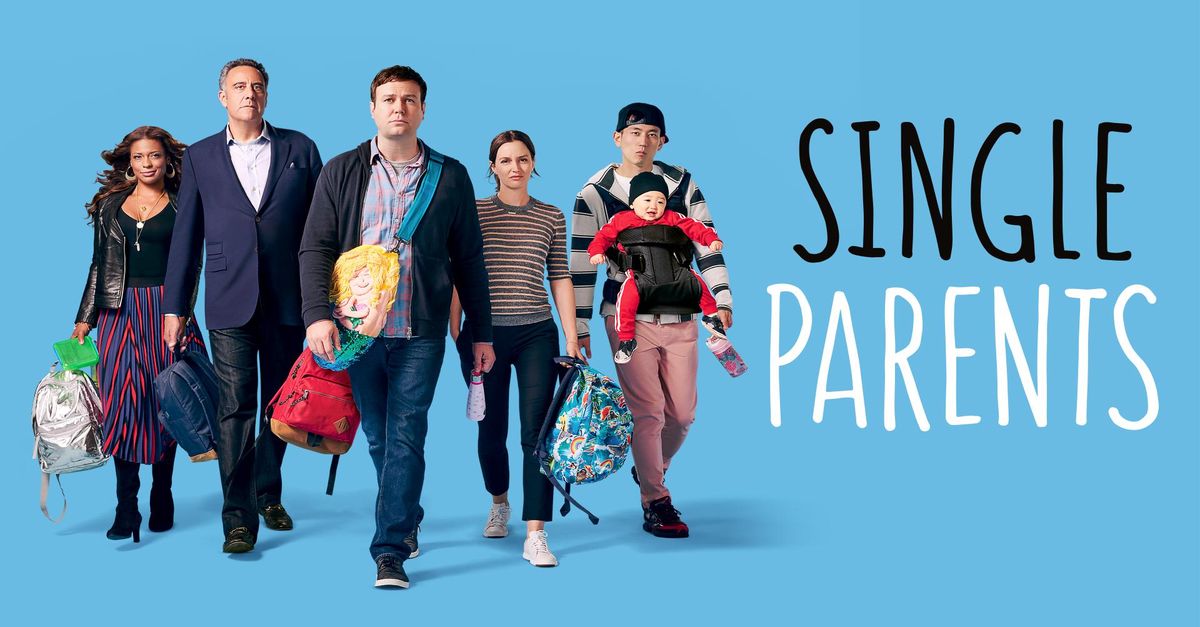 This week saw the debut of the ABC sitcom Single Parents, starring Taran Killam. It wasn't as bad as I expected, but it wasn't great. Basically, Killam is a divorced dad who dotes on his daughter, and this group of single parents in his daughter's class try to show him that there's a world out there that he's missing. The odd thing to me is that their friendship wasn't organic. The group was just like "Ooh, new single parent!" and decided to make him their project. I had someone tell me on Twitter that I don't understand single parenting, and that you "find your tribe quickly". I don't know about all that, but I know that trust takes time, and this crammed it all into 22 minutes. I get that they're basically an elementary school Dear John, but the whole support group angle doesn't really work unless the audience believes the trust is there. Anyway, I don't know if I'll be back for this one.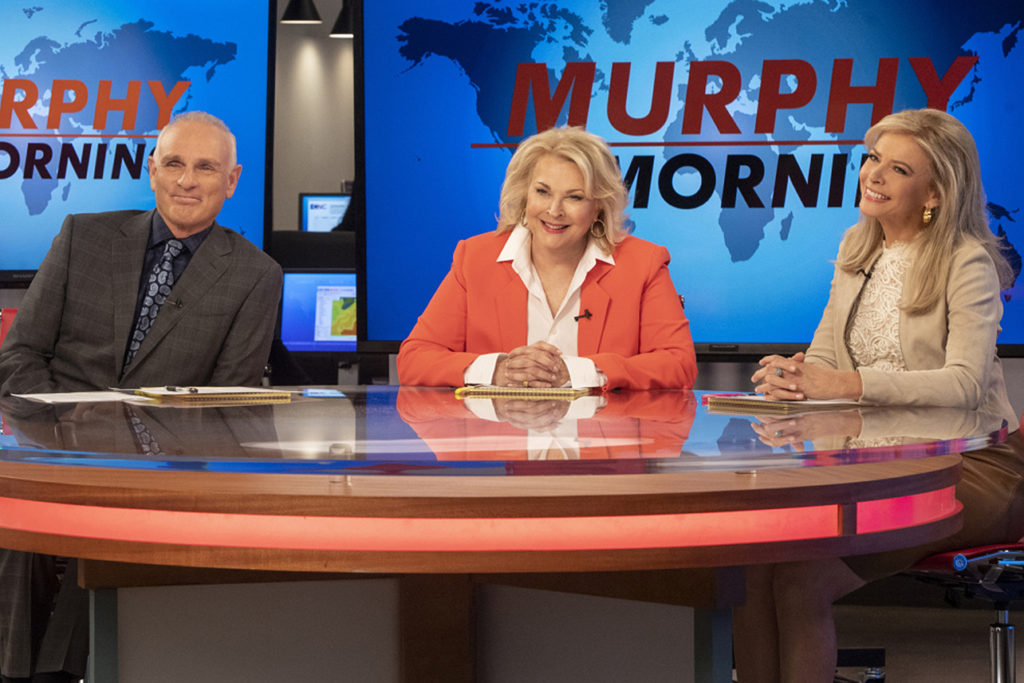 Last night was the premiere of the Murphy Brown revival, and woo boy! First of all, it features a cameo that's so obvious that I can't believe they even tried to tease it like it was a surprise (HINT: There's a joke about emails). One thing another reviewer said, that I have to agree with, is that it seems horribly dated. I mean, the premiere features the pussy hats from the Women's March (they don't call them "pussy hats", even though you could totally get away with that on broadcast today, while you couldn't when the original series aired). If this had premiered a year ago, it might have seemed on the cutting edge of comedy, but this just seems slow and lazy. It's kinda like how other animated shows reference how South Park already beat them to making the joke they're trying to make. Why? Because South Park is a well oiled machine, cranking out shit based on last night's headlines. This show, however, was Liberal Smuggery at its worst.
"What's Liberal Smuggery," you ask? It's what I call the state of liberal comedy, where they think they're so much smarter than the conservatives – they're so biting and witty, yet they've got NOTHING to show for it. Even when they're in power, they're somehow the weaklings. Late night talk show hosts are the leaders in Liberal Smuggery. Jon Stewart made his name on it. But at the end of the day, what does that get you?  The "moral high ground"? I feel like this premiere went for a lot of low-hanging fruit that even those talk show hosts would've avoided.
In the UK, they might do a one-off special to catch up with a beloved show's characters. They recently did one for Are You Being Served? I would've liked this more had it been that format: a one-off special to see how Murphy Brown feels about the Trump Administration. After last night's episode, I'm pretty sure I've got my answer, and I'm good. I'm not so sure this needed to be a full season.
Things You Might Have Missed This Week
Dr. Dre's series Vital Signs was cancelled by Apple before it even aired, due to graphic sex and violence. I know what bootleg I'm looking for at the next pop culture convention!
Inside The Actor's Studio is returning to Ovation TV, but it will be without James Lipton. After 25 years, he's stepping down, and the show will be led by "a rotating array of guest hosts".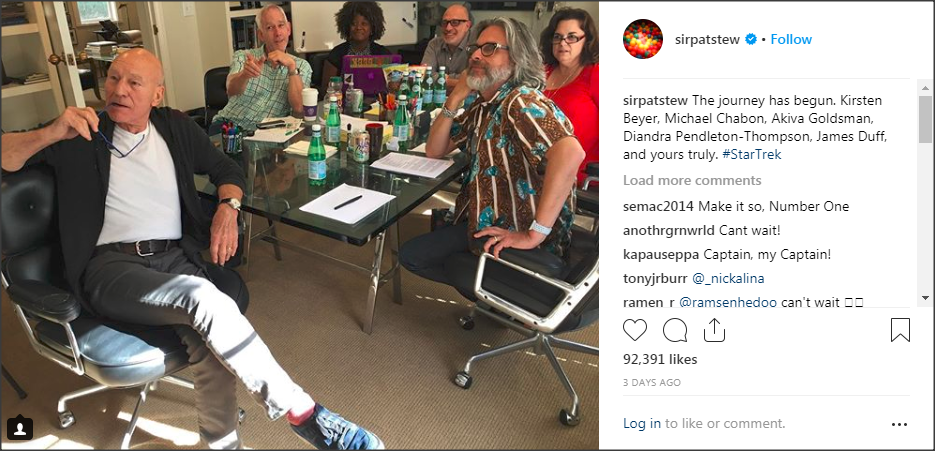 Writing has begun on the Picard-centric Star Trek series, and we got this pic of the writers room from Patrick Stewart's Instagram. I'm struck by the fact that there are 2 women – one of whom is Black. I see you, sista! Oh yeah, Michael Chabon is there, too.
Formerly of The View, Rosie O'Donnell is set to guest host on The Talk today, in a possible bid to replace the departed Julie Chen.
The CW Arrowverse crossover this season will be called Elseworlds, which comic fans will remember as the DC imprint that was home to out of continuity stories.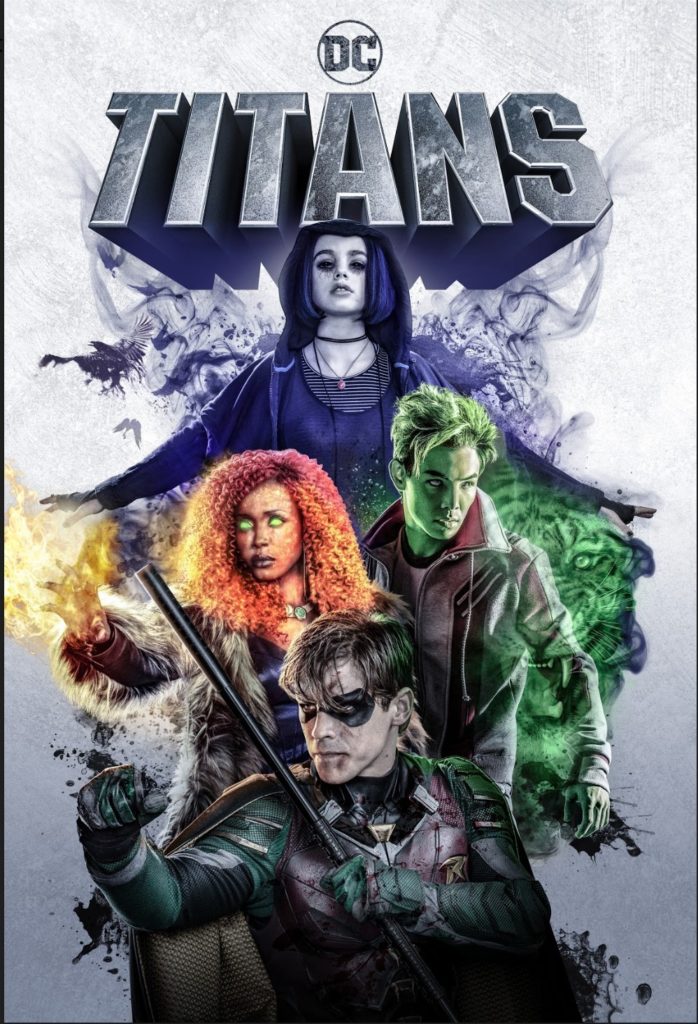 Speaking of DC shows, we got this poster for Titans, which will be streaming on the DC Universe service next month. Yeah, not only does this poster do nothing for me, but where are Hawk & Dove? Aren't they supposed to be on the show, too? Was Minka Kelly too expensive for the whole season?
Terry Crews has been tapped to host the America's Got Talent spinoff, America's Got Talent: the Champions, which seems like it might be their all-star edition. Who hosts the regular show since Nick Cannon quit? *Googles* Tyra Banks? STILL?!
So, um, Kareem Abdul-Jabbar has joined the writing team for the Veronica Mars revival. Yup, that Kareem Abdul-Jabbar. Huh.
For some reason, Disney is remaking High Fidelity, only Zoe Kravitz will be in the John Cusack role. I don't get it. Will she be a womanizing lesbian? Will she work still work in a record store? Let's pump the brakes on these reboots, huh?
Dunkin Donuts is reportedly planning to drop the "Donuts" from their name, as they refocus their brand as a "beverage-led company, not limited to just donuts". Yeah, how 'bout y'all ask IHOB how well that shit went for them.
Apparently, there was backlash about how The Princess & The Frog's Princess Tiana appears in the upcoming Ralph Wrecks The Internet, as her skin has been lightened, and her hair processed. Disney is correcting the appearance to match what fans are used to. Of course, old White men are mad, and Black folks are like "We were just gonna buy that movie bootleg at the barbershop anyway, so it really don't matter what color she is based on the shaky cam quality it's gonna be."
Mary Elizabeth Winstead & Jurnee Smollett-Bell have been cast, respectively, as Huntress and Black Canary in DC's unnecessary Birds of Prey film that will probably never see the light of day. I mean, my man Ray Fisher is still waiting for his call to report to the set of that Cyborg movie, so…
It was a bad week. Especially the past 2 days. But out of all the bullshit there rose a phoenix. That phoenix also goes by the name of Stefanie Germanotta, but you can call her "Lady Gaga". She's making her debut as a lead in Bradley Cooper's remake of A Star Is Born. Yesterday, the single "Shallow" was released, and I've probably listened to it 400 times by now. If there's any problem with the song, it's the fact that it's too short. While everyone was screaming at the Kavanaugh hearing yesterday, I was keeping my cool by looping this. I'd suggest you try it. That's why Lady Gaga's "Shallow" had the West Week Ever.