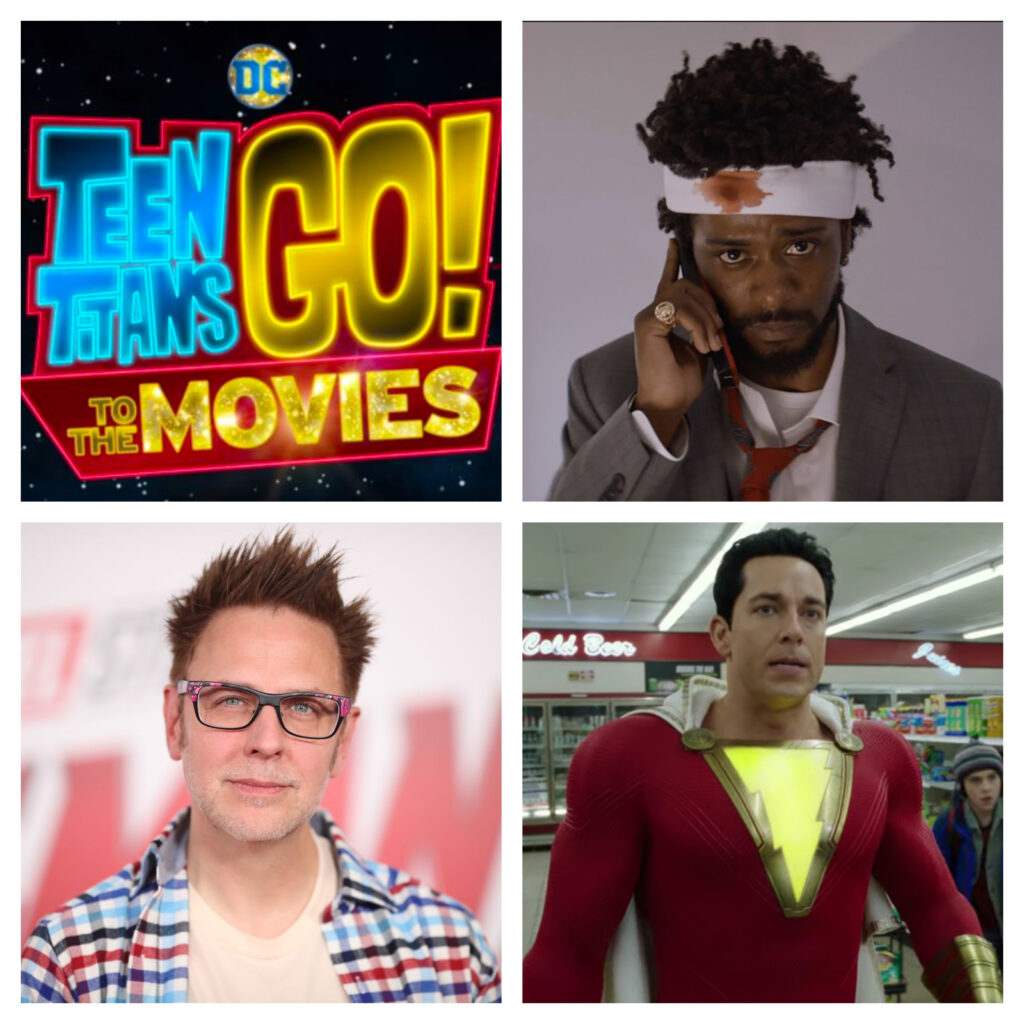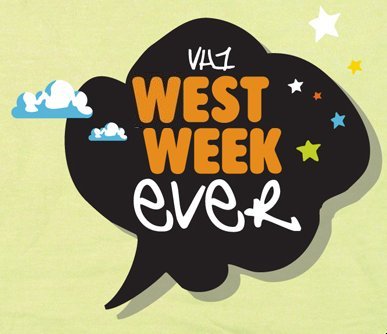 Well, this is a special week here at WilliamBruceWest.com, as it commemorates my FIFTEENTH year of blogging. Yeah, a lot of y'all just came aboard during the West Week Ever era, but the archives are there (personally, I wouldn't check anything before 2007 or so, but that's just me). I started blogging a month after I graduated from college, while I was temping in the Cornell registrar's office. It's funny because, about six months prior to that, I had no clue what a "blog" was. You've got to remember that these were the days before social media, and we got by with AIM. I'd heard folks met strangers through ICQ and chat rooms, but that made no sense to me. Then, while my a cappella group was updating their website, one member suggested we add a blog to the site. I remember I immediately said, "What's a blog? Stop making up words, Ted!" He explained it was short for "weblog", and said some more stuff, but we stopped listening at that point. Probably too busy shoving Gold Bond powder down our pants. What? Y'all never did that? Whatever. Don't judge me!
Anyway, I was really bored at that temp job, and needed something to make the day more interesting. Prior to this point, I had never really spent much time on the internet. I had an AOL trial with dial-up for, like, a month in high school, and I think I had tried NetZero. We had Computers as a class in high school, and I remember I made a really shitty Power Rangers site on AngelFire or something. Still, in college, I had used the Internet to either do homework or illegally download music. I did a LOT of the latter. So, with a college degree in my hand, and boredom in my heart, I struck out and explored the Internet for what it was. I started finding sites that really engaged me – webcomics, like PvP, and nostalgia sites like X-Entertainment.com (the precursor to what's now Dinosaur Dracula). The latter site really sort of lit a fire under me, as I could relate to so many of the posts. It was like the Robot Chicken of blogs: "Shark Bites, Fruit By The Foot, and Pogs – these are all things that existed!" Plus, and I think Matt (the site creator) would agree, it had a horrible archive/search function, so you kind had to fall down a rabbit hole, jumping from article to article, instead of being able to search the topics. I spent a LOT of time on X-Entertainment, and it started to show me the potential of blogging.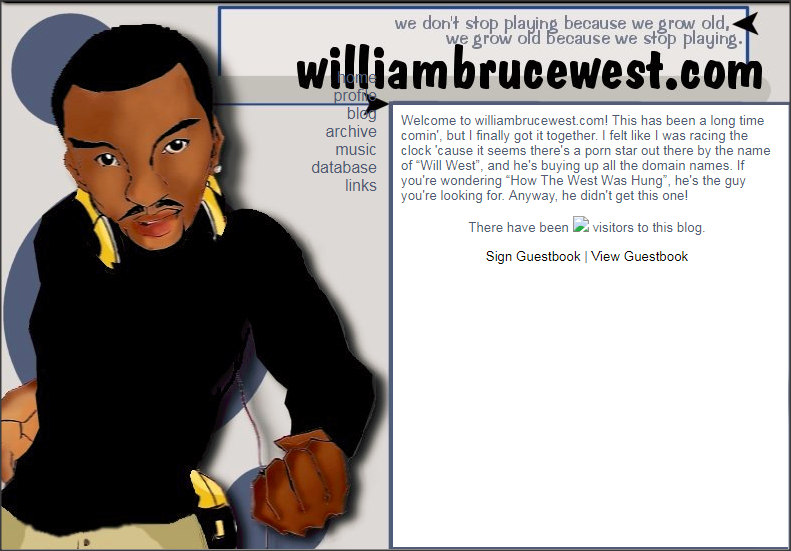 So, in a way to pass the time, I signed up for a Blogger account, and created The World According To A Russian Exchange Student. I'm not quite sure why I settled on that. While I was an exchange student to Russia when I was 13, that would've made me an American exchange student. I feel like I briefly wanted to do some kind of performance art thing where I'd imagine how my Russian host, Sergei, might look at the world. That lasted for maybe a day. At the end of the day, I think I just wanted something that sounded "haughty". I've got a bit of a snob streak in me, and here I was, an Ivy League graduate who'd been spoon fed that the world would be mine, yet  didn't have a clue what I'd be doing when this temp assignment ended. I was scared. So, I rambled. A LOT. I'd say that if you read the first 6-8 years (yes, years), I wrote like no one was reading. Because no one was. The site was basically a Livejournal without the stigma that Livejournal brought with it. Every now and then I'd post something that I thought would be timeless, but most of those posts are either relationship drama or self pity. Yay. Anyway, I rebranded to WilliamBruceWest.com rather quickly, but I don't feel like the site really found its footing until the West Week Ever days. So, here we are. Anyway, from the bottom of my heart, thank you – all of you – who have taken the time to read my ramblings at some point over those 15 years.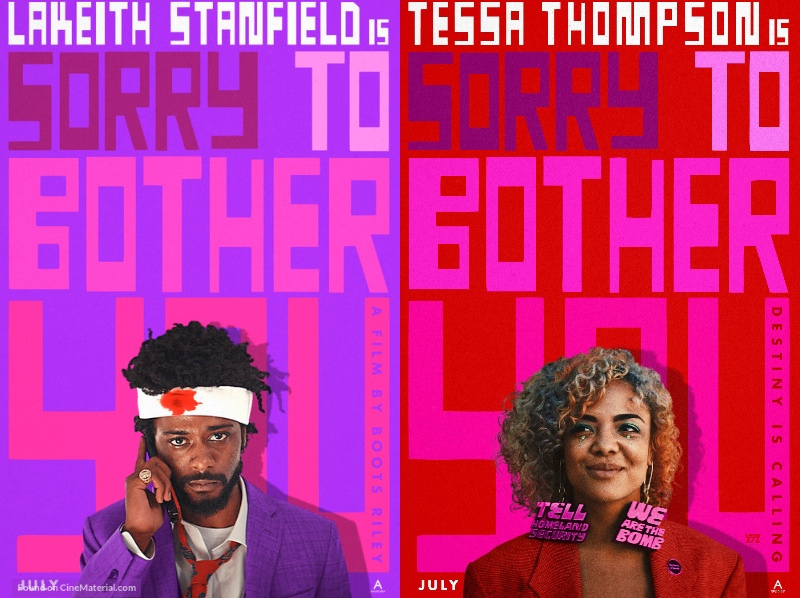 The wife and I got the chance to see Atlanta's Lakeith Stanfield in Sorry To Bother You, and we left that theater like "What the fuuuuu…?" How to describe this movie? Is it a comedy? Is it satire? Science fiction? I guess you'll have to be the judge if you see it. Stanfield stars as a down on his luck guy who lands a job as a telemarketer, and he doesn't really have much success until he starts using his "White voice" at the suggestion of a coworker. Almost immediately his success increases, and he becomes a Power Caller, where instead of selling Time-Life books and encyclopedias, he's now selling weapons and slaves to other countries. And that's where shit gets CRAZY! I can't say any more at this point without spoiling some twists. The movie reminded me a lot of Bamboozled, which was a 2000 Spike Lee Joint about a Black TV writer who sort of sells out in order to make his network successful, with a dash of Mike Judge's Idiocracy. If either of those movies is your cup of tea, then check this out. "Equesapiens, let's be out!"
HarassmentWatch(TM)
Chris Hardwick Update:  Late last week, it was announced that not only would Yvette Nicole Brown be taking over hosting Hardwick's panels at SDCC, but she would also be hosting Talking Dead for a brief period. On Wednesday, however, AMC announced that Hardwick would be returning to the show, after an internal month-long investigation. Two things are odd about the investigation, however. First of all, his accuser, ex-girlfriend Chloe Dykstra, did not participate in the investigation, as she said she "didn't believe in 'an eye for an eye'." In a statement she said that she never set out to ruin his career, though she still doesn't name him.  The other odd thing is that the investigation seemingly wasn't conducted by an impartial third party. Instead, Loeb & Loeb was hired, who reportedly have a history of working on business for the Hearst family (who happen to be Hardwick's in-laws). He may have his job back, but is the stink off of him? Remember how folks shunned Seacrest at the Oscars? Will the geek crowd follow suit here?
James Gunn: This isn't harassment, per se, but it's still an inappropriate thing that got a celeb in hot water. You see, Guardians of the Galaxy director James Gunn came up through the ranks of Troma – ya know, the folks behind The Toxic Crusader? He says he was a different guy at that time of his life, but to fit in with that world, you've got to be kinda shocking. Everything you do is done for shock value, and that's exactly what he did when he was tweeting back in 2009. Stuff like rape and pedophilia jokes. He has since apologized for that time in his life, but that didn't matter when Right Wing muckraker Mike Cernovich dub up the old tweets as something of a retaliation for Gunn's staunch anti-Trump stance. Well, Disney reacted swiftly by firing Gunn from Guardians of the Galaxy Vol 3. And there was much weeping and gnashing of teeth. The public seems to be on Gunn's side, saying Disney knew what they were getting, and that he had apologized long before the tweets resurfaced. There's a petition circulating to get him rehired.
What Disney did was a business decision, as they can't have something like this in the news just as the Fox deal is about to go through. Shareholders don't tend to like rape jokes. That said, I'm sort of on the fence for this.
On the one hand, the stuff I've seen was kind of messed up, and I'm not sure I'd call them "funny". Why not just delete the tweets? I mean, sure, everything is archived somewhere, but at least you tried to scrub things clean. I get it, though. I have an "I don't delete tweets" policy, but I've never tweeted anything that bad. Cover your tracks, man!
On the other hand, he did apologize before they even became a thing. Had Disney done their due diligence, none of this would've come as a surprise. And I hate the fact that he won't get to see his vision through to the finished GOTG trilogy. I really doubt he'll be rehired, as he was fired and not suspended pending an investigation. Disney will likely stick by their decision, but this will have long-reaching effects. For example, Star Wars director Rian Johnson reportedly deleted 20,000 tweets over the weekend.
The Trailer Park
Last weekend was San Diego Comic-Con, which means we got a LOT of trailers for upcoming geek films. Since we've got a slew of them, I figured I'd give them their own section this week.

SHAZAM!
I really didn't expect to like this. I thought the casting of Zachary Levi was wrong, and I just didn't know how it would fit into the pre-established DCEU. That said, after seeing this trailer, this has the potential to be my favorite DCEU film. It seems to be more based on the New 52 origin of the character, which is just fine for me because that was one of the first times that I actually cared about the character (which reminds me I need to finish that story Geoff Johns started when they were backups in the Justice League comic). At the end of the day, it's just "Big with powers", which is a concept that has a lot of potential. Fans of the dark DCEU are gonna hate this, but I'm a fan of comic stuff that doesn't take itself too seriously. I'm really looking forward to this one now.
Aquaman
Well, it looks pretty. I still don't know if Momoa can carry a movie yet, and I'm not sure I'm on board with this Aquaman. I know there are Aquaman fans out there (looking at you, Classick), so how do y'all feel about his characterization? I mean, it doesn't seem faithful to the comics, but Aquaman always seemed boring enough that any adjustment would be a welcome change. I'll see it. Am I anticipating it? No, but I'll see it.
Godzilla: King of the Monsters
I'm not a dumb guy. Not the smartest in the room, but not dumb. That said, I don't know what's going on here. So we want the Titans to rise? Wouldn't they just come and fuck shit up? And whose side is Godzilla on? And I know folks got tired of the "slowed down pop song" trope in trailers, but I feel like the music here really doesn't do much to convey the gist of things, and could've benefited from recognizable rock song or something.
Glass
I really liked Unbreakable all those years ago. Split was interesting, but I was more interested in it after its final scene. I think I was more excited about more Unbreakable than the idea of the movies being in a shared universe. It seems like a good ol' villain team-up, but can old ass Bruce Willis really win here? I mean, comic movies are about folks doing the impossible, but I never really felt like Split committed to James McAvoy's character being truly evil. Hell, even Mr. Glass was pseudo-sympathetic, as he couldn't have a normal life due to his brittle bones. So who's the real villain here? Is there a bigger bad? Is Willis somehow the villain? After all, this is Shyamalan, so there's bound to be a swerve somewhere. I'm on board, but I kinda want more information right now.
Things You Might Have Missed This Week
Reportedly Kelsey Grammer is in talks to reprise his role as Frasier Crane in a revival that would take him away from the Seattle setting of the last show. Sure, why not? I think he's got crazy alimony payments, and has pretty much proven he'll take any job (he did an FX sitcom with Martin Lawrence). Everyone else is doing it, so why not go back to that well again?
Speaking of revivals, there have been talks of a Buffy The Vampire Slayer reboot/revival(?). At first it seemed like a reboot, but the passionate fan base lost their shit, so showrunner Monica Owusu-Breen sort of backpedaled and insinuated it might be a continuation of the old show, this time following a new Slayer 20 years after the events of the old show. Reports are that they're looking to cast a Black actress.
Demi Lovato was hospitalized for an apparent overdose after she was found unconscious in bed by an assistant.
Simpsons Comics is scheduled to end in October with issue #245 after 25 years of publication, leaving the future of its publisher, Bongo Comics, in question.
It turns out the third time was the charm, as the live action adaptation of the comic Locke & Key has received a 10-episode order from Netflix. Both Fox and Hulu had previously ordered, and then passed on, pilots for the series.
Robert DeNiro is supposedly in talks to join Joaquin Phoenix's Joker, with the rest of the world left asking "Dafuq?" Seriously, why would he hitch his star to that wagon?
R. Kelly released the song "I Admit", where he denied he was a pedophile, but admitted his affinity for young girls. The song will probably appear on an upcoming album named Daddy's Day Care or The Pamper Prince or some shit like that.

My most anticipated movie of the year wasn't Deadpool 2, Ant-Man and the Wasp, or even Avengers: Infinity War (OK, maybe I was kinda looking forward to that last one). No, since the day I found out it was happening, I have been waiting for the release of Teen Titans Go! To The Movies. I've made no secret of the fact that, aside from The Amazing World of Gumball (which may just be the smartest show on TV right now, I kid you not), Teen Titans Go! is my favorite show. It took me a while to get used to the modern day 11-minute cartoon format, but I feel it works perfectly for a show like this. So, I had a bit of trepidation that the show wouldn't translate well to a full-length film. After all, Aqua Teen Hunger Force had tried it and failed. Well, after seeing it last night, I can say that not only did they pull it off, but they did an amazing job.
If you were wondering what it's about, let me clue ya in: When Batman and Superman receive their umpteenth movie deal, Robin agonizes over the fact that he doesn't have his own movie because nobody takes the Teen Titans seriously. It's sort of meta in that way, as it addresses the fact that the shows haters feel the characters are just immature and not very heroic. So, determined to prove they deserve a DC film, too, the team heads to Hollywood, where they learn they'd be more appealing if they had their own archnemesis. Enter: Slade Wilson, otherwise known as Deathstroke: The Terminator. So, the team not only has to defeat Slade, but also convince the studio to make their movie.
It's not a complicated plot, but they do so much with it. First of all, I didn't expect it to be a musical. While songs have been pretty integral to the Teen Titans Go! experience, I didn't stop to think they might pop up in the film. The music is GREAT, including a surprise appearance by Michael Bolton. Speaking of surprise appearances, there are cameos from a lot of DC characters who will NEVER appear on film ever again. I mean, The Challengers of the Unknown?! And did I mention the time travel? Like, I loved the time travel portion so much that I hope they dedicate a sequel solely to it.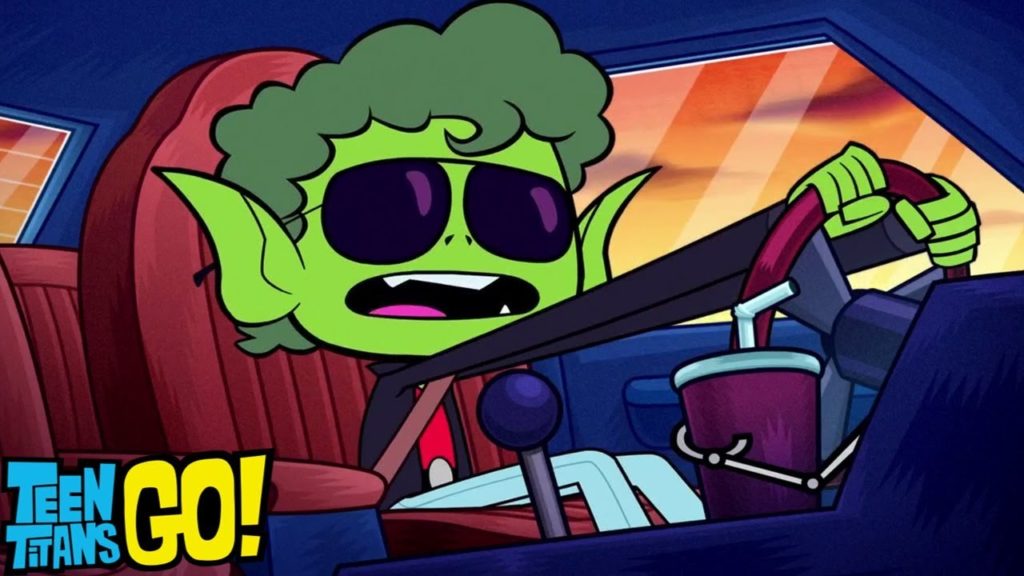 Now, let me say that this movie isn't going to convert you if you already hate the franchise. I know there are a lot of butthurt folks out there who go "They cancelled Young Justice for THAT?", even though those decisions were made independently of each other. If you don't go into it with too many preconceived notions, and you like comic-based properties that don't take themselves too seriously, then Teen Titans Go! is perfect. And it's not really even made for kids. I mean, sure, they'll get enjoyment out of it, but there are jokes they'd never get. For example, a recent episode, "TV Knight 3", featured a Knight Rider parody. That joke right there was for my generation. So it saddens me that so many folks refuse to give it a chance. Anyway, this film may not change many minds, but it's a true love letter to fans of the show. It's the show, but cranked up to 11, with crisper animation and longer runtime. It actually has a good story arc to it, it has some great Easter eggs, and the music!
Anyway, I enjoyed this film way more than I did Ant-Man and the Wasp last week, and it far surpassed my expectations. For that reason, Teen Titans Go! To The Movies had the West Week Ever.