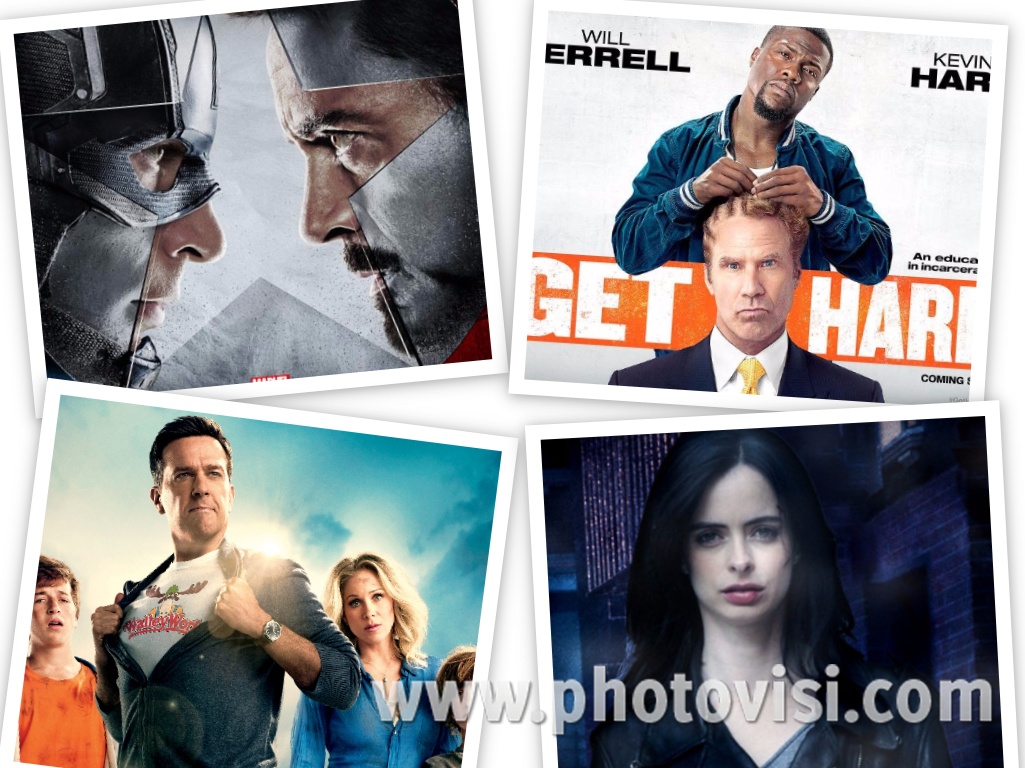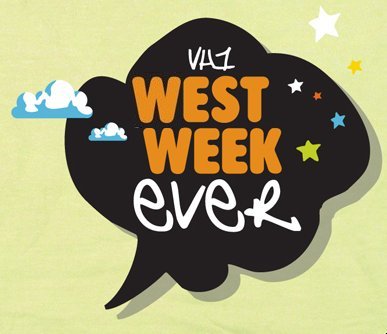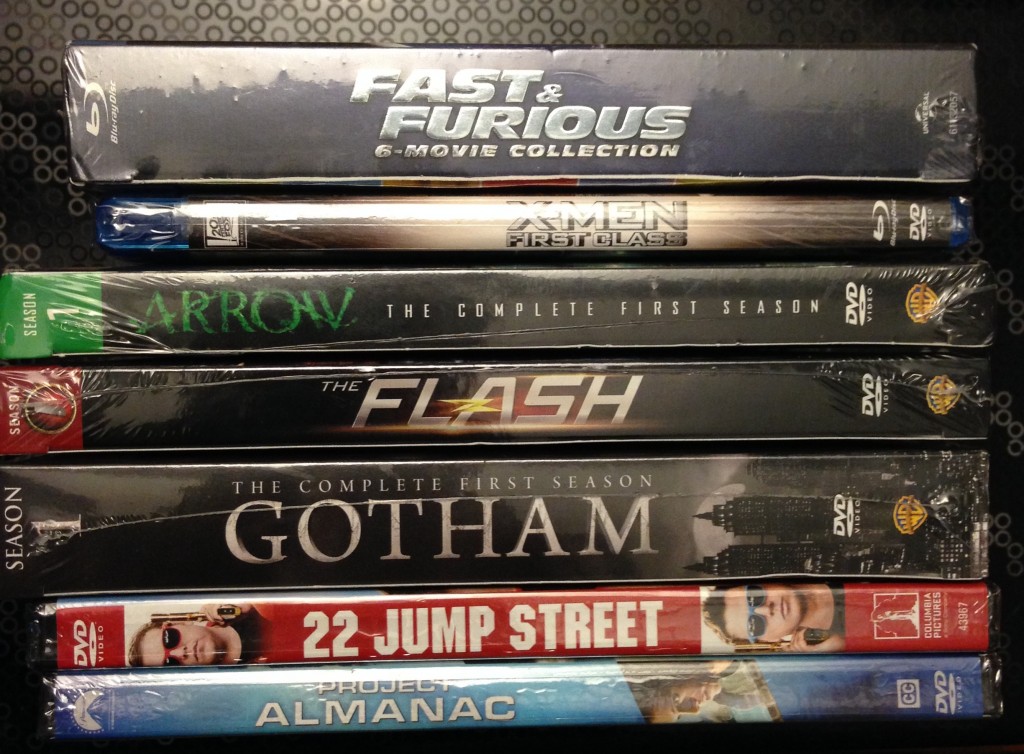 Happy Black Friday! Here's my meager haul so far. Yes, I know I've said that I hate Gotham, but I'll give anything a shot for $10. About half these things are on Netflix, but I tend to be in situations where I can't stream, so I figured physical media would help me out with that. How did you all do?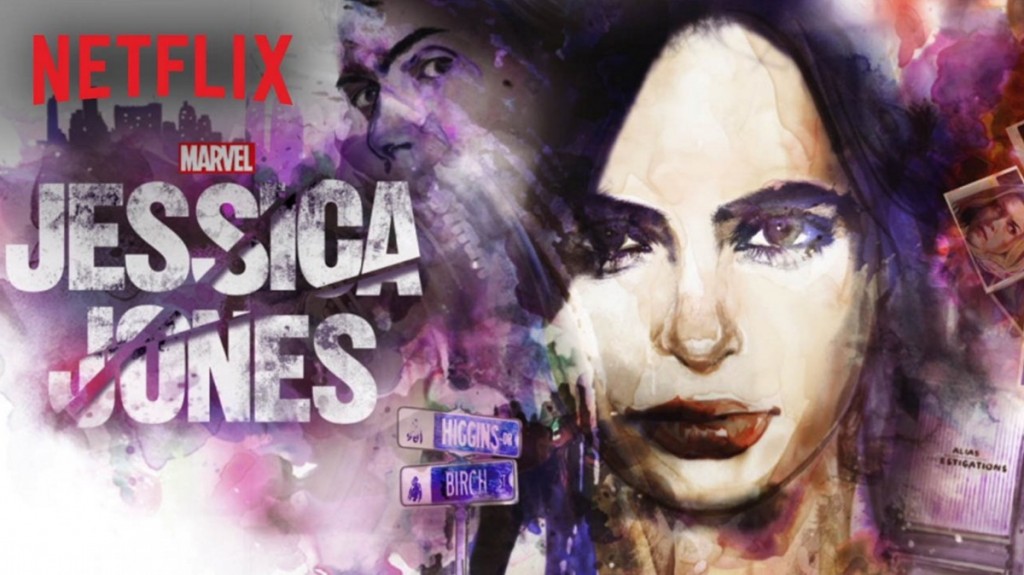 So, I'm a bad geek, as I haven't finished Jessica Jones yet. It debuted a week ago on Netflix, and most people have binged it already, but I'm just not really in a binging mood right now. At the moment, I'm about 2.5 episodes into the series, and I like what I see so far. I doubted Ritter's casting, but so far she's convincing as the character. And the sex! Every time Luke and Jessica bang, I think, "Take THAT, racism!" Anyway, people seem to like it, so I guess Marvel and Netflix have another hit on their hands. I'll have a better review when I finish the season.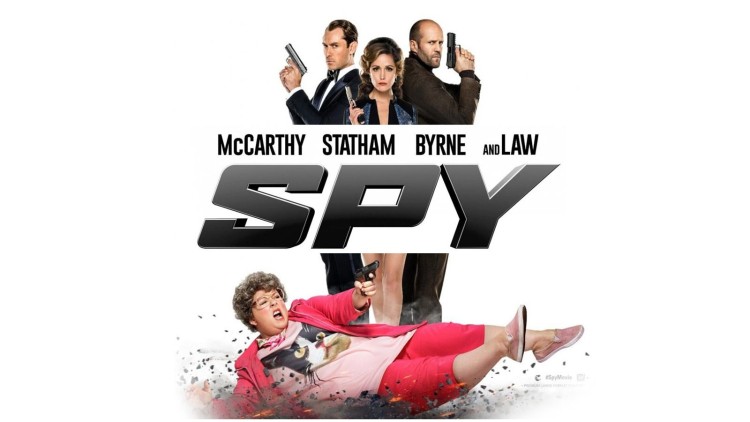 In addition to watching The Marine for the umpteenth time, I rented a few movies from Redbox. First up was Spy, starring Melissa McCarthy and Jason Statham. I know I seem to be in the minority in my circle, but I feel like Melissa McCarthy can do no wrong. She and Paul Feig are a winning team and, if it's rated R, you're especially in for a treat, as she can cuss with the best of them. If you haven't seen it, Susan Cooper is a schlubby CIA analyst who finds herself in the field as an agent to avenge the death of her partner. Feig brought back some of his familiar folks, like Rose Byrne from Bridesmaids, and the result was hilarious. It was also really refreshing to see Statham in a comedic role, and I'd like to see more of that from him. It being Redbox, I was only able to rent the theatrical version, but I'd love to see the unrated version, as some of the jokes in the red band trailer didn't seem to make it into the film.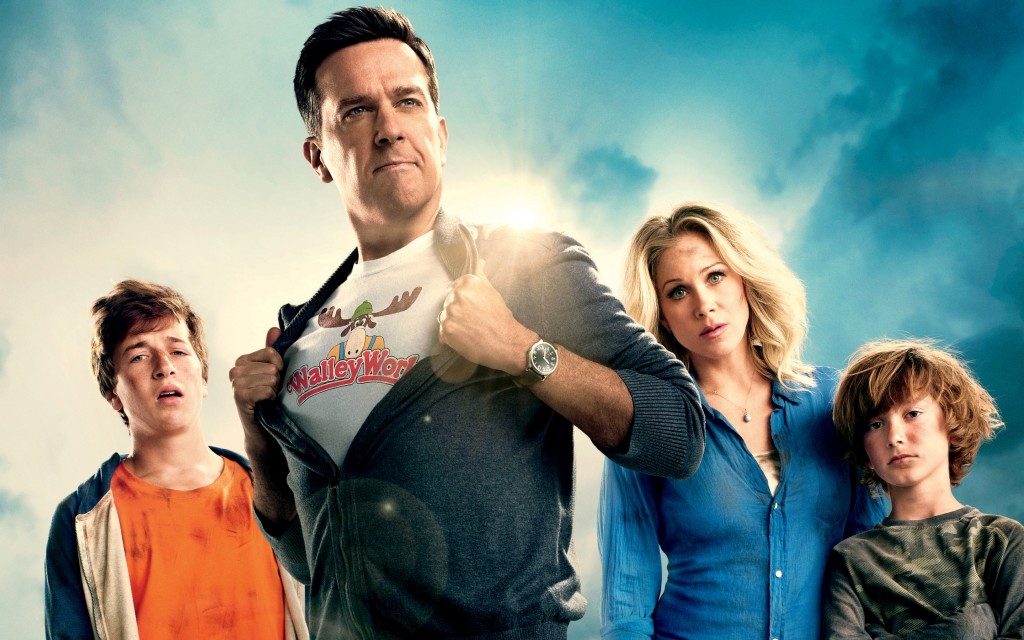 Next up, I watched Vacation, and man did that feel like a chore! I should probably admit that I've never seen the original. Sure, I saw European Vacation a couple of times, and I saw Christmas Vacation about 20 years ago, but I've never seen the original Chevy Chase goes to Walley World film. I like Ed Helms. I've liked him since he was Andy Bernard, as we were both obnoxious Cornell a cappella alums. So, I want to see him do well. I'm not sure he was right for this role, though. I remember Rusty Griswold, and I'd hate to think he grew up to be square Ed Helms. I guess the lesson is that we all grow up to be our fathers, but I didn't think Rusty would've grown up to be so…boring. Anyway, the entire cast, from Helms to Christina Applegate, is wasted on a thin script. Basically, to bring his family closer together, Rusty Griswold decides to take his family on a vacation to the Walley World theme park, just like his father had done years before. Meanwhile, his marriage is shaky, as his wife is unfulfilled, and his one son is a nightmare of a bully, while the other is uber sensitive. The jokes really fell flat, and the only time the movie has any real life to it is when the Griswolds deliver a Bundy-style beatdown to another family. Unless you're just a die-hard Vacation completist (which means you probably also liked the made-for-TV Christmas Vacation 2), you can go ahead and skip this film.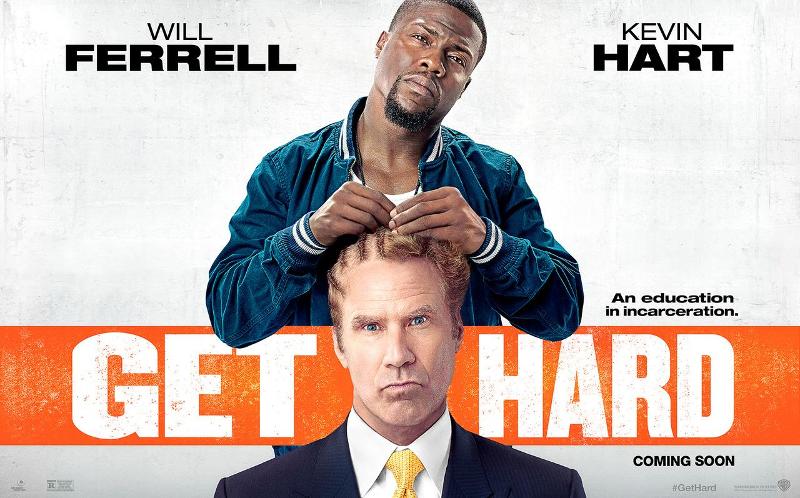 Then, I watched Get Hard, starring Kevin Hart and Will Ferrell. On paper, this movie is perfect to me. Two of my favorite comedic actors in the same film. Sure, Kevin Hart pretty much always plays himself ("volatile little guy"), but you never really know what to expect from Ferrell. In execution, however, this movie left me wanting. In fact, for most of the film, it feels like Ferrell is woefully miscast – odd, considering it's from his production company, Gary Sanchez films. Kevin Hart's just fine, but Ferrell doesn't really get comfortable until Act 3, when he can really get crazy. If you're not familiar with it, Ferrell plays a successful money manager who finds himself framed for fraud. With 30 days before he's sent to prison, he hires Kevin Hart to teach him how to survive in jail. He figures Hart's been to jail since 1 in 3 Black men will be incarcerated at some point in their life so, naturally, Hart is that 1. Surprisingly, however, Hart hasn't been to jail, so he has to fake it so that he can get Ferrell to pay him the $30,000 that he needs to move his family into a better neighborhood. The entire basis of the movie is kinda racist, and there's something of a lesson to be taught about assumptions and cultural appropriation, but this isn't the kind of movie you screen for your college sociology class. It pretty much begs you not to ask questions. At the end of the day, it was funny, but it could have been funnier. For this one, I think you can wait for it to come on TBS.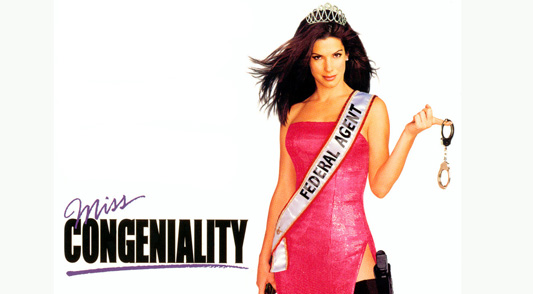 Finally, I watched Miss Congeniality on TV. Yeah, this movie's 15 years old, but there are a LOT of movies I haven't seen yet. Sandy Bullock (yeah, we're cool enough that I can call her Sandy) is just so cute, but I wonder if she's tired of playing the slightly socially inept cop. I mean, her character in Miss Congeniality might as well be her character from The Heat, as there aren't many differences between the two. Maybe that's her sweet spot.  Haven't seen it? It's about a hot mess of a federal agent who finds herself undercover in the world of beauty pageants. Michael Caine works his magic and turns her into the belle of the ball. Anyway, that was a cute little movie. I enjoyed it enough that I DVRed the sequel.

This week, it was announced that Star Wars: The Force Awakens will be rated PG-13. Well, duh! Ya know why? Because EVERYTHING is rated PG-13 these days. It's not like it was gonna be rated R, 'cause they want the kids to see it, plus it's not like the Jedi are cussing up a storm and having gratuitous sex. That's my issue with trailers that say "This Film Has Not Yet Been Rated". That's basically the studio saying, "We're still debating how many 'shits' we can get in the film and have the MPAA leave us alone." It's ALWAYS gonna be PG-13. In this day and age, it's pretty much impossible to have a live action PG movie. That rating is reserved for Pixar and Universal animated films (Alexander and the Terrible, Horrible, No Good, Very Bad Day is the only recent live action example I can think of). Everything else is PG-13. Apparently, it and Revenge of the Sith are the only ones in the franchise to not have a PG rating, but the industry has changed a lot since the prequels.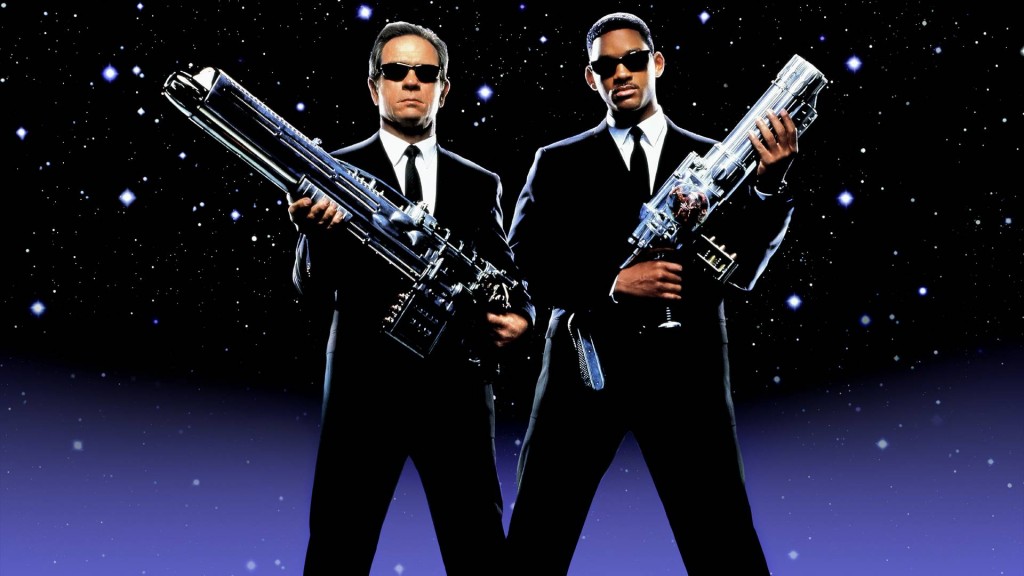 In other movie news, it's reported that the next Men In Black movie will prominently feature a Woman In Black. That's not really a big deal, as they've shown women in the organization, but since the movies are set to shift away from the J and K partnership, maybe she'll be front and center. Also, it seems like they're still committed to having it in a shared universe with the 21 Jump Street franchise (first revealed in the Sony email hack). Exactly how that's gonna work remains to be seen. It's also not clear if Will Smith is coming back. He seems to hate sequels lately (see Independence Day: Resurgence), so I wouldn't be surprised if he bailed. Hell, I wouldn't even be surprised if he somehow convinced the studio to hire Jayden or Willow instead.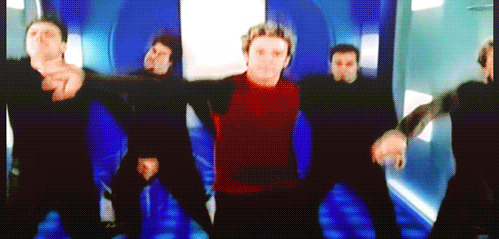 In music news, *NSYNC said "Bye bye bye" to their album sales record, as Adele broke it by selling 3 million copies of 25 during its first week. I really never thought that record had any chance of being broken in today's music sales climate, but there we go. Meanwhile, Justin Bieber broke a record by The Beatles with most number of singles on the Hot 100 at once. The Beatles had 14, and Bieber has 17, but he kinda cheated. Usually, you release a single at a time, so as not to cannibalize your progress. Bieber, however, released videos for 17 of the 18 songs on Purpose simultaneously, so it was pretty easy for him to break that record. This is the new music industry, so I pretty much expect someone like One Direction to come along and do this with their next album, thereby breaking Bieber's record. And so on and so on.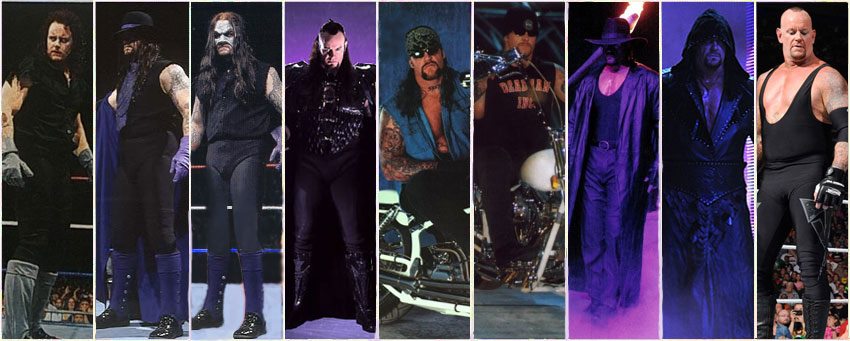 I don't talk much about wrestling these days, mainly because I can't stomach 3 hours of RAW every week. Still, my favorite wrestler of all time is The Undertaker. Sure, he kinda seems like a dated gimmick now, but that's the point. He hearkens back to a bygone era when wrestlers had gimmicks and things that made them special. Nowawdays, they don't even come with creative names. For example, if I were in the WWE, my name would probably be Bruce Williamson. Back in the day, that would've been the name of a "jobber" (the nobody who fights the superstar to make him look better). Now, however, Bruce Williamson could be the new heavyweight champion of the world. Now, some people might see that as "progress", but I see it as the sport losing its mystique. So, as cheesy as he may seem, I ride or die for The Deadman.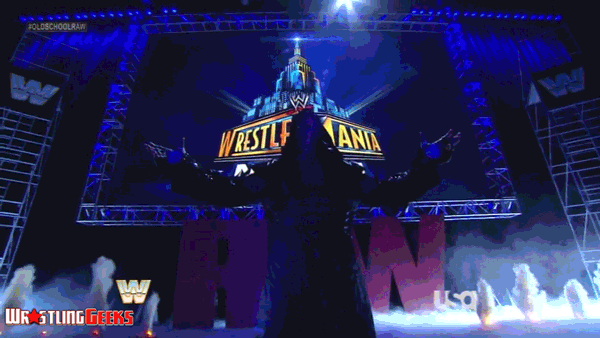 Well, this week we celebrated 25 years of The Undertaker, as he made his in-ring debut during Survivor Series in 1990. This is a big deal, as you will NEVER SEE THIS AGAIN. Sure, there are people who've been wrestling for longer, but they bounced from promotion to promotion. The Undertaker has never jumped ship to WCW (though he did a stint there prior to WWE) or TNA. Sure, he takes a LOT of breaks, but he always comes home to WWE. He's apparently a major positive force in the locker room, and he's been rewarded for it. A 21 year streak at Wrestlemania is what he's most known for. Now, yes, it's scripted entertainment, but I'm pretty sure they wouldn't let The Streak happen for just anybody. No, Taker earned that, as he always performs…even when he probably shouldn't. His days are numbered, and there may not be an Undertaker pretty soon. I certainly don't think we'll be celebrating 30 years of The Undertaker, but stranger things have happened. I have a feeling Vince McMahon will step in and tell him "it's time", just like he did when he decided it was time to end The Streak. When that time comes, I just may have to be there for his final match.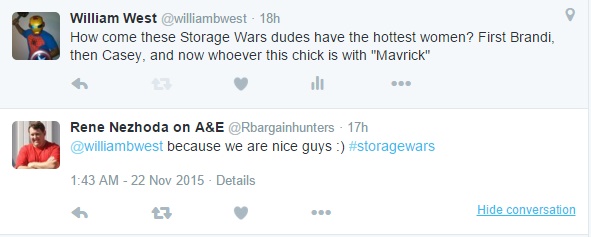 In the world of social media, I had the above exchange with Rene from Storage Wars. It was less an exchange and more of "he clearly had a filter on for Storage Wars mentions and decided to respond". I didn't really have anything to say back to him, though. I guess nice guys do win every now and then. But I'm scared of that Mavrick dude. Half his body is pure tattoo.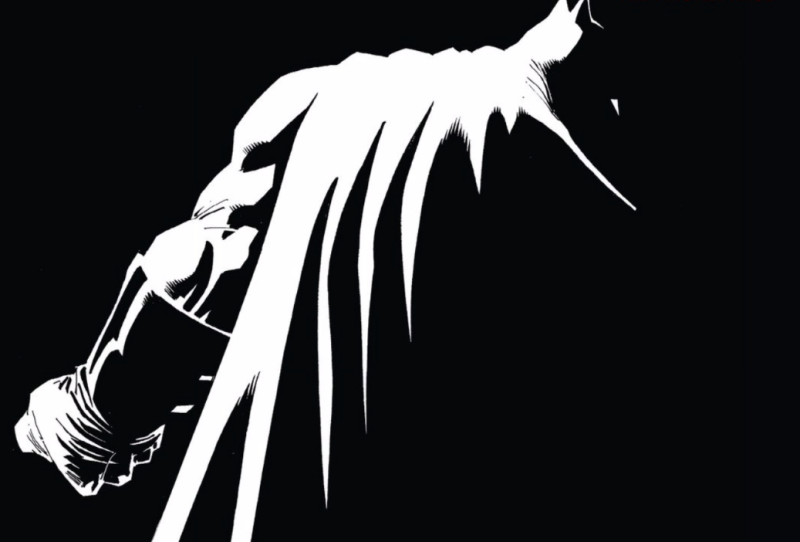 In the world of comics, the first issue of The Dark Knight III: The Master Race came out this week. I tried to read it, and didn't get past the first page. Part of the problem is that I've completely forgotten everything that occurred in that previous installment, The Dark Knight Strikes Again. I mean, c'mon, it was 12 years ago! I just remember it being really bad. If you've never read the original The Dark Knight, it's about an older, grizzled Batman coming out of retirement to fight mutant gangs and a governmentally brainwashed Superman. It sounds kind of "out there", but it's a classic, and is rumored to be the basis of Ben Affleck's portrayal in the upcoming Batman v Superman: Dawn of Justice. Anyway, in a surprisingly dick move, before the issue even came out, original writer Frank Miller announced that there will be a Dark Knight IV. From what I've gathered, it seems like Miller's "cowriter" on DK III, Brian Azzarello, is actually steering the ship, and I don't think ol' Frank wants him to have the final say on The Dark Knight Saga. So, Miller has decided that he'll just keep going as long as DC will let him. And since DK stories is like printing money, it's not like DC's gonna stop him anytime soon. Unless DK III is a colossal bomb. Which it could be…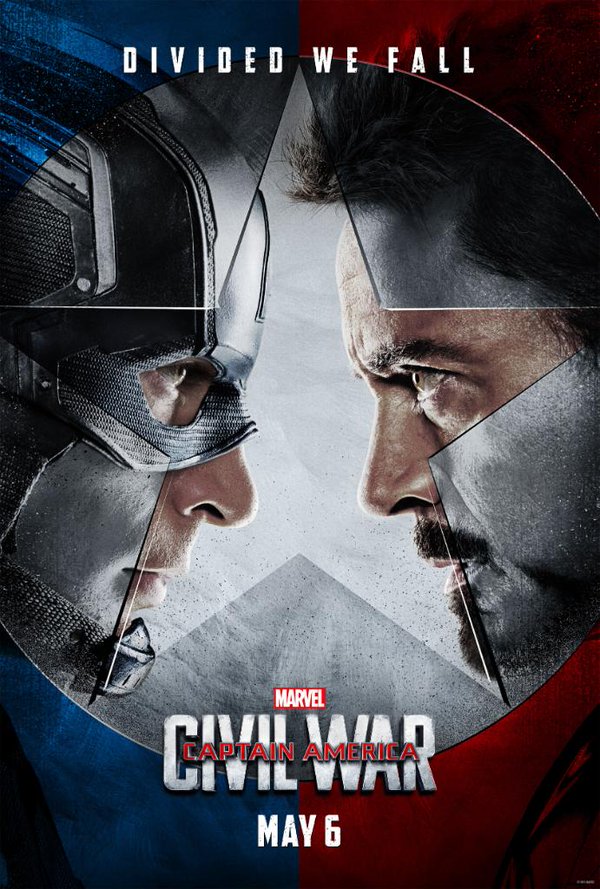 This is pretty much the most useless week in the calendar year, as nothing really gets accomplished before Thanksgiving. As such, no real news came out this week either. We were all set to just accept this and ready ourselves for turkey. Then, Chris Evans and Robert Downey Jr. showed up on Jimmy Kimmel Live with a surprise: they had the teaser trailer for Captain America: Civil War. After the show, the full trailer was uploaded to YouTube. Haven't seen it? Here ya go:
Did you see Black Panther?! I've NEVER cared about that character, but they actually made him look cool. I may actually be looking forward to his solo movie now (seriously, most of Phase 3 is kinda "meh" to me right now). I'm probably more excited about this movie than Star Wars (yeah, I know, I know…), so May 6th can't get here fast enough.
That said, I'm kinda disappointed that this was Cap 3 instead of Avengers 3. Considering the cast list, everyone jokes that it's basically Avengers 2.5, but I feel that making it a Cap movie indicates that Cap is the hero, and I don't feel the Civil War situation (at least as presented in the comic storyline) is that cut and dry. To be honest, I was Team Stark when that whole thing went down. Heroes DO need to be regulated, and it's a natural reaction from a frightened populace. In the comics, they kinda portrayed Stark as the asshole, while Cap was the "hero", even though Stark was the one upholding THE LAW. Now, there's the whole argument of "Do you acknowledge laws that are wrong?", which is pretty much what Cap's stance was. The whole thing was marketed under the banner of "Whose Side Are You On?" Because this movie is about Cap sticking up for his friend, Bucky, I think it kinda adds a slant to the argument. It feels like they've already made up our minds about whose side we should be on, especially when you see things like the dual beatdown The Winter Solider and Cap give Iron Man in the trailer. I really hope things are presented a big more evenly in the film but, like I said, I'm not really expecting it. Anyway, for getting me excited for a movie I really didn't have on my radar, the Captain America: Civil War trailer had the West Week Ever.