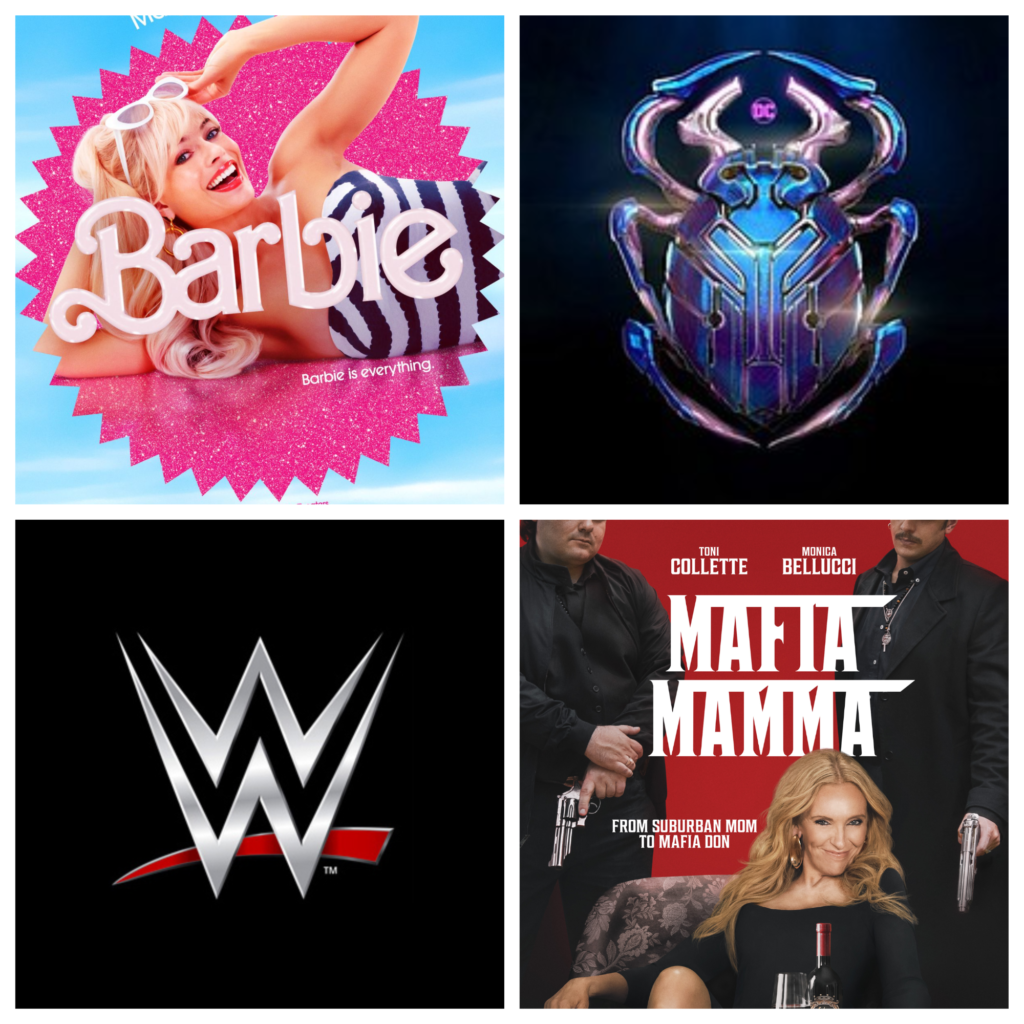 Did you know that Regal Cinemas has this thing called the Regal Mystery Movie? Basically they tell you the date of the next one on the Regal app. You have no clue what the movie is, but it's an advanced screening that only costs $5. So, you find out what film you're seeing once the movie starts. Sure, it's something of a gamble, but if you hate the selection, you're only out $5. Well, my friend John and I checked it out this week. He had done it in the past, and seen things like Paint and some other films, but it was my first time. He had done his homework, researching runtimes of upcoming films, trying to find one that matched the listed runtime of the mystery film. So, going in, we had decided that it HAD to be Air, about Nike and the development of the Air Jordans. We sat down in the theater, and I got my mind right for watching Affleck and Damon talk about sports and shoes and junk. Maria Menounos finishes up her thing, the trailers play, and I settle in for the film. And that's when a video intro from Toni Collette pops up, telling us that we're about to watch her new film, Mafia Mamma. Womp womp.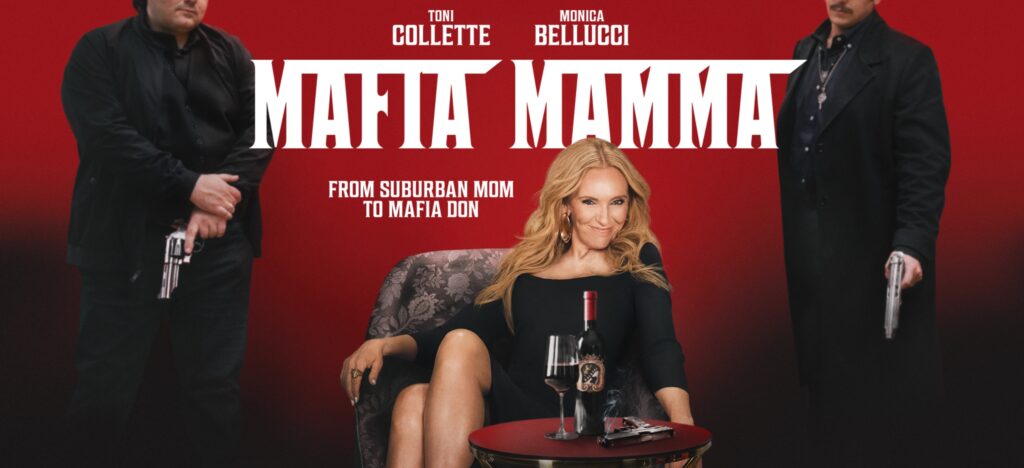 If you haven't seen the lackluster trailer, Mafia Mamma is about a middle-aged woman named Kristin, whose life is at a crossroads, as her son is going off to college, and she discovers her rocker husband has been cheating on her. At the same time, she receives word that her grandfather has died in Italy, and it's imperative that she come for the funeral. After some hestitation, she agrees, and when she gets there, she discovers that her grandfather was the head of the local mafia, and that his last wish was for her to take over the family business. So, what was originally intended to be what her friend called her "Eat, Pray, Fuck trip" turns into something much more complex, as Kristin learns more about the mafia, and herself, in the process.
I said the trailer was "lackluster" because it really didn't do much to make someone want to see the film. I never posted it here in Trailer Park, but I caught it on TV, and thought, "That looks terrible." So, I completely understood where I noticed the 4-person group a few rows ahead of us get up to leave once the movie was announced. However, I had paid my $5 and I had nothing else to do, so I sat there and took it. And ya know what? I REALLY enjoyed it! Collette was perfectly cast, as I can't think of another actress who can so easily transition from you saying "Nah, I'll pass" to "Hello, Nurse!" She's like a Magic Eye image, where she looks different depending on the angle, lighting, etc. Plus, I loved the rest of the cast, including Monica Bellucci and a bunch of Italian actors I'd never seen before. While it probably skews more female, in terms of its targeted audience, I think it's a cute movie that everyone would enjoy. So, yeah. I highly recommend Mafia Mamma, but you can totally wait til it comes on Showtime or something.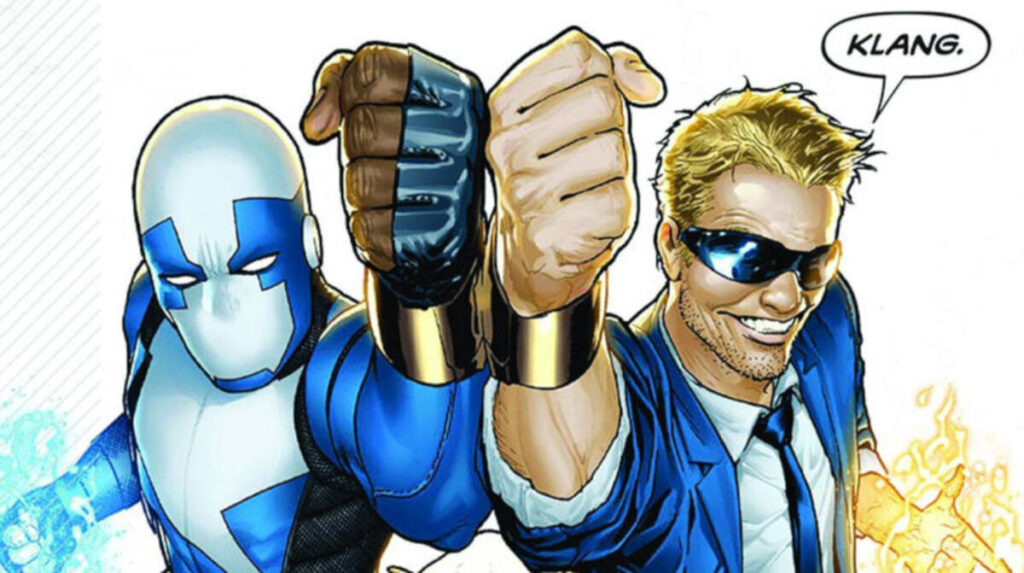 In the world of podcasting, I had the pleasure of chatting with my pal Adam, on the latest episode of Wizards: The Podcast Guide To Comics. If you're new to Wizards, it's a podcast that covers the late, great Wizard: The Guide to Comics issue by issue. This particular episode was #72.5, where they got a bit more in-depth with issue #72. In my segment, Adam & I discussed the great 90s Acclaim comic Quantum & Woody, created by Christopher Priest and M.D. Bright. Though short-lived, it was a series that was ahead of its time, and it's probably the greatest 90s comic you've never read! You should check it out, and then add Wizards to your podcatcher of choice!
Trailer Park
Marvel Studios' Secret Invasion (Disney+, June 21st)
I've just gotta be honest, y'all: I'm pretty tired of the MCU. I mean, I didn't *love* a single entry in Phase 4. Now, we're into Phase 5, and Quantumania now bears the distinction of being the first MCU film I didn't see in a theater. I mean, it's hitting digital in 2 weeks, so what's the point? I can wait. So, here we have THIS. I like Fury, and I've always kinda liked him in the background of everything. This seems more in line with, say, Falcon and The Winter Solider than She-Hulk: Attorney At Law in terms of worldbuilding and showing us what post-Blip society is going through. That's the part of the whole 5-year jump that interested me the most, while most of Phase 4 didn't focus on it too much. I mean, the Skrulls basically had 5 years with virtually no interference, and only half of humanity to worry about. They could have really done some damage in that time. Still, this trailer didn't do a whole lot for me. There's not a lot to take away from it, other than the glimpse of that case with the Department of Damage Control badge on it. I've gotta say, I'm still trying to wrap my head around why the MCU took a goofy, yet necessary, organization like Damage Control and decided to turn it into this nefarious government entity. That's like putting Reno 911 in charge of Homeland Security. Anyway, I'm gonna watch it. It requires very little effort on my part (It comes directly to my TV). I just hope it's a return to form for the MCU and gets me more excited about Phase 5 and beyond.
Blue Beetle (Theaters, Aug 18th)
From Secret Invasion to this, we go from "Meh" to "Eh?" Seriously, this looks GOOD! Why couldn't THIS have been the DCEU? I know folks are writing off the projects that are in the can, since the "Gods & Monsters" reboot was announced, but luckily Blue Beetle is a character low-tier enough that the success of failure of this movie shouldn't affect Warner Bros' plans much. They could just as easily make a sequel as they could bury it and never mention it again. I was actually a pretty big fan of this character when he debuted in 2006's Infinite Crisis, and I probably followed him up until the New 52 relaunch. I don't know what he's been up to recently but, knowing DC, none of that will matter in this film. I'm actually really looking forward to a DC film! Who knew?!
Spider-Man: Across The Spider-Verse (Theaters, June 2nd)
Let me get something out of the way here: I LOVE Miles Morales, and have since they day he appeared in Ultimate Fallout #4. That's probably the jewel of my comic collection. That said, I'm starting to get really Hipster Protective of him. I feel like he's a band that I discovered early, and now EVERYONE knows about him. He's got his own video game, and his own movies. Sure, you get the social media arguments of "Why doesn't he have a different name? PETER PARKER IS SPIDER-MAN!" but I don't really care about that so much. I used to be pretty vocal about my Miles fandom. In fact, I was interviewed by Abraham Josephine Reisman for a Vulture article about Miles when the first Spider-Verse came out, but I got left on the cutting room floor (still bitter about that, clearly). These days, though, I'm not really sure where I fit in. Now I've got to share him with the world, and I'm an Only Child, so sharing ain't my strong suit. All of this is to say that this looks really good, and I'm hoping it's as good as the first one. I know some folks seem upset that Miguel O'Hara (Spider-Man 2099) seems to be the antagonist, but that dude always kinda seemed like a bastard to me, so I'm fine with it.
Barbie: The Movie (Theaters, July 21st)
I know everyone's having their fun, what with this trailer and the profile pic generator and everything, but I've gotta ask: Who is this movie FOR? Like, I'm kinda perplexed by this whole thing. If you go back far enough (2016, in fact), Amy Schumer was slated for this role (I remember because I tweeted about it and a bunch of media outlets, like Yahoo! and the New York Post reprinted it, trying to frame it as a fat-shaming tweet. She would later block me for that). Even when Schumer was attached, I knew that Mattel wanted the "star power" (she was a bigger deal back then) but she was still an odd choice because her humor didn't really lend itself to anything I thought a toy company would sign off on. Plus, there was no director attached at the time. Over the course of the last 7 years, Schumer dropped out and Greta Gerwig was brought on to direct. And what she has crafted is some kind of unsettling aesthetic, somewhere between Soundgarden's "Black Hole Sun" video and Aqua's music video for "Barbie Girl". Sure, everything is bright and cheery, but also in a fake, plastic Stepford Wives kind of way. It's the kind of thing where if some fan had created this trailer and uploaded it, it would go viral, as folks would say "Hey, that's an interesting concept! Ryan Gosling as a Ken doll?!" But to make an entire theatrical film like this? It's just…odd. Plus, nothing about this seems geared to KIDS. I know Barbie is an icon, but I still feel like a movie based on a kid's doll should kind of have something for kids going on with it. This could go either way. It could be the smash of the summer or it could be the next Snakes on a Plane. I guess time will tell.
Things You Might Have Missed This Week
Byron Allen continues to save the unemployed TV judges, as his media group announced Justice for the People with Judge Milian, starring 22-season judge of The People's Court, Marilyn Milian.
Paramount has announced development of a Star Trek: Starfleet Academy series – a concept that was actually being developed WAY back before Enterprise premiered.
After six seasons, Fox has canceled The Resident.
Amazon is reportedly developing a Cruel Intentions series for either FreeVee or Prime, and everyone seems to have conveniently forgotten about 2000's Manchester Prep – the original Cruel Intentions TV series that was canceled before it even aired. Starring Amy Adams, the pilot was recut and released to DVD as Cruel Intentions 2.
HBO Max is reportedly close to announcing a 7-season Harry Potter TV series, despite the fact that a sizable portion of the HP fan base currently has a conflicted relationship with the franchise and its creator.
According to a report by The Hollywood Reporter, only 37% of the audience of Amazon's The Lord of the Rings: The Rings of Power actually finished the series.
It was a big week for World Wrestling Entertainment, as last weekend was WrestleMania 39 – the annual Super Bowl of wrestling, meant to showcase the biggest stars and most legendary matchups. Well, that's the intent, at least. Since the pandemic, the event has been split into 2 nights instead of one 6-hour slog. This year's 'Mania seemed to have been something of a mixed bag, as fans overwhelming loved Night 1, but then it seemed like Night 2 came along and squandered any goodwill that had been earned.
WrestleMania Night 1 was filled with several high profile matches, including Charlotte Flair vs Rhea Ripley, The Uso vs Kevin Owens & Sami Zayn, and Rey Mysterio vs Dominik Mysterio. Even John Cena came back to defend the United States Championship. It was an action packed night that left folks looking forward to what Sunday might have to offer.
WrestleMania Night 2? Not so great. There was Brock Lesnar vs Omos, Bianca Belair vs Asuka, Shane McMahon got injured, resulting in Snoop Dogg taking on The Miz, and the match everyone came to see: Undisputed Champion Roman Reigns vs Cody Rhodes. Rhodes had recently come back to WWE from AEW – the rival promotion he helped to start – and he had his eyes on the championship. He wanted to "Finish The Story" that his father had started, who had never become the champ. Cody's brother had never become the champ. In his eyes, it was time for a Rhodes to get the belt. And he gave it his all, but Roman was basically just toying with him for most of the match. When Reigns won the match, due to interference by a relative, a surprising amount of people were disappointed. I mean, sure, Cody was the golden boy and had been given quite a push to the point where a victory seemed like a forgone conclusion. However, he had really only been back a few months, from the rival promotion he had started, AND WWE's Vince McMahon (who had "coincidentally" just returned to power over the weekend) had a history of humiliating the Rhodes family. So, through that lens, it's pretty understandable why Reigns is still the champ. Oh, and he's also close to having a 1,000-day reign as champion, so there's no way they're going to derail that trajectory.
Despite fan disappointment, WWE broke several attendance records and it seems like the show was, overall, a success. In fact, it was the kind of success that might make the company look attractive to a potential buyer. Which is exactly what happened. Monday morning, it was reported that UFC parent company Endeavor Holdings Group had purchased 51% of the company for $9.3 billion, and would be merging it with UFC to create a new sports entertainment brand worth $21 billion. As part of the deal, Vince McMahon will remain as Executive Chairman of WWE. Meanwhile, current WWE Chief Content Officer Paul "HHH" Levesque is slated to address the WWE Universe on tonight's WWE SmackDown. It's not clear if this will be good news but, for now, WWE has had the West Week Ever.