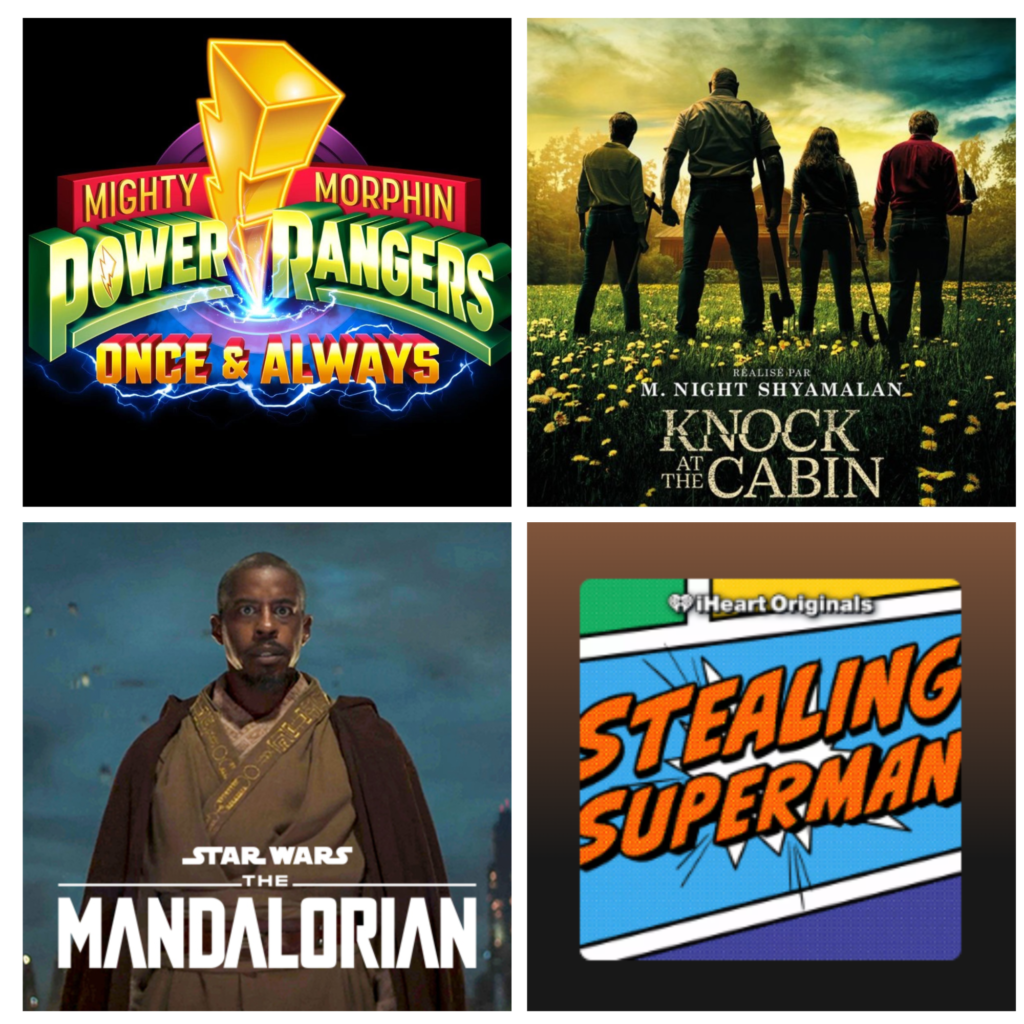 We've got a lot to talk about this week, so let's jump on in!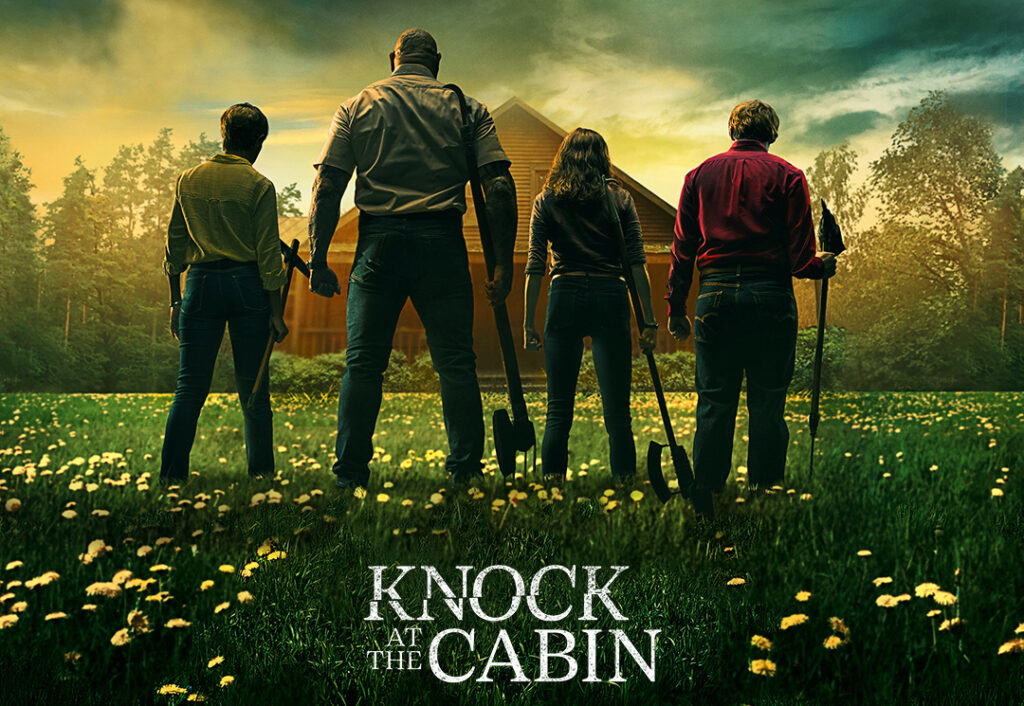 A few weeks ago, I checked out Knock at the Cabin (streaming starting today on Peacock!) because I've actually liked the M. Night Shyamalan stuff that I've seen. This looked really good, and they had been pushing it hard on Twitter. I was so into seeing it, in fact, that I was going to actually go to the theater (a rare occurrence usually reserved for Comic Book Movies). However, when I saw that the theater experience was going to cost me about $19, but I could watch it at home for $20, well that was an easy decision. I had already taken the plunge of at-home viewing with UFO Club, so I decided to do the same here.
If you're not familiar, Knock follows a gay couple and their daughter as they take a trip to a remote cabin. What was supposed to be a nice family vacation, however, turns into something else entirely when four mysterious strangers come knocking at their cabin door. Led by Dave Bautista's Leonard, the quartet explain that they've seen visions of the end of the world, and they've been tasked to ensure that doesn't come to pass. They further explain that this has happened many times in the past, and the only way to keep the apocalypse at bay is for someone to make a sacrifice. The group, then, give the family time to decide whom, out of the three of them, they will sacrifice to save the world. Well, of course the family doesn't believe any of this…at first. And then signs start appearing, like planes falling out of the sky, insinuating that these people might not be as crazy as they initially seemed. While there is some gore, it's more of a psychological thriller about faith, love, and what we do for family.
The film is a tight 100 minutes, with very little fat in it. If anything, it probably could have stood to be a bit longer. Half of it is flashbacks, showing you how the family came to be, and what they mean to one another. The rest of the movie is trying to give a sense of the impending doom heading for the world. I think the flashbacks work really well, but I never really felt like the world was in danger. Sure, they notice a plane falling from the sky, but that could have been a freak coincidence, right? Also, due to the remote setting of the cabin, you don't really get to see how the rest of the world is dealing with the catastrophes, outside of some news footage on their TV that appeared to have been recorded from an earlier date? There are a lot of great performances in the film, especially Bautista's. I'll admit that I sat there, waiting for a Shyamalan Twist that I'm not quite sure ever materialized. That said, it's the kind of film where you probably notice new things upon multiple viewings, and it's definitely worth checking out.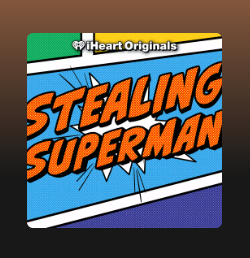 In the world of podcasts, I just finished listening to Stealing Superman, which was recommended by my pal Pax on a recent episode of The After Lunch Podcast. An iHeartMedia production, the podcast investigates the 2000 theft of 4 valuable comics from actor Nic Cage's house. These included 1939's Detective Comics #27 (1st appearance of Batman) and 1940's Batman #1 (first Batman solo title), but also the jewel of the collection: a pristine copy of 1938's Action Comics #1 (1st appearance of Superman). While Cage himself isn't involved in the podcast, they interview everyone else, from former Cage employees to the dealer who sold him the comic to former professional art thieves. The eight-episode series takes you on quite the journey in an attempt to not only figure out who committed the theft, but also find out where the comics are now. I highly recommend this podcast to everyone!
Trailer Park
Joy Ride, July 7th (Theaters)
This looks hilarious. I love sophomoric Seth Rogen stuff, and I've missed these kinds of movies. It's nice to see the Asian community get a comedy where they can just cut loose, and break stereotypes. I doubt I'll see this in theaters, but I'll catch it eventually.
Ghosted, April 21st (Apple TV+)
This looks funny, in a Red Notice kind of way. I can see why it went to streaming, but who doesn't love Chris Evans? I would watch it, but Apple TV+ is, like, the one streaming service I don't have. So, who wants to share their login with me? 😉
Blackberry, May 12th (Theaters)
I've always been a gadget guy. I had a Casio B.O.S.S. that I upgraded to a Palm III, which was then replaced by a Blackberry. And then another Blackberry. I loved my Blackberry! So this movie is right up my alley – at least, in theory. You see, this trailer just looks like an episode of Drunk History. They took Jay Baruchel and Glenn Howerton, two guys known for comedy, put them in bad makeup, and expect me to take them seriously? That dog don't hunt. I'm sure there's a riveting story behind the history of Blackberry and Research In Motion, but I think I'd rather just read the book. Is there a book? Yeah, I'm pretty sure there's a book.
Things You Might Have Missed This Week
Nickelodeon alums Kenan & Kel showed up on The Tonight Show with Jimmy Fallon to announce that Good Burger 2 will go into production this summer, to later premiere on Paramount+.
1997's Wonderful World of Disney TV movie Cinderella, starring pop star Brandy, is now part of The Descendants canon, as she and Paolo Montalban (now King Charming) will be reprising their roles in the upcoming Descendants: Rise of Red movie on Disney+.
Shazam: Fury of the Gods opened last weekend with a dismal box office of $30.5 million, meaning it actually opened worse than the reviled Morbius film from last year. Everyone from Dwayne Johnson to Zachary Levi to Zack Snyder are being blamed for its failure.
Speaking of dismal box office, after a tepid response to Phase 4 of the Marvel Cinematic Universe, it's no surprise that heads are starting to roll. This was evident when it was reported that Victoria Alonso, Marvel's president of physical production, post-production, VFX and animation, was fired last Friday after 17 years with the company. A major champion for inclusion in Marvel's offerings, certain folks are saying this is another example of "Go woke, go broke".
After 3 seasons as host of Dancing with the Stars, Tyra Banks is leaving the show, to be replaced by her last-season co-host, Alfonso Ribeiro. Meanwhile, former professional DWTS competitor Julianne Hough is returning to fill the co-host role.
Justice for Jar Jar Binks! After decades of struggling with the audience's negative reception of Jar Jar, actor Ahmed Best finally achieved a sense of redemption when he appeared on this week's episode of Star Wars: The Mandalorian, in a pivotal role as Jedi Master Kelleran Beq.
Don't cross Victor Newman! After a perceived slight about soap actors from Eva Longoria, The Young and the Restless icon Eric Braeden took to Twitter to respond: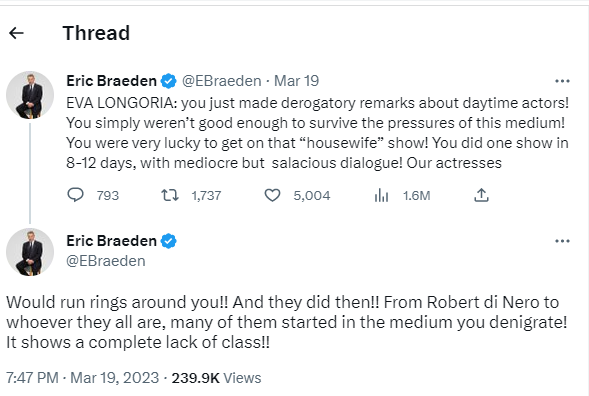 As the weeks go on, it's getting harder and harder to not just give the West Week Ever to Star Trek: Picard every week. I mean, it's that damn good, and somehow only keeps getting better. That's half the reason I haven't written anything in a while. Nothing had really come along to unseat it. Until now.
This week, Netflix finally released the trailer for the upcoming Mighty Morphin Power Rangers: Once & Always 30th anniversary special. I mean, just look at it! MMPR in beautiful HD! In the special, it appears that Rita Repulsa has returned (now as a robot), and she kills Trini while battling the Rangers. I'm always jarred when this franchise acknowledges death, but I can't decide if this is respectful or in poor taste. I mean, if anything, they did what Marvel wouldn't do! Anyway, the 4 surviving Rangers must foil Rita's plan, which is to create a time portal so she can kill them all in the past, before the team is formed. Making up the team are originals Zack and Billy, joined by "Replacement Rangers" Kat and Rocky. Aisha and Adam are also present, as part of something called "SPA" (Space Patrol Alpha, maybe?). Most importantly, though, we're introduced to Minh, Trini's teenage daughter, who wants to join in the fight to avenge her mom.
Watching this trailer, I've got SO many questions! How are the Dino powers and Zords back? Who's in the Green Ranger suit? How are they going to address the absence of Tommy, who's married to Kat in the present day? Plus, there are some glaring omissions. Of course Thuy Trang and Jason David Frank are no longer with us, so we understand why they're not present. However, original Red Ranger Austin St. John is still around, as is original Pink Ranger Amy Jo Johnson. According to "word on the street", St. John couldn't travel due to alleged Covid relief fund fraud charges, while it seems like they might have lowballed Johnson with their offer. Also, JDF could have been in the special, as it was filmed prior to his death. For the past couple of years, he had publicly stated that he had "retired" from Power Rangers, and wanted to focus on making his own original projects…like his upcoming movie, Legend of the White Dragon, that's clearly based on Power Rangers…
In any case, I am "HYPE!", as the kids say, and April 19th can't come fast enough for me. This special will be streaming exclusively on Netflix, which is the current home for Power Rangers programming. Thirty years! I am SO OLD. But, I guess it's a blessing that I'm still here, and getting to see this is just icing on the cake. So, with that in mind, the Mighty Morphin Power Rangers: Once & Always trailer had the West Week Ever.
Be sure to follow @westweekever on Twitter for all the latest site news and updates!