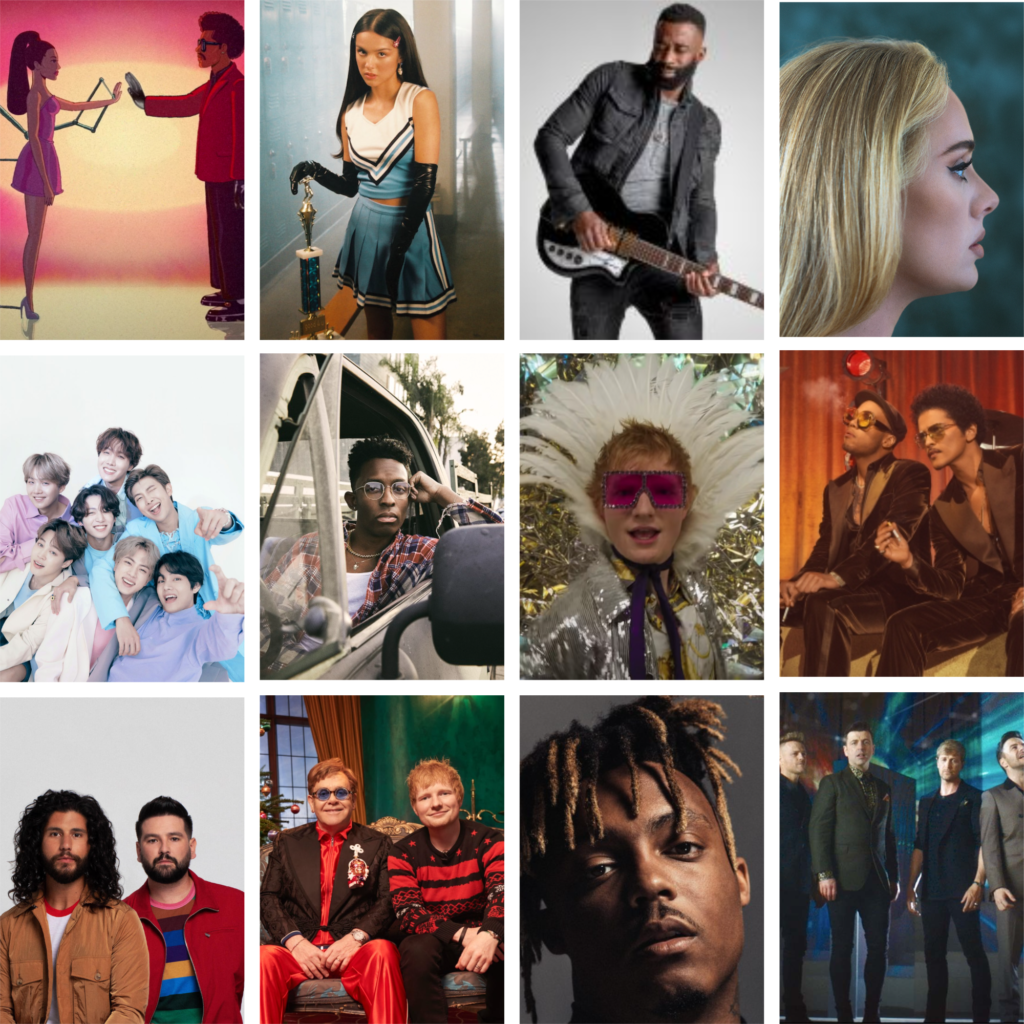 I know you've been waiting with bated breath for this one! Yup, it's time for me to count down my 40 favorite songs of the year. I can honestly say that it's now with 40% less Country. That's always been a sticking point with some of y'all. Anyway, if you're new here, a guiding principle of this post is "Genre Is A Social Construct". A lot of these blur the lines of classification, and are sometimes marginalized because they are played predominantly on one radio format over another. All I ask is that you try to go in with an open mind, and maybe you'll find your new favorite song!

40. Moorland – Now I'm Gone
So ever since I've been back in the office, I've found I need some kind of noise in the background to help me work. I guess it's from the 18 months I had The Amazing World of Gumball on in the background of work-from-home. Anyway, I settled on a bunch of synthwave mixes on YouTube, which is a genre I loved because it's basically "The past's idea of The Future". It's modern music, meant to sound retro, meant to sound futuristic. It's musical inception! I sort of fudged the numbers on this one, as it really came out at the tail end of 2020, but I don't care. This song mainly made the list for its bridge.

39. WOLFCLUB feat Summer Haze – Just Drive
Another one from the synthwave mixes, this doesn't exactly fit the mold. It's more "Alternative" than synthwave, though it's heavy on distortion, which kind of mars the lyrics. Anyway, it reminds me of something that would have been released in 1996, and I love it.

38. NeverMann feat Groove Actually – Acquired Taste
I love this for its smooth disco swing. Perfect for a nightclub or a hip coffeehouse. If I had a cable access show, the chorus here would be my theme song.

37. Dan + Shay – Glad You Exist
They held the #1 spot on last year's countdown, so how are they so low here? My 3 year old loves this song, and it's cute, but it's nowhere near the level of last year's "I Should Probably Go To Bed". Anyway, it's short and sweet, and I have a feeling this isn't the last time we'll see them on the countdown this year.

36. BTS – Butter
Last year, the K-Pop juggernaut hit #3 on the countdown, with "Dynamite". Here they are with "Butter", which was catchy, but just not as good. I think part of the issue is the language barrier, as I wouldn't know half the lyrics if it weren't for lyric videos on YouTube. If I knew what was being sung, it might be even catchier to me? I dunno. Next!

35. King Stephen – Phantasmagorica
Yet another synthwave find, I love it because it's like intense, old school video game boss music. Just listen, and tell me it doesn't get your blood pumping. I'm about to throw a controller across the room!

34. Juice WRLD – Burn
I'm SO not a modern hip hop guy, but I heard this somewhere and it stuck with me. Add to it the Don't Look Up! music video, and now this thing lives rent-free in my head. It's a posthumous release, as Juice died from an overdose in 2019. Kinda hardcore that one of his last songs is about how he needs water for his Percocets. Talk about "Living by the sword…"

33. Jordan Hart – Freedom
Ever wonder why an artist would pay to have their music video posted as an ad on YouTube? Well, the answer is: for suckers like me. I don't remember what I was watching, but this came on immediately before it, and I was struck by how beautiful the story was. I tend to want these songs to stand on their own, without a music video propping them up, but I had to make an exception here. I mean, I love the song, but it's a powerful video. Just watch it and try not to cry.

32. Thunder Porpoise – Until The End Of Time
Yup, more synthwave. This sounds like the theme song to a mid '80s syndicated show about a kid whose best friend is a talking computer, and I am HERE for it! It makes me do a little 80s two-step!

31. Måneskin – Beggin' 
Remember back in the late '00s, where we had all those rock bands, like Jet and Franz Ferdinand, that all sounded the same? Well, this fits right in with them. I discovered this song because a large breasted woman on TikTok was dancing to it and, well, that's all she wrote!

30. Coldplay x BTS – My Universe
Hey, it's our buddies BTS again! This time, they're accompanied by Coldplay. I'm not sure whose idea this was, but it actually kinda works. I don't LOVE it, but I LIKE it, so here it is.

29. Gabby Barrett – The Good Ones
Now we're entering the Country portion of our evening. That genre didn't grab me too much this year, so most of those entries found themselves here, in the middle of the chart. She hit the countdown last year with "I Hope", and she's back with this one. It was released as a single in 2020, but it still got heavy airplay in 2021. It's not gonna win any awards for lyricism, but I just found it to be kinda catchy.

28. Luke Bryan – Down To One
This song kicks off sounding like a Lionel Richie song, making me wonder if Luke's American Idol colleague is starting to rub off on him. Love the beat here!

27. Ed Sheeran & Elton John – Merry Christmas
I love when Elton does Christmas songs, as I feel "Step Into Christmas" is an underrated gem. I'm just recently discovering Ed Sheeran, and I love what both of them bring to this song. It won't dethrone Mariah Carey, but I'd love if it could become a Christmas standard.

26. Blake Shelton – Minimum Wage
This song shows you can take the boy out of the country (and put him on The Voice), but you can't take the Country out of the boy. Glad to see him get back to his roots instead of bombarding us with Gwen Stefani duets.

25. Dan + Shay – Good Things
They're back! Dan + Shay have got "less is more" down to a Motown science, as none of these recent hits have been longer than 3 minutes. I just love these guys so much.

24. Curt Chambers – Different Views
So, I never really talked about it on here, but I contributed a few artist profiles to the site Black Opry, which is a site dedicated to making space for Black fans and artists in the Country music scene. One artist I discovered while doing this was Curt Chambers, and I just fell in love with his sound. This song, though, this one was powerful. I really related to this one, and I hope you'll listen closely to the lyrics.

23. Sam Hunt – Breaking Up Was Easy In The 90s
He hit #6 on last year's countdown, with the great wordplay in "Hard To Forget". He's not higher here because he just talks through most of the song, but I do think the idea behind the song is clever. Breaking up probably was easy in the 90s!

22. Olivia Rodrigo – Good 4 U
So, I've been watching a lot of Bizaardvark, which was a Disney Channel sitcom starring Olivia Rodrigo and Madison Hu as best friends who run their on web video channel. The thing that strikes me, though, is that if you had told me in 2016 (when the show launched) that we'd one day be talking about Rodrigo as a big star and NOT Hu, I'd have called you a damn liar. Hu had more personality and charisma in that show, but Rodrigo put out a damn good breakup album. Not since Jagged Little Pill has a breakup album seemed to resonate with folks. Plus, if you loved Paramore's "Misery Business" (as I do), you were bound to like this song.

21. Marshmello x Jonas Bros – Leave Before You Love Me
I just love the sound here. It sounds almost like an 80s ballad. I was a little too old for Jonas Bros Mark I, but if they keep cranking out stuff like this, then count me as a fan.

20. Bruno Mars, Anderson .Paak, Silk Sonic – Smokin' Out The Window
I didn't think we'd ever get this sound again, especially not in 2021! As someone raised around his mother's Bobby Blue Bland albums, this sound resonates deep inside me. Oh, I just love this so much.

19. Bruno Mars, Anderson .Paak, Silk Sonic – Leave The Door Open
These songs are back to back because they're almost the same song to me. I mean, they both hit the same chord for me, so they pretty much got ranked in order of release.

18. Olivia Rodrigo – Drivers License
Olivia joins us back on the countdown with this haunting ballad. I made the Jagged Little Pill comparison when discussing "Good 4 U". To stick with that, this is basically her "Your House". Simply beautiful.

17. Westlife – Magic
OK, so in case you didn't know, Westlife is my favorite boyband. Yes, I discovered them in college because of our shared name, and then I fell in love with everything they put out. I've followed their career from the self-titled debut album, to their US debut Swear It Again, to their Sinatra tribute album, Allow Us To Be Frank. To me, they can do (almost) no wrong. Anyway, this song is great because, if you close your eyes, it sounds like the theme song to an early 90s TGIF show, like Going Places or something.

16. Elton John feat Dua Lipa – Cold Heart (PNUA remix) 
OK, while we're on favorites, Elton John is actually my favorite artist of all time, but there's a catch: I don't like the "classics", like "Benny & The Jets" or "Tiny Dancer". I mean, they're fine, but my fandom is situated when folks weren't really paying attention to him, and he was cranking out stuff like "I Guess That's Why They Call It The Blues" and "The One". So, with "Sacrifice" being one of my favorites of his, this mash-up of it and "Rocket Man" just hit all the right notes for me. It feels like the kind of thing we'd play at H&M in the dressing rooms.

15. Ed Sheeran – Overpass Graffiti 
Who knew I loved Ed Sheeran?! He's only been out forever, but I just discovered him this year, as his album = is a masterpiece. Really dig the "Love Is A Battlefield" beat here, and this won't be the last we hear from him on this year's countdown!

14. Elle King & Miranda Lambert – Drunk (And I Don't Wanna Go Home) 
Did y'all know that Elle King is Rob Schneider's daughter? YES, Deuce Bigalow! Anyway, now that we've gotten that out of the way, this is just a great duet. I love what each woman brings to this. And that chorus is just rollicking fun.

13. Jason Aldean & Carrie Underwood – If I Didn't Love You 
I feel like both artists bring their A-game to this duet. Jason is at his Aldeanest, and Carrie is at her Underwoodest. Just a really good power ballad.

12. Encanto Cast – We Don't Talk About Bruno
My youngest LOVES this, and requests it every time we're in the car. Based on how it's performing on Billboard charts, she's not alone! Loved the movie, loved this song. Lin-Manuel Miranda strikes again!

11. Breland feat Micky Guyton – Cross Country 
Two of the biggest Black names in Country, joining forces – it's like the Mega Powers or something! I love Breland's sound, and he's got local ties, as he did a cappella at Georgetown University. Meanwhile, Mickey made last year's countdown with her powerful single "Black Like Me". Breland's solo version of the song is great, but Mickey just brings that extra something to push this version over the top.

10. ABBA – Don't Shut Me Down
I really thought this album would have been a bigger deal, but I guess ABBA just don't have the juice in the US after their 40 year hiatus. Anyway, I listened to the album, and it was actually kind of disappointing, with one bright spot: this song right here. It's basically the "first cousin" of their hit "Dancing Queen", but I have absolutely no problem with that.

09. Westlife – Starlight
The boys are back, with a bombastic stadium chorus. I'd love to see them perform this one live, as I know it gets the crowd on their feet.

08. GAYLE – abcdefu
Another song that really made its splash via TikTok, it's something of a novelty song that could really go either way: it could launch GAYLE into something bigger, a la Katy Perry with "I Kissed A Girl", or she could fade into obscurity like Eamon, who was the last pop star to debut with a song with "fuck" it its name, 2003's "Fuck It (I Don't Want You Back)". I think we'll hear more from GAYLE in the future.

07. Adele – Easy On Me
I remember the release of this album was such a big deal. And she even asked Spotify to disable the skip feature so that you'd have to listen to the album straight through. I guess that's all well and good, but this was the only song on that album that resonated with me, which is good it was the album's first smash single. Hard to believe this is the same chick who was rolling on the ground in the "Chasing Pavements" video all those years ago.

06. Ed Sheeran – Shivers
Goddamn this is a catchy song! I had this thing on a loop for, like, 2 days. And thank the good Lord for lyrics videos, because I thought he was saying "The Yakuza give me the shivers". I was like "Right there with ya, buddy!" The best song on an incredible album. Long live Ed Sheeran!

05. Luke Combs – Forever After All
Luke Combs is no stranger to the countdown, as I'm usually forced to narrow down his entries, since he's so prolific AND everything is just SO good. Loved this song, and it edged out his other hit "Better Together", as this one just had that extra something to it.

04. Molly Sandén & Will Ferrell – Husavik (My Hometown)
I had this song on repeat for a week after watching Eurovision Song Contest: The Story of Fire Saga. Rachel McAdams didn't sing her parts, while Ferrell did provide accompaniment to Swedish pop star Sandén. It's just so beautiful and epic.

03. Walker Hayes – Fancy Like
Yes, I know you already hate this because of the Applebee's commercial, but I LOVE it. Our family was already in the Walker Hayes camp before this song, but I loved this single. There's even a remix with Ke$ha, but I feel like the original version is best. It's great synergy, because he sang about Applebee's and got picked up for an Applebee's commercial. It's that manifestation? I don't know, but he played it right and got his coins.

02. Dierks Bentley feat War & Treaty – Pride (In The Name of Love) Live at 56th ACM Awards
To my knowledge this wasn't released on any album, and this was more like a One Night Only affair. I've already written about War & Treaty, and boy did they understand the assignment here! So powerful, and for it to have been on a national stage on the ACM Awards just really made it that much more special.

01. The Weeknd & Ariana Grande – Save Your Tears (Remix)
I don't think Ariana has made it to the countdown solo, but she makes a great duet partner, as shown with last year's "Rain On Me" with Lady Gaga. Here she provides the "special sauce" to The Weeknd's massive hit and, even though it's shorter than the original version, I've just come to love this one so much more. The Weeknd is no stranger to the top of the countdown, as "Blinding Lights" was #2 last year, and he more than earned his spot at #1 for 2021.
So, there ya have it: my top 40 favorite songs of 2021. How many of these were on your list? How many were new to you, but are now new favorites? Let me know in the comments below!
Be sure to follow @westweekever on Twitter for all the latest site news and updates!