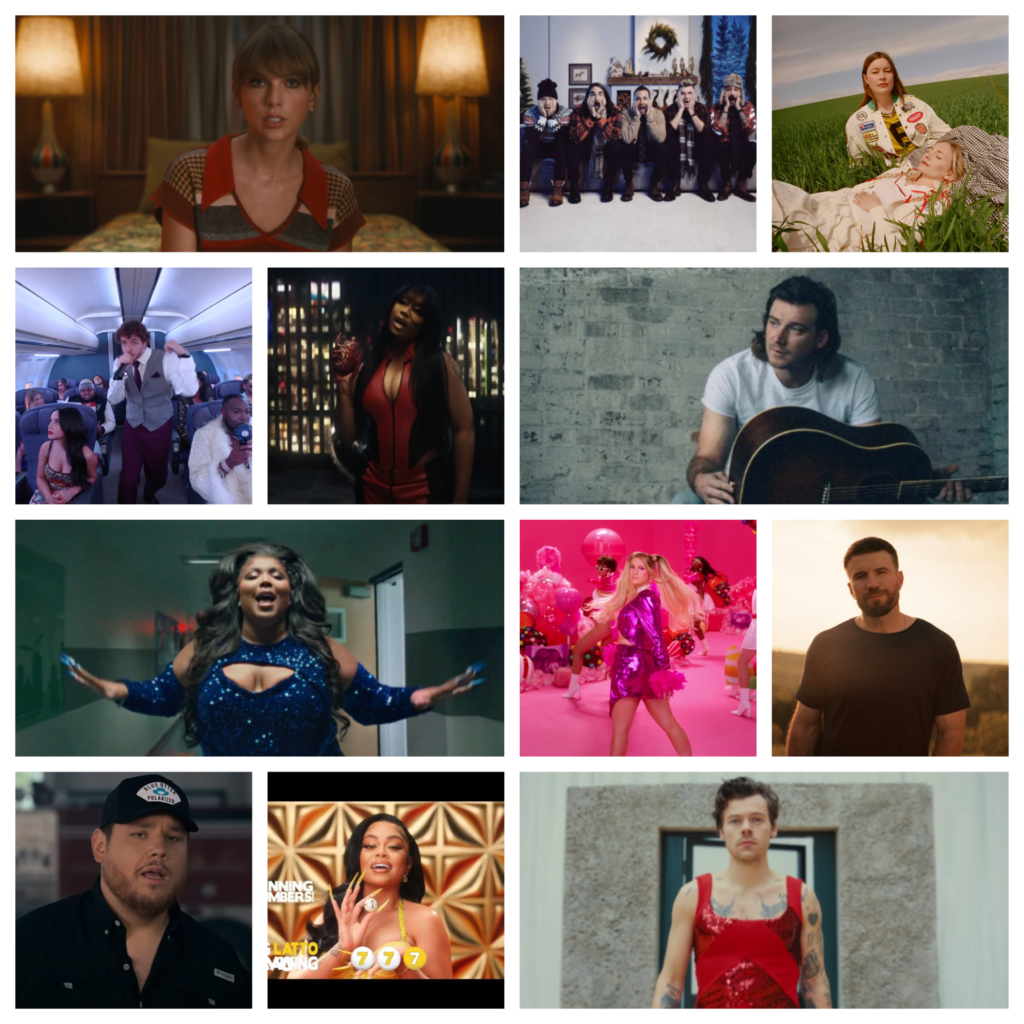 I know you've been waiting for this: my favorite songs from a year that ended over 7 months ago! Let me explain: I did the work on this IN January, and then never actually posted it. Why was that? Well, like many things in life, politics got in the way – specifically online politics. Yeah, we'll get to the countdown but, before that, it's story time, kids!
I never really talked a lot about it because it wasn't exactly one of my "brands" but, back during the pandemic, I was asked to contribute to a music website. Actually, let me rephrase that – I volunteered to contribute to a music website. I've got an old friend who's taking the world of music journalism by storm and, through him, I was introduced to a woman who was building a website that would focus on getting more exposure for Black artists in country music. I'm Black, and I like country music, so sounds like a good fit, right? She didn't exactly seem excited, but she was doing it all herself and needed help. I told her about this site, and tried to send her samples, and I remember her dryly saying, "Yeah, I've read it…" Oooookay. Anyway, I got the whole "I don't have money to pay you" speech that's so common in this sector, but I didn't care because I felt like I was going to be a part of something. That said, it wasn't exactly clear what I'd be a part of, exactly.
You ever heard of Morgan Wallen? He's a mega popular country artist who came from The Voice, and has a penchant for making bad decisions. Basically, he's young and dumb. He gets drunk and cancels concerts and sometimes yells racial slurs. It's that last thing that's important. Ya see, in February 2021, he got drunk and called his friend a "nigga" outside his house, and apparently a neighbor heard it. Once the whole thing went public, however, it was the shot heard 'round Nashville.
No one really knew how to handle the situation, because it's not like the country music industry has been that welcoming or accepting to Black folks, but it's "down home racism". Like, if your car breaks down, they'll pull over and help you out, but mainly so you'll be out of their town before the sun goes down. It's a very complicated system, with layers, rather than someone just running around yelling slurs in directly your face. When people think of "in your face racism", that's the kind of thing you encounter more in the North. So, with this in mind, it's not like the industry had a Diversity Emergency Toolkit to refer to for answers. And, boy did it show! The industry's handling of the matter was the worst White southern clusterfuck since the ATF raid at the Branch-Davidian compound in Waco.
Don't get me wrong – I believe they meant well, but they were so quick to act that they didn't really think in the long term. Basically, every major radio platform immediately removed Wallen's songs from rotation, his scheduled appearances at awards shows were canceled, and his label even "suspended" his recording contract. I had to put that in quotes because it had never been done before, so it's not like anyone even knew what that would entail. They basically dug a hole, threw Wallen in, but – knowing they couldn't leave him in there forever – had no plan as to how to eventually extract him.
Everyone had an opinion, and some voices were louder than others. The woman I mentioned was inspired to create her website after this event, and used the wave of controversy as a springboard for her brand, as if to say, "See? THIS is why Black people need to have a voice in the country music industry!" At the time, I had my thoughts, which were somewhat aligned with hers, but I knew it couldn't last forever. This preamble is already getting too long, so I'm not even really going to get into my thoughts on what Wallen did. I will say, though, his downfall was the best thing to ever happen to her site, as it evolved into a movement that sort of exploded. Gone were the days of simple artist profiles on a WordPress site, and those were replaced with live festivals and shows.
As time went on, I began to feel like the train had left me behind. This isn't a "sour grapes" jealousy thing. I know what that feels like, and this wasn't that. I knew I wasn't getting paid, but I still wanted to be a part of something – I wanted a sense of community. No, I'm not an artist, but I was basically an unpaid hired gun, working for someone who I was pretty convinced didn't even like me to begin with, but "Desperate times…" So, realizing this, I just kinda pulled back. Hell, that makes it sound gradual; I just STOPPED. And it was never addressed. I didn't mention it, and neither did she. She was busy with her festivals, and I went back to West Week Ever-ing.
Despite me jumping ship, we were still Twitter "friends". It's not like we ever agreed on anything in any online interaction, but she was on my feed and I (guess) I was on hers. Due to our mutual friend I felt, politically, I had to keep her there. And I knew that any mention of Wallen was her trigger. Even though she'd done eleventy interviews about him, she hit a point where she made a statement akin to "I will no longer be discussing him in interviews." That's like if Rockapella said, "Yeah, don't even think about mentioning Carmen Sandiego!" OK, boss…
So, what does all that have to do with this countdown? Well, a Wallen song was slated to make the list, pretty high up, but it's still something of a minefield. Ya see, the whole industry boycott/silencing act backfired, as country fans doubled down and continued to support Wallen, resulting in his album being the highest selling album of 2021 (*insert Nelson Muntz gif*). Since I never quit/wasn't fired from her site, I still felt some sort of attachment to it, and didn't need to start any mess by discussing him. That said, as huge as he had become by 2022, to omit him from discussion would be like discussing the NBA without being able to mention Lebron. It just didn't make sense. I really didn't know what I was scared of, as it's not like she was going to "cut me off". I mean, she hadn't done anything for me to begin with! It's just that, contrary to popular belief, I hate conflict, and didn't really know how to navigate the situation. Then, a few weeks ago, she made the decision very easy for me, by getting mad about something trivial and unfollowing me. "I is free!" Anyway, it was a learning experience, and it reinforced that I don't need to step on eggshells for someone else's comfort and approval. So, without further ado, here is the original, unaltered WBW40 for 2022!

40. Jack Harlow – "First Class"
I still don't really "get" Jack Harlow, but this caught my ear because of the "Glamorous" sample. I was like "That song's not old enough to be sampled!", only to realize Fergie released it SEVENTEEN YEARS AGO. I'm so old! I'm amazed that this was a hit, as I feel like, in the music industry of yore, this would have been a filler track on an album.
Anyway, this is a good time to talk about a trend I noticed this year: Songs are getting shorter. Even though oldies from back in the 60s clocked in around 3 minutes in length, the songs of my youth ran 3:30-4:00 minutes. Now, we've got a ton of hits that are coming in at just under 3 minutes. What's that all about? I'd say it was due to the ringtone market, but that's been dead for, like, a decade. And TikTok only lets you use up to 1 minute of an artist's song, if it's a mainstream hit, but that wouldn't allow for the whole song to be played. I guess everything is getting more expensive while the music industry loses more money, so they're cutting corners. Anyway, look out for shorter song runtimes in this year's countdown.

39. Nick Carter feat Jimmie Allen – "Easy"
Oof. This collaboration right here… OK, so people outside of the extreme boyband fandom don't realize it, but the members of the Backstreet Boys are constantly putting out solo material, just to see if something sticks. To date, each member (with the exception of Kevin Richardson) has released at least one solo album. Nick and AJ have been the most prolific with these releases, even though none of them have had what you might call a "hit". So, this was Nick's latest release, but 2022 was something of a rough year for him. Not only did his younger brother, Aaron, end up dying, but Nick was implicated in a crypto scam, as well as sued by a disabled woman alleging that he had sexually assaulted her on a tour bus in 2001. Her suit included 3 other Jane Does, and the allegations were taken seriously enough that ABC canceled their planned A Very Backstreet Holiday special, meant to promote the group's first Christmas album, A Very Backstreet Christmas. The scandal tanked the trajectory of this release, but also buried any solo work he had in the chamber, including this song here. Then, in early 2023, it would be revealed that Jimmie Allen, too, had sexual assault allegations against him. So, this song is just cursed, which is a shame because I really liked these guys together on this track.

38. Jennifer Hall – "Belonging Forever"
Who said that Instagram advertising doesn't work? I discovered this song in an IG ad and I loved its sound the minute I heard it. I know nothing about Jennifer Hall, and it doesn't really seem like she's had her big break yet. Still, it's such a beautiful, haunting song.

37. OTNES – "Spin"
Another IG ad discovery! It's got a real Lana Del Rey vibe to it, and I looped it for a whole day. I don't know much abut OTNES, but I will be seeking out more songs.

36. Taylor Swift – "Bejeweled"
Ms. Swift's first appearance on the countdown, and it won't be her last. I really dug her 2022 album Midnights, and it was hard not putting the majority of its songs on here. Still, some stood out to me more than others, and this was one of those.

35. Tove Lo – "How Long"
I know that Tove Lo has been around for quite some time, but most of that time I was knee deep in the country genre, so I'm not as familiar with her as I should be. Apparently, this song was part of the soundtrack for HBO's Euphoria (another show I've yet to watch), but I'm not entirely sure how I stumbled upon it. I don't think we talk enough about how there's a "Swedish Sound", and this is a great example of that. This song reminds me of the later output from Ace of Base, which is always a good thing in my book.

34. Tyler Hubbard – "5 Foot 9"
This one is tricky, as it's not exactly a great song. See, I was a big fan of Florida Georgia Line and, as the poster boys for "Bro Country", their impact on the genre was huge. Then, for whatever reason, they decided to go on hiatus in early 2022. Tyler went solo, and this was his debut single – which ended up going to #1 on the country charts. One day I'll have to write about how the country charts work, but let's just say that this doesn't mean as much as you might think. I mean, it's a serviceable song, but it's not very memorable. I guess it's meant to show his evolution as a person: FGL debuted with a song about cruisin' around town with their lift kit, while this is the output of a husband and father. And I don't love it. Sure, folks have to evolve, and I prefer when solo artists' sound is markedly different from that of their former groups, so I don't have to play "Is This Phil Collins or Genesis?" I just felt his debut should have been more dynamic.

33. SZA – "Kill Bill"
I don't know much about SZA, so I'm not familiar enough to recognize her stuff when I hear it. I just liked the sound here. The background is like something you'd hear at a creepy funhouse or Joker and Harley's hideout. It wasn't until some time later where I actually listened to the words. "I might kill my ex"?! Well, damn.

32. Sam Hunt – "Water Under The Bridge"
I simply love Sam Hunt and, with the exception of "Downtown's Dead", I don't think he's ever put out a bad song. Considering how long he's been out, I can't believe he's not a bigger star by now. I mean, he got looped by Cole Swindell, which makes absolutely no sense to me! This is a more traditional bar singalong country song than we'd typically get from him, but it works. Not the last time you'll see him on the countdown.

31. Wet Leg – "Chaise Longue"
I actually discovered this from GSTV – ya know, the gas station TV network that shows up onscreen while you're pumping gas? They had a Top 5 countdown, and this was #1 at the time. It's got a Luscious Jackson feel to it that I really dug.

30. Jimmie Allen – "Down Home"
I already covered the allegations against Jimmie, which is a real shame because I was really pulling for him to make a name for himself as a Black star in the genre (*insert Tyra Banks "We were all rooting for you" gif*). Sure, Darius Rucker has done a LOT of legwork repaving the way that was first carved by Charley Pride. The thing that always struck me about Darius, though, is that he really didn't have to change anything, stylistically. He's still just singing Hootie songs, but they're being played on country stations now. Jimmie, however, was trying to sound like today's country. When I first heard this, I thought it was someone like Lee Brice. I was actually shocked to learn this was the same guy who had given us "Best Shot" (which was really more of an R&B song) just 4 years prior.

29. Bella Poarch – "Build A Bitch"
This is the debut single from a social media influencer. That's all I really know about her, as I don't really "do video", when it comes to social media. Sure, I've gotten into TikTok, but I don't follow the influencers. I just learn their names in passing. I like this as a novelty song, kinda like GAYLE's "ABCDEFU" from 2021. I don't really expect big things, but everything is "content" these days, so cheers to her for thinking outside the box a bit.

28. David Guetta & Bebe Rexha – "I'm Good (Blue)"
Just like with "First Class", I was drawn to this song because of its sample: Eiffel 65's "Blue". Again, I thought, "Man, that song ain't old enough to be sampled", only to realize it came out in 1998. Yeah… Anyway, the original reminds me of freshman year at Cornell, as I'm pretty sure this was one of those songs I gleefully downloaded from Napster. So, the Guetta/Rexha "reimagining" gets love by association.

27. Armani White – "Billie Eilish"
How is there a hit song that's only one minute and thirty-nine seconds long?! This got in my head a lot during the year because my oldest would walk through the house singing it. I really need to monitor her YouTube use better…

26. Luke Combs – "The Kind of Love We Make"
I think it was my 2020 countdown where Luke Combs just kept popping up. Although I've sort of cooled on him of late, I still don't feel he's ever put out a bad single. Everything the man touches turns to gold, and this won't be the last time you see him on this list.

25. Thomas Rhett feat. Riley Green – "Half of Me"
My wife used to really love "T.R.", and he has evolved into something akin to the second coming of Brad Paisley. I love this song because it's basically a dad joke set to song: "Half of me wants a cold beer, yeah the other half does, too!"

24. Sam Hunt – "23"
Told ya he'd be back! I can't exactly describe what's special about this song. If I had to put my finger on something, I guess I'd say that it feels like Yacht Rock by way of Nashville. It's just such a nice breezy track.

23. Latto, Mariah Carey feat DJ Khaled – "Big Energy (Remix)" 
I'm just gonna declare it here: 2022 was The Year of The Sample. There were just so many good songs built on the backs of other good songs from the past. Now, I suppose I'm to credit Tom Tom Club's "Genius of Love" here, but this song was more of a tribute to Mariah Carey's 1995 hit "Fantasy". I think people forget just how important that song was for Mariah's career, as it actually crossed her over to R&B audiences. Then, when ODB popped up on its remix, she officially had street cred. She left the Adult Contemporary format behind, and never looked back. Mariah is back as a feature on this track, along with DJ Khaled, but their presence is actually more of a detriment than an enhancement. She just doesn't have "it" anymore, while Khaled is giving Great Value ODB. There used to be this practice of oldies artists re-recording their hits so they could license out the new recordings for the royalties – sort of like what Taylor Swift is doing these days. Those re-recordings always sounded inferior to the originals, and that's how Mariah feels here. This is basically "Fantasy (Mariah's Version)".

22. Walker Hayes – "AA"
Let's get this out of the way: This song doesn't hold a candle to Hayes's 2021 hit "Fancy Like". I mean, that was a hit single AND Applebee's commercial all wrapped up in one! The thing this song has in common with his last hit is that both share a tempo that lends itself to TikTok dances. It's a singalong drinking song – ironic, due to its subject matter – and almost feels like the spiritual cousin to "Friends In Low Places".

21. Morgan Evans – "Over For You"
Another Aussie country star, vying for Keith Urban's crown! Anyway, here's the tea, Sis: Evans was married to fellow country artist/flawed Carrie Underwood clone Kelsea Ballerini. Then, last August, Ballerini announced that they were divorcing. Well, it was clear that the whole thing caught Evans by surprise, as he didn't seem to understand where it all fell apart. And he put it into song. I usually choose the studio recording of songs, but I chose this live performance because it's actually the first time he ever played it for an audience – a hometown crowd, in fact – exactly a month after Ballerini's statement. I'm sure it's been mastered and whatnot, but it's one of the best live recordings I've heard in a while, and since the wound was fresh, I feel like this conveyed his emotions more than the studio recording.

20. Backstreet Boys – "Last Christmas"
The problem with releasing a Christmas album is that you've got to get it out by, say, October, and then it's really only gonna get about 2 months of airplay. This cover of Wham's holiday hit was released in September, but BSB are considered an Adult Contemporary act now, and those stations don't switch over to Christmas playlists until mid November now. So, I can say I heard it A LOT during that holiday season, but time will tell if it resurfaces this year. I'm biased, because I love BSB, and this was a capable update, but it's not really doing anything that special. When you get down to it, there are only about 15 Christmas songs, and then about 75 covers of each one. Has this earned its place in holiday rotation?  Sure. Is it going to supplant the original? Not a chance.

19. Luke Combs – "Going, Going, Gone"
It's my buddy Luke again! To be honest, you could swap this with "The Kind of Love We Make" and I'd be fine with it. I just took to this song slightly more, while "The Kind…" had a honky-tonk funk to it. Two different sounds, neither better than the other.

18. Morgan Wallen – "Wasted On You"
Well, here he is: the man of the hour himself. It's not his best single (I still think that's probably a tie between "Whiskey Glasses", solely for the clever wordplay, and his debut single "The Way I Talk"). Still, I love his rasp, and the emotion on display here is palpable. Honestly, it could probably be higher, but I'm still easing my toe back into the Wallen Waters these days, so here it stands.

17. The 1975 – "Oh Caroline"
When 2022 started, I didn't know anything about The 1975. When the year ended, I didn't know much about the band. Now, however, I feel like I know way too much, due to lead singer Matty Healy's brief, yet controversial, relationship with Taylor Swift earlier this year. Anyway, I love this song because it starts out sounding like an 80s Steve Winwood song. And then it continues to sound like a Steve Winwood song. This is never a bad thing! Do all of their songs sound like this? I should probably check that out…

16. Taylor Swift – "Snow On The Beach (feat More Lana Del Rey)"
OK, I kinda cheated here. You see, I loved the original album version of this song, but Taylor's in this weird place where she just keeps releasing tweaked versions of the songs from Midnights. This version features more of Lana's vocals, and was released about 2 months ago. I was REALLY into Enya/New Age in high school, and this track fits right in with that genre. If there was a new edition of Pure Moods, this would be the lead-in song. It's just hauntingly beautiful.

15. Cole Swindell – "She Had Me At Heads Carolina"
Here's another sample! I've got exactly one friend with whom I can discuss country music, and it also happens that he's well-versed in the professional wrestling industry. We've talked about how, earlier in his career, Swindell was a solid mid-carder. He wasn't really putting out #1-caliber songs, but they were still catchy, like 2014's "Hope You Get Lonely Tonight". He wasn't putting butts in seats, but he always put on a good show. Before becoming a solo artist, he actually sold merch at Luke Bryan concerts. It's the perfect fan-to-star story! Recently, however, it feels like Swindell won Money In The Bank, and now he's vying for a title shot. I never really expected to hear his name in some of the conversations I've heard it in, so good for him! Anyway, this song doesn't exist without Jo Dee Messina's 1996 hit "Heads Carolina, Tails California", as it serves as the spine of the entire track. Still, I really love what he's done with it.

14. Meghan Trainor – "Made You Look"
I'm still not sold on Trainor as an artist, as she always kind of comes off as something of a novelty act. I've never heard her sing a ballad – ya know, something to really showcase whether or not she's got pipes. Instead, we get these cutesy, talk-sing ditties. I'm leaning towards putting her in the Britney category, whereas she's not necessarily a great *singer*, but rather she's a package deal, as well as icon to the LGBTQ+ community. Trainor's "character" plays a big role in carrying her songs. Musically, her songs sound like Mark Ronson producing a Pipettes album. I know that sounds very "Dennis Miller" of me, but believe me when I say it's not a bad thing. It's just not the kind of gimmick that yields a long career. Anyway, this song was everywhere, so of course it's on the list!

13. Lizzo – "About Damn Time"
There was no 2022 without Lizzo. She was EVERYWHERE! Playing her flute, sparking discussions on body positivity, and more – there was no escaping her OR this song. It's got such a great beat, and it took social media by storm.

12. Elton John & Britney Spears – "Hold Me Closer"
The latest of Elton's pre-retirement collabs, this one doesn't hit like "Cold Heart", with Dua Lipa, did. I'm actually kinda tired of attempts to rehabilitate Britney's career, and this just feels like the latest in a long line of "comebacks" for her. That said, while the title suggests "Tiny Dancer", this track borrows heavily from Elton's 1992 hit, "The One", which is one of my favorite songs from his catalog. So that's enough for me to put it this high up on the countdown.

11. Beyoncé – "Cuff It"
Yeah, I'm probably gonna get called before The Council, but I'm not exactly a member of "The Hive". Honestly, I probably like Destiny's Child's discography more than most of what she's put out as a solo artist, but I'm just weird like that. Still, when this single dropped, I took notice. It simply couldn't be avoided, as it popped up at cookouts, family reunions, etc. At this point, Beyoncé is basically "Musical Spades": if there's a mass gathering of Black people, she's eventually gonna make an appearance. When you're woven that deeply into the tapestry of a people, then you can't really be denied, even by me.

10. Jax – "Victoria's Secret"
Like most, I discovered Jax on social media, and immediately took to this song. It's like Avril Lavigne with modern sensibilities. It could easily be written off as a novelty song, but I think it's more than that. This could, quite simply, be her "I Kissed A Girl", opening doors to bigger things in the future. I definitely hope that's the case.

9. Jelly Roll – "Son of a Sinner"
This is Jelly Roll's first single on the country format, and it's a good debut. It's written about his struggles with addiction while on the road, and it's a much more powerful track than it might initially seem. Apparently, he told Billboard that he wasn't even sober when he recorded the vocals for it, which is just kinda…yeah. Looking forward to hearing what he does next.

8. Rihanna – "Lift Me Up"
I don't care what the actual title is, to me this is simply "The Black Panther Song". From the Wakanda Forever soundtrack, this song marked Rihanna's first solo release in 6 years. Soundtrack songs can really go either way. Some come and go, while Will Smith's late 90s solo career was launched by soundtrack songs. This one falls somewhere in the middle. It will never be considered one of Rihanna's best songs, but it's still a good performance – sort of like when an artist gives a really good live performance of "The Star-Spangled Banner"; it's not part of their discography, but still adds to their reputation. The song itself never really goes anywhere and, without the context of Chadwick Boseman's untimely death, it ends up being slightly underwhelming.

7. Backstreet Boys – "Same Old Lang Syne"
This is my dark horse entry to the countdown. Remember how I said there are only about 15 Christmas songs? Well, I lied – there's a 16th. This 1980 Dan Fogelberg song has always captivated me with its autobiographical nature. I remember where I was the first time I ever heard it: I had pulled an all weeker (Yes, a whole week) during finals in college, and I my nose just randomly started bleeding. Taking that as a sign that it was time to leave the library and head home, I walked out into the snow, and this song came on my Aiwa CD player with AM/FM tuner. I hung on every word, like it was a soap opera. Now that it's a more common addition to holiday playlists, I have to stop to listen any time it comes on. Well, I feel like this BSB cover, with its lush harmonies, breathes new life into the song. I won't say they surpassed the original, but they came pretty damn close.

6. Harry Styles – "Late Night Talking"
I've got to admit that I'm late in giving Styles his proper credit. Ya see, as much as I love boybands, I never really liked One Direction. In their rivalry with The Wanted, I was totally Team "Glad You Came". So, when 1D broke up, and they all went solo, I didn't really have high hopes for any of them. Sure, Styles was The Cute One, but so was Nick Carter, and his solo career has yet to pan out. Yeah, Styles made a past countdown appearance with "Watermelon Sugar" but, at the time, I just considered it something of a fluke. It wasn't until his third (!) album that I finally began to take notice. This song is just sexy, almost like something we might have gotten from mid 90s George Michael. I loved, loved, loved it, and this won't be the last time you see Styles on this year's countdown.

5. Paramore – "This Is Why"
Remember how I mentioned GSTV? Yeah, this is another song I discovered while pumping gas. Again, there's that Luscious Jackson vibe, and I didn't even recognize it as Paramore at the time. When I got home, I looked it up and just kept it on a loop. It's so damn good. It takes me back to the 1996 Alternative scene (WHFS represent!).

4. Harry Styles – "As It Was"
See? That didn't take long, did it? I probably liked "Late Night Talking" more, but I don't think you could argue that this wasn't the bigger song. It's just infectious, and not like anything else on the radio right now (Yeah, I mention terrestrial radio a lot, but it's because I'm old fashioned and don't feel like subbing to SXM, Pandora, or Spotify. Fill me up with free music, iHeartMedia!). Based on exposure alone, there's no argument that it was in the Top 5 songs of 2022.

3. Taylor Swift – "Anti-Hero"
I didn't love this when it first came out, but it grew on me over time. It's really been interesting watching Taylor evolve from the days of "Tim McGraw". Just like with Beyoncé, I was probably a bigger fan of Country Taylor, but I can't deny that crossing over was the best thing for her career. Now, she's an international ICON. So, I get it. It's sort of hard being a Present-Day Taylor fan, though, as Swifties are always trying to read the tea leaves of her lyrics, and figure out which of her recent lovers each song is about. I just came for an enjoyable audio experience, and not decipher the damn Da Vinci Code! Still, even on the surface, this track is irresistibly catchy. Truly one of the best of the year!

2. Sam Smith feat. Kim Petras – "Unholy"
Yeah, some folks might come for my head, for putting this above Taylor, but this just stuck with me more. I'm old enough to remember when folks deliberated purchased albums of Gregorian chants, and the opening to this song just takes me back. That chorus! It's like being on a chain-gang in Hell. I know that sounds like it would be a bad thing, but it's an aural experience that's simply unmatched.

1. Nicky Youre,  dazy – "Sunroof"
Man, do I love this song! To me, this was the song of the summer for 2022. It was ALL OVER TikTok, and 2022 was also The Year of TikTok for me, so these things just kind of converged. I started out by talking about short songs, and this one only clocked in at two minutes and forty-one seconds. It's a bold strategic move, as it gets in, does what it needs to do, and gets right out. By the time you realize what happened, and that you want more, it's already over. The length is almost crucial to its success. There's even a remix out there, featuring Thomas Rhett, and instead of extending the song, it still manages to come in at roughly the same length. We may never hear from Nicky Youre again, but it doesn't matter because, for one brief moment in 2022, the world was his.
So, there ya have it: my top 40 favorite songs of 2022. How many of these were on your list? How many were new to you, but are now new favorites? Let me know in the comments below!