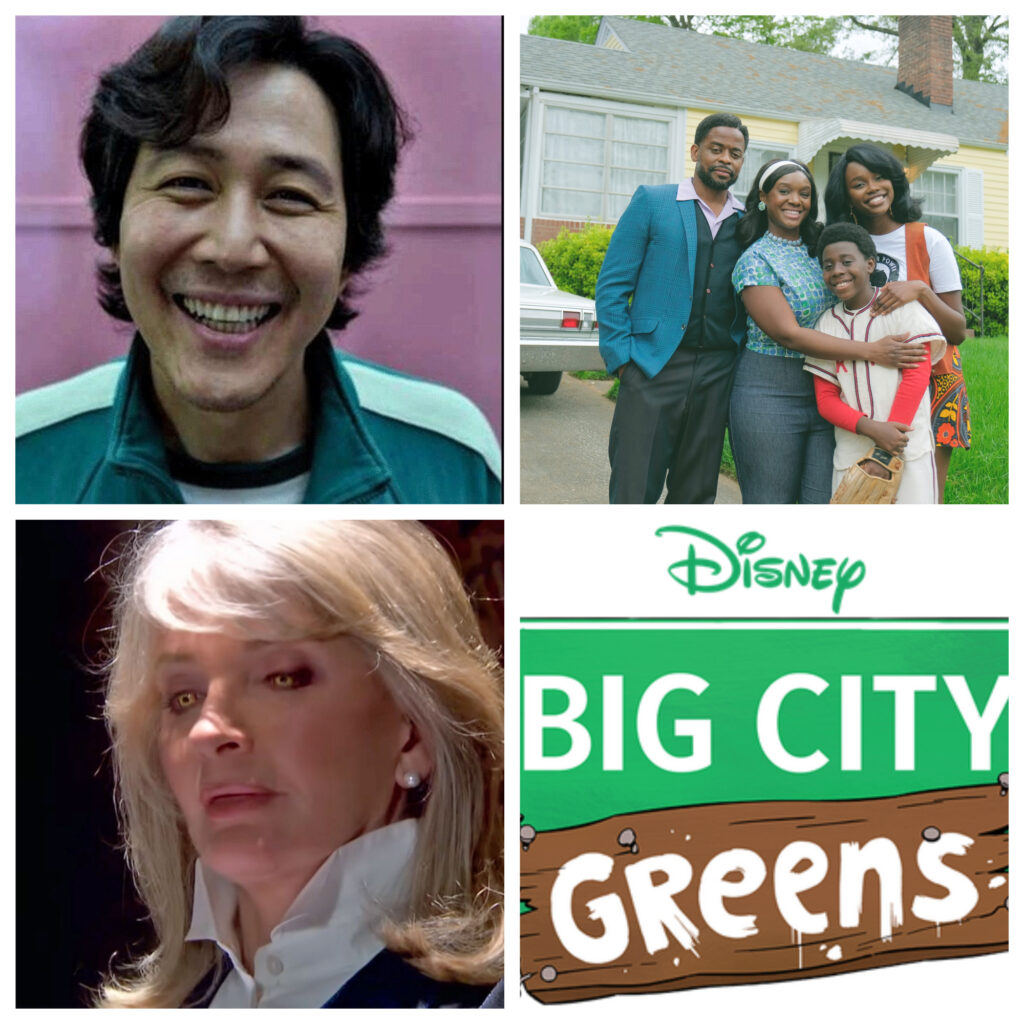 I always feel bad when I end up taking an unplanned hiatus from the site, but sometimes there's just no other choice. I could just slink back, like nothing happened, but that wouldn't be fair to my tens of readers. No, this time I was away for health reasons, as I tested positive for a breakthrough case of COVID-19. Yes, I've had the shot, which is why it basically felt like a mild cold, and nothing worse. Cough, congestion, fatigue, loss of taste and smell – the works. I was banished to the upstairs of the house for the required 10 days, with no real interaction with anyone other than folks on social media. I guess I could have still written these posts, but I really just didn't feel like it. Plus, nothing major happened in the world of pop culture while I was gone anyway, so I guess it was fate.
Some quick answers to the questions you probably have. No, I don't know how I got it, which is funny considering I'm a contact tracer at work. Yes, you can still get it even if you're vaccinated. No, I'm not gonna use this as an opportunity to preach about getting the shot. All I know is that I have enough comorbidities that it probably would have killed me without the vaccine, but you do you, playboy. No, I didn't think I was going to die, but I was afraid for others in my life who could have gotten it by being a close contact. Yes, it did suck that I ruined my wife's birthday and missed the social media meetup at Retro Con. Yes, the messaging is very confusing, and everyone is pretty much making this shit up as they go along.
So, what did I do during quarantine? I watched a LOT of TV. Caught up on TLC reality shows 90 Day Fiancé: The Other Way, as well as I Love A Mama's Boy. I fell in love with Australian children's cartoon Bluey. I bid farewell to Family Guy on Adult Swim. Yes, this week's post is a celebration of all of the TV that got me through the past few weeks.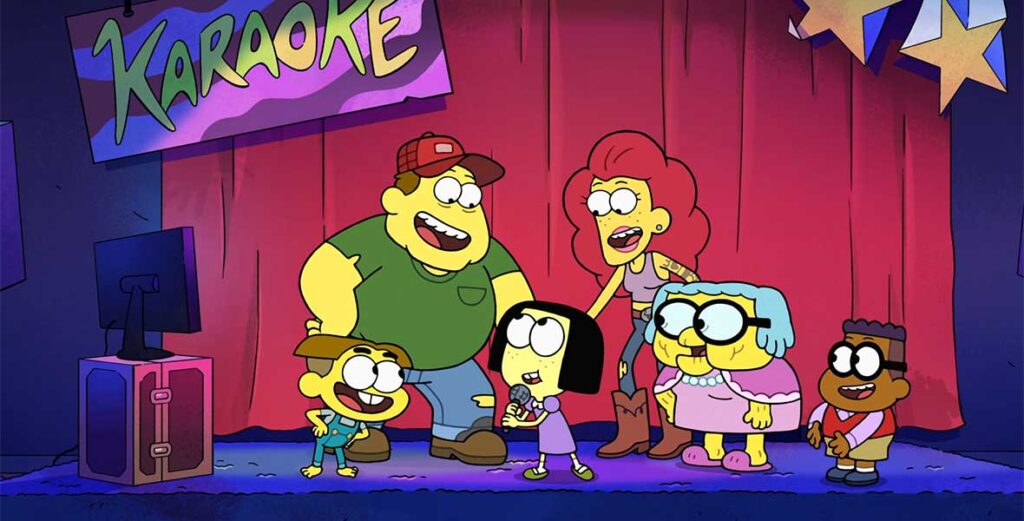 During the 18 months of lockdown, I could pretty much count on Cartoon Network to get me through the day, with its hours of nothing but Teen Titans Go!, The Amazing World of Gumball, and Craig of the Creek. I love all 3 shows, so I had no issue with that lineup, even while the haters rallied against Teen Titans Go! So, of course it was just my luck that the network scrapped that entire schedule the minute I got sick. Instead, they introduced Cartoonito, which is their preschool block of Caillou, Thomas and Friends, and more. It runs from the end of the Adult Swim block until about 2 PM, so I had to figure out a new way to spend my days. Enter Disney Channel.
You see, over the past year and a half, I had already adopted Jessie and Raven's Home as guilty pleasures. They reminded me of the old TNBC shows of yore, and they were good mindless television. Plus, it helped that they were ALWAYS on. Seriously, Disney Channel is equal parts Jessie, Miraculous Ladybug and Cat Noir, and Big City Greens. I don't think they air anything else these days. Big City Greens would become my new love. If you've never seen it, it's about Bill, Tilly, and Cricket Green, who are farm folks who come to live with the grandma in Big City. In some ways, it's basically The Beverly Hillbillies: The Animated Series, without dunking on Southerners so much. It pretty much focuses on how the Green family tries to find their way in their new surroundings, making the best of a bad situation (they lost their farm). Bill is the caring dad, Tilly is the precocious and imaginative daughter, and Cricket is the wacky, free-spirited son who's always getting into crazy situations. Meanwhile, they live with Granny, who's a sword-toting spitfire with a wooden leg. Rounding out the show are Cricket's best friend, Remy Remington, almost "adopted daughter" Gloria, and Chip, the villain who's constantly trying to push the Greens out of Big City. The main theme of the show is that, at the end of the day, family triumphs over everything. For example, the kids' mom is an ex-con who's trying to get her life back on track. Regardless of whatever happened between them, Bill makes sure to let her know that she'll always be a part of their family. It's a cute, sweet show, but it's also pretty funny. I've watched a TON of episodes and I still can't get enough of it.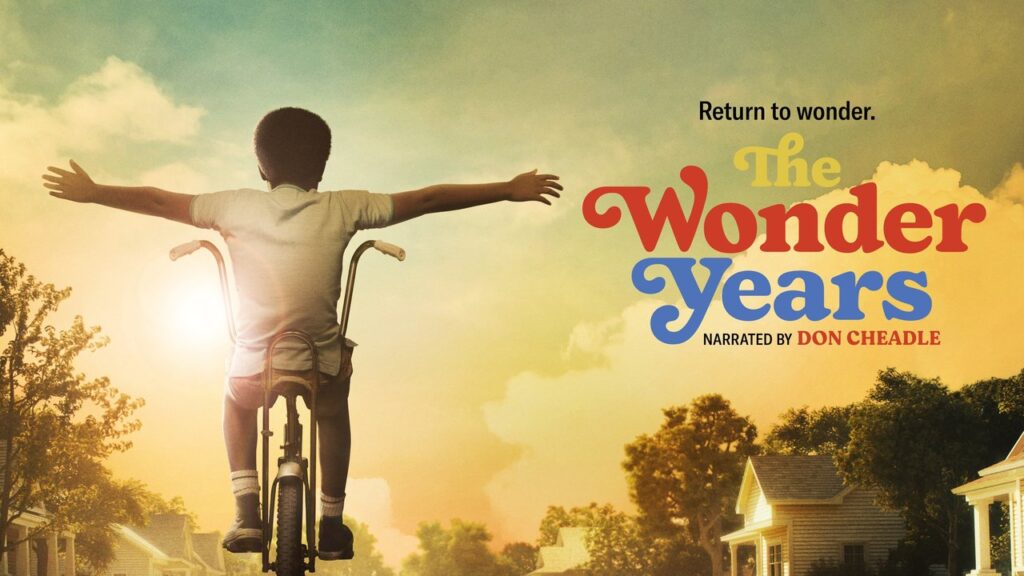 Another welcome surprise during quarantine was the "reimagining" (can you hear my eyes rolling?) of The Wonder Years. I have a strange relationship with the franchise, as I remember watching every episode of the original like it was Appointment Television, but I never would have called it one of my favorite shows. It was just what we did back then. We only had 4 networks! I also didn't really love the Summer of Love/Oh Shit We're In Vietnam! backdrop of the original series. That's just not my era. So, I wasn't exactly excited when I heard that this reboot was in development – especially when it was reported they were setting it in 1968 Alabama. I figured it was just going to be more Black Experience Struggle Porn, and I wasn't in the mood for any of that. Still, I was trapped in bed, and the new TV season kinda snuck up on me, so I ended up watching the pilot. And I was pleasantly surprised.
This go 'round, Don Cheadle is in the Daniel Stern Narrator role, while our new "Kevin Arnold" is Dean Williams, a 12 year old Black kid in Montgomery, Alabama. Interestingly enough, we see a Black family that we typically don't see in entertainment set in that era. They're middle class, with the father as a full-time professor/part-time musician, and the mom also seems to work in education. They didn't go the "factory worker father/nurse mother" route. Also, Dean attends a recently integrated school, but this fact is played out subtly, like you'll see Dean and his friends drink from a water fountain, and notice some White kids in the background who are somewhat disgusted by this, and go off to find a new fountain. While the pilot does end with the assassination of Martin Luther King Jr, the show isn't all "We Shall Overcome". In a lot of ways, the Williams family already overcame a lot of the issues facing other "skinfolk". It tells a story, but doesn't hit you over the head with it. This week's episode was especially powerful, for its frank and honest discussion of sex ed that you don't see many TV families tackling, Black or White. Family Guy is pretty much the only network show I watch weekly, but I guess The Wonder Years is joining that exclusive club.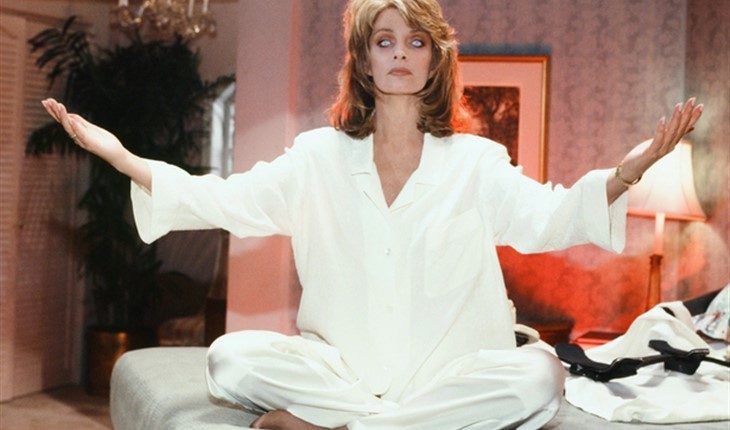 I also found my way back to the world of daily soap operas, which is something I haven't really watched in about 20 years. During my life, I've pretty much split my time between Salem (Days of Our Lives) and Genoa City (The Young and the Restless). One of the most famous Days storylines is from the 90s, when Dr. Marlena Evans was possessed by The Devil. Well, since soap operas are just live action comic books (the illusion of change without actual change), it's no surprise that they're going back to that well. Yes, after 25 years, Ol' Scratch is back for Marlena. I think the show's budget is considerably smaller now than it was then, so it'll be interesting to see how they pull this off on a shoestring budget. I mean, in the original story, Marlena transformed into a panther!
Possessed Marlena is essentially "The Dark Phoenix Saga" of the Days of Our Lives franchise, and it's both sad and intriguing that they'd try to recapture lighting in a bottle like that. I forgot how glacially paced soaps are. I was bored after a week of Devil Marlena planning to kill off some old guy in a hospital bed. I can tune back in around Christmas, and she'll still probably be possessed.
Things You Might Have Missed This Week
Kathryn Hahn's Agatha Harkness character from WandaVision is getting her own spinoff on Disney+. I consider her a "less is more" character, but try telling that to the company that gave us 3 Cars, 4 Toy Stories, and, like, 4 straight to video Aladdin movies.
Bobby Flay is leaving Food Network, after they couldn't come to terms on how much the pompous (alleged) womanizer should make a year.
Everything old is new again, as ABC has ordered a pilot for an L.A. Law revival, with Blair Underwood set to return to the franchise.
Britney Spears is finally out of her conservatorship, but the #FreeBritney sales and parade were pretty lackluster.
And Just Like That, or as I like to call it Menopause and the City, will premiere on HBO Max in December, according to an announcement this week.
Natalie Morales threw away a perfectly good two-decade journalism career at NBC to join The Talk. She chose the Pepsi of catty lady talk shows?!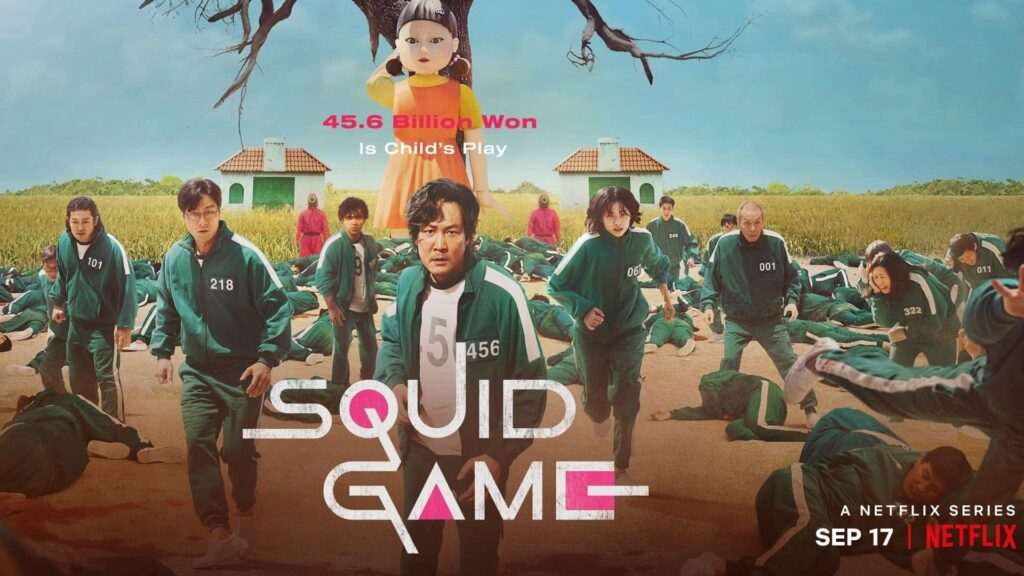 Oh, man! It's rare that I get to be a part of something as it happens instead of chasing some new fad after it's already peaked, but that's exactly what happened this week, when I discovered Squid Game on Netflix. I actually didn't spend as much time online as I typically do, so I didn't see any real conversation about the show. A couple of friends recommended it, and I basically went in blind. It's when I returned to social media that I saw the memes and realized just how big of a deal the show was.
If you're not familiar, Squid Game is a 9-part Korean drama about 456 men and women, suffering crippling, insurmountable debt, who are invited to participate in a series of children's games (like Red Light, Green Light) for the chance to win a lifechanging amount of money. You become familiar with a handful of the contestants and, sadly, attached to many of them. It's suspenseful, haunting, and emotionally heavy. There are twists and turns, and it keeps you on the edge of your seat. There's also a message about class inequality, and how the world bets against certain types of people. I'm very rarely a "YOU HAVE TO WATCH THIS SHOW!" person, but that's where I am with Squid Game. It's some damn fine television, and I haven't felt that way since watching Breaking Bad.
I started the show Sunday night, and had to stop myself after 4 episodes, just so I'd have something to look forward to. I ended up finishing on Monday night, and then felt empty because the experience was over. I almost want to watch it again, but I've got so much stuff I need to watch that ain't nobody got time for that!
I'm left with so many questions (like "Why do the prizes in the claw machine look like that?"), but unlike most cases, I don't really want answers. I don't want to pick at it, as I truly enjoyed it for what it was. If they want to make a sequel to address some dangling threads, so be it. But I'd also be just fine if it's one and done. Apparently creator Hwang Dong-hyuk shopped the project around for 10 years before finding someone to make the show. People are lauding it as this story of perseverance, but it's also an example of how people don't know a good thing when it's right in front of them. Sure, there have been comparisons to Battle Royale and The Hunger Games, but I've also never watched any of those movies, so I can't speak on that. To me, it was nearly perfect (I didn't love episode 7, as the tired "Ugly American" trope sort of took me out of things). Do yourself a favor and give Squid Game a chance, as I can't say enough good things about it. This is why Squid Game had the West Week Ever.