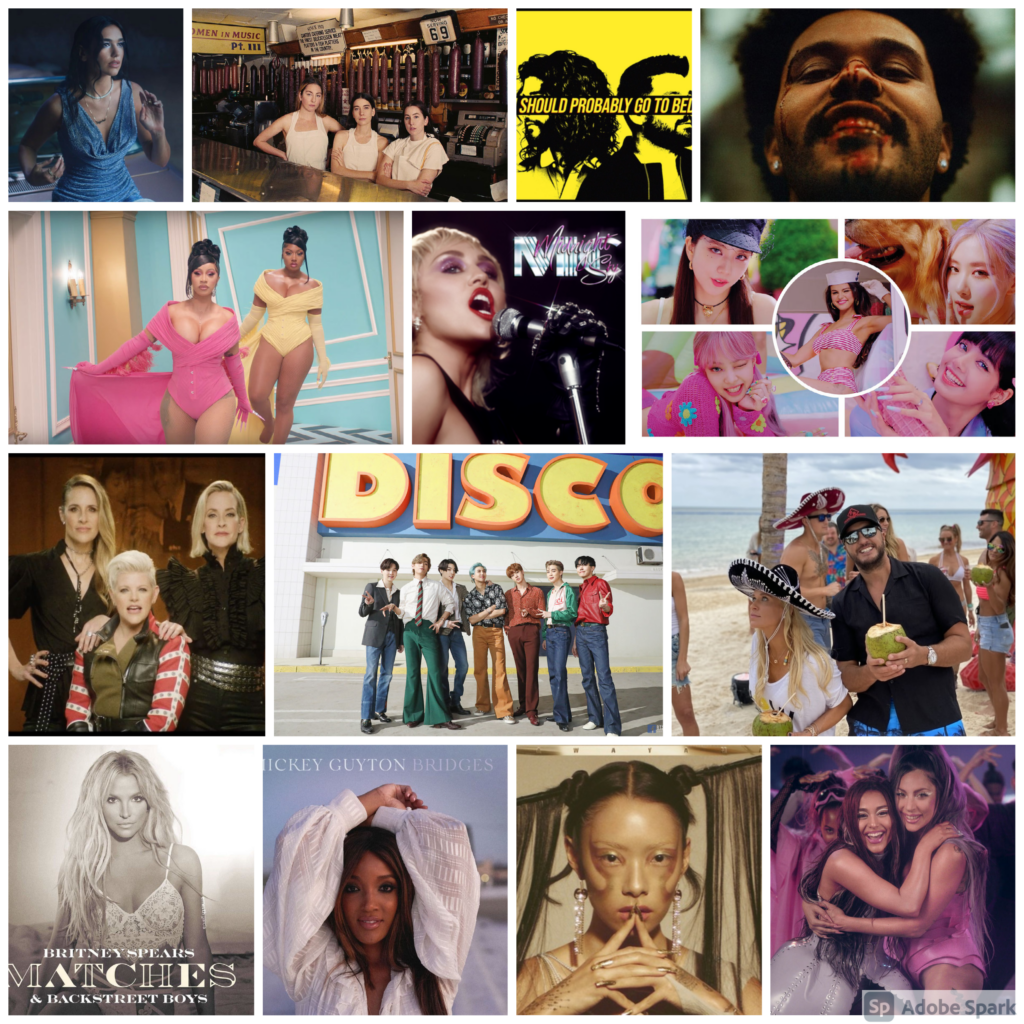 Welcome to the WBW40! To say that 2020 was a "challenging year" would be an understatement. That said, there was a silver lining in the form of music. A lot of great songs came out this year, and I just wanted to take a look back at the 40 that I enjoyed most. Some of these songs weren't necessarily released in 2020, but they made the greatest impact on pop culture during that year. If you're new here, a guiding principle of this post is "Genre Is A Social Construct". A lot of these blur the lines of classification, and are sometimes ghettoized because they are played predominantly on one radio format over another. All I ask is that you try to go in with an open mind, and maybe you'll find your new favorite song!

40. Britney Spears feat. Backstreet Boys – Matches
There's something about this slot on the countdown that tends to skew "Retro". Last year's #40 was Backstreet Boy AJ McLean with "Boy and A Man", and he's back with the rest of his squad this year, featured on a Britney track. This is the closest thing to a participation trophy as you'll find on this year's countdown. The song is here due to my unabashed love of late 90s bubblegum pop, but there's nothing really great here, and the collaboration is about 20 years too late. Considering this is the first collaboration between the former powerhouse franchises, I've gotta say that I expected more.

39. Parmalee & Blanco Brown – Just The Way
This is Blanco's second time on the year end countdown, as his song/dance "The Git Up" was #38 last year. I like this song because it's something of a modern-day reinterpretation of *NSYNC's "(God Must Have Spent) A Little More Time On You". with a dash of One Direction's "What Makes You Beautiful". It's got the same basic message of "What you perceive as imperfections are the things that make you who you are". Plus, Blanco serves as something of a South of the Mason-Dixon Line T-Pain here, which works when it totally shouldn't.

38. Parker McCollum – Pretty Heart
This song appealed to me because it sounds like something we would've gotten in the late 90s from The Wallflowers.

37. Niko Moon – Good Time
This is just the most laid back song, and Moon comes off sounding like a country Jack Johnson.

36. Trey Lewis – Dicked Down In Dallas
This song…wow. I had already come up with the list for the countdown when my good friend Marcus Dowling introduced me to this song. It's crazy because it's the last thing you'd expect from country, even though it follows the "I lost my woman" trope common for the genre. No, the problem is that Lewis went balls out on a song that can't get mainstream radio airplay, nor do I think CMT is rushing to play the video. I mean, just listen to that chorus! The song basically JUST came out, but once we get clear of COVID and folks turn their attention to it, I think you'll be hearing a lot about this track.

35. Rascal Flatts – How They Remember You
The farewell song from one of the biggest acts of the past 20 years. Their farewell tour was cancelled, so this is pretty much how they'll go out: with a song that grapples with how one leaves a legacy behind. I gravitate toward meta stuff like that. For a lot of folks, Rascal Flatts will probably be remembered for their cover of "Life Is A Highway" from Cars, which is a shame because there was so much more to them than that, but that was the song that crossed over the most for them.

34. Rina Sawayama – XS
I kinda cheated here, as I had never heard of the song or the artist until I saw someone else's year end list, and I immediately fell in love. It's got that early 2000s pop sound that I love. I'll definitely be checking out more from her.

33. Thomas Rhett – What's Your Country Song?
The basic gist of this song is that there's a country song for everyone out there, and you just have to find it. The driving force behind it, though, is the fact that Rhett drops little references to classic songs here. I like corny stuff like that. It's not a number 1 song, and it's sort of odd that a star at TR's level would waste a single slot on a song that everyone on his team had to know was a #2 song AT BEST. It's a cute little ditty, but this is why it's so low on the countdown.

32. Lady A – Champagne Night
What a year they've had, huh? Things haven't been great for ol' Lady A. First they decide it's time to change their name, as the old one (Lady Antebellum) conjured up images of the slavery South. So, they chop their name down to Lady A – without doing their research. Turns out there's already a blues singer named Lady A. So, both sides sue each other, which is still ongoing. Seems like that drama affected the music, as they dropped from #2 last year to #32 . The song is serviceable, but I think I like the chorus here most of all.

31. Darius Rucker – Beers and Sunshine
I think I'm always going to be a Rucker fan, mainly because I'm impressed that he figured out a way to lengthen his career by changing almost nothing about his act. I maintain that Hootie Rucker and Solo Rucker are the same dude, but he just started sending his songs to different radio stations. The sound, however, is the same. This isn't one of his better tracks, but it's got a catchy little beat. Would've been a nice summer song, had we all actually experienced a typical summer.

30. Chris Stapleton – Starting Over
That voice! This is a man who's seen some stuff, and felt some things. While I don't love this as much as I did his "Broken Halos", it's still a great song. I'm not alone in thinking that, as it made Barack Obama's end of year playlist, as well.

29. Conan Gray – Heather
This year there were two songs that stood out to me as telling a story of a love triangle. First, there was Taylor Swift, with "betty", which wasn't initially clear as to what it was about. Was it a lesbian anthem? Was Taylor the "boy" there? I had to look it up to find out what it was about. Well, this is the other song, where Conan is in a love triangle where the person he loves is in love with Heather, causing him to develop a somewhat irrational hatred of Heather for getting in his way. Even without all the backstory, though, I think you can agree that it's a beautiful song.

28. Matt Stell – Everywhere But On
This is Stell's second time on the countdown, as his debut, "Prayed For You", came in at #24 last year. I honestly like this song more, but that just goes to show how great the songs are on this year's chart.

27. Thomas Rhett featuring Jon Pardi – Beer Can't Fix
"Ain't nothin' that a beer can't fix." This song came out the second week of 2020, and the year replied "Oh, really?" What would've just been a run-of-the-mill country drinking song took on new meaning in the quarantined existence of 2020. This is TR's second appearance on this year's countdown, and I doubt he realized just how necessary this song would become in the months ahead.

26. Sam Smith – Diamonds
I love Sam Smith, and this song is a good example as to why. It's the kind of thing you hear in a department store and instantly have to Shazam so you can download it later.

25. Luke Bryan – One Margarita
Poor Luke Bryan! He had what was probably meant to be THE Spring Break (and possibly Summer) anthem about relaxing at the beach. The problem? He released it March 13th – the day the world stopped. It's a fun bop, but it was marred by the fact that you couldn't really relate to the song unless you were blatantly breaking COVID travel protocols. Oh, what might have been…

24. Lady Gaga & Ariana Grande – Rain On Me
This should have had more of an impact than it did. Chromatica was supposed to be Gaga's return to the Weird that built her career. She'd spent the past few years acting and singing with Tony Bennett, and this was supposed to be a return to her "roots", so to speak. Well, it came out, and then sank like a rock. I still haven't listened to the whole thing, but this song was inescapable, as it was used in ad campaigns all over television this year. It's no "Bad Romance" but, really, what is?

23. Luke Combs featuring Eric Church – Does To Me
Why isn't Eric Church a bigger deal? Does he not play by the rules? I get the feeling he might be difficult. Anyway, it's odd that a relative newcomer like Combs has a feature from Church rather than the other way around. To be honest, Church puts in a serviceable verse, but it doesn't make or break the track. It almost feels like a waste of his time. Still, I love the song, and it's got a catchy hook.

22. Dua Lipa – Break My Heart
She's an artist I'd heard by name all throughout the year, but it was much later when I could actually name one of her songs. This is such a great song, as it reminds me of a UK sound that doesn't typically float over here. I'm glad to see it caught on and that she's experiencing the success that she is.

21. Mickey Guyton – Black Like Me
You may not know this, but there is a Black woman fighting her way through the White world of country music. She gets almost no airplay, but she's still nominated for awards, so the folks that matter have noticed her, even if the general public has not. This is a great track where she tries to convey to her audience what it's like to be Black like her. I'm not really surprised this isn't getting a ton of spins, but could you imagine what would happen if it did? It might feel more genuine than Jimmie Allen thanking Charley Pride every time someone hands him a mic…

20. Cardi B featuring Megan Thee Stallion – WAP
OK, we're into the top 20 now, which is where the titans come to spar. I'll admit that this isn't necessarily a "Will song", but it was hard to ignore, especially on social media. I've seen way too many videos of moms rapping to it, moms reacting to their daughters rapping to it, etc. You couldn't really escape this song this year, and it sparked a lot of dialogue as to whether folks were comfortable with women being so up front about their sexuality. I'm sure there's some college course discussing it next semester

19. Eric Church – Stick That In Your Country Song
Oh boy! Eric Church is back, and now I can understand why he's not a bigger name. He does NOT play by the rules. This song is a full-on pro-BLM, your country isn't as great as you think it is, ANTHEM. He's basically taking the country music industry to task for ignoring what's going on in America, and I am HERE FOR IT. You've got to blast this song to get the full effect. Crank that thang up to 11!

18. Keith Urban featuring P!nk – One Too Many
P!nk is a freaking chameleon. She started out with her whole party girl R&B routine, then she morphed into "What If Gwen Stefani Actually Grew Up?" In recent years, however, she's dipped her toe into the country world. Her first collaboration was with Kenny Chesney on 2016's "Setting The World On Fire", which predates the WBW40 but certainly would've been on there. This track actually had to grow on me, but I think the chorus is what really does it for me, with the backing choir. This is a great song with a lot of crossover appeal.

17. Shawn Mendes – Wonder
This is such a great power ballad, which was inescapable if you'd set foot in a Target this year. I don't know a ton about Shawn Mendes, as I tend to confuse him with Charlie Puth sometimes, but I know he's dating Camilla Cabello. This is just a top notch soundscape, which has me wanting to check out more of his stuff.

16. Dua Lipa – Levitating
Is that disco I hear? Is Dua Lipa helping to usher in a new wave of disco? Just close your eyes, and you'll be teleported back. This song is "The Sex". Do kids still say that? Did they ever say that? Let's get that going!

15. The Chicks – Gaslighter
I love how, all these years later, they're STILL not ready to "make nice". This was the year that country radio seemed to finally forgive The Dixie Chicks – a mere 17 years after they were blacklisted for their views on then-President George W. Bush. This song was never really in heavy rotation, as it peaked at #36 on the US Country Airplay chart. When I put these posts together, I tend to opt for the lyric video as opposed to the official video, as I don't want the visuals to take away from the song. In this case, however, I love how the song and visuals are woven together to get across the warning against propaganda.

14. Brad Paisley – No I In Beer
Well, first of all, Paisley clearly doesn't know German. I shouldn't like this song. It's corny, It's a little too "retro country". All that said, I LOVE it. It was one of the first songs put out after the lockdowns, in the spirit of "We're all in this together". He crafted a drunken singalong for the Zoom generation, and it doesn't get more 2020 than that.

13. HAIM – The Steps
I LOVE HAIM. They didn't make it onto last year's countdown, but they made it the year prior. Seriously, the only time they've ever disappointed me was on their collab with Taylor Swift, "no body, no crime". "The Steps", however, is reminiscent of Sheryl Crow at her All I Wanna Do-est, which is my favorite Sheryl Crow.

12. Morgan Wallen – More Than My Hometown
This is SUCH a country song. Small town couple has the whole town rooting for them to make it, while her big city dreams are in contrast to his love of small town living. Ultimately he chooses to stay because, well, he can't love her more than his hometown. Wallen became a household name this year when his Alabama maskless makeout sesh got him booted as the SNL musical guest, for violating COVID protocols. He would be invited back on later, at which point he would NOT perform this song – what I considered a misstep, since this was his biggest song of the year.

11. The Weeknd – In Your Eyes
I should just cut and paste what I end up writing about The Weeknd's songs every year: WHY DON'T I LISTEN TO MORE STUFF FROM THE WEEKND?! Seriously, I am absolutely in love with his sound, with every hit sounding like What If Michael Jackson Had Leaned More Into Synthwave? This isn't the last time we'll see him on this year's chart.

10. Miley Cyrus – Midnight Sky
The 80s are BACK, baby! Seriously, between Miley, Dua Lipa, and The Weeknd, I have to constantly make sure I wasn't sucked down a warp zone back to 1986 or something. I was saying on Twitter the other night that it's a shame that Miley has so much baggage because I don't think we give her enough credit for her talent. Just the sound of her name conjures up memories of "The Climb" and "Party In The U.S.A.", when it should make you think of her cover of "Edge of Seventeen" or THIS song right here. This song is so damn good. I can't wait to hear this entire album.

09. Blake Shelton & Gwen Stefani – Nobody But You
This is the kind of collaboration that I feel should be avoided. Sure, they're a high profile couple, and they're both judges on The Voice, but I feel like recording a song together is the music industry equivalent of tattooing your spouse's name on you. Kiss of death. And these two gumps went and released TWO duets this year! Still, this is by far the better of the two, and it grew on me pretty quickly.

08. Jake Owen – Homemade
I feel like Jake Owen came almost out of nowhere. I mean, he's been on the countdown in the past, with "Down To The Honkytonk", but before that he really wasn't a "name". With this song, he just kinda knocked it out of the park. Like Morgan Wallen, it's another song about loving your small town existence. It's funny I love these songs so much, seeing as how I can't really relate. I guess it's that part of me that wants to live on a farm, where my nearest neighbor is "down the road a few miles, past the old Coke sign".

07. Blackpink featuring Selena Gomez
I have to admit I missed the entire K-Pop boat. I knew it was happening, but I didn't know where to enter, who were the hot groups, etc. The girls of the world were screaming for BTS, meanwhile I was introduced to Monsta X on an episode of We Bare Bears, and I thought I was doing something. This song, however, is AMAZING. This won't be the last K-Pop entry on the chart, either.

06. Sam Hunt – Hard To Forget
I was scared we'd heard the last from Sam Hunt. He had that Alanis Morissette career trajectory, where his debut album, Montevallo, was huge, but his follow up stalled out of the gate. He was the first male country solo artist to have 4 songs from his debut album go to #1. Then he released "Downtown's Dead", which did nothing for anyone, peaking at #96 on the Hot 100 chart. He seems to have gone back to his roots with the wordplay, which makes him something like a southern Jason Mraz, and he hit pay dirt with this song.

05. Gabby Barrett – I Hope
This song is SO good. It's hard to believe she's only 20, as this sounds like it's coming from someone with some miles on them. She's one of the rare success stories from American Idol 2.0, as she came in 3rd place in season 17 of the show. There's a crossover remix that was sent to pop stations, making it a duet between Barrett and Charlie Puth, but I feel the solo version is the superior edition. I can't really explain it but it almost sounds like a spiritual cousin of Alannah Myles's 1989 hit "Black Velvet".

04. Brett Eldredge – Gabrielle
I wrote about this song before the earth stood still, but it has stayed with me the whole year. To me, it's the best song that Bruce Hornsby never wrote. You might only know Hornsby and The Range from "The Way It Is", but between that and "Mandolin Rain", I'm definitely hearing some Hornsby here. And ain't nothing wrong with that!

03. BTS – Dynamite
I told you there'd be more K-Pop! How many of them are there? I feel like I'm watching the Boyz12 episode of American Dad. At least 2 of them are girls, right? They're breaking all the boyband "rules"! But I don't care because this song is so damn catchy. I'd heard it in commercials before I finally sought out the source, and I was not disappointed. This is the kind of fun pop that the Britney/BSB collab SHOULD have been, but wasn't. I couldn't ask for anything more in a pop song. This song delivered.

02. The Weeknd – Blinding Lights
This is a first, as we have a holdover from last year's countdown, and it has jumped from #22 to #2. In case you're just skimming the list, let me remind you that I LOVE THE WEEKND. When they were trying to say he was snubbed by The Grammys, I didn't really think much of it at the time. I'm here to say, however, that he was totally snubbed by The Grammys. This song was inescapable due to Tik Tok challenges. During the earlier days of lockdown, families were going viral to dances they'd choreographed to the song. All that aside, it's just such a great song. The synthwave makes me want to just go speeding down a dark highway.

01. Dan + Shay – I Should Probably Go To Bed
Another amazing song that didn't get the airplay it deserved. iHeartMedia does this thing, where they debut a song and play it at the top of every hour for the whole day. They gave that treatment to this song, and then I basically never heard it again. I don't know if program directors hated it, or if there was some other conspiracy against the band. Maybe they flew too close to the sun with their Justin Bieber collaboration last year. I don't know what it was, but radio did not love this song, which just made me love it more. I'd find it in the weirdest places, like how they bought a YouTube ad which was the entire music video. I wish I could take credit for this assessment but I think it was Billboard that said it sounded like something off the Beach Boys' Pet Sounds album, and that's a perfect description for it. It's got that Wall of Sound all over it, and it's just such a beautiful, enveloping song. I'm about 17 years removed from a cappella, but I immediately thought "This would make an incredible arrangement." I know this is the first time a lot of you are experiencing it, so I hope you can understand where I'm coming from, as this was, hands down, my favorite song of the year.
So, there ya have it: my top 40 favorite songs of 2020. How many of these were on your list? How many were new to you, but you kinda dug? Let me know in the comments below!