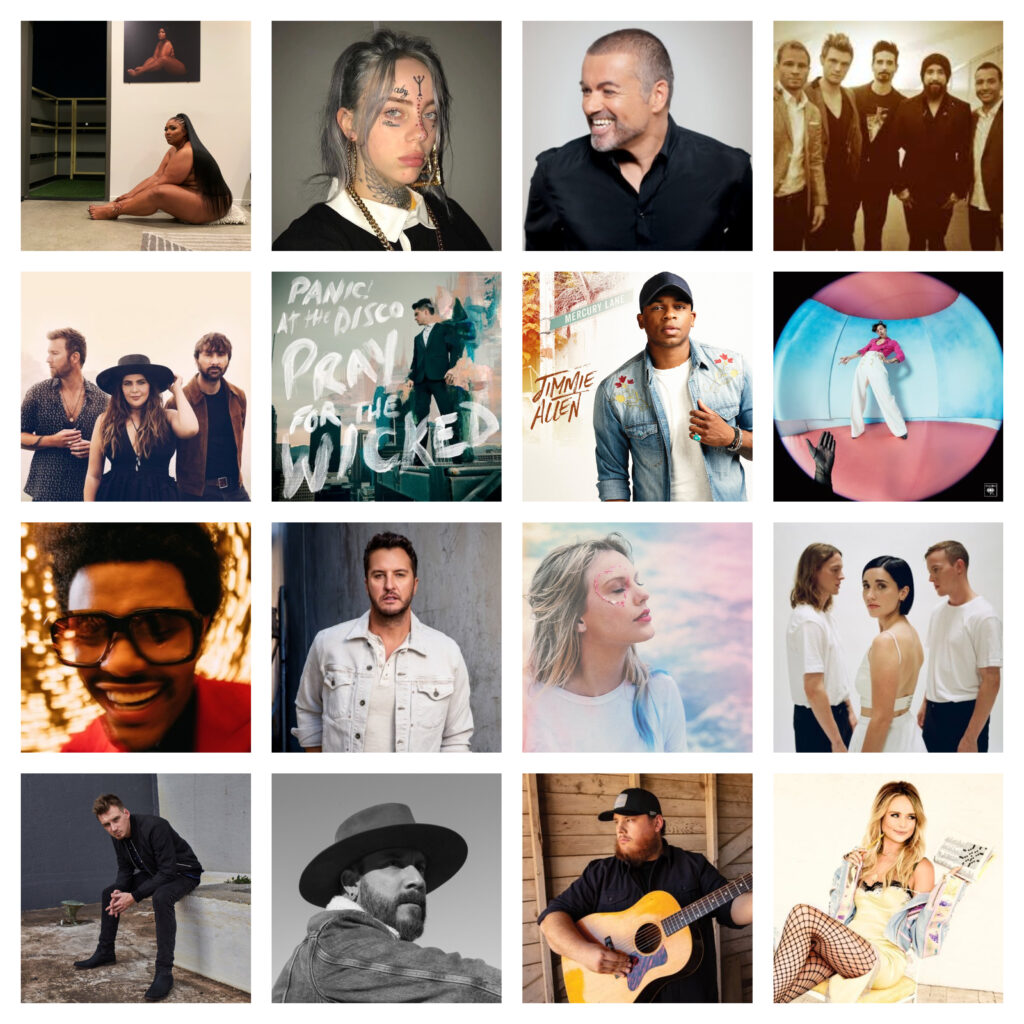 With another year behind us, that means it's time to look back on some of the music that made an impression over those 365 days. If you remember the past WBW40 posts, then you pretty much know what you're in for. If you're new, I should preface this by saying I have the musical taste of a 15 year old White girl from Norfolk, Virginia. I hate genre, so a lot of these would blur the lines of certain classifications. Still, it tends to skew to what's typically played on country stations, with some pop sprinkled in. In fact, there's more pop this year than in recent years, so that should make a few of you happy. I'm also proud to say that we had such a full deck that nobody made the countdown twice this year. So, without further ado, let's jump right in, shall we?

40. AJ McLean – Boy and A Man
Yes, it's THAT AJ McLean, of Backstreet Boys fame. He's taken a few stabs at solo work in the past, but nothing has really stuck. Then, in a weird roundabout way, he decided to record some country music, as he felt that the genre was more aligned with the stories he wanted to tell at this stage of his life. Still, while he debuted this song on country radio, it'd be right at home on your adult contemporary station that airs Delilah.

39. George Strait – Every Little Honky Tonk Bar
I just like this little ditty. I'm not even really a George Strait fan. I know he's the "Elder Statesman of Country Music", but he's never really done it for me. In fact, I think I drunkenly walked out of his concert a few years ago. Don't ask me how I got there… Anyway, it's just a fun song about dive bars. Garth also released a song about the same thing this year, but this one is far superior to his!

38. Blanco Brown – The Git Up
You're already familiar with this one, as I introduced it to my readership earlier this year, swearing it was gonna be THE family reunion line dance of the summer. Now, I can't confirm if that was true, as I didn't have a family reunion this year, but I'd like to think my prediction came true, somewhere out there.

37. Jon Pardi – Heartache Medication
I buried a lot of the REAL country at the bottom of the list, but since you're reading it as a countdown, I'm probably alienating you at this point. Oh well. I like Jon Pardi because he knows what works for him. He's either singing about hearts or boots. His big single was "Dirt on My Boots", then he followed that up with "Heartache on the Dance Floor", followed by "Head Over Boots", and then he gives us "Heartache Medication". Somebody needs to let him know there are other words in the dictionary. Anyway, it's got a catchy chorus.

36. Justin Moore – The Ones Who Didn't Make It Back Home
So, I actually kinda hate this song, but I thought it would be disingenuous to leave it off the list. You see, this is an example of shrewd business by Moore's management. To use a wrestling analogy, Justin Moore is what you'd consider a midcarder in the country industry. He's not really groomed for a championship shot, but maybe he wins the Intercontinental title on a fluke, right? So, what does he do? He releases this patriot-bait song that would make it a crime for him NOT to get the #1 song on the country charts, because that simply wouldn't be American! All of a sudden, he's now moved from the midcard, and is a serious contender – all because of this one, heavyhanded song for soldiers/first responders. I'm not even the most patriotic, but it can bring a tear to my eye if it catches me on the right day.

35. Jimmie Allen – Make Me Want To
I love Jimmie Allen, as I know it can't be easy for him as a Black man trying to make it in country music. It's not like Darius Rucker has taken him under his wing or anything. Shit, I bet when they're at the same event, it's like the party scene from Not Another Teen Movie. Anyway, I LOVED Jimmie's debut single, "Best Shot", so it pains me that this song isn't anywhere near that song's level of beauty. This is a fun enough song, but nothing too special. It's the kind of thing that would've been buried in the middle of a late 90s boyband album. I'm not even talking *NSYNC or even 5ive. I'm talking BBMak or LFO.

34. Thomas Rhett – Remember You Young
Rhett started the year with "Look What God Gave Her", where he pretty much just bragged about his wife and her haters. I'm so tired of him singing about his wife. We get it. You're in love! So, he ended up making the countdown with another love song that's not so obviously about the mother of his children. Nothing groundbreaking her, but it's a pretty song.

33. Billie Eilish – Bury A Friend
Couldn't have a 2019 music countdown and NOT mention Billie. I'm sure most folks would have expected "Bad Guy", but I simply liked this one more. I'm still not entirely in love with her sound, which is sorta like if they let Harley Quinn make beats while she's locked up in Arkham. That's why she's so far down the list. But I'm gonna keep an eye on her, 'cause she's clearly going places.

32. Zac Brown Band – Someone I Used to Know
I like Zac Brown, and there's something about this that just hits right for me. That's pretty much it.

31. Marshmello & Bastille – Happier
I'm ashamed to say that I know this more from Kidz Bop than the actual recording, as my oldest tends to walk around singing the chorus. That's as juvenile as this countdown will get, though, since I took "Baby Shark" off the list (What? It hit the Billboard chart this year!)

30. SHAED – Trampoline
They're actually a local band, but I didn't know that when I discovered the song. I like its vibe, but it's also the kind of thing where we'll probably never hear from them again. It's got One-Hit Wonder quality to it. Maybe they'll prove me wrong, though.

29. George Michael – This is How (We Want You To Get High)
I already blogged about this earlier in the year, as George's sister and father released the song. Then she died on Christmas – 3 years to the day that HE died. Ain't that crazy?! Anyway, it seems like it would've been right at home on his Ladies & Gentlemen album from '98.

28. Russell Dickerson – Every Little Thing
This was a great summer song, with its whistles and happy beat. And it was so much nicer to hear Russell sing about something other than his blue truck.

27. Mitchell Tenpenny – Drunk Me
Weird name for an artist, but a great song. Seriously, "Mitchell Tenpenny"? Is he an accountant? Or an actuary? I'll be he's an actuary. Anyway, I feel like this song could've worked just as well sung by an R&B artist.

26. Dan + Shay w/Justin Bieber – 10,000 Hours
What a surprising collaboration! I already love Dan + Shay because they're not really country. If anything, they're the second coming of Savage Garden, and the only reason they're on country radio is because of the low barrier to entry. Their roots are NOT in country, and they work so well, vocally, with Bieber on this track.

25. Lauren Alaina – Ladies in the 90s
I also blogged about this one earlier in the year. Just a fun song about Lauren's female singer role models while growing up.

24. Matt Stell – Prayed For You
You'd think that he was a Christian artist, but you'd be wrong. Sure, the song is kinda straddles that contemporary Christian line, that's not what pays his bills. We do have one of those artists coming up, though.

23. Ingrid Andress – More Hearts Than Mine
I fell in love with this song the first time I heard it, as Ingrid is warning her boyfriend that he shouldn't get too attached, as their potential breakup would end up hurting more people than just her. My wife hates that sentiment, as she said it's not the guy's fault if her family's all clingy and gets attached to him. Still, as someone who's been in that situation, I completely understand where the song's coming from.

22. The Weeknd – Blinding Lights
Every time I listen to The Weeknd, I ask myself "Why don't I listen to more stuff from The Weeknd?" So much of what he puts out sounds like it was unearthed from an 80s time capsule, and that's right up my alley. This one doesn't disappoint in that department.

21. Ryan Hurd – To A T
Oh, such great wordplay in this song! I was afraid that Hurd was just gonna end up being known as Mr. Maren Morris, but I'm glad to see he's carving out a niche of his own. There's a clear Jason Mraz influence here, and I like it.

20. Miranda Lambert – It All Comes Out In the Wash
Somebody needs to bring that Dixie Chicks fire that's been missing from the boys' club of country music, and this single from Miranda does just that.

19. Blake Shelton – God's Country
Blake's in an interesting place in his career, where he just kinda tosses out singles every few months just to remind folks that he's more than just a coach on The Voice. Some of them never really even chart, but he does it to keep his country dues paid up. Every now and then, one of them actually has something to it, and this is one of the best. I love the chorus, where he pretty much takes us right up to the church door without leading us in. Still, it's like you can hear the choir from the other side of the doors.

18. Luke Bryan – Knockin' Boots
Speaking of reality show judges, America has gotten to know Luke Bryan as a judge on ABC's American Idol reboot, and I don't know if that's been the greatest thing for his career. I say that because it's almost like he's changed songwriters now that he's in the spotlight, and his song choices just ain't that great lately. That said, I like the swing of this track. It's hokey, and kinda like the joke of how all American fads reach Europe late, here you wonder why country music is just picking up on "knockin' boots".

17. Luke Combs – Beer Never Broke My Heart
Remember the midcarder conversation about Justin Moore? Well, sometimes someone comes out of the developmental territories, and you just know that's gonna be The Guy. That's Luke Combs. It's clear that the industry expects big things from him, and everything he touches is a hit. Now, he did release "Even Though I'm Leaving" this year, which I thought was something of sappy low point for him, I LOVE this song. The chorus is just built for drunken singalongs.

16. Lee Brice – Rumor
Ooh, the blues influence here is incredible, and I'm glad to see that Brice has this kind of range in him. More like this!

15. Harry Styles – Adore You
This was something of a late entry, as Harry's album just came out a few weeks ago, but this song really left an impression on me. It reminds me of the kind of stuff we'd get from Timberlake before he had a kid and lost all of the sexy he'd painstakingly brought back.

14. Michael Ray – One That Got Away
This is just a fun singalong song. I don't know what else Michael has in the chamber, but I hope it's more like this.

13. Maren Morris – The Bones
Maren's really got the crossover appeal, thanks to Target featuring her in a lot of their ad campaigns. Her biggest song of the year was probably "GIRL", but this is my favorite song from the album of the same name.

12. Chris Young – Raised On Country
Yeah, I know I know. Y'all hate country, but this song speaks to me. You see, I, too, was raised on country. I'm not entirely sure how it happened, as my mom listened to the blues, but from the age of 4 to 11, I listened to nothing but country. I think Ace of Base was what ushered me into the world of pop. So I can relate to this song.

11. Lizzo – Juice
I was late to the Lizzo train, and I'm still not fully aboard, but I'm thinking of buying a ticket. I heard this in Target and it stuck with me. Immediately came home to hear it again.

10. Backstreet Boys – Chances
If you weren't looking for it, you'd probably never know that the Backstreet Boys released an album last year. In fact, it was released during such a new release drought that it debuted at #1 – their first #1 album in 19 years! Still, the whole thing was kinda terrible as, for whatever reason, they didn't work with Max Martin, who was responsible for basically every one of their hits. So, this is probably the best song from that album, which shows they've still got vocal chops.

09. Lauren Daigle – You Say
Remember when Debbe Boone would sing about God but you thought it was about a lover? Well, get a load of this, as Lauren here is actually a Christian artist, but the song gets play on adult contemporary stations as a love song. It works both ways, but it just drives home the fact that contemporary Christian music has some of the best melodies out there.

08. Old Dominion – One Man Band
On the production side, this is a simple song, but it hits in all the right ways.

07. Jonas Brothers – Sucker
I was never a JoBro fan, but this song got a ton of airplay earlier this year, and it was impossible to escape it. While I never got into their old stuff, I dig their new sound. Marriage has done them some good!

06. Chris Lane – I Don't Know About You
I love the picture this song paints. "What's your wrist tattoo Bible verse say?" That is SUCH a type!

05. Panic! At The Disco – High Hopes
I kinda stumbled into this song because I think Panic!'s Brandon Urie sounds a lot like Patrick Stump from Fall Out Boy. So, I thought Stump had a new song when it was actually Urie. Still, I love that sound, so the song stuck with me.

04. Lewis Capaldi – Someone You Loved
I had heard this song, and I had heard the name Lewis Capaldi, but I didn't realize this song was BY Lewis Capaldi. Great ballad here, and I need to check out more of his work.

03. Morgan Wallen – Whiskey Glasses
I am SUCH a Morgan Wallen stan, ever since "The Way I Talk", followed by "Up Down". The play on words here is great, and this ended up being one of my favorite songs of the year.

02. Lady Antebellum – What If I Never Get Over You
If we're doing the genre thing, this was my favorite song by a country artist. It was ALMOST my favorite of the year, overall, but we'll get to that. It's just got such beautiful harmonies, as Lady A brought their A game to this one.

01. Taylor Swift feat Brandon Urie of Panic! At The Disco – ME!
It was hard to narrow down to just ONE Taylor Swift song to put on this countdown. Her album, Lover, was my favorite album of 2019, but it's also not really fair to boast about that, as I didn't listen to a ton of albums. What really made it stand out, however, was the fact that I loved pretty much every track on that thing. It's got everything from peppy pop like this one to vaporwave tracks. Ms. Swift really outdoes herself on that album, but the standout to me was this song because it's just so FUN. Not to mention the fact that Brandon Urie, from Panic!, shows up with his Patrick Stump soundalike vocals. That just sealed the deal for me.
So, there you have it. My favorite songs of 2019. Which were your faves? Did you discover anything new here? Leave a comment below!