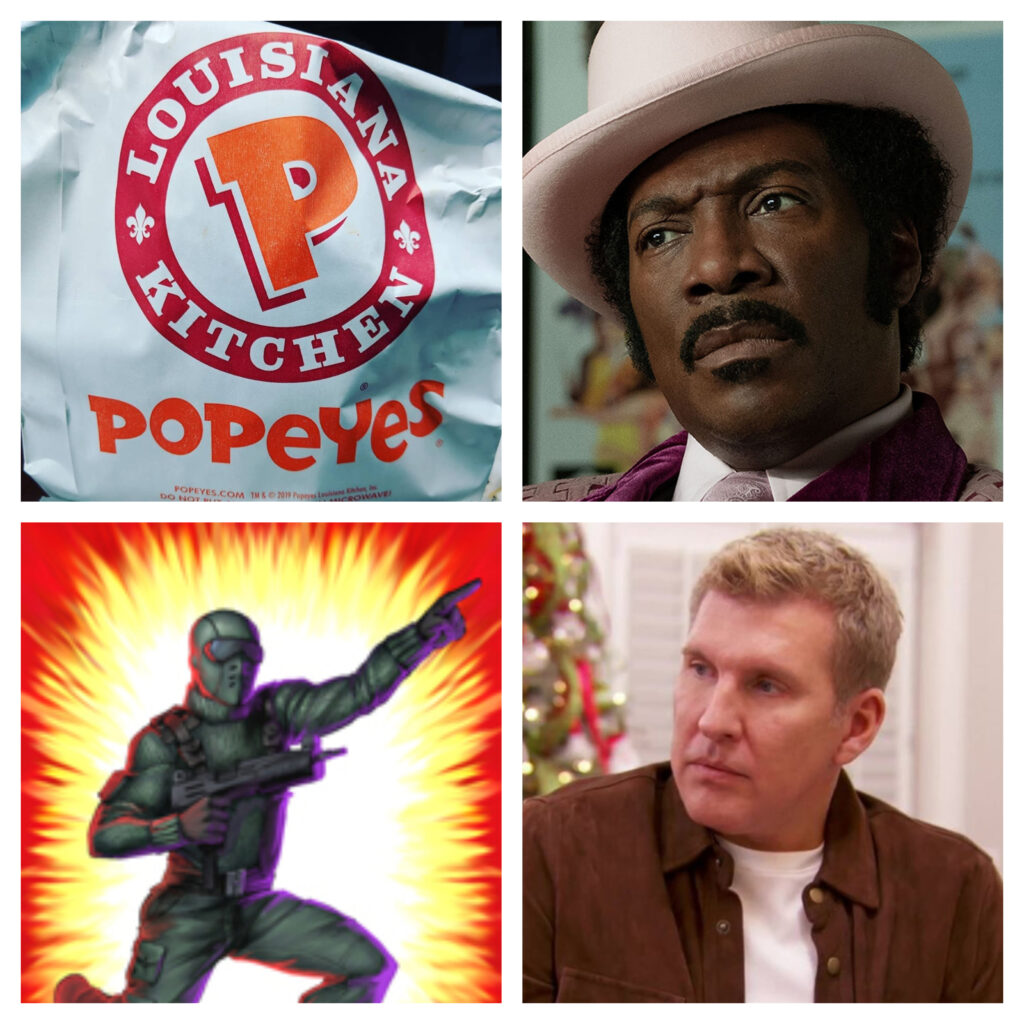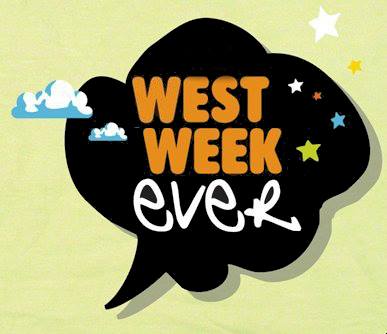 I've come to realize that my Nerd Boner Refractory Period (NBRP)™ is about 2 weeks these days. It takes me about 2 weeks to get excited about anything going on in pop culture, I can keep it up for an extra week, and then I need another 2 to recharge. So, here we are, 2 weeks after we last got together. How have you been? I like those shoes. Are they new?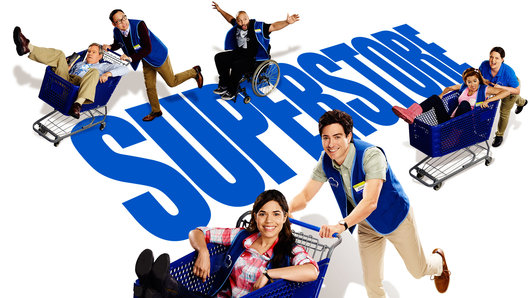 Since we last spoke, I finished my binge of NBC's Superstore. If you've ever worked in retail, you will COMPLETELY relate to this series set in the Cloud 9 big box store. Clocking in at 4 seasons, it's not too much of a lift to get through, and I enjoyed every minute of it. I will point out, though, that it takes a turn in season 3. Like, the first 2 seasons are pretty run-of-the-mill single cam sitcom, but in season 3 it gets more…mature? I'm not sure that's the right word, but the language changes, like they say "Jesus Christ" and "dick", which were formerly reserved for things like basic cable. Most network shows still censor "Jesus Christ" to this day, in 2019! The only downside to the binge is that I watched it on the NBC app, where they also included the Superstore panel from SDCC. The general vibe I got off that was that this show is another Seinfeld, where the actors only pretended to like each other. A friend of mine pointed out that this is exactly like working in retail. In any case, It felt like America Ferrera kinda runs that set, and they all just sort of work one rung beneath her. Maybe it was just convention panel jitters, but it didn't come off like "These are people who enjoy each other's company". I want to believe they're really friends! Anyway, if you've ever been curious about the show, I highly recommend it.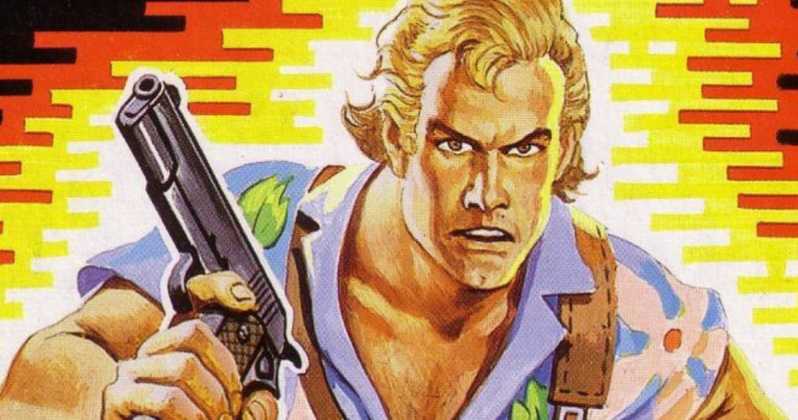 In movie/TV/80s/cartoon/toy news, Hasbro is moving forward with a G.I. Joe spinoff film starring Crazy Rich Asians star Henry Golding as Snake Eyes. I find that character exhausting, which is why I'm much more interested in another Joe spinoff that was announced, which would focus on the character Chuckles. As the Joes' undercover specialist, his sole animated appearance was in G.I.Joe: The Movie. As such, he's never been taken that seriously by the fandom, so this announcement comes as a surprise to many. I, however, am not surprised because I read the IDW comic miniseries G.I. Joe: Cobra, which focused on Chuckles being sent on an undercover mission to infiltrate Cobra. Not only did I enjoy that series more than the regular Joe book at the time, but I also saw the character in a whole new light. That series felt like a dark Showtime/FX series, so I could definitely see it as the source for a good movie. I mean, it's Paramount, so we can't really hope for too much, but all is not lost!

Speaking of old 80s properties, I posted that tweet last night and was pretty surprised at the response. It was the result of a random tweet that popped up on my timeline, of someone swearing the Are You Afraid of the Dark? reboot better be good. Now, he clearly wasn't the target audience for this show, so why was he so invested in it? A lot of folks asked me which show I was referring to, but the sad thing is that it didn't matter. You could plug any old property into that blank, and you'd get the same response. There's something about 80s and 90s kids who think these properties were theirs and theirs alone. Every generation needs their own stuff.
I've been saying for years that Hasbro should move away from the Duke/Destro iteration of G.I. Joe. It has its time and place, but too much has to be changed to work now. Can't call Cobra a "terrorist organization" anymore, for one thing. Plus, kids really don't give a shit about G.I. Joe anyway. Even if you tried to modernize it, they wouldn't care. Is it a mobile game now? Maybe. Other than that, nope. A lot of this stuff is only loved by 40 year old men, and you can't make them happy anyway. Between sexless marriages and prostate exams, they're always gonna be full of piss and vinegar. I'm also talking to you, 40 year old men. You're not really mad that She-Ra "looks like a boy". No, you're upset you got passed over again for a promotion, or you're upset you can't see your penis anymore. Let's let kids have shit. Is that too much to ask? If you also happen to enjoy it, great, but Hollywood can't keep catering to your old ass.
Trailer Park

Dolemite Is My Name (Netflix)
I never thought I would see Rudy Ray Moore as a sympathetic character, yet here we are. This looks so good to me. And that cast! I haven't seen a Dolemite movie in, maybe, 25 years and it was an edited version on Channel 54. I'd like to check out the full, uncensored stuff, but I know that box set I used to see at Walmart is probably going for 3 figures on the secondary market as everyone jumps on the bandwagon in anticipation of this film. And the best part? I won't even have to leave home to watch it!
Things You Might Have Missed This Week
Verizon, which paid an estimated $1.1 billion to acquire Tumblr, offloaded the site to WordPress's parent company, Auttomatic, for a mere $20 million. Womp womp. That's what you get for getting rid of all the porn! As someone once put it, Tumblr was the world's most efficient porn delivery service, and they just threw that all away.
The X-Men adjacent series Legion ended on FX this week after three seasons. I'm sure one or two of y'all care about that.
Did we ever talk about the fact that the Mad About You revival got picked up by Spectrum? So, yeah, nobody's gonna see it. In any case, actress Abby Quinn was cast as Paul & Jamie's daughter, Mabel, who's heading off to college. Who, besides Paul Reiser, wanted this show?
NBC is in talks to modernize '80s Brat Pack film St. Elmo's Fire and adapt it into a TV show. I remember watching this movie in the hospital room when my oldest was born. Despite being set locally, I could not relate to it, and couldn't even tell you what it was about if ya asked me. That song, though, is iconic.
After 13 years apart, CBS and Viacom have resolved their differences, re-merging as ViacomCBS. On the upside, as my friend Zac put it, this means the Star Trek film and TV rights are now back under the same umbrella, which had been a source of problems over the last decade.
Speaking of CBS, there are reports that Drew Barrymore is in talks with the studio to develop a daytime talk show. I see that lasting about a season, if she's lucky.
So, I guess Ewan McGregor is getting his Obi-Wan show on Disney+? I can't even keep up anymore. I know there reports of it, but it still seems "iffy" right now. I just find it funny that the Star Wars fans want this, even though he's a reminder of how much they supposedly hate the prequels (though 2019 revisionist history claims "They actually weren't that bad").
Some feel Jay-Z has sold out with his Roc Nation's recent partnership with the NFL. He has argued that he can do more work to effect change from the inside, but that's not enough for many. At the end of the day, rich folks gonna rich, so…
Chrisley knows best? It sure doesn't seem like it! Reality stars Todd and Julie Chrisley were indicated this week, before a federal grand jury, for tax evasion, wire fraud, conspiracy to commit bank fraud and conspiracy to defraud the United States. WOW! And, to top it off, Todd tried to extort his daughter Lindsie by threatening to release a sex tape of her. I see the Chrisleys are trying to go FULL Kardashian! Let me know how that works out for you, Todd. In any case, the Chrisleys are facing up to 30 years in prison.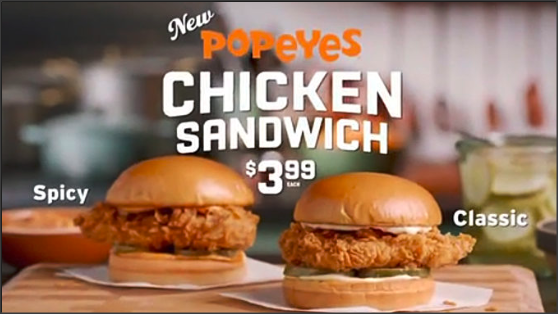 So everyone on Black Twitter this week seemed captivated by this new creation brought into the world by fast food fried chicken chain Popeyes. Now, I can't even get arrested on Black Twitter, but I know people who know people, so I get the info I need to get. Apparently the chain had debuted a Chicken Sandwich, which was available in regular or spicy. I didn't see a single person who didn't get spicy. I wanna be hip. I like chicken. The problem, though, is that I HATE Popeyes.
You see, a few years ago, there used to be a Popeyes behind my then-job, and it made me sick every time I ate there. Not to mention the chicken never really looked right. You know how *done* fried chicken looks? Yeah, it didn't look like that. It was always kinda pale looking. Anyway, that helped to reshape my chicken eating habits. Growing up, I always said I liked KFC's chicken, but Roy Rogers chicken skin. I always wished there was some way to merge the two. Then Roy Rogers disappeared for about 20 years, so then I was pretty much just left with KFC.
When it comes to the chicken sandwich, however, there's one chain that reigns supreme: Chick Fil A. Yeah, we all know about their politics, and they're terrible, blah blah blah. But they sure make a damn good chicken sandwich. It's the reason why so many people are conflicted: "My sister's gay, but GODDAMN is that a good sandwich! Sorry, Christy." So, in our new era of wokeness, everyone has been wanting that same experience, without all the guilt. Some will say "Wendy's has a Spicy Chicken Sandwich that's just as good!" No, they don't, and you're just playing yourself. Whenever a new chicken sandwich hits the streets, the Left (yeah, it IS a partisan matter at this point) can't wait to see if there are guilt-free chicken sandwiches ahead for them. And there never are. You see, people are so desperate to replace those hate mongers, but they don't realize that hate is their secret, tasty ingredient. Everyone knows it, but they can't bear to admit it. I mean, that's GOT to be it, right? Other than that, it's just chicken and peanut oil. It's not like there are 11 secret herbs and spices. Nope, gotta be the hate.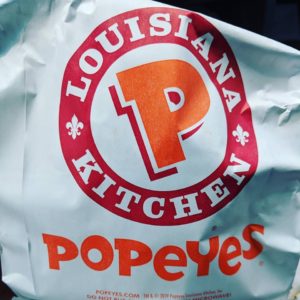 Anyway, I got sidetracked there. So, the Popeyes Spicy Chicken Sandwich is a large boneless breast of chicken, on a plump brioche bun, accompanied by thick pickle chips and a reddish Cajun sauce. Sounds good to me! So, I went to the Popeyes nearest my job for lunch yesterday, and placed my order for this thing all the cool kids were raving about. I, then, proceeded to eat it in a parking lot in a safer neighborhood, 'cause this place is dangerous! What did I think? OVERRATED. I pretty much only tasted bun and pickles, which is odd because there was a sizable piece on chicken there. It was very crispy, but almost at the expense of juiciness. I can't say it was "dry", but it wasn't exactly juicy and succulent. It's certainly a filling sandwich, and I didn't feel like "Huh, I could eat another one of those" when I was done. Still, I came here for the full chicken experience, and not just a brioche bun. I'd go to Panera if I wanted that. The chicken didn't have much taste to it, while the bread and pickles were the only things that had *flavor*. Meanwhile, I thought the Cajun sauce would be doing the heavy lifting, but it's just there, as a runny, mayo-based sauce. I'm willing to give it another chance, but I don't think it's exactly the King of Chicken Sandwiches. Not yet, at least. Still, nobody has cared this much about Popeyes on social media since we were all trying to decide who that Black chick was supposed to be in their commercials (does she own a franchise? Is she Mrs. Popeyes? Who IS she?!). That's why the Popeyes Spicy Chicken Sandwich had the West Week Ever.