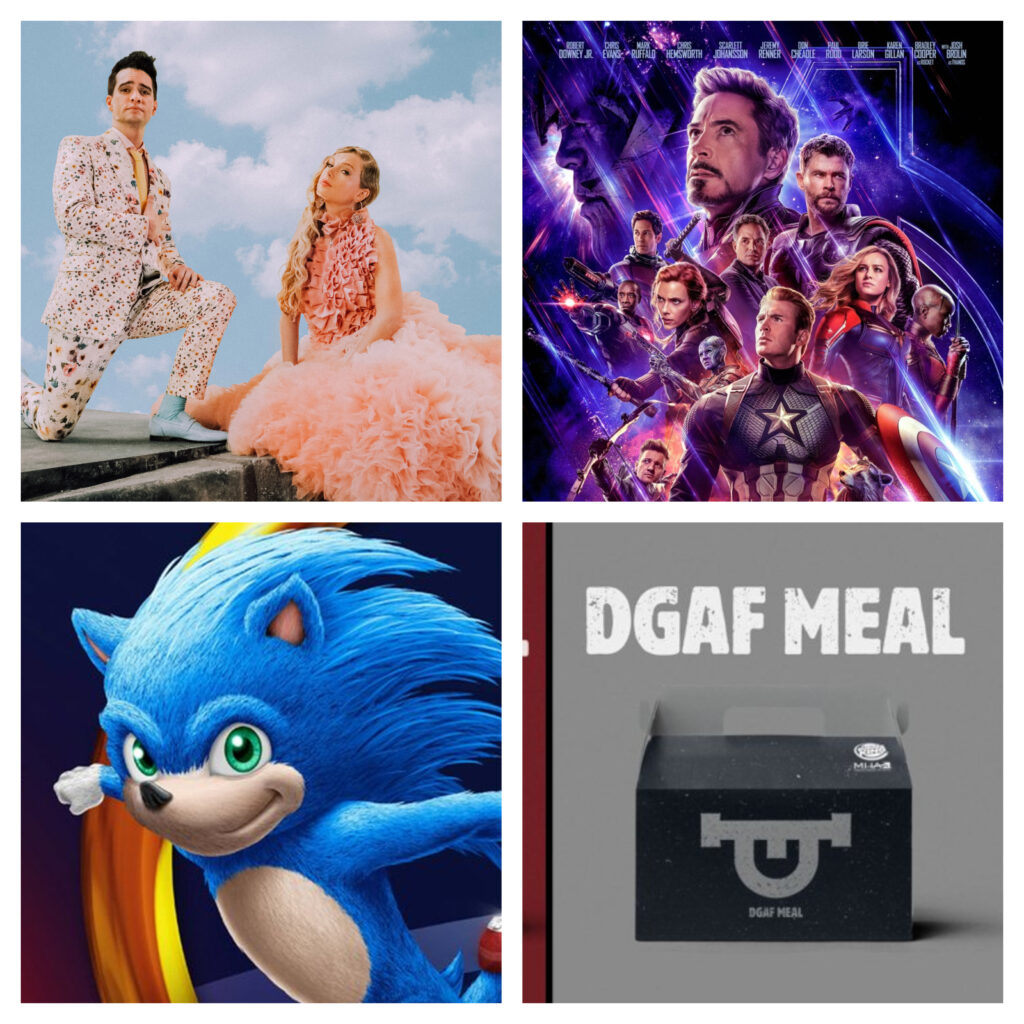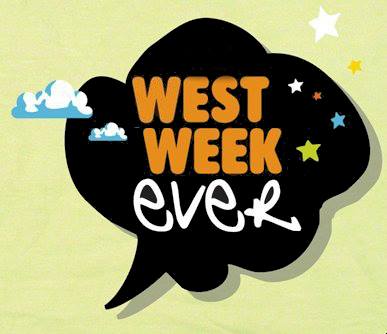 Well, would you look at this! A whole post dedicated to recent happenings in pop culture! Been a while since we've had one of these, huh? I took last week off because I knew a lot of folks had gone dark so as not to have Endgame spoiled for them. And the week before that, I took you back to some of the great fires in sitcom history (and the stats showed me you care for stuff like that WAY more than this post! Guess I ought to do something about that). Anyway, I'm back to pop culture because, honestly, I need the practice. My annual TV network upfronts post is coming in 2 weeks, and I'm actually pretty scared. Not only am I somewhat out of touch, but it's looking like this was a terrible pilot season. How bad was it? Well, The CW cancelled NOTHING. That…that just doesn't happen. This means there was nothing in development that they felt was strong enough to join their schedule. The CW. So, if things are this bad for them, I can only imagine how bad it'll be for the big boys. One doesn't simply walk into an upfronts post – especially in a year full of dogs. So, I'm here to brush off the cobwebs.
Didn't really expect to spark the CGI Furry Civil War this week, but it almost happened. Late last week, I tweeted that I didn't really understand for whom Detective Pikachu was made. I mean, sure, it's an engaging world where Pokémon are just regular creatures, but there are certain choices that don't make sense to me, like Ryan Reynolds as the voice of Pikachu. Did Tara Strong turn them down or something? Reynolds is not the voice I'd imagine coming from Pikachu, so it makes me feel like they're going for that Deadpool sardonic wit as opposed to cutesy. Anyway, after posting that, a bunch of 40 year old men came to the movie's defense, like "This movie is for ME!" Okie doke.

So, imagine my surprise when there was such backlash to the release of the Sonic the Hedgehog trailer this week. The world that had embraced Detective Pikachu with open arms was shitting all over Sonic. I mean, I get the complaints. He looks weird, it's a tired "CGI character in the real world" plot, it looks nothing like the games, and then there's the reemergence of 90s Jim Carrey. It's a lot. But you'd think the trailer jumped out of the computer and shot folks' grandmothers in the face. Some Poindexter online tried to argue that Pikachu was clearly a universe crafted with care, where the characters are accepted residents, while Sonic is just lazy by throwing him into our world in a tired battle against the military. I told this person they sure knew a lot about a movie that wasn't even out yet. Got blocked.
My argument is, at the end of the day, it's the same shit. It's all part of a new "genre" that you might as well call "CGIve Action", and there's a spectrum. You can have CGI creature in human world, like these two movies, and it runs all the way to Disney's upcoming "live action" The Lion King. This is just the world we live in now. But to argue if one furry property is better than another just seems stupid. It's really just a popularity contest. In 2019, Pokémon is more popular than Sonic. It's really that simple, though folks will come up with all sorts of reasons as to why I'm wrong. It's a lot like the concept of harassment. It's "harassment" if you're not attracted to the harasser. Otherwise, it's simply "courting". Everyone wants to be "booed up" with Pikachu, while Sonic is the ugly girl they hooked up with at camp but won't acknowledge when they're all back in school.
Anyway, the Let People Enjoy Things! crowd is real vocal until it comes time to shit on something they don't like. I got response after response from strangers with anime avatars about how lazy Sonic looked, while so much care had clearly been put into Detective Pikachu. I just stopped responding after a while because life is short and I was never gonna get back that time I was wasting. I thought that would be the end of it, until last night, when reports started coming out that Paramount was going to "fix" Sonic's design.
Like the movie, hate the movie, this is a terrible decision by Paramount. A project was changed due to audience backlash. Whatever happened to creative and artistic vision? For all we know it was a very vocal minority. Sure, you might support this decision because it's for something you didn't like. However, remember all those folks who hated Rose Tico? Or the Release the Snyder Cut folks? This just emboldens them. Seriously, whoever made this decision at Paramount needs to be fired, because this gives hope to every Fuck Star Wars or Fuck Captain Marvel psychotic out in these streets. A studio bowed to the pressure of a vocal minority who'll swear they were the majority. I can't even begin to fully capture how horrible a precedent this sets, yet here we are. The funny thing is, though, there simply isn't enough time to fix anything. Even if the VFX team works overtime, it just means they're screwing over all the licensees, as Sonic's appearance will no longer match any of the movie merch that's already been created. Paramount should've just taken the loss and moved on to the next thing. To be honest, outside of their cable channel that no one watches, I didn't even realize Paramount was still a thing. If they keep making decisions like this one, they won't be for much longer.

Burger King was trending on social media for this video yesterday. There's been a lot of chatter online about their new marketing campaign addressing mental health. As someone who suffers from depression and anxiety ("Not YOU, Will!"), the campaign speaks to me, but probably not in its intended fashion. You see, when I was in 7th grade, it was my lone year in public school. I remember that someone put snot on my locker in much the same way the "skank" finds gum on hers. I'm sure it was one of the kids who routinely called me "faggot" that year. Ain't kids a buncha stinkers?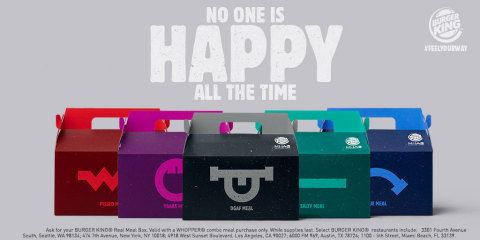 Anyway, I feel like the commercial would've worked without the associated boxes. Instead, like my pal @thesurfingpizza said, I just wanna collect the boxes. Can you choose a box or is it at random? Can I just go up and order a DGAF Meal? Plus, it feels kinda juvenile. Case in point: the wife and I toured a preschool over Spring Break, and they had this thing where the kids come in and put a clothespin on the emotion board to show how they're feeling that day, so the teachers will know how to approach them. This feels like that. Like, if I come home with the PISSED Meal, and slam it on the table, the family is gonna go "OH SHIT!" and scatter immediately. Actually, that might be kinda cool…
Trailer Park

The Righteous Gemstones (HBO)
This show is sure to ruffle some feathers when it premieres, but it looks SO GOOD. The only people offended will be the folks who need a wake up call from megachurch-owning televangelists, but it's also gonna give cynical atheists quite a bit of ammunition. I don't even have HBO, but I love everyone in this, so you'd better believe I'm going to find some way to watch it.
Agents of S.H.I.E.L.D. Season 6 (ABC) 
I just can't get excited about this show anymore for 2 reasons: 1) the events of Avengers: Infinity War and Avengers: Endgame are pretty much a big "Fuck You" to this series (I'll get more into this later) and 2) the show's inability to let go of actors is really starting to grate on me. I love Clark Gregg as much as the next guy, but let the dude go. This whole "He only looks like Coulson, but isn't Coulson" is just the Ward saga all over again. I don't feel like sitting through that again. Plus, it can only end one of two ways: he truly is evil and gets defeated in some ambiguous manner (he totally gets defeated 'cause the show has already been picked up for season 7) OR he's redeemed somehow. Knowing the show, and the Whedon DNA in it, I'd bet on option #2. I know folks say last season was great, but I didn't even make it through the 2-hour season premiere. I've fought long and hard about "No, guys! This is the show that actually matters to the MCU!", but I no longer see how that's possible. I feel like it's overstayed its welcome at this point, and if everything truly isn't connected, then I'm ready to get off this ride.
Will's Jukebox

"More Hearts Than Mine" – Ingrid Andress
The gist of this song is to not bring anyone you're dating home to meet your friends and family. Why? 'Cause if/when y'all break up, they'll be breaking more hearts than just yours. Actually, the chick in the song is pretty resilient, 'cause she's like "I'll get over it, but you'll be hurting these other people." It's more about protecting your loved ones than the other way around. I just found it an interesting angle for a song. And I know folks think I skew too country, but I'd say this song is without genre. Seriously, in the early 00s, there were all these artists like Jem and Nellie McKay and Rufus Wainwright who really didn't fit standard "genres". I loved all of them, and I'd put this in that club.

"Late Night Feelings" – Mark Ronson ft. Lykke Li
I liked Lykke Li's "Little Bit", which is now about ten years old. Damn. And in ten years, she still hasn't really become a household name. That's really a shame. In any case, on this song, she sounds like she's vying for the Gaga Belt, which Stefanie vacated when she went off to bang Bradley Cooper. I love the vintage feel of this one, but I wonder if I'd love it as much without the visuals of the video. Seriously, she even kinda looks like a Gaga impersonator here. Anyway, it's actually Mark Ronson's song, and I'm convinced he's a goddamn Time Lord. He has mastered these long gone genres that don't really get a lot of play these days. Remember that Amy Winehouse's 60s-tinged Black to Black was pretty much masterminded by Ronson. I swear that, without Ronson, she would've died an unknown. Or she might still be alive, struggling along, 'cause she wouldn't have had the fame she got following the success of Black. Want proof? Check out her Ronson-less debut, Frank. Anyway, with this song, I see Ronson's managed to move up a decade.

"Me" – Taylor Swift ft Brendon Urie
I haven't really fucked with Taylor since 1989. I only saw this video because it auto-played as an ad following another video I watched. That's shifty! Or is it SWIFTY? Anyway, this song is saccharine but does little for me. Honestly, in this pairing, I'm here more for Panic at the Disco dude than Taylor. Such an odd choice to have him here, but it works. This is the kind of song that will be a hit merely because it's Taylor, but isn't really a "hit song".
Things You Might Have Missed This Week
Did you know that great storytelling doesn't rely on gimmicks and can't be ruined by "spoilers"? No? Then you clearly haven't tweeted this week with someone who self-published a fantasy novel!
So, get this: Hulu has picked up 2 Marvel series, including Ghost Rider and Helstrom. To even put the cherry on top, Gabriel Luna, who played Ghost Rider on Agents of S.H.I.E.L.D. will be starring in this show. HOWEVER, this show will not be related to the character he played on AoS. HUH? Meanwhile, Helstrom is the Son of Satan, so I can only imagine they're trying to tap into that Lucifer fanbase.
At some point during my hiatus, retro channel MeTV started airing their first original program, Collector's Call. Hosted by Lisa Whelchel of The Facts of Life fame, each week focuses on someone's strange and interesting collection. I don't think MeTV even airs in the DC market anymore, but you can watch past episodes on the channel's website.
The -ish empire is growing, as not only has Black-ish been renewed for a 6th season, but its prequel, Mixed-ish just got the greenlight from ABC, which will focus on Tracee Ellis Ross's Rainbow growing up in the 80s/90s.
Links I Loved
This used to be a regular part of West Week Ever, but y'all weren't clicking the links, so I killed it. Still, there's so much great writing out there that needs to be shared, so let's give it another shot.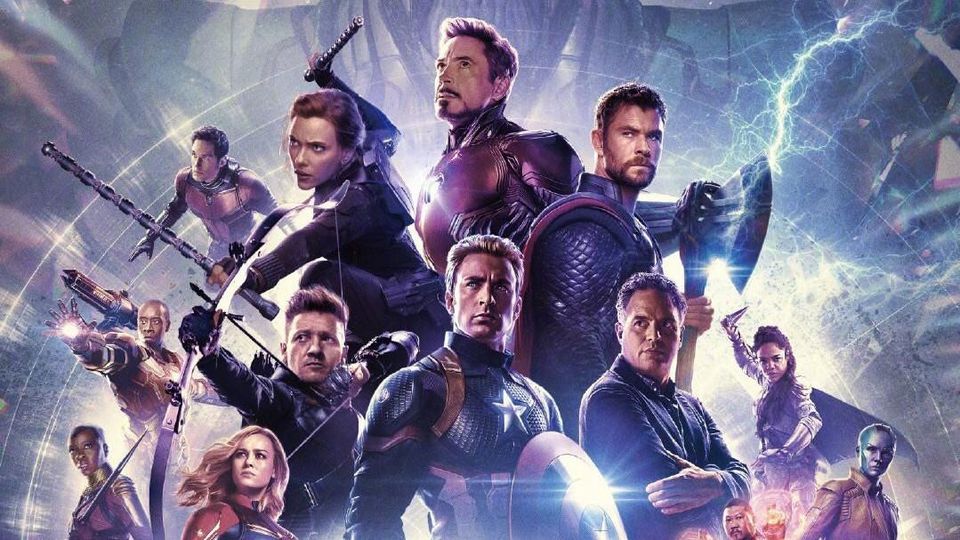 Avengers: Endgame. What is there to say that hasn't already been said? Or felt? By now, most of you have seen the film, so we can now relate to one another on that level. Sure, it wasn't the best movie ever made, but considering it was the endcap to 11 years and 21 movies, it was a friggin' masterpiece! So many moving parts, so many characters to showcase. And it did the damn thing. The way I see it is, if you never really cared for the MCU (I see you, James, Jenn, and Chad), this movie ain't gonna be the one to convert you. However, if you've been a fan for most of this journey, then you'll be pretty satisfied by what Endgame delivers.
Since everyone and their father has opinions on this film, I'm not gonna review it, per se. Instead, I'm just going to share the thoughts that went through my head following my two viewings of the film:
Hated Smart Hulk. Was really expecting a moment where he would forego that and truly HULK OUT
Not a fan of John Slattery as middle-aged Howard Stark. I know they don't like to reference the TV shows much, but I feel like Dominic Cooper should've reprised the role, as he was Stark on Agent Carter, during this phase of Howard's life. Plus, they had TV's Jarvis! It just would've made sense.
Speaking of TV, we're on a 24 timeline now. Despite the fact that 24 lasted 9 seasons, the seasons were set some distance apart – some as little as 18 months, while some were around 5 years. That means that the 24 timeline, once said in done, spanned about 17 years. What I'm getting at is Where does this leave Agents of S.H.I.E.L.D.? Since it seems to take place in "real time", and premieres in about a week, is it now set in the post-snap 5 year period? And, if they are gonna acknowledge that aspect of Endgame, how are they gonna explain how NONE of the team got dusted from The Snap?
I thought it was a bad move to just bring everyone back in the present day INSTEAD of backing up the clock 5 years. That leads to so many problems in the "real world". Did insurance companies go bankrupt from all the payouts from The Snap, and did they get that money back when everyone returned? So, Peter Parker is just gonna go back to school, with a bunch of kids who were in elementary school when he disappeared? Think of all the folks who died during that period of time, either through suicide or natural causes, who still won't see their loved ones again.
Great character work from Thor
So, a lot of the Timey-Wimey stuff didn't make a lot of sense. We start with time travel, then we move to predestination paradoxes, and then we get to branch off into alternate timelines. In standard science fiction, Present Day Nebula would've disappeared when she killed Past Nebula because killing herself in the past would prevent her from existing in the present. This, however, was not "standard science fiction", and I guess all of our time travel knowledge truly was shaped by Back to the Future.
As cute as the A-Force scene is, can we admit that Hope Van Dyne is hopelessly outclassed in this fight, and probably should've died on the battlefield? What makes it even funnier is how she's the one with the most swagger as they're slow-walking into battle.
Um, Clint murdered a LOT of people. Sure, they were "bad" people, but he straight up murdered them. Is he not gonna pay for those crimes?
Howard Stark says that he rarely chooses the greater good over self interest, and that shows in Tony, as well. Think about it: the only reason he doesn't want to turn back the clock is that it would erase Morgan from existence. He told Cap and co that he had too much to lose from the time heist, but let's be honest that there'd be a lot fewer questions to answer had they just reconstituted the universe at an earlier point in time or some shit, instead of just bringing everyone back to life five years later. Sure, his sacrifice is selfless, but the timeline, man, the timeline…
The Morgan stuff really got to me, since my oldest is her age. I'm not about to go die to save the galaxy, but it was still like "Huh, Tony Stark and I have something in common."
I said this on social media, but it's still true: In the MCU, after his Winter Soldier programming is broken, Bucky's characterization can best be described as "Older brother, just home from rehab, who really hopes the treatment sticks this time".
It's interesting to see what Steve Rogers will look like when he's addressing an empty chair onstage at the 2024 Republican National Convention.
Anyway, all these thoughts aside, it was such an amazing experience. It's also a film that you MUST see in the theater. Now that the spoilers are out, I'm not sure if it'll have the same effect, but it was transformative sharing those emotions and twists and turns with a room full of strangers. I had never given much of a shit about the "movie-going experience" until I saw this film. It just… *chef's finger kiss*. As you can probably figure out by now, Avengers: Endgame had the West Week Ever.