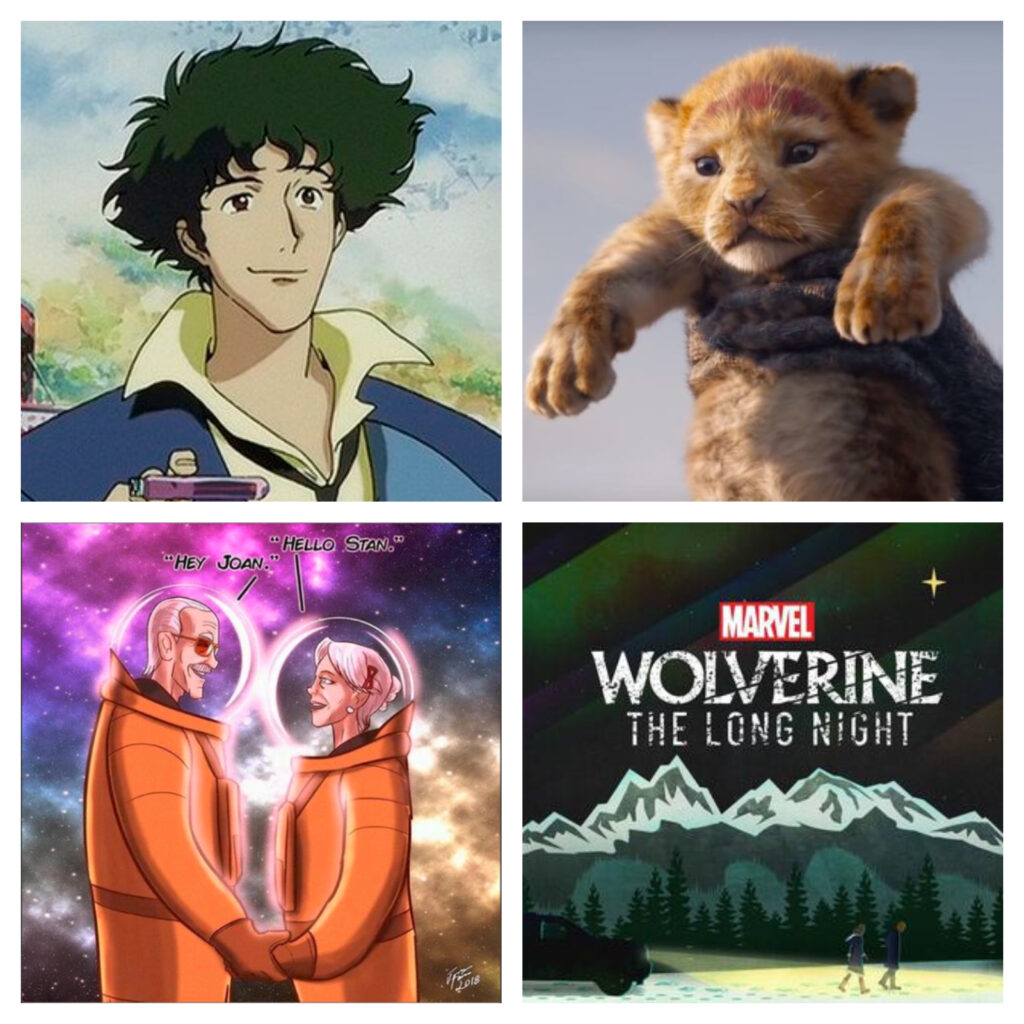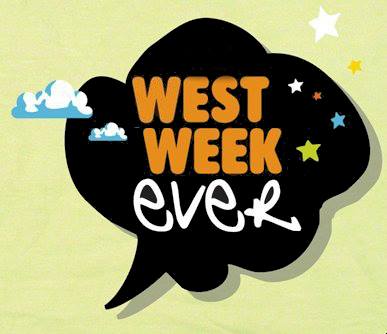 I took last week off 'cause it was Black Friday, and I know this site was the last thing on y'all's minds. Gotta get them $199 PS4s! Anyway, that just means we've got twice as much stuff to talk about this week!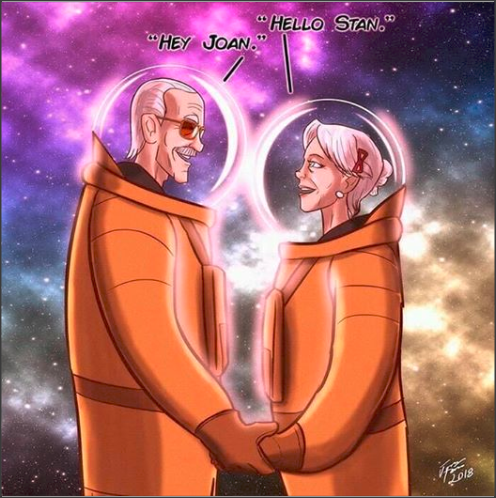 First, allow me to rant. Every time there is a celebrity death, the internet instantly becomes filled with tribute art to the person. Sure, the artists typically mean well, but a lot of it is very, very bad – sometimes just in poor taste. Stan Lee died a couple weeks back, and what did we end up seeing? Stan Lee at the pearly gates, Stan Lee being hugged by his creations, Stan Lee with his creations surrounding his hospital bed, Stan Lee with the MCU stars photoshopped into his funeral. You get the picture. The one that really got me, though, is the one above: Stan and his dearly departed wife, Joanie, reunited in space, wearing spacesuits. This comes off as some kind of secular desire to have an afterlife, but still trying to apply Earth logic to things. Why are they in space? Is that where you think "souls" go? Why are they in spacesuits? Shouldn't they no longer have the need to breathe? Bottom line, I thought this was stupid. This was just stupid. And I said so when someone posted it in a Facebook group I'm in, with a bunch of crying emojis. And the floodgates opened!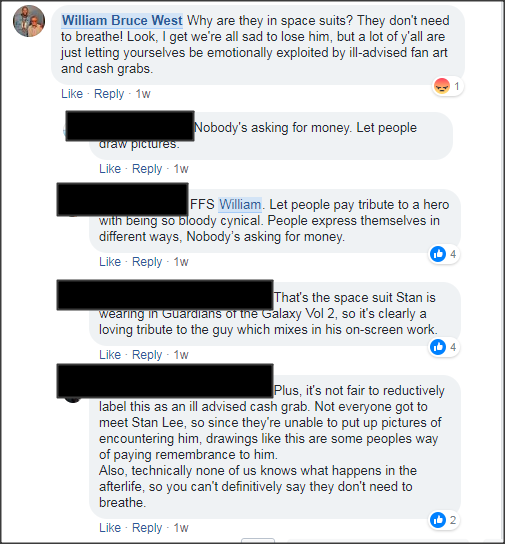 Let me give you some backstory about this group. I've met some great folks in there, but it's chock full of Brits who are constantly making fun of EVERYTHING. For example, you can't mention people being offended by Apu, because "Everyone's too sensitive". Seriously, every serious conversation on there is derailed by a bunch of guys chiming in with "Well, they're being cunts!" So, imagine my surprise when I found the limits of the rapscallions! So, I had to reply: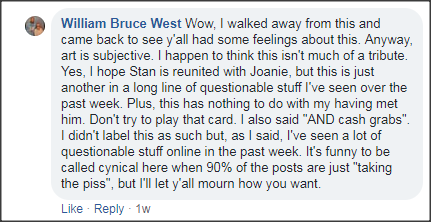 A few days later, a few of the same folks were laughing about that missionary who got killed by the tribe. You know the one. And, yeah, I have my issues with missionaries and all that, but if you'd seen some of the stuff they were saying, and LAUGHING at…And I'M the asshole for thinking somebody's DeviantART space pic is stupid? Oh, hell the fuck no! It took everything in my power not to run back into that group and tear it apart like Jesus in the temple. So, I subtweeted with my own status.

So, imagine my surprise when the group founder commented on it: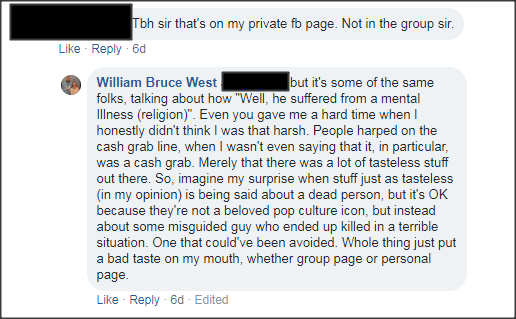 That's where it pretty much ended – until now. If there's one thing I've learned from the Trump Administration, it's the art of doubling down. And I'm here to say that a LOT of that fan art shit is stupid. Sometimes a beloved artist will do some, and maybe sell it and give the money to charity. Nice use of the moment. What I don't like is Johnny Cash Grab who decides he's going to throw together a shitty t-shirt to sell to capitalize on the moment: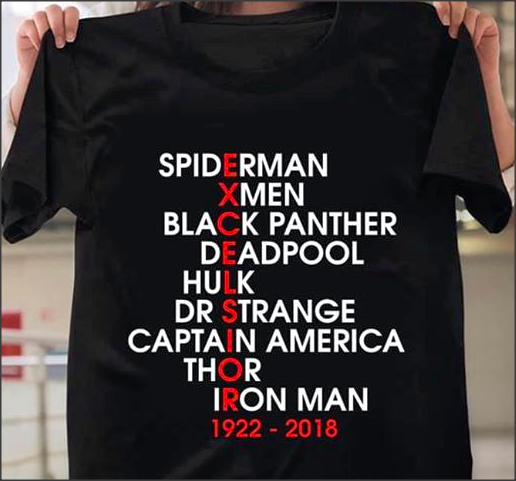 But also, money isn't everything. There's a lot of FREE fan art out there that's stupid. The minute SpongeBob SquarePants creator Steven Hillenburg succumbed to ALS earlier this week, I immediately asked "How long before the fan art of SpongeBob meeting Stan Lee?" And while it's not exactly what I described, the Internet did not disappoint: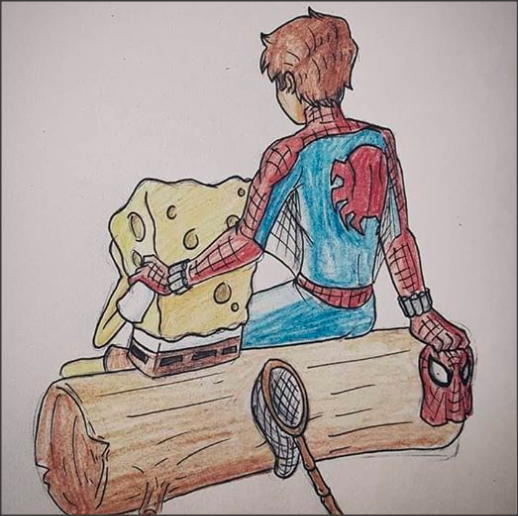 WHO IS THIS FOR?! But, "let people mourn how they want to mourn." It doesn't mean I can't question it.
Trailer Park

Artemis Fowl
This just looks like Great Value Harry Potter to me, only he's in the Men In Black now? I mean, if Harry Potter knockoffs are what's bringing in the big bucks, I've been sitting on the Charlie Panner franchise for about a decade, and I need to talk to someone pronto! Yeah, I know it's based on a book series, but I'm not 14, nor do I hang around any since the court case. So, I'm gonna need a little bit more from my teaser trailers. This? This was just meh.

The Lion King
OK, but WHY? I get it. It's stunning, and it's a beloved story, but we already have the original. I feel like those people who get upset when their favorite old property is rebooted. No, this one doesn't mean that the old one doesn't exist, but there are so many other things Disney could be doing with this money and technology. I feel like Disney is creatively stale, like they were prior to The Little Mermaid, and live action versions of their 90s hits ain't really impressing me all that much. Still, I've never had the same love affair with Disney movies as some folks, so I guess I'm just dead inside. Nice job they've done here, though.

Once Upon A Deadpool
A PG-13 cut of Deadpool 2? Sure, it's a cash grab, but I respect their hustle. Maybe it would've been cooler to have had this as a bonus feature on the Blu Ray, but if there's theatrical money, and it fills a hole in Fox's schedule, then do it. I still haven't seen Deadpool 2, so I guess I've got homework before December 12th. And I kinda like Nickelback more than the Beatles…

The LEGO Movie 2: The Second Part
So this is the second trailer we've gotten for this movie, and it really wasn't doing much for me until Rex Dangervest showed up. That's cute what they did there. I mean, I'll see it, but nothing about this is like "WOW, I CAN'T WAIT!" Plus, if you cast Tiffany Haddish, you're only going to get "Tiffany Haddish". Make sure that voice works with the character, 'cause if it doesn't, then…you get this.
Runaways Season 2
This looks like the Freeformiest Freeform show that ever Freeformed – which is odd, since it's NOT on Freeform. It's like if Claire's, Urban Outfitters, and Hot Topic decided to go in together on a TV production deal. I'm sure the teens and tweens probably love it, but I can't see myself watching a single episode of this show – which probably why I never watched any of season 1. Plus, I don't have Hulu, so…
Things You Might Have Missed This Week
ABC's Sue Sue In The City spinoff of The Middle will not be going forward. It's kinda sad, as I liked Eden Sher in the role, but I also felt like it wasn't necessary, as The Middle gave a nice ending to her story. This show would've had to serve as an "Inbetwequel" to the ending the show had set up for her. This is probably for the best.
Speaking of ABC spinoffs, Schooled, the 90s-set AJ Michalka starring spinoff of The Goldbergs, will debut on January 9th. Oh, look -Tim Meadows is in the cast. Yup, this show is D.O.A.
In a somewhat surprising move, Netflix has cancelled Marvel's Daredevil series. I'm gonna say this one more time, for the cheap seats in the back: DISNEY IS NOT PICKING UP THE CANCELLED MARVEL NETFLIX SHOWS! I've already explained the WHY, and I'm just tired of the same time armchair speculation.
I can admit when I'm wrong, and I once said that Agents of S.H.I.E.L.D. wouldn't be around for Avengers 4, yet not only will it, but it's been renewed for it's seventh season before the sixth even launches next summer. I felt like the show was going to be the "connective tissue" of the MCU around that Winter Soldier/pre-Age of Ultron era, and then go away. Then it kinda distanced itself from the movies except when it couldn't be explained away (due to the politics), and started doing its own thing. They say last season was great, but I'll have to check that out for myself.
Country radio personality Bobby Bones won season 27 of Dancing with the Stars, which has fired off this outcry of how the show is "broken". "It's just a popularity contest now!" Um, EVERY reality show is a popularity contest, Doris!
Jon Cryer has been cast as Lex Luthor in Supergirl and, while I have no interest in watching that show, I don't hate that casting. I don't hate it at all.
Back in 2012, ABC aired a series called GBC, based on the semiautobiographical book Good Christian Bitches. Of course it didn't last, as we're not currently talking about the 7th season of GCB, are we? Well, The CW is developing a reboot of the show, and it will retain its original title. Man, there are gonna be SO many evangelical groups up in arms about this one.
It was a busy week for celebrity profiles, as one focused on the renaissance of Amanda Bynes (glad she's not dead!), while the other focused on Lena Dunham coming to terms with the fact that she's a bit much to handle at times.
There are rumblings of a revival of the 90s CBS series Northern Exposure, with most of the cast – including original star Rob Morrow – back on board. This is interesting, seeing as how most of the cast and crew reportedly hating working with Morrow. I guess they loved that money more than they hated him, huh?
There was a One Tree Hill Christmas movie on Lifetime that was NOT a One Tree Hill movie. WTF? Yeah, they cast about 60% of the One Tree Hill cast in The Christmas Contract, yet it wasn't a One Tree Hill project. Who does that? That's like if I brought in Matthew Perry, Lisa Kudrow, Matt LeBlanc, and David Schwimmer and was like, "OK, in this show, you guys all work in a bar"…
Jerry Springer will be bringing original content to your syndicated airwaves next season, when his court show, Judge Jerry, launches. I'm not kidding. What bothers me is that his talk show fizzled instead of going out with a bang. Its best years were probably 20 years ago, but it still deserved more of a sendoff than it got. To me, this court show is just the Three's A Crowd to his Three's Company.
Even though Spider-Man: Into The Spider-Verse isn't even out yet, Sony is reportedly developing an animated Spider-Women spinoff probably focusing on Spider-Gwen, or Ghost Spider, or whatever they're calling her this week. I've got thoughts about Into The Spider-Verse, but you'll hear more of them in the coming weeks.
Netflix is developing animated series based on the works of the "ORIGINAL J.K. Rowling" himself, Roald Dahl. Debuting in 2019, they're set to be event series and specials.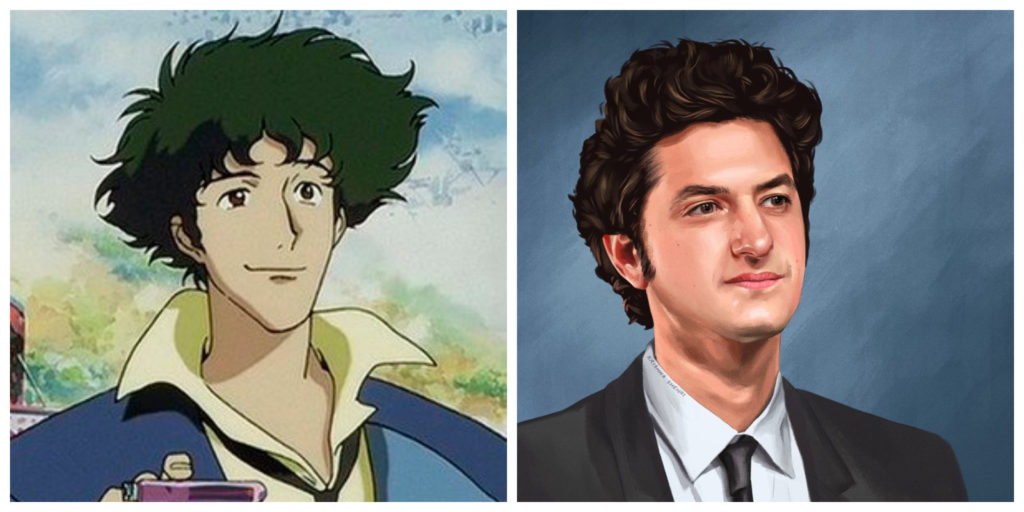 Speaking of Netflix, they've announced a 10-episode order for a live action adaptation of the Cowboy Bebop anime, and this could either be the best or worst thing they could ever do. People love the Hell out of that series, and I can already hear the cries of "They're whitewashing characters!" I only know two things: 1) they'd better cast Ben Schwartz as Spike (I'd also take David Tennant) and 2) the in-show bounty hunter series Big Shot better be worked into this version.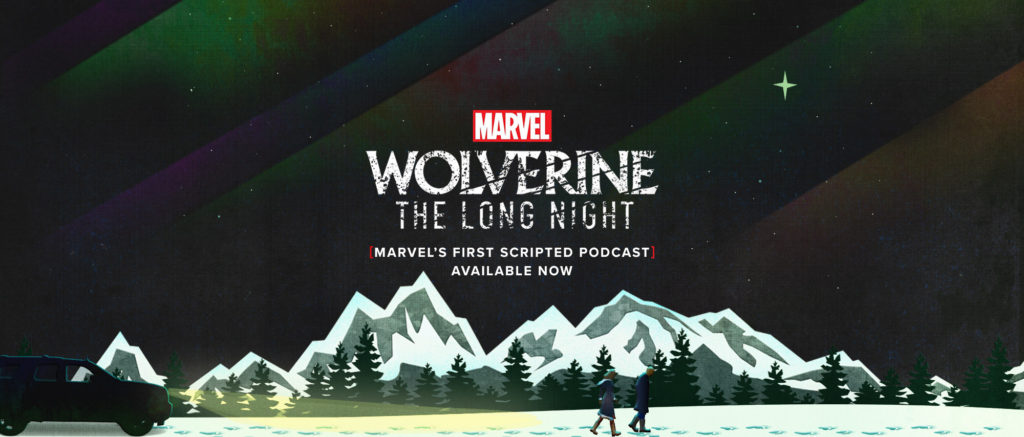 So I have this slightly narcissistic thing about me where I don't listen to a podcast unless the hosts have had me on as a guest at some point or another. I just like having the ability to interact more than just yelling at the computer, and when I know the hosts, I can drop them a line, or even go on a future show to add to that conversation. There are a few exceptions to this rule, but that's pretty much how my Stitcher playlist is designed.
Anyway, I had a long drive home from Richmond last weekend, and I was all out of my usual podcasts, having listened to them on the way down. I didn't really feel like music, either, but I needed something to listen to. Then I remembered that a coworker had recommended Wolverine: The Long Night to me when he was trying to pitch the idea of audio books to me (I still prefer print). He said that this was more of a radio show than an audio book, but I might like it. What it was, actually, was a podcast that was a co-production between Marvel and Stitcher. Broken up into 10 chapters, all were available to listen to, ad-free, so my bingeing began!
Wolverine: The Long Night takes place in its own sort of timeline (which they're hinting might expand into the Marvel Podcast Universe), so you can't really place it in the movies or the comics. Some grizzly murders have occurred in the small Alaskan town of Burns, where everyone is hiding, or running from, something. The police are simply telling the public that the murders were committed by a grizzly bear, but could there be something more? Could the short, mysterious loner who just came to town be responsible for the deaths? Well, that's what Special Agents Pierce and Marshall are there to find out. They are our "eyes" through the whole story, so we see everything from their viewpoint. We're able to check in on other characters because of bugs that the agents placed around the town. Otherwise, you don't know it's happening unless Pierce & Marshall have somehow documented it.
Despite the title, the series is less about Wolverine, and more about how his mere presence has affected everyone in the town. We don't "see" him much, but when we do, it counts. Meanwhile, there's some other stuff going on in the town that could be connected to the murders. There's the mysterious Aurora cult, who have come to the town to establish a base. There's the wealthy Langrock family, whose money and generosity have kept the town afloat for years, but are they hiding something? As it should come as no surprise to anyone, all of these things overlap heading toward the conclusion of the story.
I really want to discuss this thing with someone else who's listened to it because there are a lot of 3rd act issues with it. There's a swerve that you saw coming a mile away, but it doesn't go in the direction in which you thought it would have gone. Plus, because it's in its own universe, things happen for which there's no in-canon precedent. I don't want to spoil it here, but if you have listened, give me a shout.
Wolverine is voiced by English actor Richard Armitage, who comes off sounding like an angry George Clooney – which doesn't exactly sound like it fits on paper, but it surprisingly works very well. The rest of the cast is fleshed out by Scott Adsit, Bob Balaban, Brian Stokes Mitchell and more talented folks. I really didn't know if I was going to take to the whole thing, but I got home with about 3 hours left in the story. I went down to the basement, and just listened to the rest like I was in the '40s or some shit. What's a "television"?
Would I listen to more like this? Sure and, as I said before, there are even talks of expanding this into a whole universe. I really enjoyed the experience, and it's an engaging story. I'm not entirely sure it stuck the landing, 'cause that last episode…whoa. Still, of the experience as a whole, I give it an A, and as the best thing I experienced in the past week, Wolverine: The Long Night had the West Week Ever.