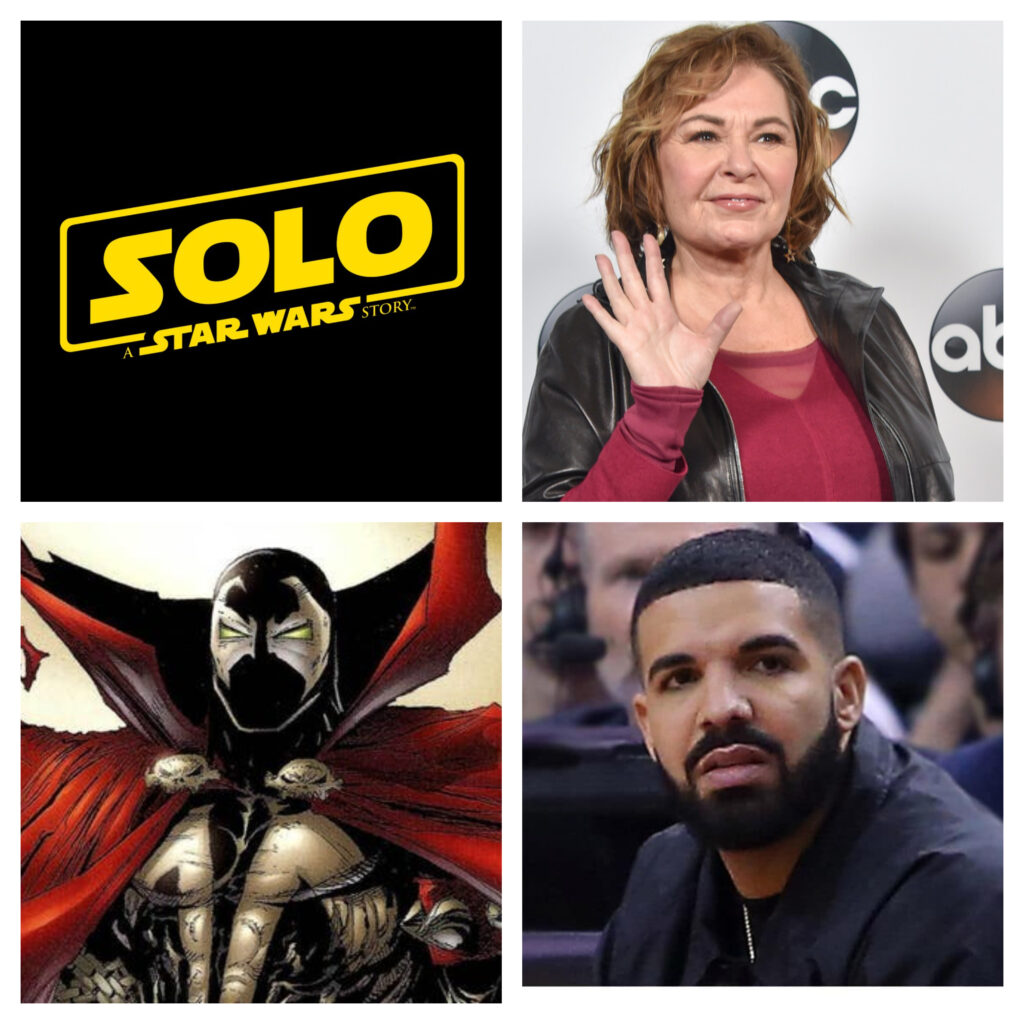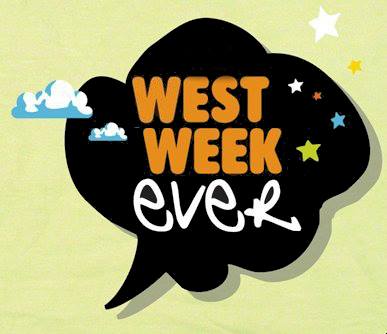 There are some weeks where I actually dread writing this post, and this is one of them. I mean, a LOT happened, but nothing I'm really excited about. Still, I guess it all needs to be discussed. Let's get to it, shall we?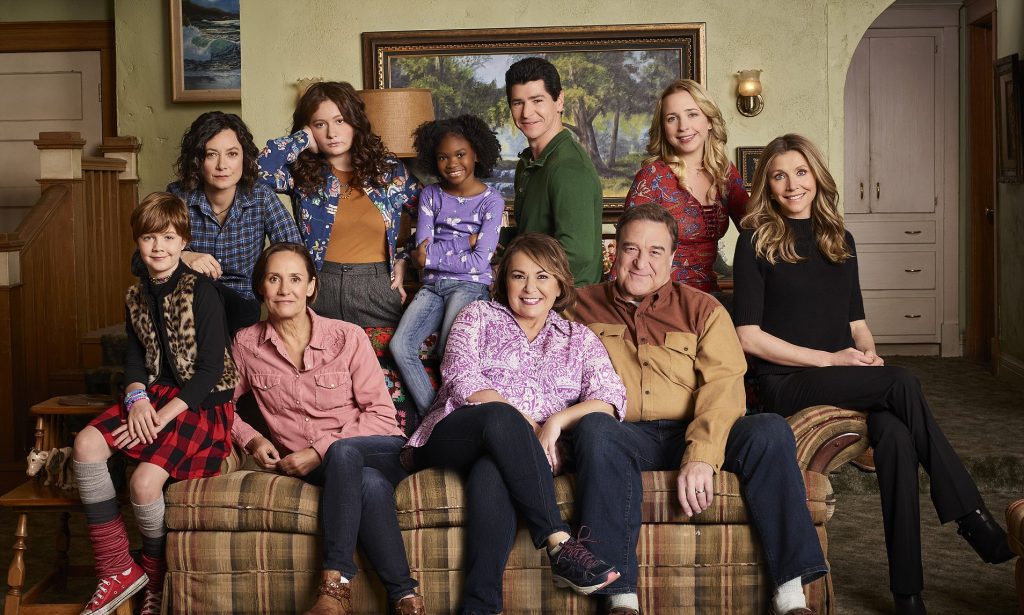 So, I guess we've gotta talk about Roseanne. I pretty much went on record that I wasn't just dying to watch the revival after it was announced it would have more of a political slant, with the Conners as Trump supporters. Now, before any of the 2 Trump supporters who might be reading this get all butthurt, my problem with this is that I didn't feel like it was inline with what Roseanne Conner would be, regardless of Roseanne Barr's personal beliefs. The problem with "separating the art from the artist" is that it becomes increasingly harder to do when the artist controls the product and imbues the product with their own personal quirks. While some of you may feel he's "making America great again", Trump has a history of being a bullshitter, con artist, womanizer, etc. If there's one good thing I could say about the character of Roseanne Conner, it's that she had a really good bullshit detector. I feel like the characters of Dan and Roseanne Conner, in this case, were appropriated to expound on a view that someone, somewhere was trying to get across. On the one hand, you could say, "Well, they're lower middle class, and he promised to bring jobs." On the other, though, I don't think Roseanne Conner would've trusted a guy whose sole claim to fame during Roseanne's original career rise was simply that he was "The Rich Guy In New York". She would've seen right through his bullshit.
So, the revival seemed like they wanted to play both sides. I mean, they establish the Trump thing in the premiere, and then don't touch on it again. All of the other episodes seem to sort of dip their toe into class anxiety, like "What does it mean when Muslims move next door?" In a heavyhanded Archie Bunker kind of way, Roseanne has her beliefs challenged, and is supposedly better off by the end of the episode. Except for the Trump thing. It was thrown out to establish a foundation, and then abandoned. In many ways, it did more harm than good, even if there are Conservatives who applauded the show for "having the guts to go there." Anyway, the whole having her beliefs challenged aspect is all well and good – if it were based on any truth.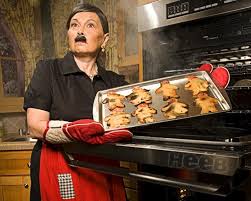 I didn't want to support the show because I felt Roseanne had become a vile human being in the time since the original run ended. There's Conservative, and then there's Nut Job, and she's the latter. Were I a Conservative, I'd hate to be lumped in with the likes of her. "Well, what has she done, Will?" First, there's the Heeb photo shoot, where she dressed as Hitler while putting Jew cookies into an oven. Then, there's the Twitter feed, which is almost as incendiary as that of…someone else you're familiar with. No, after all of that, I had no real interest in giving her ratings. I did, however, wonder if she was still trying to exhibit an air of inclusiveness that I felt was in the original show. So, I found myself reading episode recaps, and it seems like she was trying to recapture a lot of that old "magic". I actually did watch the Muslim episode because it was on in the background at my mom's one night. After seeing it, I might've forgiven the show. I might've even binged on the episodes I missed over the summer. Then, any goodwill the show engendered was immediately thrown out the window the minute the Real Roseanne took to her Twitter account.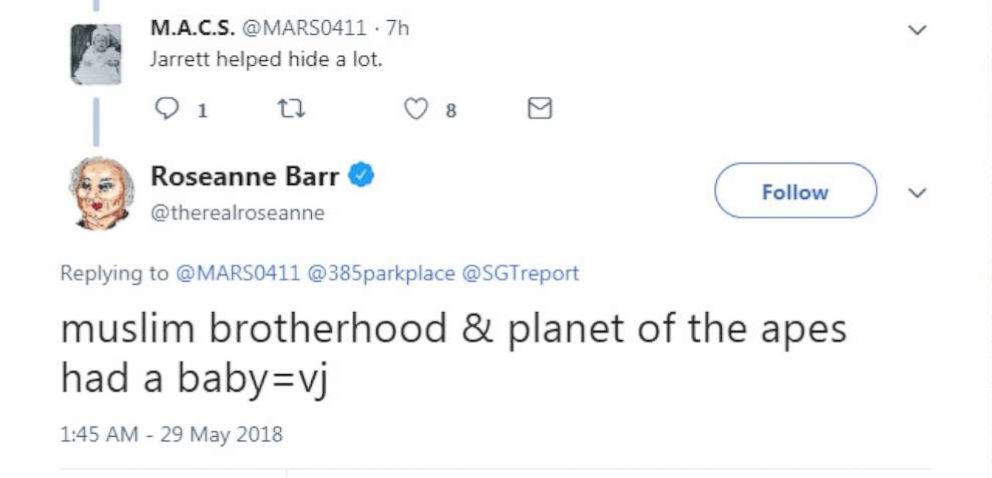 So, some backstory: Roseanne was talking politics on her feed, as she's wont to do, and Valerie Jarrett was mentioned. Jarrett, a top aide to President Obama, is also a Black woman. So, Roseanne basically called one of Obama's top people an ape and tied her to the Muslim Brotherhood. And, rightfully so, people were upset. Little did we realize what would transpire in just a few hours, as ABC announced that it was cancelling the show. Over the next day or so, there was a debate back and forth over whether she should've been fired, and how it sucked for all of the cast and crew who were now out of jobs. A couple of Roseanne's TV kids, including Sara Gilbert and Michael Fishman, "threw her under the bus" (in her words) by tweeting in opposition of her statement. Roseanne later tried to say that the Twitter tirade was the result of the fact that she had taken Ambien, at which point the makers of Ambien popped up and denied her quicker than Peter denied Jesus all three times in the Bible.
Meanwhile, folks really started grasping at straws, claiming this was a "double standard" or a "violation of freedom of speech". One thing I read a lot were people saying "They fire Roseanne, but let them say whatever they want on The View, and nothing happens." That's not true at all. You just don't hear about that stuff as much because nobody gives a shit about The View. Panelist Joy Behar insinuated that Vice President Mike Pence might have mental problems because he claims that God speaks directly to him, and she was *forced* to apologize for that on air. Don't say that "nothing happens"! As for "freedom of speech", sit on back, because a lot of y'all in the cheap seats need to hear this message: Freedom of speech only protects you from the government. It means all of jack shit in private industry. ABC cancelled the show because they knew the repercussions could negatively affect their bottom line. They didn't censor Roseanne. They just made a business decision.
I've got to say that I'm a bit surprised the show got cancelled. I mean, it was the biggest show of the season, and ABC had clearly stumbled onto a cash cow. Yes, I get the gesture they were trying to make, but keep in mind that these were the same folks who greenlit the show in the first place. ABC President Channing Dungey made the call to end the show, but she also made the call to pick it up. There was no regime change in the middle of those decisions. Frankly, I don't even feel like this is the worst thing Roseanne did THIS YEAR, but I guess it was the straw that broke the camel's back? It's just odd to me that a network that was so squeamish about airing a Black-ish episode about the NFL kneeling protests is now trying to earn back some brownie points for slapping down Roseanne.
I also think it was crazy for all of the Viacom networks to pull the reruns of the old show. This is the same thing that happened to Bill Cosby when that shit went down. Everyone yanked the reruns of The Cosby Show. It's an empty gesture because we all know they'll eventually come back. Stations pay for a certain amount of airings when they buy a syndication package, and you damn well better believe they're going to get their money's worth. It's like the Hulk Hogan thing to me. WWE scrubbed him from EVERYTHING after his slurs went public, but there's a constant campaign to reinstate him. We all know it's not a matter of IF, but rather WHEN. And it's the same here. Roseanne doesn't need this money. She doesn't need the show. It was something for her to do. At this point, this whole thing probably just emboldened her to be a voice for the extreme right, akin to SNL's Victoria Jackson, without the failed acting career. Anyway, she fucked over her cast and crew, but at the end of the day, Roseanne will be fine.
Then, The Left just had to go and fall in the swimming pool. I know I've touched on this before, but I despise what I call "Late Night Liberal Smuggery". I hate all of the talk show monologues that get on a soapbox about politics, yet nothing changes. It's why I was never a fan of Jon Stewart. Even when we're winning, we're still somehow losing and want to be snarky about it. That snark gets old. The biting edge eventually dulls. I like Trevor Noah. I have his book and have seen his standup specials, but I'm not the guy to watch The Daily Show every night, yelling "Preach!" to the screen. So, I was especially not much of a fan of Samantha Bee when she came along. It's like she's Jon Stewart, but feels she has to work harder because she's a woman. That's probably true in comedy, entertainment, and politics, so I'm not trying to take away her work ethic and whatnot. No, what I will take issue with, however, is her inability to read the room.
On Wednesday, Bee called Ivanka Trump a "feckless cunt". I take it that's a vagina without fecks? I dunno. Why did she do this? Well, there's primarily two reasons. First off, Ivanka's apparently profiting from her position by being granted special patents from China for her product line. It's a total conflict of interest. Meanwhile, she posts pics of herself with her kids at the same time her father has emboldened ICE to split up families and deport parents. So, her conflict of interest, combined with her perceived insensitivity, seems to have triggered this. But The Right were NOT having it! "Double standard!" "TBS should fire her like ABC fired Roseanne!" And ya know, I wouldn't have marched if TBS had cancelled her. Again, it would've been a business decision. I think Bee made a gross miscalculation thinking she could get away with that smoothly.
This isn't a question of "Well, was she right?" I think timing is everything, especially in comedy. Had it been pre-taped a few weeks ago, I'd probably let it pass. If she filmed it after the Roseanne shit went down, however, then that was just not smart. I'm just saying she never should've thought she'd fire that joke off successfully. And that's the thing: it's not a joke. It came from a place of passion and emotion, so you can't write it off as humor, even if it was said on a "comedy show". What Ivanka is doing IS wrong, but I've always said HOW you say things is just as important as WHAT you say. This wasn't the way to do that.
What I'm not here for, however, is the pearl-clutching from The Right. We had an entire election season of Hillary being gleefully called the same thing. There were t-shirts emblazoned with it. These are the same "Fuck your feelings, snowflakes!" folks who now get offended when someone acknowledges that Sarah Huckabee Sanders looks like Shrek. Ya can't have it both ways. Ted Nugent called Hillary a cunt and he got invited to the Trump White House. It's like the old anti-drug PSA: The Right can't get mad at The Left, 'cause "I learned it by watching YOU."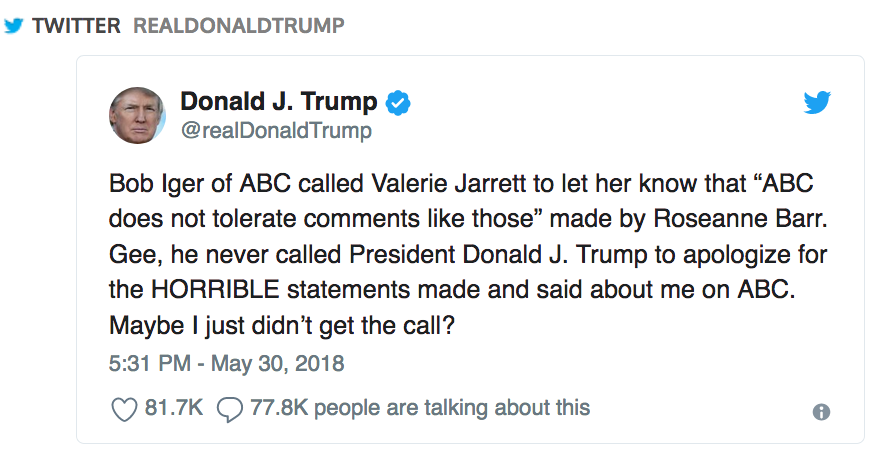 And no, the statements of Roseanne and Bee are NOT the same. Roseanne's was racial in tone, and compared a Black woman to an ape – something that White people have done for centuries to degrade Black people. Bee called Ivanka feckless (meaning "irresponsible") and a cunt, which is self explanatory. Think of "Cunt" like "Super Bitch³". While seen by some as degrading to women, it's not degrading to a racial group with a history of being oppressed. It's like the statements by both women went to the same school, but they certainly weren't in the same grade. Meanwhile, the White House is calling for TBS to fire Bee. This, folks, is where your cries of "Freedom of speech!" should come in. This is a violation of the First Amendment, spearheaded by an administration determined to defeat all of its perceived enemies. Thousand of people are dead in Puerto Rico, yet the President takes time out of his busy schedule of ignoring that by tweeting about how he was still waiting for his own apology from ABC for the "horrible statements" they've said about him. What a fucking petulant child. And I realize I can only say that because I'm a nobody with a vanity blog and not someone with a national cable TV show.
Things You Might Have Missed This Week
Star Jason Momoa and director Corin Hardy have left the remake of The Crow. I really don't know why they keep trying to make this happen. That movie is the Heath Ledger of movies, as we'd have completely forgotten it had Brandon Lee not died filming the original.
Amazon has officially picked up The Expanse for its fourth season after it was cancelled by Syfy a few weeks ago.
Red Sonja herself, Brigitte Nielsen, announced that she is pregnant with her 5th child at the age of 54. Her husband is 39, and I'm just glad she never popped out any kids during that whole Flavor Flav phase…
For you car folks, Matt LeBlanc will be leaving Top Gear after its upcoming 4th season.
Maybe the third time is the charm for Locke & Key, as a 3rd pilot for the comic adaptation has been ordered by Netflix.
L.A.'s Finest, the Bad Boys TV show spinoff starring Gabrielle Union and Jessica Alba, may not be dead after all. After NBC passed on the pilot, apparently Charter Communications entered into discussions to acquire the series to air on their Spectrum service.
Sesame Workshop filed a suit against The Happytime Murders because they felt that the trailer was damaging their brand's image. The film is actually directed by Muppets creator Jim Henson's son, Brian Henson. The judge threw out the case, siding with the film.
Jamie Foxx will star in the film reboot of 90s Image comics hero Spawn. I can't tell if this is a major coup for the Spawn brand OR if Jamie really needs money to keep hiding his secret relationship with Katie Holmes. I mean, he hosts a Name That Tune rip-off on Fox, so something tells me he may not be the best with money. Anyway, the film will be directed by Spawn creator Todd McFarlane, which is laughable to me seeing as how he hasn't even inspired *action* in his own toy line for the past 20 years. I really don't see how he's gonna pull this off.
Andrew Lincoln is reportedly leaving The Walking Dead after next season, with Norman Reedus taking over as the lead. This is quite the departure from the comic, where the character of Rick Grimes is pretty pivotal with all of the goings on. The show, however, solidified its willingness to diverge from the source material with the way that it handled Rick's son, Carl.
Apparently there's some kind of rap beef going on between Drake and Pusha-T. It seems like Drake was just soft-shoeing it, and then Pusha clapped back by revealing that Drake has a secret child. Man, Pusha went for the jugular! That's like if you got in a fight with your girlfriend in public over something stupid, and she retorts with "Well, yo' dick ain't shit!" Anyway, it appears that funeral services for Drake will be announced shortly.
Last week I told you that Fox had entered into a deal to air WWE SmackDown starting in 2019. Well, now there are reports that they've also entered into a deal to carry the WWE NXT brand on Fox and FS1 channels.
In light of ABC now having another half hour to fill on Tuesdays next fall, there are reports that they are fastracking a spinoff of The Middle, starring Eden Sher's character, Sue Heck. I am SO here for this, even though I felt The Middle had the perfect finale. Here's hoping this is more Frasier than Joey.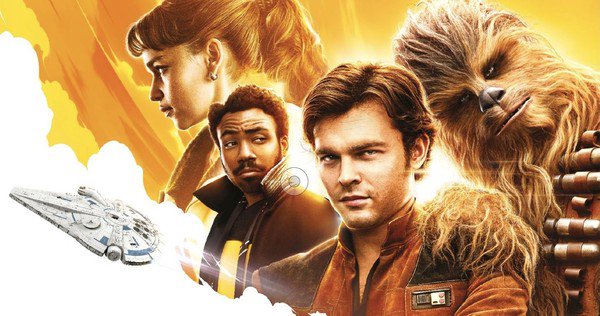 I guess I've gotta give the West Week Ever to Solo: A Star Wars Story? Is that how this works? Wait, why am I asking y'all? This is MY site. I mean, the movie has made $200 million worldwide in its first week, and I believe it was director Ron Howard's biggest opening. That said, it's still seen as "underperforming". While I wasn't rooting for Solo to bomb, I do hope it causes them to rethink this whole Annual Star Wars Movie strategy. Star Wars just isn't special anymore.
As I said on social media, Star Wars went from being your rich uncle who bequeaths his fortune to you to being your grandparents who visit every year, and somehow think the $5 bill they slip you can still buy anything in this day and age. I am far from a discipline of the franchise, but I always felt like a lot of what made Star Wars special was The Wait. I'm talking about the anxiety that built between the ending of The Empire Strikes Back and the release of Return of the Jedi. The anticipation of the Prequel Trilogy (contrary to how folks feel now, y'all were looking forward to those things at the time!). Force Friday toy releases, timed to coincide with the first film after one of those extended waits. From outside the fandom, Star Wars always seemed to have a "Good Things Come To Those Who Wait" thing about it, and I think there's just an embarrassment of riches right now that kinda tarnishes the brand for me. I haven't seen Solo yet, so this isn't a knock on quality, but rather business strategy.
I had a friend compare this to Marvel, saying if Superhero Fatigue hasn't set in, why is it OK to assume Star Wars Fatigue is a thing? He posited that the Marvel machine could be applied the same way to Star Wars, but I just don't think that's true. I realize Star Wars is doing the whole One Saga Film, One Spinoff model, but I often wonder what will happen when the Skywalker Saga truly ends. I mean, folks claim they want new things, but their actions show otherwise. A lot of fans hated The Force Awakens because it was too much of a rehash of A New Hope. Then, The Last Jedi offered something new, and it proceeded to destroy friendships and families because it "wasn't Star Wars". I wish Disney would take a parental stance on this franchise, and just say "If you can't appreciate what we give you, then we'll just take it away from you for a while." That, then, would trigger a Wait. And hopefully the fans will either discover a newfound appreciation for what they have or they'll find something else to tickle their fancy. Either way, a lot of Star Wars fans right now don't deserve Star Wars, but there's too much money to be made, so look for Star Wars: Lobot's Reckoning coming soon to a theater near you. Anyway, this is me, begrudgingly saying that Solo: A Star Wars Story had the West Week Ever.