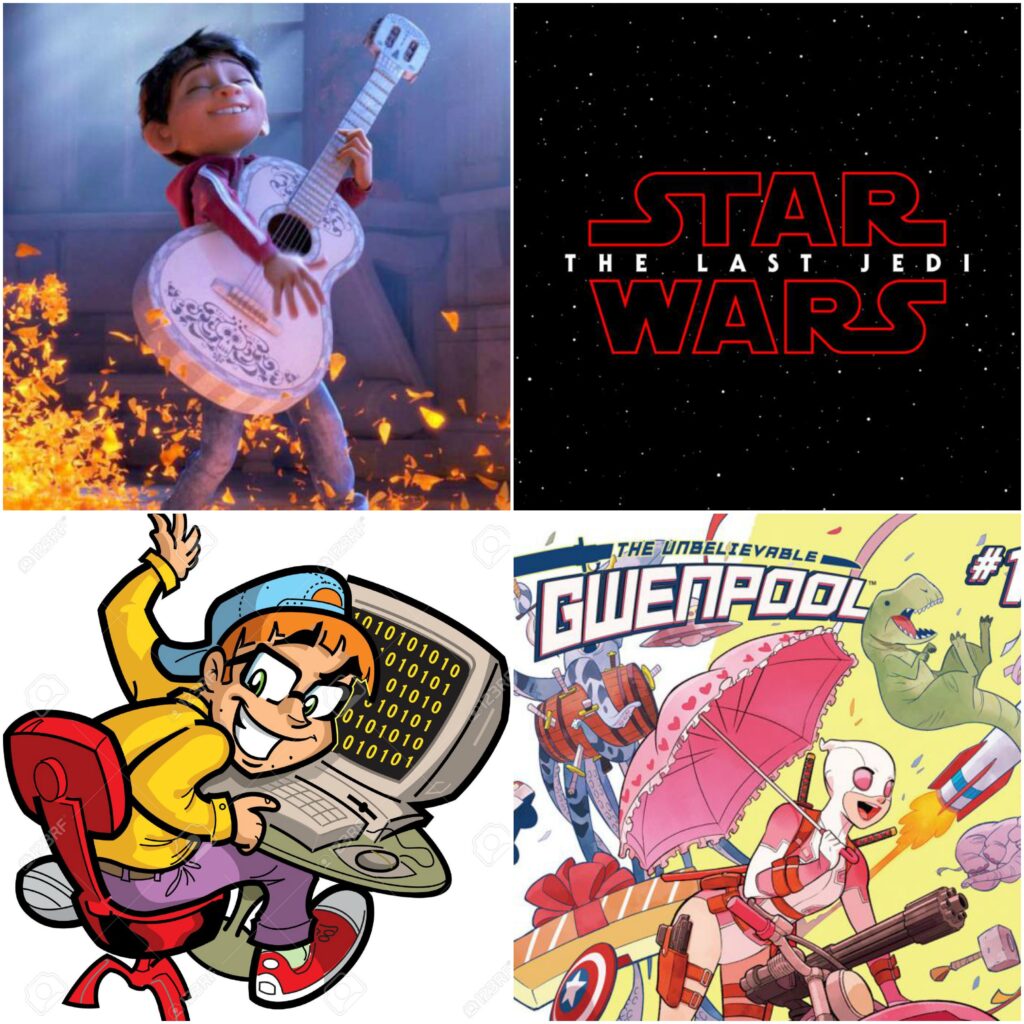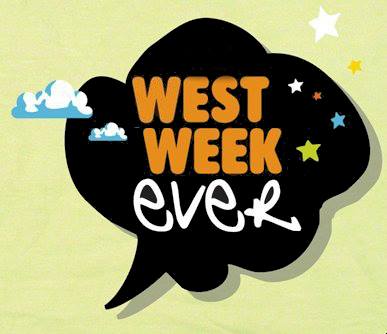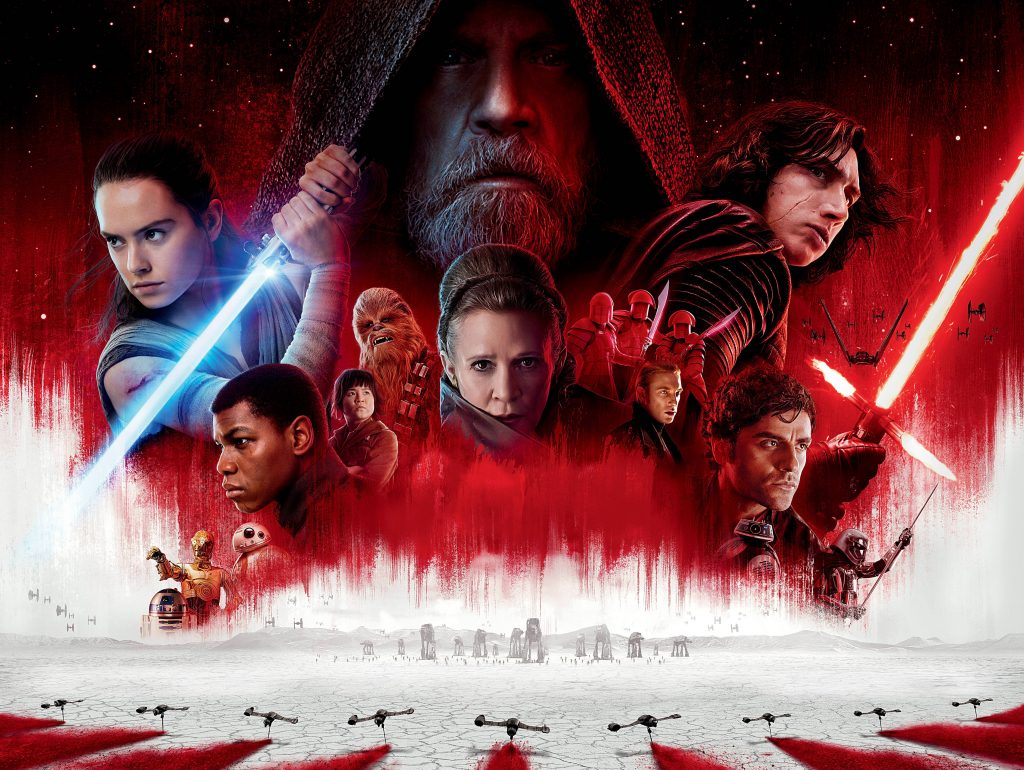 So, like most people in America, I saw Star Wars: The Last Jedi. In fact, I saw it last Thursday night, but I wanted to save my thoughts until most folks I had a chance to see it. Little did I realize this would be one of the most polarizing films of my lifetime. I'm the furthest thing from a huge Star Wars fan, but I enjoyed The Force Awakens, so I was cautiously optimistic about this installment. And ya know what? I LOVED IT. I was kinda dreading going to the theater that night, as I was tired but I'd already bought the ticket. What I got, however, was a highly entertaining movie. Was it "Star Wars"? I dunno. I don't feel like I'm a big enough fan to weigh in on that. Those of you who are don't seem to believe that it was. That's the divide I've been noticing: The casuals, like myself, had no issue with it, while the hardcore fans seem to be the ones with the most issues – a lot of this due to unfair expectations they took with them into the theater. Here are my random thoughts on the film, in no particular order:
So, Luke was banging those fish nuns, right? I mean, we're all on the same page there, I hope.
This film gave us something we'd never seen in a Star Wars film before: I swear, if the N-Word exists in a galaxy far, far away, Phasma totally would've used it on Finn when she said "You were ALWAYS scum", and he replied with REBEL scum." Replace "scum" with the N-word and you get just how powerful that scene was.
Um, is Poe banging Leia? There was some weird subtext there which wasn't quite mother/son, nor was it leader/subordinate. Was there some May/Life Day relationship going on there?
Episode IX should just be called Star Wars: What's The Fucking Point? I mean, they're down to about 25 rebels at this point. And, for a middle movie, it sure felt kinda like a finale in a lot of ways.
I LOVE that Rey is the child of nobodies. It really bothered me that fans were insistent that she was a Skywalker or a Kenobi, when the galaxy is so much larger than those two families. As I said on Twitter, my favorite part of the movie is how it broke fanboys' speculation boners like reverse cowgirl gone horribly wrong.
Canto Bight was dumb, and the animal cruelty message was hamfisted
Speaking of Canto Bight, you've got a planet dedicated to gambling, and the galaxy's most famous, Colt 45-swigging gambler ain't there? Whatever, dude.
Boyega was just…there. He brought very little to this movie except to give Rose some company over the on the B plot. I expect so much more from Finn than we've ever actually gotten. Maybe it's just me, foolishly rooting for the Black guy, but he just feels like wasted potential.
I totally never realized Poe had never met Rey (I only watched TFA the one time, when it first came out). Was there something there between them in that interaction? Is there now a Love Rhombus between Finn/Rey – Finn/Rose – Rey/Kylo – Rey/Poe?
I love how Rose got "Finned" at the end of the movie, and I hope that's a running joke from here on out. Every Star Wars movie should end with someone in a coma, only to wake up as window dressing in the next movie.
Does the vacuum of space work differently in Star Wars? I mean, they open bomb bay doors, but without some force being applied, those bombs wouldn't just drop down the surface of the First Order dreadnought. Also, when Rose's sister opens the bomb bay doors, shouldn't she have been sucked out instead of just hanging out on that ledge?
While it was a visual spectacle, what was the purpose of the red salt? Was it to give the appearance of troop blood while retaining a PG-13 rating?
"We don't fight against what we hate, we fight for what we love" is the hokiest, most 2017 statement they could've shoved in the film. It's almost as hokey as the "You don't mess with New Yorkers!" scene from Raimi's Spider-Man.
All that said, I do understand why the hardcore fans are mad. For a movie franchise essentially based on an ancient religion, this movie basically comes in and says "Your god? Yeah, doesn't matter anymore." It's all "Let the past die" this,  and burn up the magical tree that. To come out of this movie as a hardcore Star Wars fan is akin to graduating from college with a fine arts degree. All that time, learning trivia and minutiae, wasted. Plus, there are legitimate questions. Who was Snoke? Where were the Knights of Ren? The fan theories were all over the place, and none of them were validated. But, you know what happens when you assume…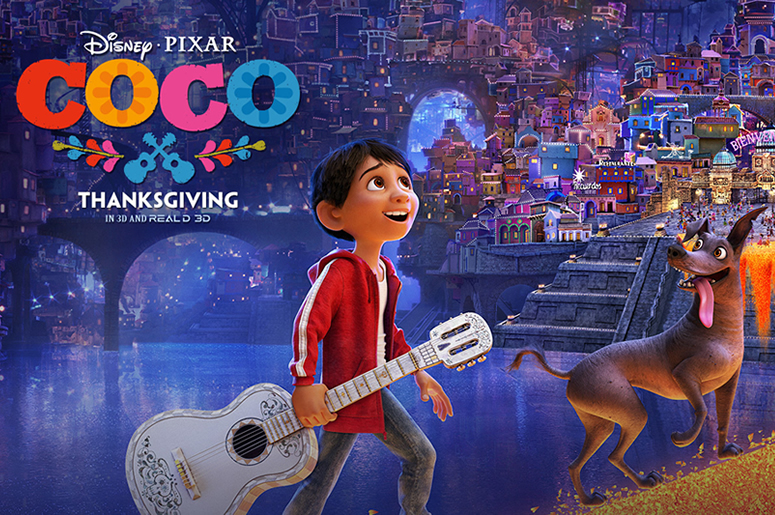 Anyway, the best film I saw in the past week was Coco. It was my daughter's first movie in a theater, so I was equal parts enthralled by what was onscreen, while also being terrified she was gonna act a fool. I didn't know much about the film going into it, but I was pleasantly surprised. On the Day of the Dead, aspiring musician Miguel pulls a "Home Alone" and tells his family he doesn't really care about them because they won't let him play his music. Well, after a strange sequence of events, he finds himself in the Land of the Dead, where he needs to get the blessing of a departed loved one in order to cross back over into the real world. It was a visual spectacle, but also highly emotional. I hate the phrase "the feels" with an unbridled passion, but it would be appropriate to use it here. Did I cry? No, YOU cried! Shut up! Anyway, I'd be really interested to know how the movie performed in the "Build the Wall!" segments of America, 'cause it's really ethnic. If they're not seeing it because of that ignorance, however, then it's their loss because it's an amazing film.
HarassmentWatch (TM)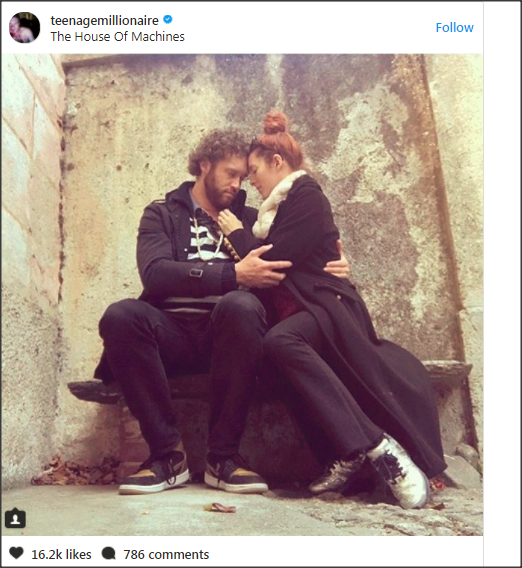 TJ Miller: The comedian/actor has been accused of sexual assault during his time at George Washington University. You ask me, nothing bad about that dude surprises me. In fact, I almost wonder if he left Silicon Valley before they got a chance to fire him. Anyway, he denies the allegations and posted that awkward ass pic of him and his wife on Instagram. Meanwhile, Comedy Central will not be moving forward with The Gorburger Show.
Mark Schwahn Update: The One Tree Hill creator has been fired as showrunner of The Royals following investigation of his sexual misconduct.
Chris Matthews: The MSNBC anchor allegedly made inappropriate jokes about a female staff member in front of other staff, and NBC News had to pay a separation settlement back in 1999.
Paul Haggis: The Crash director/The Facts of Life writer was accused of sexual assault by publicist Haleigh Breest in 2013. He says they had a "fun, and sometimes flirtatious, relationship" and that she's trying to extort $9 million out of him. She says he forced himself on her, while he says a recent back surgery prevented him from even having the range of motion to do such a thing.
Morgan Spurlock Update: Who Rules The World, an unscripted show that tackled women's issues, suspended production after severing ties with Spurlock following his admission last week. Super Size Me 2: Holy Chicken! has also been yanked from the Sundance Film Festival
David Eaton: The VP and executive editor of NFL Media resigned following HUNDREDS of sexually explicit tweets he'd sent to prostitutes and adult film actresses over the years were reported by Deadspin.
Gary Goddard Update: He has now been accused by eight former child actors in a Santa Monica theater group. There were hands on thighs, and abuse during overnight stays.
Harvey Wenstein Update: Peter Jackson confirmed that Weinstein blackballed Mira Sorvino and Ashley Judd, as Jackson wanted them to appear in the Lord of the Rings trilogy when it was set up at Miramax, but Weinstein told him the two women were a nightmare to work with. It is believed that Weinstein did this to many other women in regards to their careers.
Glenn Thrush Update: Thrush is back, baby! The New York Times has completed its investigation of its star reporter and said "While we believe that Glenn has acted offensively, we have decided that he does not deserve to be fired". So, he'll be given a new assignment. Must be nice.
Johnny Iuzzini: The celebrity pastry chef (that's a THING? God bless America!) and judge of The Great American Baking Show was accused of sexual harassment and abuse by multiple women. As a result, ABC severed their relationship with them, but in a move that screwed over everyone involved with the show, they decided not to air the remaining episodes. So, the winner was announced via a video posted to Facebook. Womp womp.
Matt Damon: Tone deaf Damon released a statement that was basically "Why aren't we applauding the guys who aren't sexual predators?" Oh, you mean the ones who are doing what they're SUPPOSED TO DO, Matt? Ugh…
Papa John?:  While it's not clear if it's due to any accusations (yet), John Schnatter will be stepping down as CEO. Sure, he got a lot of heat for saying that the NFL protests were bad for his business, but I'm not sure that's the whole story. So, do you think it was the protest hate that got Papa John, or did he get caught blasting his garlic sauce all over some female coworkers and he's working out settlements?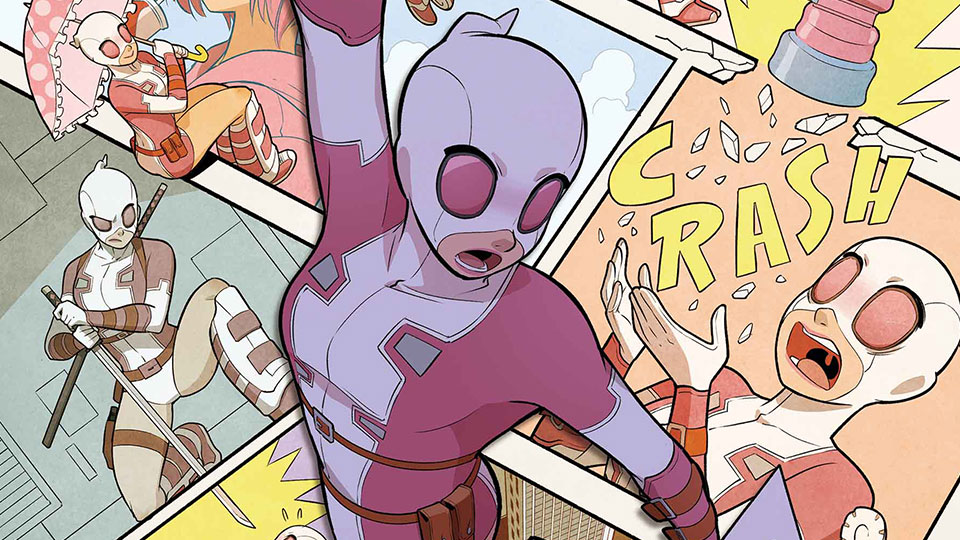 They're calling it a "bloodbath" over at Marvel, as the following books are getting cancelled:
Generation X
Guardians of the Galaxy
Hawkeye
Iceman
Jean Grey
Luke Cage
Royals
Secret Warriors
The Unbelievable Gwenpool
U.S. Avengers
Uncanny Avengers
The Gwenpool cancellation hits me the hardest, as I really love that book. It's cute and fun, but I guess it wasn't gritty enough or "matter" in terms of whatever Marvel's next big event might be. The minority community has latched onto the Luke Cage cancellation with the usual outcry of "Why doesn't Marvel support books like this?" Have a seat, 'cause I'm about to take you on a Rant Ride.
I hate the hot takes where folks are like "Marvel didn't do a good job promoting this book!" You're asking too much. Why go the extra mile to promote Luke Cage when Spider-Man over there does what's expected of it month in and month out. These books got the same house ads and same lenticular covers as everyone else. I don't think they deserve more effort to sell just because they appeal to a marginalized audience. At the end of the day, they ain't fucking with comics like that anyway.
This ain't 1963. You can take out all the TV ads for comics you want, and folks respond with a "They still make those?" Or a "You mean I gotta buy this shit EVERY month?" Next, you'll be complaining about the publishing model, and that ain't gonna change just for America Chavez. The angry fans want them doing shit they don't even do for the books that sell. "Did you contact any movie theaters to show ads before films? Did you buy any TV spots? Did you go out into the community?" See, I don't even think the community outreach would work because, at the end of the day, you're still asking sometimes underserved communities to waste $4 a month on some stale entertainment. And trade-waiting "kills books", so…
At this point, complaining about comics not selling is like complaining that you can't find stamp collecting supplies. It's a dying art, folks. Y'all saw The Last Jedi. Let the past die. Stop acting like there's some shot in the arm that's gonna save it.
There's no conspiracy to kill minority books. You should be glad the books are even out there to begin with. Then it comes down to A) are the books good? B) are people actually gonna buy instead of flap their gums? At some point, it's just bad business to keep publishing a book that's losing everyone money. I've worked for the distributor. I've been a buyer. And when you consider the scale, the desired numbers aren't outrageous. Sometimes you simply lose and there's no angle to it.
So, let's pour one out for The Unbelievable Gwenpool. Long may she reign!
In other Marvel news, there's an update on the C.B. Cebulski situation. While Marvel hasn't issued a statement, Cebulski did issue an apology to The Atlantic, saying:
I'm truly sorry for the pain, anger, and disappointment I caused over my poor choice of pseudonym. That was never my intention. Throughout my career in anime, manga, and comics, I've made it a point to listen and learn from my mistakes, which is exactly what I've been trying to do with this misstep. Building honest relationships with creators has always been important to me, and I've continued to do that in my new position. I've spoken with talent close to this issue, and have had candid and productive conversations about how we can improve the industry and build better stories, while being mindful of the voices behind them. My passion has always been about bringing the best talent from across the world to work on the best stories in the world, and I'm hopeful that fans and creators alike will join us in that continued mission.
Whatever, C.B. That's all we're getting, folks, so I guess it's time to move on…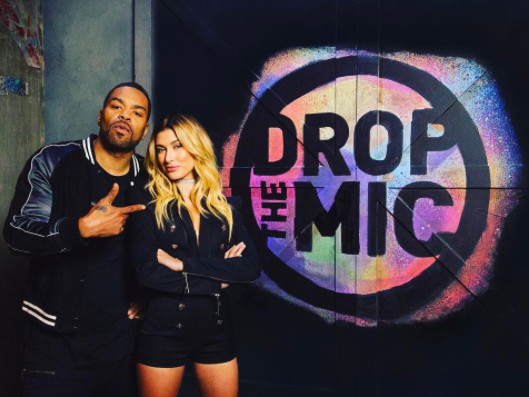 So, while channel surfing last Saturday night, I ran across a rap battle show on TBS called Drop the Mic, based on a segment from The Late Late Show with James Corden. What brought me in was a rap battle between funny man Wayne Brady and country artist Jake Owen. Owen held his own, but Brady came out victorious in the end. I'm glad I stayed for the whole thing, however, because the next battle had 10 year old Will written all over it: Kenny G vs Richard Marx. I'm a HUGE Marx fan, and I was really rooting for him. Amazingly, somehow Kenny G beat his ass. I mean, he just wiped the floor with him. I'm going to have to check this show out again in the future, but here's the full G/Marx battle:

Things You Might Have Missed This Week
BBC America has cancelled the Elijah Wood-starring Dirk Gently's Holistic Detective Agency after two seasons
John Legend will star in NBC's Jesus Christ Superstar Live on Easter, facing off against Alice Cooper as King Herod. A Black Jesus and a rocker king. So, no one in the Bible Belt will be watching Jesus Christ Superstar Live…
Apple admitted that it used software updates to limit the performance of older iPhones. They claim this was done to prevent taxing the aging batteries, which would result in the phones shutting off suddenly. Whatever, dude.
Team owner Jerry Richardson will have to sell the Carolina Panthers following workplace misconduct accusations. He didn't end up in HarassmentWatch because his sin was more along the lines of calling folks the N-word than for dangling his wang. Diddy and Colin Kaepernick are interested in buying the team.
Following the ouster of Garrison Keillor, A Prairie Home Companion has officially been renamed Live From Here. Man, that's some lazy shit right there. Or should that be right HERE?
Glee's Mark Salling pleaded guilty to possession of over 25 THOUSAND images of child pornography. Jesus! Was he running a server?! Anyway, his plea deal will most likely result in a 4-7 years sentence, followed by registering as a sex offender with 20 years of monitoring.
Mindy Kaling had a baby, which was the TRUE "Mindy Project" all along!
Cash Cab producers are working on Cash Lift, which will basically be the same show, but set in a hotel elevator instead of a taxi. It will stream on the Discovery Go and Facebook Watch platforms.
Something called EPIX has cancelled something called Graves. Who knew Nick Nolte was still working somewhere? Anyway, not anymore.
Because they haven't figured out how to greenlight Sharknado: The Series yet, Syfy has renewed Van Helsing for a 3rd season.
A Christmas Story Live aired on Fox, and it seems like nobody cared, based on the ratings.
A Scooby Doo remake film is scheduled to be released May 15th, 2020.
The Netflix Gillian Jacobs/Paul Rust sitcom Love will end after the upcoming 3rd season, which premieres March 9th.
Chicago P.D. has been acquired by Fox Television stations for weekday syndication in Fall 2018.  Though not the first Chicago series, it's the first to syndication because it's procedural nature lends itself more to the model than the soap operatic nature of Chicago Fire.
Analysts say that 5,000-10,000 jobs will be eliminated by the Disney/Fox deal. Maybe they can all get jobs as extras in Avengers vs. X-Men…
The IT Crowd is being adapted for the US for the THIRD time, but this is the first time original series creator Graham Lineham has taken a swing at it.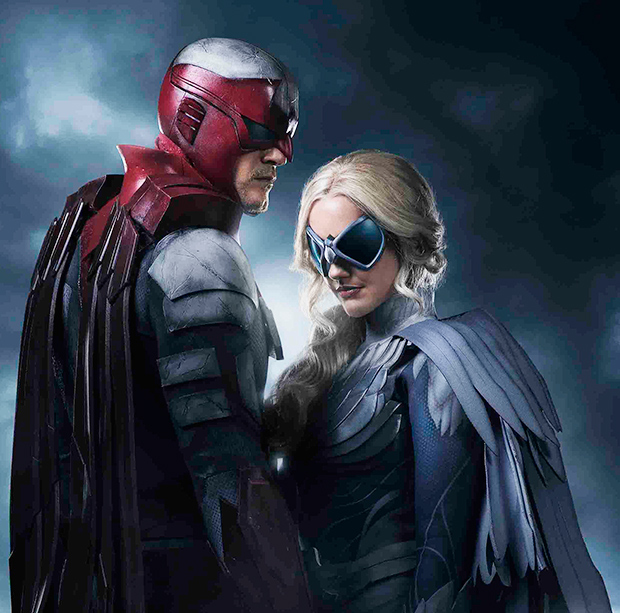 We got our first look at Hawk & Dove from the upcoming live action Titans series. Just like the Robin we saw a few weeks back, it still looks like a Spirit Halloween ad to me…
The Roseanne revival begins its unnecessary 9-episode return to the airwaves March 27th, bumping The Middle to 8:30 – which I think it something of a dick move to do to a show in its last season, in its homestretch of original episodes.
Speaking of unnecessary revivals, word on the street is that NBC is working on a revival of The Office for the 18-19 season. While Steve Carell isn't involved, the show is supposed to include a mixture of returning and new characters. So, I'd wager Oscar, Phyllis, and Angela will be back. I mean, they're the ones who haven't gone on to much after the original show.
The Revenant's screenwriter Mark L. Smith will write the script for Quentin Taratino's Star Trek film, in which James Kirk finds himself molested by a bear.
Everything old is new again, as it's rumored that Vince McMahon is reviving his ill-fated XFL football venture. In fact, he has filed with the SEC to sell of 3.34 million shares of WWE in order to fund his new startup, Alpha Entertainment, which is believed to be the vehicle through which the XFL will return.
Hasbro and Paramount are rekindling their relationship, with a third G.I. Joe film scheduled for March 27th, 2020, and a Micronauts film planned for Ocotber 16th, 2020.
A streaming-only prequel series, called Stargate Origins, will premiere after Valentine's Day, on February 15th. Nothing says "Who the Hell did I just wake up next to?!" like rolling over and watching some good old Stargate on your phone. Focusing on Catherine Langstrom, daughter of the man who discovered the Egyptian Stargate, each of the 10 episodes will be about 10 minutes in length. I'm not sure how exciting it could actually be, seeing as how Catherine doesn't even figure out how to activate the gate until the movie…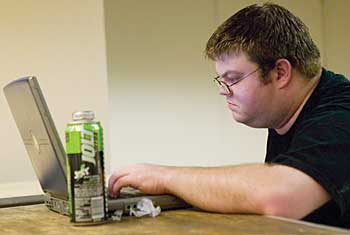 NOTE: If you follow me on Twitter (and if you don't, then what are you doing with your life?), you've already seen most of the following thread, but I felt it needed to be posted here for posterity. 
Let's talk about gatekeepers. Yes, they can suck for new fans of something, but I'm gonna take a page from political discourse: Have any of y'all tried to understand where they're coming from? It tends to happen in geek circles a lot, be it comics, Trek, Star Wars, etc. Old fans pull rank on new fans because they "were here first". Let's take a closer look at that, shall we?
A lot of these gatekeepers experienced some trauma, inflicted by those who are now banging at the gate. Most of this shit was not "cool", and a lot of them took a lot of shit for being passionate about it. For some, it was just teasing. For others, it might've been worse.
So imagine waking up to find the shit that both got you through/kinda also ruined your adolescence is now THE thing. Quarterback running around, pretending he has a lightsaber. The head cheerleader has Leia Buns. Cool rebel kid has a "My other car is a TIE Fighter" bumper sticker. That shit can be kinda jarring. Plus, I think it's a bit much to expect those fans to just welcome the "oppressor" because now they share common ground. That's a lot to get over. So, the old fans become gatekeepers and they're assholes about it. I get it.
Until we really acknowledge the cause of this divide, nothing's gonna get any better. I'm not saying former bullies need to apologize for tormenting nerds, but there needs to be some kind of acknowledgement of "I used to think this was stupid, but you were onto something"
I dunno. At the end of the day, gatekeepers can be assholes, but I don't know if it isn't, in some cases, justified. The problem is they take this rage out on everyone. Not every new fan was like what I described. Some were just late to the boat. But as we're seeing, fandoms will just eat themselves, so the gatekeepers aren't in a sustainable place. They'll either alienate the new fans and their beloved franchise will die or they'll be outnumbered by them. In some cases (comics), gatekeepers will just die out.
A big problem with the gatekeepers, though, is the inability to let go. After all, this is the thing that *got them through* tough times and now that bitch from high school is internet famous for wearing a Chewbacca mask. It's almost a bastardization of something they held dear.
The issue there, however, is they feel like they own this stuff and they don't. All those years of purchases and memorizing trivia was *not* an actual recognized investment in the property. You don't own these things. You are not a shareholder. It's a lot like sports. Monday morning, that coworker of yours will come up and say, "Man, we really played some game yesterday, didn't we?" No, Ron. You didn't play shit. I don't know what this "we" stuff is all about.
Everyone likes to belong to something, but it's really hard to find your "corner of the sky", only for it to become this multimedia explosion. I don't think we process that enough. It's almost like folks are going "Hey, nerd! I like your shit now. We cool?" And while I don't think anyone should tell anyone the "right" way to be a fan, I guess I understand that the old school fans come with some knowledge of the property & don't feel their contributions are welcomed by the new fan. I guess I come from a "Respect your elders" mindset.
Anyway, with the Star Wars kerfuffle this week, it's clear that the gatekeepers were out in full force for this one. I hate that the pendulum has swung this way, but I'd be remiss if I didn't acknowledge that the gatekeepers wielded a lot of power this week. So, with that in mind, fandom gatekeepers had the West Week Ever.
Programming Note: Next Wednesday, come back as I will be presenting the WBW Top 40. Yes, I'll be reviewing my 40 favorite songs from 2017, and I know you'll find something in the batch that you like. I don't typically cover music because I know my tastes aren't shared by a lot of you, but I'm confident there'll be something on this list that'll make you smile, Plus, in what has been a pretty shitty year overall, I figured we could all send it off with some good music. So, be here Wednesday! In the meantime, have a Merry Christmas and a kicking Kwanzaa! Is Hanukkah over? If not, you show that oil who's boss!