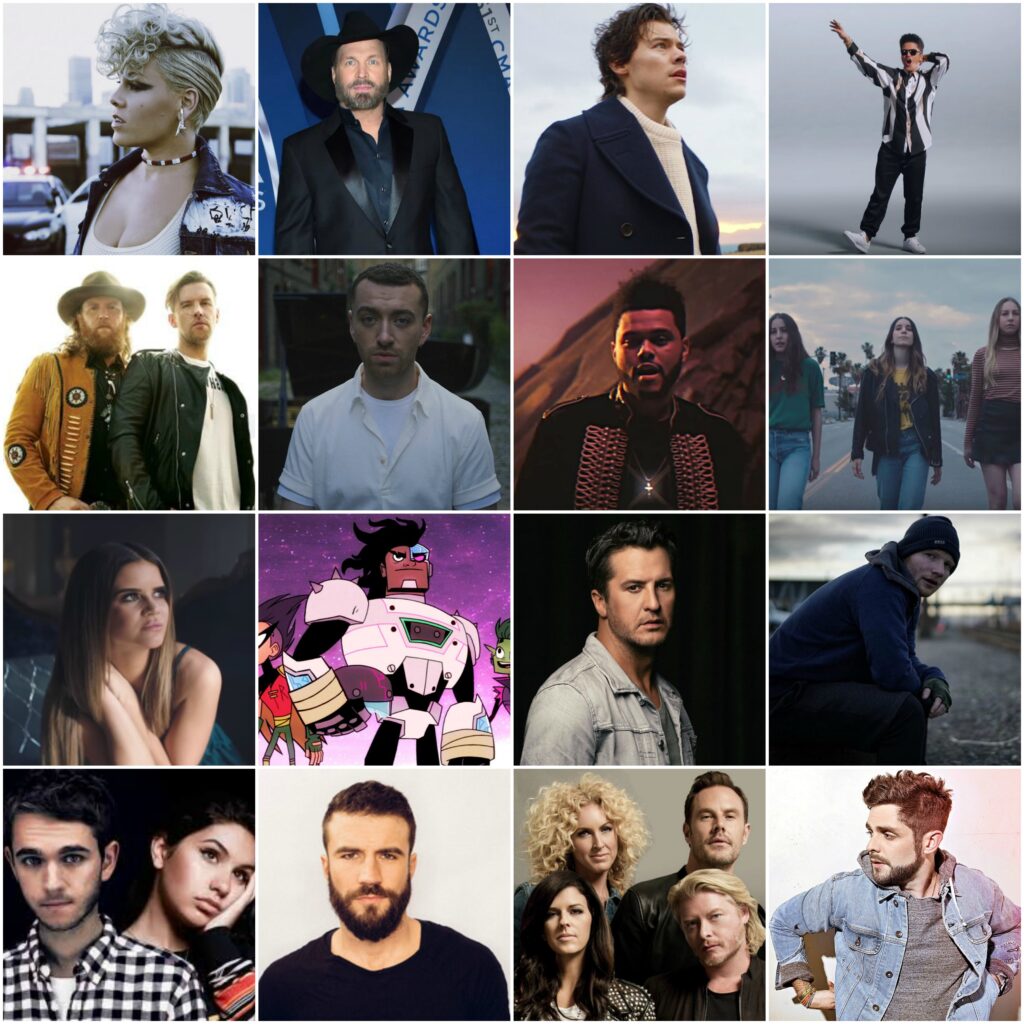 It's been a rough year. 2017 has been the longest and shortest year I've ever experienced. On the one hand, it feels like 2016 was only yesterday, and we had a deadpool going as to who'd be the next celebrity to shuffle off this mortal coil. On the other hand, between politics and the wang danglers, it feels like this year has been going on for a decade. I don't know about you, but one of the things that kept me sane this year was music. So, I thought I'd share the top 40 songs that got me through the year, with the idea that maybe they'll help you get through 2018 since it's right at our doorstep.
Before we start, let me address some glaring omissions. First of all, there's no Cardi B. I realize "Bodak Yellow" was one of the biggest songs of the year, but I just don't get Cardi B. She's got some weird speech impediment that makes her sound like she took the special bus to school, and her "flow" just does nothing for me. So, she's not here. Also, I know everyone loved SZA, but "The Weekend" didn't do much for me, either. There is some diversity on the chart (more sexual than racial), but I was going more for a diverse sound than diverse background. That's my way of saying there might be a lot of White folks representing on the chart. I did, however, leave off Princess of the White Folks, Taylor Swift, because everything on Reputation that I've heard underwhelmed me. So, without further ado, I present to you the WBW40!
40) Ed Sheeran – Shape of You
While some charts would put this as the biggest song of the year, it was probably my least favorite. I can acknowledge a hit when I hear it, but it was such a departure from what we expected from Sheeran. I mean, in my mind, Ed Sheeran is just James Blunt with a guitar. When did he get some kind of "cred"? Was it his bestie friendship with Taylor Swift that did it? I dunno. Apparently he was gonna give this song to Rihanna before deciding to keep it for himself. People loved this song, and that album was huge. It just didn't make much of an impact on me.
39) Imagine Dragons – Believer
I heard this song in a car commercial for, like, the ENTIRE year. I didn't even know what they were singing at first. Had to look it up. Still, it was ALWAYS there in 2017, and the full song ain't half bad.
38) Kane Brown featuring Lauren Alaina – What Ifs
I hated this song for the longest time but it eventually wore me down. It just tickles me that there's this halfy out there halfassing country music. He's not rapping, but he's barely singing. What's he doing? Still, folks seemed to like it, as the song hit #1 on the Hot Country Charts, knocking Sam Hunt's "Body Like A Back Road" out of the spot it had held for 34 weeks. I don't know what to make of Kane Brown yet, as he's basically the country Justin Bieber, in that he was discovered via social media. Is that where all of our future starts will come from? I guess time will tell…
37) High Valley – She's With Me
It's got an Evan and Jaron vibe to it, from the fact that High Valley are brothers (just like Evan & Jaron), and the sound is very similar. It reminds me of the Not-A-Boyband-But-Basically-A-Boyband songs that came out around 2000, like Evan & Jaron's "Crazy For This Girl". This song might be on country radio, but it easily could've come from BBMak in 2001.
36) Zach Williams – Old Church Choir
I was flipping through radio stations (Yes, I still listen to the radio), and I landed in the low 90s. Anyone who knows radio frequencies knows that the low 90s are nothing but public radio and Christian pop stations. This song happened to be playing, though, and I was stuck. In college, my friend Jed and I used to joke how Christian pop had "stolen" all the best melodies in pop, and that's definitely on display here. I love the church choir in the background, but I especially love the "Youth Pastor Who Rides a Motorcycle" vibe that Williams puts out.
35) Arcade Fire – Everything Now
I stumbled upon this song because Rolling Stone mentioned that it sounded like ABBA's "Dancing Queen". I was immediately sold. I can't say I've been an Arcade Fire fan in the past, and I don't think this has necessarily made me an Arcade Fire fan. Still, I love what they've done here, and it's one of the more enjoyable songs I've encountered this year.
34) Florida Georgia Line featuring Backstreet Boys – God, Your Mama, and Me
I'm gonna be honest and say that this song is here because of the personnel involved. I love Florida Georgia Line and I love Backstreet Boys. On paper, this collab is a dream I never knew I had. In execution, though, it just falls flat. The song is basically a love song from the guys to their kids, about how no one will ever love them more than God, their mama, and them. Cute, sure, but I can't help but wonder what we could've had on something closer to FLAGA's hit debut single "Cruise". I mean, that even had a Nelly remix.
33) Brett Young – In Case You Didn't Know
It's a pretty ballad. It's on country radio, but I wouldn't say there's anything inherently "country" about it. I feel like Young got in where he could get in, and I can't fault him for that. It's got "2017 Wedding Season" written all over it, and I'm sure that contributed to its success.
32) Bobby Bones and The Raging Idiots – Chick – Fil- A (…But It's Sunday)
Sure, it's a comedy song, but it's a sentiment shared by many of us at one point or another. I love how radio DJ Bobby Bones treats this as just a charity side project, but has actually grown as a writer and performer. This almost got edged out by his song "Namaste", but I felt this was the stronger offering.
31) Walker Hayes – You Broke Up With Me
Walker Hayes is an artist with 6 kids and a 7th on the way. I know more about his life than his music. My wife saw him in concert earlier this year and loved him. My daughter has been obsessed with this song all year, and calls it "Minute". Every time we get in the car, she demands "Song!" When you ask which song, chances are she'll say "Minute". Anyway, the song grew on me after hearing it 72,346 times this year, and I DO love the chorus.
30) Lana Del Rey featuring The Weeknd – Lust For Life
She's come a long way from that terrible SNL performance that basically sank her mainstream introduction, but she's still chugging along, delivering gems like this. And I'm a recent convert to The Weeknd, so his addition here just makes this a better song. This is the kind of song you'd hear when you have a near-death/out of body experience.
29) MUNA – I Know A Place
I know nothing about MUNA, and I think I originally heard this song in a store. Apparently, they're an LA-based, queer girl band, and they're touring with Harry Styles. Okie doke. Anyway, this song kinda touched me on a deeper level, as electronic stuff tends to do that sometimes. I look forward to hearing more from them.
28) Carly Pearce – Every Little Thing
It's like the female Harry Styles, as Pearce delivers one of 2017's best haunting ballads. It's still too early to tell where her career is going, as it almost felt like this song was released before she had anything else to back it up with. I hope that's not the case, though, because she's got a ton of potential that transcends the country genre she's found herself placed in.
27) Kenny Chesney – All The Pretty Girls
This is just a catchy song. It's not Shakespeare, and Chesney brings his typical "Chesney" to the party. There's nothing extraordinary here, but it's a fun song that I never switched off whenever it came on the radio.
26) Jon Pardi – Heartache On the Dance Floor
I WANTED to chart him with his megahit "Dirt On My Boots", but it was officially released at the end of 2016, so it didn't fit the rules. Had that been available, Pardi would be in the Top 10 of this list EASILY. That said, "Heartache" isn't a bad song, but it's not the best thing he had on radio this year. He seems to be another country artist who really wants to bring back "country", which is why "Heartache" is something of a departure in his young career.
25) Scotty McCreery – Five More Minutes
Forgotten American Idol winner Scotty McCreery tried to return to the spotlight with this song, which got lost on the charts because it was released while he wasn't attached to a label. It's a bit of a tearjerker if you really listen to it, focusing on how life is short and we always want the best times to last. It's a shame it fell through the cracks, as it's something of a thematic companion to the Tim McGraw classic "Live Like You Were Dying".
24) P!nk – What About Us
P!nk is such an interesting artist. She went from "The Chick Who Clearly Dates Black Guys" to "The Chick Who Might Be Married to a White Supremacist" in the span of about 15 years. She was wild and free and now she's married and a mom. I do like that she's matured into her vocals, as she just did a bunch of rap-singing early in her career. She's got chops, and they're definitely on display here.
23) Garth Brooks – Ask Me How I Know
Yes, this is a Garth Brooks song, and yes it went to #1 on the Country Airplay chart. At the end of the day, though, it's not a great song, and it's definitely not one of the great Garth songs. I honestly think it went to #1 because the industry wanted to throw him a bone since he's Garth, and the fact that his "comeback" single, "Baby, Let's Lay Down and Dance", tanked. A Garth Brooks song, in this day and age, should make an impact and this song really didn't. It had to WORK to climb that chart. I can't hold it against Garth, though, that it didn't perform. By any other artist, it's a decent song. It just isn't Garth Good.
22) Devin Dawson – All On Me
If I didnt know better, I'd swear this was Gavin DeGraw, and I LOVED Gavin DeGraw. If this is gonna be Dawson's sound, then he's got a new fan for his entire career.
21) Zedd, Alessia Cara – Stay
Over the summer this song was everywhere, especially in an iHeartRadio commercial that stayed in rotation, so it kinda burrowed its way into my brain. For me, the real gem is the chorus. It's got a weird staccato that I like. I could do without the verses and just take the chorus on repeat, to be honest.
20) Thomas Rhett featuring Maren Morris – Craving You
Maren found a way to sneak onto this chart twice (you'll see what I mean later), as she provides an assist on this song. She's not in the original version, as it was never intended to be a duet. She was brought in later to punch it up, and I think it helped. I probably would've ignored this song if my daughter didn't love it and request it a thousand times this year.
19) Bruno Mars – That's What I Like
I didn't realize this was Bruno when I first heard it, as it's something of a new sound for him. I think I liked his old stuff better, but you can't deny this song makes you move. Plus it's got a catchy chorus.
18) LANCO – Greatest Love Story
The best songs tell a story, and this one does it in spades. It's a musical coming of age tale, as it follows a relationship from high school to post college. I'm sure it'll become a staple for a lot of weddings where the couple jumped through a lot of hoops just to rekindle their love and discover they were meant for each other.
17) HAIM – Want You Back
I LOVE HAIM. To me, they're a real life Josie & The Pussycats. Love their sound. This is the debut single off their long-awaited sophomore album, and I see no sign of a Sophomore Slump here.
16) Portugal. The Man – Feel It Still
This song is EVERYWHERE. Movie trailers, commercials for Vitamin Water. It's the Two Princes of the 21st century. That said, it's just a one-off song from the group's EIGHTH album. They've put out 8 albums and this is their first big break? Yeah, next stop: One Hit Wonderville. I mean, without "Please, Mr. Postman" as its basis, there's really nothing there. It's a weird cover/sample hybrid, but it's catchy and has certainly made its impact on 2017
15) Maren Morris – I Could Use A Love Song
Another artist with crossover potential, as it always seemed like Maren used country as a way to enter the industry, but has never truly felt country. It's like I used to always say I'd enter the industry as a Christian pop artist 'cause it has the lowest barrier to entry, though crossover is more difficult. Anyway, this song isn't as soulful as her debut "My Church", nor is it as bouncy fun as the follow-up "80s Mercedes". What it is, however, is a slow ballad with a great two-step beat to it. She's done better, which is why the song is where it is here, but that doesn't make this a "bad" song by any means.
14) Luke Bryan – Light It Up
Oddly enough, this isn't what I'd call a "good" song. It's a catchy song and that's what got it on the chart. At the end of the day, though, it's gimmicky. As my wife Lindsay pointed out, it's the kind of song that wouldn't even work 20 years ago because it's so steeped in cell phone culture. I hated it when I first heard it, but it quickly grew on me. It'll hit #1 because, well, every country song eventually hits #1, but it won't really be deserved. Industry-wise, it's a Top 10 song, but it ain't a #1 song. To me, it doesn't even break the year's top 10. It does have crossover appeal, though, which could happen once the world gets to know him better from the American Idol reboot.
13) Justin Bieber featuring Luis Fonsi and Daddy Yankee – Despacito (Remix)
The original puts your high school Spanish to the test. Eventually you realize you're just singing "taco taco taco" to the melody. I somehow managed to miss the song taking the world by storm, and am a late convert. I know it was the biggest song of the year, but maybe it's because I'm an old man now. Still it just doesn't move me like it would've ten years ago. This song belongs to the young kids, which is why it didn't chart higher.
12) Harry Styles – Sign of the Times
I looped this song for about a week when it first came out. It's a beautiful, haunting ballad, and it surprised me because I was never a One Direction fan (In the One Direction/The Wanted rivalry, I was Team Wanted). It was so close to cracking my Top 10, but that top tier was just so stacked. I've heard nothing else from his self-titled album, and he could turn out to be a one-hit wonder for all I care (he won't), but he's left behind a damn good single.
11) Sam Hunt – Body Like A Back Road
This is one of the few crossover successes of the year, as folks are learning they love Sam no matter what genre he might fall under. So many interesting lyrics here. He's got a "girl from the south side, with braids in her hair". Then, "Got hips like honey, so thick and so sweet. It ain't no curves like hers on them downtown streets". Is Sam dating a sistah?! And he didn't even give us an official video to answer the question! This isn't even his best song, but it's all we got from him this year. Honestly, due to its popularity, it probably should've cracked the top 10, but I have two issues with it: 1) it's too damn short at 2:48 and 2) it ain't got a bridge. What is it with modern country songs just simply ignoring the bridge in song structure?
10) Lady Antebellum – You Look Good
This song is such a play against type. They might be considered a country group, but this is blue eyed funk. The only reason it's lower on the list is because I gradually grew tired of it over the course of the year (it was released in January). This really should've been a crossover hit for the group, but something just didn't happen for them here. I'm also amazed it never hit #1 on the country airplay charts, given some of the songs that hit the top of the chart this year. I guess country radio couldn't give it the push it needed, while non country radio wanted no part of it. Sad outcome for such a great single.
9) Blake Shelton – I'll Name The Dogs
I loved Blake before he got all the heat for People's questionable choice of him as Sexiest Man Alive. This is far from his best song, but it's a simple cutesy song with a cute message. Not sure it's a wedding song as much as the video would like to imply, but I do like the whole "simple folk" partnership on display in the song. That chorus works its way into your brain and just doesn't get out.
8) Brothers Osborne – It Ain't My Fault
It just drives so hard, and if you ever hear them play it live, they stick an 8-minute guitar solo right into the middle of it. And don't even get me started on that church choir! Hailing from Deale, Maryland, they're local boys who made good and I'm glad this song made such an impact for them.
7) Morgan Wallen – The Way I Talk
Being eliminated on The Voice is probably the best thing that could've happened to Wallen's career. Right now, he's got a new single with Florida Georgia Line, but this is where it all began. I relate to this song more than folks realize, but I just love the structure of it so much. It's got a laid back swing til you get to the chorus, which still manages to maintain the laid back flow, while also somehow being rapid fire.
6) Luke Combs – When It Rains It Pours
A catchy chorus wins out every time. It's a little redneck ditty, but it grew on me quickly, plus I like the spin he puts on the whole "when it rains it pours" adage. He almost made the chart twice, with his debut single "Hurricane", but I wanted to spread the wealth. Let's just say Combs hit the ground running, and clearly has a promising country career ahead of him
5) Midland – Drinkin' Problem
When you think of "country", this is probably what comes to mind. The funny thing is their whole thing is manufactured. One of them used to be an underwear model, for God's sake, while another won an MTV VMA for directing Bruno Mars' "Locked Out of Heaven" video. They're basically cosplaying as country artists. They met at a wedding about 2 years ago, and they've barely paid their dues. Still, they're opening for Faith Hill, Tim McGraw, Thomas Rhett and Little Big Town, plus they're providing a throwback sound that isn't prevalent today.
4) Fall Out Boy – The Night Begins To Shine
There's a long story behind this one, so sit down and relax. You see, this song was actually written in 2005, as the band B.E.R. had recorded it for a music library (Think stock photo library but for music), and the song just sat. When the producers of Teen Titans Go! needed to fill time in an episode that was running short, they featured 10 seconds of Cyborg lip syncing to the song. It quickly became a fixture of the show, culminating in the Teen Titans Go! The Night Begins To Shine special earlier this year. It actually hit #23 on the Billboard Hot Rock Songs Charts for the week of 8/26/17. My favorite version, however (and the one actually released this year), is the Fall Out Boy cover from the special heard here.
3) The Weeknd featuring Daft Punk – I Feel It Coming
I love when artists get songs that clearly would've gone to MJ were he still alive. This has a Bad deep cut vibe to it that can't be denied. As I said earlier, I'm a recent convert to The Weeknd, so is all his stuff like this? If so, then sign me up!
2) Little Big Town – Better Man
This is the only way Taylor Swift was getting on this chart, 'cause I thought everything on Reputation was garbage. This song is gorgeous, yet I've spoken to a lot of folks who felt that knowing that Taylor wrote it kinda negatively impacted the song for them. The harmonies are beautiful, and the tempo is just perfect. This song really helped to put Little Big Town on the map as more than just "The Group You Call When Lady Antebellum's Busy"
1) Sam Smith – Too Good At Goodbyes
It's just beautiful. It's the kind of thing we've come to expect from Sam, and he doesn't disappoint. To me, it's the sonic successor to Jon Secada's 1992 hit "Just Another Day". It came out a bit later in the year, but I feel it's the absolute best the year had to offer.
Well, those are the songs that got me through 2017. I especially love that we got a video that gave us this still, which just might be the most 2017 thing of all: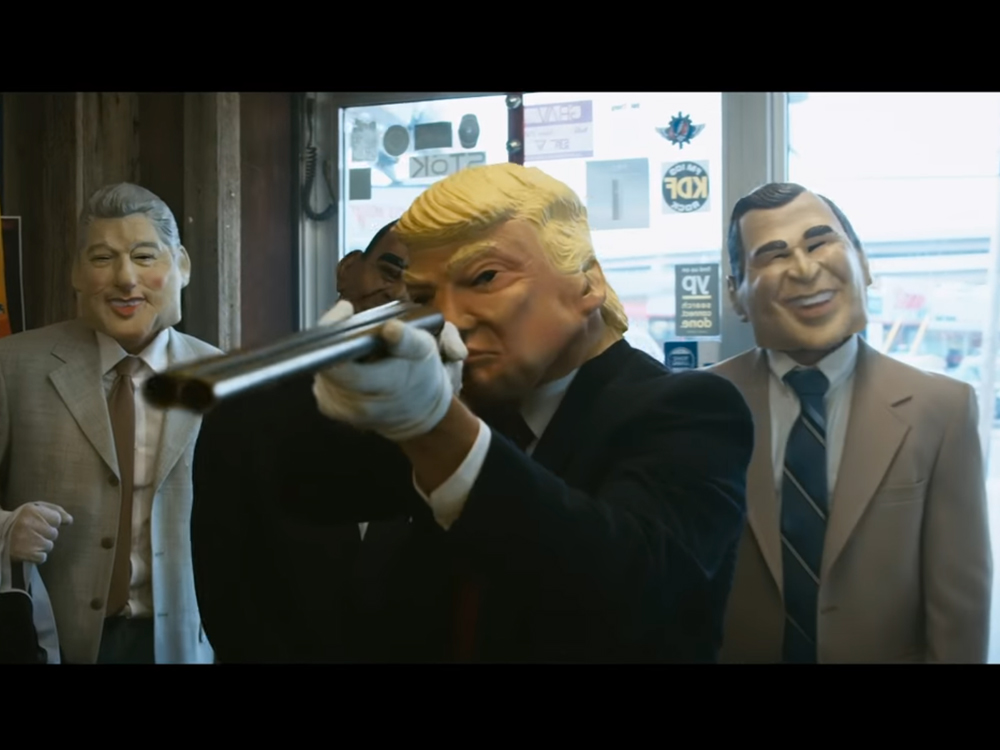 Hear anything you like? Got any songs you'd like to throw on the pile? Let me know in the comments, or catch me on social media!