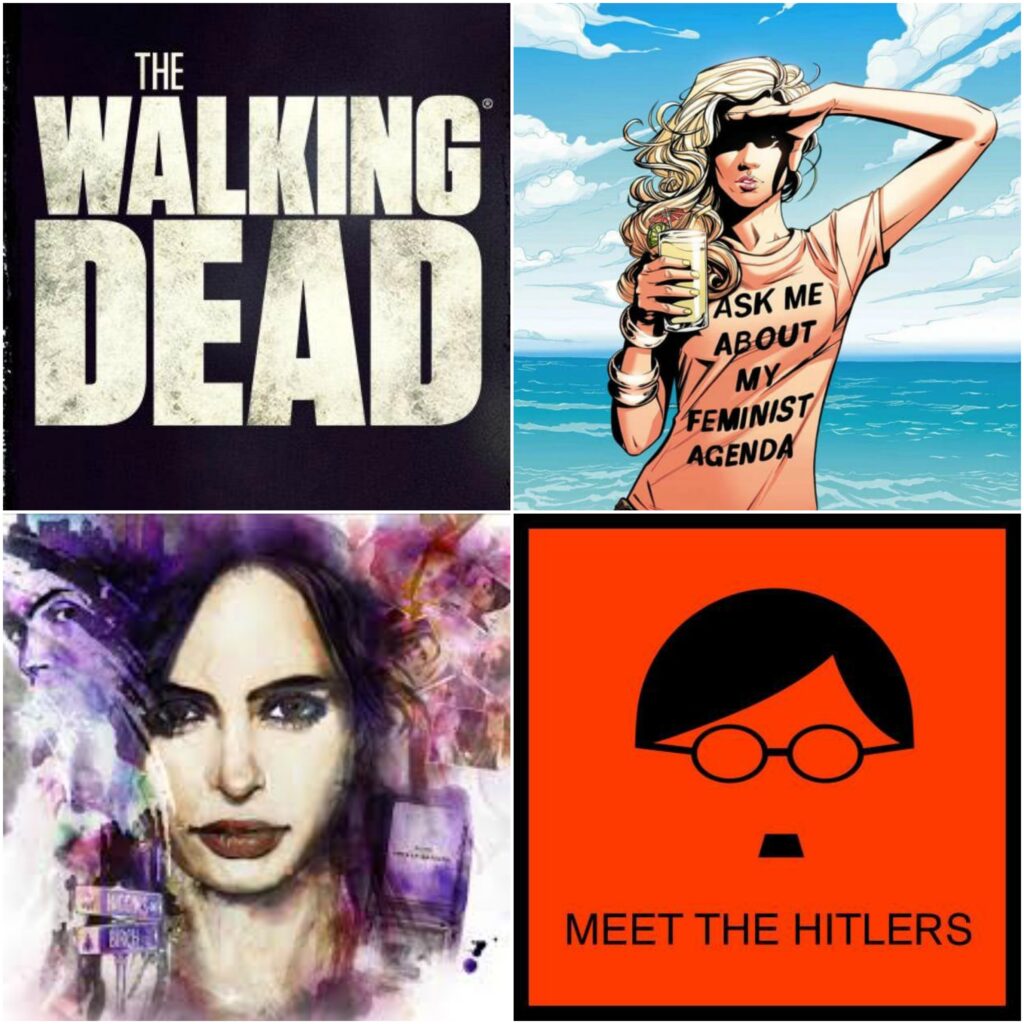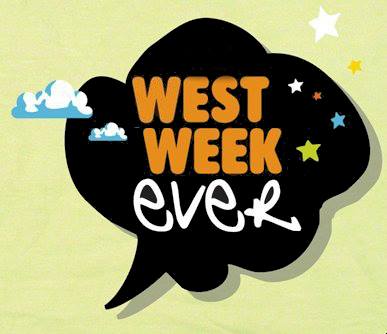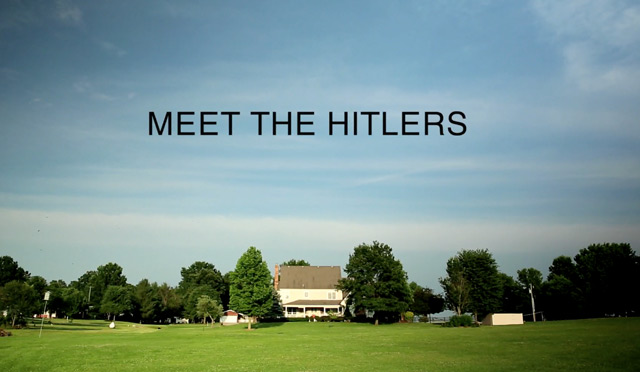 The only movie I watched this week was a documentary called Meet The Hitlers, which followed the lives of people who have the name "Hitler". Surprisingly, the Austrian guy is the most likable person featured, while the New Jersey folks are the ones who turn out to be actual Nazis. The Austrian Hitler is a really sweet guy who was abandoned by his parents as a child and now has a lion tattooed on his bald head. Meanwhile, the New Jersey couple made the news because their Shop-Rite store refused to make a birthday cake for their young son, Adolf Hitler. Eventually, the state came and took their kids away. You wanna feel bad for them, 'cause nobody wants their kids taken away, but then you remember "Oh yeah – NAZIS!" Fuck 'em. Anyway, it was a way to kill 80 minutes, but I wouldn't recommend it or anything. It's got no real point to it. Part of it is devoted to a writer trying to track down Hitler's last living relative, while the rest is just these slice of life stories of folks who share the name. It needed to decide what it was going to be, instead of this mish mash of whatever it is.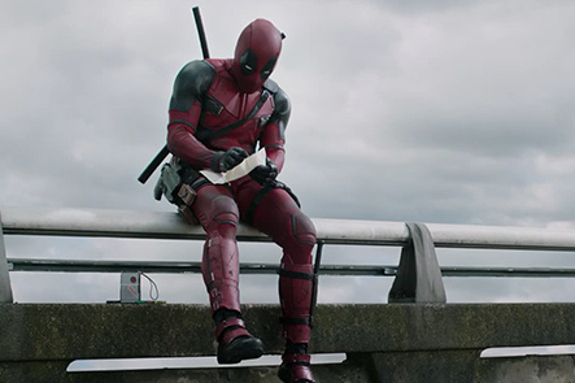 In movie news, it Tim Miller stepped down as the director of Deadpool 2, which is already making fans worry about what's going to happen with the film. Reportedly, he had creative differences with star Ryan Reynolds and, while reports claim the split is amicable, there are also claims that the two didn't even speak to each other near the end of production of the first movie. It's said that Miller really wanted to bring in Kyle Chandler for Cable, but Reynolds actually had casting power, and he really didn't want Chandler. Later in the week, a petition started circulating to get Quentin Tarantino to direct the film, but I don't think that'd be a good idea. Considering the way that Fox had no faith in the first film, cutting its budget and whatnot, you'd assume that the strife would've come from studio meddling. But it's just a disagreement between star and director. It's not like the movie is gonna fall apart, but folks will always wonder What Might've Been, just like with Edgar Wright's Ant-Man.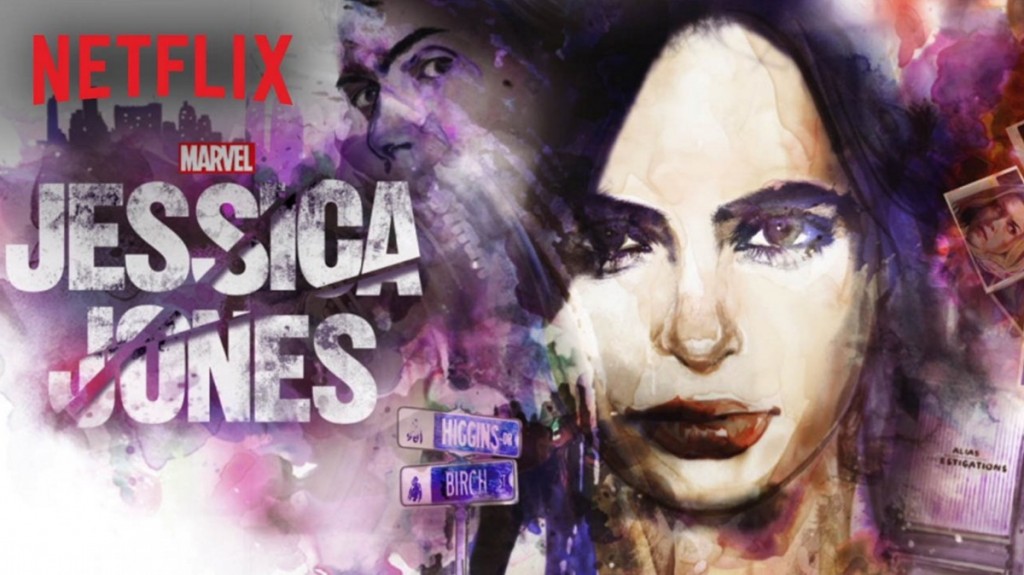 In other Marvel news, it was announced that season two of Jessica Jones would only feature women directors. While this may seem groundbreaking to some, Black Twitter was quick to point out that Ava Duvernay's Queen Sugar did this first. Well, the BBC's Call The Midwife was actually the first show to do this, so there! Anyway, I get that it is creating opportunity for women directors, but it feels kinda gimmicky. I mean, I didn't know who directed the first season's episodes and I liked them just fine. I almost feel like they're begging a certain type of fan to come out and say "Season two sucked because of the women directors".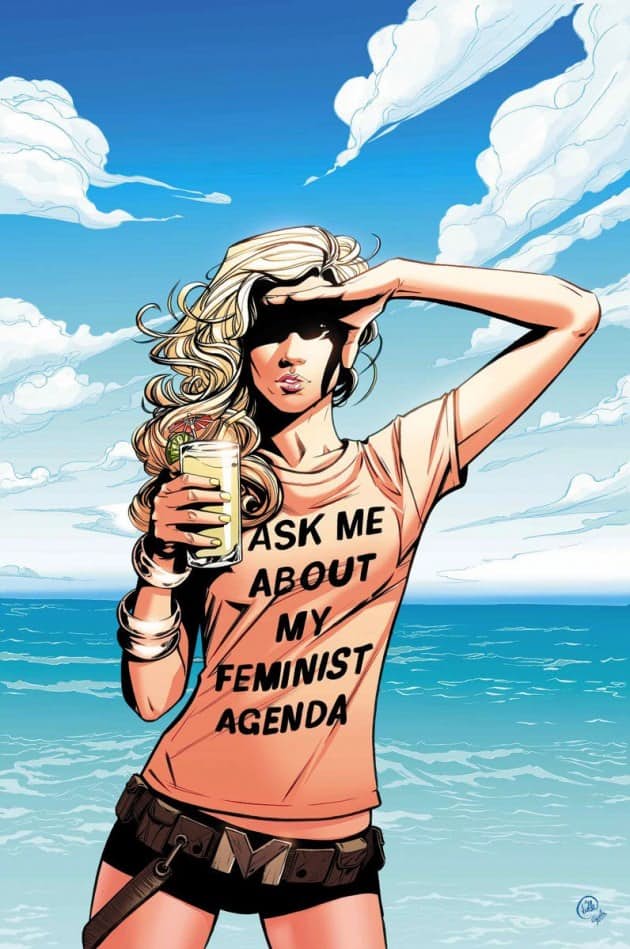 Speaking of that particular kind of fan, a bunch of them ran writer Chelsea Cain off Twitter this week because of some drama surrounding the Mockingbird comic. Basically, the final issue of the book featured the cover above, and that triggered the Men's Rights activists, who don't even seem to realize that the writer has no control over the cover. It's believed that some of them were just looking for a target for their anger from last week's Riri Williams cover controversy. If you remember, that ended up with Marvel cancelling the cover, and these folks feel like that was the wrong call. I'm just tired, man. I'm tired of shit like this. Like, I don't even have any fight in me for something like this. I mean, who has the time or the energy? I'm not going to get too into it here, as I've just been hanging out on the periphery, and I can't muster the desire to delve deeper into it. If you do a search for #IStandWithChelseaCain, you'll find all you want to know. I just can't believe that people get like this over funny books. I mean, I'm pretty passionate about them, but not to the point of running someone off social media. Also, I know enough about how the industry works that I know that the writer wouldn't be the right target for my anger anyway. Nope, you channel that at the editor! I kid, I kid…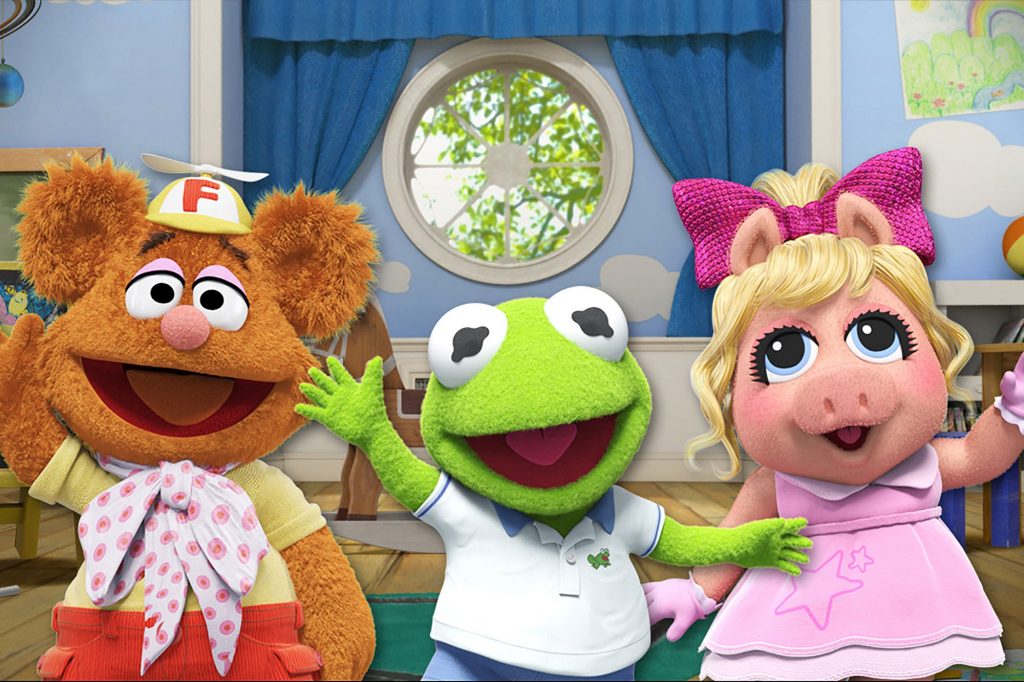 In TV, everything old is new again as we got news about 3 potential revivals that are in the works. First off, I have the misfortune of having a toddler who's in love with a show that just ended production (Mickey Mouse Clubhouse), so I'm hoping she'll be interested in the revival of The Muppet Babies that's in the works for Disney Junior in 2018. I hope she can get over the weird CG animation style of the show, which is a lot more unsettling than Clubhouse's CG was.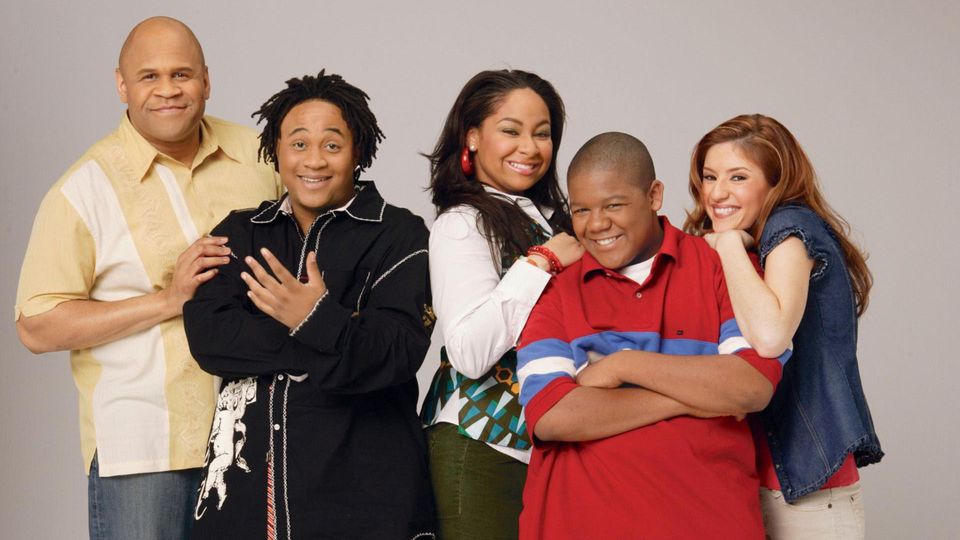 Meanwhile, Raven-Symone announced that she's leaving The View to focus on a spinoff of That's So Raven. Since everyone's jumping on the Fuller House/Girl Meets World bandwagon, I guess this is as good a time as any. I always felt That's So Raven was doing too much. If you've never seen it, Raven-Symone starred as Raven Baxter, who was your average teenage girl in high school. At least, that's how I would've left it, but Disney had to go the extra mile. No, Raven also got these psychic visions that she couldn't control. Usually they'd result in her messing up more than saving the day. They led to a lot of misunderstandings, basically making the show a tween Three's Company. It led to the spinoff Cory In The House, where her little brother and dad move into the White House. Yeah, it wasn't as successful as the original series. In any case, this new spinoff would focus on Raven as a divorced single mom of two teens – one of whom seems to have inherited her psychic gift. And I'm sure hilarity ensues. I never watched That's So Raven because I was simply too old. TNBC had already wound down by that point, and I was busy with college. Still, it's a smart move for these networks to revive shows that folks can watch with their kids, with a tie to something they, themselves, watched when they were kids. I like these Next Generation spinoffs. Keep 'em coming!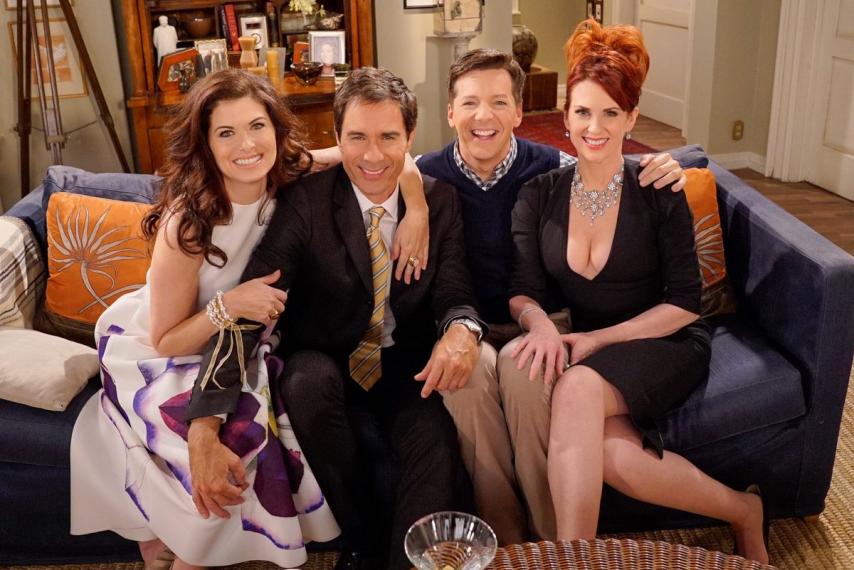 Finally, based on the fan response from that viral video from a few weeks back, NBC is reportedly in early talks with the principal cast of Will & Grace about a revival of the series. Right now, it's unclear as to how many episodes we're talking about, as well as when they'd air. As y'all know, I loved that video, so I say "bring it on!"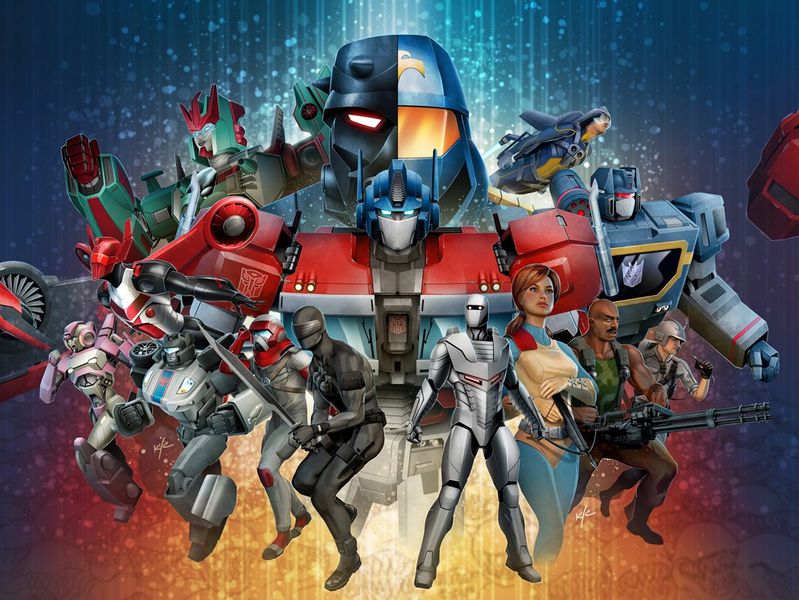 Earlier this week, I posted a review of IDW's Revolution event that you should check out if you haven't already. Long story short, it's not a very good effort on IDW's part, but you'll have to read the post in order to find out why.
Things You Might Have Missed This Week
Donald Glover was officially cast as a young Lando Calrissian in the Han Solo…solo movie
Cartoon Network renewed We Bare Bears for a 3rd season
ABC's Notorious is the first unofficial cancellation of the fall season, as its episode order was cut to 10.
Twitter's killing off Vine, as they couldn't figure out how to monetize 6 second increments
God Particle was revealed as the next film in the Cloverfield universe. The goal is to release a Cloverfield movie ever year
Deciding he had too much on his plate, Bryan Fuller stepped down as showrunner of Star Trek Discovery. Considering they haven't even announced a cast, I wouldn't be surprised if there was another delay.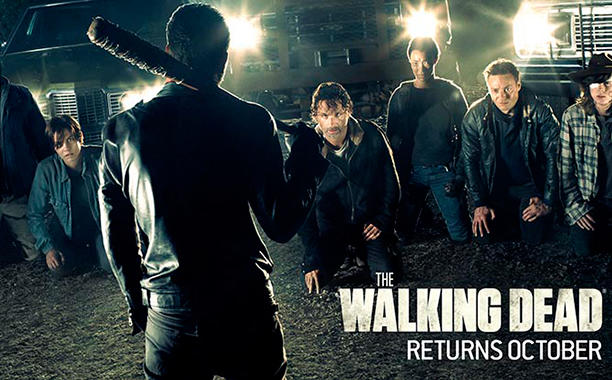 I haven't seen folks fret over a season finale so much since "Who Shot Mr. Burns?" When Negan showed up in last season's finale of The Walking Dead, he was determined to make his mark by offing a fan favorite character. This was to show that he meant business! Grrr! Well, the show returned this week, and he killed not just one, but TWO fan favorite characters, and people LOST. THEIR. SHIT. It sparked a discussion as to whether the show had gone too far. I don't watch the series, but I tuned in to see who died, and I can't remember seeing that kind of gore before on television (I'm not a horror guy, so maybe it was tame by those standards?). Some folks have even said that the gore was bordering on pornographic, while others have sworn off the show because it killed off one of the only bastions of hope in that universe. I don't know whose side I'm on, really.
I used to read The Walking Dead in comic form. I wasn't a monthly reader, but I had those hardcover editions that they'd put out every 12 issues. I immediately found myself engrossed in that world, and really started to care about the characters. Then I got to issue #48, which is where The Governor killed a character I'd really started to feel for. But it wasn't just a death. He decapitates the character with a samurai sword. And it's not one swift blow, so he had to hack at it until the head finally falls off. And at that moment, I thought "Fuck this book!" I stopped reading at that point because I had simply had enough. A few years later, #100 hit the stands, and I flipped through it because I've been trained that big round number comic issues usually have something special in them. Instead of them finding a cure for the zombies, or a cache of Twinkies from before the world went to shit, writer Robert Kirkman killed off another character that I'd grown to love back when I was still reading the book. In fact, the events of #100 are what was depicted onscreen last Sunday night. And at that moment, "Fuck this book!" crept up in me again. And I never looked back. That was over 4 years ago, and I haven't been the least bit curious about what's going on with Rick and the gang. That's why Sunday didn't really surprise me because I already knew it was coming. Still, I wasn't prepared for how graphic it would be.
I've never had the least bit of interest in the television series, as that's just not a world I want to see. It's the same reason I read The Road, but didn't watch The Road. When reading, you can kinda control the visuals and whatnot in your imagination, but for it to just be onscreen is sometimes too much for certain subject matter. There's nothing positive in The Walking Dead. People say that the character that was killed was the last glimmer of hope in that world, but it still never paid off. Ya know why? Because there IS no hope in that world! There's no endgame. It's not like they're gonna find a cure and everything is gonna go back to normal. They're not gonna travel back in time and stop the zombies. That's why I never understood the purpose of Fear The Walking Dead – you're just seeing the lead up to the apocalypse. Those characters don't win. Hell, they probably all end up dead before the events of The Walking Dead. I wish I could find the article so I could cite it, but I once read an interview with Kirkman where he said that he doesn't really put much thought into who he's going to kill off because he feels that, in an actual zombie apocalypse, the deaths would be pretty random, so he wants to adhere to that. That might sound impressive, but it also leads back to what I said above: there's no endgame. He's pretty much just going to write this thing until he gets tired. Superman doesn't have to have an endgame. Spider-Man doesn't have to have an endgame. The Walking Dead, though, can't just meander for 50 years. It needs some sort of order that I don't believe it has. And I, for one, am not willing to wallow in the muck waiting for that day to come.
Based on the thinkpieces I've read this week, a lot of people feel the same way that I do, only it's in regards to the show and not the comic. But, "there's no such thing as bad publicity", so the fact that people are talking is exactly what AMC, Kirkman, Image, and everyone wanted. Whether you loved it or hated it, chances are you were watching and you had some thoughts about it. And that's why The Walking Dead had the West Week Ever.