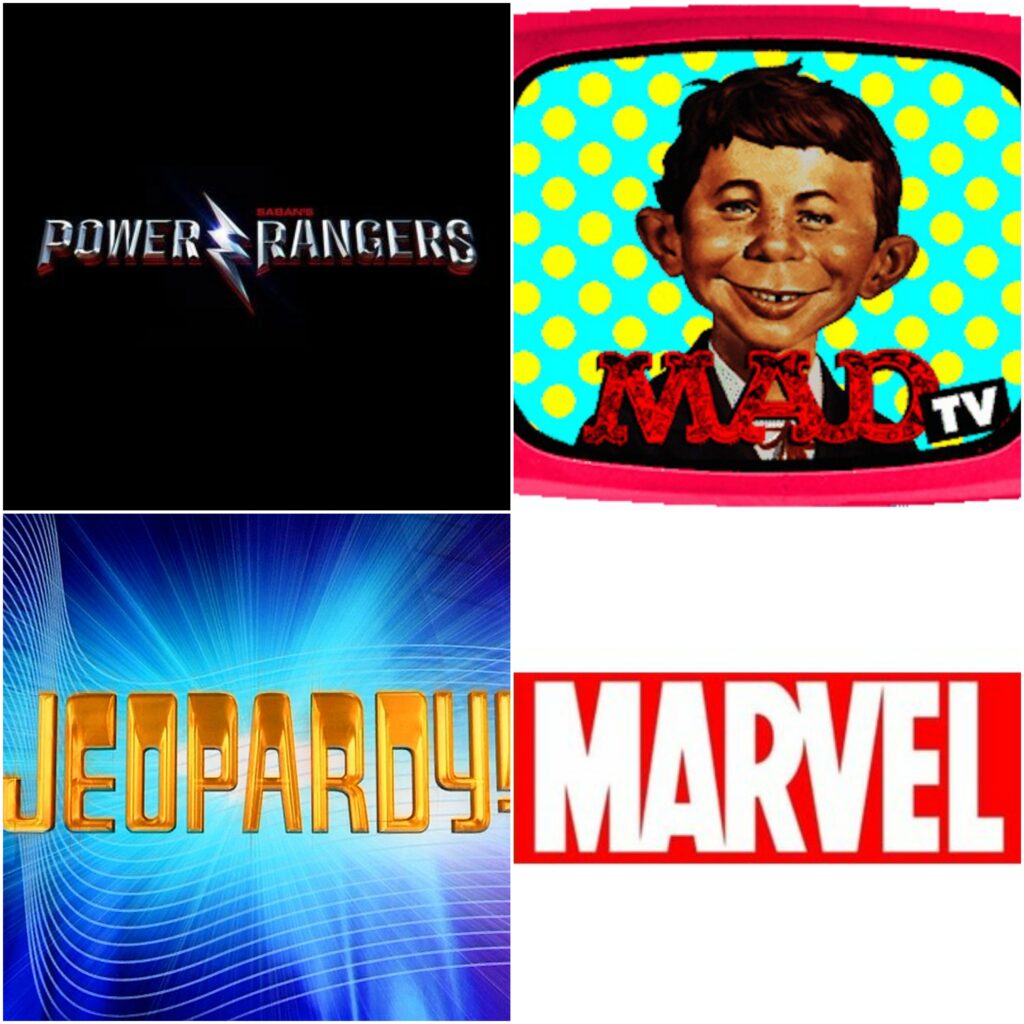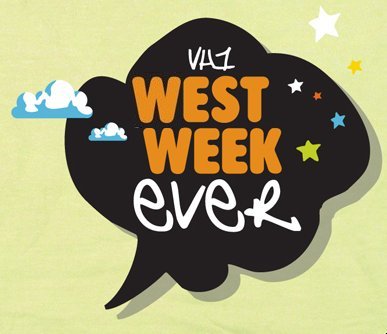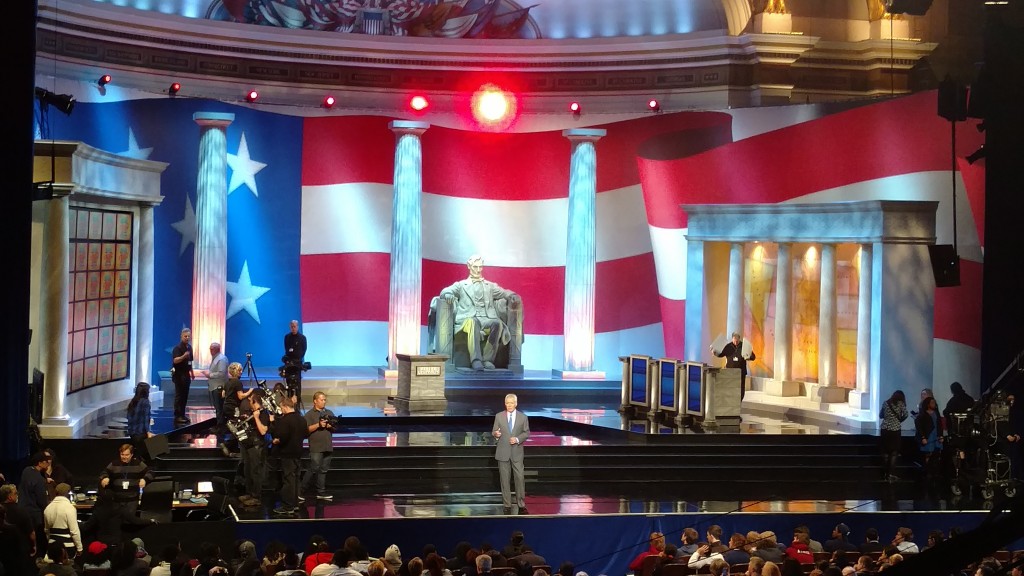 So, I did something kinda special this week, in that I attended a live taping of the Jeopardy Teen Tournament. Until I pass that online test, it's as close as I'm gonna get to being a contestant, so it was a pretty cool experience. Taped at DAR Constitution Hall on Tuesday, I was present for the filming of 3 episodes of the tournament. Pictures and social media weren't allowed, 'cause they didn't want anyone spoiling the winners. As you can see, I didn't heed their warning, but I at least waited until taping was done. They film the show with the commercial breaks, so that's when host Alex Trebek comes out and answers questions from the audience. Here's some tidbits that I learned:
Alex has 55 suits in his show wardrobe
They film 46 days a year, on Tuesdays and Thursdays
Alex's true first name is George. George Alexander Trebek
Alex's favorite movie is 1941's How Green Was My Valley.
I was present for the filming of episodes 7,356 through 7,358
Alex said that he really enjoyed Hamilton, even though he doesn't like "that music"
In what seemed like hometown pandering, Alex said that his favorite NFL team of the last 30 years was the Washington Redskins. Then, things took a turn as he added that he's never had a problem with the team name. He said that it was never meant as a negative, but as something positive. Uh-oh…
Then he tried to turn things around by saying that his favorite book is called The Divide, by Matt Taibbi. It documents the Wealth Gap, and how there have been no prosecutions in recent major Wall Street crimes, while we continue to incarcerate minorities for minor offenses. This garnered applause from the audience. Not from me. I'm on to you, Trebek!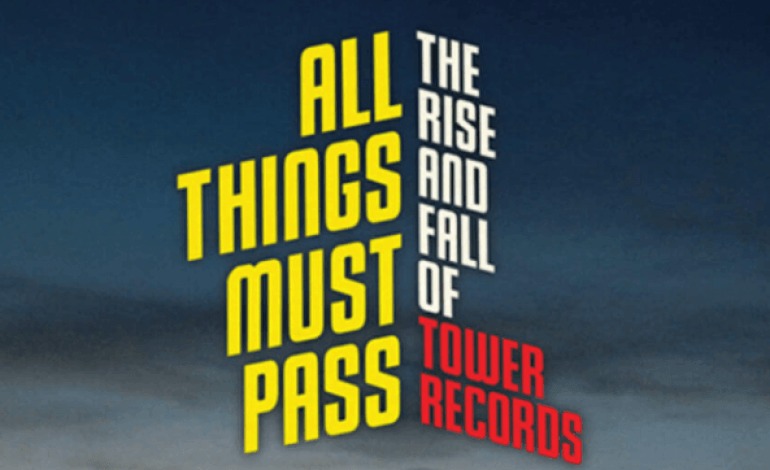 On the movie front this week, I watched the documentary All Things Must Pass: The Rise and Fall of Tower Records. I used to LOVE Tower when I was in high school, because it was the local retail establishment that was open the latest. Bored at home at 11:30? Let's go to Tower! As a devoted fan of the import maxi single, Tower was my saving grace for obscure pop tracks that no one knew about in America. When Tower closed, it's like I lost a friend. So, I heard about this documentary when it was in the Kickstarter phase, but I remember thinking "This thing probably won't get funded." Well, color me wrong, as the finished product is now available for viewing! Directed by Colin Hanks, the doc follows the creation of the successful music chain in California, and its gradual spread to Japan and across the rest of North America. The biggest issue with the film, however, is that it's not balanced very well. The majority of it focuses on the rise of the brand, while the "fall" really just occupies the last half our or so. I think part of that, however, may be due to the fact that the demise happened so quickly. Basically, Tower couldn't brace itself against digital music, along with discount stores like Target and Best Buy selling CDs, and they didn't survive. To my surprise, however, there are still 85 Tower locations in Japan. I must go to Japan! If you want to see a bunch of old people talk about how they smoked "doobies" at work, this is the documentary for you. It's really more about the culture of the store than it is about the state of music during the store's rise, so you've really got to care about Tower in order to enjoy it. I do, though, so I did. Your mileage may vary.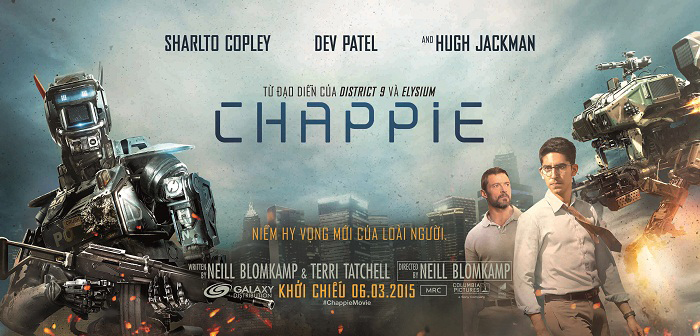 Then, I caught the film CHAPPiE, by District 9's Neill Blomkamp. Reuniting with District 9's star, Sharlto Copley, Blomkamp seems to be telling a tale about what it means to be "alive". At the beginning of the film, the Johannesburg government has resorted to using robots on their police force, greatly curbing the amount of crime in the city. One particular robot, Unit 22, seems to be somewhat accident prone and, after being damaged irreparably, is slated for destruction. Meanwhile, the robots' creator, Deon, wants to test out a new AI program that will give robots sentience. After he's turned down by his boss, he steals Unit 22 and uploads the program. At the same time, a trio of criminals (played by rap-rave group Die Antwoord) kidnap Deon and Unit 22 because they need help with a heist. They rename Unit 22 "Chappie", and try to train him to be a real gangsta. During all this, Chappie seems to be able to isolate his own consciousness through a special helmet, and begins to believe he can transfer his consciousness into another body before his battery dies. This shit really gets weird. I won't spoil any of it, but it basically asks the questions "What is life" and "Can you live forever?" When I first saw the trailer, I thought it was just another crappy Hugh Jackman robot movie, but it turned out to be so much more than that. I highly recommend checking it out.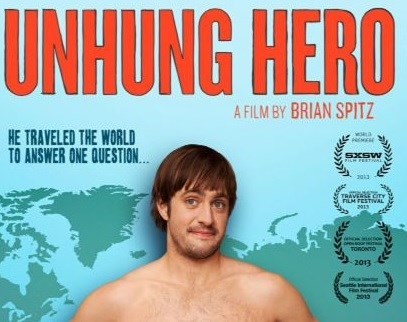 I also caught another documentary called Unhung Hero, which I'd heard about on a radio show that I love (The Bonfire on Comedy Central Radio). Comedian Patrick Moote proposed to his girlfriend during a UCLA basketball game, but she turns him down on the kisscam. Not only did the video go viral, but she later tells him that she couldn't marry him because his penis was too small. So, he embarks upon an international journey to find out what is "small" when it comes to penises, and is there a "cure"? It's really kinda heartbreaking to see him explain to his parents why his girlfriend left him. He even consults old girlfriends to see if they also felt the same way. He tries pills, pumps, and exercises to make his penis bigger. He, then, travels the world to see if there's any hope for reversing his penile fortune. He eventually ends up in Papua New Guinea where he's about to have some oil injected into his penis to make it bigger. Does he go through with it? Moote seems like a really good dude, but I almost wonder if he was ready for marriage at the time of the proposal. He's got a lot going on in his head, and one almost wonders if she did him a favor by turning down the proposal. By the end of the film, and the journey, he seems to have come to a better understanding and appreciation of himself. If you're at all curious about all this, it's currently available to stream on Netflix.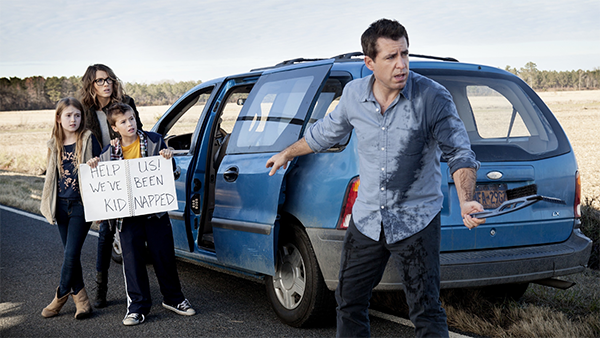 On TV, I caught the premiere of The Detour on TBS. Airing Monday nights in the old Angie Tribeca timeslot of 9 PM, the comedy was created by The Daily Show contributors Jason Jones and Samantha Bee. It's loosely based on their own experiences on family vacations, and it follows a family that abruptly decides to drive to Florida for their vacation instead of flying, and the problems that arise from doing so. In the course of things, they wreck their car, we find out why they had to drive, and more. It was really enjoyable, and was renewed for a second season before Monday's official premiere.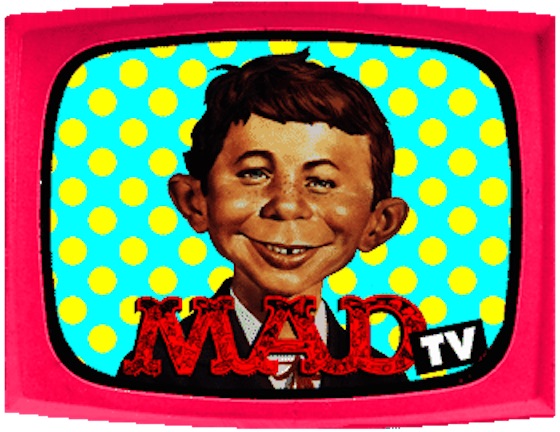 In TV news, The CW has ordered 8 episodes of MADtv, which shouldn't come as much of a surprise, seeing as how the network aired the 20th anniversary special and airs old episodes on The CW SEED streaming site. From what we know, the show will feature new and returning cast members (mainly in guest host capacity). This is good news and bad news. The good news is that I'm glad the brand is alive again. There was a window of time where MADtv was edgier and funnier than Saturday Night Live, though a lot of people would hate to admit this. I feel like TV needs good sketch comedy these days, and the arrival of dreck like Party Over Here made me appreciate what we'd lost. Now the bad news. This show belongs in late night in order for it to hit on all cylinders. Unfortunately, The CW doesn't program nights or weekends. In case you weren't aware, The CW is only Monday through Friday, 8 PM to 10 PM. The rest of the time belongs to the local affiliates. So, late night Saturday is off limits, though it'd be the perfect place for the show. At the moment, I'm scared we'll get some neutered version that ends up airing after The Flash or something. There are worse fates, but I don't think this is a recipe for success.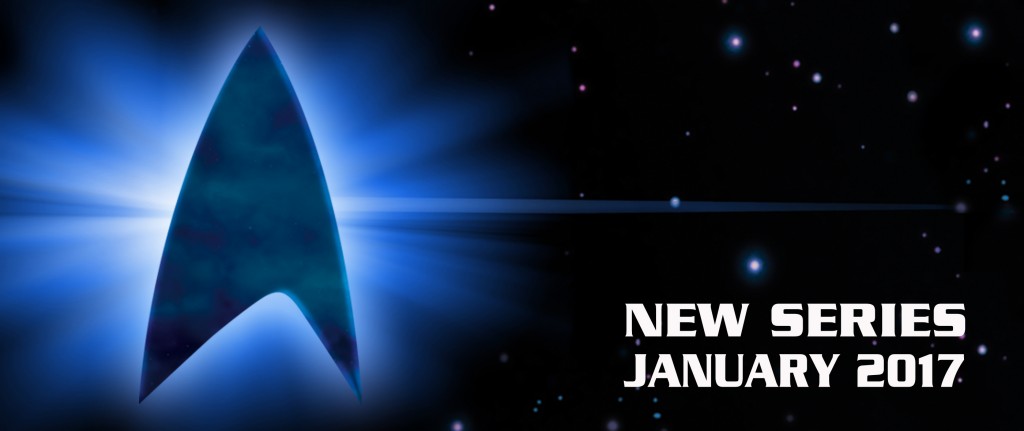 In other television news, it's rumored that the new Star Trek series will actually take place in the classic continuity, and not the JJ Abrams "NuTrek" universe. According to sources close to the production, it will be set between the events of The Undiscovered Country and The Next Generation. Eh. On the one hand, I'm glad we're not in the Abramsverse. On the other, I really wanted something set post-TNG, to see how The Federation has recovered from the events of the Dominion War. I still don't plan to pay for CBS All Access, though, so I'm either not watching it or pirating it.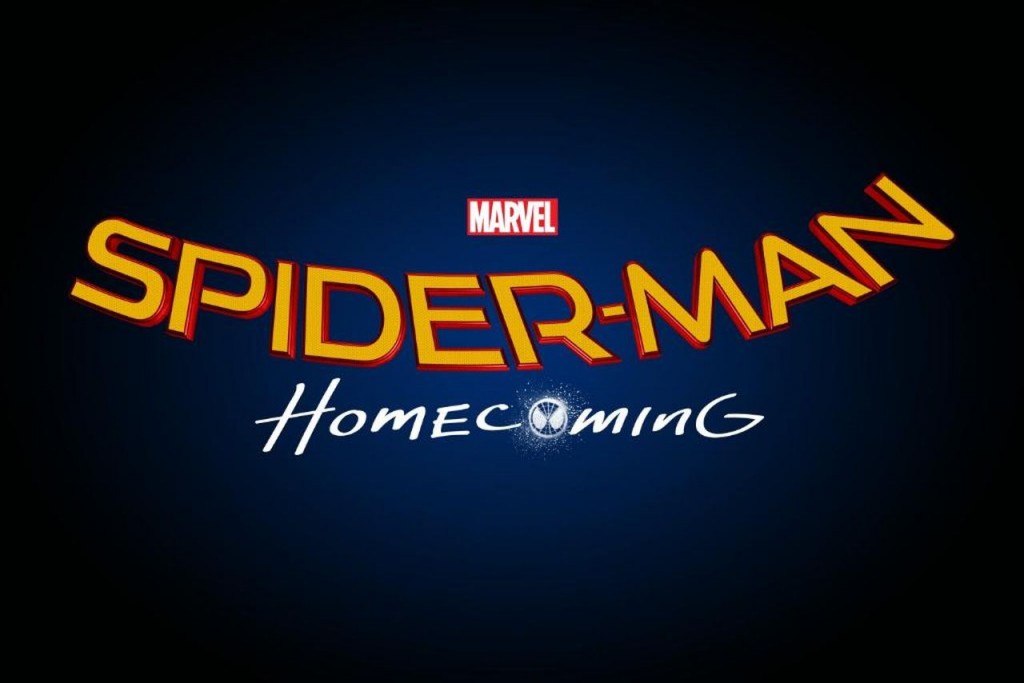 In movie news, Sony had some big announcements at Cinema Con 2016. First up, they confirmed the existence of the Men In Black/21 Jump Street crossover originally revealed from the Sony email hack. Officially called MIB 23, Jonah Hill and Channing Tatum are reported to be returning, though original directors Phil Lord and Chris Miller are being replaced by James Bobin. Also, they revealed that the upcoming standalone Spider-Man film will officially be called Spider-Man: Homecoming. Some folks hate the title, but I don't. It's not the strongest choice, but it does refer to the fact that Spidey's basically back in the MCU fold, so I'm fine with it.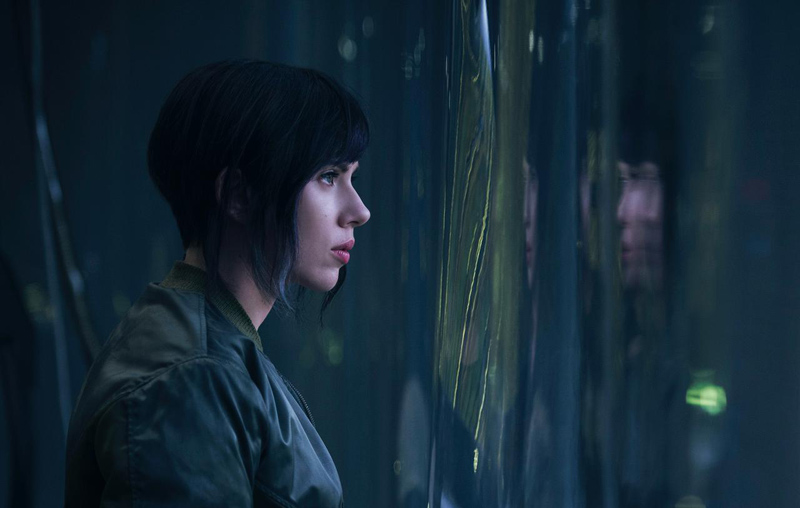 The first image of Scarlett Johansson from Ghost in the Shell hit the web yesterday, and people are LOSING THEIR SHIT. Mainly, it's the minority set, wondering why the lead character has been "whitewashed" and isn't Asian like in the original anime. First off, they need a big star to sell a movie that's not necessarily a guaranteed American blockbuster. I get that Scarlett has star power. Still, I'm not even sure why we're making this movie in America. As far as anime goes, it's one of the more well-known franchises, but it's still not a "household name". Sure, folks will come out and see it because it's a ScarJo movie, but why not give us that Black Widow movie? Or, God forbid, Lucy 2? Why go for a franchise that has to be "westernized" in order to make it successful when that's going to detract from the source material? Could it have been made with an Asian lead? Of course. Should it have been made with an Asian lead? Probably. Would it make as much money? Unless they're flying from trees and shit, I highly doubt it.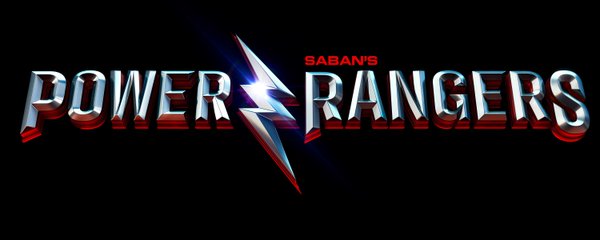 In Power Rangers news, they unveiled the logo for the upcoming film yesterday. Meh. I think it's too generic. It has no WOW or pizzazz. There are a couple of things I don't like about it. First of all, I don't like Saban's insistence on putting his name in the title. He doesn't carry the clout of a Marvel or DC, so branding it "Saban's Power Rangers" means nothing to the man on the street. There's the argument that "You've got to start somewhere", but I just think it's more of a ego move than a branding opportunity. Also, there's already a Power Rangers font, which has been used for the past 23 years. Sure, this is a chance to breathe new life into the franchise, but you don't mess with the classics. Compare the new logo to the logo for the original Mighty Morphin Power Rangers: The Movie: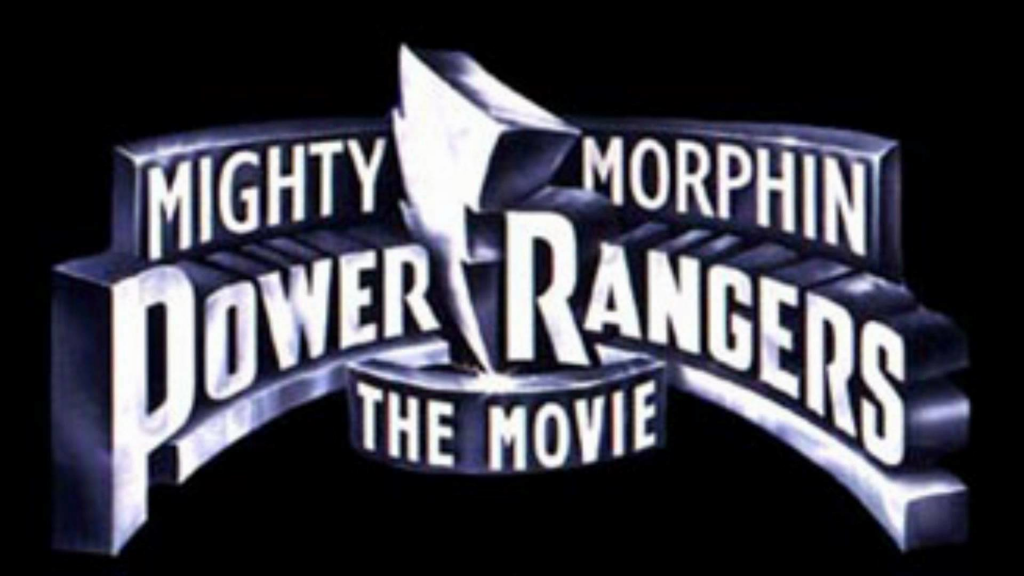 The new one looks so flat in comparison, even though it's "cleaner". At least you'll be able to differentiate the TV toys from the movie toys on shelves, but that's about the only benefit I can see from this new logo.
Things You Might Have Missed This Week
Elizabeth Banks is attached to direct a reboot of Charlie's Angels.
Warner Bros finally confirmed that they are in talks with Ben Affleck for a solo Batman film
A new trailer was released for Suicide Squad, cementing my resolve to not see this movie in the theater
Reportedly, Warren Beatty is working on a script for Dick Tracy 2. I've been hearing this same rumor for the past 25 years.
James Cameron announced that there will be four Avatar sequels. OK, sport.
Dustin "Screech" Diamond was released early from jail on Monday.
Benedict Cumberbatch will voice The Grinch in an unnecessary 2017 reboot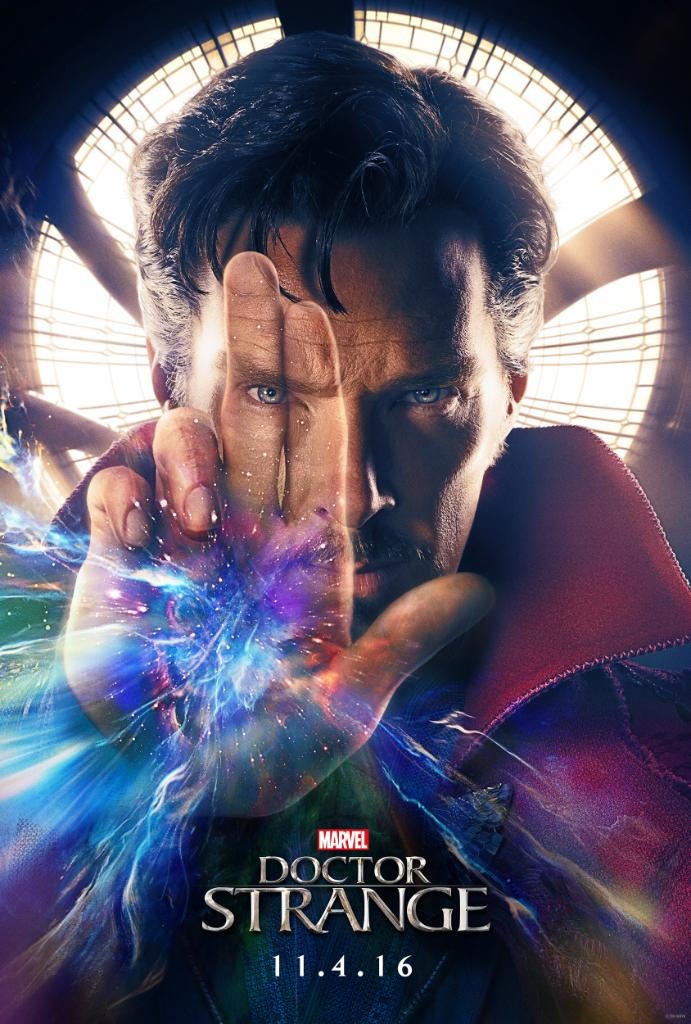 I guess you could say it's been a Marvelous week. At the beginning of the week, it was reported that Natalie Portman wouldn't be coming back for Thor: Ragnarok, but Creed costar Tessa Thompson has been cast in a mysterious role. According to rumors, she may be portraying the character Valkyrie. The movie also features Bruce Banner/The Hulk, so I figure we'll see what they're up to while the rest of the Avengers are Civil Warring each other.
Then, on Tuesday, we got the first teaser trailer for Doctor Strange, starring Benedict Cumberbatch. Now, I have a confession to make: I don't like mystical Marvel. I probably hate it even more than I hate space Marvel. There's just something about it that I never really took to. That said, I saw glimpses of the first Iron Man movie in that teaser, and that's the movie that kicked off this whole Marvel Cinematic party. So, if this movie can recapture even a small bit of what made Iron Man special, then we might have a winner. Now, there is some controversy over the whitewashing of The Ancient One by casting Tilda Swinton, but I don't even know what to make of that. Yeah, the character probably should've been portrayed by an Asian actor, and is Tilda Swinton, perfect androgyny aside, the right choice for that character? Who knows, but I guess I'll wait to see the movie before I pass judgement. A lot of folks thought the trailer was kinda "meh", but it definitely got me interested, which is something I was not prior to seeing it. I'd been telling folks that I was cashing out on the MCU after Civil War because I just don't care about Doctor Strange or Black Panther, but now I'm intrigued.
Meanwhile, the embargo was lifted on Captain America: Civil War, and the early word is very positive. Some are saying it might be Marvel's best movie yet. I'm kicking myself because Marvel chose 25 cities in which to have an advance screening last night (and DC was on the list), but I completely missed the boat on trying to get passes. If any of you reading this happened to see the film last night, I hate you.
So, between those 3 tidbits, as well as the announcement of the Spider-Man film title, everything was coming up Marvel this week. That's why Marvel had the West Week Ever.