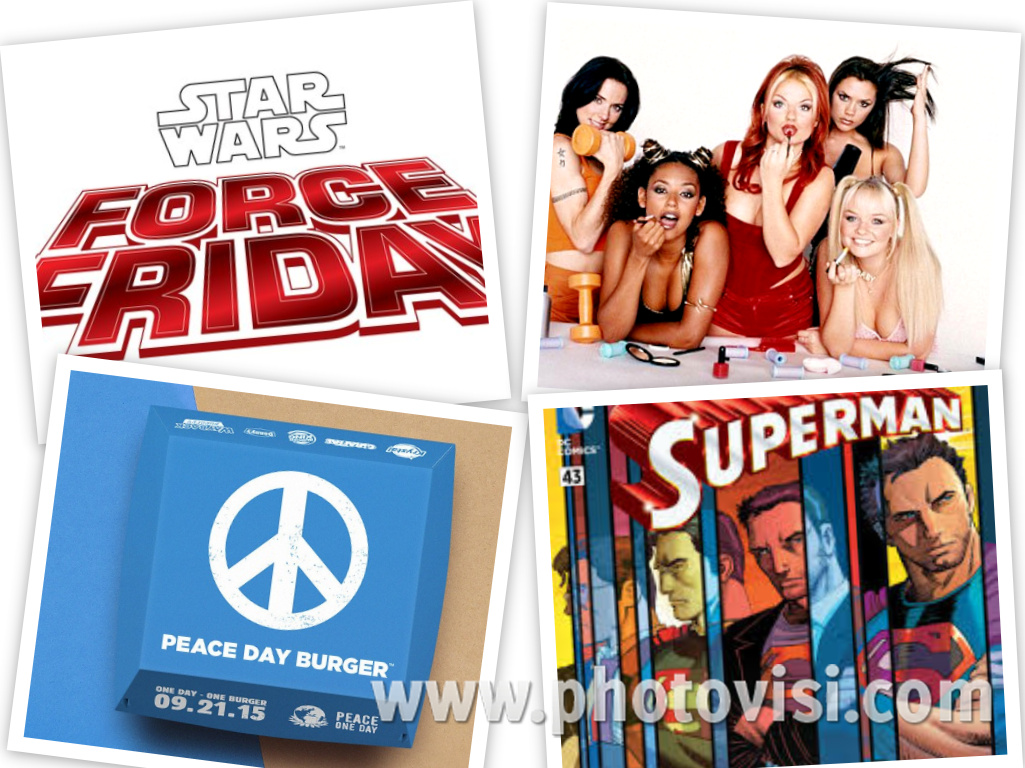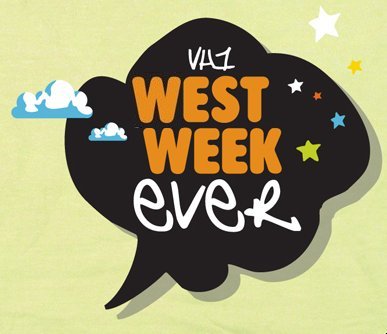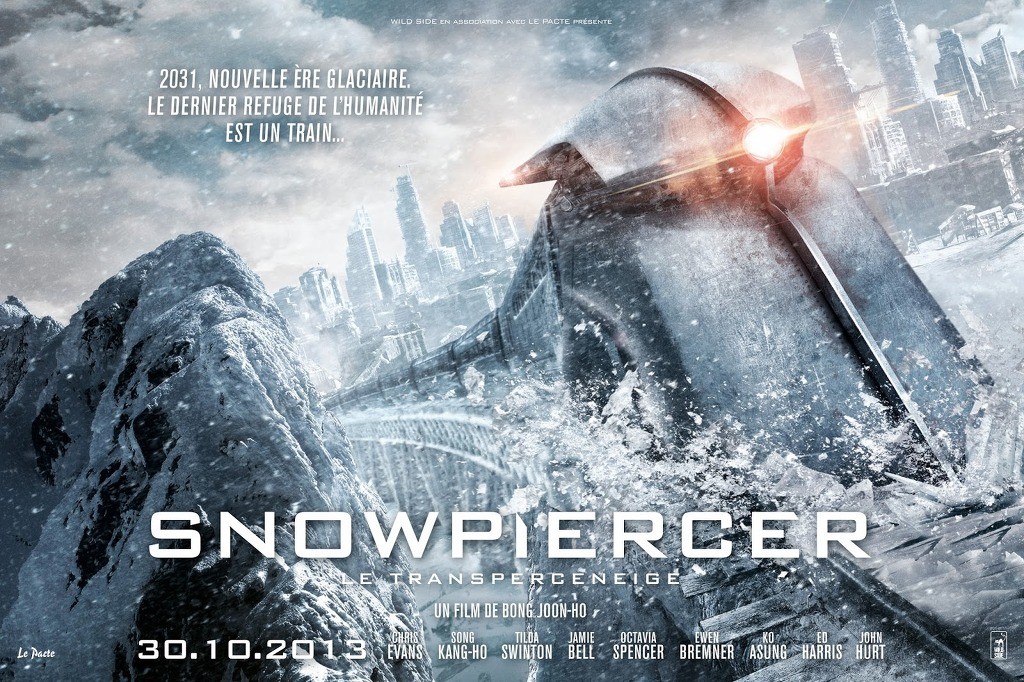 So, this week I finally got around to watching Snowpiercer. I'd heard nothing but great things about it, but it had taken me forever to finally sit down and watch it. I had a ton of work to do, so I figured I'd just have it on in the background, but it ended up getting my undivided attention. If you've never heard of the movie, here's the deal: in the near future, scientists decide to combat Global Warming by releasing a chemical called CW-7 into the atmosphere. Well, the substance worked too well, and resulted in another ice age – and the extinction of humanity. So, the last bastion of humanity survives on "The Rattling Ark", a train that traverses the globe annually. The train, however, is set up on a class system, with the rich up front, and the poor common folk in the tail section. The rich dine on steak, while the poor initially had to resort to cannibalism until they were given protein supplement bars. Well, the tail section decides to fight their way to the engine, in order to take control of the train. The resistance is led by Chris Evans, and the movie follows his group as they move forward, from car to car. I tend not to like End of The World/mass death movies, but this one was really good. And that ending! Anyway, I highly recommend this movie.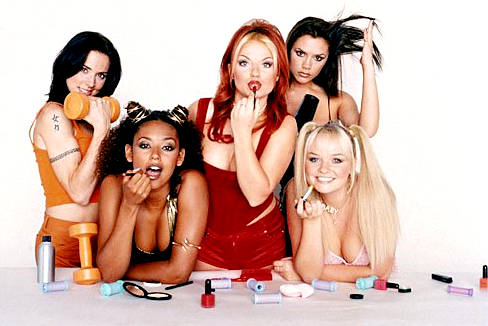 A few weeks back, when I was on The Nerd Lunch Podcast, we discussed things that get a "bad rap". One thing that was mentioned was the movie Spice World. I have always hated this movie. As I explained in the episode, it was the first movie I'd ever ordered as Pay-Per-View, and I was begging for it to be over. It just completely lost my attention. I mean, the biggest American star in the thing was George Wendt! Now, oddly enough, I was a big Spice Girls fans, so I should've been the target audience. Plus, I LOVE crappy movies starring pop groups (see: 2gether and S Club: Seeing Double). Since it was on a few nights ago, I decided to give it another chance. And the verdict? Still hate it. It's got NO plot. I mean, there's something about a British tabloid guy who wants to break up the group, and then they have this pregnant friend that they kept neglecting 'cause they're too busy for her normal ass. And then Mark McKinney (remember him?) and George Wendt are American filmmakers who might be filming the movie that we're watching, meanwhile Alan Cumming is a documentarian who's also filming a movie about the group. And then the group breaks up for some reason. This is the part that got me, because it flashes back to when they were a younger, struggling group – like they all grew up together or something. It totally neglects to acknowledge that the group was formed like every other British pop group: they answered a casting call. Anyway, they come back together just as their normal ass friend is about to give birth, and then they all reunite for their concert at Albert Hall just in time to sing "Spice Up Your Life". I did not like this movie. Love the girls (especially Sporty), and love the music, but did not love this film.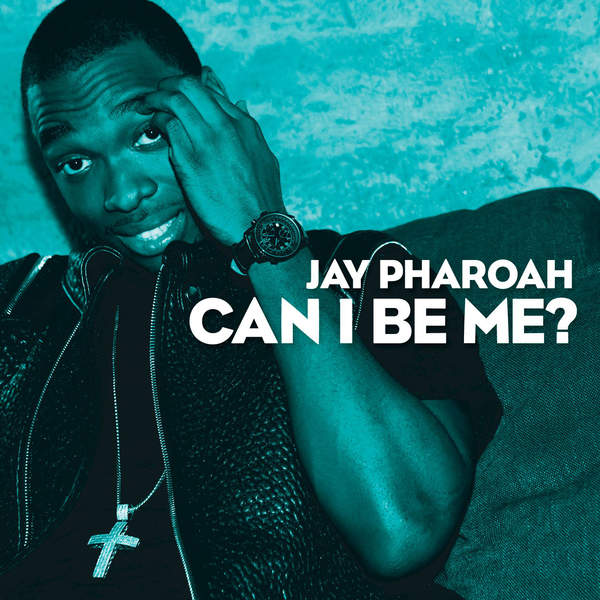 I also caught the standup special, Jay Pharoah: Can I Be Me? If you watch SNL, then you know Jay Pharoah as "the Black guy who's not Kenan". He also does a pretty good Obama. Anyway, I guess he got this hour special off the back of his impressions, because his standup jokes need work. He can do a mean Denzel and Bernie Mac, but his jokes were kinda lame. Even the audience wasn't really feeling it, but he always got a pop when he'd break out the impressions. If he gets another special, he either needs to hone his material, or just focus on impressions the way Rich Little does.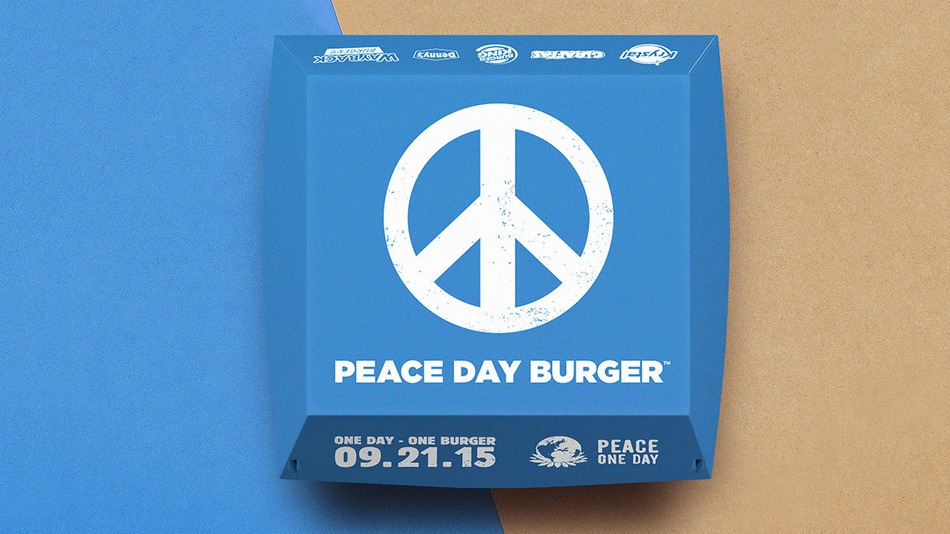 Last week, I mentioned the McWhopper proposed by Burger King. Since McDonalds declined the invitation, a few other burger chains have approached BK about participating. So, now BK is proposing the Peace Day Burger, which would contain signature ingredients from Denny's, Krystal, and some places called Giraffas and Wayback Burger. McDonald's is still invited to participate if they change their mind, but now BK is courting other suitors. They plan to go ahead with the pop-up shop that was already under construction in Atlanta, so I really hope this goes through.

This week, it was announced that the film division of Marvel Studios will now report directly to Disney, in a move that was supported by Marvel Studios President Kevin Feige. Apparently, there had been some creative pushback from Marvel CEO Ike Perlmutter, and Feige had threatened to leave the company. This also means the end of the Marvel Creative Committee – the group comprised of Marvel Entertainment President Alan Fine, Chief Creative Officer Joe Quesada, Publisher Dan Buckley, and writer Brian Michael Bendis – which has guided the Marvel Cinematic Universe since its inception. Folks are now wondering what this means for the future of the Marvel movies. Will the audience even notice a difference, or is this a major creative shakeup that will be felt at all throughout future movies. This especially makes things messy for the television division, which will reportedly stay under the direction of Marvel Enterprises. There had been rumors that Marvel Studios and Marvel Enterprises weren't playing nice together, and this could affect the possibility of any of the TV characters making it into the films. Right now, only time will tell.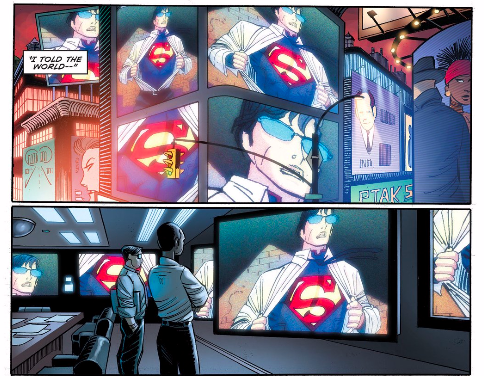 Speaking of the comic world, I finally got around to reading Superman #43, which is the issue where *SPOILER ALERT* Lois Lane reveals Superman's identity to the world. It shouldn't be too much of a spoiler, as every Superman book recently has revolved around the fact that the world knows his identity, and we were waiting for that golden moment where the reveal would be shown. Having read the issue, I can now say that this was a TERRIBLE idea. I'm not even talking about the repercussions of such an action. I'm saying that, from a story perspective, the threat level wasn't high enough to warrant what Lois did. There was no alien invasion, there were no life or death stakes. No, Superman was being tortured by a tech collective called HORDR (think Evil Google), and they were blackmailing him. They want to test his new Super Flare (this stupid new thing where he basically explodes) power out on their energy siphoning creatures, and they torture him to see how much he can take. If he refuses, they reveal his identity to the world. Lois felt that by doing it herself, she would take away their leverage, allowing Superman to break free. OK, that's really stupid. It was just torture. Superman has dealt with far worse. They didn't even have Kryptonite or anything. It seems like she was just dying to tell the world (which was a dick move, considering she had just spent the earlier part of the issue promising to keep his secret). I really hope DC has some grand plan as to why his ID needs to be public, because this story so far sure hasn't justified that decision.
Things You Might Have Missed This Week
-The Summer of Breakups continues, as Avril Lavigne and Chad Kroeger announced they were separating after 2 years of marriage. I'm sure folks are gonna use this opportunity to make a bunch of Nickelback jokes, but I actually like some of their songs…
-NBC's reboot of the sitcom Coach will not be going ahead at the network. It sounded like a terrible idea, but I was still morbidly curious.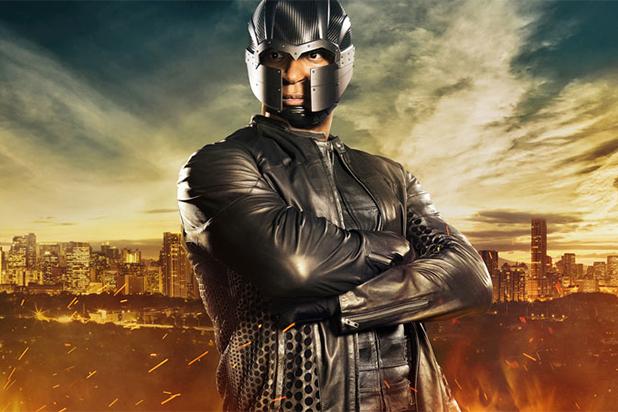 -It appears that Diggle will finally be getting a costume on Arrow. As the internet has already pointed out, he just looks like Magneto.
-The MTV Video Music Awards were last Sunday, where host Miley Cyrus exposed her left breast, and Kanye West announced he's running for President in 2020. For the record, Kanye was the bigger boob that night.
–Marvel's Luke Cage made 2 casting announcements this week, as Mahershala Ali will play Cornell "Cottonmouth" Stokes, while Simone Missick will play Misty Knight.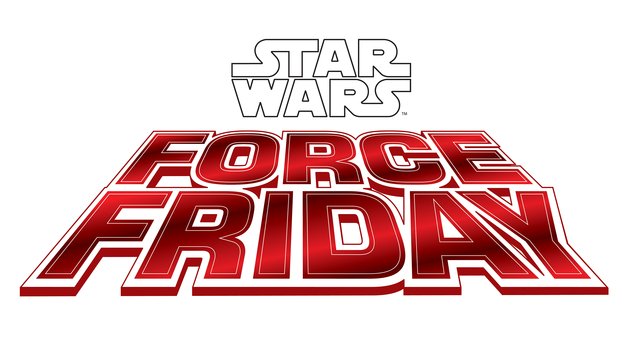 So, last night I had dinner with my Thrift Justice partner, Mike (for those new to the site, Thrift Justice is the series where I write about all the cool stuff Mike and I find while thrifting). We had been a bit estranged lately because Mike's lost his passion for the yard sale thing. This was a bum season, and it has kinda taken its toll. Anyway, we had dinner to catch up, and when the meal was done, we decided to check out Force Friday – the worldwide release of the Star Wars: The Force Awakens toys. This was going to prove a problem, however, as it was 9:30 PM, and the toys wouldn't be released until 12:01 AM. So, how would we kill time?
At first, we were going to see a movie, but nothing good was playing. It had pretty much come down to Owen Wilson's No Escape (which I'll probably DVR when it hits HBO) or Transporter: Refueled. While waiting for the showtimes, I checked the Force Friday website to see what kinda swag was being offered. It turned out that only 207 Target stores in the country were opening at midnight, and the closest one to us was almost 2 hrs away in Hagerstown. Meanwhile, all Toys "R" Us stores would be giving away a free poster and commemorative LEGO brick to the people came to shop. Hagerstown started looking like the best option, since TRU is right across the shopping center parking lot from Target.
We got to TRU around 11, and sat in the car for a bit. Did we really wanna wait in line with this…riffraff? Eventually, we decided that we did. Standing in line, we reminisced about our days working at TRU, and chatted with the guy in line ahead of us. At 12:01, they opened the doors, but they treated it like a club. This burly guy in a TRU shirt acted as the bouncer, as he only let in a certain amount of people at a time. Instead of setting the merchandise up in the Feature Shop (the showcase at the front of the store), the toys were all located in the first boys aisle, on both sides of the aisle. So, you could understand why they were only letting in a few at a time, as only so many people could fit in an aisle. Their first mistake was this setup. Their second mistake was that they had a 3-per item limit on everything. So, for example, you could get 3 Star Wars Black 6″ Finn figures, and then move on and get 3 of something else, and so on. So, as you can imagine, the 6″ Star Wars Black line was the first to go. I stood outside, like a hungry orphan, looking through the window as other dudes were buying my toys. By the time I got to the aisle, all the Star Wars Black – the stuff I was specifically looking for – was gone. Meanwhile, this mom with a PHAT ASS was barking orders at her son, as she filled a cart with 3 of everything. Now, remember how I told you everything and everyone was crammed into one aisle, and she had the gall to navigate a cart into that madness! When I left the aisle, she was arguing with the employees because they didn't have all of the items she had set out to by. I quickly grabbed a 4″ Finn and Captain Phasma just so that I could say I bought something on Force Friday. I went to the register, checked out, and got my poster and LEGO brick.
Next, we decided to hit up Target. As you can imagine, due to the proximity, all of the folks who were ahead of us in line at TRU had already beat us to Target. So, they were also out of Star Wars Black. They were having a drawing for 3 giant Wookiees, so Mike and I waited around, hoping to win the raffle. We did not win. And exactly the kind of guys you're picturing in your head are the ones who won. Just a bunch of friggin' neckbeards. Out of some kind of impulse, I bought another Finn (this one to keep in package. I know, I know…) and Kylo Renn's three-pronged lightsaber. We didn't even discuss hitting up the nearby Walmart, and we began the journey back to Rockville where I'd left my car. In all, I was pretty disappointed with Force Friday. Sure, I had walked away with a free tote bag (Thanks, Target!) and that disappointing LEGO piece (it wasn't even a brick. It was more like a panel), but I still hadn't found what I was looking for (cue U2). I went to sleep thinking that Force Friday, while interesting to observe, had been a bust as a participant.
This morning, however, I remembered that it's still Friday. Sure, everything kicked off at midnight, but not every store had been open, so maybe the stores that were just opening this morning would have a better selection. So, I hit 2 Targets on the way to work. At the first store, the selection was almost better than what I had observed at the Hagerstown Target last night. I found some Star Wars Black, and walked away with a 6″ Kylo Renn and Rey. At the next Target, I found what I'd been wanting the whole time: Star Wars Black 6″ Finn. I know nothing of his character, and I know nothing of the actor, but I needed him for much the same reason a lot of Black folks voted for Obama: he was a Black dude. Outside of Lando, we don't have a ton of representation in the Star Wars Universe, and Lando's kind of a bastard. I mean, he sells them out, and suffers no real repercussions. Sure, he's on the side of the good guys at the end, but his character is still kinda devious. I like Finn's character design, and he's probably the reason I'm most excited for The Force Awakens. So, with my grail piece in hand, I walked out of the store with a smile on my face. Force Friday had been redeemed!
Looking back on it all, I would've made out a lot better if I had just skipped the midnight stuff, and just checked the stores this morning. The selection was much better, and you didn't have to deal with the smelly masses. Still, it was nice to be part of the excitement of the midnight release. I'm not primarily a Star Wars "fan", per se, but I can appreciate that folks are excited about a new installment of this thing that they love. Force Friday represents our first official glance at the world to come, so it's pretty important – even if its goal was just to sell a shit ton of toys. So, in my mind, Force Friday is having the West Week Ever.