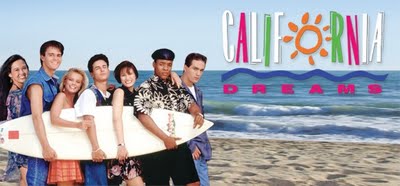 OK, so my love for California Dreams has been documented on this site before. That said, I pretty much thought I was alone in the CD fan camp. That's when Jimmy Fallon came along and rocked my shit.
About a year ago, Jimmy Fallon took over Conan's job, as the host of Late Night. Nobody really knew what to expect, as his SNL work was decent, but his movies had been terrible. As he took over the position, it was clear that his tenure would be quirky and off the wall.
As an example of this quirkiness, Jimmy decided that one of his first goals would be to organize a Saved By The Bell cast reunion. After all, it was the 20th anniversary of the show, and he wanted to pay tribute to a show we had all watched back in the day. Well, he got everyone to agree (including an AMAZING skit with Mark Paul Gosselaar AS Zack Morris), except Tiffani Thiessen and Dustin Diamond. Tiffani didn't want to really be associated with the show, as that's not what she "wanted to be remembered for today". Dustin, on the other hand, is just an asshole now. So, no reunion.
Fast forward to last Thursday night: Jimmy's been spending all week celebrating his 1 year anniversary, and he mentions his inability to reunite the cast. It was unfortunate, HOWEVER, he has gotten the next best thing. Without any promos or prior announcement (besides a twitter spoiler from a TV insider), Jimmy has managed to reunite the cast of California Dreams!
They all come out onstage, most of them looking great. Not only does Jimmy let each one give an update on what they've been up to, but then he had them perform the theme song! I just about died. In any case, I've always got an opinion, so here were my thoughts on the reunion:
-As great as it was to see everyone, not everyone was present. They were missing Lorena Costa (Diana Uribe) and Sly's cousin, Mark Winkle (Aaron Jackson). It may seem insignificant, but these were 2 regular characters. Not only did the band practice in Lorena's loft for the majority of the series, but she was also co-band manager with Sly. Plus, she was the rotating love interest whenever the guys got sick of Kelly Packard. Mark was the band's keyboard player and handled vocals. His character was a bit of a whiny bitch, but he was still a Dream.
-Brent Gore, it was good to see you! As leader of the Dreams, Matt Garrison, Brent left the show after the 2nd season. He looked good, but he kinda looked like Aging Rock Star (think Rick Springfield).
-William James Jones, as drummer, Tony Wicks. Acting hadn't been so kind to WJJ after California Dreams, as he was only getting cameo roles on shows like Living Single. He looked good, though, and it was great to hear that he's got a wife and kids at home.
-Jay Anthony Franke, as mysterious heartthrob, Jake Summers. Basically, The Fonz of the Dreams. Oh, Jake, Jake, Jake…it was a brave move coming on TV. There were a lot of expectations, and I'm not sure they were met. He's gained a bit of weight, and he's bald. He was still kinda mysterious. Looked a bit like Duff from Ace of Cakes, though…He's living in Australia with his wife, and they just shot a pilot. Lord knows what it's about, as he didn't elaborate. That said, he clearly wants the world to know about it. So there.
-Heidi Noelle Lenhardt, as Jenny Garrison. Full disclosure: Growing up, I was IN LOVE with her! She had an amazing voice, and she was just a striking brunette. She left the show after the first season, so she definitely left me wanting more. Seeing her at the reunion, however, was bittersweet.
First of all, she's blonde now. Not really a fan. Also, it seemed like she was coming in slightly flat on her part of the song, so maybe she hasn't been singing much these days. Anyway, I did love the tongue ring she was rocking!
-Kelly Packard, as Tiffany Smith. Surprisingly, there wasn't much from her. She's certainly been the most active, as she went on to Baywatch, and co-hosted Ripley's Believe It Or Not. Like Heidi, she said she's taking care of her family, but mentioned that she had a movie coming out soon. It seemed almost like she was shy, and I felt she should've said more since she's been doing more.
-Jennie Kwan, as exchange student Samantha Woo. She was so cute and nervous, but she was also gracious. Though she didn't mention it, she was also a member of girl pop group Nobody's Angel (you've seen 'em. They were on that Boy Meets World episode at that diner. Remember?). She was also the voice of Suki on Avatar: The Last Airbender.
-Michael Cade, as sleazy band manager with the heart of gold, Sylvester "Sly" Winkle. Cade looked good. I'll give him that. He's charismatic, and he's still trying to make the acting thing happen. And he's pretty ripped, especially for a 37 year old.
-When they performed, I wonder how they decided who would sing what parts. After all, "Matt" and "Jake" sang the same parts during different times in the series, as did "Jenny" and "Sam". I felt kinda like Heidi should've sung more (since I felt she was better, vocally, than Jennie), but I guess it was only fair how they did it, seeing as how Jennie Kwan had been on the show longer.
Anyway, here's the video so that you can follow along at home: