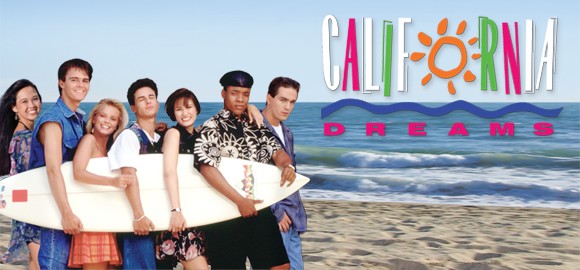 Back in 1992, two shows premiered about beautiful people forming bands. One show aired on NBC Saturday mornings (California Dreams), while the other aired during primetime on Fox (The Heights). The Heights went on to have a number one single on the Billboard Hot 100, but then got canceled a week later. Meanwhile, California Dreams went on to enjoy 4 more seasons on the air, but never achieved the mainstream musical success that I felt it could've had. But first, let's backtrack.
If you were too cool for school, then you probably didn't watch NBC's live action Saturday morning fare. After all, some folks think that Saved by the Bell killed Saturday morning cartoons (it didn't; cable did that), while others simply didn't like the hokey nature of the show. Well, after Saved by the Bell's success, executive producer Peter Engel was at it again with California Dreams. As it could pretty much be described as "Saved by the Bell with music", I like to call it "Saved by the Bell if the Zack Attack didn't suck" (C'mon, "Friends Forever" was some garbage and you know it!). Set in Southern California, the show initially focused on siblings Matt and Jenny Garrison, and their garage band, the California Dreams. During the first season, it was more of a family ensemble show, but NBC was all about the pretty teens, so they had the producers get rid of that family aspect when the second season rolled around. From that point on, the focus was on the band, its members, and their struggles to hit it big. Oh and, since they were high school students, there was plenty of homework and dating drama.
This might be sacrilege to some, but I've always loved California Dreams more than Saved by the Bell. Most of the "Engelverse" reused storylines, so they were basically telling the same stories, but I liked that you got an original song with most episodes of Dreams. Plus, I had a huge crush on Heidi Noelle Lenhart (the brunette). Based on when the show hit, it was a sound that was so indicative of the era. When it comes to California Dreams songs, they're pretty much just Wilson Phillips songs. Now, personally, this was a point in my life when I was listening to country, so I didn't really know this sort of stuff got airplay. Had I known, I would've been all over pop radio at the time. Still, there's something sugary sweet about their sound. It's soothing to me, and it doesn't really carry much of a message. Sometimes you just wanna kick back and not think, and the Dreams excelled at that kind of song. Whether it was "Castles on Quicksand" or "Rain", it was hard to be disappointed by a California Dreams song. That said, I think their best song is the theme song to the show. Even listening to it now, it takes me back to a better time.  For me, the early 90s were perfect. No bills, no puberty, no worries. Just close your eyes and listen:
Those harmonies! Smooth like butter. Most folks can rattle off "When I wake up in the morning, and the alarm gives out a warning…", but they don't know about this. I hear something like Wilson Phillips' "The Dream Is Still Alive", and wonder how that got airplay and the Dreams didn't (that's a "real world" California Dreams song if I've ever heard one). Was that just something the producers didn't pursue with the show? They must not have, as you've never heard a California Dreams song on the radio and I think that's a shame. With all of the throwaway pop groups of the 90s, like The Party, there was certainly a place on the radio for the California Dreams. But I guess it wasn't meant to be.
Oh, and that other group I mentioned – their song didn't suck, either. I actually really dig "How Do You Talk To An Angel", so I'll leave you with that, as something of a "bonus track".