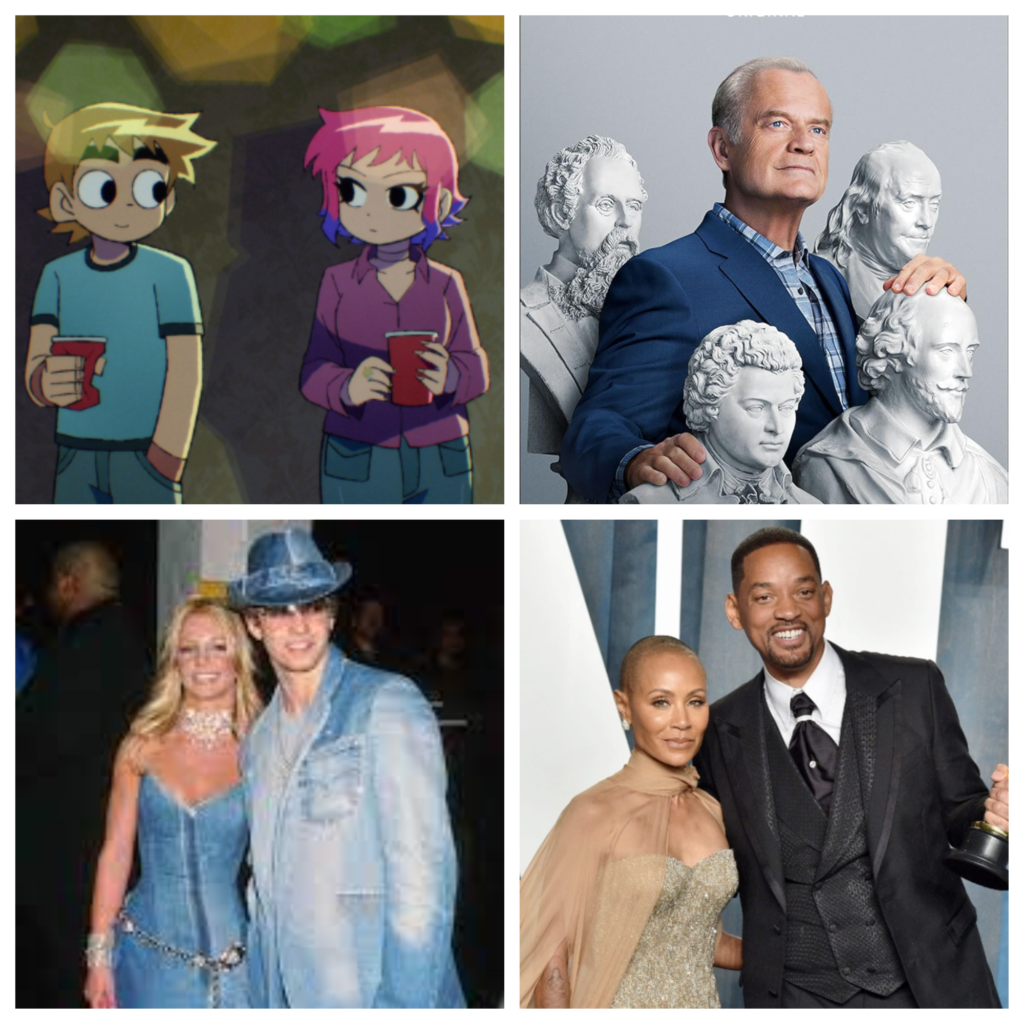 We're back! After a, what was it? 3-month hiatus? West Week Ever is BACK! I mean, I've been around, doin' big t'ings! Still, it's always nice to come back home, to what's familiar.
If you'd like to catch up on where I've been spending my time, however, here's what I've been up to:
Like I said, BIG T'INGS!
So, let's jump right in!
Trailer Park
Scott Pilgrim Takes Off (November 17th, Netflix)
I have something of a complicated relationship with the Scott Pilgrim franchise. Ya see, when I worked I was a brand manager at Diamond, my two biggest accounts were IDW and Oni Press. IDW hadn't exactly picked up the Hasbro licenses yet, so their bread and butter was stuff like CSI miniseries, plus they were really milking the 30 Days of Night cow (Remember how there was that movie? Starring Josh Hartnett? Remember HIM?). They teetered on the edge of being The Next Big Thing, but they weren't there yet, despite their publisher and EIC thinking they were. Meanwhile, Oni Press was putting out some really good indie books. These weren't licensed properties, and they didn't really fool with single issues too much. For lack of a better description, they were cranking out "American Manga": Digest-sized, black & white original graphic novels, and they were also midway into Scott Pilgrim, which had turned out to be something of a surprise success for them. So, while I was there, I not only saw Vol 4 get published, but I was also around as the movie was being developed.
Based on where I was in my life at the time, I thought Scott was pretty cool. He's a slacker who likes video games. I can dig that. He doesn't make great decisions. Check! I guess I sort of related to some of it, even if I wasn't Canadian, in a band, or trying to defeat my love interest's former exes in video game boss fashion. There were red flags, though.
Post-university Scott dates Knives Chau, a high schooler. She's 17, but a YOUNG 17. And while his friends sort of rib him about it, it's never really addressed as the problem it is. At the time, I just wrote it off as "I guess they do stuff differently in Canada." As the story went on, though, I started to realize that Ramona wasn't really worth all the trouble Scott was going to in order to woo her. It was also around this time I met several "Ramonas" in reality, and they just sort of proved me right. By the time you get to the end of the series, it's what Reddit "Am I The Asshole?" threads would label as "ESH", as in Everyone Sucks Here. Scott sucks, Ramona sucks, Knives sucks (but she's young, so we kinda forgive her). Seriously, by the end, the only respectable character is probably Scott's roommate, Wallace.
The graphic novel series ended the month before the movie was released, and I ended up hating both the end of the series, while also being underwhelmed by the live action adaptation. Though I had no direct involvement with any of it, outside of listing new volumes in the Previews catalog, I still felt like I'd watched my cousin make it to the NFL, only to get benched and then cut (Did I use those terms right, sports fans?).
Over the past 13 years (Oof!), I haven't thought too highly of the Scott Pilgrim franchise. It's one of those things that had a lot of potential, but didn't really stick the landing. It also doesn't help that its legacy is that the movie woefully underperformed (Which I blame on the insane amount of screenings it had. By the time it was officially released, everyone interested had already seen it – in many cases, for FREE). They've tried to milk it every so often (Like a colorized reprint of the series, which really did little to enhance the overall experience), but it seemed like the whole enterprise was done. Until now. And I've got to say this looks good. It may not change any of the story issues that I had, but at least I feel like this is the presentation that the source material deserved. Series creator Bryan Lee O'Malley wasn't originally keen on a live action adaptation, but he was a starving artist and wanted the money. I feel like this is probably closer to his vision when he created the series, so I've got to say that I'm really looking forward to it.
Things You Might Have Missed This Week
It's a Halloween Miracle, as Spider-Man: Across The Spider-Verse will hit Netflix on October 31st.
Marvel Studios may be playing Musical Chairs with release dates, as Deadpool 3 is no longer going to make its May 3rd, 2024 release date, due to the ongoing SAG-AFTRA strike. In fact, Captain America: Brave New World, originally scheduled for May 3rd, but moved to July 26th, might move back to May 3rd, as it's reportedly in better shape than DP 3 at the moment.
Ensuring that seemingly everyone gets a turn at the wheel, Law & Order: Organized Crime has just named its SIXTH showrunner in three years. Just put Stabler back on SVU already!
Suffering from a rare form of pneumonia, 80s American Olympics darling Mary Lou Retton's GoFundMe has raised over $452K against an initial goal of $50K. Meanwhile, I'm over here, trying to understand how an Olympic medalist doesn't have health insurance…
Pras Michel, better known as the loser of The Fugees, is currently requesting a new trial for his multiple charges of fraud and other transgressions, as he alleges his original defense attorney screwed up his case by relying on artificial intelligence to craft his closing arguments. Womp womp!
It was a big week for bombshells dropped in order to sell memoirs: Britney Spears revealed she got pregnant when she was dating Justin Timberlake, and they agreed to an abortion after deciding they were too young to be parents.
Meanwhile, Jada Pinkett-Smith revealed, among other things, that she and Will Smith have been living separate lives since 2016. I swear, she's the kind of woman you read about in the Bible. She's biblically diabolical!
Trevor Noah will be launching a weekly interview podcast on Spotify, called What Now? with Trevor Noah. In other news, Roy Wood Jr. has announced he hasn't been offered a podcast by Spotify, and isn't in the running for one. However, he also would consider one, should Spotify extend an offer.
The classics never die, and teenage boys the world over are about to experience their sexual awakening, as the Emmanuelle reboot has begun filming in France, starring Tár's Noémie Merlant.
X-Men: First Class director Matthew Vaughn explained that he quit that film's predecessor, X-Men: The Last Stand, because he discovered the studio had created a fake script with a larger role for Halle Berry, in order to trick her into signing on.
Disney is reportedly developing a live action Gargoyles adaptation, but I wouldn't get too excited yet: It's being developed for Disney+, so it'll either be made on the cheap, or never made at all.
The hot chick from Stranger Things, who's still forced to portray a weird little girl, pissed off fans when she expressed that she was tired of playing the weird little girl, and was ready to move on.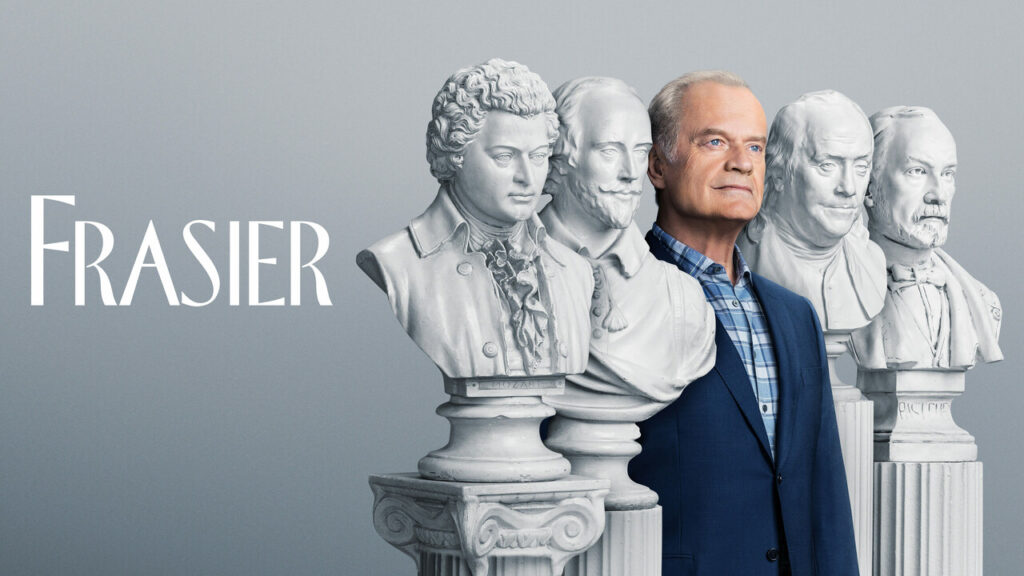 So, I wasn't exactly kind when initial word of a Frasier revival hit the internet. While I've dabbled in the worlds of Fuller House, Girl Meets World, and iCarly "2.0", I'm still not necessarily sold on the whole "franchise revival" tactic. Frankly, I didn't need to know that the Tanner family is apparently cursed when it comes to spouse mortality, or that Topanga threw away her dreams to open a coffee shop, or even that Sam Puckett joined a biker gang and doesn't really talk to Carly or Freddy much anymore. These things always felt like fan faction, made real, and I just marvel that studios and whatnot are devoting resources to this. Still, there's a part of me – going all the way back to What's Happening Now!! – that's a sucker for these concepts. So, as you can see, I'm conflicted.
Like every kid of the 80s, I grew up with Cheers, which then led to Frasier. I still remember the media storm for the Cheers finale (seeing as how I was too young for the M*A*S*H* finale, this was my first tentpole series finale), and I naturally just went over to Frasier once that launched. Now, a lot of folks of my generation talk about those NBC shows, like Cheers and Empty Nest, where they now claim they didn't necessarily like them, but it was the 80s, and "we just watched what was on". Frankly, I think that's a cop out, as I actually did like those shows. If you told me 80s era NBC president Brandon Tartikoff was my real dad, you couldn't possibly make me happier.
The thing about the Cheers Universe, however, was that it wasn't really built for kids. It wasn't "family humor", so it wasn't something I watched with my mom. In fact, I remember there was even a time I wasn't allowed to watch it, because there was too much implied Sam & Diane sex. This ban was dropped around the time Kirstie Alley joined the cast, however, which is why I'm more Team Rebecca than Team Diane (Honestly, what did you people see in Shelly Long?).
If you had asked 10 year old Will "Which Cheers character is getting their own show?", he sure as Hell wouldn't have picked Frasier Crane. Still, I watched what was on, and I grew to love it. He's a snob, I'm a snob. It was a match made in Heaven. I followed the show through its highs ("It's done so well on Tuesday night that we're giving it the coveted Seinfeld slot!") to its lows ("Well, it was no Seinfeld, so we're sending it back to Tuesday nights."). While I didn't love the series finale, I felt like they had told all the Frasier Crane stories left to tell, and I was fine with the send-off the show got. That's how it was with Must See TV finales: very few were actually great, but they capped off long runs, so they were "Events", regardless of quality (think Avengers: Age of Ultron). It had 11 seasons, and he had played the character for over 20 years. What more was there to say?
Grammer spent the next 20 years bouncing from network to network, show to show, trying to find his next success – which never really came. He never came close to the hit that Frasier was, with his last TV attempt being Partners, where he was law partners with Martin Lawrence, which was part of a 10/90 deal on FX. So, you can kind of understand why he'd try to return to the role that had always paid off for him. This revival had been in development for years but, as the original series was an ensemble show, it really came down to locking in the rest of the cast – most importantly David Hyde Pierce. They got close a few times but Hyde Pierce ultimately felt that he had nothing more to say with the character, which sort of changed the trajectory of the whole show (Originally, Frasier and Niles were going to be running a black box theatre). When all was said and done, NONE of the original cast would be returning, and this was to be considered Frasier's "3rd Act", as he returns to Boston to reconnect with his adult son.
Frasier, back in Boston? So, that means Cheers, right? Nope! Apparently, the character doesn't remember those days fondly, so he seems to have an aversion to even seeking out the place (I would love if it eventually turned out Gary's Old Towne Tavern had taken over the place, yet Carla was still working there. Let's give Rhea Pearlman some work!). So, old setting, familiar character, new supporting cast. What could go wrong? A lot! Fortunately, though, that doesn't seem to be the case.
The first 2 episodes were released on Paramount+ last week (the premiere is also on YouTube at this time), and I must say I was pleasantly surprised. It's NOT Cheers, nor is it Frasier. It does, however, serve as a logical progression for the character. It may be hard to believe, but we haven't seen this character in 20 years (God, I'm old), and a lot has happened since then. Instead of being down in the dumps, he actually experienced quite a bit of success in that time, as host of a Dr. Phil-esque daytime talk show. With the death of his father, he starts to realize he'd like to have the same type of relationship with his own son, but also comes to discover that it's going to be harder to establish than he would like. We never knew Freddy as an adult, so that character has a lot of room for development, while we also get Niles & Daphne's college freshman son, David, who's more than an ample stand-in for his father. Plus, we've got diversity now, which was missing in the original: Eve, Freddy's sassy Latina roommate, as well as Frasier's Black department head, Olivia. These might not be the folks we loved, but I could see them as the folks we'll come to love.
I had feared this new crew didn't really understand what made Frasier Crane tick, that he was sort of the straight man around which The Show occurred. And that is still sort of the case here, but we've built a new ensemble. There are some familiar tropes – some of them a bit tired – but nothing egregious. In all, I like what I see. And, based on today's television/streaming landscape (as well as I can't see Grammer signing on for a single season), we can probably guarantee at least 3 seasons of this. I'll definitely be keeping my Paramount+ subscription to watch where this goes. So, for providing a worthy 3rd act for a beloved, classic TV character, the Frasier revival had the West Week Ever.