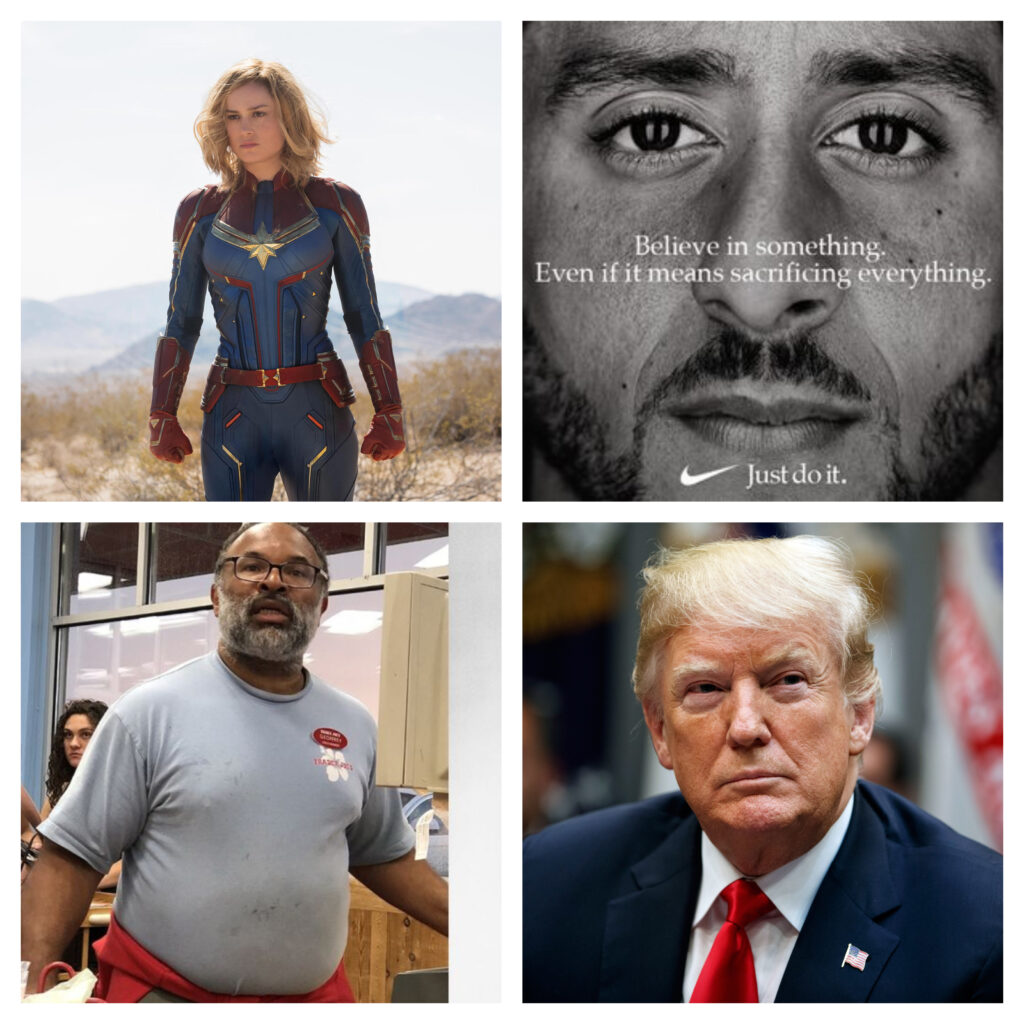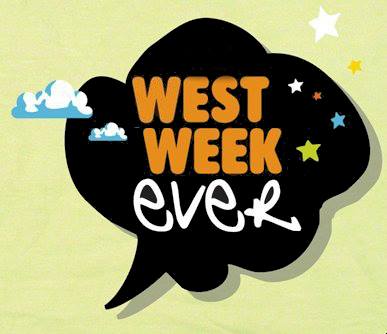 I took last week off since it was a 3-day weekend, and y'all never read my shit when you're watching the clock for your 72 hr orgy, or barbecue, or whatever the Hell it is y'all get into. Then, I took a "mental health day" today because my mental ain't so healthy lately. So, this is coming out after 5 PM, which means you've already left work, and you're probably pregaming for your 48 hr orgy. I hope ya read it, 'cause we've got 2 weeks of stuff to talk about, but I stopped tracking stats long ago. It's better for the mental health….
HarassmentWatch(TM)
Shane Black: Apparently a scene was removed from The Predator, which contained a cameo by one of Black's friends, who's also a registered sex offender. Now, why he thought throwing his friend a job like this was a good idea, I'll never know. I'm not sure if he's "loyal" or just "stupid", but hey, it's 2018 and shit like that don't go unnoticed.
Les Moonves Update: While Moonves was allowed to keep his job during the investigation into the sexual harassment claims against him, there are now rumors that he's seeking a quiet exit from CBS. To add to that, there was an interesting article yesterday about how he made it his life's mission to destroy Janet Jackson following her "wardrobe malfunction" after the 2004 Super Bowl.
As a "student of pop culture", I never really had much of an opinion on the wardrobe malfunction. It was one of the few Super Bowls I missed, so I didn't see it with the rest of you. And while I stanned for JT, I was still more mad at how he blew off his bandmates than for this. It didn't go unnoticed that he pretty much got out of the whole thing unscathed but, according to the article, this was only because he tearfully approached Moonves about it, which Moonves loved. What a dickhole.
Louis CK Update: Louis returned to the stage in an unannounced set at the Comedy Cellar. From most accounts, his "comeback" wasn't that great, and now he's got a new enemy: the owner of the Cellar, Noam Dworman. Dworman claims he was never made aware of Louis' plans, and he also didn't appreciate that his club was chosen, as it's put him in the middle of the controversy. On top of it, he is disappointed that Louis didn't even address the allegations in his set. To Dworman, what should've been a mea culpa, hat-in-hand moment was more of a "Surprise! Here's business as usual, like nothing happened." So, it doesn't seem like the world of comedy is ready to forgive Louis just yet.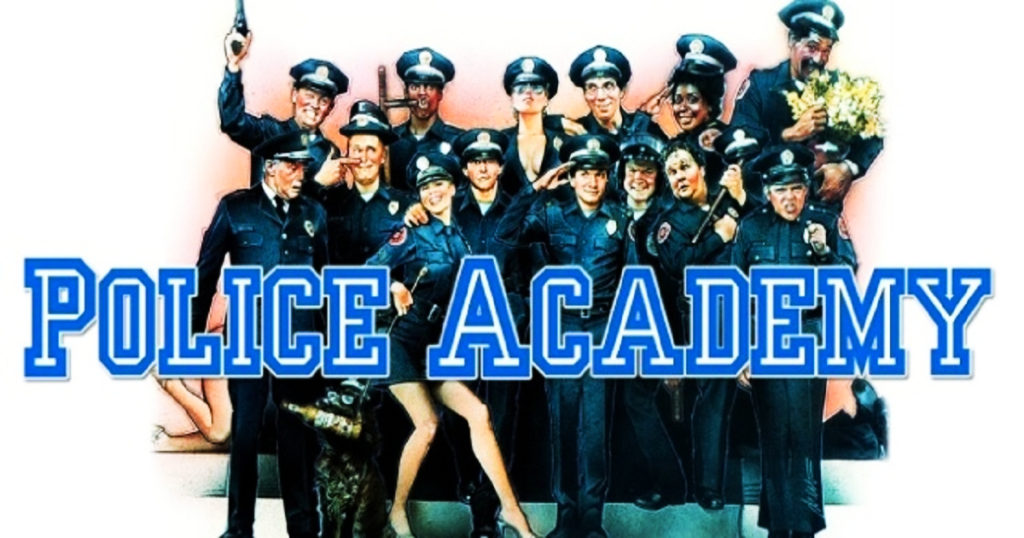 Mahoney! Apparently, Steve Guttenberg is going around, saying there's a new Police Academy movie coming, and I'm gonna need him to stop. The problem is this is a HORRIBLE time for that movie, I don't care how lovable those guys are. Let's Be Cops got in at the very last minute that folks were cool with cops. It'll be quite some time before folks are ready to embrace a Police Academy movie again.
Plus, the franchise came out during a time when we didn't care about everyone's opinion. At this point, we'd have the fraternal orders of police weighing in about how they feel disrespected. Fox News would want a boycott for the film that "disparages our heroes!", and Sheriff David A. Clarke would use it as an excuse to do more rounds on the talk show circuit. And it's kind sad watching old ass Michael Winslow try to make sounds that I can just download an app to produce. Let that shit go. Give it a few years, and then introduce Mahoney's kid, who's joining the academy. I'll only watch, though, if they "Weekend at Bernie's" Commandant Lassard, by dragging George Gaynes's corpse around the whole film.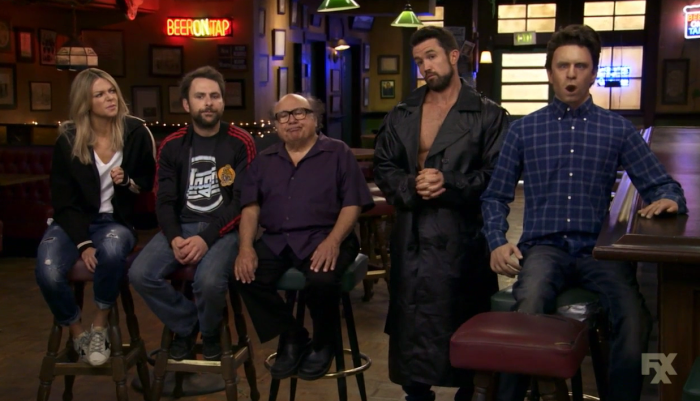 In TV news, It's Always Sunny In Philadelphia started its 13th (!) season this week, in an episode that was…serviceable. First of all, they dealt with the mystery of whether or not Glenn Howerton's Dennis was coming back, seeing as how his new series, AP Bio, was renewed at NBC. So, to replace Dennis in their circle of friends, the gang recruited…Mindy Kaling? Yeah, it didn't work for me. Her casting just didn't feel right. Should've been a blonde White chick. A real Fox News type for what they were going for. Dennis looks old as shit. Waitress looks HORRIBLE with that hair. In all, I'm glad the show's not cancelled, but they just seem out of ideas.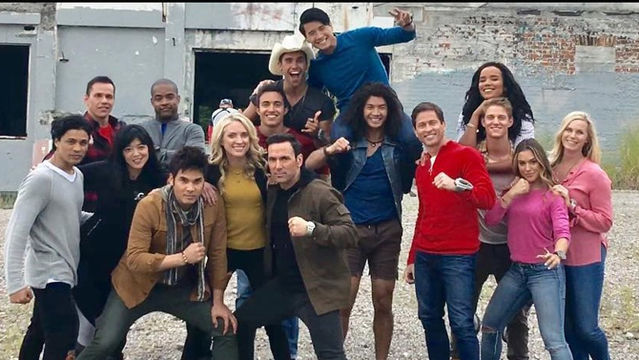 In other TV news, last week we celebrated Power Rangers Day, as the 25th anniversary episode of Power Rangers Super Ninja Steel aired in primetime on Nickelodeon. And it was…OK. It wasn't as rushed as the Legendary Battle special from Power Rangers Super Megaforce, but it was SUCH a Tommy wankfest that I almost can't believe it. Yes, I realize that Jason David Frank is basically the patron saint of Power Rangers, but little kids have GOT to be wondering "Who's this old guy who keeps coming around?" In the episode, Rangers from different dimensions are pulled together to help the current team fight Lord Draven, who's trying to tear down the barriers between realities. It's a shame that the current team is so bland. They're basically Power Rangers Sanka. The only interesting part of Ninja Steel/Super Ninja Steel is watching the creative ways that the production crew come up with to hide the Pink Ranger's insane ass. No, seriously, it's INSANE. The special posed SO many questions, but it also pretty much gave some sneak peaks at toys that I'm positive we're getting from Hasbro next year.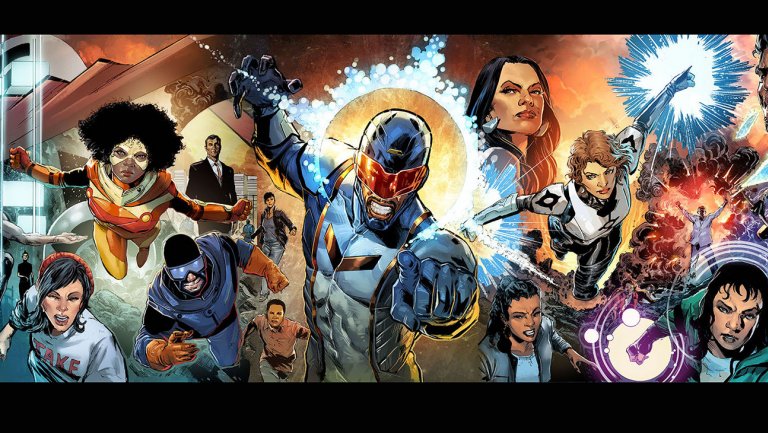 In comic news, it was announced that fan favorite writer, Gail Simone, will become the chief architect of Lion Forge's Catalyst Prime superhero universe. I'm kinda torn on this one. No, I'm not really torn at all. You see, the Catalyst Prime books aren't very good. Launched as a universe that featured diverse heroes, and science-based powers, there were some hits (Noble) and quite a few misses (everything else). I only supported them because the old chief architect of the line was a buddy of mine from my comic days, and I always support his stuff. Catalyst, however, just wasn't hitting the right buttons for me, and I guess it wasn't for others, as well, as they announced a creative shake-up. And at just the time of that shake-up, my buddy jumped ship to another publisher. So then I felt bamboozled that I had sunk several hundred dollars (Oh, I was ALL IN) into a line that wouldn't see its original ideas to fruition, nor did it seem like it was guaranteed to stick around. I had no desire to see where Catalyst was going at that point.
Now, to Gail. I like Gail. I do. But she kinda has this undeserved reputation as a "fixer". As one of the few prominent women in comics, whenever a female comic character needs "fixing", the fans immediately go "Give her to Gail!" This worked with Birds of Prey. She also did some fan favorite work with Agent X/Deadpool, at a period of time before he was emblazoned on everything in Hot Topic. But I also remember the failures. She couldn't "save" Wonder Woman, and turned in a run that is pretty much forgotten. She couldn't "reimagine" Gen13 for the 21st century. And I remember she kinda got in some shit with my friend, Jenn, a few years back for her portrayal of Asian hero Ryan Choi, who was The Atom at the time. So, I wish her well, but I think I'm taking my leave of the Catalyst Prime universe.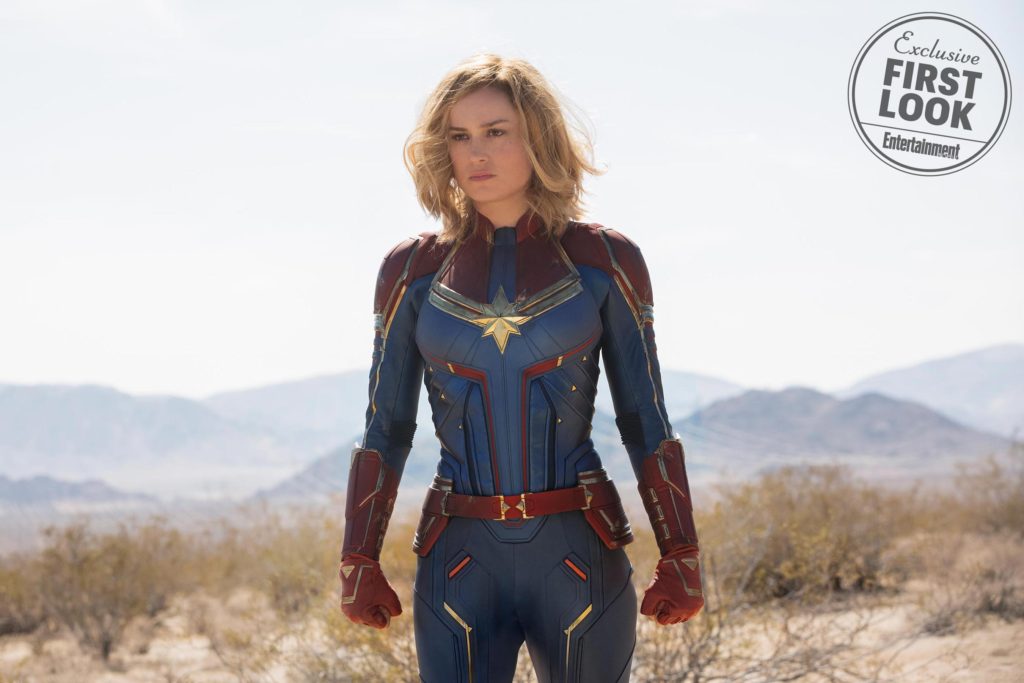 Speaking of female comic characters, Entertainment Weekly gave us our first glimpse of Brie Larson as Captain Marvel. I know some of y'all are big Carol Danvers fans (looking at you, Zac), but I just can't board that train. I do not like Captain Marvel. She's a character that once held promise, but has been woefully mischaracterized in recent years. This guy articulates exactly how I feel about her. Basically, if you're desperate for a White feminist icon in comics, she gets the job done, but she is horribly flawed.
I know the movie will be good 'cause they'll take some liberties. There are lots of MCU characters whose comic versions I loathe (Black Panther, anyone?). I feel she was more interesting as Binary. Hell, she was more interesting as ANY incarnation until her "promotion" to Captain. The House of M story was both the best and worst thing to ever happen to her. It was the best because she was shown a world where she met her true potential, and it inspired her to stop being such a self-pitying fuck-up. It was the worst, though, because she became a social climber, willing to use and/or step on anyone in order to become the best that she could be. She got Rhodey killed, she was WRONG in Civil War II, and she's pretty much been wrong about every decision she's made since House of M, but she's got the Carol Corps fan base behind her, who feel she can do no wrong. I have no problem with flawed characters. Marvel's FULL of them. In many ways, she's just a female Tony Stark. My problem is that, for some reason when it comes to her, they refuse to call a spade a spade. She's promoted as this aspirational hero when she's really just a fuck-up who's trying to fake it until she makes it. Whew! Breathe, Will. Anyway, the movie looks good. I just hope it makes me like her as a character, 'cause I sure as Hell don't like her right now.
Lots of DC Universe streaming news came out, and none of it makes me want to give them my money. First up, we got that logo you see for the Stargirl series. Plus, Timothy Dalton has been cast in Doom Patrol. The service will launch next Saturday, which also happens to be Batman Day. The Titans live action series will launch next month, on October 12th. The show everyone's waiting for, however – Young Justice: Outsiders – won't premiere until 2019. So, yeah, good luck with that.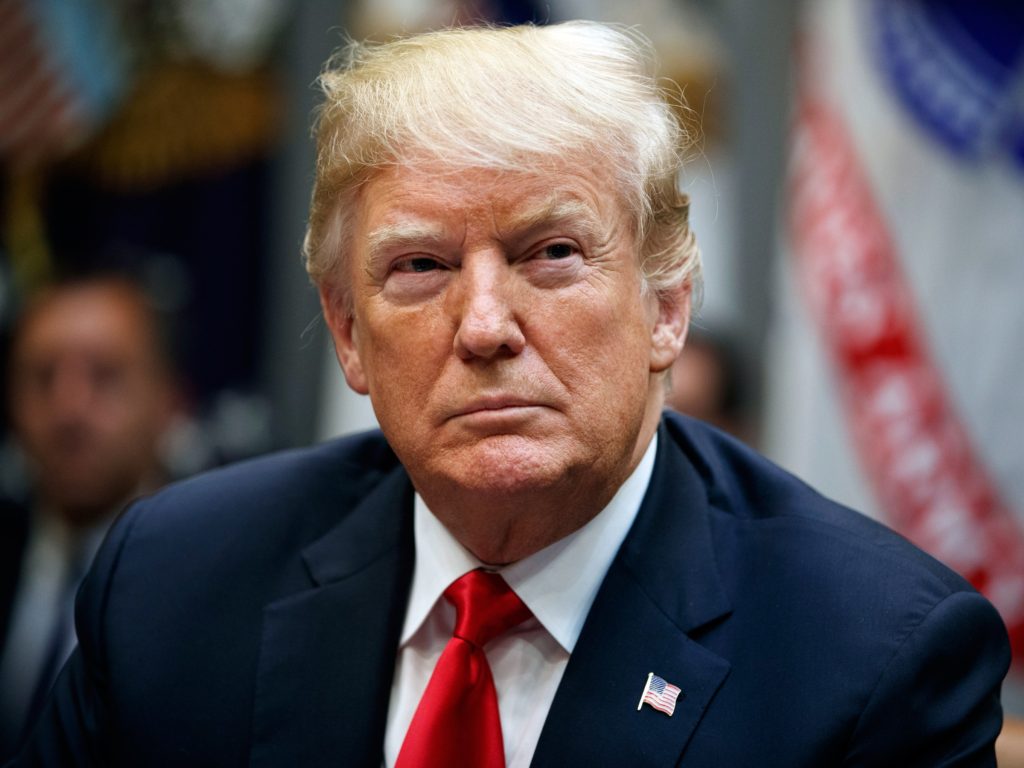 Let's get political for a bit, 'cause it's 2018, and that's what we do now. So, an "anonymous" person within the Trump White House wrote this New York Times op/ed about how there are members of the administration who are hard at work for making sure he doesn't get us all killed. As the article made the rounds, folks were like "Ooh, what a coup!" But that dog don't hunt for me. I've posted this on various social media, but I think it bears repeating here:
Yeah, I couldn't even finish that article. There's too many "Sure, he's insane, but good things have come from this administration" interjections. Plus, y'all only have to keep him in check 'cause you were dumb enough to put him there in the first place. Eat ALL the dicks!
Plus, they are striving REAL hard to make sure you realize whose side they're on. It's like "We're part of the Resistance, but not the Left's Resistance. Don't get it twisted." That distinction shouldn't matter if the situation is as dire as you claim.
Your whole "Don't worry. We got this" means absofuckinglutely NOTHING to me seeing as how you created this problem and are now Tony Starking your way out of it. You're just as culpable, so don't think this 11th hour play absolves you of that. Remember all the dicks? EAT THEM
Things You Might Have Missed This Week
This Fall, ABC is trying to bring back the TGIF branding (for the third time, mind you) for its Friday night shows. This iteration of the comedy block will include Fresh Off The Boat, Speechless, and the one-hour game show, Child Support. Also, the network is peppering in former TGIF stars as guest stars, as Jaleel White is scheduled to pop up on FOTB (sadly NOT as Urkel), while Ben Savage will appear on Speechless.
Mr. Robot is ending after its upcoming 4th season, which is exactly 2.5 seasons after I stopped giving a shit.
It was announced that Saturday Night Live's season premiere will air September 29th.
Emmy Rossum announced that she's leaving the Showtime series Shameless. While I've never seen the show, I know she's topless a lot in it and, thanks to the Internet, I've seen her breasts about 184 times.
The new Bachelor will be former San Diego Chargers tight end, Colton Underwood. I refuse to believe that's his real name, but if it is, he'd better be a Hollywood stuntman who's a bounty hunter on the side.
Fox executives probably let out a collective "FUCK!" this week, as it was announced that Netflix was saving the recently-cancelled ABC series Designated Survivor, which stars former 24 hero Kiefer Sutherland. I guess they'll have to get back to work on all those non-Jack Bauer ideas they had…
Alicia Silverstone's American Woman has been cancelled at Paramount Network after one season. Meanwhile, the TVLand series Younger will be moving to Paramount Network next season.
America's favorite 80s lesbian, Jo Polniaczek, will soon be putting down the edibles, and dancing over our heads, as Nancy McKeon joins the next cycle of Dancing With The Stars.
Insecure and Ballers have been renewed at HBO. I remember liking Insecure, but Ballers feels like Dwayne Johnson is only doing it because one of the creators is a friend who owes money to the mob.
Formerly on Fuse and TruTV, Billy Eichner's Billy on the Street will be returning with new episodes…on Funny or Die's website. This is like a notch higher than just throwing the shit on Crackle.
Henry Cavill will be starring in Netflix's adaptation of The Witcher. Now, I don't know much about vidya games, as I owned a Nie-tenda, but didn't have one of them Sagas. I hear the games are good, but it seems like a demotion to go from Superman to Netflix adaptation series. Maybe the Superman Curse is wearing off, though, as it could be worse: he could have Dean Cain's career…
Former Doctor Who star Matt Smith has been cast in a secret role for Star Wars Episode XI, and folks act like they care, but they don't really care. They're just waiting to learn more so they can talk shit about it. I know you Star Wars fans!
Dick Wolf's wallet will soon be getting fatter, as NBC has ordered Law & Order: Hate Crimes, which will spin out of Special Victims Unit. Call me when they get to Law & Order: Jaywalker Elimination Force.
In a surprising move for the franchise, Tim Gunn and Heidi Klum are leaving Project Runway to create their own project over at Amazon. Auf wiedersehen!
So, according to Michael Moore, our current state of affairs can be blamed on that Hollaback Girl, Gwen Stefani. According to Moore, when Trump heard that Gwen was making more money as a coach on The Voice than he was making on The Apprentice, he planned to announce a run for president in order to coax more money out of the network. Thanks a lot, Gwen. I guess Tony Kanal's isn't the only life you've fucked up now…
Remember that new Academy Award that was basically gonna be "Best Popular Film"? Yeah, that's dead already. Womp womp.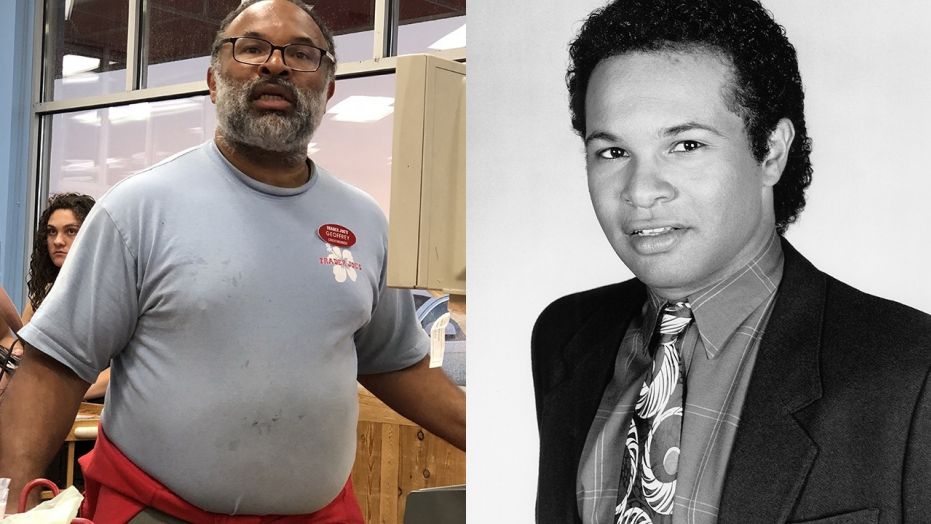 This is a tough one this week. When the week started, Fox News was trying to shame former Cosby Show actor Geoffrey Owens because he had been caught working as a bagger at a New York area Trader Joe's. It turned into a big conversation about how working actors don't make that much, and how there's nothing wrong with making an honest living. Over the course of the week, there was backlash against Fox News and against the woman who snuck the pic in the first place. As of yesterday, however, it was reported that Tyler Perry had cast Owens in his OWN series The Haves and Have Nots, and that he was on his way to Atlanta to start a recurring role. So, West Week Ever? Maybe, but Nike was like, "Hold my jock strap."
You see, Nike chose currently unemployed football star Colin Kaepernick to be the face of their new ad campaign, and the Conservatives lost their shit. One of the roadies for country act Big & Rich went viral for cutting the Nike "Swoosh" off his socks in protest. Folks started burning their Nike products and demanding a boycott. "How could Nike align themselves with someone who disrespects our HEROES?!" If that's your interpretation of what this whole thing is about, then there's pretty much no reaching you and you're just determined to be offended.
Doubling down on their decision, Nike released the following commercial during last night's NFL season opener:
Sorry, Elvin, but it looks like you've been emasculated yet again. It was gonna be a tie, but this commercial "got me in the feels" as you kids like to say. Are YOUR dreams crazy enough? That gave me a lot to chew on. So, Nike had the West Week Ever.