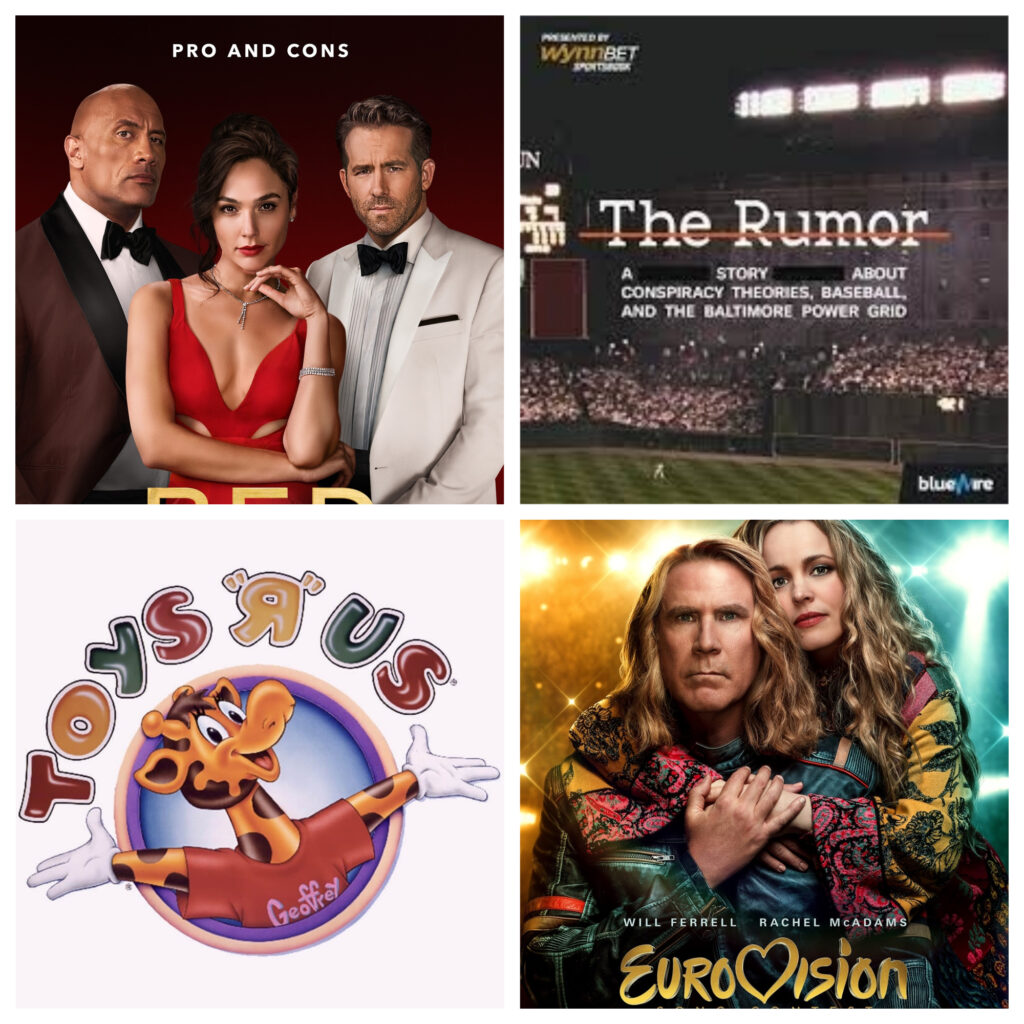 So, there's a secret tale that I've wanted to tell for almost a year now, but I had to wait until the heat died down. You see, back in January, my friend Mike and I took a trip. We were still knee deep in the pandemic at the time, so folks frowned on unnecessary travel. Still, I felt something calling to me, and I had to see it for myself: the last Toys "R" Us in the United States. You see, Mike and I met while working at TRU, so it only felt right that we should journey to Mecca together.
After The Fall of The House of Geoffrey, there were still 2 mall TRU stores left in the country – one in the Galleria Mall in Houston, TX, and one in the Garden State Mall in Paramus, New Jersey. They had opened after the company closed all of the other stores. Texas wasn't happening – plus there were rumors of its closure – but New Jersey was just a few hours away. Again, I'm not sure what the sense of urgency was about, but I felt like we needed to see it, and we needed to see it THEN. So, a few days after Christmas, Mike was kind enough to drive us up there.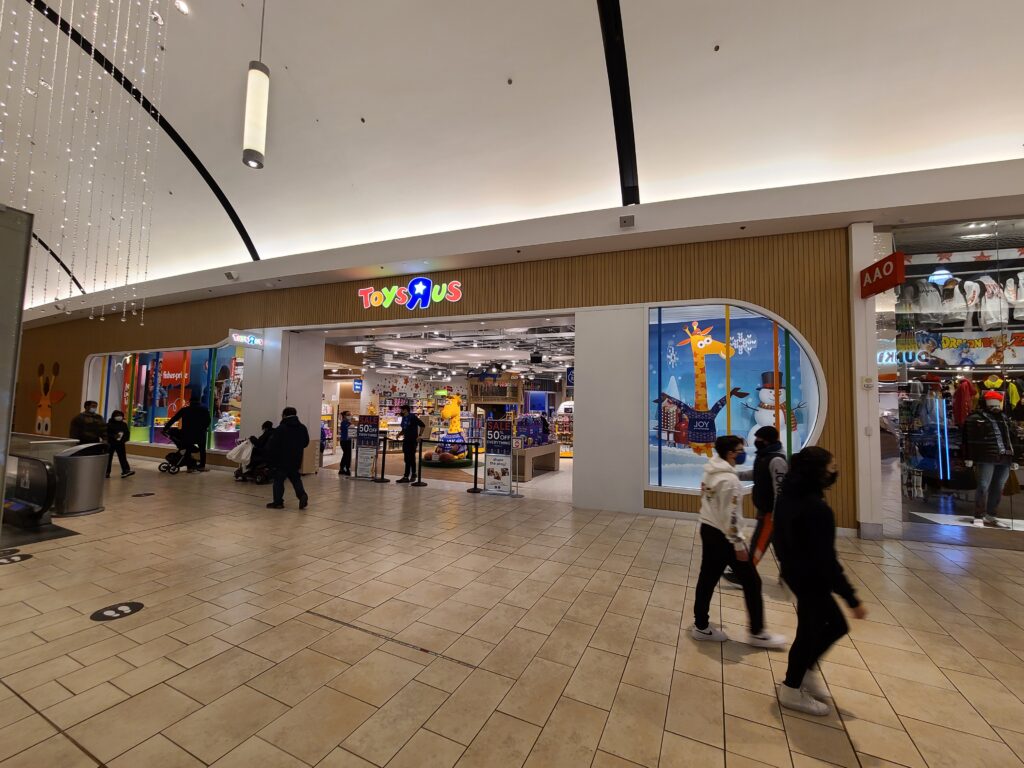 We got to the huge Garden State Mall and, after a bit of wandering around, we found it: those familiar colors, that damn backward "R", Geoffrey! It was all there, almost like it had never left. But it had left, and things clearly weren't the same. Whereas the Toys "R" Us of legend was a toy supercenter, this store was about the size of two Kay-Bee Toys stores. It was clean and orderly, but there was a sadness to it. If the standalone Toys "R" Us was a happily married father, this mall store was like post-divorce dad. Sure, he had a nice place, but he wasn't entirely like you remembered him. It was also odd that the entire store was 50% off – what was left of it, that is. After all, this was about 3 days after Christmas, so I assumed they'd gotten hit hard in the run up to the holiday. I didn't know how their stocking worked, so maybe they were clearing out the "old models" to make room for new stuff.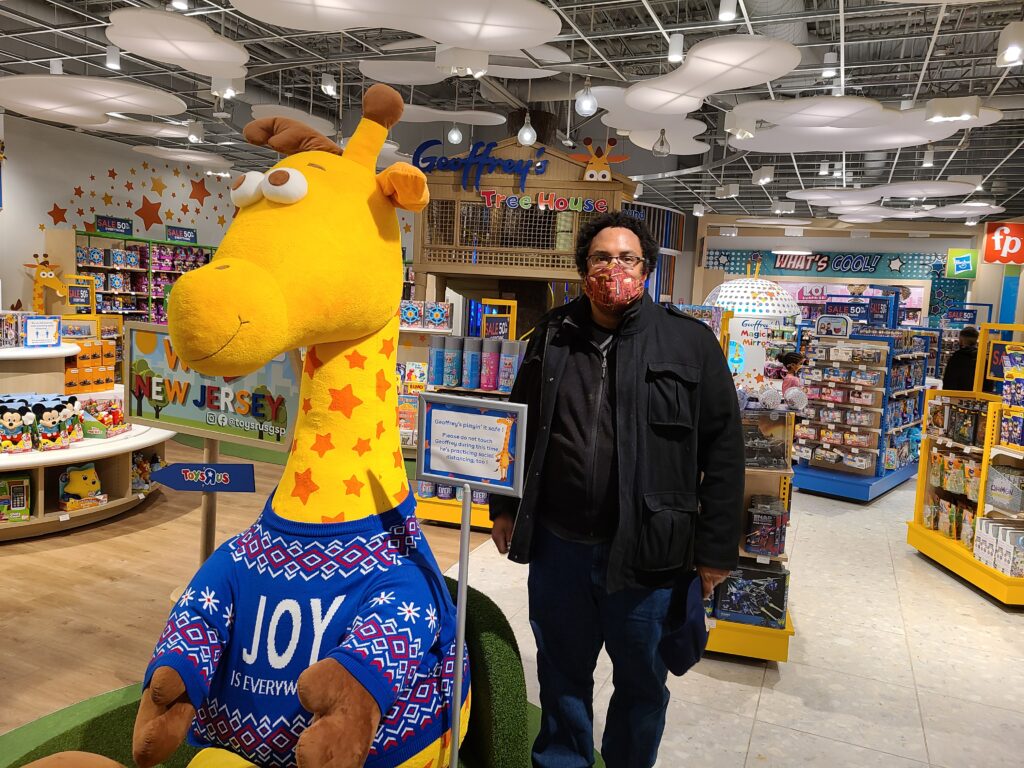 One of the driving forces of these mall stores was that they were going to stress the hands-on experience. There would be stations where kids could assemble LEGO sets, or test out other new toys. Interactivity – a casualty of living in a global pandemic, so these stations were shut down. Attractions, such as the huge Geoffrey's Tree House in the center of the store, were closed to the public. I had heard that these stores had a different approach to their layout, in that they were essentially showrooms for the vendor. So, instead of having the "action figure aisle" or the "die cast aisle", things were laid out by company. So, to the right was the Spin Master nook, and then there was LEGO, and then Hasbro, etc. Each big named vendor had their own piece of real estate to showcase their wares. It was almost like a popularity contest, seeing which brands had sold more than others. Hasbro had been very popular that holiday season. Spin Master, not as much.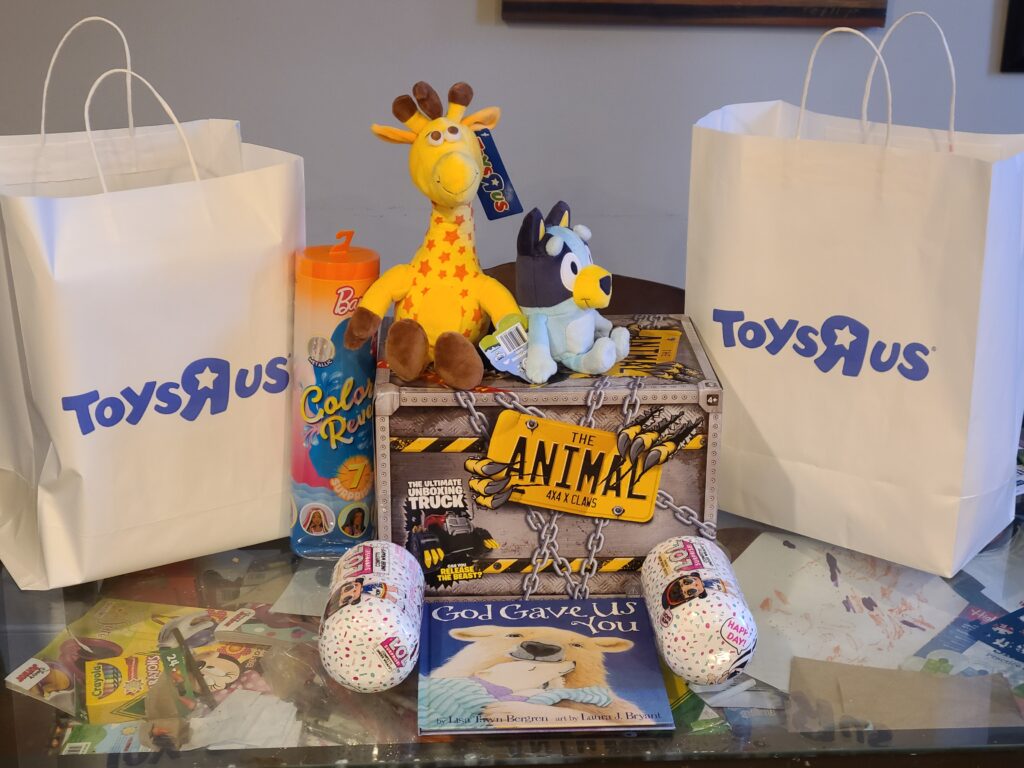 Anything I typically would have wanted to buy was already gone. It was something of a struggle to find something that I wanted to buy to remember the experience. Part of me wanted to view this store as a preview of what the future might hold for the TRU brand, but deep down, I think I knew. I was being given another chance to say "goodbye".
I found a few things for my daughters, and I settled on the reissue of the 80s monster truck toy, The Animal. Its whole gimmick was that it had claws that came out of the wheels to truly make it an all-terrain vehicle. Remember how I said that it had been a rough year for Spin Master? Well, they had seemingly put all their eggs in The Animal's basket, and things did NOT go according to plan (Target would eventually clearance them out at $9 each – originally a $40 toy – and they had stock until about a few weeks ago). The original Animal was one of those toys I always kinda wanted when I was a kid, but never got. What do we do when we have disposable income, kids? We buy back our childhood, along with its missed opportunities. At the register, they threw in some Geoffrey stickers that I've been guarding like some of y'all hoard Ecto-Cooler. I took one last picture with the giant stuffed Geoffrey that greeted guests at the entrance, and we took our leave. A 4-hour drive for something like a 30-minute browsing session, but it was worth it. Why? Well, about 3 weeks later, that location (and the one in Houston – hey, it was still open after all!) closed, officially leaving America without a Toys "R" Us presence yet again.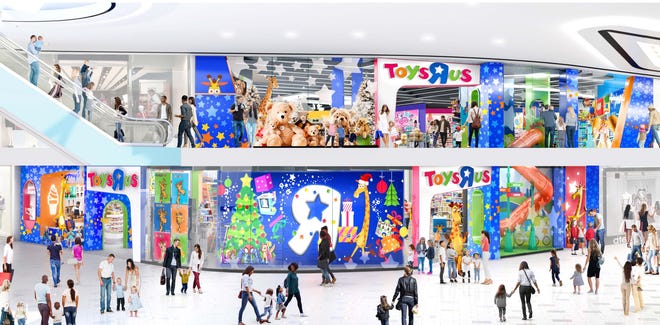 Why did I decide to tell you this story this week? Well, it probably has something to do with the announcement that Toys "R" Us would, once again, be returning to America, in the form of 20,000 SF store at New Jersey's newly-opened American Dream mall. In fact, it's scheduled to open in a matter of weeks! I know, I know. Most folks are in the "I'll believe it when I see it" stage with this, but I believe it. Sure, there have been some false starts. Two years ago, the brand had been reduced to a 4-way cardboard shipper display in Kroger's grocery stores. There were also plans for them to set up boutiques in Target stores, but that plan never came to fruition, as Target made a deal with Disney instead. Finally, this holiday season brought TRU mini shops to some Macy's department stores. You've got to, at least, admit that they're trending in the right direction. Eventually it's going to take. "Fetch" is going to happen! We're basically the only country that lost its TRU presence when the original company went under. Canada still has it, the UK has it. Mark my words: someone is gonna get this right one day, and I can't wait for that to happen. After all, I've still got one daughter who never got to experience The House of Geoffrey. I'd like to change that.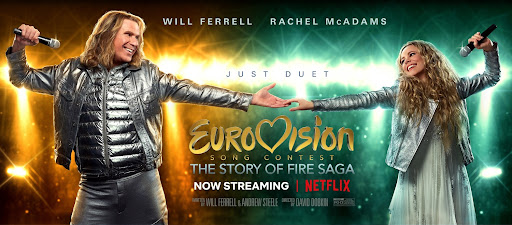 So, I actually did something I pretty much never do: I watched 2 movies, in one day! You see, my job was closed on Wednesday due to a power outage, so that left me with a day to my own devices. I could have done something constructive, but I chose to finally get some use out of this Netflix subscription I pay for but don't use. I've had Will Ferrell on the brain this week, after reading Vanity Fair's profile on Ferrell's writing/producing partner Adam McKay. I had no clue that their partnership – and friendship – had ended bitterly, and it made me realize we'll probably never get another Talladega Nights or Anchorman from the duo. After all, McKay won an Oscar for his screenplay for The Big Short, while Will Ferrell is still out here, making "Will Ferrell movies". The thing is, I LOVE "Will Ferrell movies". Outside of Elf and Semi-Pro (I dislike both), he can pretty much do no wrong with me. That's why it's surprising that I hadn't watched his Netflix film, Eurovision Song Contest: The Story of Fire Saga. So that's what I decided to do.
Eurovision is an interesting concept that I've always admired, but never truly followed. If anything, I'm a poseur fan of the Eurovision Song Contest. For those not in the know, Eurovision is an annual singing competition, where European countries send their most talented vocal act to represent them on the world stage. I've pretty much been a fan of European pop since my stint as an exchange student in Russia when I was 13, so it's something that you'd think I'd be into, but it's only been readily accessible in recent years in the US. Like most things, if Americans can't do something, then they don't care about it, so it's not like Fox was airing Eurovision. So, we'll chalk my ignorance up to lack of access.
In the film, Ferrell plays Lars Ericksson, an Icelandic son of a fisherman whose dream has always been to win Eurovision. Meanwhile, he's in a singing duo, Fire Saga, with Rachel McAdams (Sigrit), who has loved him since they were children. Through a freak twist of events, Fire Saga is chosen to represent Iceland at Eurovision, and the movie follows how that affects Lars and Sigrit's relationship.
Let me just say I LOVED this movie, which is why I'm surprised I never heard anyone talking about it when it came out last summer. According to what I found online, it got mixed reviews. I think part of the problem is that it's not really meant for an American audience. America already can't begin to grasp the importance of Eurovision, as they think it's just like American Idol or something. No, it's the Olympics of Song. It's such a European concept, and if you don't have an appreciation for that, then it's just a long, dumb movie. It also sort of asks a lot of its audience. If I had to peg down the target audience, I'd say it's tailor made for gay-adjacent theatre kids who spent some time abroad. Anyway, I highly recommend it.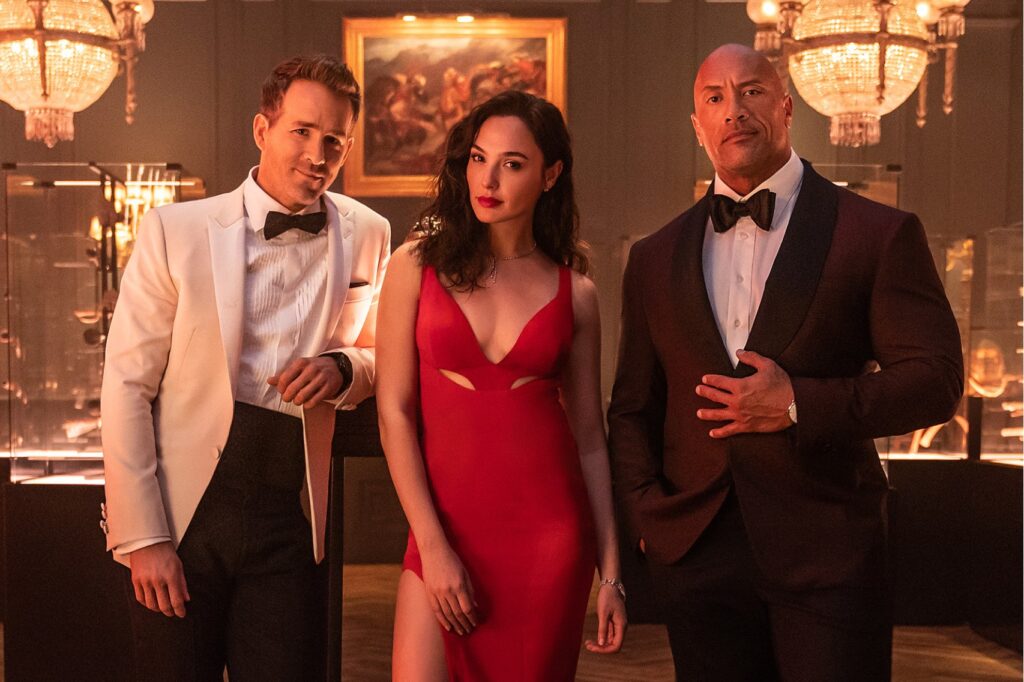 Next up, I watched Red Notice, which was a film I wasn't too excited about because I felt like you knew exactly what you were getting. For the most part, I was right. It was Dwayne Johnson being stoic and cool, Ryan Reynolds being a smarmy asshole, and Gal Gadot just being hot and "fighty". Ya know, Reynolds has been playing this same character since Two Guys, A Girl, and a Pizza Place, and you'd think it would have gotten old over the past 20+ years, but somehow he's just endearing enough to keep from wearing out his welcome. While Johnson is a capable leading man, he does really well as the straight man in a comedic duo, so Reynolds is just tagging in for Kevin Hart here.
If you didn't see it, Reynolds is the world's best art thief, and Johnson is the FBI profiler tasked with bringing him in – until he's framed by the world's second best art thief, Gadot. This forces Reynolds and Johnson to have to team up. Throughout this process, you get the quips and jabs you've come to expect in these sort of pairings.
Ultimately, the movie works…until it doesn't. I'm not going to spoil anything here, but something happens that changes the whole dynamic of the film, and then it just sort of limps across the finish line. Also, the American blockbuster usually has plots boiling down to either "Nazis!" or "Aliens!", and this film is no different. Still, I'd recommend it because it's fun, and I'd love to have someone to discuss that ending with. Oh, and is The Rock contractually obligated to end up in a jungle in EVERY movie he makes?!
Things You Might Have Missed This Week
Dr. Oz is running for a senate seat in PA, because when it comes to politics, I can think of no one more qualified than a TV doctor. Meanwhile, Judge Mathis is probably on the short list for a federal judgeship.
Hit me, baby, one more time…in the gut because Britney Spears just turned 40!
The show that's fun to say, but nobody watches – Kevin Can F*** Himself – will be ending after its upcoming second season.
Playmobil, the Montessori parent's solution to giving kids action figures, announced a Knight Rider set coming next spring. Yeah, I'm totally buying this.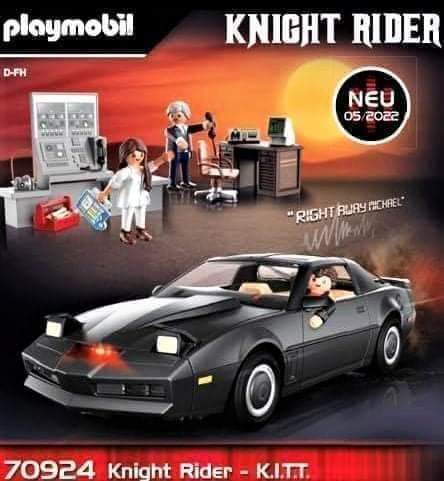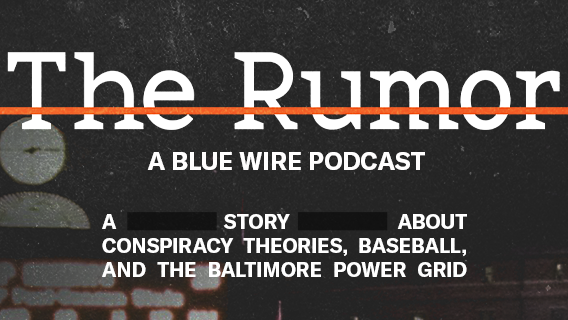 It probably comes as no surprise to you all that I'm not much of a sports guy. That's why I was so surprised to find myself caring about a salacious sports urban legend this week. Here's the skinny: on August 14th, 1997, a game between the Baltimore Orioles and the Seattle Mariners was postponed because Camden Yards' stadium lights wouldn't turn on for the night game. Sounds innocent enough, right? Well, there's a story that Orioles shortstop Cal Ripkin Jr came home earlier that day to find his then-wife in bed with actor Kevin Costner, a fight ensued, and Ripken was in no shape to play that night. Following this line of thinking, it's believed that the Orioles tampered with the lights in order to get the game cancelled, which would preserve Ripken's consecutive games played record (at the time 2,431 games), which he'd taken from Lou Gehrig. Crazy, right?!
Since that time, both men have denied the rumor, saying that it never happened. It even got to a point where Costner called into Fox Sports Radio to deny that it ever happened. Still, that hasn't stopped it from being something of a local legend, which is what inspired the creation of the podcast The Rumor, which investigates the whole matter. Hosted by Sam Dingman and Mac Montandon, The Rumor released its final episode on Monday. I have not listened to the podcast yet, but you bet your bottom dollar that it's going on the list!
It's been argued that, if true, it would almost serve to humanize Ripken a bit more. He's a local hero, but he keeps to himself and isn't too flashy. I had an ex-girlfriend who didn't think much of his streak, saying "I could go to school everyday and still make Ds". That has stuck with me all these years, as I'm not a sports guy. Was Ripken not deserving of the legend that surrounds him? Do we need to have proof that he was more man than machine? Whatever the answer is to those questions, they've got me looking at Ripken in a whole new light, and I'm curious to hear the accounts of that night from the various people involved. I know there are folks who will say "Why do you care so much about other folks' business?" but, for one, it's entertaining. For another, there's something riding on it. Sure, Ripken had already beaten Gehrig's record at the time, but it's possible that his own streak should have ended at 2,431 games and not the 2,632 when it finally came to an end. Look at me, caring about baseball! Anyway, for making me care about sports in a way that I haven't since I was collecting Donruss Triple Play cards, The Rumor podcast had the West Week Ever.