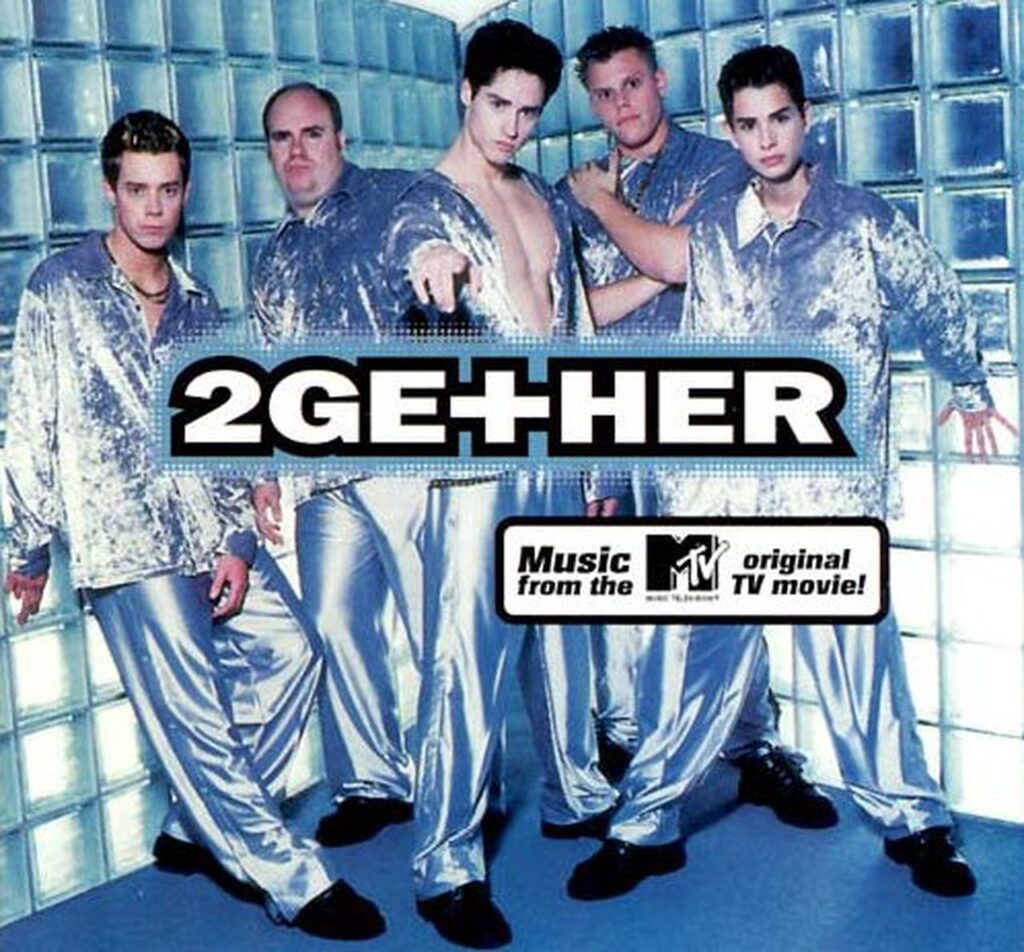 I LOVE boybands. Of course there are the household names, like Backstreet Boys ,*NSYNC and 98 Degrees, but there are also lesser known groups like L.F.O., 911, and BBMak. The years between 1997 and 2002 were RIFE with boybands, with a new one hitting the scene every few months. Boyband impresario Lou Pearlman was behind many of these groups, and he decided to "show how the sausage was made" by co-creating Making The Band on ABC, resulting in the formation of the group O-Town. MTV Networks, however, decided to take it one step further: instead of creating a real group, they filmed a mockumentary in the vein of This Is Spinal Tap, documenting the formation of a faux boyband called 2GE+HER (pronounced "Together"). The experiment was so successful, however, that their faux band became a real band, and started touring with Britney Spears. They eventually released 2 different albums, and had a 2-season TV series. Most people have forgotten about 2GETHER these days, but 2021 is the 20th anniversary of when the band broke up, so I figured it was as good a time as any to look back on the group whose claim to fame was teaching the world calculus. Yeah, really.
In the 2000 TV movie, a Lou Pearlman stand-in named Bob Buss has been fired as the manager of boyband Whoa, and decides to prove he's still got it by forming a new boyband, which he dubs 2GE+HER. He's given an opportunity by an old friend: put the new band together in 7 days, and they can open for Whoa at a big show in Jacksonville. This kicks off a cross country quest to recruit the 5 archetypes that Buss believes every boyband should have: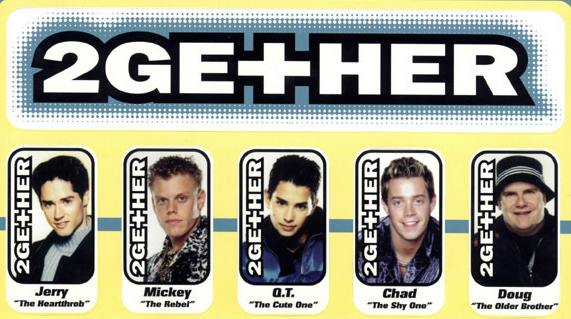 The Heartthrob: Jerry O'Keefe (played by Evan Farmer)
The Rebel: Mickey Parke (played by Alex Solowitz)
The Cute One: Jason "Q.T." McKnight (played by Michael Cuccione)
The Shy One: Chad Linus (played by Noah Bastian)
The Older Brother: Doug Linus (played by Kevin Farley)
There's also a catch with Q.T.: he is suffering from "biliary thrombosis", which is described as a terminal liver disease (in reality, Cuccione was diagnosed with Stage 2A Hodgkin's lymphoma, which will come into play later).
Directed by '00s music video hitmaker Nigel Dick, the beauty of the movie is that it has full MTV synergy, with TRL segments and actual MTV personalities from "back when MTV still played music". After Whoa are revealed to be lip syncing frauds, 2Gether seize the opportunity to put on their first major public performance.
To coincide with the premiere of the movie, a 10-track self-titled album was released, serving as something of a soundtrack for the film. When it comes to the songs and lyrics, you start to see the comedic angle coming through. If anything, 2GETHER crawled so that The Lonely Island could walk. Not only are they catchy, but they're also pretty hilarious at times. Songs on the album include "Rub One Out" and "Say It (Don't Spray It)". The biggest song from this debut CD was called "U + Me = Us (Calculus)", which I'm sure you've heard at some point over the past 2 decades.
The movie was a big enough hit that MTV developed a scripted live action TV series – something they weren't really doing at the time. The TV show gets rid of the documentary angle, and is something of a cross between The Monkees meets S Club 7 in LA. The average episode deals with the group settling into being a band, while living in a house together in LA. It feels very much like something that would have aired on UPN, after Shasta McNasty. Meanwhile, every episode has them perform a snippet from their second album, 2GE+HER Again. The biggest hit from that album was "The Hardest Part of Breaking Up (Is Getting Back Your Stuff)".
Two things struck me about the TV series. First off, it's a lot edgier than the movie, with some jokes that I'm not even sure you could get away with today. Second, I was surprised by how much they play Cuccione's sickness for laughs. If it were just his character's illness, that would have been one thing, but he was actually sick. I think it's the pilot where Mickey Parke blows up at QT, saying "You dead yet? They say you dying, so why won't you die?!"
It's unclear how far 2GETHER might have gone, however, as tragedy struck midway through the second season of the series. Cuccione's health worsened, due to complications from his past cancer treatments, and he passed away January 13th, 2001 – a few days after his 16th birthday. The group broke up almost immediately, though the series continued to air until March 2001 (the final episode actually never aired in the US for some reason). They all pretty much went their separate ways, and that was the end of 2GETHER.
So, where are the rest of them now? Mark Farmer went on to be the hunky host on a bunch of home makeover shows, like TLC's While You Were Out and and DIY's Door Knockers. Alex Solowitz and Kevin Farley (Yup, he's Chris's brother) are still acting. Noah Bastian, unfortunately, became addicted to meth around the early 2010s. His brother was crowdfunding a documentary to track his recovery, but it didn't meet its goal. So, his current whereabouts are unknown.
There ya have it. 2GETHER burned brightly and briefly. There are still some fans out there, as the DVD of the TV movie currently commands anywhere from $100-200 on the secondary market. That's actually how this whole post came together, as I've had some alerts set on various sites to let me know when a copy is listed for sale. Well, I thought I'd hit the jackpot about a week ago, when a copy came up on Mercari. I instantly hit Buy Now, and then I received this:
Womp womp. A friggin' burned copy. Well, the search continues!
If you're at all curious about any of this, you can find the movie and most of the series on YouTube.
And with that, I leave you with a rare treat: my college a cappella group, Last Call, singing 2GETHER's "The Hardest Part of Breaking Up (Is Getting Back Your Stuff)", with yours truly on solo.
Don't forget to follow @westweekever on Twitter for all the latest site updates!