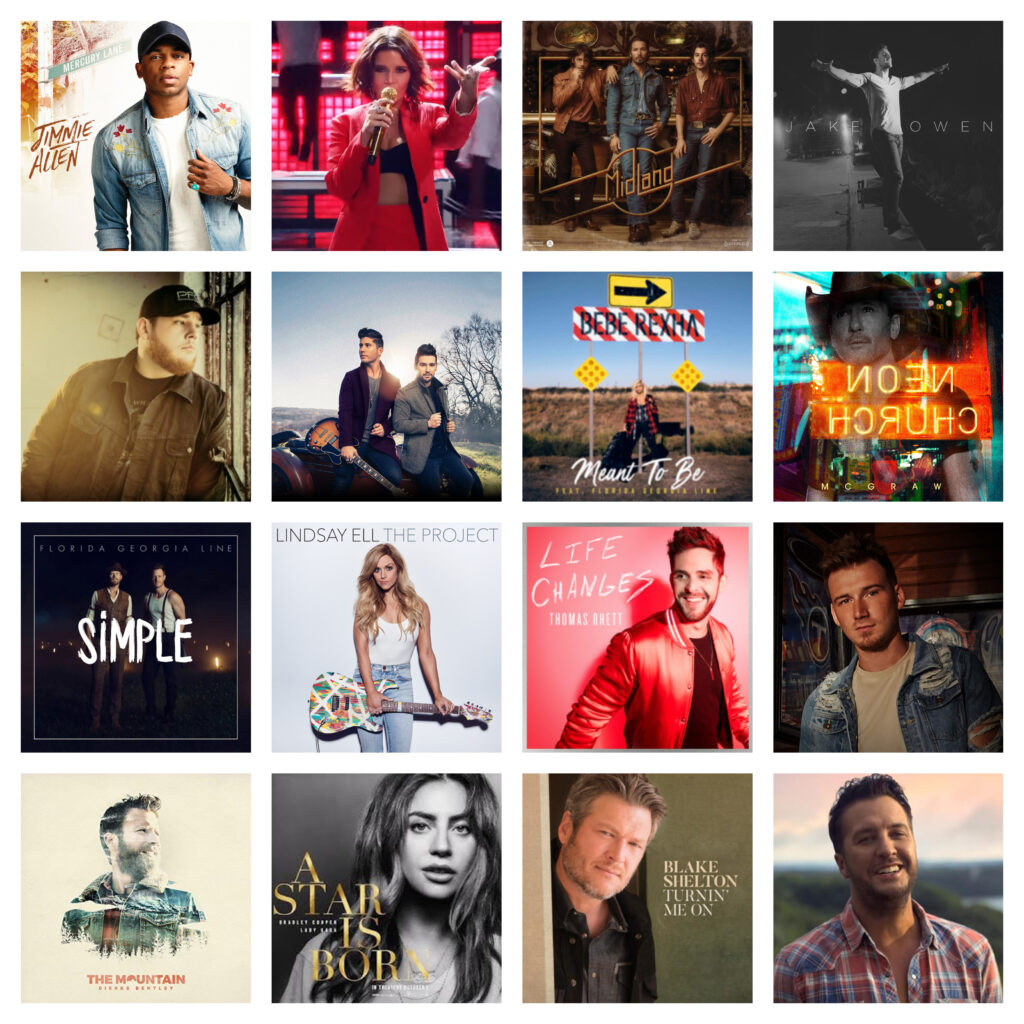 Well, here we are again, with another year behind us. While this is the second year of me compiling this list, I'm actually starting to enjoy it more than West Year Ever. I know that most of you don't listen to "my" music, so it's basically me introducing new stuff to you rather than boosting things you've already heard. I have, however, changed the way it works this year. You see, last year I had this rule that the song had to be released in 2017. This was problematic because it left out a lot of songs that came out near the tail end of 2016 that didn't really get exposure until 2017. So, this year I'm throwing that out the window; if it was released as a single, released to radio, or just plain became "popular" in 2018, it counts.
Remember, this is just me, talking about music I loved during the year. It doesn't necessarily take into account chart position or anything like that. Some of these songs will be hugely popular, while some you'll be experiencing for the first time. And, yes, while a lot of these are part of the "country" genre, I put that in quotes because format really means nothing anymore. You could put the vast majority of them on Z100, Hot 99.5, or KIIS-FM (basically any iHeartMedia station with a Jingle Ball) and they'd be right at home. Don't believe me? Then let's take a closer look!
40. Dean Summerwind (Dustin Christensen) – Parked By The Lake
Let's start out with a joke track, huh? After 2018, I feel like we need a laugh. I was introduced to this song by The Bobby Bones Show, as Bobby had stumbled upon it online and felt the world needed to hear it. The beauty of it is its earnestness. I mean, Summerwind sings it like he's NOT just singing the same 6 words over and over again. The song is actually by season 9 contestant of The Voice, Dustin Christensen, who released it online as "Dean Summerwind". I'm not sure if the exposure really did much for the song, but it has a little over 400,000 streams on YouTube, so maybe it's helping to get him some attention.
39. Travis Denning – David Ashley Parker from Powder Springs
I swear, I didn't put 2 joke tracks back to back! This is actually a REAL song. Still, I love a song that tells a story, and this one does it in spades. In case you didn't click "Play", let me break it down for ya: Denning is singing about the guy whose fake ID he'd bought in order to buy beer. Since he knew he'd be quizzed about his demographic info, the chorus is basically him running down all the stats he'd memorized from the ID. Well, I thought this was a kinda clever idea for a song.
38. Brantley Gilbert – The Ones That Like Me
First, some backstory. I wasn't so sure about Brantley Gilbert. I mean, you see him in the video, and we all know what we tend to think about country artists. He wasn't necessarily a guy I think I'd want to befriend. Then, something earlier this year changed my mind about him. Remember that Waffle House shooting, where James Shaw Jr (a Black man) overpowered the gunman? Well, when the dust settled, Gilbert started a fundraiser for Shaw and the victims of the shooting. Immediately, I was like, "You OK, Gilbert."
So, this song. It really speaks to me – so much so that, were I a tattoo person, I'd probably get the chorus put on my back or something. I've been blogging for 15 years, and pretty active on social media for, like, 11. I think this song definitely describes me both IRL and online. I've come to find I'm somewhat polarizing. You either love me or you don't give a shit. At least that's what my Google Analytics stats would tell ya!

37. Tim McGraw & Faith Hill – The Rest of Our Life
So, you'll know this song is "country" just by looking at the artists, right? Well, did you know it was co-written by Ed Sheeran? Huh? Well, did ya? Anyway, this entry exemplifies a problem I have with the format of these posts. Ideally I'd throw together a Spotify playlist, but not everyone uses Spotify, so I use YouTube. That, however, is problematic because sometimes the video distracts from the song. That's what's happening here. What the Hell is up with McGraw's hat? It's not even a normal cowboy hat, and he's wearing that with a tuxedo?! And I love how it's trying to convey "We fight like everyone else", yet they have to get their limo driver to stop and let them out, and you just know Faith didn't have any money to pay that diner. Anyway, it's a nice song about spending your lives together, so close your eyes and listen to really get that message.
36. LANCO – Born to Love You
LANCO made last year's list with "Greatest Love Story", and they're back this year with this song. Did you realize that the Backstreet Boys never really stopped recording or performing? No, they've spent the past 10 years or so cranking out forgettable songs that sound just like this. That is when OneRepublic doesn't put out something like this first. What I'm saying is that it's not an amazing song, but it's pretty catchy and would be right at home outside of country radio, where it hasn't really performed too well.
35. Florida Georgia Line – Simple
I actually really like Florida Georgia Line, and have ever since Nelly helped them put "Cruise" on the map all those years ago. The problem, though, is that for every 3 songs they put out with the impact of "Cruise", we get a "Simple". It just didn't leave an impact on me like a lot of their other stuff. That's why this isn't higher. Still, who doesn't love a song that teaches you how to count AND spell?! Anyway, this probably won't be the last time we hear from them on this list…
34. Thomas Rhett – Life Changes
Again, a catchy song that tells a story. A few years ago, nobody really knew who Rhett was. As his star was rising, he and his wife adopted a baby from Uganda, only to find out that his wife was pregnant. So, now he's juggling his new family with his career. He put out a few songs this year, but this one wasn't my favorite, which is why it's down here. We'll come back to him later.
33. Jason Aldean – You Make It Easy
I like its bluesy sound. It's that easy. Still, it's not my favorite Aldean release of the year, which we'll get to in a bit.

32. Dylan Scott – Hooked
Scott is just BEGGING to cross over to other formats. I mean, his last single's chorus talked about how he loved when his wife rapped Eminem songs. It was a decidedly country song, but I don't feel that way about this offering, which is pretty catchy. If he keeps putting out stuff like this he just might get his crossover wish.
31. Dustin Lynch – Good Girl
The chorus here is just great to me. This might be too country for some, but I don't care, I don't care. "I could take you home to mama, take you to the church right down the street!" It was a song that definitely grew on me, but it's more infectious than you might think right now. Anyway, this is a case where I actually like what the video does for the song, as it's the antithesis of what the song is talking about. She is NOT a good girl!
30. Chris Jansen – Drunk Girl
OK, if you've made it this far, thank you. And also, I'm sorry. Why? Because you're going to HATE me for this one. It's basically the country version of "The Christmas Shoes" in how cloying it is, but I do think it's a clever spin on what you think it's going to be about. Still, it's a good message for those willing to heed it, and it's kinda weird the video comes with a trigger warning, but I get it. In the words of every man after a scandal, "as a father of daughters", I get it.
29. David Lee Murphy & Kenny Chesney – Everything's Gonna Be Alright
There's not a lot here, but it got a lot of airplay and eventually worked its way into my heart. It's just got that laid back beat, and it's the kind of thing you'd expect from Chesney. It's "White folks smoking weed on the beach" music. White people can actually get away with that shit! It's basically a modern, Caucasian "Don't Worry, Be Happy".
28. Luke Combs – Beautiful Crazy
You're going to be seeing Combs a lot on this list. I feel like country, more than other genres, operates like pro wrestling. Certain artists get a "push" to the top more than others. For whatever reason, the labels decided that Combs was going to get that push. I'm not taking anything away from him. I enjoy pretty much everything he puts out. I just find it odd how some get the push while others don't. He doesn't look like every other country star today, so maybe that's why. His look is "relatable". Anyway, this is just a nice little ballad, but we'll see more of him down the line.

27. Luke Bryan – Sunrise, Sunburn, Sunset
When my wife first hear this song, she said "That's a guaranteed way to get skin cancer." While she's not wrong, it's a catchy song. A lot of the country was introduced to Bryan as he joined the judges panel on the American Idol reboot. I didn't watch any of that, so I don't know if they ever used any of his music. I will say this is probably his strongest song on this list, from a "musical" perspective, but he will appear later for reasons.
26. Lindsay Ell – Champagne
Remember I was talking about Bobby Bones? Well, he also introduced me to Ell. You see, they were dating and he gave her music a lot of exposure on his show. That backfired, though, because a lot of other country radio shows hate him, so they wouldn't play her music. He felt bad that he was affecting her career, and they broke up. And she started getting more airplay elsewhere. I don't understand what her affinity is for the country genre, though, because this song is NOT country, and she would do so much better as a Top 40 artist.
25. Jordan Davis – Singles You Up
I like the phrase "singles you up" better than "breaks up with you". Like, you're talking to your friend about his relationship, and you just drop, "Oh, she's about to single you up!" I really hope that becomes a thing, but everyone knows that slang is stolen from the gays and the Blacks, so unless one of them created it, it ain't gonna stick. Anyway, it was a big song this year, and it's just so fun to sing along to.

24. Kenny Chesney – Get Along
I hated this song when it came out, and I remember even linking to it with "Fuck Kenny Chesney" back when it came out. You see, I hated the timing of the song, as it was when everyone was calling for civility while doing nothing to actually promote it. It was that "There's bad people on both sides" argument, when one side had Neo Nazis who were running over protestors, while the other side had knitted pussy hats. NOT the same.
Anyway, after cooling down, and if you can actually stand the cloying sentimentality of it, it's a catchy song. Plus, I love how stream of consciousness it gets at the end of the chorus: "Learn to dance, call your mom, buy a boat." Um, some of these are easy, and some are gonna require a loan agent. Anyway, I think the video is tone deaf, because while Chesney probably thinks it's something of a love letter to his fans, it doesn't promote the diversity the song speaks of. Ain't no Black people at a Kenny Chesney concert. Shit, I once had a country mega ticket, but I wasn't going to a Kenny Chesney concert. If you get bored, just look up how many fights and 911 calls those things typically generate.
23. Carrie Underwood – Cry Pretty
Ah, the debut of Underwood's new face. You see, a little over a year ago, she had a bad fall at her house and her face required a bunch of stitches. She was holed up like Jack Napier for a bit because she didn't want folks to see her. Anyway, this was something of her "comeback" from that ordeal and, surprise, she looks exactly the same. Anyway, it's a pretty good power ballad, but it wasn't strong enough to really get her into my top 20.
22. Brett Young – Mercy
Last year, Young made #33 on this list, with "In Case You Didn't Know". Just like that song, this is a beautiful ballad, with nothing inherently country about it. I'm starting to think that country is the new contemporary Christian genre, in that it attracts new artists because of the ease of entry. Then, once established, they gravitate to their natural genre (see: Creed, Katy Perry).
21. Dan + Shay – Speechless
Dan + Shay are prime examples of what I was saying in the last entry. Listening to the Bobbycast (Man, I pimp Bones so hard he ought to be paying me!), these guys did NOT set out to be country artists. Hell, Shay was a solo artist on T-Pain's Nappy Boy Entertainment before the duo was formed. No, these guys are less Brooks & Dunn, and more Savage Garden. Anyway, pretty song, but not my fave D+S track of the year, which we're getting to. You know how some movies are clearly made for "Oscar season"? Well, this was clearly made to cash in on Wedding Season.

20. Jake Owen – I Was Jack (You Were Diane)
Funny story – I always hated "Jack & Diane". Even with its iconic intro, I couldn't deal when the lyrics started. I didn't even like when Jessica Simpson sampled it. Then some things started happening in pop culture, which softened my stance on the song. First, there was Black-ish, where the twins are named Jack & Diane, which I thought was kinda cute. Then, Jake Owen came along with this song. I like Owen, and I felt he did something different with the source material. It's basically a Jack & Diane remix, and who doesn't love a good remix? Anyway, I think I may like "Jack & Diane" now.
19. Midland – Burn Out
Midland made #5 on last year's list, with "Drinkin' Problem". This song is more of the same, and it's not higher because I just can't vouch for their "authenticity". Like I said last year, it's almost like they're cosplaying country. They don't come from the industry, and it feels like their act was put together studying game tapes. Still, they're so fucking good at the vintage country formula that you can't help but be impressed by what they're cranking out. I also love how all their videos take place in this early 80s yesteryear.

18. Thomas Rhett – Marry Me
Hey, Rhett's back! This time, he's singing about "The One That Got Away" – only now he's got to go to her wedding. I don't feel like this got as much airplay as "Life Changes", but I felt it was the better song.

17. Maren Morris – Rich
Last year, Morris was #15 on this list with "I Could Use a Love Song". Again, another artist who could be doing so much more if she crossed over, as we're going to see in a bit. Anyway, it's so coquettish how could you NOT love this song?

16. Jason Aldean, featuring Miranda Lambert – Drowns The Whiskey
I love the play on words here, about how whiskey's supposed to drown the memories, but instead it's the other way around. I feel like the song kinda misses its mark, though. With the addition of Lambert, you'd think it was supposed to be like the old country duets, but this is no Loretta Lynn & Conway Twitter collaboration. Lambert really doesn't bring enough to the song to warrant her being here. Any up and coming country startlet could've done this harmony. Did Kelsi Ballerini not answer Aldean's calls or something?

15. Luke Combs – She Got The Best of Me
Our old buddy Luke Combs is back, breaking the top 20 with this hit. I don't know if the voiceover in the video is true, but if he really didn't pick up a guitar until he was 21, he's done AMAZING things in the past 7 years. Kind of inspirational, really. Again, though, the video is distracting because you're led to believe the "she" is the chick from the breaking news segment at the beginning of the video, and he she got the best of him because he can't get over her death. But then it turns into a standard on the road/tour video, and just kinda kicks that narrative to the curve. Anyway, good song.

14. Dierks Bentley featuring Brothers Osborne – Burning Man
Bentley's first appearance in the Top 20 won't be his last. We'll get to that later. No, I really like this song, and can't really categorize it. It's not "country", but it's not "rock". It's got that bar band vibe to it, where it wouldn't have been out of place for it to be a Hootie and the Blowfish song.

13. Zedd, Maren Morris, and Grey – The Middle
If you've set foot in a Target this year, then you've no doubt heard this song. It's just as infectious as Zedd's entry from last year, "Stay", featuring Alessia Cara, and it shows just what Morris is capable of doing outside the country genre. More of this, please!

12. Brett Eldredge – The Long Way
A ballad about a guy wanting to know more about his new girl by her showing him around her hometown, taking the "long way" around. I think it's a beautiful song and sentiment. He wants to know her in and out and thinks this is best way to know where she comes from. I like Eldredge and he's had a bunch of songs that would've made the list had I been doing this longer than 2 years. Anyway, I expect to see more of him here in the future.

11. Morgan Wallen featuring Florida Georgia Line – Up Down
I told ya Florida Georgia Line would be back! I love this song but I just couldn't let it crack the Top 10. If you remember, Morgan got to #7 with "The Way I Talk", but this song didn't speak to me as much as that one. Still, it's a great FLAGA Line collab, and just a fun song. It's a song about drinkin' and the weekend. What's more country than that? Plus, bonus points for shoving "BFE" into a song that gets national airplay.

10. Tim McGraw – Neon Church
Who knew McGraw and his wacky hat would make it back to the countdown? Well, if you're a regular West Week Ever reader, then it shouldn't be too much of a suprise, as I basically spotlighted it one week. Yeah, it's Tim McGraw, but this is basically his rendition of "Purple Rain". Now, some of you might call that sacrilege, but I'm talking more about what's going on in the song's background than I am about him attempting to evoke Prince. I looped this song for an entire work day once, so if that's not enough for it to crack the Top 10, I don't know what is.

9. Luke Bryan – Most People Are Good
OK, I feel like I should apologize for this song first. Isn't that sad? I mean, I really like the song, even if it's not Bryan's strongest vocals of the year (those would've been in "Sunrise, Sunburn, Sunset"). No, I'm apologizing because I know how treacly the message of the song is going to come across. Hell, it's almost the same as Chesney's with "Get Along". The difference here, though, is that there's a subtle message that gets lost: in the chorus "I believe you love who you love, ain't nothing you should ever be ashamed of." That's the closest country music has ever gotten to not only acknowledging, but also embracing, its LGBTQ fan base. Plus, it really does have a positive message. For the record, this is the video Chesney should've shot for "Get Along".

8. Jake Owen – Down To The Honkeytonk
I love the Hell out of this song, and let me tell you why. A few years ago, I had a shortlived feature ("shortlived"? I think I wrote TWO posts) called "Reboot That Bitch" where I'd take an old concept and reboot it. Ya know, kinda like what Hollywood is doing now. Anyway, I chose the Lee Majors 80s drama The Fall Guy, and I feel like this song would be PERFECT as the theme song for a reboot of that show. As the original theme sung about the lack of glory behind being a stuntman, this song is about a regular guy who might not be spectacular, but in his neck of the woods – the honkytonk – he's The Man. Press play, close yur eyes, and picture a Rounded-Line 1981 GMC K-2500 Wideside jumping over shit.

7. Luke Combs – One Number Away
If I were doing a West Year Ever of just music, it'd go to Luke Combs. Making his THIRD appearance on the chart, and OH SHIT! THIS VIDEO IS THE PREQUEL TO "SHE GOT THE BEST OF ME"!!! Yeah, I'm just watching this video for the first time. Huh. So, he took this and made it a Don't Talk and Drive PSA. Interesting choice. Anyway, I feel like, as with all of Combs's songs, he really puts his soul into this one. It was kinda hard ranking his 3 biggest singles of the year, but I definitely feel this was his best.
6. Blake Shelton – Turnin' Me On
This song isn't as fun as Shelton's entry last year, "I'll Name The Dogs". Still, there was something haunting about this song, and I didn't realize what it was until a local DJ spelled it out for me: It's basically a Stevie Nicks song. You can get lost in its retro sound, and I recommend that you do, because otherwise you'll realize he's singing about Gwen Stefani, and it'll take you completely out of it (I'm pretty sure her kisses taste like Bubble Yum and NOT whiskey). Anyway, this song achieves that same yesteryear vibe that Midland specialize in.

5. Dierks Bentley – Woman, Amen
A bombastic ode to women, from a country star no less! I really like this track, and it became something as an inside joke in our family. My wife and I would listen to it, and I'd say something like, "Man, she sounds terrific. I wonder where I could get a wife like that." Yeah, I'm an asshole, but we all had a good laugh.

4. Dan + Shay – Tequila
They're back! While they closed out the year with "Speechless", they dominated most of the year with "Tequila". It's just so smooth – something tequila is not. Still, it is highly relatable in how the taste of something can bring back so many memories. I really hope more people discover this duo.

3. Lady Gaga & Bradley Cooper – Shallow
Another song that got a mention in West Week Ever. In fact, it HAD the West Week Ever. From the soundtrack for A Star Is Born, this song is just so much better than it has any right to be. Cooper handles his part deftly, but Stefani (I'm not even gonna call her Gaga here because she's shed that disguise effortlessly) really swings for the fences in the second half of the song. Another song I looped for an entire work day, as I kept discovering new things about it.

2. Jimmie Allen – Best Shot
I'm sure some of y'all skimmed this list, and said "What, Will? No Black people at all?" Well, here ya go. It's not that I'm holding out on you, but there just aren't many Black artists on the stations I listen to. For the longest time, there was just Darius Rucker and Cowboy Troy. Well, that changed this year, as Jimmie Allen made his way onto the scene. It's good to see a brother make his way in an industry not necessarily cut out for him, and he also just seems like a genuinely good guy. I've listened to a ton of his interviews this year, and followed his rise. "Best Shot" is such a great song.  He probably doesn't do enough vocal runs to get on R&B radio, but he's a force that really deserves to be out there, and I'm glad he's found his way in a genre that might surprise some.

1. Bebe Rexha featuring Florida Georgia Line – Meant To Be
Funny story – this song just missed making it onto the bottom of the 2017 list, but I didn't think it was going to make much of an impact. The thing I like about FLAGA Line is that they don't always have to be the center of attention. Sure, they've got their own hits, but they spent a good chunk of the past year and a half just doing guest spots for other artists, like Morgan Wallen and Rexha here. Meanwhile, I felt like Rexha was just another flash in the pan Pop THOT who'd be here today, and gone tomorrow. Surel she's hot, but was that going to matter on the charts? Well, it made Rexha the first female artist to debut at the top of the Hot Country Songs chart, and proceeded to spend FIFTY WEEKS at the top spot. It spent the majority of the year as the #1 country song. It's gone 4 times platinum in a music industry where songs and albums just don't perform like that anymore. It was without a doubt the biggest country song of the year and, with its crossover appeal, was one of the biggest songs, period, of 2018.
So, there you have it. They might not have all been the best songs of 2018,  but they were certainly my favorite songs of the year. I'm sure that you stumbled upon something up there that you liked, so drop me a comment down in my shiny new Disqus commenting system!