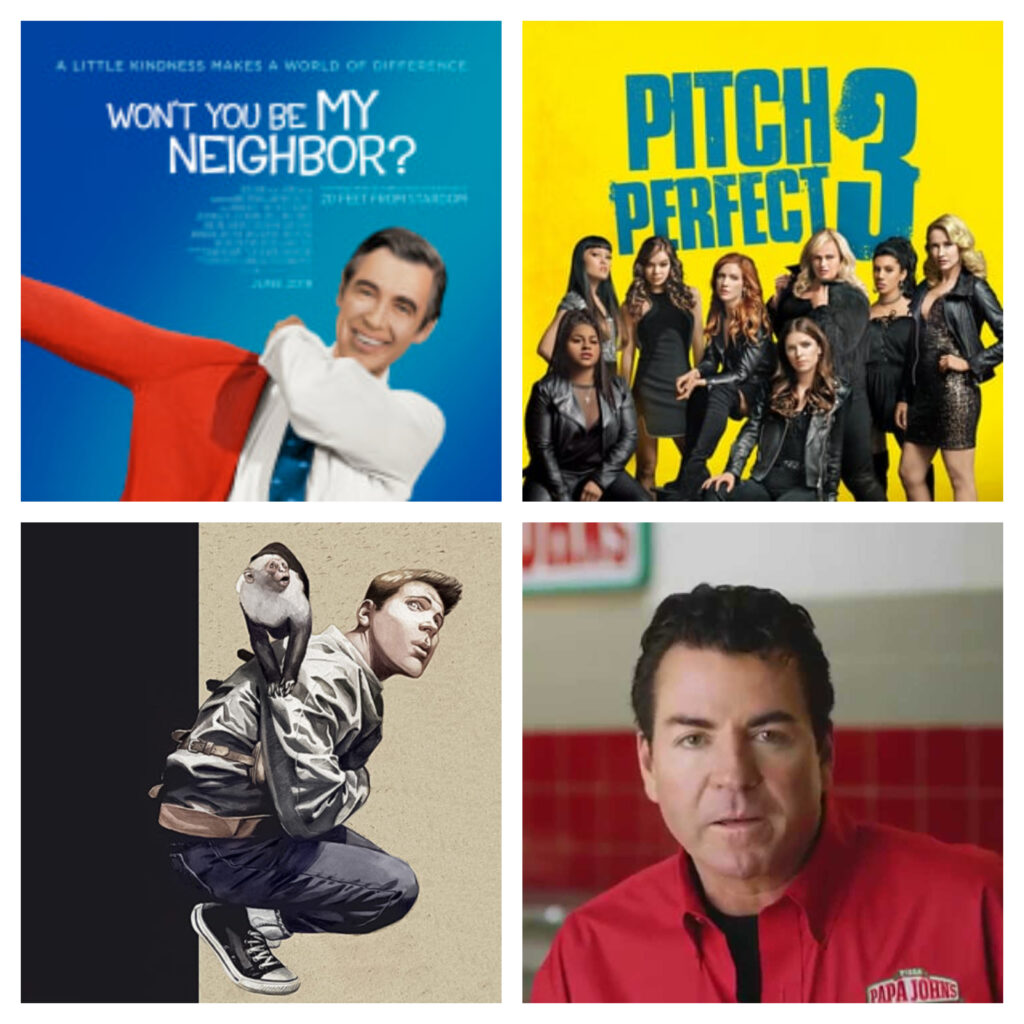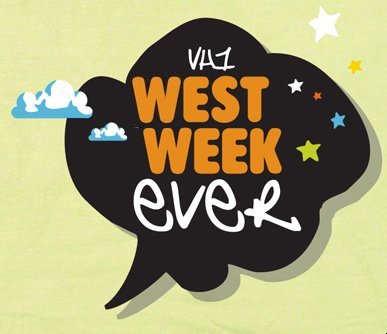 I've been in California the past few days, and haven't really been that plugged into the world lately. It's been so long since I wrote one of these that I've kinda forgotten how they work. I mean, it's been 2 weeks since my last post, and that was the Toys "R" Us tribute. So, it's been 3 whole weeks since we touched on pop culture news and events. I've gotta say, though, not much happened. I mean, stuff happened, but did any of it really matter? Let's see, shall we?
HarassmentWatch(TM)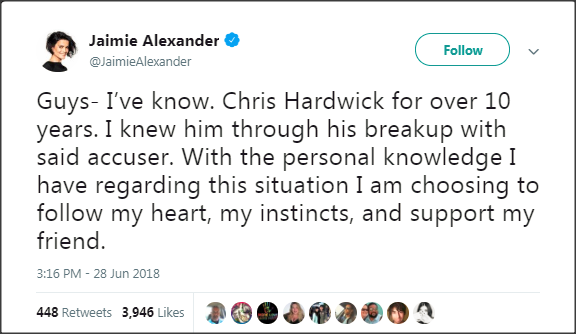 Chris Hardwick Update: Not only did Hardwick's friend, Lady Sif herself, post this tone deaf tweet, but she also circulated a Change.org petition to reinstate him as host of his AMC shows. Read the room, Jaimie! Meanwhile, everyone's favorite nerd auntie, Yvette Nicole Brown, will be moderating the SDCC panels that were originally to be hosted by Hardwick. She insists she's not vying for his job, and is merely "helping out a friend".
Nev Schulman Update: Production has resumed on MTV's Catfish: The TV Series, as their investigation found that there was no credible evidence that he had committed the harassment reported by his accuser.
Terry Crews Update: While testifying before the Senate Judiciary Committee on sexual assault, Crews admitted that he had turned down a role in The Expendables 4, after being threatened to drop the case by producer Avi Lerner. Lerner reportedly warned Crews that there could be "trouble" if he didn't drop his case, and Crews decided that passing on the film was the best thing for his personal safety.
John "Papa John" Schnatter: OK, so everyone already kinda knew Papa John was a piece of shit, but this week he was forced to resign as chairman of the board when it came out that he had used the word "nigger" during a conference call. Reportedly, in response to a question about his opposition to NFL players kneeling, Schnatter said that Colonel Sanders used to call Blacks niggers and that there was never any blowback for KFC. Here's where this gets dicey for me: while there's no real evidence that the Colonel had a history of doing this, it's not like Schnatter used the slur against someone on the call. At best, he was telling the truth and didn't read the room to know "Maybe it wouldn't be too Kosher for me to use that word." At worst, he was lying about the Colonel, but still wasn't slinging it an individual. In any case, there's other evidence that he's a shitty human being, so maybe this was just karma catching up to him, like how they got Al Capone on tax evasion. Shitty views, shitty pizza: Papa John's.
Henry Cavill: Superman done fucked up, y'all. Admittedly, there's hyperbole on both sides of this argument, but here it goes: In a GQ Australia interview, Cavill admitted his trepidation about dating in the post #MeToo world, saying
"There's something wonderful about a man chasing a woman. There's a traditional approach to that, which is nice," he remarked. "I think a woman should be wooed and chased, but maybe I'm old-fashioned for thinking that."

"It's very difficult to do that if there are certain rules in place. Because then it's like: 'Well, I don't want to go up and talk to her, because I'm going to called a rapist or something.' So you're like, 'Forget it, I'm going to call an ex-girlfriend instead, and just go back to a relationship, which never really worked,"
Of course there was social media backlash to this, with the common response being "If you don't want to be called a rapist, then don't rape anyone." I get it. I do. But it's funny how the "We have to listen to both sides" folks are really selective in when they choose to speak out. I think he suffered from a poor choice of words, but his is still a viewpoint that should probably be acknowledged. Men DON'T know how to read cues anymore, and it's leading to some bad situations (see: Aziz Ansari). Cavill admits his beliefs are old fashioned, but that's how a lot of people were conditioned and raised. Sure, there's concepts like "enthusiastic consent" now, but to many that's just as foreign a concept as when men learned they'd have to wrap their penises in a tire to make sure they don't die having sex. Change takes time, and getting these views out and discussing them is the only way folks are going to come to some kind of understanding to move forward. No, I'm not saying "Hug a Nazi", but I AM saying that you can't really change anything until folks are comfortable enough to speak, while others are willing to listen. Anyway, he apologized through one of his reps, so nothing was really accomplished here except a whole bunch of folks don't like Henry Cavill anymore.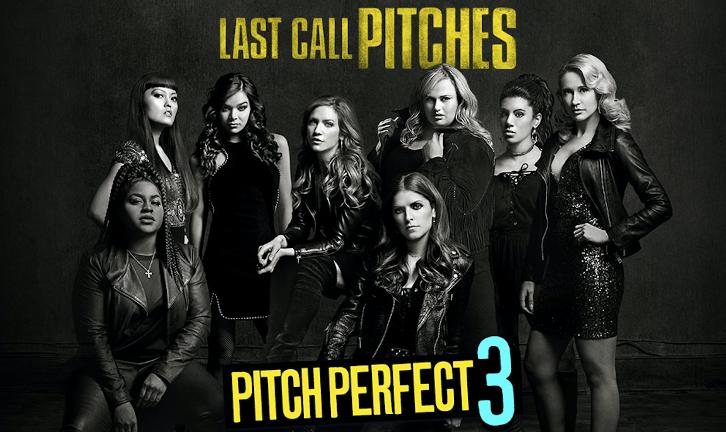 I'm not doing so well with the movie viewing this year. I think I watched something like 117 in 2016, and at this point I've seen about 7. On the flight home last night, I finally got a chance to watch Pitch Perfect 3. I'm not saying I regret seeing it, but I kinda regret that they made it.
As I've said before, I kinda relate more to the Pitch Perfect franchise than most folks do because I lived it. I was in the scrappy underdog college a cappella group that placed at competition. I dealt with the ennui that comes from riding that high, and then being thrust into the real world where nobody gives a shit. In fact, I thought the second movie captured that perfectly, even if it didn't resonate with a lot of fans of the first movie. As much as I love the Barden Bellas, though, this didn't need to be a trilogy. They go on a USO tour? Is it really that easy for the alums of a 7-year removed competitive collegiate singing group to get a spot on a USO tour? Are the troops that hard up for entertainment? I mean, even I would get tired of Carlos Mencia after one performance, but is this really all that's left in the barrel for our boys overseas?
If you haven't seen it, that's what happens: the Bellas reunite because of a Three's Company-esque misunderstanding, but decide to take one last shot at the stage by going on a USO tour – one that happens to be a proving ground for DJ Khaled to find his new opening act. Really? HIM? So, the aged Bellas (and Hailee Steinfeld, whose character must have taken a leave of absence from college) jet around the world, competing against three other acts: country-tinged Saddle Up, hip hop duo Young Sparrow & DJ Dragon Nutz, and the all-female Evermoist. Almost immediately the other 3 acts join forces in the traditional riff-off, to show the Bellas just how ineffective a cappella battles are in the real world. Chloe keeps trying to cite them for breaking non-existent rules, like "They used real instruments, so they're disqualified." Of course, the Bellas eventually prove themselves to the USO audiences, after a few embarrassing setbacks put into motion by Evermoist. I guess that would be a decent movie if it didn't have so many other weird subplots floating around.
It's a movie that tries to do too many things, and doesn't do any of them well. There's a weird B-plot about Fat Amy's (Rebel Wilson) crooked father (played by John Lithgow), who's scheming to get the $180 million that her mother had put into a trust for her. This results in some crazy choreographed fight scenes between Amy and her dad's goons, as well as a Die Hardian explosion on a boat.
Then, there's a co-B-plot ('cause it's not quite a C-plot) about Becca (Anna Kendrick) being courted as an artist by one of the members of DJ Khaled's team. While this storyline eventually turns out well for Becca, it just dangles a romance that could have been pursued if they were audacious enough to make a fourth movie, but doesn't really go anywhere.
Plus, I get that Kendrick is the star, but the whole Becca As a Solo Artist thing doesn't work for her characterization. Sure, we're reintroduced to her dealing with her dead-end producing job, but she was never a front and center showgirl. She was a reluctant performer whose musicality and choreo took the Bellas to new heights. If anything, though, her perfect place is behind the scenes, building new artists, and NOT as a headlining solo artist.
Then, you've got Aubrey (Anna Camp) dealing with abandonment issues from her dad (which are hastily wrapped up during the end credits), and Chloe (Brittany Snow) hastily falling in love with their USO liaison. Steinfeld is just there to be insulted by Fat Amy, and you don't really see much of the fire from the last movie that propelled her to the leadership of the current group of Bellas.
The movie is missing a lot of its heart, which was provided in the previous two installments by love interests Bumper (Adam Devine) and Jesse (Skylar Astin) – both of whom are absent here and clearly missed. Jesse was great support for Becca, and it's curious that they'd break up offscreen and he's already moved on. Meanwhile, I didn't expect Fat Amy and Bumper to get married or anything, but I did expect a cameo or something. I mean, Adam Devine is doing straight to Netflix movies these days, so he's available.
The biggest thing missing here, though, is the musicality. While the first two movies really showcased what a cappella has become, this movie turns it into the butt of the joke. The riff-off is impressive, as they tend to be, but there are no real performances from any of the acts – Bellas to Evermoist – that are that impressive. It's probably the only installment in the trilogy where I feel I could easily pass on the soundtrack.
Pitch Perfect 3 is a simple retread of Pitch Perfect 2's "There's Life After A Cappella, But It Ain't Singing" thesis. We got it, but we didn't need it. It's a shame because I really like these movies and the stars, but they didn't leave the stage on a high note.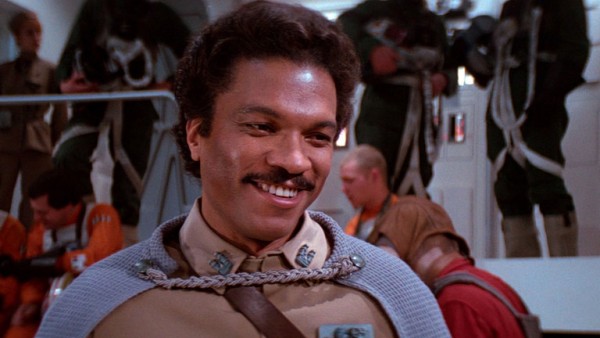 In Star Wars news, Keri Russell has reportedly signed on for a role in Star Wars: Episode IX, Seeing as how she's JJ Abrams' muse or whatever, this news isn't that surprising. In another part of the galaxy, however, it was reported that Billy Dee Williams would reprise his role as Lando Calrissian and, for the life of me, I can't imagine what the fuck for. I mean, all of his friends are dead, and he was absent for the one scene that would've made sense for him to be in (Canto Bight). So, I guess I'll look forward to seeing him come back just to die.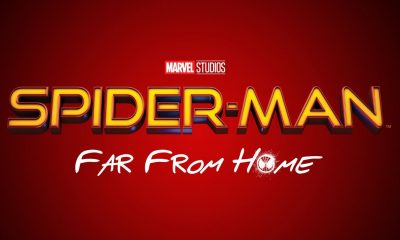 In Marvel news, it was revealed that the sequel to Spider-Man: Homecoming will be called Spider-Man: Far From Home. Let the speculation begin! Does he get left in space after Avengers 4? Does he come back to Earth and end up in Wakanda, hanging out with Suri? The possibilities are endless.
When it comes to hope, though, Sony giveth and Sony taketh away. While Far From Home sounds intriguing, they also announced their continued plans to milk that Spider-Man license dry. Now they're claiming there will be a Silk movie that'll never happen. I mean, if they couldn't get a film off the ground for Black Cat and Silver Sable, I really don't know how "Asian Spider-Woman"'s milkshake is gonna bring the fanboys to the yard. On top of that, there are reports that Jared Leto will star in a Morbius film. Yeah, Morbius is the vampire who debuted in the Spider-Man comic, but really has jack shit to do with Spider-Man. If you ask me, Sony making that deal with Marvel Studios was to their detriment, as it left them to play around with the dregs of the Spider-Man license. Imagine if you had a really hot, passionate girlfriend, but then y'all broke up and you ended up with an Amish girl. The Amish girl thinks she's doing you a favor by flashing a little ankle, but you know what you used to have. That's this situation right here.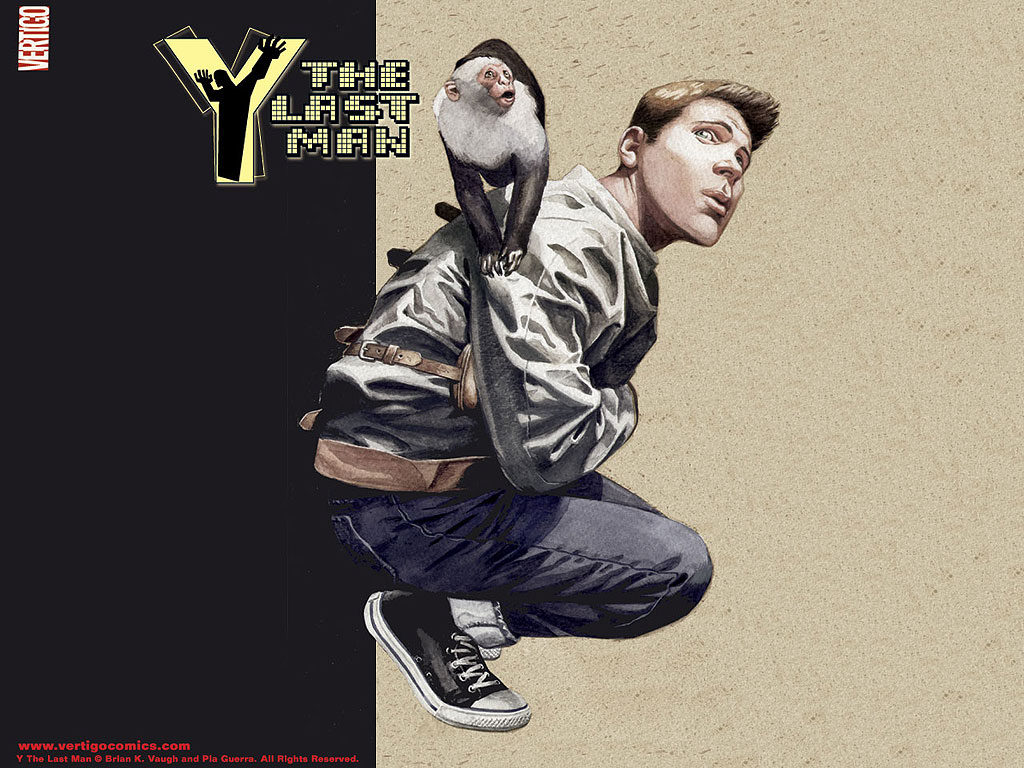 FX announced the cast for their Y: The Last Man pilot, and the biggest surprise is probably that Diane Lane has signed on to play Senator Jennifer Brown, who also happens to be the mother of the main character, Yorick. If you're not familiar with the story, Y: The Last Man was a comic series published under the DC Comics Vertigo imprint. Running for 60 issues, it featured a world where a virus has killed every male in the world – except for escape artist Yorick and his Capuchin monkey. Women rise up and take on roles that they hadn't traditionally held in the old world, while Yorick is traveling the globe to be reunited with his girlfriend. It's one of the most critically acclaimed series of the past 20 years, and I think it was an absolute disappointment.
I have a problem with series creator Brian K. Vaughan because I feel he doesn't stick the landing when it comes to his long-form series. 60 issues was just enough rope for him to hang himself with. I couldn't even imagine reading that series on a monthly basis at certain points, because there are YEARS that just drag. So, to me, this just means we might get a compelling show with a really weak season 4 & 5. And don't get me started on the ending because I felt it was one of those "It's not about the destination, but the journey" cop out. Anyway, I guess time will tell.
Things You Might Have Missed This Week
A bunch of shows got cancelled, but don't feel bad – they're dead because nobody cared about them. Likewise, no one will miss them. They include: Famous In Love (Freeform), Nobodies (TV Land), Ghosted (Fox), Champions (NBC), and SIX (History). See? Bet you never watched any of them.
In other TV news, Charter Communications has picked up the Bad Boys spinoff, L.A.'s Finest, starring Gabrielle Union and Jessica Alba. It's set to air on their Spectrum cable service, which is about a step up from ending up on the Playstation Network (Yes, that was a jab at Powers).
In a recent interview, Paul Reiser admitted that the Mad About You revival "likely won't happen" for the sheer fact that no network seems to want it. It's fine with me. Paul and Jamie Buchman had a terrible marriage, and I haven't ONCE wondered "I wonder where those two crazy kids would be right now." If anything, I spend time wondering why Leila Kenzle and John Pankow didn't become household names from that show. They were the only reasons to tune in.
WWE SmackDown Live will officially air on Fridays next year on Fox, meaning that Tim Allen's Last Man Standing revival is basically getting evicted before it even returns to the airwaves.
Speaking of WWE, there are reports that they will add a second Wrestlemania branded show in 2020. This sounds like a terrible idea because it'll just take away the prestige of the now-annual event, especially if it's a watered down 'Mania, similar to the recent Saudi Rumble.
Classic Nickelodeon show Double Dare is back on the air, and I had stronger feelings about it when it debuted 3 weeks ago. All I can say now is that new host Liza Koshay is kind of annoying, while I wanted to kill this little prick who kept dabbing after every victory. It was a nice nostalgia trip to watch that first night, but it's nothing I've returned to since. Apparently there's a Kenan & Kel episode coming up, so I'll probably tune into that, as they play for their favorite charity: Keeping Kel's Lights On.
Jeremy Renner has been cast as Detective "Twitch" Williams in the upcoming Spawn movie. I know that announcement is supposed to be big news, but all I can muster is a Kanye shrug. Remember those? Ya know, before he married that Armenian donkey and lost his mind?
The TV series based on The Purge will debut September 4th, on both Syfy and USA Network.
Marvel Studios reportedly met with 70 different directors, and settled on Cate Shortland to direct the planned Black Widow solo film.
District 9/Chappie director Neill Blomkamp will direct a new Robocop movie for MGM. Have you ever seen any of his movies? Come for the hamfisted allegory on Apartheid, but stay for the wise-cracking alien go-kart that Robocop rides around in!
Djimon Hounsou has been cast as the Wizard in that SHAZAM! movie I can't seem to get excited about.
Steven Universe featured the first lesbian wedding on a kid's cartoon show, but does it count if they're really space gems? I dunno. I've tried to watch that show, and it makes no sense to me, but yay for progress!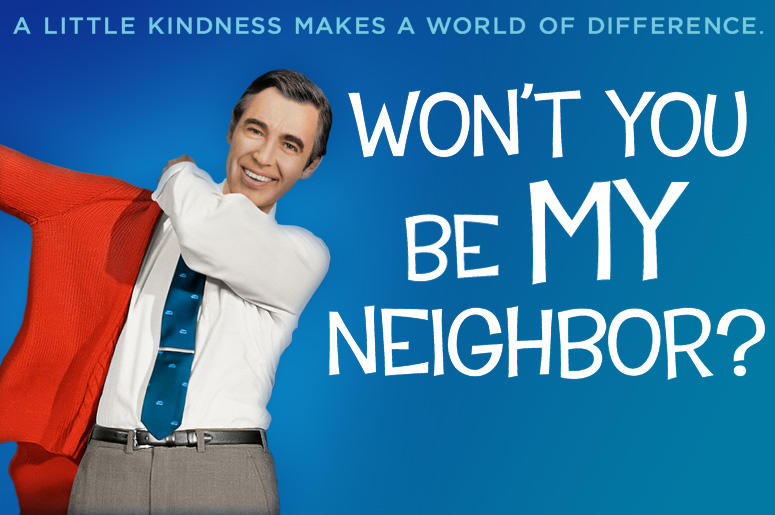 I'm amazed that it's been 3 weeks since I saw Won't You Be My Neighbor? and it has still stuck with me. If you're not familiar, the documentary is the story behind Fred Rogers and the creation of Mr. Rogers' Neighborhood. And let me tell you – it is a life-changing experience. Seriously, they broke the mold when they made Fred Rogers, and no one has stepped up to fill the void that he left behind.
The movie focuses on what a remarkable man Mr. Rogers was, and how he impacted the lives or children. An ordained minister, he discovered television in its infancy, and realized the power that it could have in speaking directly to children. He didn't like how a lot of children's television seemed to talk down to the audience, so he wanted to meet them at their level, and help them through the roadblocks of life. It contained interviews with everyone from his wife to former crewmates and friends. I'm not a movie crier, but this thing pushes all the buttons of a Pixar movie.
The movie definitely left an impact on me as I left the theater. There's one clunky part, where an old friend mentions that Rogers was a lifelong, card-carrying Republican. I guess it was meant to imply that his work was imbued with his sense of family values and whatnot, but all I could think was "What the fuck happened to the Republican Party?" Along those lines, how would he feel about the current state of things? He had retired prior to 9/11, but was consulted to create material to help folks cope with the events of that day – and it nearly broke him. As great as he was, even he wouldn't be able to heal the divide facing the country. At least, not alone. The world needs more people like Mr. Rogers. "Look for the helpers."
I'm not sure if it's delusions of grandeur, or lack of sleep, but for a brief period of time after leaving the theater, I thought "I could do it!" I could pivot everything to be more family friendly, I have an early childhood background, and I love (and worry about) kids. But my wife quickly reminded me that I'm a hateful man online, but that it's what I'm good at, so I wouldn't be the heir apparent to King Friday's empire anytime soon. Womp womp.
I can't believe I still feel this way three weeks later, but nothing has come close to that experience. It's the best movie I've seen in a long time, and I think everyone should see it. That's why Won't You Be My Neighbor? had the West Week Ever.