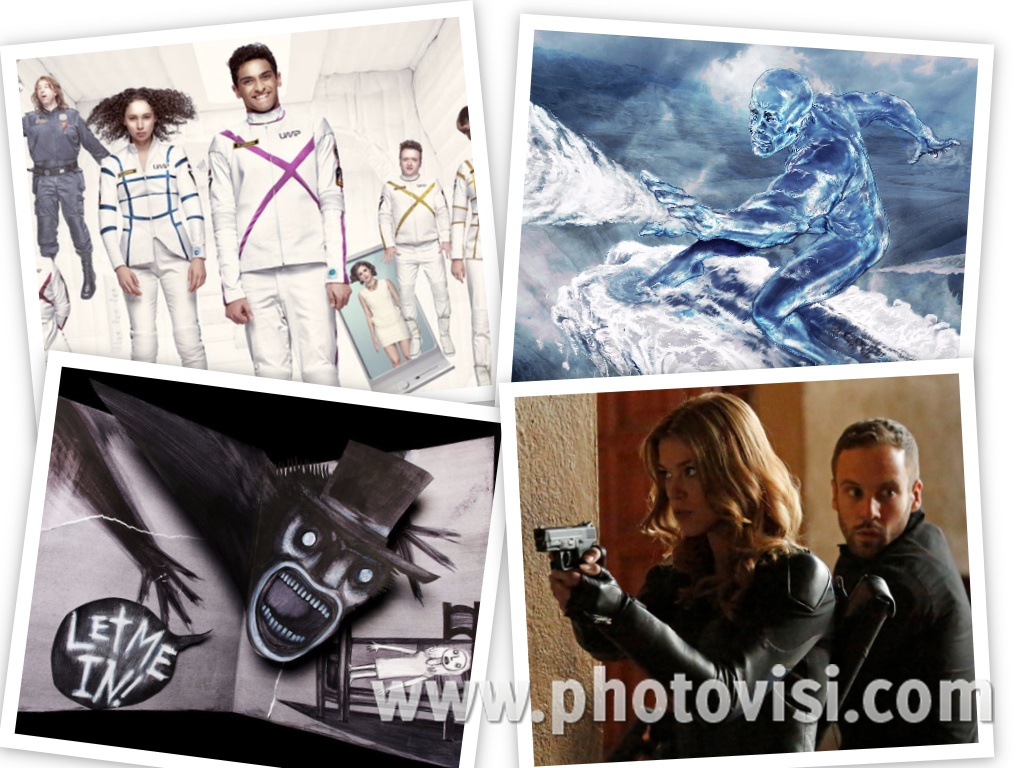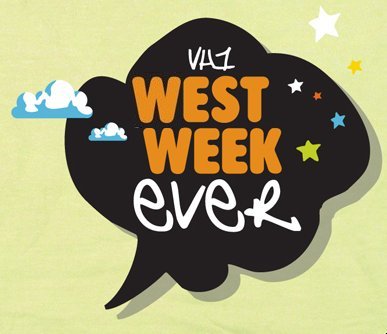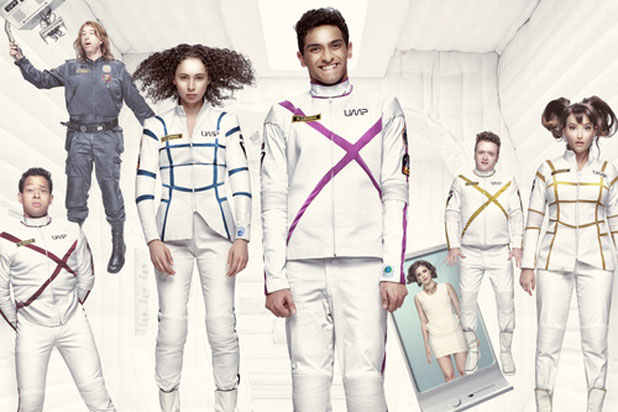 This was a week of me binge-watching short comedy series online. I started things out with Other Space on Yahoo Screen. I mentioned the show in last week's post, but I hadn't gotten around to watching it. Created by Paul Feig (Bridesmaids and The Heat), the show is set in the year 2105, and focuses on the young, inept crew of a spaceship that finds itself stranded in a parallel dimension. I've admired Feig since I read his book, Superstud, so I had to check out this series. I came for the creator, but I stayed for Milana Vayntrub, AKA Lily Adams from the AT&T commercials. First, let me say this: I hate webseries. There's always something "This isn't quite good enough for television" about them. And this show looks and feels like a webseries. Still, I powered through the 8-episode run with ease, as the cast is good, and the writing's pretty funny. For you Mystery Science Theater 3000 fans, Joel Hodgson and Trace Beaulieu are also part of the cast. It's got humor, it's got pretty ladies, and it's got space – there's something for everyone!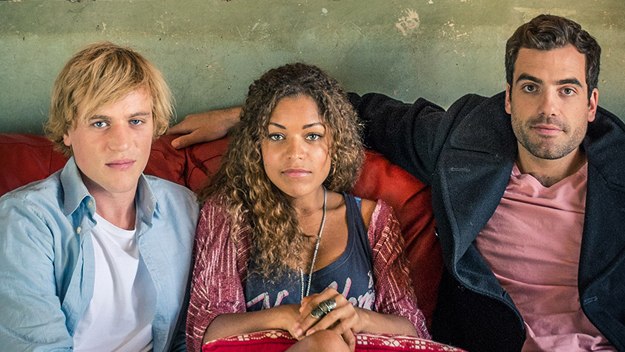 Next up, I binged Scrotal Recall on Netflix. Yes, that's its actual name, but the show is so much better than that questionable moniker. Imagine if How I Met Your Mother had more sex, and no Lily & Marshall. That's basically this show. There's a Ted, there's a Barney, and there's a Robin. The hook, however, is a bit more mature than HIMYM: when Dylan discovers that he has chlamydia, he has to notify his former sexual partners to let them know that they need to get tested. Then, we follow those past relationships as the show jumps around the timeline. Meanwhile, Dylan is secretly in love with his best friend, Evie – who happens to also be in love with him. However, she's about to be married to another guy. Will they finally admit their feelings to each other before it's too late? The series originally aired on Channel 4 in the UK last year, and I continue to be impressed by how much British showrunners are able to cram into a mere 6 episodes of a series. It was great to see Antonia Thomas again, who I discovered when she played Alisha on the Channel 4 series Misfits. Also, if they ever make a US version of the show, June Diane Raphael HAS to play Helen. Anyway, I'm really hoping for a second season, as I really like the ensemble, and there's definitely more ground to cover. In the tradition of My Name Is Earl, Dylan has a pretty sizable list of women he needs to contact, and we only get through the first 5 in this season.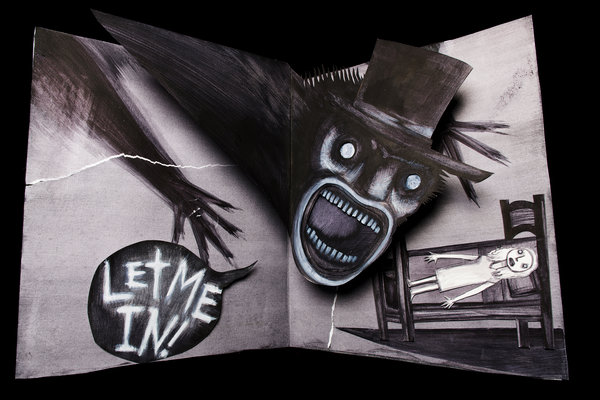 Next, I watched The Babadook on Netflix. A 2014 horror movie with a lot of buzz around it, I felt like I had to watch this movie. Now, I'm not exactly a horror fan – in fact, I don't like the genre much at all. Still, I'd heard nothing but good things about this movie, so it seemed to be worth my time. Well, what did I think? Babadook? More like Babadookie. Seriously, what did people see in this movie? If you're not familiar with it, the movie focuses on a single mother and her son in Australia. Amelia's husband died on the way to the hospital for her to give birth, so it's just been her and the son, Samuel, for the past 7 years. And it's starting to take its toll on her. One night, she lets Samuel choose the book she's going to read to him before bed, and he picks a book called Mister Babadook. In the story, there's a creature called Mr. Babadook who begs to be let in, and will never leave once you do so. The story basically terrorizes the son, as he begins to see the Babadook everywhere, and he's scared something's going to happen to his mom. The mom refuses to believe in the Babadook, but as she continues to go without sleep, strange things begin to happen around the house. That's the basic gist of it. To me, the biggest problem is that the Babadook just isn't that visually frightening. He looks like something from a Tim Burton movie. Anyway, I was pretty unsatisfied and I don't get the hype that surrounded this movie. Was it the fact that it was a horror movie by a female director? Did I miss something? The main brunt of the movie seems to be "Single parenting is a BITCH!", but the Babadook himself? Not so scary.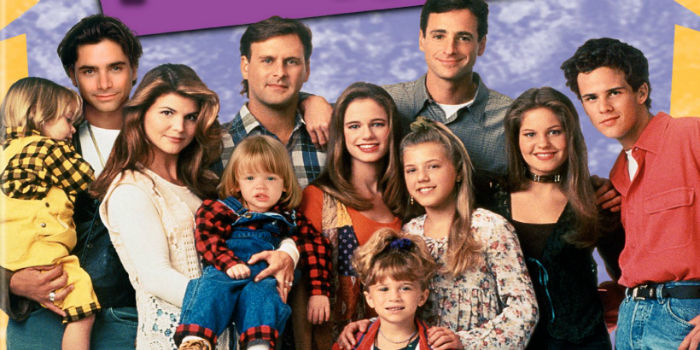 I've written about it a bunch, but it was officially announced this week that Fuller House is happening, and will premiere on Netflix in 2016. The show will follow widowed veterinarian DJ Tanner, who needs help raising her 2 kids (with another on the way). So, best friend Kimmy Gibbler, along with her own teenage daughter, Ramona, moves in to help out. Finally, Stephanie Tanner, now a musician, will also move in to lend a hand. John Stamos will produce the show, and also guest star as Uncle Jessie. I like this idea, but I'm somewhat surprised it went to Netflix. After all, this show seems tailor-made for ABC Family's comedy slate, especially with the aging Melissa & Joey on the way out this summer. I can think of about 3 cable networks that would be a better home to this show than Netflix, but I guess Netflix is trying to expand its offerings. Based on the media coverage this thing has been getting, they just may have chosen a winner.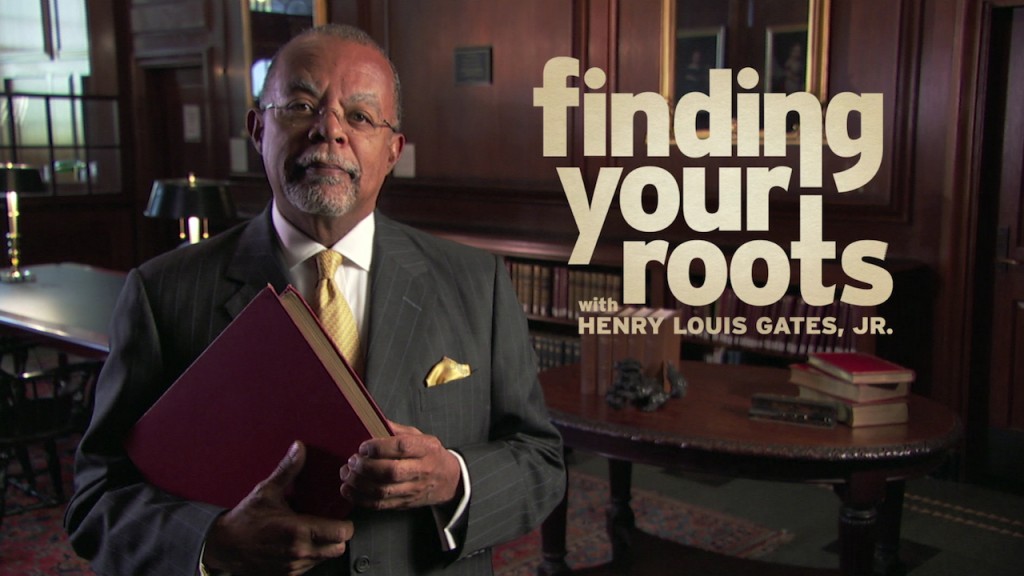 There was a lot of hubbub this week regarding Ben Affleck. No, I'm not talking about the Batman v. Superman: Dawn of Justice trailer. You see, Affleck was on the PBS series Finding Your Roots, where he discovered that one of his ancestors owned slaves. Well, thanks to leaked emails, we discovered that Affleck asked that that particular part be cut from his episode. Dr. Henry Louis Gates Jr., the host of the show, wasn't sure how to handle the situation, as detailed in the email thread. Eventually, the show acquiesced, and the segment was removed. Once news of this broke, there was outcry that Affleck shouldn't have asked/the show shouldn't have complied with his request. Affleck finally addressed the situation on Facebook, saying:
"I didn't want any television show about my family to include a guy who owned slaves. I was embarrassed. The very thought left a bad taste in my mouth."
He also pointed out that Finding Your Roots isn't a news show, so it's not like he was compromising journalistic integrity. I kinda see both sides of the situation. On the one hand, if you're an American, you've got to know there's a *chance* your ancestors owned slaves. That goes for both races. However, he's right in that it wasn't a news show, and they had to go with what made the most sense from an entertainment standpoint. Considering he didn't want that aspect known, and PBS didn't initially want to cut it, I feel like they just should've scrapped the episode. Move on to the next celebrity and keep it moving. There's currently an ongoing internal investigation at PBS to determine if the omission violated PBS editorial standards.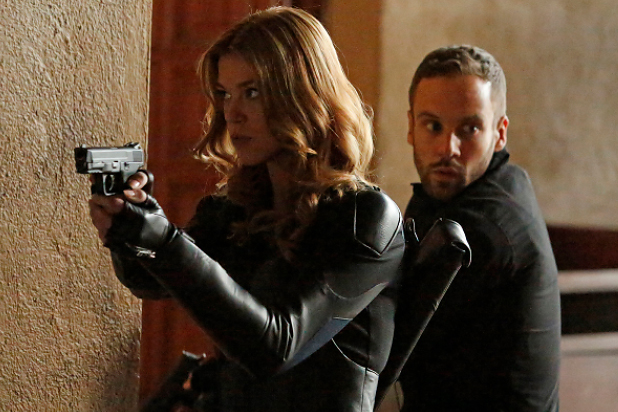 The television corner of the Marvel Universe certainly had a busy week. First off, it was revealed that 12 Years A Slave writer John Ridley was creating a Marvel Universe show for ABC. Later in the week, that rumor expanded, implying that he was working on a series based on current Ms. Marvel, Kamala Khan. Next, Deadline Hollywood reported that Agents of S.H.I.E.L.D. would be spinning off the characters of Mockingbird and her ex-husband Nick Hunter, in a Mr. & Mrs. Smith-esque spy drama. Finally, it was announced that Daredevil has been renewed for a second season, albeit with new showrunners.
Thoughts? Well, I kinda like Kamala Khan as a character, even though I think her powers are stupid. I wonder if America's ready for a show starring a female Muslim hero, but "you never know what you can do until you try", right? Ridley's 2006 Wildstorm miniseries The American Way showed that he understands heroes, while his current TV series, ABC's American Crime, shows that he can handle culture clashes. He's an interesting choice for a Marvel project, but I'd be really curious to see what he could bring to that universe.
As for the Mockingbird show, I feel like they should focus on making Agents of S.H.I.E.L.D. a solid show before spinning off one of its best components. I'm not the biggest Mockingbird fan, but I'll admit that the show has gotten more interesting since her debut. This new series is being looked at as a companion show to Agents of S.H.I.E.L.D., and may run concurrently, like Once Upon A Time and Once Upon A Time In Wonderland so unsuccessfully tried last season. If they do a spinoff, I'd be OK with Agents of S.H.I.E.L.D. going away, and letting the spinoff replace it. It'd be like how Benson went on to last twice as long as Soap, the show that birthed it. I love Phil Coulson, but I've always felt that he was a "less is more" character. On the Age of Ultron press circuit, Whedon said that he felt the resurrection of Coulson kinda took away the impact of his death in Avengers, and I have to agree. He went from this guy we saw every few movies to in our faces on a weekly basis. They could get Coulson out of the field, and put him in an actual director capacity, which would keep him out of sight. It'd be the way they used Richard Dean Anderson at the end of Stargate SG-1 – we wouldn't see him very often. This could also allow the AoS field team to disband and something different (potentially led by Mockingbird) could rise from its ashes. It'd be a good way to reboot the S.H.I.E.L.D. concept. Skye could move on since she's now powered and really has no business with S.H.I.E.L.D. I've never really liked Melinda May, though she could stick around as The Muscle. And I'm kinda tired of Fitz and Simmons. The team needs a shakeup, and the current S.H.I.E.L.D. vs S.H.I.E.L.D. storyline isn't doing enough to further that.
As for Daredevil, the news of a second season isn't really a surprise. It seems, however, that this could delay the Defenders team-up that was originally planned to close out the Marvel Netflix series. According to Forbes, Marvel initially shopped the series around as a 60-episode package: 13 episodes each of Daredevil, A.K.A. Jessica Jones, Luke Cage, and Iron Fist, with the remaining 8 episodes being devoted to a team-up series with all of those characters, called The Defenders. Since second seasons weren't part of the original plan, it stands to reason that The Defenders may get shuffled. The Forbes article even posits that The Defenders may actually precede Iron Fist – which doesn't yet have a production date in place. Marvel seems to want to get the Netflix characters into Avengers: Infinity War, so it'll be interesting to see how they handle the timeline over the next 3 years in order to make this happen.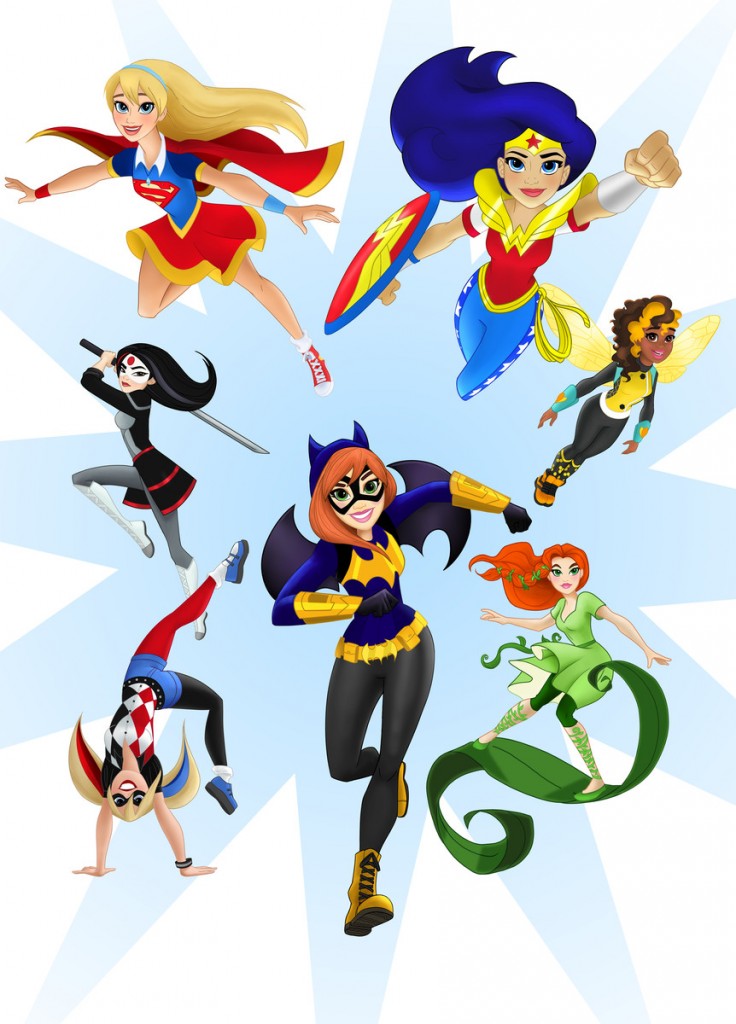 Meanwhile, DC Comics had some news of their own, as they announced the creation of DC Super Hero Girls. It's not the flashiest or catchiest name, but it makes DC look good during a week where Marvel is facing criticism for the lack of merchandise featuring female characters from their movies. Designed for girls aged 6-12, the cross-platform initiative centers around female super heroes and super villains of the DC Universe as "relatable teens", according to the press release. Mattel is a partner, and will create a line of action figures specifically targeted towards girls. One thing you'll notice from the art above is that the characters are mostly covered – something that's unusual for female characters in comics. As a new dad of a baby girl, I'm excited to see where this goes.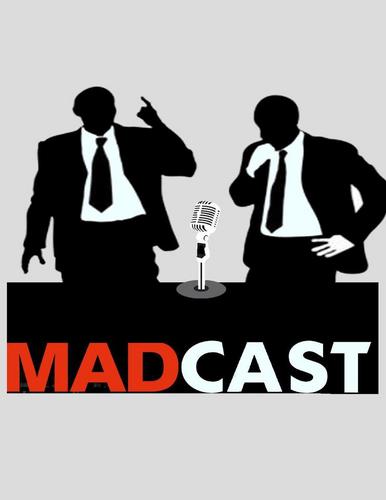 I had the pleasure of joining Corey over at the MadCast for this week's episode. If you're not familiar with the MadCast, it's the best Mad Men recap show around. We discussed this week's episode, "The Forecast", and I even got in some Three's Company references. If you're a Mad Men fan, check it out here.
Things You Might Have Missed This Week

-Bob Saget was NOT the original Danny Tanner
-I took the Jeopardy online test last week. I will not be on Jeopardy anytime soon.
-The official Batman v. Superman: Dawn of Justice trailer was released. It did absolutely nothing for me.
-The latest Jurassic World trailer was released. Still felt nothing.
-The new Fantastic Four trailer was released. Actually starting to look forward to that one.
-Nicole Perlman (Guardians of the Galaxy) and Meg LeFauve (Inside Out) will write Marvel's Captain Marvel film
–Agent Carter's Dominic Cooper (Howard Stark) has been cast as Jesse Custer in AMC's adaptation of the Vertigo Preacher comic. He will be joined by Agents of S.H.I.E.L.D.'s Ruth Negga (Raina).
-It was rumored that the title of the Arrow/The Flash spinoff will be Legends of Tomorrow. Meanwhile Edge of Tomorrow's Franz Drameh has joined the cast as a mysterious character named Jay Jackson.
-The next Star Trek movie will be released 7/8/16, and will be titled Star Trek: Beyond
-Speaking of Star Trek, it was revealed that a Galaxy Quest series is in development at Paramount. I think the concept worked well as a movie, but I don't see it as a weekly series. It might work as a 13-episode Netflix situation, though.
-Sandra Bullock was named People Magazine's 2015 World's Most Beautiful Woman
-After 53 years, Spanish-language variety show Sabado Gigante will end September 19th.
-Sony announced plans for a movie franchise based on the Valiant comic line. Good luck with that…
-Mr. Feeny will make his return to Girl Meets World in the season 2 premiere on May 11th.
-Animated Spider-Man film planned for 2018. Next to no other details are known at this time.
-Tyler Perry has been cast as Baxter Stockman in TMNT 2
Links I Loved
The Man Who Broke the Music Business – The New Yorker
10 Shows Marvel Should Make Before Mockingbird – The Robot's Pajamas
10 Things KB Toys Sold in 1998! – Dinosaur Dracula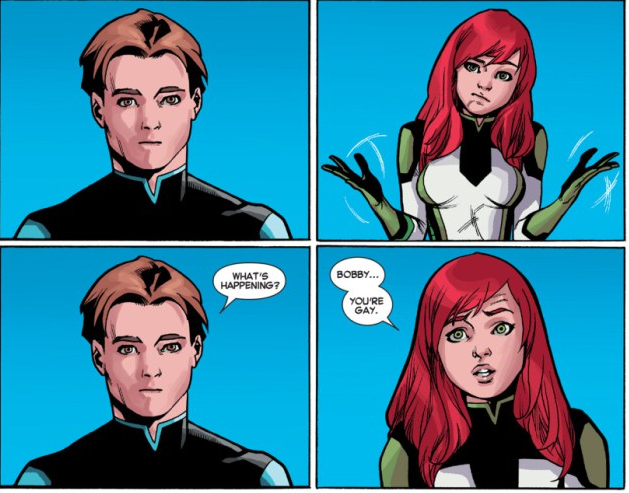 After wallowing in obscurity for years, X-Men team member Iceman finally became relevant again this week when the latest issue of All-New X-Men revealed that the character is gay. And news outlets went crazy with their "An Original X-Man Comes Out" headlines. But that's not exactly true. Long story short, the original X-Men of the past were brought to the present to see what their actions end up doing to mutantkind, in the hopes that their experiences will motivate them to change the present. Unfortunately, they can't get back home. So, the teen versions coexist in the present with the adult versions. Seeing as how the teen version of Iceman is gay, but the adult version is not, it's beginning to look like the past team is actually from an alternate timeline or universe.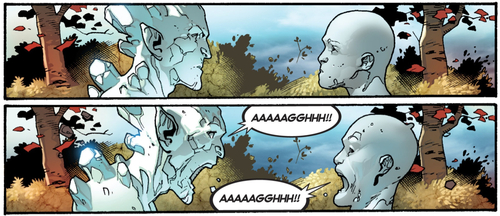 Still, this has sparked a lot of….interesting online conversations. Most of the comments are along the lines of "How come they're changing characters again?!" Well, they're not, really. The Iceman you knew and ignored is still around, and still straight. It's alternate timeline Teen Iceman who doesn't like the ladies. To me, that's kind of a copout. It allows Marvel to have its cake and eat it, too. Just say Iceman's gay. It won't negate any past stories (Sure, he dated Opal, but it's not like gay guys don't have women in their pasts), and it won't change anything about his heroism (or lack thereof). I just want him to be *interesting* again – something that hasn't happened since 1997's "Operation: Zero Tolerance" storyline. I've always kinda liked Iceman, and if this means that he'll be in the spotlight more, then I'm all for it. If they're just gonna shuffle him to the back of the line again, then it was a useless gesture. At the end of the day, the X-Men are about the battle for acceptance, be it about powers, race, or sexuality. So, this feels pretty fitting. If they'd created a new gay character, as the naysayers are suggesting they should have done, that character simply would've been a token. No, it had to be an existing character. Plus, there hasn't really been a "definitive" Iceman story, so he's perfect. He's an original team member with a ton of storytelling potential and little baggage.
I do, however, have problems with how Marvel handled it. Ya see, Iceman didn't come out – he was outed. There's a difference. This article goes into it much more eloquently than I can, but what Jean Grey did was invade Iceman's privacy by reading his mind. So, hopefully there will be some ramifications behind that.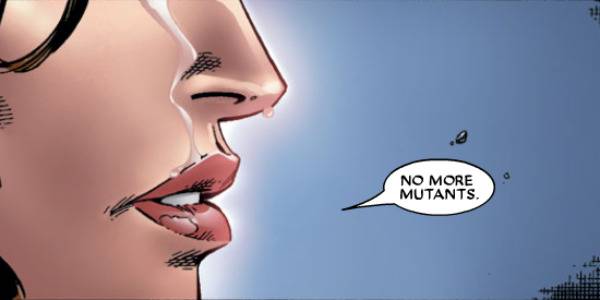 Also, this isn't the first time that Iceman has been used in the Something Drastic and Permanent Has Happened to an Original X-Man role. You see, a few years back, Marvel realized that everyone and their cousin was a mutant and something needed to be done to thin out the herd. So, during the House of M miniseries, Scarlet Witch cast the spell "No More Mutants", and this reduced Marvel's mutant population to approximately 198 people. In order to make readers feel the impact of what had happened, of course they needed one of the original X-Men to lose their powers. Enter: Iceman. Iceman, along with Magneto (who later got a power recharge from the High Evolutionary), lost his powers and was seemingly just a normal human. Until Marvel writers or whatever got cold feet, and Iceman realized he still had powers, but some sort of PTSD from the events of House of M was preventing him from being able to use them. So, in the long run, all of the original X-Men pretty much made it through the mass depowering unscathed, though no new mutants appeared for the next 2 years.
I really hope Marvel follows through with this and doesn't just retcon it via Secret Wars or something. If nothing else, however, this has given Iceman more attention than he's ever received. And for that reason, Iceman had the West Week Ever.