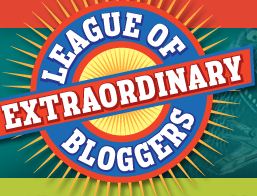 It's funny that this week's topic for The League is a "state of the site" address. You see, about a month ago, I posted a total emo rant over on Tumblr during a bout where I wasn't feeling so great. If you're interested, it's here, but it's not all sunshine and lollipops. I think my problem is that I'm constantly trying to figure out that one thing that'll put me over the top. I'm a funny dude, I've got a cool name, and I like the same stuff that you do. So, why do I not have disciples?! My blogging role models wouldn't surprise you: X-Entertainment/Dinosaur Dracula was my first geek blog reader experience, and I admire the empire that Rob Bricken has built over at Topless Robot. At the end of the day, I want what they have. I want to be the defining opinion on nerd culture. I want to be a frequent guest on podcasts. I want to be able to throw up a Kickstarter and meet my goal in a matter of hours. I WANT POWER!!!! I've been striving to find my niche, like the period of time I decided I wanted to be America's Top Blerd. Then, I stumbled upon Black Nerd hanging out with actual nerd-lebrities, and realized he'd already claimed the title.
Honestly, I think it's a bit different than that. I mean, power sounds fun and all, but one thing that people don't realize is that I live on the internet. Recently, I've come to realize that I have Aspie tendencies, and I don't like reality too much. My IRL friends call me and I avoid the phone, for reasons I can't really explain. Over the past couple of years, some of my most meaningful friendships have been online. For some, Twitter and Instagram and the like are just pastimes, but I honestly consider you people friends. When you disappear for a period of time, I worry. When you get married or have a kid, I celebrate. Sure, I've never met any of you, but that doesn't matter. So, the blog is a bit of an extension of that. I'm sharing myself with you, so I like to know that it's at least being accepted. Comments, retweets, blogroll addition – all of these make my day. Sure, that sounds sad to some, but that's really where I've found myself lately. There's always the whole "we can agree to disagree" thing, but if you reject my site, you're rejecting me. I put more of myself into it than expressing myself in everyday life.
There's a guy on Twitter. Most of you know him. Hell, he's probably the coolest guy to you. He likes to tweet his thoughts, which range from "random" to running commentary. Recently, he thought it was deplorable that people would no longer care about your opinion if you unfollowed them. This hit close to home to me because he had unfollowed me, and his opinion had pretty much faltered in my eyes. Sure, Twitter doesn't have to work both ways, but it should. Every now and then, you might accidentally follow the wrong person, and then have to come up with a digital equivalent of "it's not you, it's me" to get out of it, but I can see that line of reasoning. If my words no longer matter to you/annoy you, then why should I put up with your words? We're no longer having an exchange, so what's the point?
All of this probably sounds like rambling, but this is what I think about when I think of the site: What is my reach? Have I done anything that has gained traction? Does this feel like it did when I started back in 2003? What do I get out of this process? Over the past year, a few things have stood out to me. I think I've settled into 4 basic themes/features that seem to work:
Thrift Justice/Thrift Justice:YSE – The place where I showcase things I find at thrift stores and yard sales. This has been more successful than I could've imagined. I'm far from the only one doing this stuff (Flea Market Finds over at Toy World Order, Goodwill Hunting for Geeks), but I certainly struck at the right time. With shows like Collection Intervention and Toy Hunter, it's a good time to be in the "buried treasure" game. I could honestly write these forever, based solely on the amount of stuff I've already found. I could never set foot in another thrift store, and still keep that feature going for another 2 years.
Comical Thoughts – I'm hesitant to make this a "feature", per se, but it serves as a nice umbrella under which to discuss comics. I'm not as comic-focused as in the past, as the thrift stuff has taken over my life. Still, I've been able to have some good, focused discussions on events in the comic industry.
Adventures West Coast – This one is harder to do than it seems. Ya see, I got laid off a couple of years ago and found myself with a lot of time on my hands, and a lot of unread graphic novels on my shelves. So, AWC was where I'd review all the graphic novels I read during that stint of "funemployment". The problem is that I was reading more than I was writing. Once I started working again, if I read a graphic novel, I just folded it into the stack read during the unemployment. THEN, I got laid off again. Rinse and repeat. Long story short, I now have an IKEA Billy bookcase filled with books I've read but haven't reviewed. Many of those books were terrible, while others weren't memorable. I have a Gotham villain-like tic, where I swore that I HAD to review it if I read it, even when there wasn't much to say about certain books. I'm currently trying to figure out where to take that concept.
Best of the West – I'm a collector. This comes as no surprise. This segment is where I showcase the absolute BEST of my collection. The holy grails, the white whales, the black Republicans – ya know, rare stuff. So, these shouldn't be too frequent, but shouldn't disappear altogether. I'm trying to figure out a logical schedule for those.
Upcoming Ideas
Track Star – I've really lost my grasp on bubblegum pop. Music has always been important to me, but it hasn't been a big focus of the blog in recent years. The problem is that it's hard to find people who actually want to read about "bad" music. Everyone wants to be ahead of the curve, blogging about The Next Big Thing, but I actually like to focus on gems that fell through the cracks. I dwell in the world of "guilty pleasure" music, like boybands, UK pop groups, and the like. My last attempt was Westlife Wednesday over on Tumblr, but I'd be lying if I said I'd ever figured out how to get Tumblr to work for me. I think I've come up with a great angle for this, but I'm waiting on the graphics department before I unveil it.
Book Retort – Contrary to popular belief, I do read "real" books. I don't, however have an outlet to discuss those. Since I get my fiction from comics, I tend to gravitate towards non-fiction and biographies. Lately, I've been on an "autobiographies by comedians" kick, so a lot of Mindy Kaling, Tina Fey, and Chelsea Handler. I need to find a way to sneak this into the rotation somewhere.
Real Life – yeah, this isn't really a "feature", but I don't talk about my life much anymore. Despite the narcissistic nature of using all my name for all my screennames, I'm still a somewhat private person. Still, this flies in the face of the former nature of this site, as I jokingly say that it used  to read like a Livejournal. Then, I revamped the site, deleted about 100 posts to retcon certain people/events, and then threw myself into geekdom. I know that my wife (wow, that's the first time I've typed that), Lindsay, would like to be mentioned more so I need to find a happy medium of "how much do you need/want to know about me outside of geek stuffs?" I think this will happen organically, but it's still on my mind.
Visuals – I wish I knew graphic design, or at least had a designer in my pocket. I need a header, I need logos, and few people are willing to work for free. I really need to figure out what to do there. I've got ideas, but no way to bring them to fruition. I am, however, happy with the general layout of the site for the first time. I'd like to take that to another level.
Don't let the introspection fool you, though – It's been a good year online.
-Guested on the General Geekery, Nerd Lunch, Super Hero Time, and PowetCast podcasts.
-Launched my e-store, Will's World of Wonder
-Finally compiled my Black History Month calendar
-Made lots of new friends
So, thanks for reading, and here's to another year of this mess. 2013 marks my 10th year of blogging, so it should be pretty exciting. Until next time, check out these other great blogs to see what they've been up to recently:
http://goodwillhunting4geeks.blogspot.com/2012/10/day-24-state-of-site.html
http://that-figures.blogspot.com/2012/10/feature-loeb-state-of-site.html