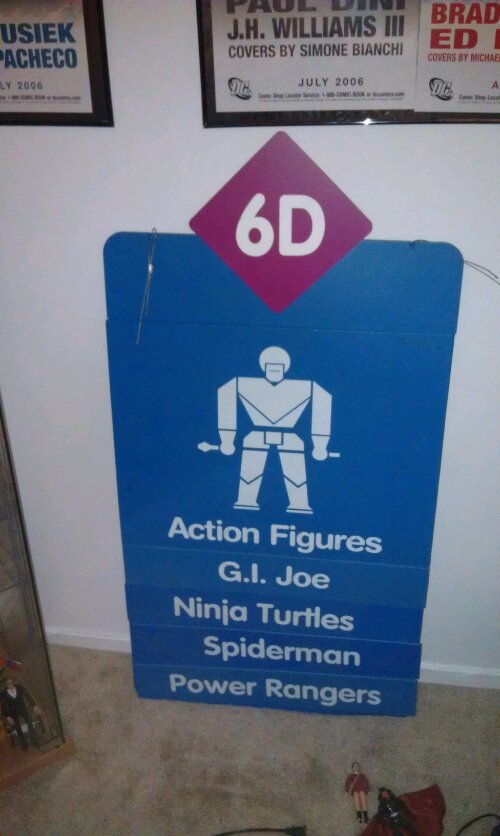 So, I'm not sure if anyone remembers, but I created "Best of the West" to showcase the jewels of my personal collection. I only posted under that heading once, and that was to discuss my autographed Obama Spidey comic. I kinda got preoccupied with yard sales, and let's face it – a collect a lot of shit! Anyway, I know my pal Mike enjoyed this feature, and Brian over at Cool and Collected recently asked when we'd see the West Collection. I don't know when I'll ever get around to a full collection post, so the Best of the West segments will have to do for now.
Today's item is a quirky one. If it's your first time reading about me, I worked for Toys "R" Us in a part time capacity for 10 years. It was my first job out of high school, and I just couldn't tear myself away. I fought on the beaches of the Great Gundam War of '01. I waged the storms of the Pokemon Tsunami. I tickled many an Elmo, and I laughed in the face of the fabled NeoPet epidemic. We lost a lot of good men out there.
Before working at TRU, I thought I had a love for toys. I thought I loved toys of all shapes and sizes. Just say the word "toy" and my face would light up. About 2 weeks into my TRU career, I began to realize that I didn't love "toys". I loved "action figures". You see, when you're a customer, you just go right in to the aisle that holds the stuff you like. All the other stuff is just part of the TRU obstacle course. Fuck a bike! If you're serious about cycling, you ain't buying a bike at TRU. And I didn't give a shit about car seats and Pack 'N Plays. No, I just loved aisles 6D and 7D – home of the action figures. Sadly, when you work for the store, you're forced to worry about those aforementioned departments. It didn't matter to me. They could assign me to diapers, bikes, or cart duty – I always found my way back to those 2 aisles.
Now, let me give you a little retail history lesson. In TRU's heyday, it was essentially a supermarket for toys. During the late 90s, it was decided that it had too much of a warehouse feel. So, aisles were partially done away with, as the company migrated towards the "racetrack" layout. In this new floorplan, the guest would follow a winding path around the store, with different "worlds" situated outside the track. There was Boys World, Girls World, Wheel World, etc. Supervisors were now "World Leaders", and the whole thing was supposed to make the shopping experience flow more easily for guests. Only important stores got the full floor plan. My store wasn't that important, so it still retained some of the old signage.
Then, the day after Christmas 2005, old Geoffrey decided that he didn't need us in his empire any longer. It wasn't too bad, though. Let me tell you this: there are few things more exciting than working for a store going through liquidation. No, seriously! I know some former Borders and Filene's employees might disagree, but there are no rules, and you no longer have corporate oversight. We hosted fake radio shows over the PA system, some chick wished cancer on my Asst.Manager because he couldn't process a return. Oh, and a mentally challenged guy came in and started masturbating in the R-Zone! I can't remember the last time my life was that exciting. But the one thing that remained was my love of action figures. It was that love that brought me there in the first place. So, as we were closing the place down, I grabbed the sign for aisle 6D. What I love about it is that it was promoting lines that weren't even really hot at the time, but I collected everything on this sign. If it had Ghostbusters, Batman, and Star Trek, you'd have my toy resume.
So, here it sits in my "office". Before taking it, I had no clue how heavy it would be. It's got to be a good 50 lbs, which is why it's just leaning against the wall. I can't hang that thing, and I'm amazed we've never heard of them falling and killing some kid. It's big, heavy, and doesn't really tie the decor of the room together, but it's my past. Batman has a giant penny, and I've got the sign to aisle 6D. After 10 years of lying about truck shipments, helping lost grandmas, and selling D batteries to lonely single moms, this is my trophy.