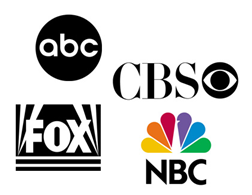 I'm not sure if this is obvious to some, but the "television experience" has changed a LOT in just a few short years. Once upon a time, people were concerned about airdates and antenna positioning, however, the prevalence of DVR and cable have pretty much done away with all of that. The aspect which has experienced the greatest change, however, is that of network branding. Currently, networks no longer really have a specific identity, instead choosing to let their shows speak for themselves. This can be confusing, though, as what does it say about a network when its most successful shows involve crime scene semen or anti-social nerd caricatures? This wasn't always the case. There was a time, not that long ago, when networks not only promoted their programming, but also their identities. This was true from the biggest network affiliate to the smallest local syndicated outlet. For example, Channel 5 used to show the same reruns of Mr. Belvedere, Three's Company, and Who's The Boss?, but for the summer of '92, they expected you to refer to it all as "Camp Teeheehaha". Sure, you'd seen the shows before, but they were taking advantage of the American experience of going off to summer camp in an attempt to rebrand the shows. That's some Don Draper shizz right there! Networks did little things like this to show that they supported their series; after all, they'd already paid for the syndication rights, so they might as well get their money's worth. Nowadays, all we have are court shows. If you miss one, another will be on right after it. There's no real need to promote, as there's no real difference: sassy black woman judge, sassy white woman judge, sassy might-be-Latina judge, etc. The shows have changed, but so has the promotion of said shows. So, where am I going with this? Well, growing up, I used to think about which network I'd want to be on were I to have my own series. As I grew from boy to man, in what was (to me) a golden age of television, I noticed certain things about each network that made me want to park myself on their prime-time lineup. Let's take a closer look, shall we?
ABC
This one is pretty much a no-brainer, as anyone who grew up in the 80s and 90s knows where I'm going with this. ABC had a bunch of shows which made them seem like The Touchy-Feely Network, whether it was the family drama of Life Goes On, or the generational experiences of Thirtysomething. Judith Light starred in the riveting TV movie of The Ryan White Story, and families loved gathering around to watch dads across America get hit in the crotch on America's Funniest Home Videos. All of those shows, however, had NOTHING on the powerhouse known as TGIF.
I'm not going to go into the history and lineup of the TGIF block, 'cause most of y'all were there. Maybe it's the comic fanboy in me, but what I loved most about TGIF was the shared universe. I guess I'm always looking for a sense of community, and I loved how the early series tended to be related to each other in some way: Mark Cooper (Hangin' With Mr. Cooper) subbed for Michelle Tanner's (Full House) class, while Harriet Winslow (Family Matters) was the elevator operator at Larry & Balki's job (Perfect Strangers). Steve Urkel (Family Matters) did a science project with Mark Foster (Step By Step), while Dana Foster (Step By Step) gave love advice to Cory Matthews (Boy Meets World) at Sea World. With all of this crossover action, it was kinda fun trying to imagine where I might fit in. Maybe I'd be friends with Eddie Winslow, like Weasel and Waldo Geraldo Faldo. Or maybe Karen Foster would reject me before her character oddly disappeared to pursue a country music career. Or maybe I'd be the black friend that Cory and Shawn used to have when Minkus was still around. The possibilities were endless!
One of this biggest perks of a perch on the TGIF lineup was that you also got to host the Saturday Morning Preview special. These are relics of days gone by, but back when networks still had Saturday morning cartoons, they always kicked off the season with the Saturday Morning Preview one Friday night in September (Sure, NBC had one, too, but those were usually hosted by Cosby kids or those awkward kids from ALF or The Torkelsons). The TGIF ones were great, as everyone was (usually) still in character and they genuinely seemed excited about dreck like Hammerman and Little Rosie. Everything was awesome in TGIF Land! As an added bonus, once Disney bought ABC, every show was pretty much required to do a stint at Disney World, so free vacation!
CBS
Growing up, I can't ever remember wanting to be on CBS. That's not to say that I didn't watch CBS shows. In fact, it was quite the opposite. Up until the dawn of the CSI Era, CBS got a bad rap as The Old Folks' Network. Yes, they had programming like Murder, She Wrote and 60 Minutes, but I never saw it like that. If anything, I always felt that CBS shows had a sense of maturity that couldn't be found on other networks. I grew up watching Murphy Brown and Designing Women – both shows that spoke more to my experience of being raised by strong, single women from the South. So, I never wanted to be on CBS, as I felt I was already there. Next!
NBC
While ABC was courting me with TGIF, NBC had another acronym waiting in the wings for my affection: TNBC. By far, the most successful NBC branding of that era was "Must-See TV", but I couldn't really relate to that. I enjoyed the shows, but they all took place in Manhattan, as the protagonists seemed to have these fantasy jobs that paid for their massive apartments. As much as I love New York, I wasn't gonna be on "Must-See Thursday" unless I sold a joint to Theo Huxtable or got transferred to Hillman College. Then, along came TNBC as a world of possibility for young black guys. Sure, Lisa Turtle didn't do much for The Cause, but California Dreams came along and showed me that I could be a drummer. And there was that black dude on The Guys Next Door – sure, no one remembers that show, but I remember he was there. Then, we got Saved By The Bell: The New Class, which always seemed to have a slot for a hip, dancing black guy that needed to be filled. And Hang Time – a show about basketball! C'mon! As a teenager growing up in the late 90s, nowhere felt like "home" as much as TNBC. Yes, I realize that those shows were basically created for girls, but I still kinda felt like those characters were my people.
The BIGGEST perk of being on NBC, however, is one of these:

I don't know if it's contractual or what, but if you're on an NBC show, you are pretty much guaranteed to film one of these public service announcements. A lot of PSAs just come off kinda clunky, but The More You Know has gained a special place in the annals of pop culture. Most PSAs are lame, but I always saw these as some kind of badge of honor. I'll take one of these over those Truth.com kids ANY day!
Fox
Oh, Fox! It's amazing how an entertainment network can be so edgy, while its news wing is so conservative. Fox was founded on Married…with Children, so that has colored its identity. While ABC was the Touchy-Feely Network, Fox was on the complete other end of that spectrum. Besides the early reality fare like World's Greatest Police Chases, there was a "Fox Show" model: the aforementioned Married…, Top of the Heap, even Herman's Head. Generally, if you wanted to make middle America uncomfortable for about 6 episodes, and your show wouldn't work anywhere else, then Fox was the place to be. Even to this day, I'm surprised by how much Fox Standards & Practices allows on the air – the entire Seth MacFarlane franchise is a good example of this.
I've admired Fox because they are willing to take chances. They still carry shows that you just wouldn't see anywhere else, and they miss more than they hit. The beauty of the network, however, is that it lives by American Idol alone. The show airs 5 months of the year, but the ratings are high enough to make Fox the #1 Network for the entire season. Growing up, all they had was The Simpsons, but the attitude seemed to be the same as it is now. Sure, reality programming has evolved, and Fox has taken advantage of that, but it's still the same old Fox. I'd want to be on Fox 'cause they'll promote the Hell out of your show during NFL and MLB games, but you're still gonna get cancelled after they move your show to Sundays at 7:00 PM.
UPN
Has there ever been a network with more of an identity crisis than UPN? It's remembered as The Black Network, but that's not entirely accurate. Sure, the network had a lot of horrible black shows, like Homeboys in Outer Space and The Secret Diary of Desmond Pfeiffer, but there was so much more to it than that. The oddest part of UPN was the it's prelaunch reputation didn't match what ended up on the screen. Here's the pre-launch promo for the network:
As you see, it's relying on the reputation of the shows that had been developed by Paramount in the past, yet doesn't really go into detail as to what we should expect from the network. Were they just going to rerun all those shows they just mentioned? Should we be expecting new stuff? Classical music! Rock music! Then, the network launched, and we were introduced to DiResta, Marker and Platypus Man. When your network is bolstered by shows starring a Mad About You costar and Richard Greico, you're in trouble. Yeah, there was Star Trek: Voyager, but it could also be said that UPN was the nail in the Trek coffin, as both of its offerings were reviled by fans. Early UPN was the television equivalent of the Dot Com Boom, as they really just threw around a lot of ideas to see if they'd stick. Richard Dean Anderson as a cowboy. A Love Boat reboot. A bunch of shows NBC had knocked off their schedule because they apparently weren't "New York" enough. Through all of this, there was one spot where I could see myself.
Around the time the NBC's TNBC block was at its peak, UPN started toying around with a similar concept for weekday afternoons. Comprised of reruns of Sweet Valley High and a new teen show called Breaker High, the network adopted the slogan "UPN is U'pn", which was pronounced "oo-pin". Sure, it made no sense, and to say it aloud sounds like something you'd hear in a commercial for Dunkaroos. Maybe they were implying that UPN was moving up? Maybe UPN was jumping? I don't know, but where there are teen shows, I'll be there. Anyway, Breaker High was about a bunch of kids who were in a semester-at-sea program. It had everything you'd come to expect from teen shows, but starred a charismatic Ryan Gosling and Tyler Labine. I loved the Hell out of that show, even though it didn't even last an entire season. The U'pn block ran for about 3 months on a daily schedule until it just disappeared one day in November, as the timeslot was given back to the stations. Breaker High finished up its run on Sunday mornings, but the only time I ever saw anything worthwhile in that network was the 3-month U'pn Era.
The WB
OK, I already covered the fact that I'm drawn to things that give off a sense of community, and no network exemplified that as much as The WB. When it first launched, the network's promos revolved around the image that all of the stars hung out on the Warner Bros backlot. Going to work seemed like it would be a ton of fun, as you'd see Nikki Cox on the elevator, and run into Tia and Tamara Mowry on the way to the set.
Plus, I was entering a point in my life where I really kinda wanted to be in a boyband. While girls my age were pining for heartthrobs, I wanted to be one, and nobody developed teen stars quite like The WB. The stars of those shows kept the teen magazine industry in business for the better part of a decade. If you were under the age of 20, and wanted to make it big, you either needed to fly to Orlando and audition for Lou Pearlman, or you needed to get yourself on a WB show.
Even though it's a bit of a joke in some circles, The WB did more for pop culture over a decade than people realize. I explored this once before, and my feelings haven't changed. For that reason, The WB is where I'd want my show to air. You can thank them for Buffy, even if you blame them for Katherine Heigl. To top things off, I think they had a really classy send-off video. A network hadn't folded since the DuMont Network, so I had no frame of reference for these things. However, if you've got to go out, this is the way to do it: