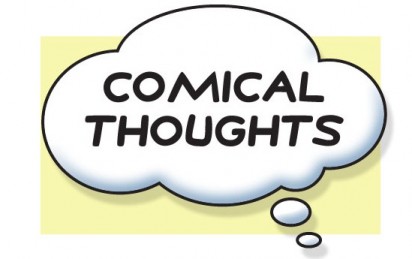 So, a lot of people have thoughts on the recent remarks that Marvel Editor in Chief Axel Alonso made regarding diversity. Ultimately, he said that retailers and consumers didn't seem to flock to the diversity push that Marvel was doing in their books. Fans came out in droves to dispute this, saying that there are other reasons that Marvel's losing sales. Well, I'm not gonna contribute to that conversation – at least, not directly. You see, I'm about 6 months behind on Marvel books, so I've missed a lot of this diversity push. I mean, I go to the shop every Wednesday, and I'm buying a TON of books, but there are only so many hours in the week, so I just haven't had the chance to read all of them. Oddly enough, I'm fairly current with a lot of the DC books I buy, mainly because they seemed to serve as better jumping-on points. I know everything happening in the Superman books and Teen Titans, but I only just read Civil War II, like, two weeks ago. Usually my Friday nights are consumed with me going on toy runs or napping, but the other day I said to myself, "Will, it's time to read some Marvel." I had a few thoughts on what I read, so I thought I'd share them here for anyone who's curious.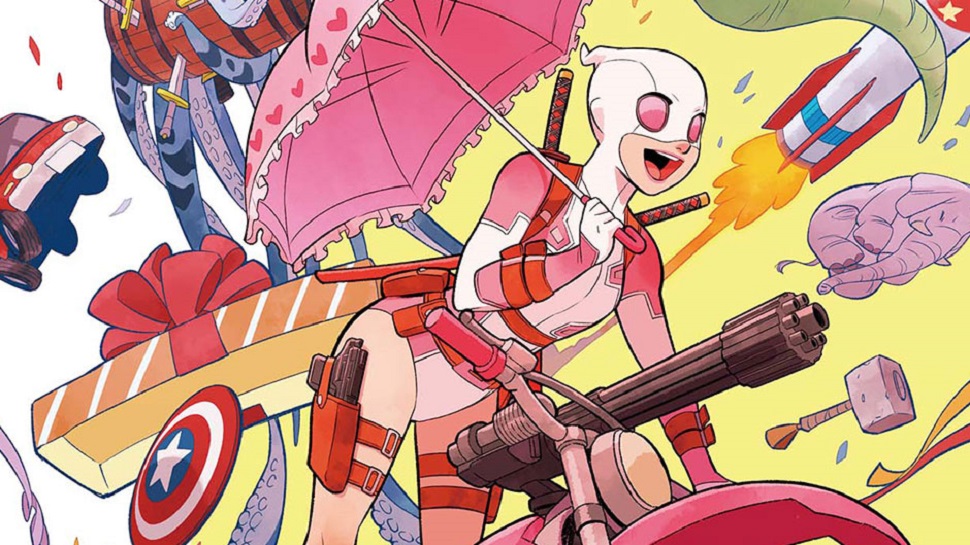 First up, I read the full run of The Unbelievable Gwenpool to date. I read #1 when it came out, and then the book just went to the bottom of a large stack. That's not to say I didn't enjoy that first issue. I mean, it's written by Christopher Hastings of the hilarious The Adventures of Dr. McNinja, so I already knew that I loved his style. The Gwenpool concept, on the surface, just sounds like a cash grab. Creating a Deadpool series used to be the equivalent of printing money (not so much anymore, looking at the sales for Deadpool and the Mercs for Money). Meanwhile, everyone and their mom seemed to love the idea of Spider-Gwen when she spun out of Spider-Verse. So, it was natural to put peanut butter in your chocolate by mixing the two.
Gwen Poole actually hails from our world, where all of the Marvel characters are just characters in comics books. By some mysterious means, she transports herself into the Marvel Universe, with her wealth of comic knowledge at her disposal. So, she knows everyone's identities, all their power sets, etc. This is similar to the Deadpool thing where he thinks of himself as a character in a comic book. Once she gets to the MU, she sets herself up as a mercenary even though she's not necessarily good at killing. She has limited hand to hand skills, and she's not a great shot. But she's pretty good at blowing shit up, which is what she does. The funny thing, though, is that they've never really explained why she's a killer. Maybe it's because she knows none of it is "real", so it doesn't matter if she kills somebody or not. After all, they're just fictional characters to her. Anyway, after a botched mission, she finds herself working for M.O.D.O.K (Mental Organism Designed Only For Killing) and his gang of mercenaries, which includes Captain America foe Batroc The Leaper.
Anyway, I LOVE THIS BOOK! I'm quick to talk about things I don't like, so I have to give equal credit to the things that I do like. I love the Gwenpool character, who's really just a perky teenage girl who likes blowing stuff up. It's kind of refreshing to meet a female character with an encyclopedic knowledge of comic book trivia, and it's cool to see how she employs that in her series. I've been a big fan of Dr McNinja for years, so I knew Hastings wouldn't disappoint and he surely didn't! It's a fun comic that really gives credence to the slang term "funnybook". If you're looking for fun in your comic reading, then definitely check this out. The sales on it aren't so hot, making it seem like she should've been left to do cameos for a while before getting her own series. That said, she's had 13 issues by now which, sadly, is an achievement in today's comic landscape. Don't let them cancel my Gwenpool! Buy this book today!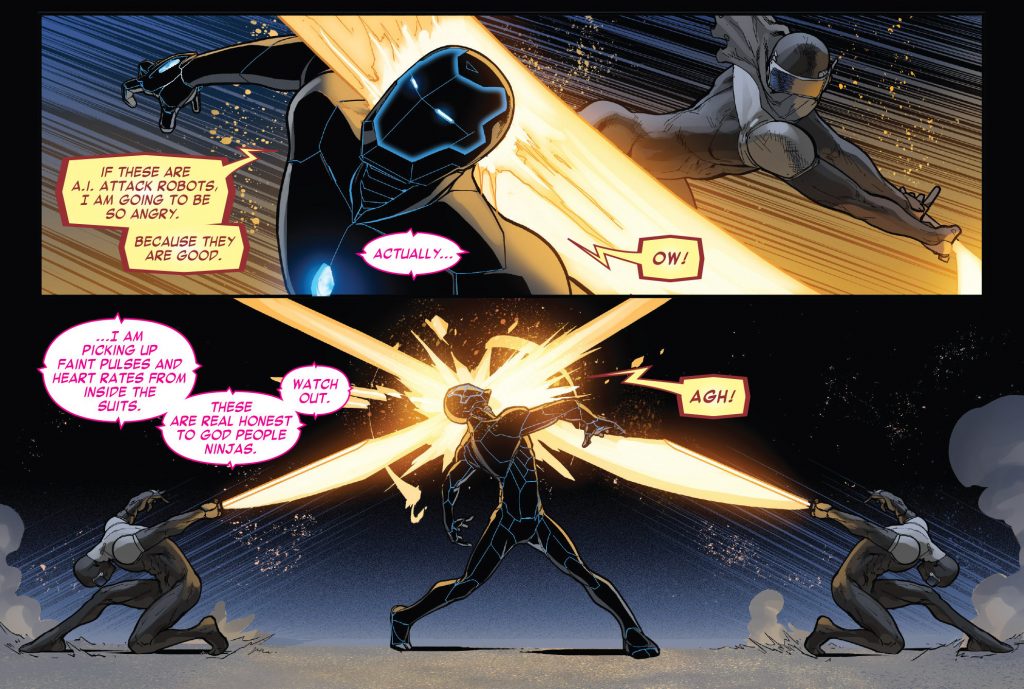 Next up, I finished the whatever volume it is for Invincible Iron Man. Ya know, the Bendis one, but the one before Civil War II. This series was kind of a waste, as it went nowhere. I'm not sure if plans got derailed because of CWII or what, but it's odd that so many issues were devoted to one story that just dead ends. Madame Masque is caught stealing items from various Stark facilities, and when Tony goes after her, he finds she's being chased by a group of cyber ninjas. That's pretty much it. In the end, he never finds her and never solves that mystery. They do introduce a new cyberhacker Inhuman, though. Yay. Meanwhile, there's a B-story of Stark trying to convince Mary Jane Watson to be his assistant/life coach. I've had my issues with Bendis, but I've got to say that this is him at his worst. Sure, there's snappy dialogue, but not much else.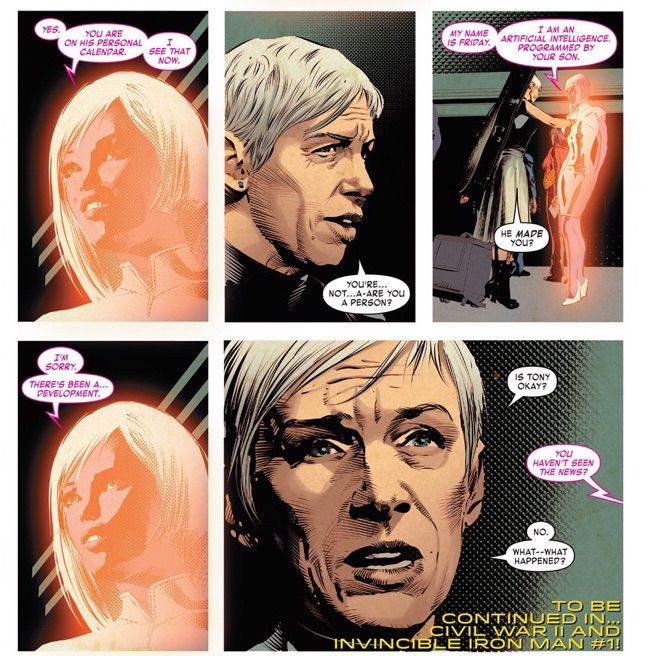 So, knowing that I needed to plod through my Iron Man backlog, I begrudgingly jumped into International Iron Man. This series made up for everything that was wrong with Invincible Iron Man. My only quibble is that, at 7 issues, it should have been an arc in Invincible Iron Man instead of its own standalone series. In the previous Iron Man series (the one after Superior Iron Man, but before the Bendis Invincible Iron Man), Tony discovered that Howard and Maria Stark were not his birth parents. In this series, Tony sets out to find his real parents, interspersed with flashbacks to the story of his first love, Cassandra, who was the daughter of arms dealers who were also business rivals of his father. Cassandra was in Tony's life around the time that Howard died, so he finds it odd that she resurfaces, now an arms dealer herself, at the same time he's searching for his birth parents. He thinks she knows something, but she's not talking. In the end, Tony finds his mom, Amanda Armstrong, who's basically Annie Lenox. No, I swear Maleev used Lenox as the model for Armstrong. The last two issues tell the story of Tony's parents' love affair, and it's some damn good writing. This is Bendis at his best. I want an Agents of S.H.I.E.L.D. arc of just this story (it's good, but it's not summer theatrical blockbuster good), but there's no way they'd cover Stark stuff on TV. At the end, it says that the story will be continued in the next volume of Invincible Iron Man – ya know, the one starring Riri/Ironheart. So, I'm not quite sure how that's gonna work. Is Amanda Armstrong going to be a supporting character in the book while her son spoiler alert is in a coma in S.H.I.E.L.D. custody? I haven't read the Riri series yet (it's in the pile), so don't tell me what happens. Where Invincible left me disappointed, International proved to me that Bendis understands Tony Stark.
The interesting takeaway I had from the series, however, is that Tony Stark is a result of Nurture and not Nature. I mean, it was always assumed he was a genius because his father was a genius, and it was in his blood. Now that we know his real parents were just undercover S.H.I.E.L.D. agents, it becomes clear that Tony was a product of his environment and upbringing, rather than possessing some inherited genius. I'm curious to see if they'll do anything with that going forward. Ya know, when he "wakes up".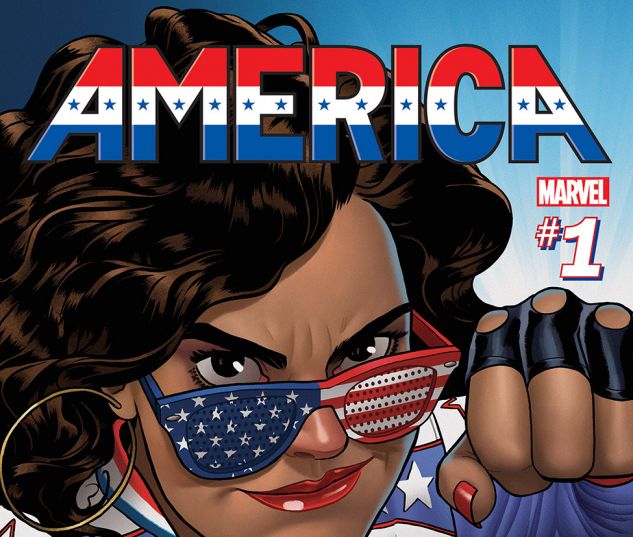 Ya can't love everything, though, and that's where America comes in. I HATED that comic. I hate the character. I don't really know where she came from, as I wasn't reading Young Avengers at that point, but I find her obnoxious to no end. If you're not familiar, Miss America, AKA America Chavez, is from another dimension where she had two moms who sacrificed themselves to save creation. She has the power to punch star-shaped portals between dimensions, and she's strong, and fast, and can fly. Basically, she can do everything but project energy. Oh, and she's a bad ass motherfucker. She can do ALL the things, and that's kinda why I hate her. This is about to get dicey, so strap in. Ya see, a lot of people are going to say that I don't like her just because she's queer. There aren't a lot of prominent queer characters in comics, so I understand her importance to representation. That said, she's guilty of what I call the "Queer Eye-ification of Pop Culture".
Let's take a trip back to 2003, shall we? Bravo introduced the reality show Queer Eye for the Straight Guy, where 5 queer men (don't say "gay", because a couple of them were bi) gave schlubs makeovers. Carson changed their clothes, Kyan changed their hair, Ted changed their food, Tom changed their furnishings, and Jay…well, Jay taught them how to open CDs. No, that really happed. The principal underlying theme, however, was basically "Look, queer people are better than you in every single way! They dress better, they cook better, they have better hair, and better décor. What's wrong with you, straight people? Why do you suck so much?" For a while, that approach kinda worked. The show was a hit. Then I think folks got tired of the formula. We got it. They were all great at shit, but they stopped being relatable. After all, they were experts, and not just regular guys.
That's my problem with America. She's too good. She does it all. What are her weaknesses, her faults, her fears? I didn't get that from her. Instead, she seems to have this false bravado of being the baddest bitch on the block, and that just doesn't appeal to me. Is that what queer readers want? Do they want a character who seems to suffer from doing-too-much-itis? Or do they want a relatable character, like a queer Peter Parker who's an amazing hero, but still has everyday problems? As a cis, straight male, I can't answer that. I know what I think I would want, and this ain't it. The market will dictate whether or not I'm wrong. Instead of the whole "Queer people are the awesomest", maybe the more realistic approach is "Queer people are just like everyone." I know I'm veering dangerously close to the camp of folks who say things like "Well, why isn't there a White History Month?" I'm not trying to take anything from queer identity, but the way it's expressed here contributes to why I don't like that character. I fear this overcompensation is a trope commonly used as a "foot in the door" technique to get some folks to accept uncomfortable ideas, but I feel it does the queer community a disservice by reinforcing stereotypes/setting up unreal expectations.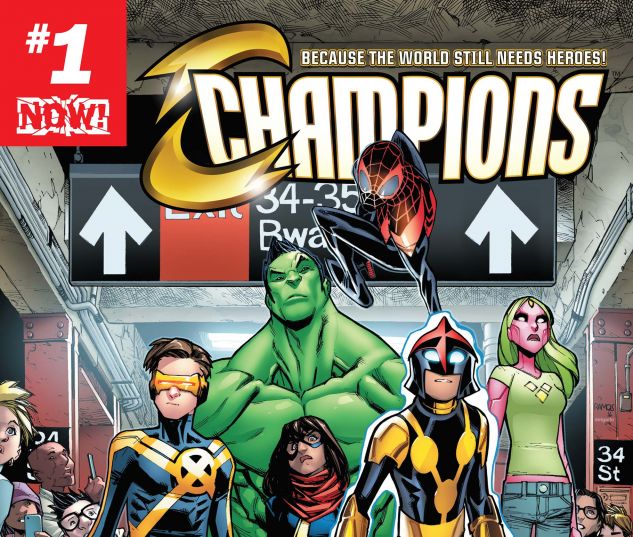 Following this thinking leads me to the new Champions comic, which is downright irresponsible in its storytelling. Back during Civil War II, the young members of the Avengers became disenchanted with the elder members because they didn't feel the team was doing enough to really change the world, instead spending more time in-fighting in the hero community. So, they quit the team before that story even wrapped up. As Champions picks up, Ms. Marvel reaches out to Nova (Sam Alexander – gotta specify, since there are two now) and Spider-Man (Miles Morales – gotta specify since there are two now) to convince them that they should be out doing the stuff that the Avengers refuse to do. They go on a mini recruitment drive, which results in the Hulk (Amadeus Cho – gotta specify since…you get it by now), and Viv Vision joining the team.
Champions is the wrong name for this book. Honestly, it should be the New Warriors, because they are TOTAL social justice warriors. I normally don't even dip my toe into those labeled waters, but that's exactly what this book is about. Ms. Marvel has created a team of other teens who do nothing but seek social justice. When older Marvel fans say that they're tired of the diversity push, I have to believe that this is the book they're talking about.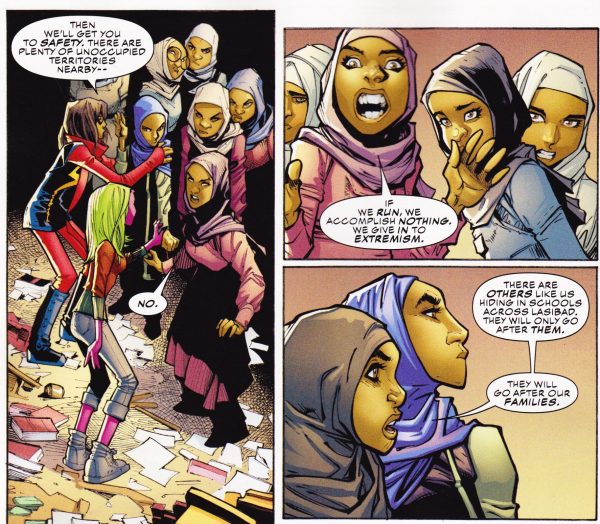 I say they're irresponsible because they tackle concepts that can't be solved by punching, yet that's exactly how they try to solve them. They went to the Middle East to stop an extremist Muslim group from killing women who were just trying to learn. They went to a small town to face off against a racist sheriff who bombed the local mosque. Instead of facing villains, all of their "foes" are systemic issues that aren't easy fixes. Somehow, though, they manage to "fix" things in 22 pages. To use old slang, these kids are cruising for a bruising. There's a reason the Avengers don't handle these sorts of things, mainly because they're old and wise enough to know there are no easy fixes. Racism ain't Galactus. There's nothing to punch. The only reason I would stick with the book is that there's GOT to be a reckoning coming to teach them a lesson. The last time a team of teens was this irresponsible resulted in the destruction of the town of Stamford, Connecticut. I HAVE to believe the Champions exist only to set up some post-Secret Empire event.
The sad thing about all of this is that I like these characters. I've been a Miles Morales booster since day one, and I loved Sam Alexander's Nova from the outset. I was late to the Kamala Khan party, but she's cool, too. I don't like how Amadeus Cho's Hulk is painted as a green Bro in the book, but I'm really behind on his title, so maybe that's who he is now. And I haven't read The Visions yet, so I don't know anything about Viv. All that said, I'd hate to see anything bad happen to any of these guys, but that seems to be the path they're on. It just seems like such mishandling of some great concepts. From when I was reading Captain America: Sam Wilson, the big takeaway was that there are some things you can't fight head-on, but it seems like the Champions are gonna have to learn that the hard way.
So, I guess I did have thoughts about Marvel's diversity after all. Is it killing books? Not necessarily. It's just not being done well. Feels tokeny. There are a lot of great female-led books right now, like the afore-mentioned Gwenpool and Jessica Jones (which I'll talk about another time since this has already gotten way longer than I initially expected). But the minority portrayals aren't that strong. I've still got a LOT more to read, though, so maybe it gets better? We'll just have to see.