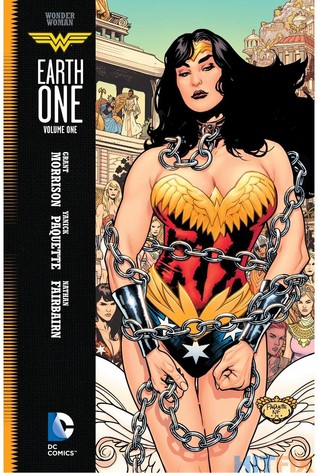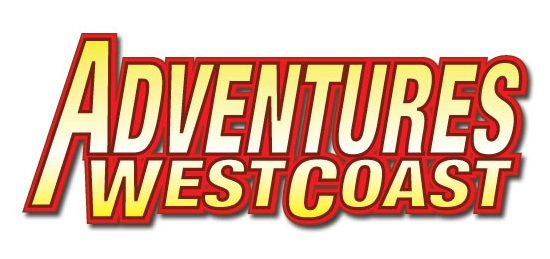 Wonder Woman: Earth One is the least "Grant Morrison" project I've ever read from Morrison, and I'm not sure if that's a good thing or a bad thing. I've come to expect a bunch of "over my head" stuff from Morrison's work, as I rarely even understand most of it. So, when he actually brings a fairly grounded approach to Wonder Woman, I'm almost disappointed that he didn't bring his patented magic to the book.
If you're not familiar with the Earth One books, they're reimaginings of the popular DC Comics heroes, with the stories taking place on a "real world" Earth much like our own. The series started a few years ago, focusing on Superman (I reviewed the second volume of that book), followed by Batman, Teen Titans, and now Wonder Woman.
Now, I have to go on record that I've never been the biggest Wonder Woman fan. Sure, she's part of DC's "Trinity", but her greatest strength is just the longevity of her publication history. She's got no rogues gallery, and there are very few "iconic" Wonder Woman stories. Since her film debut in Batman v Superman: Dawn of Justice, however, I've developed a newfound respect for the character, and I've been searching for a comic that really gets to her core. As the first volume of an Earth One series, this was bound to be an origin story, so I thought it would be a great place to start. Despite the fact that I don't necessarily "get" a lot of Grant Morrison's work, he has a reputation for getting to the core of characters, and here he is teamed with Yanick Paquette, with whom he worked on The Seven Soldiers of Victory, which I enjoyed.
The story opens to a flashback of Hercules and his crew trying to subjugate the Amazons. After Hippolyta, Queen of the Amazons, kills Hercules, she frees the other Amazons from captivity, and they proceed to murder their would-be captors. At this point, they decide to retreat from Man's World , and we are then taken to present day Paradise Island – an idyllic utopia established by the Amazons, untouched by men. They're flying around on hovercycles and in invisible jets, and my chauvinism came out: my first thought was "What man created those for them?" Yeah, I know I suck, but admitting it is the first step to recovery, right?
Anyway, Diana, daughter of Hippolyta, is being brought back to Paradise Island in chains, on trial for breaking Amazon law and going to Man's World. Through various testimonies, we learn how Diana discovered an injured pilot named Steve Trevor, who had crash landed on the island. Knowing that he would be killed simply for being a man, she devises a scheme to get him back to the US for the medical help that he needs. Along the way, she finds herself bewildered by the state of women in Man's World, and she ends up getting a makeover from a sorority. Yeah, that happened.
The book does take some interesting liberties with the story, however. For example, Steve Trevor is a Black man in this version, which works just fine. After all, there's nothing that says he had to be White other than the time period in which he was created. Another thing is that the story confirms Wonder Woman as a queer character, as its her lover's invisible jet that she steals in order to get Trevor to safety. I just find it interesting that the latest news cycle revolved around the fact that the current Wonder Woman writer, Greg Rucka, had identified her as queer when this story predated his run. So, either nobody read this thing OR they figured it "didn't count" since it takes place on another Earth.
The art is beautiful, yet flat. There's no real action, and the characters look like Colorforms just creatively placed around the page. It almost felt like Paquette took a page from the Greg Land playbook, where the model images come from different sources so they don't necessarily mesh well when placed together. As pretty as the art may be, I'm not sure it really complements the story being told.
I'm not going to spoil the whole thing, as most of the story is told through flashbacks, and would make more sense if you read it. At the end of the day, though, Morrison basically just gives us an update of The Little Mermaid. Diana has everything she could want, but she knows there's more out in the world and she wants to experience it, much to the chagrin of her royal parent. There's little depth to Diana, and it's odd seeing Morrison tackle a character who's so brazenly optimistic. There's typically a darkness to his subjects, which probably lends to their complexity. It's a cute story – the kind of thing you could read to your young daughter before she goes to sleep. But it's not a Morrison Story, which is synonymous with layers and crazy, wacky shit. I guess I should appreciate the fact that he wrote something I can actually grasp, but part of me feels like he just phoned it in. I've found that a lot of the heroes' depiction in the Earth One books leaves a lot to be desired, so maybe this follows that pattern. Their Superman is a quiet loner. Their Batman is kind of a doofus who's a shitty detective. So, I guess it makes sense that their Wonder Woman would be a peppy cheerleader. It just feels like such a wasted opportunity, though. Here, Morrison seems out of his element, and has little to offer a story that's been told better by others before him.