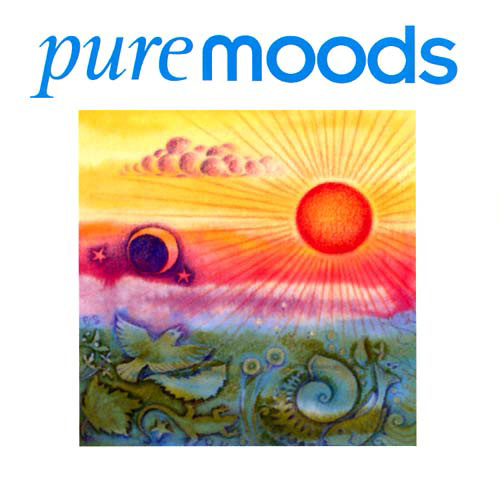 I can't believe I never wrote about this sooner. Anyway, I took piano lessons for about 10 years. While I was supposed to be learning classical piano, my tastes veered toward the New Age spectrum. People love to laugh at the likes of Enya, Yanni, etc, but I loved that stuff. In fact, I didn't even know what "new age" music was until I started playing piano. It soon became one of my favorite genres, especially in terms of helping me relax. Well, here's a story of how New Age went bad. And it's all thanks to a little CD called Pure Moods.
I've written about my love of infomercial CD sets in the past, but none appealed to me like Pure Moods. Sure, I already knew about Enya because of "Sail Away (Orinoco Flow)", but there were all these other artists I'd never heard of. There was techno (Robert Miles), Native American chants (Sacred Spirit), and bells! Eventually, I learned that you could actually buy this collection in stores, and it went to the top of my Must Buy CD list. I scrimped and saved my money, and one Saturday I finally got my mom to take me to Borders (R.I.P.) to pick up the CD. It was August 30, 1997, and I remember it like it was yesterday.
My friend, Brett, had actually come over for a sleepover, and like a great friend, I completely ignored him while I listened to my new prize. Since I loved "Sail Away", I must've listened to it on repeat several times before getting on with the rest of the album. It was the second track, so I didn't get far into it. I commonly watch TV while my headphones are tuned to something entirely different, and I was doing this at that time. I think Brett was reading a comic or something so, again, I didn't feel like I was being the terrible friend that I was. I remember Saturday Night Live was coming on, but I didn't care enough to take off my headphones.
A few minutes into the telecast, there was a Breaking News update. This was pre-internet (unless you were an AOL family), so these things were still kinda serious back then. Remember the date I listed above? Well, you see, that was the night that the paparazzi followed Princess Diana and Dodi Fayed into that tunnel. Yeah, the breaking news was about the accident. It's hard to remember now, but this was when she was "The People's Princess". She was all about doing away with landmines, and she was just a sweet charitable woman. Surely, nothing bad would happen to her, right? So, I kept on looping Pure Moods, while fearing the worst. They had the camera trained on the outside of the tunnel, and that's about all the TV showed for about 2 hrs. With each passing report, things were getting worse and worse for Princess Di. Then, they announced that she had died.
I don't care much about celebrity deaths. Never really have. That one, for some reason, felt different to me. The next day, I was in a "How could this happen to such a sweet lady?" mood. All she ever wanted was happiness, and it seemed like she never found it. Sure, she probably found it in her kids, but she'd been in an unhappy marriage, then there were the affair rumors and everything else. Everyone has the right to happiness, but I, in my little world, felt like she had left the world without truly finding happiness, and that bothered me. Worst of all, however, it ruined my relaxation flow. You see, Pure Moods was ruined. I couldn't listen to it without seeing the images from the tunnel all over again. Here we are, 16 years later, and it still has the same effect. In fact, it wouldn't be the last time that Enya was associated with tragedy, as her single "Only Time" became associated with the various 9/11 tributes. Anyway, after that night, Pure Moods was basically ruined for me, and I thought that was it. Then, Pure Moods II came out…