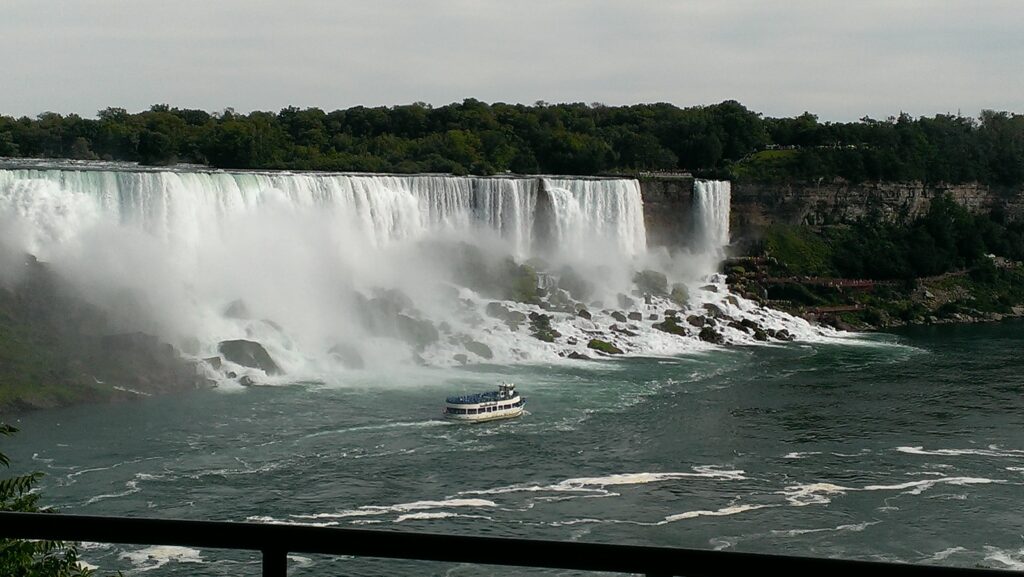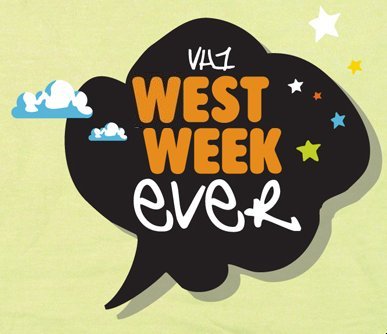 So, to get this out of the way, Canada had the West Week Ever. Pourquoi, you might ask? Well, that's because Lindsay and I spent the better part of a week there, and I'm here to tell you all about it. She's a teacher and only gets about a month off because she teaches summer school. We were originally going to go somewhere tropical, but we dragged our feet and didn't book anything. Then, she came up with the bright idea of Niagara Falls. I'm not sure I though much of it at the time (I don't like getting excited about things 'cause it just leads to disappointment. You can learn a lot about me from that sentence), but it turned out to be a great idea.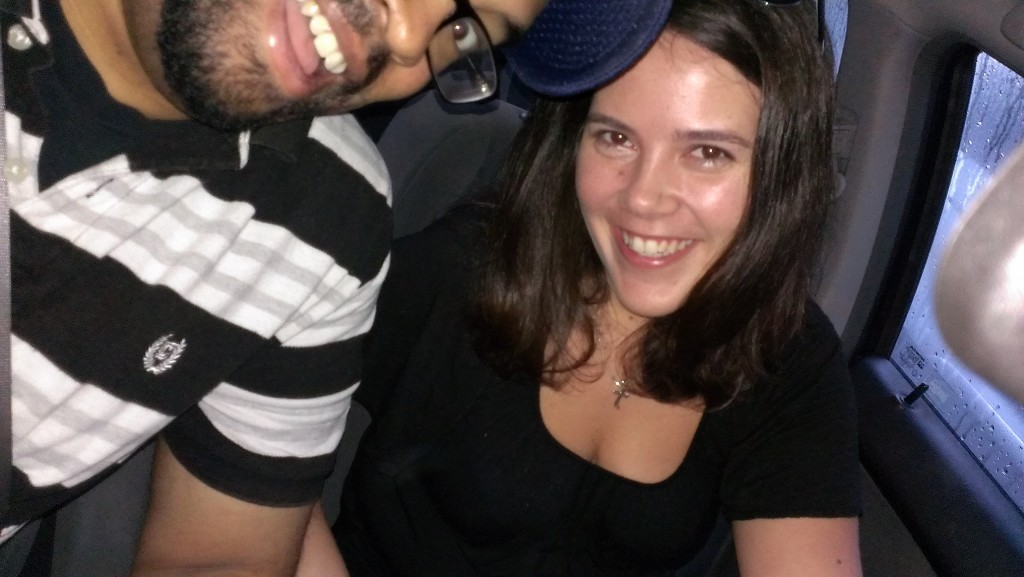 We woke up early Sunday morning and set off for Niagara Falls. After a 7 hr drive, abbreviated by Walmart stops, we arrived to the American side of the falls. First, however, we had to check into our Bates Motel room. This place was so antiquated that they still had KEYS! Anyway, we explored the American falls, and experienced Cave of the Winds (btw, not a real cave), where you walk along the falls, while they drench you. They give you sandals and a poncho, but it doesn't matter. You still get soaked. Afterwards, we walked around and checked out the Seneca Niagara casino. That night, we drove to Buffalo and had authentic wings at Duff's. Apparently, you don't call them Buffalo wings in Buffalo; they're just "wings". Lesson learned!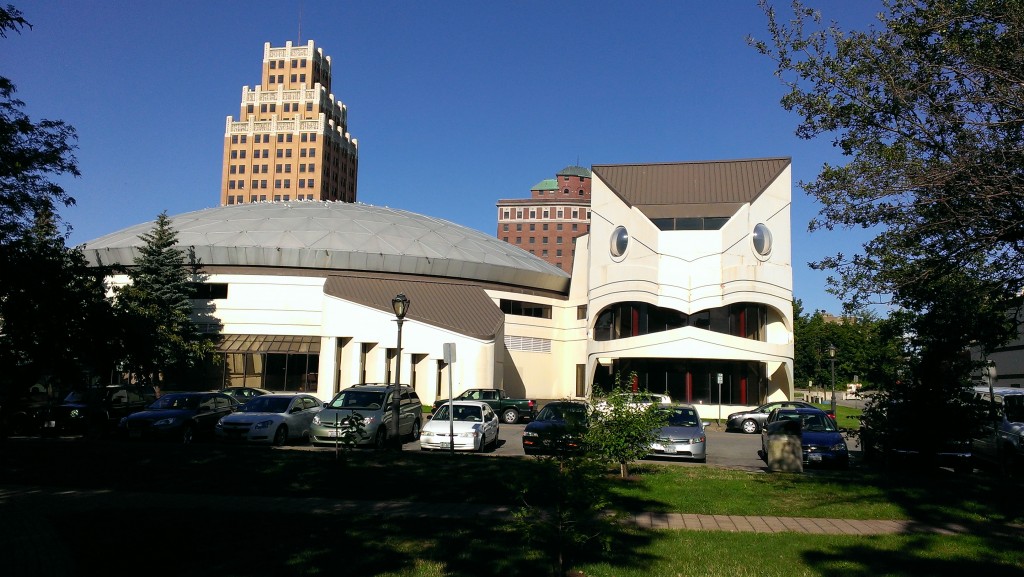 -I saw a building shaped like a turtle!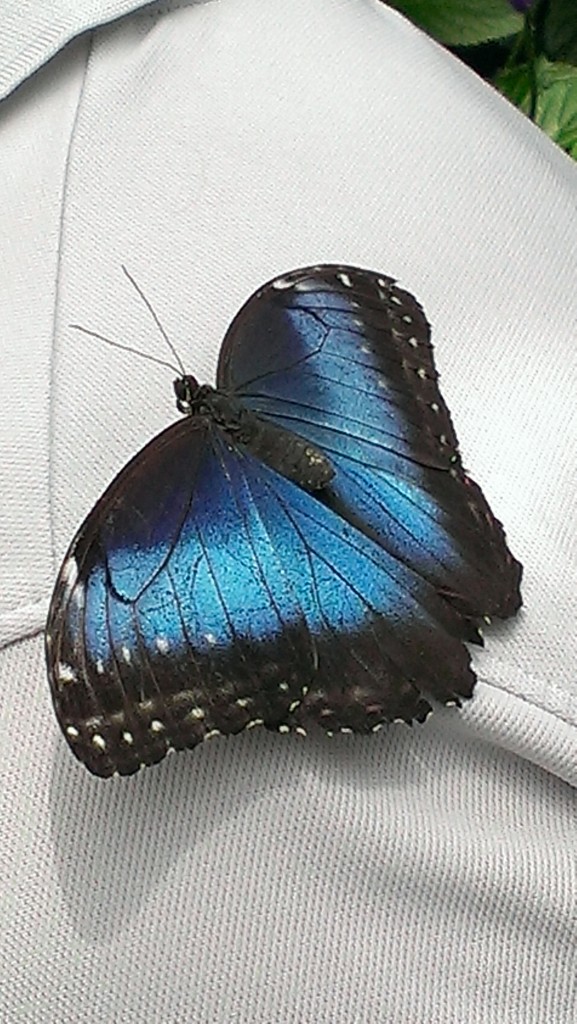 The next day we went over to the Canada side, where we visited a butterfly conservatory. Next, we boarded the Maid of the Mist, which takes you right up next to the falls. Afterwards, we walked around downtown, and waited for the 10 PM fireworks. On Tuesday, we packed up our stuff and moved to our hotel in Toronto. Called the Stay Inn, it was MUCH nicer than the Niagara place, and I hated to leave it to go sightseeing! We made the mistake of venturing out at rush hour, but we made our way to the hipster area, where we ate dinner at The Burger Priest, and dessert at G is For Gelato.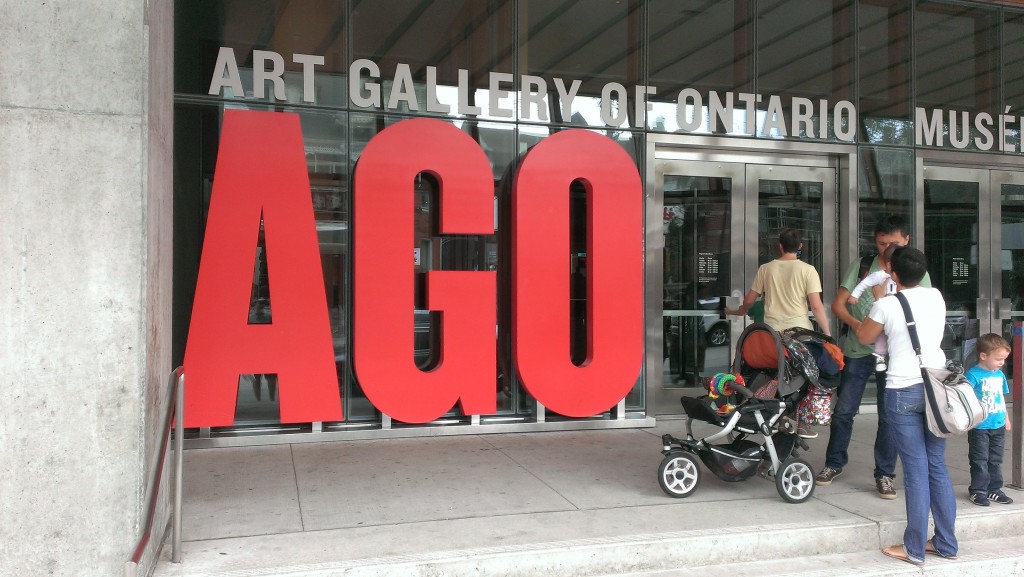 On our last full day in town, we walked ALL OVER THE CITY! We popped into the Art Gallery of Ontario, walked along the waterfront, and experienced the Toronto subway. Yesterday, we packed it all up and headed home. In all, it was a great trip, and the first time we'd really been away for a reason other than someone's wedding. Still, before I leave you, I had some more random thoughts about Canada:
-There are only 3 songs on Canadian radio:  Blurred Lines, Radioactive, and Same Love
-Speaking of the radio, y'all need to get over that Verizon buyout, Bell employees. It's gonna happen whether you like it or not.
-Everyone loves Marineland!
– 439-bumpa-bumpa-bumpa-bumpa Pizza Nova!
-Just as Robin Sparkles taught us that The 80s didn't reach Canada until The 90s, they're also still rollerblading up there
-No such thing as the Black Guy Head Nod up there. African-Canadians (is that what they call themselves?) don't give a shit if you're also black.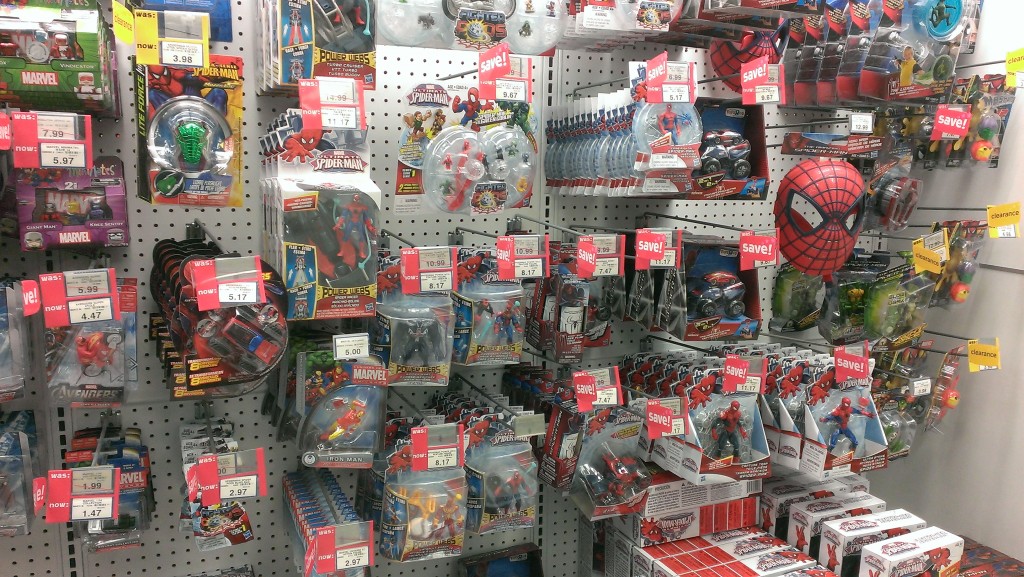 -See all those red tags? Those are SALES! Yes, Canadian Toys "R" Us stores actually have SALES on things! Not just clearance, either (though they have that, too). For example, those horrible Wolverine figures are on sale for $5.17, which is closer to what they're worth.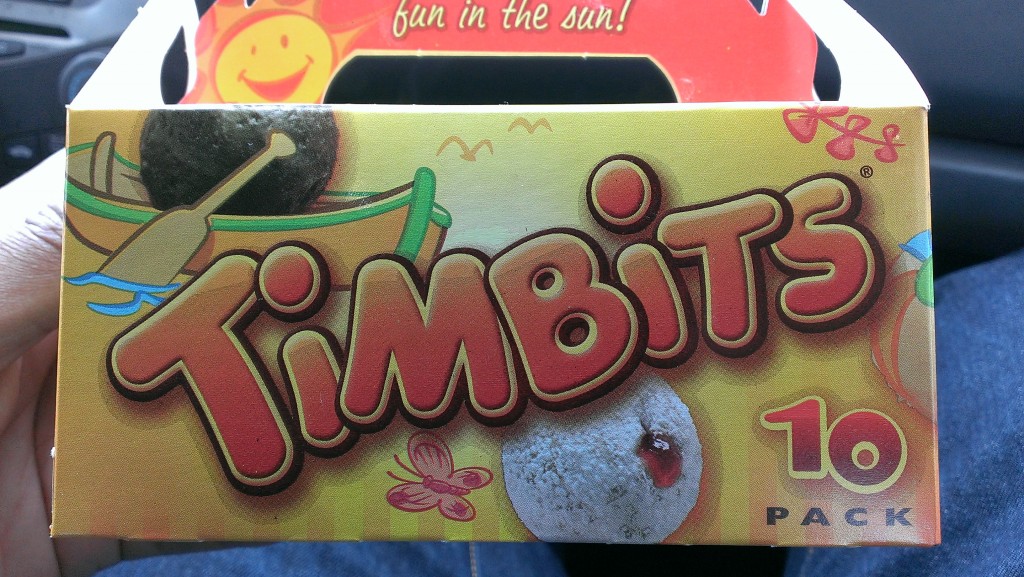 -Tim Horton surely must've been the King of Canada at some point. No mere hockey player could establish such an empire as that. I fell in love with Timbits, which are just Donut Holes. The catch, however, is that you get 10 for $1.99. I can't think of a thing in America that I could buy 10 of for $2. Pencils, maybe. Do they even sell pencils like that? Anyway, I will miss the delectable little orange-tangerine Timbits.
– It's pronounced "MAHZ-duh", and "Maz-duh"!
-There was just free, unbridled porn on the hotel TV. I'm not sure if that's a Canadian thing or just that particular hotel. All I know is that I went from How I Met Your Mother to How Your Mother Swallowed Your Brother in one press of a button!
-Speaking of TV, Come Dine With Me: Canada is such an entertaining show. I wish someone would adapt that for the US.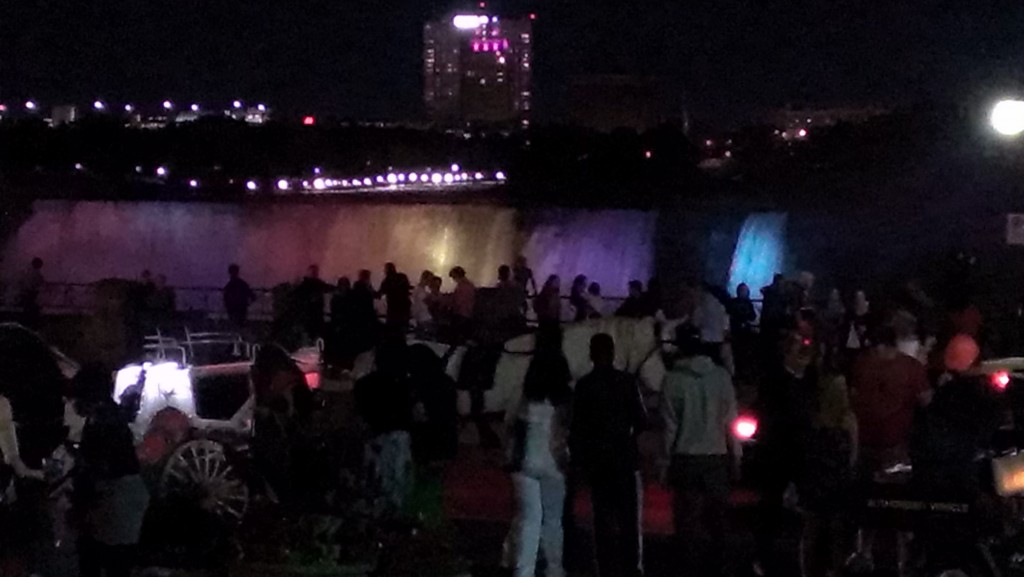 -At night, giant spotlights are shone on Niagara Falls, making them change colors.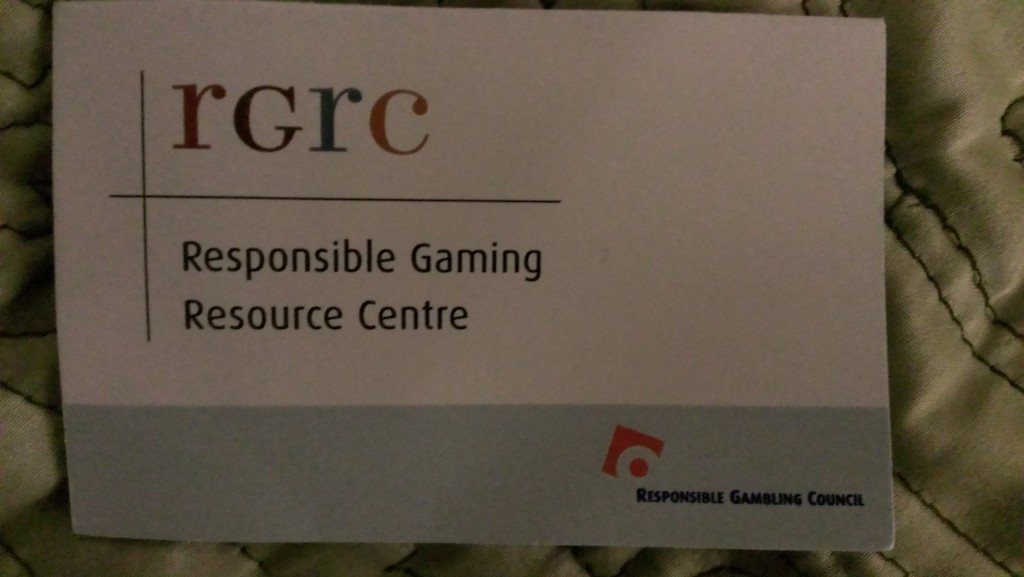 -Canada's so cute – they have a gambling addiction resource centre INSIDE the casino! Do we do that here?
———————————————————————————————————————————————————————-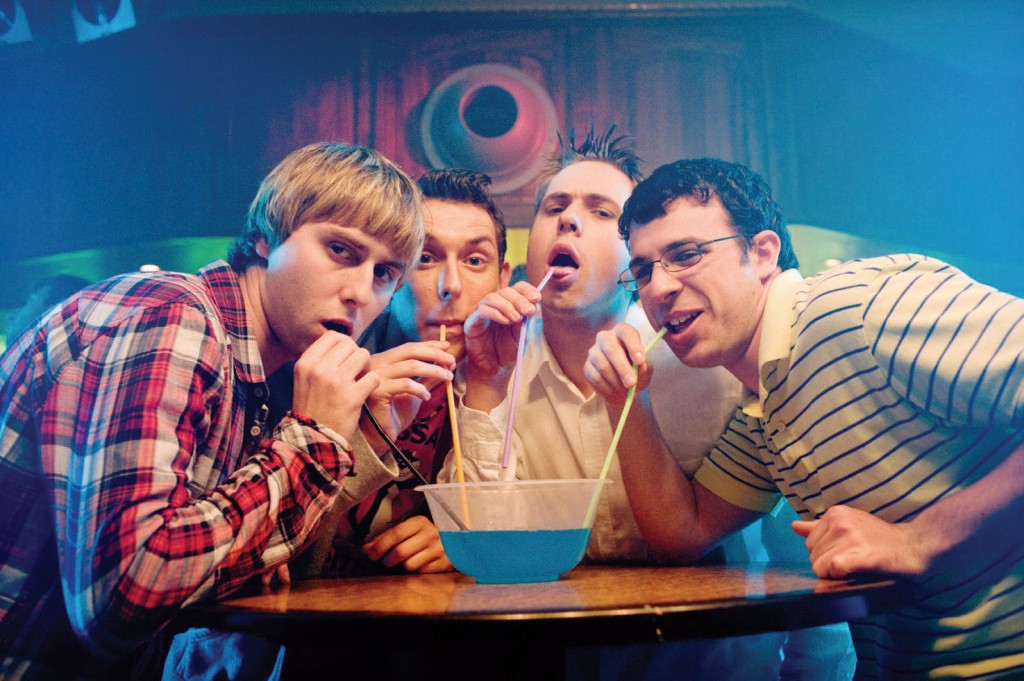 Before leaving for Niagara/Canada, I got a little more use out of my Netflix account. They finally added Season 5 of Breaking Bad, but I just don't have it in me yet. I'll probably get to it over the weekend. What I did watch, however, was The Inbetweeners Movie. Some of you may know the show from MTV's failed adaptation, but I was a big fan of the UK original. It's basically about four friends who are between college and university (British stuff), and the adventures they get into just trying to get laid. I also like that the main character's name is Will. Anyway, I'd been dying to see the movie, which had even received a limited theatrical release in the states, but it never came to any of the theaters in town. In the movie, they're basically on the UK equivalent of "Spring Break", and they head to Malia to try to get their rocks off. And hilarity ensues. If you were a fan of the show, I highly recommend it. Make sure you've watched the show before the movie, however, so you'll pick up on certain nuances.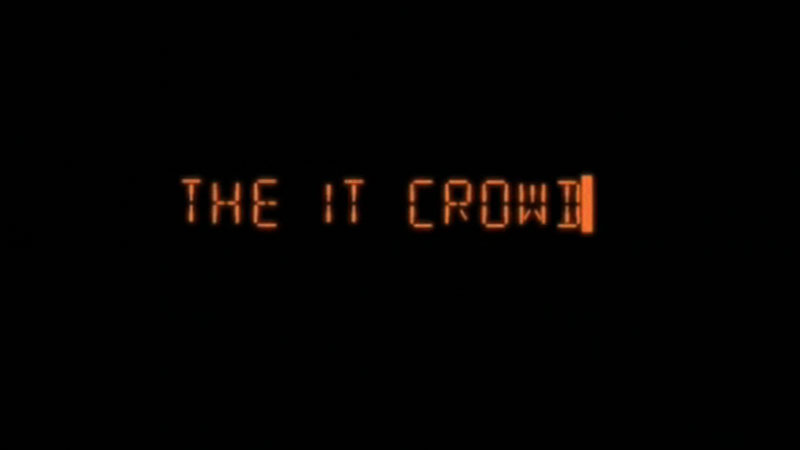 Since I was in a British mood, I finally caved to all the haters of The Big Bang Theory, and I checked out The IT Crowd. At first, I hated it. It seemed just as pandering as TBBT. After a few episodes, however, I came to love it. Watched the first season in one night (don't worry – there weren't that many episodes). I still wouldn't compare the shows, however. It's like comparing apples to oranges, and I still don't see the level of "respect" everyone claims The IT Crowd lends to nerddom. It's an unpopular opinion, but I think they're both good, yet both problematic. It's not like a sitcom is out to change the world or anything, so if either offends you, don't watch it. It's that simple. And I swear, if one you dares to make the "It's blackface for nerds"  statement in my comments section…
So, that wraps things up this week. I can't do a Links I Loved 'cause I haven't read anything this week. No links to post, 'cause I didn't write anything else this week. I'd love to do another Thrift Justice: YSE soon, but I think Special Forces may have been killed in action. He doesn't reply to my texts anymore. A moment of silence for a fallen American hero. Until next time, keep your feet on the ground and keep reaching for the stars. But don't do it in public. You'll look kinda retarded.